49 Best Affiliate Programs For Bloggers: Increase Your Earnings Today!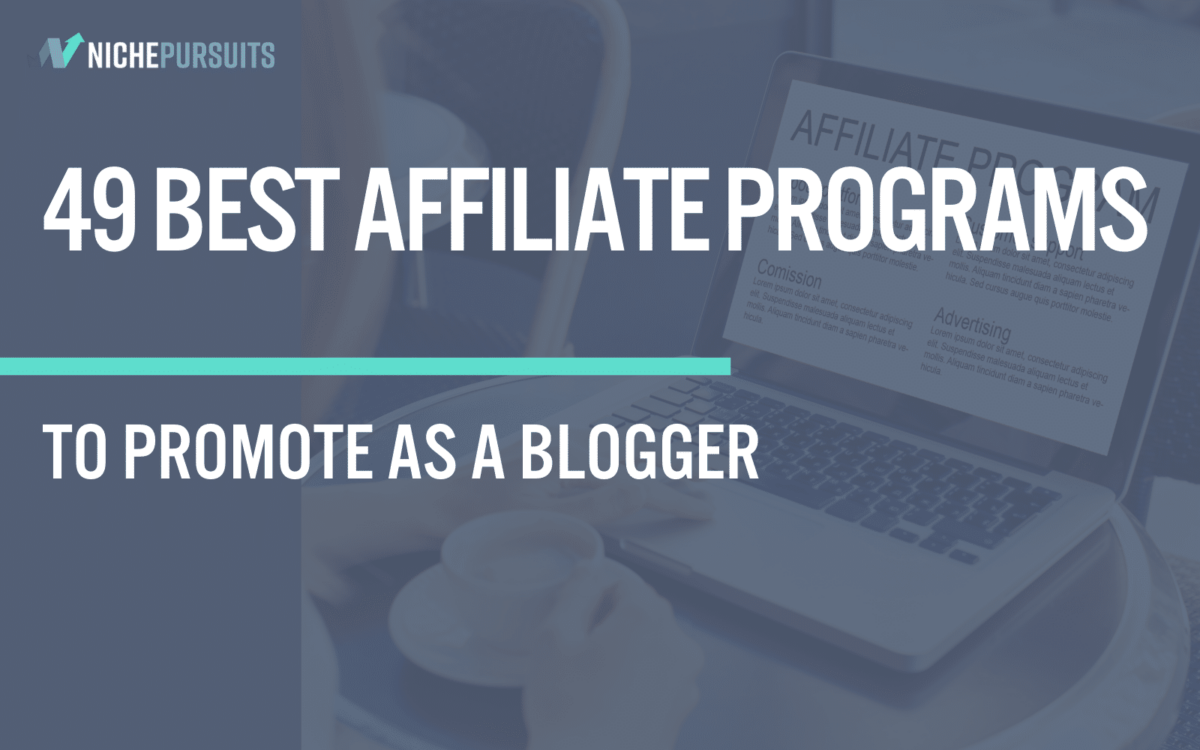 When you buy something through one of the links on our site, we may earn an affiliate commission.
No product to sell?  No problem. The best affiliate programs here all have recurring or one-time high-paying commissions to boost your site income. 
Welcome to the 21st century, where you can make great money even if you don't have your own product. As an affiliate, you can make money by simply referring people to other products and you make a commission when they buy them.
Instead of stocking and shipping all of your own products, your only job is to find the best affiliate programs to promote as a blogger. 
I've rounded up the best high paying affiliate programs for website owners to boost their affiliate revenue. There is such a wide range of different affiliate networks to choose from, it's easy to jump into the affiliate marketing business no matter what your niche is. 
So, What is An Affiliate Program?
If you are reading this article, I suspect you already know what affiliate marketing is, you just want to get some fresh ideas for where to find some unique or high ticket affiliate programs.
Just in case you don't already know, affiliate marketing basically works like this: You refer people through your affiliate link to a different website that sells a few products you use yourself or really believe in. You make a percentage of the money from any sales generated through your unique link. Affiliate sales is as easy as that.  
Your affiliate earnings will then get paid out either through bank transfer or direct deposit. Successful affiliates can build up a significant passive income stream just by promoting a few products!
I've been in the affiliate marketing game now for over a decade and so I have a few ideas to share.  In addition, I've searched all over the internet (so you don't have to) in order to find some of the highest paying affiliate programs as well as the best recurring affiliate programs. 
With the affiliate marketing industry growing faster than ever, now is your chance to make sure your bank account benefits. If you're wondering, is affiliate marketing worth it? The answer is, yes.
You can even start affiliate marketing with no money. There is literally nothing stopping you from getting started. 
How to Choose a Product to Promote?
Choosing the right affiliate networks to join is probably the hardest part of becoming an affiliate marketer. New affiliates want to look for a program that is relevant to their niche and also offers a good payment structure. 
I don't want to scare you off, but I suspect there are over a million different affiliate programs in the world.  Think of how many millions of companies there are in the world today…now consider that many of these companies offer their own affiliate program (whether publicly or privately).  
As an affiliate marketer and blogger, you can choose from any of these programs!  But having so many choices can be overwhelming, and therein lies the problems.
With choice can come uncertainty if you are selecting the right affiliate marketing program for you.  As a result, I want to spend just a brief amount of time sharing how I think bloggers and other website creators should go about selecting the best affiliate program to promote.
Pick Your Niche
First, you need to select your niche. If you already have an existing website and know what your niche is, then go ahead and skip this section.
However, if you are just getting started as an affiliate marketer you may still be deciding what type of audience you want to attract and what niche you want to operate in.
However, what it comes down to is 4 things:
Is there money in the niche?
Do you have knowledge or experience in the niche?
Are you interested (even just a little) in the niche?
Is there low competition opportunities in the niche?  (In particular, are there low competition keywords that you can rank your site for in Google).
When I personally analyze things, I think the first and the last points are most important: money in the niche and low competition opportunities. For the most part, I'm less concerned about my own interest level and experience. Although, if you have both interest and experience, this could be a GREAT way to narrow down what niche you should target and could give you a leg up on your competition.
How to Promote Products as an Affiliate
Now, one final point before I dive into revealing some of the best affiliate marketing programs on the planet. How do you start promoting products as an affiliate?
If your aim is to drive sales for other ecommerce businesses, then you need to strategically market their products on your website, blog post, whatever. 
The most important of all your marketing efforts is to make sure you rank in Google for certain keywords. The rest of your marketing campaigns and marketing material will be worth nothing otherwise.
Undoubtedly, experienced affiliates will already have a few tricks up their sleeves, but affiliate marketing beginners might want to look for the best affiliate marketing course to help them kick start their earning potential. 
Top Tips For Affiliate Marketing Beginners
With this in mind, here are some of my tips for affiliate marketers to make sure they get paid:
Refer through affiliate links on your website (my personal favorite)
Build an email list and then run email marketing campaigns that include your affiliate link (my second favorite)
Build a large audience on social media (Facebook, Twitter, Pinterest, etc) and drive your social media following to your website or get them to click on affiliate links directly from your social channels.
Create unique videos on YouTube reviewing products and leave your affiliate links below the video or in the video itself.
Drive traffic through any of the above means or through other marketing tools. Then get people on the phone, and close the "sale" over a voice call.
In person.  You might need to get creative here, but sitting down one on one with someone and helping them make a buying decision through your affiliate link can absolutely work.
Paid Traffic. Google Adwords, Facebook, and about a thousand other marketing platforms exist to drive traffic to your site. Find a way to pay less money in ads than you make in commissions and you've got a money machine.
Podcasting. Podcasting is great to build an audience; however, it can be difficult to get people to "click" on affiliate links while they are listening.  Don't expect high conversion rates, but do expect your audience and influence to grow with a podcast.
You may decide to just promote through one of these methods or all of the methods. The options and opportunities are really limitless.
Obviously, there are lots of affiliate marketing tools out there so you can make the most of affiliate marketing networks with even less effort. Just remember that all the tools in the world won't equal making money. There is a little bit of an art to affiliate marketing.
Now that we've laid the groundwork, let's dive into some of the best affiliate programs out there!
Best Affiliate Marketing Programs for Bloggers
The truth is that there is no specific affiliate program best suited for all bloggers.  As discussed above, you need to figure out what niche you plan to go into and then make your affiliate program selection based on that. 
As a result, I'll share some general affiliate programs for bloggers (and others) that will work in a variety of niches. Then I'll "niche down" and share some great affiliate programs for specific niches like travel, web hosting, online marketing software, and much more.  
General Affiliate Marketing Programs
Amazon Associates
Amazon is probably the largest affiliate network out there.  If you are talking about just about any type of physical product on your site, then Amazon probably sells it. For that reason, affiliate program that I use mostly on my own niche sites. It's also one that I would recommend as one of the best affiliate marketing programs for beginners.
Here's the current commission structure for the Amazon Associates Program:
| Product Category | Fixed Standard Program Fee Rates |
| --- | --- |
| Amazon Fashion Women's, Men's & Kids Private Label, Luxury Beauty, Amazon Coins | 10.00% |
| Furniture, Home, Home Improvement, Lawn & Garden, Pets Products, Pantry | 8.00% |
| Apparel, Amazon Cloud Cam Devices, Amazon Element Smart TV (with Fire TV), Amazon Fire TV Devices, Amazon Echo Devices, Ring Devices, Watches, Jewelry, Luggage, Shoes, Handbags & Accessories | 7.00% |
| Headphones, Beauty, Musical Instruments, Business & Industrial Supplies | 6.00% |
| Outdoors, Tools | 5.50% |
| Digital Music, Grocery, Physical Music, Handmade, Digital Videos | 5.00% |
| Physical Books, Health & Personal Care, Sports, Kitchen, Automotive, Baby Products (don't miss our list of the best baby products affiliate programs) | 4.50% |
| Amazon Fire Tablet Devices, Dash Buttons, Amazon Kindle Devices | 4.00% |
| Amazon Fresh, Toys | 3.00% |
| PC, PC Components, DVD & Blu-Ray | 2.50% |
| Televisions, Digital Video Games | 2.00% |
| Physical Video Games & Video Game Consoles | 1.00% |
| Gift Cards; Wireless Service Plans; Alcoholic Beverages; Digital Kindle Products purchased as a subscription; Food prepared and delivered from a restaurant; Amazon Appstore, Prime Now, Amazon Pay Places, or Prime Wardrobe  Purchases | 0.00% |
| All Other Categories | 4.00% |
You'll notice that the commission rates through this affiliate program are dependent on the type of products you help sell. Regardless, affiliates can earn a substantial amount through the Amazon affiliate program no matter what niche they are in. 
One of the reasons that the Amazon associates are my top choice for making money as an affiliate is because they have huge variety of products offered from global brands and big names.
They also offer an intuitive dashboard and a simple sign up process so it's easy to get started. Plus, it's one of those household names that is well known already, making it easy to convince people to buy from their site.
Like Amazon, WalMart sells all kinds of physical items, so you have plenty of products to choose from when you are looking to promote. In my experience, the earning potential with WalMart isn't quite as high as Amazon, but you may be able to find some unique products or better deals on WalMart depending on your niche.
Walmart Referral Fee Schedule 
| Department | Baseline Offer |
| --- | --- |
| Baby | 4% |
| Beauty | 4% |
| Books | 1% |
| Business & Personal Checks | 18% |
| Clothing | 4% |
| Contact Lenses | 10% |
| Electronics | 1% |
| Gifts & Registry | 4% |
| Health | 4% |
| Home | 4% |
| Jewelry | 4% |
| Movies | 1% |
| Music | 1% |
| Patio & Garden | 4% |
| Photo | 1% |
| Sports & Outdoors | 4% |
| Toys | 4% |
| Video Games | 1% |
| All Others* | 4% |
Note: Walmart follows a three day attribution model.
I have used the eBay partner network in the past…a LONG time ago.  eBay can be a great option if you are looking to sell collectibles, unique items, or used products. Yes, eBay does sell new items, but for the most part, I'd say Amazon is the top affiliate program for physical products from big brands (check out our article on how to become an Amazon affiliate).
How Much Can You Earn?
Ultimately, you earn 50%+ of the revenue that eBay receives. However, it's a bit complicated to calculate how much money you might actually make. In general, eBay charges roughly 10% to sellers when they sell items on eBay. As a result, your commission would be roughly half of the 10% that eBay makes.  
To clarify, here's eBay's legal language and more details:
For any Qualifying Transactions, you receive a percentage of the revenue eBay Inc. earns from that purchase, based on the category-level commission rates shown below. Note that there are certain items and categories for which eBay Inc. earns low or no revenue; in such cases, you will therefore earn low or no revenue share. These items and categories may include, but are not limited to gift cards, items sold by charities, and special promotional deals.
PROGRAM REVENUE SHARE BY CATEGORY (EFFECTIVE MARCH 1, 2017)

PARTS & ACCESSORIES

70%

FASHION

70%

HOME & GARDEN

60%

LIFESTYLE

60%

COLLECTIBLES

50%

ELECTRONICS

50%

BUSINESS & INDUSTRIAL

50%

MEDIA

50%

VEHICLES

50%

ALL OTHER

50%

NEW OR REACTIVATED BUYER BONUS (as % of Baseline Earnings)

+100%
Overall, the eBay partner network is a great program for a wide range of niches. Really, the only downside is that it's not a great platform for generating passive income.
Collectibles and used products are usually one of a kind, so you can't just pop your affiliate link into a blog post and keep it evergreen. You'll need to stay on top of what's available. 
Jet.com  primarily focuses on selling food and household items. You can find everything from snacks to electronics. Nonetheless, while it is a general marketplace, you won't find a large selection like on Amazon or WalMart.
The commission rate for Jet is 2.5%, and the affiliate program is operated by Rakuten.
AliExpress
AliExpress is a cool marketplace!  You can find all kinds of items there directly from manufacturers for CHEAP!  The reason the items are so cheap is due to the fact that they are typically coming directly from China.  
As a result, I wouldn't recommend products to typical "retail" shoppers here.  Most of the items ship from China and can take 2 to 4 weeks to arrive.  So, if you use the affiliate program for AliExpress, it's worth noting that there is a wait time for buyers.
However, if you want really inexpensive items, AliExpress is a huge marketplace that has just about everything. 
In addition, many people use AliExpress in some capacity to dropship or to test out dropshipping ideas.
In fact, here is a cool WordPress Plugin called AliPlugin that will automatically create a "store" with your AliExpress affiliate ID built in where you can quickly start selling thousands of products.  Check out AliPlugin here. ( <—Yep, that's my affiliate link! I told you I know how to do this stuff 🙂 ).
AliExpress doesn't make it very easy to find, but they pay commissions rates starting at 8.5% and up to 10% based on volume.
VigLink is honestly such an awesome program. It is a unique way to monetize your unmonetized content. Basically, VigLink uses technology to understand when you've mentioned a product associated with an affiliate program. Then, it will AUTOMATICALLY link to the highest paying affiliate offer!
Cool, right?
You can also manually build links and share them on your site or across other channels. The concept is pretty neat, especially if you have lots of content that you're looking to monetize (or monetize better).
All in all, VigLink a great affiliate program for bloggers and also affiliate marketing beginners that don't know where to start (but don't miss our list of affiliate programs for beginners).
Another great program similar to VigLink is SkimLinks. SkimLinks works pretty much the same. The program turns your mentions of products into affiliate links so you can start making money and get paid for content you've already created.  
SkimLinks partners with thousands of merchants and popular vendors across the internet. Next, they will do their best to get you the highest commission rate possible. 
In addition, because they are a preferred partner with many of these affiliate programs, you can sometimes earn more by using SkimLinks than applying directly to the program.
Other Affiliate Programs or Affiliate Networks
| | |
| --- | --- |
| Affiliate Network | Notes |
| CJ.com | Commission Junction by Conversant is one of the oldest affiliate networks.  I personally signed up as a CJ affiliate probably around 2007. The commission rates vary by vendor. But if you want to get connected with some very well known brands, the CJ affiliate network is one of the best programs out there. |
| ShareASale.com | ShareASale is another of the oldest affiliate networks. The program offers everything from software tools (like Opt In Monster) to physical products.  Overall, I'd say it's a great choice to find both general merchandise and software to promote. |
| Impact Radius | Impact claims that they are not an affiliate network. Really it's a platform that helps match people with an affiliate partner. Big names including Uber, AirBnB, TicketMaster, and many others work with Impact. For that reason, it's a great place to look for high paying programs. |
| AvantLink | Avant Link works with thousands that recruit affiliates.  You can see a full list of merchants they have to choose from right here. If you're looking to join programs to bolster your revenue streams, it's a pretty good place to start.  |
| Pepperjam | PepperJam is another established player in the market. They work with large companies like eBates, RetailMeNot, Groupon, and many others.  Affiliate commissions will vary by vendor, but most people can easily find commission rates that work for them. |
| Rakuten | Undoubtedly, Rakuten is probably the largest affiliate network on the planet as well as one of the oldest affiliate programs.  Formerly called Rakuten LinkShare, they are extremely reputable and reliable for providing great merchants to choose from. Some of the merchants for which they run their affiliate programs are: Guess, Macy's, Sephora, Spartan, and so many more. |
| AWin | Awin is another established affiliate network that focuses on reputable retailers.  With over 13,000 merchants to choose from, you can't go wrong in finding other programs to help you generate revenue. |
| Clickbank | The Clickbank affiliate program has been around a long time, but they differ from many of the networks I've mentioned previously. Clickbank affiliates focus on digital products only. As a result, you get reputable and less than reputable offers available ranging from software to online courses. With this in mind, you have to tread carefully promoting through the Clickbank affiliate program.  You may have to wade through lots of "crappy" offers before you find the good ones but there are good ones there and you can make money with Clickbank. |
| PeerFly | PeerFly has over 2,700 offers to choose from. They are a CPA (Cost Per Action) based affiliate network.  In other words, they have a lot of offers that pay out when you generate leads or email addresses to the merchants.   |
| FlexOffers | Flex Offers has over 500 vendors to choose from, many of which are CPA offers.  However, they also have many traditional retail offers as well. |
| MaxBounty | Max Bounty is a dedicated CPA network that prides itself on maximum payouts. Also, you can choose from top brands like 99designs, CheapOair, and McAfee. |
| AffiBank | Albeit, Affi Bank looks like the younger sibling of Clickbank, only more spammy. I would personally avoid. Nonethless, if you're hunting for other programs that offer digital products you can link to, it might be worth trawling to see if you can pick out a good deal. |
| LeadBit | I don't have any personal experience with Lead Bit. Though, a quick look shows they appear to be a high-quality CPA  affiliate network that is based in the UK. Looks to me like top notch technology and reporting. |
| | Affiliate Partners prides themselves on being a high paying CPA network that finds those unique or hard to find offers. Whether or not this is true, I'm not sure. Nevertheless, they are an established player in the world of affiliate marketing. At the least, it's safe to say they are fairly trustworthy. |
| | Crak Revenue claims to drive over $40 million in sales to partners a year and has over 1,000 offers to choose from. However, they appear to mostly promote adult type products and websites. |
| | Based in Australia, this affiliate network appears to focus mostly on retailers. A few companies they work with are: AirBNB, Lululemon, and Virgin Australia. |
| | I have not used Ad Combo in the past; however, this CPA network has a web design that look a little dated and the offers they have may lean toward the "sketchy".  My intuition could be wrong here, but that's the sense I get by reviewing their website. |
| | Revi Media appears to have lots of lead generation or pay per call opportunities. These offers range from mortgage and finance to solar and medical. Overall, appears to be well-established and reputable. |
| | Revenue Wire looks to be both an affiliate network and a payment processor, which is kind of interesting. They focus primarily on CPA offers including: cost per click, cost per lead, cost per sale, and more. |
| | Global Wide Media (which acquired NeverBlue Ads), has thousands of CPA and other offers to choose from.  With an international footprint, there is likely something you can find to promote there. |
| | Based in the UK, but with an office in the US as well, this affiliate network focuses primarily on Health and Beaty products.  This is a profitable niche and More Niche appears to have lots of offers available. |
Overall, this list above literally just scratches the surface for all the type of affiliate programs and networks that are available. If you haven't found your niche yet, then browsing the above list can give you a general idea of what types of offers are available and perhaps even help you narrow down what your interest level might be in working with some of these programs.
However, if you are already established with your blog or business, then Google is going to be your best friend in finding the best offer to promote. Search and find my friend!
Now that I've given you a quick overview of the more general shopping and affiliate programs and networks that are available, I want to highlight a few affiliate programs that are available in some of the most popular and lucrative niches. 
Travel Affiliate Programs
If you have a blog or are considering starting a blog in the travel space, then there are lots of different types of products that you can promote as an affiliate. To that end, starting a travel blog is a great way to go since people will ALWAYS be searching for more details about destinations and vacation ideas.  
So, here's just a few travel affiliate programs that you can make money from:
| | | |
| --- | --- | --- |
| Travel Affiliate Program | Commission/Payout | Review |
| Booking.com | 10 – 25% | You can use booking.com to promote all kinds of hotels and other accomodations for vacations. Well established and millions of properties. You get paid 10 to 25% of Booking.com's profit. |
| AirBNB.com | $25 – $75 | You can refer either guests or new hosts (property owner's) to AirBNB . Either way, you earn a commission. At the present time, it looks like you get paid a fixed fee of $25 for each referred guest and $75 for each new host. |
| TripAdvisor | 50% | With Hotels, Flights, Restaurants, Vacation Rentals, Cruises and more as part of Trip Advisors portal, you can earn money for just about any type of travel you can imagine.  Therefore, TripAdvisor is a good general travel affiliate program. In addition, the program is managed by CJ.com |
| Sandals Resort | 4% | Sandals Resort offers tons of resort locations and is a great go-to affiliate program if you have a travel blog or audience. This is also managed by CJ.com. |
| Travel Credit Cards | Varies | If you are talking about travel, then air miles or points credit cards is also something in high demand for travelers. For that reason, you might consider recommending credit cards that fit your audience. |
Best Hosting Affiliate Programs
If you are in the online marketing space, you know that hosting affiliate commissions can have a large payout. However, not all web hosts are created equal. So, be sure you are recommending quality hosting companies to your audience.
Nonetheless, here's just a few options; however, there are hundreds more:
| | | |
| --- | --- | --- |
| Hosting Affiliate Program | Commission/Payout | Review |
| BigScoots.com | 90% of 1st Month | I recently switched all my sites (including the site you are on right now) to BigScoots.com and I couldn't be happier.  For that reason, I recommend their affiliate program.  It may or may not pay the highest, but their product is top notch, so it's worth becoming an affiliate for that reason alone. |
| Kinsta.com | $50 – $500 + 10% Monthly | Kinsta is a great hosting company.  I was using Kinsta for all my sites until I discovered Big Scoots (which is cheaper and faster).  However, Kinsta was head and shoulders above the hosting company I was using previously (which shall remain nameless).  Kinsta is a great company with great customer service. You can join Kinsta here. |
| BlueHost.com | $90+ | Bluehost is promoted widely by affiliates because it's cheap and it pays a high dollar amount in commissions.  (You can earn more than $90 per signup if you negotiate with an affiliate rep). Bluehost was the first webhost that I used and I do still think it's okay to use if you are just starting out.  Test your ideas on BlueHost and if your website starts to show some progress, move over to a better host like Big Scoots. |
| HostGator.com | Up to $125 | HostGator is another well established hosting company that is solid (for context, check out our Bluehost vs HostGator comparison).  They have plans of all sizes, so you can start small and grow with them.  Their affiliate program is another high dollar program that is pretty popular with affiliates. |
| WPX Hosting | $70 to $100 | You make more based on a tier system for the number of referrals.  WPX is another great dedicated WordPress Hosting platform that is worth recommending, and we have a comparison between WPX vs Siteground that's worth checking out. |
Internet Marketing Software Affiliate Programs
The niche that I know best is the online marketing niche. This really ranges from keyword research tools to graphic design tools and services to WordPress Plugins. In any case, there are many thousands of digital marketing software tools available, so it's impossible to list them all.
However, not all internet marketing programs are created equally. With this in mind, below I've listed just a few of the programs that I feel are worth promoting as an affiliate:
| | | |
| --- | --- | --- |
| Software Tool | Commission/Payout | Review |
| Long Tail Pro | 30% recurring | Full disclosure: I'm the creator of Long Tail Pro.  However, I sold the company 3 years ago.  You can make great commissions promoting this keyword research tool that both beginners and advanced marketers need. |
| SEMRush | 40% recurring | SEMrush is a great tool. If you're interested, then you can see my full review here. Basically, I love the affiliate program because it pays a recurring commission…forever. In order to sign up for the affiliate program, go to BeRush.com. |
| Jungle Scout | Varies on product | While Jungle Scout isn't a tool that all online marketers will want or need, it does appeal to Amazon sellers (check out Jungle Scout vs Helium 10). So, if your audience consists of anyone that might be selling products on Amazon (as a seller, not as an affiliate), then Jungle Scout is a great tool you should be promoting. |
| | 25% recurring | Merch Informer is another niche software tool that general marketers will not find useful.   However, among people creating and selling t-shirts through the Amazon Merch Program, Merch Informer is THE go-to tool. In addition, it pays recurring commissions and the plans start out really cheap, so it converts well. |
| Design Pickle | 15% recurring | Now, Design Pickle is not technically a software tool, but I hope you don't mind me squeezing it in here (and if you're interested check out Design Pickle alternatives). Design Pickle is a great monthly recurring commission affiliate program. Users pay monthly to have unlimited graphic designs done. I've written an entire review right here. |
| Helium 10 | 25% recurring | Helium 10 is another software tool that was created for Amazon Sellers. This tool is super useful for Amazon keyword research and product research. You can read my full Helium 10 review here.  This is a nice recurring commission product to promote as an affiliate. |
| ClickFunnels | 40% recurring | Clickfunnels has a great affiliate program that pays recurring commissions. This tool also has a broad reach for any potential small business doing marketing online.  Create landing pages, build funnels, sell products or courses, and you can potentially ditch your whole website for Clickfunnels (that's their claim).  Read my ClickFunnels review here. |
| Podia | 30% recurring | Podia is an online teaching platform where you can host your course (you can check out our Podia review). Selling a course is one of the easiest ways to get started making money online (assuming you have something valuable to teach). The Podia affiliate program pays to get course creators on their platform. |
| Thrive Themes / Architect / Leads | 50% recurring | What started as Thrive Themes has evolved into an entire "Thrive" business over the years. You can now promote (and earn recurring commissions) on not just themes, but Thrive Architect, Thrive Leads, and Thrive Apprentice. |
| KDP Rocket | 50% | While this program only pays a one-time commission, but the conversion rate of visitors to buyers is pretty high for this niche specific software tool. Publisher Rocket (as it's now called) serves the audience of potential authors doing keyword research for the Amazon Kindle marketplace and more.    |
| Elegant Themes | 50% | If you have an audience of internet marketers or small business owners, then you know that everyone needs a website.  Elegant Themes are great looking and are a well-established company.   |
Again, I could easily add another 100+ software affiliate programs, but I think this is a good sample.
Other Niches to Consider
Unsurprisingly, there are several other niche affiliate programs that are hugely popular. As can be seen based on Google trends and other research, we've hardly scrathed the surface here. 
However, I'm not going to go through each niche and list out several options, as I've done above. Instead, let me show you how to find affiliate programs yourself based on whatever niche you're in. Then I'll give you some niche ideas just in case you still haven't settle on the right one yet. 
Basically, the easiest way to find products to promote as an affiliate in any given niche is to search on Google. With this in mind, the search query on Google that will help you find affiliate programs is simply:
"Niche/Keyword" + affiliate program
Keep in mind that the more targeted you can be, the better.
For example, if you are in the financial space you could search for "financial + affiliate programs. However, a better search query would be to consider what specific products you could promote and search for those:
"airline miles credit cards" + affiliate program
"online savings account" + affiliate program
Compared to a more general search, narrowing down your query will help you find more relevant affiliate networks to take advantage of. In due time you should be able to build a great list of affiliate programs that work for your niche.
Find a list below of potential niche markets and affiliate programs that you could promote:
Financial and Investments
Pets
Camping and Outdoors
Sporting Goods and Apparel
Health and Fitness
Computers and Electronics
Fashion
Food Blogging (See our list of the best food affiliate programs).
Online Dating
Furniture and Home Goods
Pregnancy and Baby/Parenting
Real Estate
Mortgage and Credit Cards
Golf
Supplements
Weight Loss
Teeth Whitening
Insurance
List of Music affiliate programs
Build Your Own Affiliate Program
Now if you do have a product to sell, you can actually create your own affiliate program! You can use an affiliate network like ClickBank, ShareASale, Rakuten advertising, or many others that I've mentioned above to help you manage and run an affiliate program.
Then you can start recruiting your own army of affiliates to increase sales for you!
With this purpose in mind, if you want someone to help you create and more importantly grow your affiliate program, you should check out AffiliateManager.com
Your Thoughts
What do you think about the list above?  Do you feel like there are other affiliate programs or networks that I should include? I'd love to know what affiliate networks you guys love if I've missed any of this list.
Overall, I hope you've found this information useful on your quest to find the best possible product to promote for your blog or niche site. Certainly, affiliate marketing is an easy way to generate income from your site and can be a source of long term revenue for you.
Want to learn step-by-step how I built my Niche Site Empire up to a full-time income?
Yes! I Love to Learn
Learn How I Built My Niche Site Empire to a Full-time Income
How to Pick the Right Keywords at the START, and avoid the losers
How to Scale and Outsource 90% of the Work, Allowing Your Empire to GROW Without You
How to Build a Site That Gets REAL TRAFFIC FROM GOOGLE (every. single. day.)
Subscribe to the Niche Pursuits Newsletter delivered with value 3X per week