RankIQ Review: Is This AI SEO Toolset Worth Your Time and Money?
In this RankIQ review, we will examine what RankIQ is, how it works, and whether it's worthy of the hype.
No time to read the whole article? You can sign up for RankIQ right here.
Put it this way: do you feel like you've been wading through quicksand trying to come up with a list of upcoming blogs? Have you been battling to try and figure out how to maximize your keyword research? And wasting time thinking up new ideas and second-guessing yourself in your attempts to be an effective blogger?
Read on; you never know - like a superhero, RankIQ might fly in and show you the way.
In this RankIQ review, we'll discuss:
What RankIQ is
Who it's for
What RankIQ does
RankIQ alternatives
Pros and cons
By the time you get to the end of the review, you should be able to decide if RankIQ is right for you.
---
RankIQ Review
Value for Money -

90

Ease of Use -

95

Features -

85

Customer Support -

95

Likely to Recommend -

95
Summary
RankIQ is an AI-powered SEO toolbox designed specifically for bloggers. It advises what to include in your blog post and title. This allows you to create properly optimized content in much less time than it would usually take. RankIQ also has a library of low competition, high traffic keywords for each blog genre (over 200 niches and counting). Try RankIQ here!
Pros
Really easy to use
Hundreds of handpicked low-competition keywords
Suggested keywords for title generation
A suggested word count eliminates the guesswork
Affordably priced
Excellent customer support
Cons
Needs far more AI reports per pricing plans
More niches should be added to the ever-expanding database
No free trial version
RankIQ Review: The Best RankIQ Alternatives
No time to read the whole post? RankIQ is a fantastic tool.
But in case you're curious, here is a list of the best RankIQ alternatives.
Honorable Mention:
Frase - a tool that also leverages the power of AI to help you create outlines and write content that ranks. It also has a powerful AI writer and an active community.
If you're ready, please read on to find out more about RankIQ and its alternatives.
Founder Brandon Gaille
Before I get into the RankIQ review, here's some background on it. Founder Brandon Gaille is a brave man and an inspiration to us all. A rare medical condition in his 30s took him from being a highly successful SEO expert worth millions to someone owing hundreds of thousands in medical bills.
But nothing much gets Brandon Gaille down. Once his treatment started working, he got going with many new businesses, one of which was RankIQ.
He combined his expertise as one of the world's top SEO experts with a powerful AI. The result is a great tool that removes some of the guesswork and complication from SEO.
Brandon Gaille is also in charge of overseeing the continued development of RankIQ's tools.
In addition, he presents The Blogging Millionaire, Apple's most downloaded blogging podcast. And Brandon Gaille's personal websites have over 6 million monthly visits.
Now that we know where RankIQ comes from, let's understand why you'll want to try it.
What Is RankIQ? An Overview
Rank IQ, a cloud-based software, is intended for bloggers and content creators to help them get their blog entries on Google's first page. RankIQ can help you, whether you want to improve old blog posts or create brand new posts as a rookie blogger. It can assist you in achieving your aim of increasing organic search traffic to your website.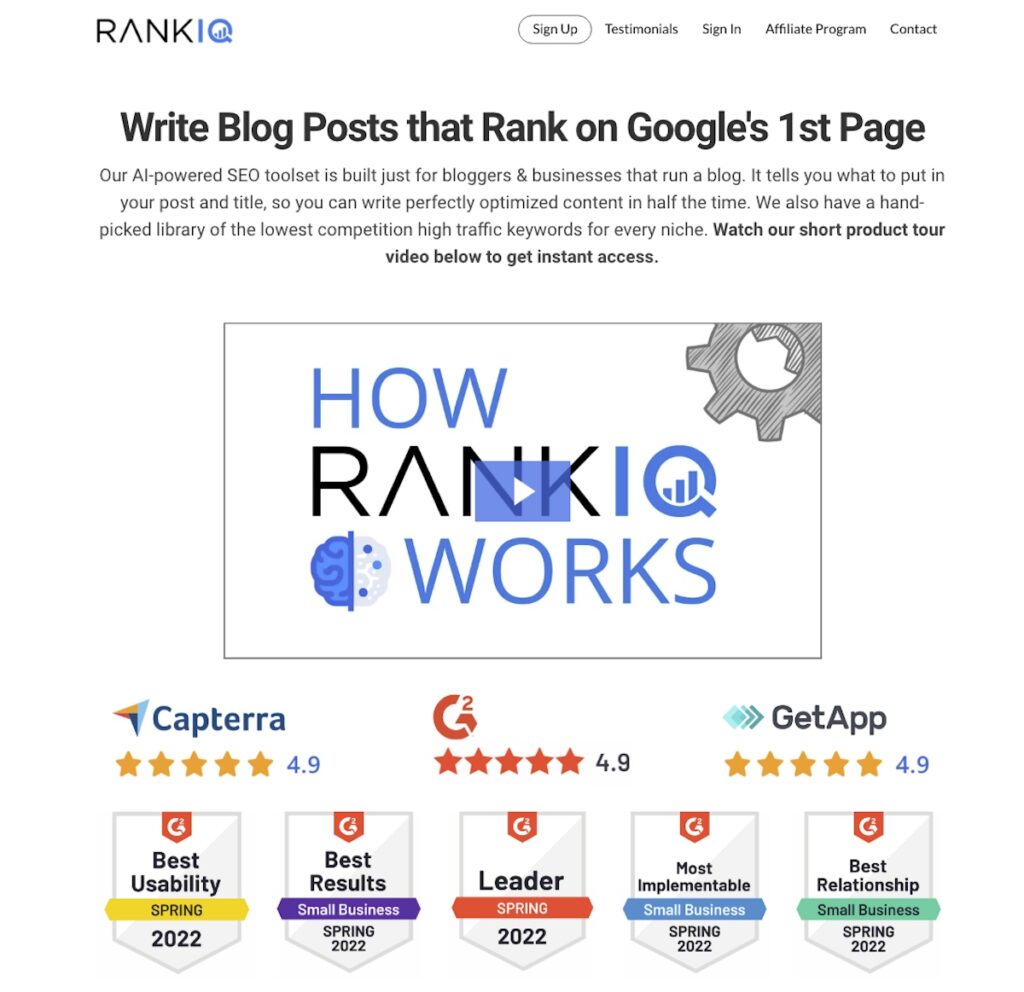 Brandon Gaille observed that most content authors have difficulty getting their website's pages to rank on Google's first page for their desired keyword.
Google processes roughly 3.5 billion searches per day, or 1.2 trillion queries per year, as of January 26, 2022. Google completely dominates search engine use, with a desktop search market share of 86.19 percent as of December 2021.
Brandon wanted to create software that would teach bloggers a simple method for getting a high Google ranking for each blog article they wrote. RankIQ provides access to a handpicked keyword library containing low competition keywords and high-traffic phrases for your unique blog subject.
With these, you can rank in the top ten of Google for over a hundred different niches ranging from food, business, blogging, entrepreneurship, and everything in between.
By analyzing the top Google results for any term, RankIQ compiles a thorough AI SEO Report. The SEO report specifies which keywords should be included in your blog post and title to rank on the first page of search engines.
What Exactly is SEO?
According to Wikipedia, this is what SEO actually is:
Search engine optimization (SEO) is the process of improving a website to increase the quality and quantity of traffic from search engines.
In the most basic terms, strong SEO improves your internet visibility. So, as more people visit your website, your online traffic grows. And you have a better chance of providing your product or service to a larger number of individuals.
A Google search page usually shows only ten results. How often do you leave the first page of search results and go to the second, third, or twentieth? You most likely won't have to because the top few alternatives on that first Google page have the information you wanted in your search query.
Google ranks websites based on over 200 different factors. Among the most significant is high-quality content that targets the right keywords, fast site speed, and backlinks from other credible sites.
RankIQ for New Bloggers
As a new blogger, RankIQ helps you prepare and publish more content than you could without it. Our RankIQ review proves that this tool is a huge timesaver. User reviews mostly agree that the amount of time you spend doing keyword research is cut by almost half. Which allows you to get posts out quicker and build up your content.
RankIQ for Experienced Bloggers with Older Websites
Organic content decay occurs when a blog post receives decreased Google traffic over a 12-month period.
A new competitor who produces a piece that goes deeper and broader than your post is usually the culprit. RankIQ can unquestionably assist skilled bloggers with older websites. If you've been blogging for more than a year, you've probably got dozens of pieces that could - and should - be updated.
But what are you going to change about them?
If you add the words and blog themes that RankIQ's superior AI suggests that article should include, these old underperforming pieces might become great traffic magnets for your site. Organic traffic will rise as a result.
Each blogger who wants traffic will have a different goal. Some will aim to profit from all of that traffic by using display advertisements, affiliate links, information items, or eCommerce merchandise. Others will just want to create high-quality content that helps readers solve a specific problem.
What Does RankIQ Do?
Basically, RankIQ is software that informs you what words to include in an article to make your chances of ranking on the first page of Google for your chosen keyword a whole lot better.
You enter your target keyword into RankIQ, and the software utilizes artificial intelligence to search Google for the top results. Essentially, these top articles are highly ranked on Google for a reason. They are judged to be the best results for that specific term.
But you have to ask yourself the question - why do they produce the best results? What do these top articles have in common?
Other ranking variables exist, but having the correct keywords in your content is critical. If your article doesn't have the right keywords, Google considers it unsatisfactory. Google will "believe" your article lacks the right content to satisfy the searcher's query, and you get a low ranking. And not ranking well implies you won't get organic search traffic from Google or other search engines.
So, RankIQ examines the top 30 articles to get the best titles. And then calculates from the top 10 which keywords you should add to your post to rank on Google's first page.
Look at the RankIQ homepage - there's a great video available that walks you through how it works.
The Value of Using RankIQ
Manually scanning through each of these top 30 search results to find identical headers and sub-headers is very time-consuming and difficult.
However, by doing a RankIQ AI-powered SEO analysis, you can save a lot of time and get your chances of ranking on Google's first page right up. It does this content analysis in minutes rather than the hours it would take you to wade through these articles manually.
Below are the main features of RankIQ. I'll go into some depth about each of these characteristics later.
Keyword Library – Top Keywords By Niche
AI SEO Reports
Blog Post Analysis Tool
Check Google Rankings
Advanced Keyword Research Tools
A Quick Look At Getting Started
The graphical user interface of RankIQ is straightforward to use. This is what you will see when you first log in.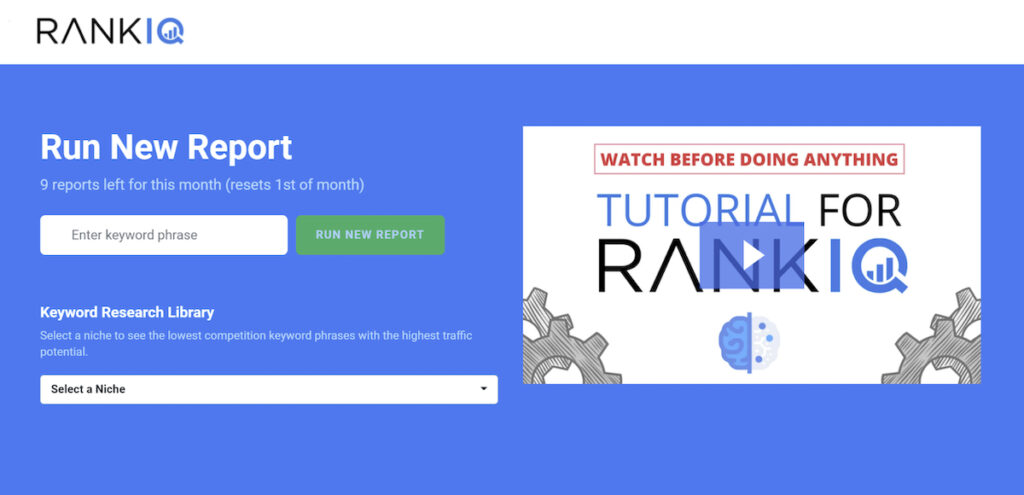 Check out the tutorial video on the right-hand side. Brandon prepared an extremely educational 26-minute onboarding video to welcome new users and get them working immediately.
The directions in the video are well-presented in a simple, step-by-step format. There's a really cool logical workflow. The following is Brandon's recommended strategy (paraphrased from his video.) This is just a basic list - he has many other steps and tips.
Step 1: Go into your niche's keyword library and review each term line by line. You may feel that this is a waste of time, but it's not. You'll get plenty of ideas to make your posts richer. Invest in the hour it may take you to do this.
Step 2: Copy the keywords or phrases you think will work for you into your "My Keyword Library."
Step 3: Review the keywords in your keyword library and identify the first ten phrases to run reports on. These will be added to your post calendar for new blog posts. (If you're on the 16 reports a month's payment plan - you'll have six reports left over to update old blog posts.)
Step 4: Tip - use the recommendations from the "Download Recommendations by DA" (Domain Authority)
Step 5: Run the AI SEO report on each phrase when you are ready to start writing. This ensures that the AI provides you with the most accurate and up-to-date analysis data. And the report is handled in real-time.
RankIQ Review: Keyword Library
RankIQ's Keyword Library is jam-packed with SEO-approved keywords and blogging themes. Each term has a high search volume and little competition.
Before RankIQ, you would probably have spent weeks on something like Ahrefs conducting keyword research. It would have taken a long stressful time. And, despite your efforts, you may have been unsure whether your keywords were appropriate.
The time you will save by using RankIQ keywords is incredible. And knowing that a keyword expert has done all the work for you is awesome!
Each niche is paired with one or more keyword libraries. There are over a hundred keyword libraries, and the number is growing. Some include:
Arts/Crafts
Blogging
Homeschool
Organization ideas
Food
Health
Christian
Mom
Special education
Travel
Disney
DIY
Check to see if there is a keyword library for your unique specialty. You can request that your niche be added if it isn't there. Of course, this could potentially result in far too much competition for the same keywords. But, to ensure it doesn't, Brandon keeps note of how many reports are performed each term. The keyword is retired after it reaches a certain threshold.
I'm writing about Croatia, so I typed Travel: Croatia. The list I got was great, with plenty of good ideas to work from.
Keyword Presentation
The keyword phrases are nicely shown in a table that displays data from three separate columns.
A competition score
An estimate of how many visits each year
The projected time to rank on Google's page one (This measure is based on historical ranking data from SERP posts with no backlinks. In other words, validated low competition - or something close to it.)
According to RankIQ, keywords that show an average time to rank can take up to 180 days to rank on Google's first page. Ultra Fast takes up to 30 to 60 days to get there.
In the first year, 95 percent of published pages do not rank in Google's top ten. It takes around 61 to 182 days for the top 5% of performers to rank in the top 10. Websites having a greater backlink profile outperform those with a weaker one.
After getting a report for a certain keyword (or keyword phrase), there are two tabs to choose from:
AI SEO Report
Content Optimizer
RankIQ AI SEO Report
The report can take roughly 2 minutes to run. This is because it is performing a lot of algorithms in the background and pulling live data analysis from pages now ranking in the top 30 results. According to the video on the site, as soon as you type in a keyword you want to rank for, RankIQ AI runs 6,000+ equations in 90 secs.
And you'll get the two options listed above that will give you steps on what you need to do for new blog or old blog posts.
Once completed, the report is displayed in a very clear and simple way. The report is divided into four sections.
Summary Targets
This section simply displays the suggested word count and content quality score. These two suggest what an article or blog post must have to rank on Google's first page for a specific keyword. If it specifies A++ quality, you should compose a post good enough that the content optimizer offers you an A++.
Competition Analysis: Highest Graded Content in Google
This report includes links to the three posts with the most detailed material for that specific keyword. The goal here is to look into the top three posts to see how they present the content in terms of layout (number of H2s, H3s …) and so on. You should pay specific attention to whether the postings match the keyword's search intent.
Title Analysis: Keywords Google Likes In Titles
Title Analysis examines the page title keywords used in the top three pages. The Title Analysis report outlines the keywords used in the page titles of the top results for the target search phrase on Google.
The page title, also known as the SEO title by some, is one of the most crucial on-page signals that inform Google what the page is about.
Crafting the right title can make or break a blog post in terms of CTR (click-through rate). RankIQ helps in creating an ideal page title by collecting the most commonly used keywords from pages that currently rank for any given search phrase.
Content Analysis: Topics Google Wants You to Cover
What's great about this section is that it ditches the complicated workflow that other SEO tools have. You'll get suggestions for subjects to add to the content body (ranked by importance). The IBM-powered AI program does this automatically.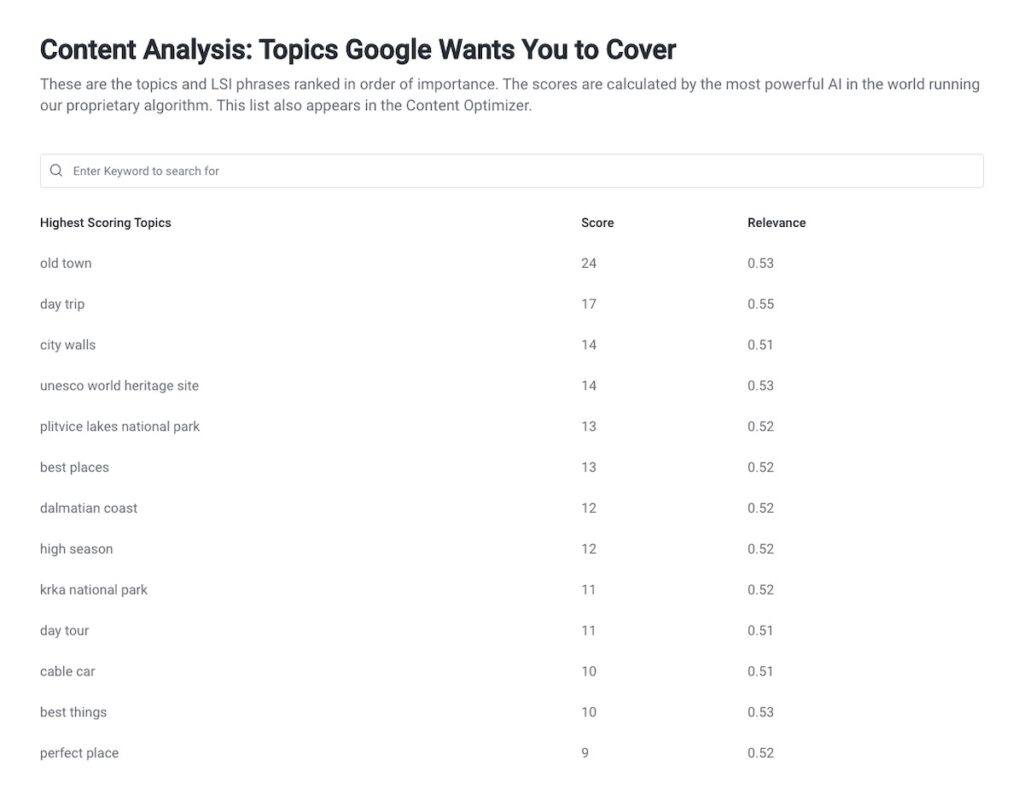 The subjects are grouped so that they will create a great outline for any article you write.
This system will save a huge amount of time. Without this tool, manually analyzing Google's search engine results pages (SERPs) can take hours. RankIQ's AI handles this in seconds.
Brandon recommends the following workflow for this part of the report:
One: Combine the top 40 concepts into a single theme.
Two: Determine the variations of the main theme issues.
Three: Locate the LSI keywords. (Latent Semantic Indexing: Basically, it's computer software that uses context to learn synonyms. For example, if the main keyword for your page is "credit cards," then LSI keywords would be "money," "credit score," "credit limit," or "interest rate.")
Brandon Gaille emphasizes in his onboarding video that it is critical to avoid keyword stuffing. This means forcing keywords or numbers into a webpage and trying to manipulate a site's ranking in Google search results. If Google detects keyword stuffing on your site, your page may be downgraded in the rankings or perhaps removed entirely!
RankIQ Content Optimizer
The Content Optimizer is a critical component of the report. As you type and make changes to your draft material, the content grade score and word count will update in real-time.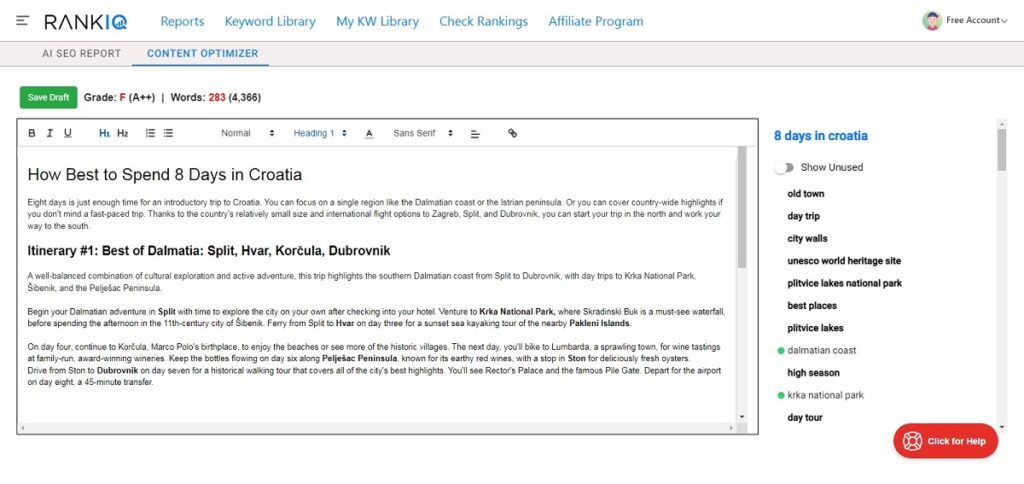 The Content Optimizer scans your post and assigns a content grade. It displays which keywords you've used, which you haven't, and your total word count.
This is what it contains:
Text Area: This is where you write or paste your blog post's text. Copy and paste the text from your WordPress draft into the relevant RankIQ window. You can also make changes here and then copy and paste them into WordPress.
Your Grade vs. the Recommended Grade: RankIQ examines your content and compares your grade to the recommended grade. The total word count and the number of incorporated keywords are used to calculate your grade.
Word Count vs. Recommendation: This one is quite self-explanatory. This calculates your overall word count and compares it to the recommended word count by RankIQ.
Topics to Include: This list shows which keywords you used and which you didn't. You can select "display unused" to easily find more keywords to include in your article. This is great, and it saves so much time trying to hunt through the keywords, especially in a long article.
According to Brandon, aim to include at least the top 40 keywords in your blog article as a best practice. Writing a thorough post increases your chances of ranking high on Google.
Brandon claims that at this point, RankIQ will have assisted in creating the most complete content on the chosen topic. And a CTR-optimized page title.
Of course, you'll have content that will most likely rank well for all secondary important keywords and phrases linked with the subject. Your post will be ready to publish once you've met the required content grade and word count.
Not bad at all; I got everything I needed super-fast. I like how easy this tool is to use – straightforward and simple. You get the feeling that there's nothing in there designed to impress without being exactly useful.
RankIQ Pricing and Alternatives
Pricing begins at $49.00 per month as a flat rate. It includes 16 article outlines. In comparison to other SEO tools, this makes it quite affordable. Its pricing, however, will not last forever and may rise to $99 per month.
This is how RankIQ rates itself against its competitors.
Most beginner bloggers can afford the current price. Using RankIQ will help their new material rank faster, and if they monetize it, it should earn more quickly.
The big irritation for me in this RankIQ review is that there is no pricing information on the RankIQ site. You have to sign up first. Hate it when they do that.
---
RankIQ Alternatives
SEMRush
Pricing starts from US$119.95/month.
SEMRush is a major software-as-a-service platform for SEO. It includes over 55 products, tools, and add-ons across online visibility management plus tools for search, content, social media, and market research. You also get data for more than 142 countries, seamless integration with Google, and task management platforms.
Think SEMRush might be just what you need? Then read this SEMRush review and tutorial to learn more.
MarketMuse
Pricing starts from US$99.00/month, but it has a pretty good free plan to get you going.
MarketMuse is a content planning and optimization platform that assists content creators and marketers in optimizing their content. The software helps users research, plan, and create optimized content to increase organic search ranking and reach more readers. It does this through artificial intelligence (AI), trend data, SEO tactics, and predictions.
Surfer SEO
Pricing starts from $59 a month ($49/month if you pay annually).
Surfer is a cloud-based SEO management software that assists organizations in creating and optimizing website content to increase search engine results.
Surfer allows businesses to automatically use artificial intelligence (AI) technology and natural language processing (NLP) skills to generate optimized webpage content automatically. The tool examines competitor websites' phrases and keywords. Users can also rate existing material and rank keywords based on their importance. And it provides recommendations for creating SEO-optimized content.
You can link Surfer with third-party programs, including WordPress, ConversionAI, and others. Users can also utilize the software to generate SEO audit reports, assess content structure, locate organic rivals, and discover internal linking opportunities within the website.
Read this Surfer SEO review to find out if it is the best all-in-one on-page SEO tool.
Ahrefs
Pricing starts from US$99.00/month.
You don't have to be an SEO expert to rank higher and get more visitors using Ahrefs. Marketers from the world's largest brands rely on Ahrefs. It is an all-in-one SEO toolkit with free learning materials and a supportive community. Ahrefs' toolset is strong yet simple to use, whether you are a junior marketer or an SEO specialist.
---
RankIQ Review: Pros and Cons
Research any keyword: One of RankIQ's underappreciated features is the ability to generate an SEO report for ANY keyword. You are not limited to the keywords in the keyword library.
Simple to use: RankIQ features short videos to help you with more challenging jobs. In addition, the user interface is much easier to use compared to Semrush and Ahrefs.
Created by bloggers for bloggers
Reasonably priced monthly subscription
Handpicked keywords selected by an SEO expert
AI SEO Content Report: A single artificial intelligence report provides the information you need to create complete, SEO-friendly new posts.
Easily update previous posts
Great customer support
No WordPress plugin (yet)
Similar keywords can be seen by other RankIQ subscribers
No rollover on unused SEO reports
What Makes RankIQ Unique?
Rank IQ differs from other popular keyword research tools in that it goes into a deeper analysis of a list of low-competition, high-traffic keywords for nearly any niche.
Brandon is one of the world's finest authorities on keyword tools and research. He handpicks a list of keywords on topics relevant to your specialty, which is Rank IQ's most impressive feature.
And he does the research and enters the keyword list into the software. Because a keyword phrase can be highly specific, removing the guesswork can be fantastic for you. All Rank IQ subscribers can access Brandon's keyword research across hundreds of categories. And if your topic isn't already covered by the tool, he'll create a custom list for you.
Conclusion: RankIQ Review
RankIQ is an excellent blogging tool if you're looking to strike a balance between price, customer service, value, and performance. RankIQ does keyword research on your behalf. It meets most, if not all, of the demands, aims, and expectations of professional bloggers.
The tool improves workflow efficiency by delivering validated, personalized content. The product isn't perfect, but it offers great value for money. Other SEO toolkits cost twice as much and do not include the same capabilities as RankIQ.
This tool should be used by bloggers, content providers, publishers, and anyone else who creates content and wants it to rank nice and high on Google.
It can help beginners, intermediates, and experienced bloggers alike. The program can be used to improve the quantity of organic traffic generated by both new and old content.
And the RankIQ support crew is extremely attentive to any technical issues that could come up.
The verdict on our RankIQ review: It's a great service that actually works!
RankIQ alternatives
Lastly, let's take a closer look at the alternatives included in this RankIQ review:
SEMRush is one of the most popular and extensive SEO tools. It includes over 55 products, tools, and add-ons. Among these are tools for search, content, social media, and market research.
MarketMuse uses AI, trend data, SEO tactics, and predictions to help you with your content planning and optimization efforts. It has a great free forever plan which includes 15 queries per month.
Surfer SEO uses AI and NLP to create optimized webpage content. Run SEO audit reports, assess content structure, locate organic rivals, and discover internal linking opportunities within your website.
Ahrefs is trusted by the world's largest corporations. It is an all-in-one SEO toolkit with lots of free learning materials. The Ahrefs toolset is strong yet simple to use, whether you are a novice or an SEO specialist.
Want to learn step-by-step how I built my Niche Site Empire up to a full-time income?
Yes! I Love to Learn
Learn How I Built My Niche Site Empire to a Full-time Income
How to Pick the Right Keywords at the START, and avoid the losers
How to Scale and Outsource 90% of the Work, Allowing Your Empire to GROW Without You
How to Build a Site That Gets REAL TRAFFIC FROM GOOGLE (every. single. day.)
Subscribe to the Niche Pursuits Newsletter delivered with value 3X per week