WPX vs Siteground: Which is the Better Host For Your Site?
When you buy something through one of the links on our site, we may earn an affiliate commission.
One of the basics you need to consider when starting your niche website is which company to choose as your web hosting provider. Today we're looking at WPX vs Siteground to determine the pros and cons of both and see which may be a better host for your site.
Spoiler alert: WPX hosting ultimately comes out on top in just about every category against Siteground whether it be overall performance, ease of use, or even long-term budget.
For that reason, you will want to opt for WPX hosting vs Siteground when signing up for a new web host. Siteground is the better recommendation only if you have a minimal budget to get started, as it has a lower initial cost (don't miss our full Siteground review).
But let's get into the details of why it's better!
What To Look For From A Web Hosting Provider
When choosing a hosting company for one or multiple websites, there are several key factors to consider. Analyzing each of these offerings will help you determine which hosting service will best be able to meet your needs.
Speed. Possibly the most crucial element of a good web host is speed. This means your page load time. It can critically impact your users' overall experience and may ultimately affect conversion rates.
Performance. Reliable hosting providers should have, at minimum, a 99% uptime guarantee. Uptime refers to your site being live and accessible. Downtime is exactly what it sounds like. It means your site is down. This can obviously impact your traffic and affect your performance on search engines.
Security. Free SSL certificates and frequent backups are two things to look for. You also want to ensure that your web host provider takes security seriously to protect your customers and your brand.
Customer Support. A good hosting provider MUST have responsive customer support to address any issues you might have. You should consider average response times and whether or not the web hosts offer phone support or just email/chat.
Cost of Hosting Plans. Some hosting plans will offer better value for money. For example, some hosting providers might charge for services like site migration, while others will deliver it for free. It's also important to consider things like a money-back guarantee, the term of your contract, and your initial budget.
Comparing WPX vs Siteground At a Glance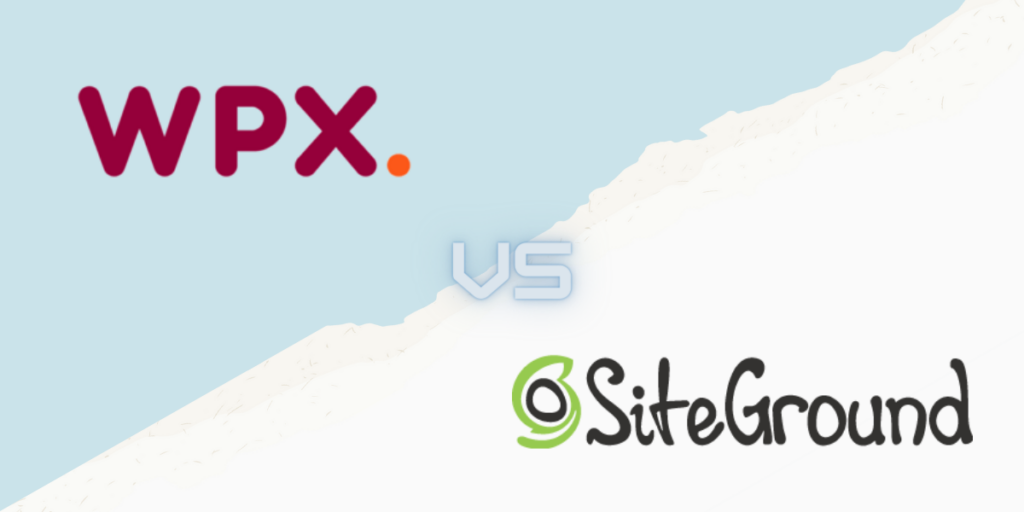 Both WPX and Siteground are well-known web hosting providers.
One of the key differences between the two is that WPX is only a managed WordPress hosting provider. Meaning WPX hosting will only work for those looking for managed WordPress hosting (just like Iridium Hosting).
Siteground also offers managed WordPress hosting, but you can still use their service for shared hosting and other plans.
At a glance, here are the main differences when it comes to WPX vs Siteground:
Siteground has a lower initial cost. Plans start at $3.49/month compared to $20.83/month with WPX.
Customer support is available by phone or online with Siteground. WPX customers can only interact with the customer support team via online chat.
WPX has more storage and bandwidth available as part of its premium plans. Siteground plans max out at 40GB of web space. Comparatively, WPX offers up to 60GB.
WPX has a custom-built CDN for faster-performing websites around the world.
Generally, if you're on a budget, go with Siteground. Otherwise, WPX offers more features and better performance, enhancing your customer's experience when visiting your website.
Speed
There are a lot of reviews that say WPX far outshines Siteground in terms of speed thanks to their Litespeed servers. However, in Kevin Ohashi's (founder of Review Signal) load storm test of all WordPress hosting providers for under $25/month, Siteground held up against WPX exceedingly well.
In previous years, Siteground did lag behind in average page load times, but as of 2022, they've managed to come neck in neck with WPX hosting and ensure faster-performing websites.
In a simulated test with approximately 350,000 users, WPX and Siteground both returned 0 errors. Siteground also came back with the fastest page load time as well as the best 95th percentile response time.
Comparatively, WPX had the highest average load time for assets (links, images, etc.). Additionally, WPX hosting also brought back a faster WordPress login time.
In the static test also done by Kevin Ohashi, WPX did bring back a marginally faster average response time.
(The static test assesses cached performance versus the load storm test, which records uncached performance.)
And for the K6 static test, WPX had an average response time of 15 milliseconds. In comparison, Siteground's response time averaged 19 milliseconds. Meaning WPX is the slight winner for speed.
Performance And Uptime
The goal of any website is obviously 100% uptime. Any second a customer's website is unavailable is a potential loss of income or reputation. However, 100% isn't realistic, so the industry standard is usually 99%.
This is another metric that Kevin Ohashi has tested extensively when reviewing web hosting providers. Regarding Siteground vs WPX hosting, the difference is minuscule but worth noting.
Ohashi used HetrixTools and UptimeRobot to monitor uptime from different web hosts. Amazingly, WPX hosting recorded 100% uptime while Siteground came in at 99.99%.
That said, a Siteground's customer websites suffered a major outage in 2022. The web hosts took zero responsibility for the issue and tried to blame it on Google. There was also a problem with customers reporting issues to do with Siteground's DNS that meant Google couldn't crawl their websites properly, causing many sites to be deranked or in some cases completely deindexed.
To be fair though, WPX also faced an issue in 2021 when their customers websites hosted on their Chicago server went down for more than five hours. They didn't really take responsibility for it either and tried to blame other people.
Neither is perfect, but both are generally pretty good regarding uptime.
Content Delivery Network (CDN)
In the same vein, considering the content delivery network your web hosting provider can offer may impact how well that host performs for your customer base.
WPX has a high-speed custom CDN which helps them provide faster-performing websites in more places worldwide. They have 26 edge locations and are the fastest web hosting provider for global audiences.
Though WPX hosting has only 3 data centers compared to Siteground's 7, the custom-built CDN advantages also include a faster response time for an international customer base.
In comparison, Siteground does not have a built-in free CDN, but they do offer easy integration with services like Cloudflare.
Security
Both WPX hosting and Siteground will offer free SSL certificates. Siteground customer websites built using their platform will automatically have one, but if you migrate over you can add an SSL certificate from your control panel.
In addition, Siteground also has its own security plug-in for WordPress. Plus, they use a real-time monitoring system, an AI anti-bot system, and a custom web application firewall. All of that to say, they are pretty on top of their security game.
Furthermore, Siteground takes automatic daily backups of their customer websites so your site can be restored at the click of a button in case something happens. And you can also use the backup manager to force a manual backup or choose specific elements to restore.
Likewise, WPX hosting offers Enterprise-level DDOS protection. You'll also get brute-force protection and daily malware scans. And WPX also has a web application firewall set up on all their servers that is updated constantly with new rules.
Similar to Siteground, WPX also has a backup manager and automatic backups. Backups are stored for 28 days, and you can even restore a website that's been deleted if you get in touch with their support team.
The one key difference between Siteground and WPX is that Siteground will charge you extra for domain privacy. Meanwhile, WPX includes WHOIS protection in all plans.
For that reason, WPX hosting wins the security round.
Customer Support
The dream is that you don't have to get in touch with customer support for any reason, but the reality is that you probably will. With that in mind choosing a hosting provider with a knowledgeable and responsive customer support team is the key to less stress in your life.
Both Siteground and WPX hosting have excellent customer support, but there is one key difference between the two that gives Siteground a slight edge in the competition.
To reach WPX's customer support you can get in touch via online chat or raise support tickets. The good news is that their chat is available 24/7 and you can expect a response in roughly a minute or less.
However, WPX does not have a number to call. You can only get help online. Comparatively, Siteground knows that some issues are best dealt with by phone. So, you can access their helpful customer support by phone or online. Plus, their support system will automatically detect which option will give you the fastest resolution based on your problem.
Both have responsive customer support with extensive training that goes above and beyond when it comes to solving issues. So there's not really a clear winner here unless you are particular about the phone option, in which case you'll want to go with Siteground.
It's also worth noting that Siteground has a WordPress starter site builder which may make it an appealing option for beginners. But overall, WPX was still beginner friendly with an easy-to-navigate hosting interface and helpful tutorials on getting started with WordPress.
Pricing
Determining which of these innovative WordPress web hosts will best suit your budget actually isn't as easy as looking at the base price. Siteground has a lower initial cost, but ultimately I would argue that you get better value for money with WPX.
WPX is a managed WordPress host with plans starting at $20.83/month. This is obviously quite a significant cost, especially if your website is new and you don't have any traffic to build income yet. However, with that plan, you get up to 5 websites, a reasonable amount of storage and bandwidth, plus free malware removal. And it's worth noting that with WPX you also get professional, free website transfer help which is something many other web hosts charge for.
Comparatively, Siteground's WordPress hosting plans start at only $3.49/month, but you are limited to one website and only 10GB of storage. Plus, it's worth noting that that low price is only for your first invoice. Renewals will cost you the "regular" price of $14.99/month.
If you move up to their GrowBig and GoGeek plans, you start to get a little bit better value for your money and, at least for your first invoice, plans are still cheaper than WPX. You get unlimited websites and free website transfer, but after that initial payment, plans go up and are then on par with WPX with fewer features included.
For that reason, when you look at WPX vs Siteground, the latter might be a better web host to choose. You can take advantage of the low price in your first year while you are still trying to build traffic and figure out how you are going to make money from your website. But if you've already have traffic with an established site, WPX will get you more bang for your buck.
WPX and Siteground Compared to Other Web hosts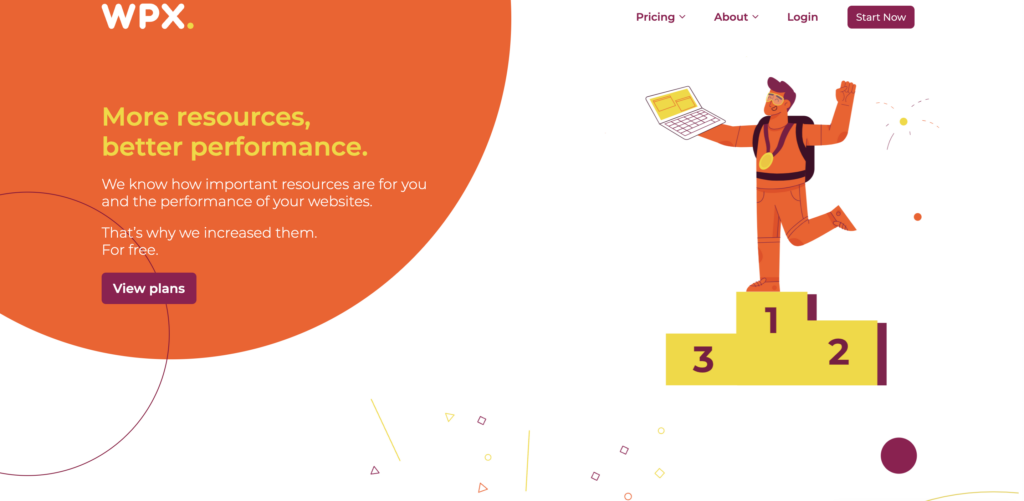 When it comes to shared hosting or managed hosting, there are a ton of affordable options out there. So how do Siteground or WPX stack up against other hosting providers?
The short answer is fine. Nothing particularly stands out about either of their hosting services that no other web hosts offer.
When you compare WPX to other big hosts like Bluehost, you'll find some advantages regarding site speed and support. Bluehost arguably has a better hosting interface with an easy 1-click WordPress install, but WPX isn't far behind in terms of ease of use.
However, even in terms of speed, Pressable offered faster load times and a better uptime guarantee for more or less the same price, so it's difficult to make the argument that WPX is an obvious winner.
And Siteground actually falls a little below the top managed hosting providers. Their biggest selling point is that their starting plan is very affordable, but the trade-off is that they cap you at every turn so that once your site is actually gaining any traffic, you need to upgrade to their more premium plans.
For the same price you can get a shared hosting plan with Bluehost and take your time to build your site until you have a consistent amount of traffic (and income) coming in.
Comparatively, you may have heard that Dreamhost offers a significantly reduced hosting plan for startup websites. However, when you compare the features and costs of Siteground vs Dreamhost, Siteground does actually come out on top.
Final Verdict
Ultimately, there are two key differences that can help you decide between WPX vs Siteground. Speed and budget.
WPX is (by a margin) the faster and more reliable web host of the two. However, Siteground trumps WPX with a lower initial cost.
Overall though, if you can afford the higher start-up cost, WPX comes with more bang for your buck, with more features and tools to help you grow your site.
Want to learn step-by-step how I built my Niche Site Empire up to a full-time income?
Yes! I Love to Learn
Learn How I Built My Niche Site Empire to a Full-time Income
How to Pick the Right Keywords at the START, and avoid the losers
How to Scale and Outsource 90% of the Work, Allowing Your Empire to GROW Without You
How to Build a Site That Gets REAL TRAFFIC FROM GOOGLE (every. single. day.)
Subscribe to the Niche Pursuits Newsletter delivered with value 3X per week