How to Find A Niche for Your Website [3 Easy Steps in 2022]
When you buy something through one of the links on our site, we may earn an affiliate commission.
You're about to get a foolproof strategy for how to find a niche.
I'm currently in the process of choosing a niche for a new website. So, I've been doing a lot of research and I thought I would share with you my process of how to pick the right niche ideas for your website, as well.
Overall, the process involves brainstorming potential niche ideas, competitor analysis, doing some keyword sampling, and much more. Don't worry, we'll cover all of this below.
This really is an important step to finding your profitable niche for your online business. Ideally, once you get started in the niche, you can become an authority in the broader market, make some money, and stick around for a long time.
---
How To Find The Perfect Niche Market For you
I'm going to focus on choosing a niche for affiliate marketing websites, because that is the type of site I plan to build.
Overall, here's some winning criteria I will follow when picking a profitable niche that has lower competition.
How to Pick a Great Niche Topic:
Find a niche where there are low authority sites already ranking.
Find an area that has lots of topics that you could write content on that combined have lots of traffic (you don't need to find high traffic keywords per se).
Make sure there are profitable products already being sold.
Bonus: If you are interested or passionate about the niche that's ideal, but not required.
That's it, those 4 simple strategies are what I use to decide if I want to build an affiliate niche website around a topic or not.
Now, of course there's a lot of nuance involved and for beginners I would also recommend taking an online course like the Authority Site System to get a head start on the other aspects involved with growing a site.
But for now, let's dive into each of the 4 areas mentioned above to get you headed in the right direction.
Step 1. Find Low Authority Sites in the Niche
The digital marketing strategy behind this is simple, really. If there are newer or "weaker" sites already ranking on the first page of Google for certain keywords, that should give you confidence that you as a newer and weaker site to also have a good chance of ranking on the first page of Google.
If every keyword you look at has high authority websites ranking, you should avoid that niche.
On the other hand, if you are easily finding 10 or 20 keywords that have low authority sites ranking, that could be a great niche.
It's very possible that's a niche market with plenty of potential to be a great niche for a new website.
Finding and Using Domain Authority
I will keep things simple. If I can find a site that has a Domain Authority (a Moz.com metric) below 30, that's "low" authority.
So, here's the criteria to use:
Under 30 DA (Domain Authority) is good.
Over 30 DA is bad.
Simple, right? It's best to keep things simple when searching for a niche market with openings for new sites to do well.
You can find the Domain Authority for free on sites by using the MozBar chrome extension and signing up for a free Moz account.
Goal: Find 5 to 10 sites with a DA under 30 that are ranking for keywords in your potential niche.
In my research, I will keep a running list of sites that have a DA of under 30 that are ranking for potential keywords I might want to target.
If you can find 5+ sites, that's a really good sign.
Step 2. Find Your Niche Market Via Potential Keywords to Target
I like to call this Keyword Sampling. The idea is to see if you can find 10+ keywords relatively quickly that might be easy to rank for and have decent search volume.
Ideally, you can find LOTS of topics to write about quickly.  If you are struggling to even find 5-10 keyword that seem low competition in your target market, you may not be in a good niche.
In the past, I did an entire training on how to do keyword sampling.
The easiest way to do keyword sampling is to use Long Tail Pro. If you can quickly find keyword phrases that have a KC (Keyword Competitiveness) of 30 or less, chances are you have found a good niche.
However, if you can't afford to buy Long Tail Pro right now, there are other ways to find the right niche.
They aren't as fast or easy, but there are options.
Quick Criteria for Keyword Sampling
For sampling, you pick a few long tail keywords in your niche market examples that you think might be a good fit and start to judge the competition.  So, you might find a keyword like, "best survival knife" or "best safety razor" or "easy piano songs for kids," etc.
Here's the criteria for keyword sampling to follow and hopefully find 10+ keywords that meet this in your niche relatively quickly:
Keyword is 3+ words long (longer is better).
Keyword gets 500+ searches per month.
First page of Google has 2 sites with both a PA and DA of less than 30.
3 or more affiliate sites ranking in the top 10
There are not more than 4 or 5 eCommerce sites on Google's first page (less is better).
Pro tip: If you use SEMrush, you can find lots of great related keywords by plugging in a website in your potential niche that has a low Domain Authority.
I will use SEMrush a lot in my more in-depth keyword research process, but it can come in very handy during this initial niche research phase as well.
Pro tip side note: Many people have historically used the Google ads free tool, Google keyword planner for keyword research. It's okay even though its competitor analysis is mostly about paid competition and paid advertising but a tool like Semrush is better.
A Word About Search Volume
I've seen great success with low search volume keywords, even less than 100 searches a month sometimes. I used to say only find keywords with 1,000 searches or more per month, but I've adjusted that over the years.
So, when just verifying the niche market examples you find, try to find several with over 500 searches a month.
But when you actually do your keyword research and are ready to write content for your niche online, you very well may be looking for and accepting keywords with less than 500 searches per month.
However, every niche is different. You MIGHT be able to find lots of keywords that meet the keyword sampling criteria and have over 2,000 or 5,000 or more searches per month in a mass market and that's great.
On the other hand, you might just see a ton of keywords in the 200 to 500 searches per month range and that can work too for your niche business!
The main idea is to hopefully find LOTS of keywords and topics about your niche online that are low competition with relatively high search volume in a particular niche. That's usually a great sign you can reach a targeted audience rather quick.
But if you are struggling to even find 10 adequate search queries throughout the keyword sampling process… the growth potential isn't there and you'll need to look for more niche market examples to look into.
Step 3. Is the Niche Profitable?
Having weak competition and lots of topics to write about isn't everything. You also need to make sure you can make some money in the niche markets you're considering.
If you are looking to monetize your site with Amazon Associates, it's a pretty simple process. Just go to Amazon and see if there are lots of products in your chosen niche markets and broader market that are selling well. This can also be an effective part of your keyword research as you come across new tools and products.
I don't have a magic number here, but if you can only find 5 or 10 products that are in your "niche" then you are either focusing too narrow (and need to look for a broad niche) or you are just in a bad niche.
Remember though, in the beginning you'll likely want to be a specialist within the niche, not a generalist. This way you can establish some topical authority to help your niche marketing.
However, if you can easily find 30 products or more in your niche market research (again there is no exact number, just a rough estimate), then you can probably start a profitable niche business.
So, if my niche was fly fishing, I could easily find hundreds of fly fishing rods, reels, string, bait, and more.
This would check the box of a profitable niche.  People are buying lots of products.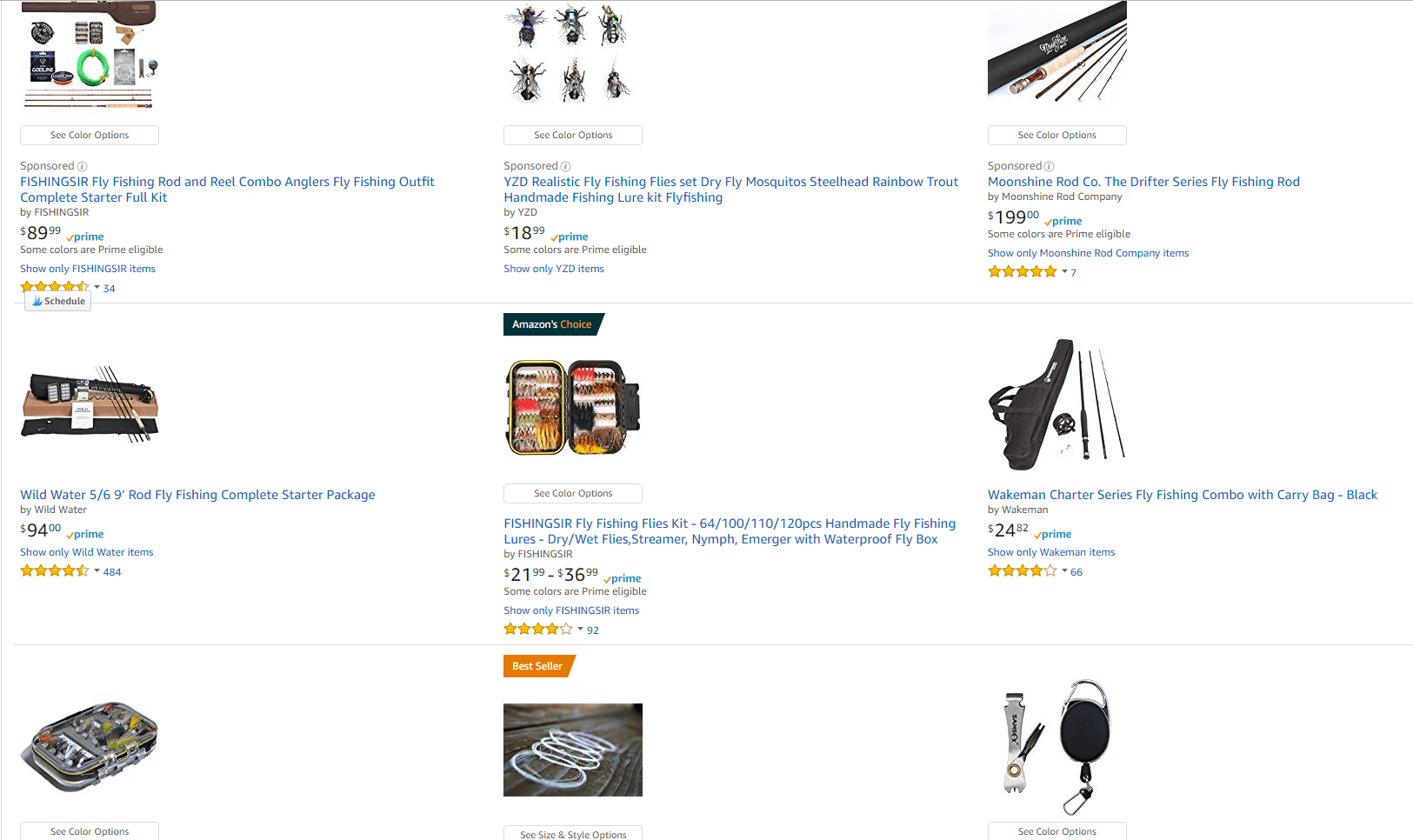 On the other hand if was looking into the niches or "Dad quotes" or "Best way to pick your nose," I'm not going to easily find very many products selling. This would be a big red light for me.
Be sure to do some poking around the product category on Amazon or another online store to make sure there are lots of products selling before you pick your niche!
Bonus tip: For great niche ideas, look at the bestseller rank of products on Amazon, you can see how well they are selling (lower bestseller rank means they are selling more). Once you start writing articles, it might make sense to feature products that are selling well, since you already know they convert well and have may even have a loyal customer base. This will give your digital marketing strategy an initial boost to help drive traffic and sales early.
Jungle Scout is a tool you can use to also see how much products are selling each month on Amazon.
---
Brainstorming and Example Niches
But where should you start when looking for your niche business idea? How do you know whether to look at dropshipping or an ecommerce business to sell online or the good old fashioned affiliate website?
This is where brainstorming comes in. Don't expect it to be easy to find the perfect niche business. You're looking for a viable niche that you are interested in and can spend a lot of time working on (most likely in your free time in the beginning).
After all, you will need to be willing to spend a lot of time building your niche audience and customer loyalty.
Don't restrict your brainstorming in the beginning. All potential niches could be the right topic for you. So start with a huge list of possible niche businesses and narrow it down from there!
When brainstorming for potential niches, you can go to all sorts of places:
Find lists of hobbies
Research on Amazon, eBay, or Walmart
List your passions or interests
Look around your house
See what other websites are doing
Look at sales pages of big affiliate programs in your niche and the landing page you may be sending traffic, does it look like it'll convert?
Look at brokerages (Empire Flippers, FEinternational, etc) and see what sites are selling that make good money.
Check Google Trends to see an overview of potential niche markets over time
So, doing some of that I've come up with a short list of niche market examples. I'm not saying these are low competition or great niches market examples, I'm just saying these are the kinds of things you could build a profitable niche business around:
Raising teenagers
Kitchen appliances
Backyard landscaping (and tools to help with that)
Car accessories
Raising chickens
Dogs
Fish
Hunting
Hiking
Home electronics
Outdoor games
etc.
There are thousands of different potential niches that you could go into. Notice that the focus is on something that you could potentially have hundreds of articles to write about (all of the above niches could easily have hundreds of articles). This will increase your chances of building a profitable business.
Start broad when you go with brainstorming a niche (and checking it in the free tool Google trends). Then find a solid blog niche through related keywords that you can start as a more focused business and grow into a more general direction in the long run, as well.
Ideally, you will find a niche target market that can continually expand over time.
Starting narrow then moving into a broad niche is often the best strategy.
How To Find Your Niche Market
Now that we've looked at the steps you can take to find a niche, I want to get more personal.
Let's discuss how you can find your niche.
Who has your money? Is your target audience buying what you want to sell?
What's a problem you can solve? Does your business idea add value?
How steep is the competition? What did your keyword research tell you?
Do you like it? Is this a niche market you're passionate about?
Who Has Your Money?
The most important (and should be first) step in finding your niche business and nailing down your niche marketing is figuring out who has your money. You want to make sure that you're going to be able to make money before you ever go into a niche.
Now this is pretty easy to do; almost all niches can sell something. But can it be sold easily?
For example, there are a ton of people who would buy Kleenex. But can you sell Kleenex? I bet not. The mass market is happy with what they already have.
So that's not a good niche.
You should be asking what you can sell in any of the niche markets you're considering. How much interest is there in the niche? Can you refer affiliate products? Can you sell ad space? Are there info products you could market?
Can you make your own product that you can start selling online?
Before you go into any niche, ask the question: Who has your money? Who can you sell to, and what can you sell them?
This is a great starting point for any business idea.
A great niche has LOTS of products that you can sell! My niche site project 4 has been revealed now and it's in the outdoor niche. Right now I have almost 200 posts on the site, about 50% of which are affiliate posts.
They're all recommending different niche products.
You want to avoid niches where there isn't that much to sell online. Just from experience, I think it's a good idea to start in a niche with physical products. And again your keyword research can help uncover what's available.
Here are some things to keep in mind as you brainstorm your niche business idea:
Info products can require a bit more trust between your niche brand and your target market, so they can be more difficult to sell. But they also generally offer higher commissions.
The self-help niche might have a ton of info products for different pain points, but there aren't a lot of physical things to sell. So it often requires you to build a loyal customer base, or at least a strong reputation over time.
The home decor niche is a mass market and has tons of physical products. You can sell couches, beds, kitchen gear, chairs, televisions, washing machines, and more.
Your niche selection doesn't matter without this step. You'll just be spinning your wheels without earning a large income. Make sure you know who has your money. This way your niche marketing can have direction and you can start building customer loyalty asap.
What's A Problem You Can Solve?
This is the cornerstone of any good business. There has to be a need that you can solve.
We do this step in the keyword research that I mentioned earlier. We look for places on the internet where there aren't reliable, trustworthy sources distributing information in your prospective niche markets. When the first page of Google has websites with low Domain Authority, there aren't enough trusted sources. So as you do market research, consider the pain points of your target customers in your chosen niche.
We can fill that need with a great niche website.
Maybe you just need to write a few articles on how to construct a kayak. Maybe you'll be giving some kitchen design ideas or talking about the best ways to type faster.
Sometimes you'll see that not many people are talking about niche products with commercial intent, like the best paintball helmets, the best lawnmowers, or the best compression socks for runners.
That's the need and a good sign if big sites aren't dominating the SERPs. So go fill it.
How Steep Is The Competition?
If you're going into the facial wipe niche, you're going to have to face off against some serious competitors. If you start up a health site or a website on dogs, basically a site in a broader market, you've got some competition ahead.
A website on the best kitchen knives, maybe not so much 😉
The beauty of websites is that the keyword research figures this out for us. We're looking to find websites with a need and low competition. The keyword difficulty score in the best keyword research tools gives us those measures.
This is a good place to evaluate the broader need for a need for your business as well.
What are the competitors doing that you could do better?
If it's a website, maybe it's not very pretty. Maybe it looks spammy or has ads all over the place. Maybe they're missing tons of possible keywords!
These are all places that you can take advantage of weak competition. If you can serve visitors better with a faster, more attractive, more helpful website, then you will get traffic.
It's just a matter of beating the competition. So go put the time in and build a loyal customer base!
Do You Like Your Niche?
This step is the most and least important part of process. A lot of people get this wrong by following their passion. They start small businesses based on what they like, not what the customer likes.
You shouldn't always start a business based on your passion. But you should always be passionate about your business.
Here's what I mean:
I love running, but the competition for running sites is enormous. There's just not a need for another site in the running niche. If I started one, I would be following my passions, but I wouldn't be solving the pain points of a real need.
Same for if you love fashion. Does that mean you should start a clothing company? Probably not.
So I wouldn't start niche businesses based on my passion, because it might not end up working out. If I'm not solving a real need, then I'm not helping anyone other than myself (and that doesn't pay the bills).
Instead, I should be passionate about my business. I saw a need in the yard niche. Now I'm not the biggest fan of yard work, but I do like knowing that I'm using the best tools and that my family has the right toys and games to enjoy in the yard.
So I'm not passionate about yard work, but I do enjoy owning a site about the yard.
That's what I mean when I say that you can't start a business based on your passion, but you have to be passionate about building your profitable business.
The biggest mistake I see in businesses is that people start without following through. If you aren't interested in your niche, there's a good chance that you're going to burn out and give up. The simple fact of the matter is that with enough time and hard work, you can crack almost any niche.
You just can't give up before you get there.
So don't start a business based on your passion. But do be passionate about your business.
Understanding that difference will help determine whether your specific niche site will do well or will flounder. Being willing to put in the work early and sticking with it makes all the difference long-term with building your customer base!
Deep Dive into Your New Niche Market
Once you know which niche topic you are going to build your website around, make sure to go all out. Get excited about the topic. Become an expert in your particular niche.
You will want to know who your potential customer is. You will want to understand your target audience and how to bring them value. Then you need to understand how your online business is going to serve the people most interested in your niche.
For some, that means sharing what you already know.
For others, this means a lot of first hand learning something new.
Either way, getting the most out of even the most perfect niche business is only going to happen by being willing to learn more. Try new things out. Bring heavy value to the table. And stick with it over the long run.
Revealing My Niche?!
Now that you have seen the exact process I am following to find my niche for my project site, perhaps you are wondering when I will reveal it.
I've actually been looking at niches over the past week or so, and I'm pretty sure I've settled on one. However, I don't plan on revealing the niche just yet until I'm 100% sure. I'll also may want to get a couple of weeks ahead before revealing too much so I can get a head-start.
I hope you are okay with that!
[Update: My niche is revealed! I even give my exact domain name 🙂 check it out here]
If you are in the process of evaluating niche markets, feel free to join my private Facebook group here, and ask the entire community about finding a niche and niche marketing best practices in general.
Want to learn step-by-step how I built my Niche Site Empire up to a full-time income?
Yes! I Love to Learn
Learn How I Built My Niche Site Empire to a Full-time Income
How to Pick the Right Keywords at the START, and avoid the losers
How to Scale and Outsource 90% of the Work, Allowing Your Empire to GROW Without You
How to Build a Site That Gets REAL TRAFFIC FROM GOOGLE (every. single. day.)
Subscribe to the Niche Pursuits Newsletter delivered with value 3X per week