21 Best Baby Products Affiliate Programs to Turn Your Clicks Into Cash
When you buy something through one of the links on our site, we may earn an affiliate commission.
Everyone loves babies. Everyone also loves spending money on babies, which is great because babies are expensive. The good news? With these baby products affiliate programs we've curated, you can promote products you believe in, earn some extra cash and build your passive income stream!
The Best Baby Products Affiliate Programs to Make Money Online
The great thing about affiliate marketing is that you can get started with no money because you don't have to invest anything upfront. You can even choose to promote on your social media pages (Instagram, Pinterest, TikTok, etc.) and avoid having to build a website if you want.
In fact, now is a great time to get into the game with the affiliate marketing industry expected to grow to nearly $37 billion by 2030.
That said, investing a little bit of money to get a website up (if you don't have one already) is probably going to be worthwhile if you're considering affiliate marketing as a long-term strategy to build passive income. Benefitting from organic traffic and having evergreen content are great ways to encourage your affiliate links to keep earning for you.
Amazon Associates
The Amazon affiliate program is one of the biggest out there and definitely one of the most well-known (check out our article on how to become an Amazon affiliate). Associates can promote a variety of products, and baby products are no exception. Everything from sweet nursery decor, safety must-haves, and organic cotton onesies can be found in this global marketplace.
Whatever niche your focus is, Amazon is a great affiliate program to sign up with to start promoting products.
Read our full Amazon affiliate program review to see if it's a good choice for your website.
Fixed Commission Rate: 3% on Baby products
Cookie duration: 24 hours
If you're interested in promoting Amazon products to earn a commission on your website, check out these helpful tips to increase Amazon affiliate clicks on WordPress.
---
Buy Buy Baby
Often seen as the one-stop shop for all your baby gear, Buy Buy Baby sells everything from nursery furniture to personalized gifts.
Bloggers interested in posting reviews of baby products and similar style content would benefit most from this affiliate program.
Commission rates: 1% on gift card sales, 3% on qualified orders, and $6 for every customer that creates a new registry.
Cookie duration: 24 hours
---
Etsy
Etsy is a well-known craft and art marketplace, but it also has one of the best affiliate programs for niche baby gifts. Things like custom baby clothing, baby shower props, and hand-made baby toys are just a few of the treasured finds you can buy on Etsy.
Commission rate: 4% per sale
Cookie duration: 30 days
---
Ergo Baby
Baby carriers have been around since the dawn of time, but ErgoBaby makes some of the best on the market in terms of comfort, safety, and style. The ErgoBaby affiliate program is perfect for promoting baby-carrying products that encourage a natural sitting position (which is really important for development). Besides baby carriers, you can also buy swaddles, diaper bags, sleepings bags, and other baby essentials.
In addition, ErgoBaby has a global online store, so this affiliate program is perfect for bloggers with an international audience.
Commission rate: starts at 4% per sale
Cookie duration: 30 days
---
Grovia
Gone is the era of bulky cloth diapers that need 300 pins to stay put on your wriggly baby. Enter, GroVia. With their modern and upscale design, they make using cloth diapers easy and convenient. With their environmentally friendly initiative, this is one baby products affiliate program that everyone should be promoting.
Better yet, cloth diapers are suitable for babies all the way up to toddlers, so you can make money and parents can save money. Everybody wins.
Commission rate: 10% per sale
Cookie duration: 45 days
Note that the program is available to US and Canadian applicants only.
---
Goumi Kids
If you're looking for stylish but practical baby clothing (why are children's clothes never practical?), the Goumi Kids affiliate program is the best place to start. Their baby clothes are not only gorgeous but have great features like convertible feet to match your baby's temperature, bum flaps for easy diaper changes, and reinforced knees for crawling babes! Genius!
If you want to tempt your followers with another incentive to buy from Goumi Kids, they always donate 10% of their profits to supporting vulnerable people.
Commission rate: 8% per sale
Cookie duration: 10 days
---
Lovevery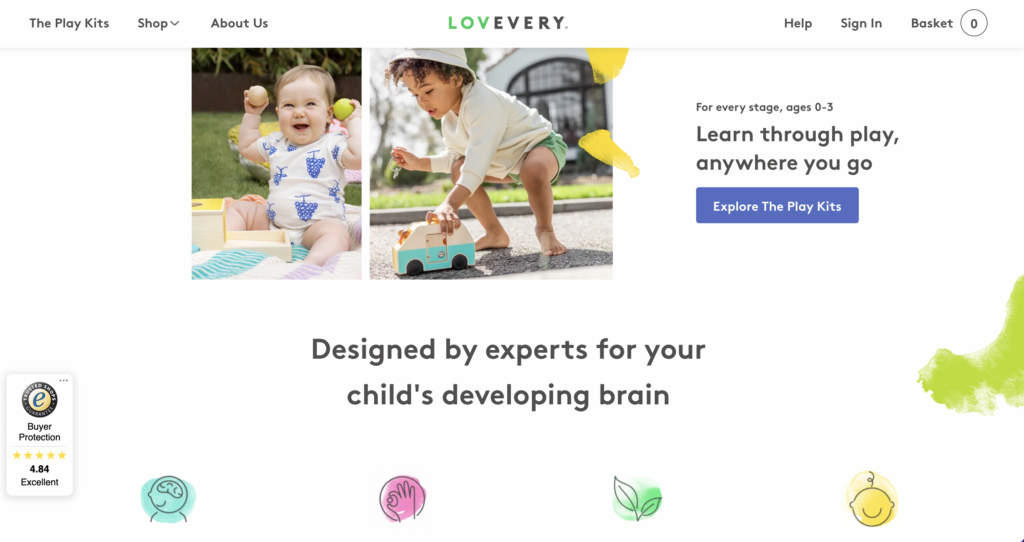 The Lovevery baby products affiliate program is part of the ShareASale affiliate network. Pretty much every parent has heard of Lovevery, thanks to their research-backed baby toys. They initially launched with their famous play gym toys but have grown to offer a wide range of baby toys for every stage of development.
Commission rate: 10% per sale
Cookie duration: 30 days
---
DockATot
Another ShareASale baby products affiliate program, DockATot, has an average order value of $165, which is great news given its 10% commission rate.
These baby loungers are hand sewn in Europe with high-quality fabrics and a commitment to safety. DockATots come in two sizes, one for babies up to 8 months and the DockATot Grand for young toddlers.
This is an easy product to promote because expectant mothers and sleep-deprived parents alike are all looking for solutions to help their baby sleep better and sleep safely.
Commission rate: 10% per sale
Cookie duration: 90 days
---
Happiest Baby
Inventors of the Snoo Smart Sleeper, Happiest Baby is another brand with sleep-deprived parents in mind. Their innovative baby products are designed to encourage your baby's sleep and give you peace of mind so you can rest too.
The Snoo Smart Sleeper creates a comfortable and safe environment that mimics the sounds and movements of the womb. The aim is to stop babies from waking and comfort them if they do. Plus, it also generates detailed sleep reports that get sent right to your phone.
The downside to this affiliate program, part of the CJ Affiliate Network, is that the Snoo costs a hefty $1000. But, Happiest Baby does also sell some other products like baby clothes, swaddles, and educational material.
Commission rate: 4% per sale or flat $50 commission
Cookie duration: 30 days
Interested buyers that aren't ready to fork over $1000 can opt to rent the Snoo Sleeper, but keep in mind that as an affiliate, you won't make any commission on rentals.
---
The Cute Kid
The Cute Kid is a bit different from your average baby products affiliate program. Rather than sharing a specific product with your followers, you're unique link will be for them to enter a photo contest. The contest runs every month for children aged 0-12, and winners could take home up to $25,000.
With lots of remarketing material and coaching to help you convert visitors, The Cute Kid is a great program for affiliate marketing beginners.
Commission rate: $16 per sale
Cookie duration: 120 days
---
SnoofyBee
Whether you use disposable or cloth diapers, changing your baby once they learn to roll around and kick their legs is no easy feat. SnoofyBee's star product is a changing mat that can hold your little one's arms out of the way and keep them from rolling over.
You'll also find a tooth brushing aid and suction bowls on their online store, all designed to try and make the difficult parts of parenting just a little bit easier.
Commission rate: 20% per sale
Cookie duration: 45 days
---
Wonderbly
Looking for a baby products affiliate program with a global online store? Wonderbly sells beautiful personalized books for every occasion. They make great keepsakes and are designed for all ages.
Seasoned and new affiliate marketers alike will be pleased to see they offer a range of marketing material for all platforms. This is good news if you want to promote on both your website and social media. Plus, they are always releasing new and custom material for different campaigns.
Commission rate: starts at 10% per sale
Cookie duration: 30 days
---
Organic Baby Food
Started by a group of parents in a coworking space in Berlin, Organic Baby Food is now the leading supplier of organic baby formula in the European market. They sell popular brands like Lebenswert, Holle & HiPP, and also hypoallergenic and goatmilk alternatives. And they offer the option of single or bulk purchases. Basically, Organic Baby Food is the place to look for organic milk formula.
Commission rate: 10% per sale
Cookie duration: 30 days
---
Urban Sitter
Already popular with thousands of parents across the US, this is one you don't have to try too hard to market. Urban Sitter is a well-known and well-loved platform for finding last-minute babysitters, part-time or full-time carers, pet sitters, and even tutors or homework helpers.
Old and new parents alike are often anxious about finding the right person to look after their kids, so Urban Sitter gives peace of mind with background checks and trusted recommendations. Plus, they have a useful app, so everything is easy to coordinate. The only downside is that they only run in the US.
Commission rate: $30 per sale/subscription
Cookie duration: 45 days
---
Bloom Baby
Eco-friendly baby products that are stylish and functional? That's what the four dads behind Bloom Baby set out to do, and they have done it really well. All of their merchandise is made using sustainable and environmentally friendly products where possible and ethically produced.
Bloom Baby is perfect for the affiliate marketer looking for a natural baby company to promote. They sell baby essentials for sleep, feeding, and play, from highchairs and weaning sets to cribs and coco wood loungers.
Commission rate: 10% per sale
Cookie duration: 90 days
---
H&M
H&M needs no introduction as a trusted retailer of modern children's clothing. But did you know they also have an affiliate program? For on-trend baby and toddler clothing, lots of parents flock to H&M. As an affiliate marketer, you can capitalize on their share of the baby industry and promote coupons and deals to your followers, then earn money per sale.
Their baby collection and children's clothing include basics, shoes, costumes, and outerwear. Plus, you can count on a smooth online shopping experience and even enjoy free shipping if you become a member.
Commission rate: Varies
Cookie duration: 30 days
---
Baby Sleep Miracle
It's no surprise that there are a ton of products out there that claim to help babies sleep better. However, Mary-Ann Schuler's Baby Sleep Miracle e-book and miracle sounds are backed up by thousands of testimonials from well-rested parents.
Boasting a high commission rate, this is one affiliate program that is easy to integrate into your content and feel good about; you just have to get over the slightly cringe-worthy website. All of the tips in the program are completely natural methods of helping to encourage your child's sleep without things like crying it out or medications.
Commission rate: 74% per sale
Cookie duration: 90 days
---
Milkology
Speaking from experience, breastfeeding is one of the hardest challenges new parents face—and also one where there is significantly less support. Milkology aims to change that by providing breastfeeding tips, classes, and support to help you breastfeed your baby.
Commission rate: 53% per student (roughly $18)
Cookie duration: Not listed
---
Baby's Brew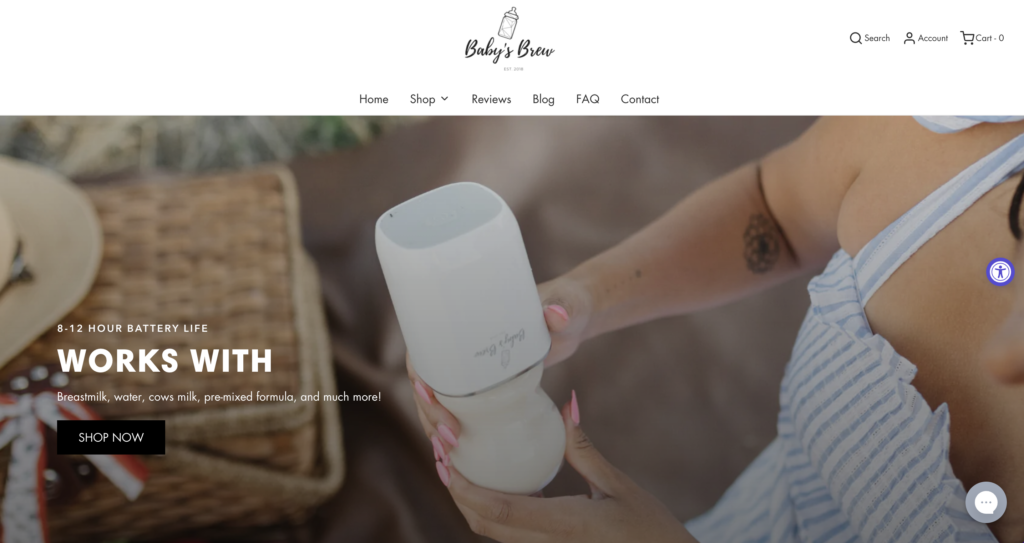 Welcome to the future, where we have foldable smartphones, cars that drive themselves, and the world's first battery-powered bottle warmer.
Designed by a husband and wife duo, Baby's Brew can heat up your child's bottle in 5-10 minutes without the need to find an outlet to plug in. Plus, it's small enough to be super portable and comes with adjustable heat settings so you can make sure it's just right.
Commission rate: 8% per sale
Cookie duration: 90 days
---
The Little Market
A fair trade shop and a nonprofit, the Little Market is the perfect place for conscious buyers. They support artisan groups and women by selling gorgeous hand-made gifts and decor and putting the proceeds back into under-resourced communities.
You'll find small gifts, moccasins, jewelry, blankets, and more on the Little Market website. Plus, moms might find a little something for themselves too!
Commission rate: Starts at 5% per sale up to 10%
Cookie duration: 30 days
---
TushBaby
It's an ergonomic belt you wear around your hips with a built-in seat for your little one. Great if your toddler likes to be carried from time to time but is up and down a lot. Definitely, one to consider for affiliate marketers in the travel niche and a genuinely fantastic product with more than 3000 five-star reviews.
Commission rate: 10% per sale
Cookie duration: 7 days
---
Start Making Money From Baby Products Affiliate Programs Today
The baby niche will continue to be lucrative as long as people keep popping out babies. In other words, forever.
That means it's never too late to start building your passive income stream by marketing baby products affiliate programs. Find some brands on this list that sell things you would buy your own baby and then promote them to your following. Or consider what your followers would prioritize and look for brands that reflect their values.
If you already have a few brands that you love, it's worth digging deep to see if they have their own affiliate programs. Small brands especially are likely to offer higher commissions.
If they don't, get in touch and see if they'd be interested in starting one up! No harm in asking, and you might snag yourself a good deal while also promoting a company you're passionate about.
Want to learn step-by-step how I built my Niche Site Empire up to a full-time income?
Yes! I Love to Learn
Learn How I Built My Niche Site Empire to a Full-time Income
How to Pick the Right Keywords at the START, and avoid the losers
How to Scale and Outsource 90% of the Work, Allowing Your Empire to GROW Without You
How to Build a Site That Gets REAL TRAFFIC FROM GOOGLE (every. single. day.)
Subscribe to the Niche Pursuits Newsletter delivered with value 3X per week