15 Of The Very Best Things To Sell On eBay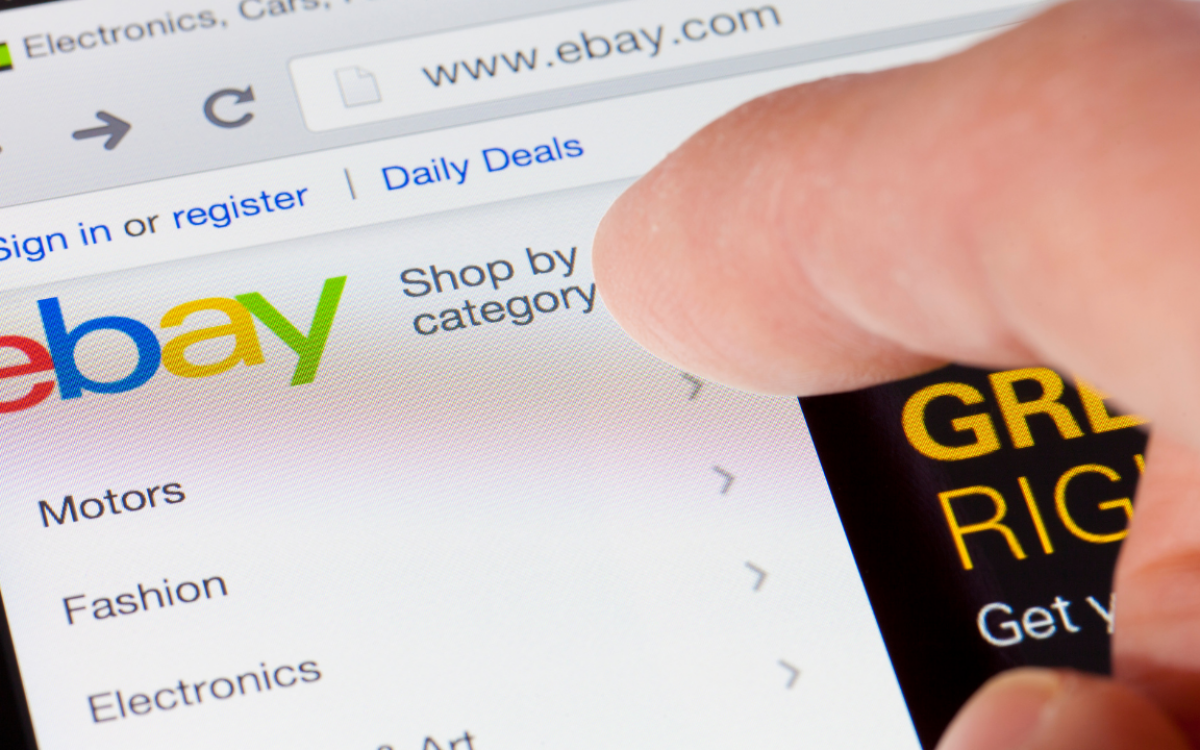 When you buy something through one of the links on our site, we may earn an affiliate commission.
Wondering what some of the best things to sell on eBay are?
eBay consistently ranks as the most popular ecommerce marketplace in the U.S, and it's easy to see why. When you list an item on eBay, you have a ready-made customer base of 180 million active buyers around the world.
In this article, I'm going to be talking you through the best things you can pick up used to sell on eBay. By checking your own home, thrift stores, and flea markets, you can find an abundance of popular items and certain products that can bring in a pretty penny.
In a hurry?
You can find up to date information on best selling products and niches in minutes using Zik Analytics. It's a simple and affordable product/market research tool used by 100,000+ eBay sellers to grow their businesses.
You can use it to check the demand and competition of a product or niche, get price analytics data to set the best price that maximizes your profits, access keyword data to get your listings in front of the most eyeballs and more!
Try our Zik Analytics Today
The Best Things to Sell on eBay
You can sell brand-new or used items on eBay.
However, today I am going to be specifically talking about reselling used items on the platform.
As consumers become more environmentally aware, many are turning towards buying second-hand items.
Buying second-hand saves items from landfills and reduces your carbon footprint.
With that in mind, let's take a look at some of the top selling products on eBay that you can find used and resell.
Lego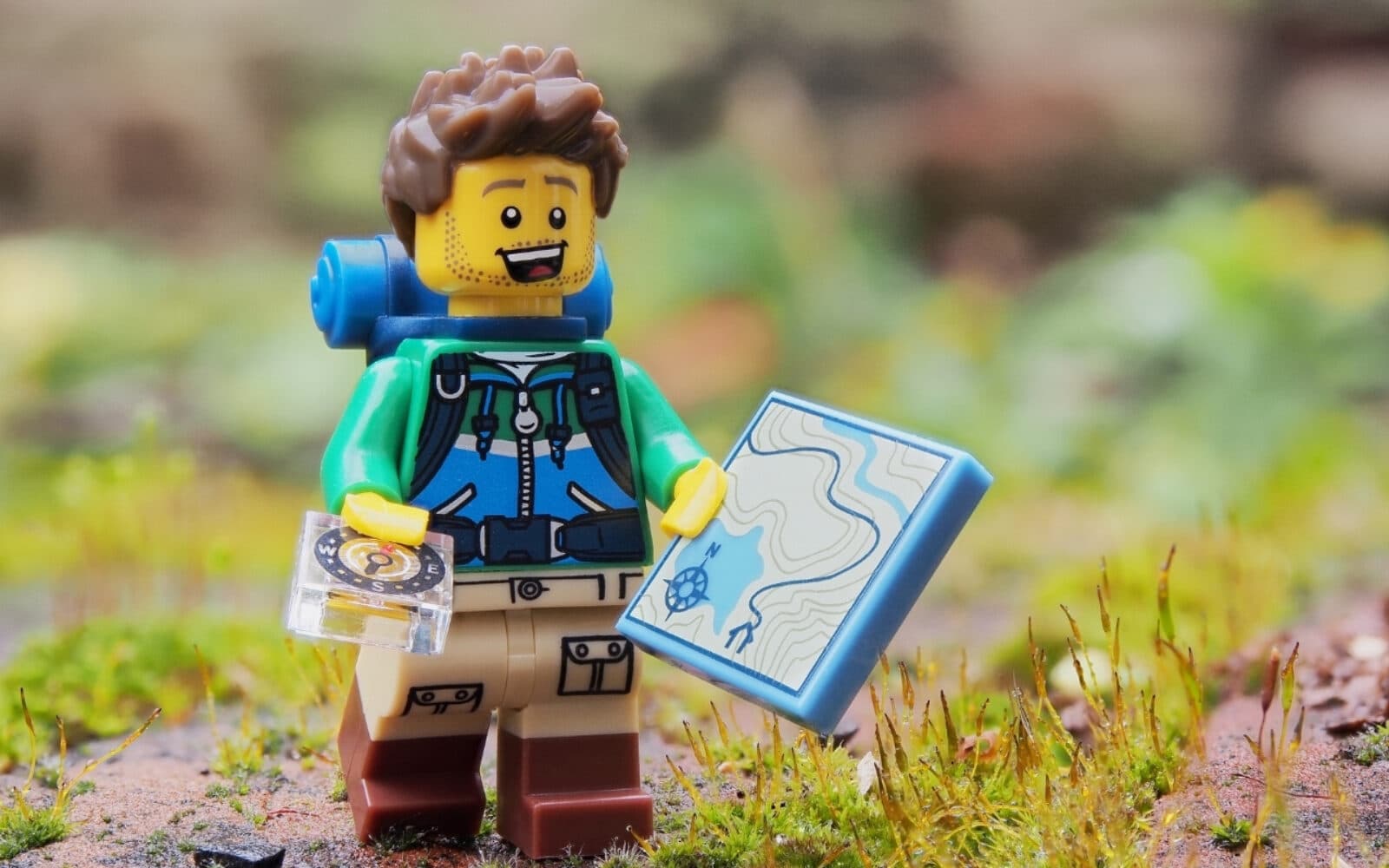 Let's face it, most people, if not everyone, loves Lego.
It's one of the best selling brands in toys around the world. In fact, Lego's annual revenue last year showed a growth of 13% year on year.
Here are some tips on how to take advantage of selling Lego online:
Buy mixed lego bricks, and resell by weight
Purchase good condition second-hand sets to resell
Buy new sets at a discount and resell online (retail arbitrage)
Buy new sets, hang onto them until they are discontinued, and sell for a profit
Look for Lego at local yard sales or charity shops. Sometimes you can even find certain products on Facebook or Craigslist, but you will need to keep your eyes peeled for a good deal.
---
Vintage Clothing
Vintage clothing, and indeed vintage items in general, are one of the top selling products on eBay.
It has a high average sales price, and you might already have some top selling brands in your closet you can sell online.
You can find vintage clothing to resell on eBay, your local thrift shop, or yard sales.
Once you have found items to resell, the key is to take great pictures and write juicy descriptions to get your listings noticed.
Here you can see some of the highest value online sales of vintage clothing on eBay.
It can even be worth purchasing a mannequin to photograph your vintage clothing so buyers can see how it looks.
It's important to do your research with vintage clothing though. Look out for what other eBay sellers are offering and what pieces are in high demand.
Look at the tags carefully and make sure your descriptions are detailed, if it's a popular brand, people will be searching for it so make sure they can find it!
Always keep an eye on the average sales price for the piece you are looking to sell to make sure you price your product appropriately.
---
Musical Instruments
Musical instruments is another one of the product categories that sell well on eBay, whether new or used.
People often sell unused musical instruments in yard sales, not realizing their true value.
The key when buying musical instruments to resell is to look out for the most popular brands. These brands will offer high profit margins if you can find them for a good price.
Bach
Conn
Shure
Yamaha
Fender
Gibson
Jupiter
If you see a musical instrument and you don't recognize the brand name, open up your eBay app and type the name into the search bar.
Select the 'sold' listings and see for what price other instruments of the same brand are selling.
Checking completed listings will give a solid indication of how much other eBay sellers have been able to make. It will also help you pinpoint best selling items to look out for.
You can also consider starting a music affiliate site with these music affiliate programs.
---
Antiques
Antiques are one of the most profitable products to sell on eBay.
The best place to look for antiques to resell is grandma's house (slightly joking), estate sales, and auctions.
These sales and auctions are often local and in 'in person' rather than online. Sellers at auctions want their items sold quickly, so you can often find some amazing bargains.
Do your research beforehand and keep an eye out for fashion items, vintage jewelry, watch accessories, or other trending items (like maybe coffee tables?) that could boost your profits.
The cool thing to remember about antiques is that even generic brands can increase in value exponentially the older a product gets.
---
Textbooks
You might be surprised to learn that you can actually make a decent amount of money if you decide to start selling textbooks on eBay.
The great thing about reselling textbooks is they are easy to store (just stack them up) and easy to post. You can simply pop them in an envelope to post them, so they are one of the easiest things to sell online.
You can find used textbooks to resell from second hand bookshops, yard sales, and even schools.
People often donate textbooks without a second thought, but they can resell for hundreds of dollars, so snap them up if you can find them.
---
Dresses
If you're looking to make money quick by selling items on eBay, then beauty products like women's dresses is one of the best things to list.
Dresses are always in high demand, and they are easy to find too.
The best places to find dresses to resell on eBay are:
Facebook marketplace
Charity shop
Yard sales
Your own home
Family and friends
Dresses sell best with a 'Buy it now' price rather than an auction, which can be risky.
Buy it now items may take slightly longer to sell, but you are far more likely to get the price you want this way.
---
Cameras and Camera Gear
Cameras and photography gear are always among the trending items for sale on eBay year round.
People love vintage cameras in particular, but all types of cameras tend to do well on the platform. The best place to find used photography gear is at yard sales, thrift stores, and even estate sales and household auctions.
Items to look out for include:
Film cameras
Digital cameras
Lenses
Camera straps
Tripods
Camera Bags
Pro audio equipment
You can pick up old 35mm cameras for a couple of bucks and resell them on eBay for $50-$200. Certain products that are considered rare can even sell for upwards of $1,000.
If you're looking to sell cameras or camera equipment online, a great place to start is by finding out as much information as you can about what brands and models are in hot demand.
And really all sorts of outdoor power equipment can be great product categories to resell.
---
Video Games
Video games merchandise are some of the best sellers on eBay. Since they are easy to come by and easy to sell quickly, they are a good place to start if you're new to the platform.
Some of the most popular brands and items across game product categories on eBay include:
Pokémon Sword
Madden NFL Football
Animal Crossing
Pokémon Go
Borderlands
Wii Sports Games
Super Mario Bros
There are so many different games out there for the range of video consoles, however most people in the gaming industry will prefer either Sony Playstation or Microsoft Xbox one.
Buying used games for either of these video consoles is a good starting point.
---
Old-School Gadgets and Games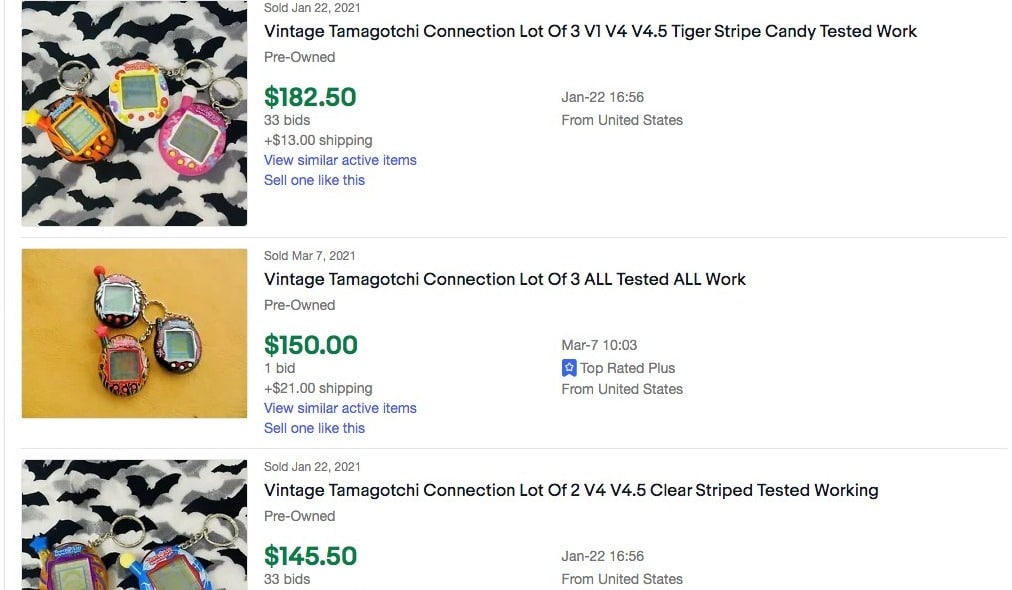 Remember Tamagotchi?
They now sell for upwards of $50 each on eBay!
Old school gadgets and games can fetch a pretty penny, especially if they are still in their original packaging.
You can find retro gadgets and games to sell for a profit at garage sales and secondhand shops.
Keep an eye out for boxed items, and be sure to check that whatever you buy is in working order.
---
Baby Gear
Baby gear is another top selling category year round.
It's expensive to buy new, and most items are only needed for a short while which is why lots of people are happy to buy used off eBay.
Some items to look out for include:
Baby carriers
Strollers
Baby bouncers
Baby walkers
Swings
Playpens
Door bouncers
Activity centers
Most of these items are bulky, so you will either need to list your item for local pickup or be prepared to arrange a courier.
It's also worth keeping an eye out for popular brands and trending items. The baby industry is consistent in terms of the essentials that parents are looking for, but there are also new fads and best sellers that will change to keep in mind.
---
Broken Electronics
You might think your broken iPhone or Apple watch is worthless, but did you know you can actually sell it for spare parts on eBay?
Any kind of mobile phone (and sometimes even cell phone accessories) are often easy to sell on eBay. You can also look to list computers and tablets or broken jewelry watches for parts (but make sure to also check out the best places to recycle computer parts here).
Although selling broken electronics might not net you the big bucks, it can certainly be profitable. You can pick up broken items for practically nothing, so almost the entire value of the sale will be profit.
The other way to make money on eBay with broken electronics is to buy them and fix them up. If you know what to look for and what you're doing, this can yield some seriously high profit margins.
---
Craft Supplies
People LOVE crafts, and eBay is one of the most popular places for people to buy craft supplies.
Here are some examples of craft supplies you could easily find to sell on eBay:
Buttons
Stickers
Beads
Colored paper
Pom-poms
Pipe cleaners
Wooden items for painting
Generally, popular items for paper crafts are some of the best things to sell on eBay.
If you're handy at woodwork, you could even sell slices of wood or wooden blocks.
Take a look at these sold listings.
5 Slices of a tree trunk for $25, and 10 slices for $76.
Not bad for something that might take 10-20 minutes work to create!
In the same vein of things, you can also sell workshop equipment on eBay for a good price.
---
Furniture
Furniture is another one of the best things to sell on eBay for a profit.
You can find unwanted furniture at your local rubbish tip, at a yard sale, at an estate sale, or even abandoned on the street.
If you are reselling furniture on eBay, you might need to show it a little TLC to bring it up to scratch. A little bit of work can go a long way when you're ready to start selling.
Make sure the item is clean and fix any damage that you can. A fresh lick of paint and some new hardware will also make a world of difference.
Small furniture pieces like side tables, coffee tables, and armchairs are some of the more popular furniture selling items on eBay.
---
Collectibles
There's something about the thrill you get from adding to your collection that is addictive. This is why collectible items can sell for such high prices.
If people want something to add to their collection they are willing to pay a price for it!
Some of the most popular collectible items in the US market include:
Anything to do with Disney
Barbies
Military Items
Stamps
Anything Star Wars
Vintage or Collectible Toys
Action figures
Board games
Keep an eye out for any items that could be collectible when you go to thrift stores and yard sales. The condition is important, so look out for anything in its original packaging in particular.
---
Cars and Vans
Cars (and parts) are one of the best things to sell on eBay because of their high value.
The key to selling cars on eBay is buying them at the right price first (you can use these eBay price trackers to help).
The best place to get cars for a low price is at auction. People auctioning off cars want a quick sale, so you're likely to get a good price.
Cars you buy at auction may need a clean-up and a few fixes, but once that's all done you can take some nice photos (20-40 to give the buyer a really good look at the car you're selling) and list it for sale on eBay.
Learn more about flipping cars here.
Car and motorcycle parts are also in high demand on the ecommerce platform, so check out your local scrapyard to see if you can find anything salvageable.
---
Finding Items To Sell On eBay
If you're just getting started on eBay, a great place to look for things to sell is you're own home. Look for small items like cell phone accessories (even in car iPhone holders), garden items, action figures or even small kitchen appliances that you don't use or want.
This way you can make quick profits without really investing anything upfront.
Once you have run out of things to sell, there are a few other places you can find things to resell:
Yard Sales/Garage Sales
Thrift Stores
Friends and Family
Online sales on places like Facebook Marketplace
Auctions
Estate Sales
On the Street (Discarded Items)
The main thing to remember is that pictures are so important when it comes to selling on eBay.
Make sure you take lots of photos of each item, and always photograph your items using natural light.
Check out our eBay store name ideas for naming inspiration for your new shopfront.
Most Profitable Things To Sell On eBay
If you want to know whether an item will be profitable before buying it, you can do some quick research on your eBay app.
Type the name of the item you want to check into the search bar. Next, click 'filter' on the top right and scroll down until you can see buttons for 'sold items' and completed listings.
Once you have clicked the sold items button it will turn green, and you will be able to see the sold listings with their final selling price in green. This will give you a good idea of how much your item could sell for.
Remember to factor in the shipping cost too, as this may affect your profit margin.
You can also check the top selling items to find inspiration on what to sell next.
And a bonus option to consider is keeping an eye out for best selling products in the health and beauty category. Not all products in the beauty category will work though. Of course skin care, makeup may not be of much use second hand but there are lots of accessories and tools which may have lots of potential buyers.
eBay Vs Amazon – Which Is Better?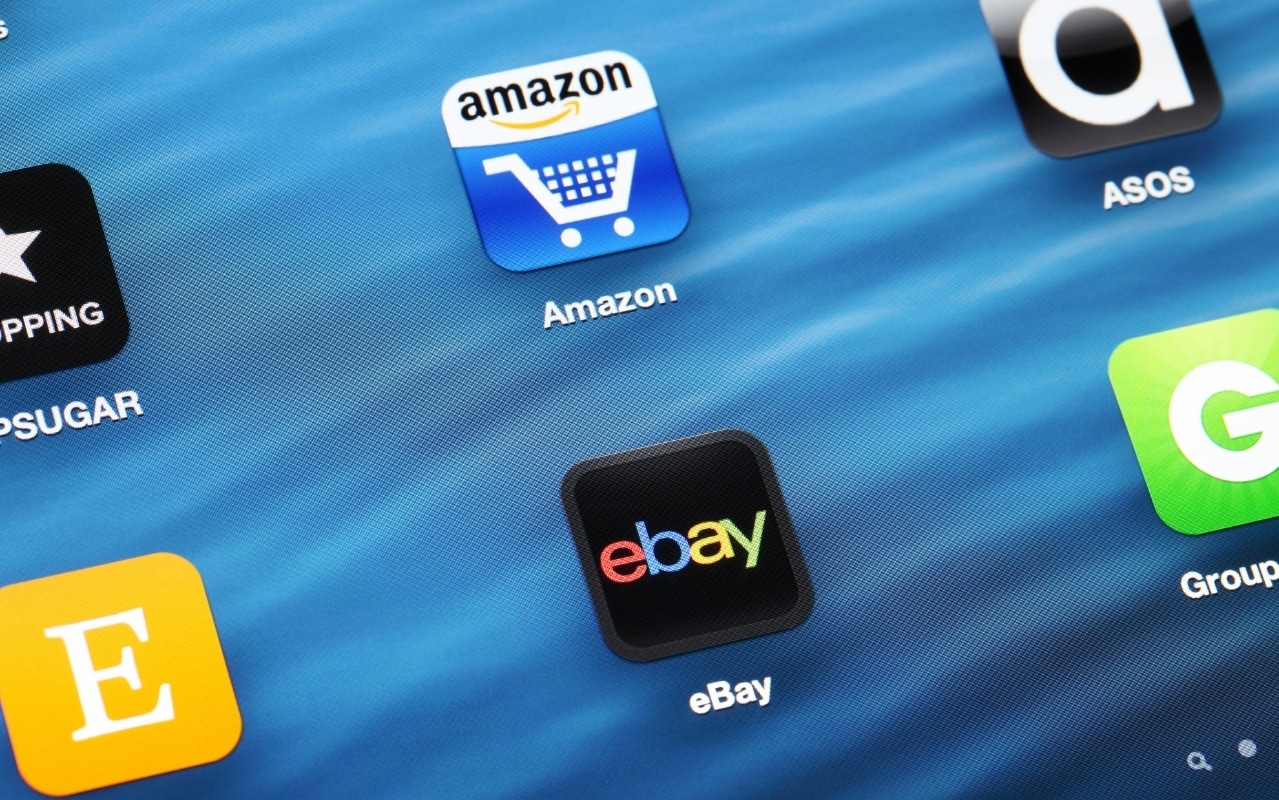 Amazon and eBay are both great marketplaces to sell on, but the one that is best for you will depend on your goals.
For selling second-hand items, it's got to be eBay.
The unique thing about eBay is the fact that you have the ability to auction items, which can net you some huge profits, especially when it comes to rare, collectible items, or you happen to have best selling products to offload.
If you are selling new products, then Amazon is definitely the way to go.
Amazon is the leading retailer in the United States, and it has the added benefit of offering Amazon FBA (fulfilled by Amazon) which you can use to create a truly 'hands off' retail business.
Want to find out how you can start a t-shirt business on Amazon making $10,000 per month?
Read the guide 
What Sells Best On eBay
Becoming an eBay seller is a great way to make some quick cash.
You can list something for sale and have the money in your bank account in one to two weeks, even if you are a new seller. It's great for when you're in a tight spot.
Hopefully, these ideas have given you some food for thought of what profitable items you can sell on eBay because it's definitely still worth it to sell on eBay.
The thing to remember to become one of eBay's best sellers is to keep your eyes peeled for bargains wherever you go. And remember to always use your app to check how profitable items will be before you buy.
And to save time and money – make good use of tools like Zik Analytics to make sure you go after the right products at the right price!
Check out Zik Analytics today
Want to learn step-by-step how I built my Niche Site Empire up to a full-time income?
Yes! I Love to Learn
Learn How I Built My Niche Site Empire to a Full-time Income
How to Pick the Right Keywords at the START, and avoid the losers
How to Scale and Outsource 90% of the Work, Allowing Your Empire to GROW Without You
How to Build a Site That Gets REAL TRAFFIC FROM GOOGLE (every. single. day.)
Subscribe to the Niche Pursuits Newsletter delivered with value 3X per week