13 Best Loans Affiliate Programs to Monetize Your Financial Services Site
When you buy something through one of the links on our site, we may earn an affiliate commission.
Welcome to my detailed guide on the best loans affiliate programs.
The need for loans is booming, with the current household loan debt over $15 trillion. That's more than double what it was at the onset of the century. Though depressing, it's an opportunity for loan affiliate marketers to exploit the increased need for financing.
The joy of being an affiliate marketer is to promote something you can vouch for on any day. As a result, you want to choose the best loans affiliate programs that center on more than just commissions (you may also want to check out investing affiliate programs). It's not as hard as it seems, and it mainly requires you to know your visitors and what loans they are after.
Several financial institutions stood out after checking available loan options, borrowers' services, and provisions for affiliates and lenders. Dive in to see what the best loans affiliate programs have in store for you and your audience.
The Best Loans Affiliate Programs
LightStream Affiliate Program
LightStream offers unsecured personal loans for various purposes. The lender waives initial, late, and prepayment fees while giving rate reductions for autopay customers.
Loans range from $5,000 to $100,000 with payment periods between 2 and 12 years. With minimum creditworthiness of 660, the company is a solid choice for candidates with good to exceptional credit.
Borrowers can use the capital to buy land or houses, which regular lenders rarely issue. Simply put, it's a beautiful alternative for borrowers that require significant credit with some versatility.
LightStream, like specific online lenders, restricts the usage of borrowed funds. Debtors can't utilize their loans to cover college or company expenses. Nonetheless, LightStream's variable loan amounts, periods, and APRs make it an appealing alternative for many potential borrowers.
LightStream provides a $60 commission for successfully referred borrowers. Joining the program is simple and free. You get over 100 banner ads, CTAs, text links, and material to promote your campaigns.
Plus, you have 20 landing pages helping you target specific loan requirements, which will help when it comes to enhancing your conversion rate.
Commission Rates – $60 per lead
Cookie Duration – Undisclosed
JOIN LIGHTSTREAM AFFILIATE PROGRAM
MaxCash Title Loans Affiliate Program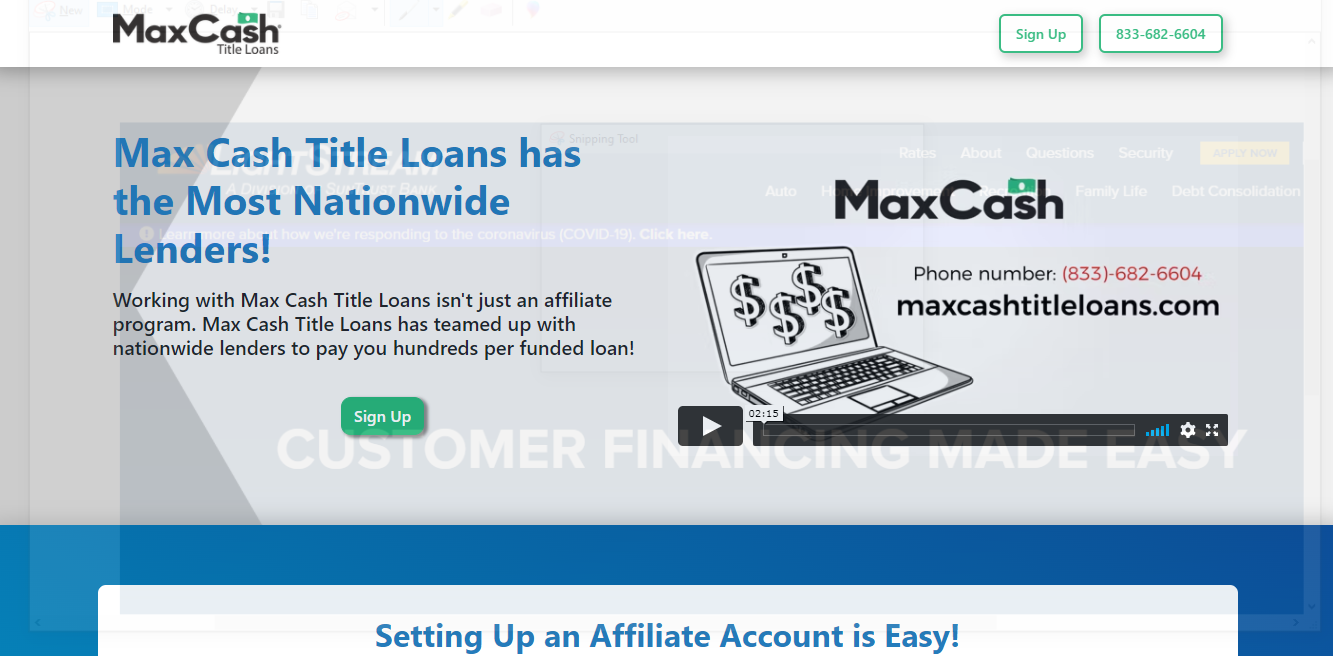 Who said bankruptcy denies you the opportunity to continue enjoying personal car privileges? With MaxCash Title Loans, your referrals have the chance to enjoy the convenience of private transport with almost no requirements at all.
With Max Cash Title Loans, borrowers get low rates, easy terms, and quick approval even if they have bad credit (including bankruptcy). Because the auto title acts as the loan's security, your client can keep driving it.
Max Cash has over 3,000 locations and works with various lenders around the US. The auto loan company prides itself in delivering emergency cash to over 500,000 Americans.
Their affiliate program pays 5-10% for every funded loan. As an affiliate with the brand, some advantages you enjoy include:
Detailed campaign tracking based on phone contacts and landing page visits
A personal dashboard with loan funding and lead status visibility
An overview of weekly and monthly leads
Lead status transparency
Live loan funding data and more
Commission Rates – 5% to 10% per lead
Cookie Duration – 90 days
JOIN MAXCASH TITLE LOANS AFFILIATE PROGRAM
LeadsGate Loans Affiliate Program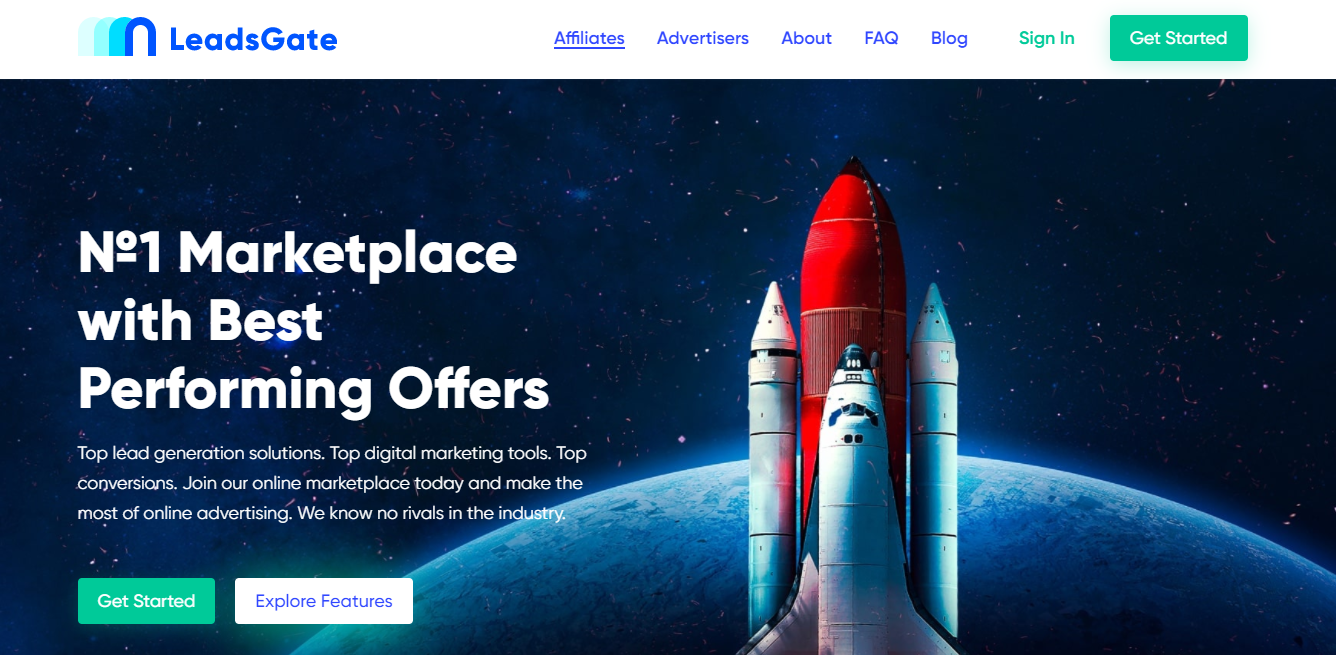 LeadsGate, one of the top payday loans affiliate programs in the US, provides a complete marketing solution. While focused on payday loans, they also include installment loans peaking at $3,000.
LeadsGate is a bid lead-selling platform, giving you access to a wide range of lenders to maximize your lead profits. The program provides affiliates with marketing tools like templates, banners, and industry guides. That's a terrific starting point for both newbies and veterans.
Getting compensated for denied leads is also lovely. Even if your lead backfires, you can still add 5-10% to your profit.
Marketers can also use many methods to drive traffic to the network. You can have the LeadsGate JS application embedded in your website. Also, you can employ Leadsgate's API to build your web form.
Moreover, you don't need a website to work with them. Such marketers can send visitors to public offers like;
Extralend.com that provides up to $3,000 in installment loans
LoanSolo.com gives payday loans maxed at $1,000
Commission Rates – Up to $230 per lead
Cookie Duration – Undisclosed
JOIN LEADSGATE AFFILIATE PROGRAM
LeadNetwork Affiliate Program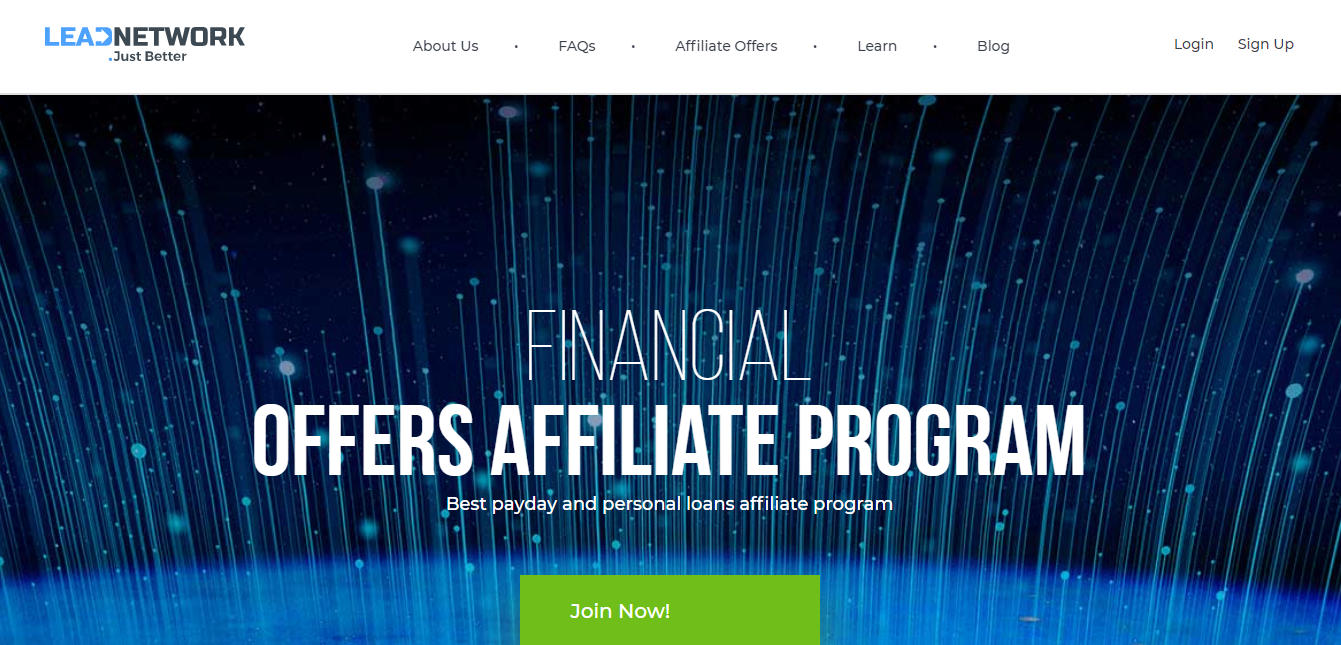 LeadNetwork is one of the best loans affiliate programs, and they specialize in payday and personal loans. Regardless, the company includes many other loan types. You can be an affiliate for any of their programs and earn money as you generate leads.
Lenders that partner with the company bid on prospective leads. Interestingly, even individuals with a bad credit history still get consideration for loan opportunities. Not to mention, their rate of loan approval is high, increasing the chances for your leads to sort out their issues.
After the affiliate marketer application procedure is complete and successful, you get your commission. It works similarly to pay-per-lead referral programs.
LeadNetwork has one of the most significant profit share percentages available on the internet. The 90% commission on the income you could earn for successful conversions is astounding. Their affiliate network isn't bad either, with up to a 3% commission on the earnings of associates referred by you.
Commission Rates – Variable
Cookie Duration – 30 days
JOIN LEADNETWORK AFFILIATE PROGRAM
Edvisors Affiliate Program
Edvisors provides consumers with self-governing platforms to scour, evaluate, and seek private student loans. Notably, the appearance of lenders doesn't reflect how best-fit they are to offer your referrals student loans.
The company receives compensation used to pay affiliate marketers and its staff for the service. Compensation may influence where financiers appear on the site; hence, your referees should take time to scrutinize offers.
Lending institutions are entirely liable for all loan approval, credit decisions, rates, terms, and other expenses of the provided loan. Also, not all student loan providers that partner with the brand offer loans to all schools.
Most individuals seeking financing solutions on their site range from 16 to 26 years old.
Affiliate marketers earn commissions by directing qualified leads to them. By enrolling with them, you have access to various benefits like:
A ready-to-assist affiliate manager
Reporting in real-time
Advice on how to optimize your site marketing strategies
Email templates, seasonal banners, and CTAs to spearhead your advertising campaigns
Options for co-branding
Commission Rates – Variable
Cookie Duration – 30 days
JOIN EDVISORS AFFILIATE PROGRAM
Kabbage Affiliate Program
One excellent aspect about Kabbage is its simple qualification criteria. Kabbage is a viable choice for business owners with poor personal credit. Only a credit score of 640 is necessary to qualify for a $150,000 credit line.
Instead of only looking at your credit score, Kabbage examines your company's bank account data. This way, small business owners get a better chance at loan approvals. Besides, Kabbage can finance your bank account in three business days.
With the Kabbage referral program, you can earn $250 for each new account you refer. The Kabbage affiliate network enables you to help small businesses share simple, flexible financial solutions with a few clicks.
Furthermore, you can refer clients at your speed, whether you want to just offer your specific referral link or track your recommendations and revenue. In this case, you have access to a comprehensive dashboard that keeps you updated on income and referrals.
Commission Rates – $250 per lead
Cookie Duration – Undisclosed
JOIN KABBAGE AFFILIATE PROGRAM
Prosper Affiliate Program
While it began with a somewhat rocky start, the pioneer of p2p lending brands in the US is now a master in the game.
Prosper started with its 1.0 version, lasting from 2006 to 2008, and recorded some negative investor returns in the process. A turnaround in 2009 led it to greater heights, from which point the credit score requirement was 640.
Like LeadsGate, it's not a bank but rather a matchmaker. They bring together investors and individuals needing loans.
Over the years, the company contributed over $13 billion to reach lenders and help them tackle their problems. Loans available at Prosper range between $2,000 and $40,000 for three or five years.
As an affiliate, Prosper gives you the tools to excel, like text ads and banners to market with. The company has impressive payout rates, and the payments are prompt on a given date.
Commission Rates – Up to $250 per lead
Cookie Duration – Undisclosed
JOIN PROSPER AFFILIATE PROGRAM
DrCredit Affiliate Program
Although DrCredit isn't as popular as some personal loan companies, they do have an A rating with the BBB. DrCredit is primarily an online company with only one physical headquarters.
Like LeadGate, LeadMaster, and others, DrCredit isn't a direct lender. Instead, it matches poor-credit borrowers with the best payday lenders. Those with impressive credit scores have opportunities too.
DrCredit shines as an online marketplace for many lenders to connect with customers. It promises to expose even low credit holders to many credible lenders, ensuring the lowest rates feasible.
The DrCredit affiliate program combines debt, credit card, and loan services. This program contains a plethora of tools and resources, as well as a 30-day cookie, allowing you to accrue on multiple levels.
As an associate, you can earn commissions on each lead and bonuses for extra sales. Overall, DrCredit's affiliate network is well-rounded, with all the features you need to take your affiliate business a step further.
Commission Rates – 15% per sale, variable returns per lead
Cookie Duration – 30 days
JOIN DR. CREDIT AFFILIATE PROGRAM
LeadsMarket Affiliate Program
LeadsMarket is a borrower-lender connection platform that operates on a pay-per-lead basis. Lenders can compare different financiers and pick options that resonate with their limits and interest rates through the platform.
The platform allows lenders and publishers to drive business sales or earn profit by sending leads to marketplace participants.
Every affiliate network says they love and support their associates. But not all deliver on their promises. LeadsMarket.com is a company that cares about your success and helps you attain it.
The payouts are great because they have no middlemen, and the individuals you negotiate with are knowledgeable.
You likely want to closely monitor your affiliate earnings and performance as a marketer. LeadsMarket.com's payday loan program has some of the most satisfactory reports and statistics, keeping you in the loop.
Affiliates can decide how they direct traffic to offers. XML host, ping and post, or a personal, custom website are all suitable options.
Commission Rates – Variable by loan amount
Cookie Duration – Undisclosed
JOIN LEADSMARKET AFFILIATE PROGRAM
Zero Parallel Affiliate Program
The first impression from its name suggests this brand is out to deliver like no other, and it may be that for you. While connecting numerous lenders to loan seekers, this platform ensures your referees get the best deals from a wide assortment of lenders.
The company currently concentrates on linking borrowers chasing payday, personal, or installment loans to suitable lending facilities.
Moreover, the digital marketing network offers exceptional compliance, many affiliate marketing tools, and excellent customer service.
The company employs superb technology that generates the most value for your referrals. Also, their vast network enables advertisers and affiliates to increase their marketing opportunities by providing real-time analytics and other campaign insights.
Its payouts are simple for your convenience. Typically, Zero Parallel provides bi-weekly payouts.
Commission Rates – up to $220 per lead
Cookie Duration – Undisclosed
JOIN ZERO PARALLEL AFFILIATE PROGRAM
SoFi Affiliate Program
SoFi offers student life insurance, loan refinancing, home loans, personal loans, and asset management. Additionally, it includes loans for auto purchases, business investments, and career advancement.
Admirably, you don't need to pay fees for loan applications, and the loan amounts range from $5,000 to $100,000. On the downside, a 680 credit score, which is on the upper end of the spectrum, is necessary.
This company's goal is to help its members achieve financial independence and prosperity. The company has agreements with major institutions, including Barclays and Morgan Stanley, to ensure proper loan disposition.
The organization is famous for its services and its career consultants who support like-minded, motivated individuals.
By joining their affiliate program, you earn up to $310 per successful referee. To earn money as an affiliate, you can share your exclusive referral link with colleagues, friends, or on your blog.
Although it's a well-known company, customers may be wondering how to apply for loans. Your blog can help clear up the muddle. You can elaborate on its services, explaining how it works, the service fee, and the incentives they receive when applying for a loan.
Commission Rates – up to $310
Cookie Duration – Undisclosed
JOIN SOFI AFFILIATE PROGRAM
National Business Capital Affiliate Program
Thanks to its numerous loan options, National Business Capital is one of the best loans affiliate programs to promote. Your visitors can access:
Business term loans
Business lines of credit
Equipment financing
Merchant cash advances
SBA loans
Very few lenders beat their super-friendly loan acquisition requirements. Whether you've been declared bankrupt or have a stable income, the firm has no FICO requirements, making it ideal for all businesses.
This firm has been around for a long time, in which borrowers benefitted with over $1 billion. From transport and hospitality to technology, the company works with businesses of all kinds and sizes, providing several loan choices and support to business owners.
Besides, borrowers enjoy quick applications, one-day approvals, and availability all over the US.
Also, affiliates receive timely payments from their leads and have access to a vigilant support system plus co-branding options.
Commission Rates – 1% per lead
Cookie Duration – 10 days
JOIN NATIONAL BUSINESS CAPITAL AFFILIATE PROGRAM
Round Sky Affiliate Program
Round Sky is another loan program focused on linking borrowers with the most suitable lenders. The company has over 50 lending facilities partnering with it to deliver outstanding loans at reasonable rates to lenders.
Your referrals can access personal or payday loans after comparing the available offers.
Like many leading loan affiliate programs, Round Sky relays various amenities to help its associates. For one, there are different application widgets to pick from, allowing you to get a form that matches your website's theme.
Thanks to the real-time reporting system, keeping track of referrals and revenue is a cinch.
Affiliates earn 2-5% commission for successful leads, with commissions capping at $250. Moreover, payments are timely, allowing you to pocket something each week. However, affiliates need to meet the $50 threshold to get paid each week.
Commission Rates – up to $250 per sale
Cookie Duration – Undisclosed
JOIN ROUND SKY AFFILIATE PROGRAM
Closing Remarks
With affiliate marketing, you'll never have to worry about running out of income as long as you use the right strategies and sign up with a legitimate company. The key to success is finding a way to stand out from the crowd. Once you generate traffic, there's always room for more growth to enable maximum opportunity exploitation.
If you're looking for the best loans affiliate programs, then look no further than these top companies. Each one is different. Some may boil down to the commission and support that they offer.
All programs will help your affiliate business reap massively while sharing great loan opportunities with your audience. Besides, many of the above loan affiliate programs offer ads, materials, and other resources to aid your campaigns.
Want to learn step-by-step how I built my Niche Site Empire up to a full-time income?
Yes! I Love to Learn
Learn How I Built My Niche Site Empire to a Full-time Income
How to Pick the Right Keywords at the START, and avoid the losers
How to Scale and Outsource 90% of the Work, Allowing Your Empire to GROW Without You
How to Build a Site That Gets REAL TRAFFIC FROM GOOGLE (every. single. day.)
Subscribe to the Niche Pursuits Newsletter delivered with value 3X per week