Jungle Scout vs Helium10: Which One Will Help You Make The Most Money?
When you buy something through one of the links on our site, we may earn an affiliate commission.
Are you struggling to choose between Jungle Scout vs Helium10? Wondering which one will help you make the most money? Well before you make a decision, it's critical to understand the benefits and differences of each fully. And that's what we're here to help with!
Both tools are currently regarded as Amazon's heavyweights of product research tools. And as the tools compete for the top spot, both constantly add new features and change pricing structures to stay competitive.
Millions of sellers rush to Amazon in search of financial freedom and seven-figure earnings. But the easy pickings have run out, and people are really on the ball identifying possibilities, sourcing items, and battling to make the most money.
It will be more difficult to get an advantage and sustain a lead if you rely entirely on resources like Google Trends and try to analyze demand by watching Amazon's BSRs (best seller ratings). Doing everything yourself wastes so much time, and besides, it won't provide you with the scope and scale of data you need to make informed choices.
So, if you're starting an Amazon business and are undecided about using Jungle Scout or Helium 10, keep reading.
Jungle Scout vs Helium 10 – Summary
Both software programs covered in this article are full sets of tools to assist you in selling on Amazon more effectively.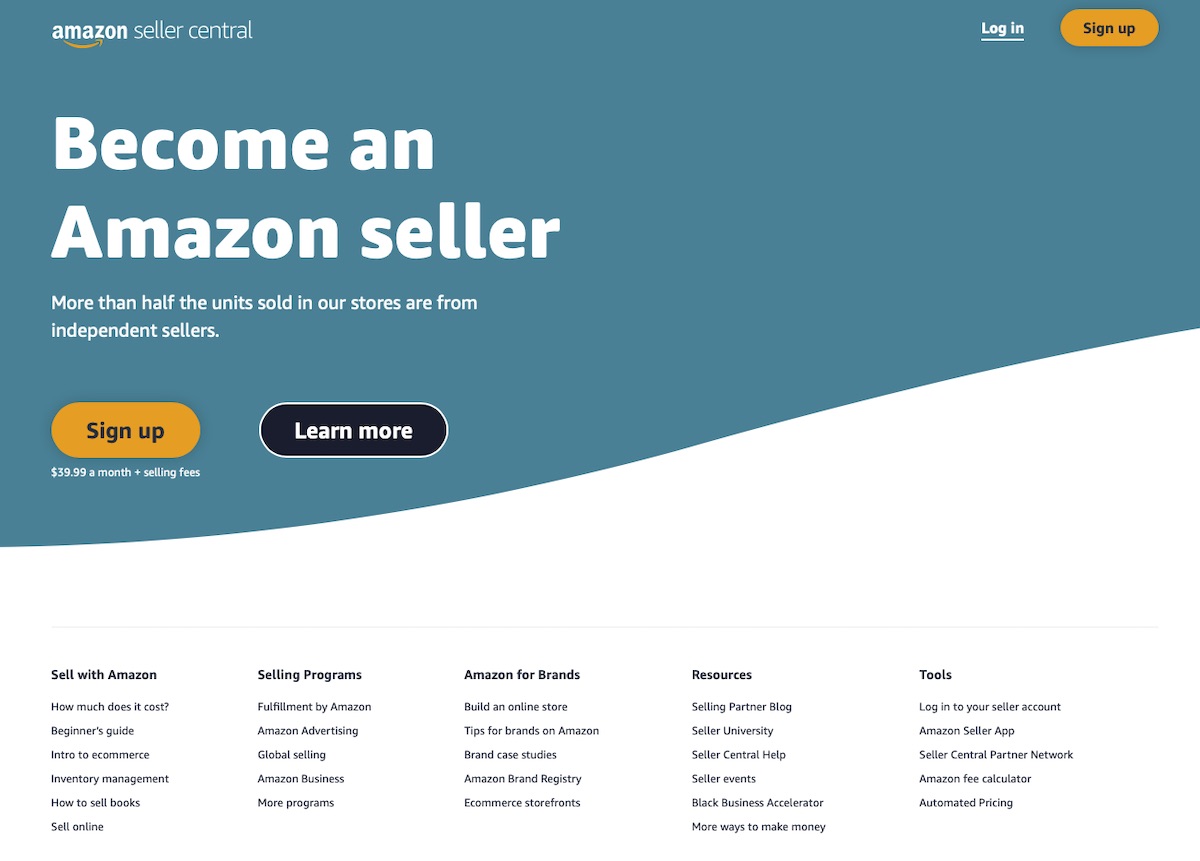 Some of these tools are truly beneficial, while others are merely unnecessary add-ons designed to make you think you're getting more value for your money.
However, each tool has two main features:
Product Research Tool: A set of tools for identifying prospective new items, and a sales estimation tool primarily based on a product's sales history.
Keyword Research Tools: These help you find new keywords by assessing keyword search volume.
About Jungle Scout
Founded by Greg Mercer, Jungle Scout was the first Amazon research tool to hit the market, launching two years before Helium 10. Jungle Scout is more established in the Amazon selling market. And the extra time has enabled the Jungle Scout data models to become far more developed and accurate. Also, the customer support system is excellent.
The software is a great choice if you're a new or experienced Amazon seller. It's easy to use, and plenty of tools and help are available. Newcomers can use the Jungle Scout Academy and learn how to get the most out of the software and expand their Amazon business.
Key Features Of Jungle Scout
Compares different product ideas and ranks them in order of customer preference.
Provides thorough insights into the product, including actual sales history, price, reviews, and much more.
Niche Hunter assists you in identifying profitable niche ideas, products, and keywords based on specific parameters.
Keyword Scout keyword research tools: This accurately checks what Amazon shoppers seek via search volume and more. Keyword scout reverse-searches tons of ASINs to find competitors' keywords and how a product ranks for those keywords.
Relevancy ratings to make sure you have the right optimization according to SEO and other popular keyword integration.
A huge product database with access to all products for better market research.
If you want to know more, read our full Jungle Scout review.
Get 30% Off Jungle Scout Right Here
About Helium 10
Helium 10 was released in 2016 by Manny Coats and co-founder Guillermo Puyol as a fully comprehensive toolkit for Amazon merchants. It has a variety of tools that can assist anyone in becoming a successful Amazon seller. And Helium 10 also continuously adds and refines more tools.
Key Features Of Helium 10
Complete keyword tracker and research with a structured spreadsheet to make research easier.
Delivers data-driven strategies (AI-integrated).
Reverse-engineers competitors' tactics to work out keywords and other strategies.
Black Box features allow you to find different products with high demands and low competition.
Includes accumulated data of the misspellings and other important content search criteria for correct tactics.
Refund Genius prevents you from making a loss and might even assist in making profits.
Find out more about this product in our Helium 10 review.
Get 50% Off For Your First Month of Helium 10 Right Here
Common Features
If you look at Jungle Scout vs Helium 10, you'll find that both software packages come with a lot of the same features and tools. Although the terminology may be different, the purpose remains the same. So here's a quick breakdown of the features Jungle Scout and Helium 10 have in common:
Product Database vs Black Box: Both give you accurate information on a list of products on Amazon.
Both reverse engineer competitor keyword usage and ranking. And information about sales, ad performance, and competition strategies.
Each makes it simpler to assess your performance and develop new strategies.
Keyword Scout is Jungle Scout's tool similar to Helium 10's Black Box, Frankenstein, and Cerebro: Vendors can add products, make informed judgments, manage lists, and keep track of their inventory. The keyword tracker tools allow Amazon sellers to locate ideal keywords. In addition to Amazon searches made by possible customers, past keyword research performance is also available.
Each provides chrome extensions with similar features.
Both have excellent customer support.
Unique Jungle Scout Features
Here are some features that help make Jungle Scout such a great tool!
Jungle Scout Supplier Database
The Jungle Scout supplier database can help merchants find the best suppliers and match factories and products. It's also useful for retailers looking for specialized products by listing manufacturers that produce similar items. In a matter of seconds, an ASIN (Amazon Standard Identification Number) search will discover suppliers.
You can also use a Supplier Database, an Amazon tool used to identify verified competitors or merchants. And track their every move or tactic (another way of saying "spy on them!")
Giveaway Platform
If you're introducing a new product or looking for some promotional ideas, Giveaway can help. And make it easier for you to increase sales right away.
Unique Helium 10 Features
But Helium 10 also has some special features that make it worth considering.
Refund Genie
For product loss and other issues, Amazon does actually offer refunds and compensation. But, very few Amazon vendors know how to go about getting a refund. Refund Genie provides an easy-to-follow set of instructions and resources to help you get your refund.
Inventory Protector
It keeps competitors from cleaning out your inventory during a promotional event.
Jungle Scout Main Features
Jungle Scout is the most comprehensive tool for discovering, launching, and selling products on Amazon. It is specifically designed for Amazon product research, but you can also use the tools to get a sense of what products are selling well on Walmart.com.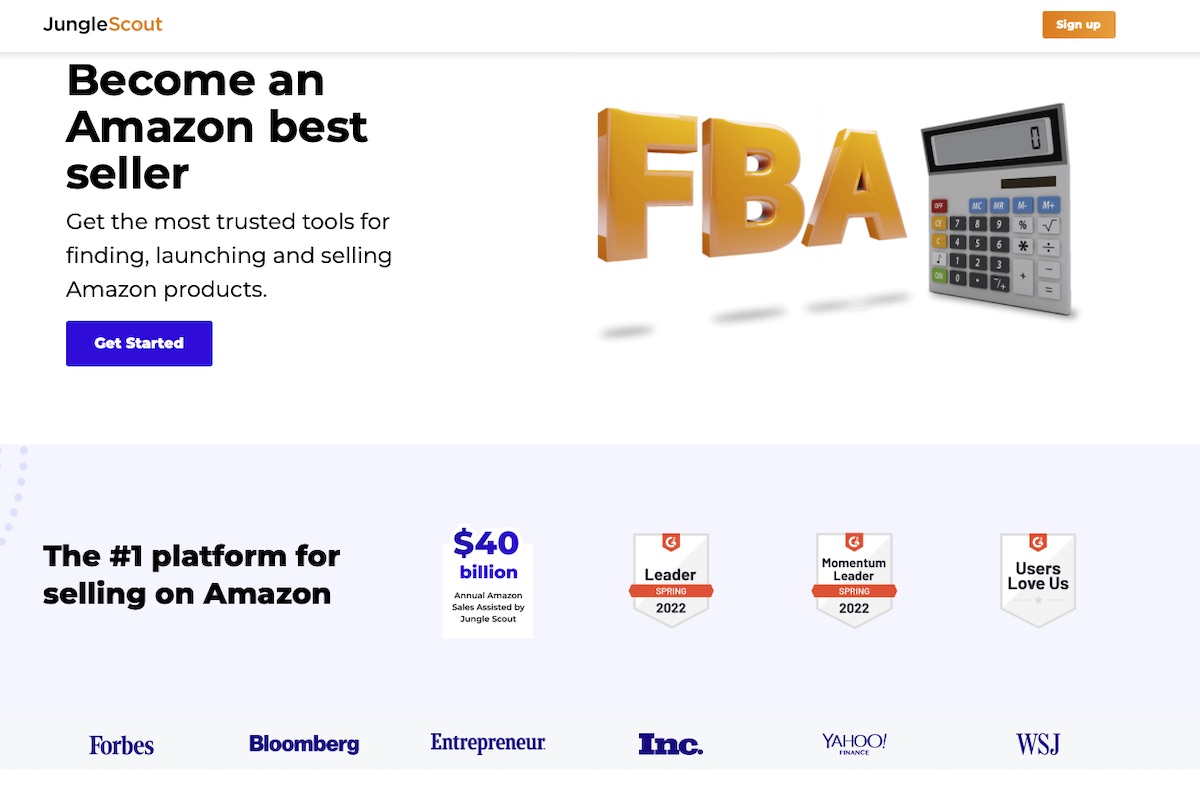 Jungle Scout Web App
Jungle Scout's web app is the key to making better product decisions and standing out from the competition. You can find profitable niches and products from the full Amazon catalog with the help of a Web App.
You can filter Amazon's whole database by category, price, sales, and more with the Jungle Scout Web App. Now you can follow the activity of any of your competitor keyword spy needs and more at any time you want. Your Amazon FBA business will definitely benefit from this Web App.
Product Database
It offers a comprehensive database with over 70 million Amazon-direct products. With Jungle Scout's product database, you can organize and search for all products that fit your search parameters for generating product ideas.
If you're a newbie and can't decide where to start, this feature is a great help. You can start looking for high-potential products using pre-installed filters. To find profitable products, you can use the filters to sort by category, expected sales, revenue, and more.
Supplier Database
You can identify a certified and reliable source for your goods using Jungle Scout's Supplier Database. This is incredibly useful because it provides information about the supplier's business environment.
It can show you the items a manufacturer can make, how many transactions the manufacturer has had with other customers, who these customers are, and so on. In a matter of seconds, an ASIN search will discover suppliers.
Product Tracker
For best product management, merchants can use the FBA (Fulfillment By Amazon) profitability calculator to track potential fees and overhead costs.
The most unique feature of Jungle Scout is its Product Tracker. By tracking potential items daily, such as stocks, sales, pricing, and the ranking of top-selling products, you can quickly track the performance of each product.
Jungle Scout Launch
Launch improves customer relationships and increases revenue for your Amazon business. The Jungle Scout tool includes direct email and advertising functions. Automated email operations can significantly reduce negative customer feedback, improve buyer satisfaction and encourage better reviews.
Opportunity Finder
The Jungle Scout Opportunity Finder is a unique and thorough instrument. To increase earnings, merchants can select the strongest overall products, discover upcoming sales trends, and exclude products that won't sell. The Opportunity Finder tool includes ratings based on competition, demand, and listing quality. The tool also allows merchants to keep track of their sales. Real-time data is available through the sales analytics tool.
Sales Analytics
This Amazon seller tool can boost their profits by analyzing their selling techniques. Monitoring metrics aids merchants in increasing profits and optimizing their online business strategy. For each product, merchants can evaluate supplier details and performance ratings and display peak sales hours.
Chrome Extension
You can analyze product potential while searching Amazon's inventory by installing Jungle Scout on your Chrome browser, making product research quick and straightforward.
This fantastic browser extension is the ideal tool for finding products to sell on Amazon. It has fully customizable settings, and Jungle Scout data is inserted right into Amazon search results and product pages.
Inventory Manager
Real-time access is made available for all Amazon inventory with this tool. Merchants using Jungle Scout can make accurate predictions on how much stock to order and when to place the orders. And this feature makes sure that merchants know the costs and profits when they order new stock.
Get 30% Off Jungle Scout Right Here
Helium 10 Features
Helium 10 is an all-in-one software package. People like to use this independent Amazon seller tool to boost product visibility and sales in the highly competitive Amazon marketplace.
Magnet – Keyword Research Tool
Helium 10 Magnet is one of the Amazon keyword research tools that takes a seed term and generates a ton of related keyword ideas. These can really help Amazon sellers create product listings that show up most often in search results.
Frankenstein
Frankenstein is a keyword research tool that reduces massive lists of keywords gathered from preliminary research into manageable sizes. For better administration and organization, keyword groupings are used. Merchants can improve their efficacy by using Helium 10 to organize and select keyword terms.
Cerebro
Cerebro can be used to find powerful, high-ranking keywords. Executing a *reverse ASIN search is the most valuable benefit. You can use product numbers instead of seed keywords to research keywords. Merchants can view any Amazon products rated for similar keywords. For products to be ranked first, merchants are given an IQ and a product rank score.
*Reverse ASIN search means looking up a product's ASIN to see what keywords it's now ranking for — keywords your competitors use to stomp on your sales.
Black Box
Black Box is an Amazon product research tool. High-ranking keywords are essential for title optimization and targeting keyword search terms to your Helium 10 campaigns.
On Amazon, merchants can instantly assess competition, average sales volume, search volume, and average pricing for any product and use the information to improve product listings.
Misspellinator
Merchants can use the Misspellinator to receive recommendations for the most commonly misspelled terms. They can then run searches to see how many misspellings there are and choose which get automatically imported into Frankenstein.
Trend
With Trend, merchants can look at trends for keyword phrases and individual keywords for general and Amazon-specific search volume. And check products and keywords according to the season for long and short-term trends.
Keyword Tracker
The tool assists sellers in tracking the ranking of your product keywords. Merchants can also track listings from their competitors. Unfortunately, ranking and listing hijackings do occur. Merchants can protect themselves with the Helium 10 alert feature.
If someone tries to hijack a listing, the Keyword Tracker feature provides quick security by delivering instant alerts through email or SMS. For active listings, screenshots are taken and emailed every day.
Index Checker
Amazon indexes words and connects them with specific products. With that information, its internal search engine can identify and return results for products most closely linked to the terms customers are looking for.
The Index Checker detects whether a word or phrase is indexed and how Amazon indexes it. It's generally done as an organically searched keyword that attracts free traffic through search engine optimization (SEO), URL string, and the seller who sells the product.
Scribbles
This is a tool that helps you optimize your product listing descriptions and bullet points that are keyword-driven when you draft your Amazon product listing page copy. It also recommends keywords, emphasizes terms based on search traffic ranking, hides previously used keywords, and more.
Get 50% Off For Your First Month of Helium 10 Right Here
A Direct Comparison of Jungle Scout vs Helium 10
Here we'll look at a few of the most notable features when deciding which tool to spend your money on.
Pricing
Pricing is an important issue to consider for anyone starting an Amazon business. You can't use software with fantastic features that are way out of your pricing range. So let's first take a closer look at the pricing plans offered by Jungle Scout vs Helium 10.
Jungle Scout
There's a limited free plan available and three Jungle Scout pricing options:
Free Trial: 7 days trial with a money-back guarantee.
Basic Plan:
Costs $49 per month or $348 per year
It comes with a browser extension for Chrome and Firefox
Single-user license
Suite Plan:
It starts at $69/month or $588/year, and you get all the Basic Plan features plus:
Multiple user-logins
Advanced Seller Features
Review Automation
Historical Product and Keyword Data
Professional Plan:
Starting at $129/month or $1008/year and you get all the Suite Plan Features plus,
6 user logins
1000 ASIN alerts a month
Priority Onboarding
Six months' worth of data in Product Tracker
2 Years of Historical Data for Keywords
Get 30% Off Jungle Scout Right Here
Helium 10
Helium 10 has a free plan (you can use it forever) plus four pricing plans to choose from: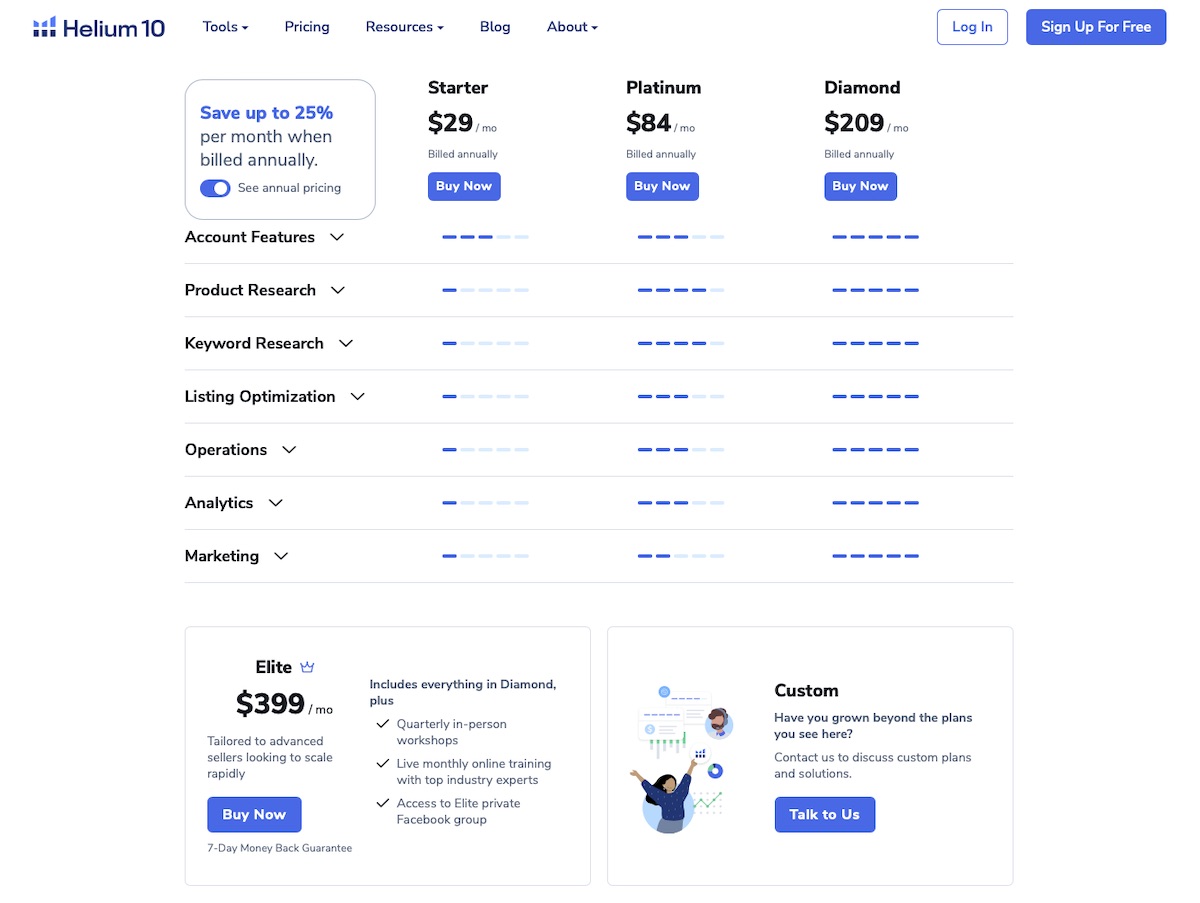 Free Plan:
Single-user
Limited access to Helium 10 suite
Access to Frankenstein, Scribbles, and Profits
50,000-lifetime follow-up emails
Starter Plan:
$39/month or $339/year
Limited access to all Helium 10 tools
Freedom Ticket training course (check out our full Freedom Ticket review)
Platinum Plan:
$99/month or $999/year and has all the Starter Plan Features plus,
100 ASIN Alerts per month
More advanced keyword research tools
Track up to 2500 keywords a month
2000 emails a month for follow-ups
150 uses per month of Index Checker
Diamond Plan:
$249/month or $2499/year, and it includes all Platinum Plan Features plus,
3 user logins
Connect up to 4 Seller Central Accounts
Inventory Management Tool
10K Emails per month for follow-ups
300 ASIN alerts per month
Track up to 5000 keywords per month
Elite Plan:
$399/month with all the Diamond Plan Features plus,
5 user logins
Access to a private Facebook group
Learn with Industry Experts Live
Quarterly in-person workshops
Accuracy
Because both tools rely heavily on data to deliver insights and solutions, it's critical to learn about their task accuracy. Here's a rundown of Jungle Scout vs Helium 10:
Jungle Scout
Jungle Scout seems to have a higher chance of success. The success rate is roughly 80% to 85%. It could be because it's much easier to use. That is to say:
Product failure is estimated to be roughly 5% of the time.
There's a 5% chance it'll only sell half as much as it says it would.
There's a 5% possibility that sales may fall short of expectations.
Helium 10
Helium 10 has roughly 70-80 percent accuracy, with an average of around 75 percent. That is to say:
The possibility that the product may fail – 8%.
The product will sell half as much as Helium 10 predicts – 8%.
It may sell for less than 1/3 of what it's expected to sell for – 8%.
All of them, however, could improve or deteriorate based on your ability to apply Helium 10 tools to the market.
Ease of Use
A new seller is always on the lookout for a keyword research tool that is simple to operate with a user-friendly interface. When you get a tool with a complicated interface, it can be overwhelming. We compared Jungle Scout vs Helium 10 to see which is the easiest to use.
Jungle Scout
Jungle Scout features a more user-friendly UI (user interface) and is better for newbies. Choose this option if you have a limited budget and wish to start with a product and an internet business.
Helium 10
Helium 10 is a professional product research tool with various features such as Helium 10 Black Box and others. Overall, you'll need to learn how to use it efficiently to get the best outcomes, and it's not a very user-friendly tool.
Browser Extension
Browser extensions are extremely beneficial productivity tools, whether they reduce distractions, make jobs easier, or save useful information. Helium 10 and Jungle Scout tools both offer Chrome Extensions.
Jungle Scout
You can install the Jungle Scout extension on Chrome or Firefox. Its most advanced browser extension for Amazon allows you to analyze fresh opportunities, solicit reviews, and anticipate product sales. You have to pay for the Jungle Scout Chrome extension – there is a free version, but it really doesn't offer much.
Helium 10
The Chrome extension comes with every Helium 10 plan and includes the Product Research Tools, Inventory Level, Review Downloader, and ASIN Grabber. The Chrome Extension allows you to conduct Product Research at the touch of a button and creates a monthly competitor listing. You can enhance your outcomes by tweaking your strategy based on the above information.
Resources & Customer Support
It's interesting how many businesses offer excellent tools and ultimately fail because of poor customer support and resource management. Both Jungle Scout and Helium 10 have thankfully spent time and money on these aspects of their businesses.
Jungle Scout
Jungle Scout offers a variety of tools to help you become a successful Amazon seller. It provides services like Jungle Scout Academy, which teaches you all you need to know about selling on Amazon. It has a ton of knowledge and a well-written blog site with various in-depth case studies.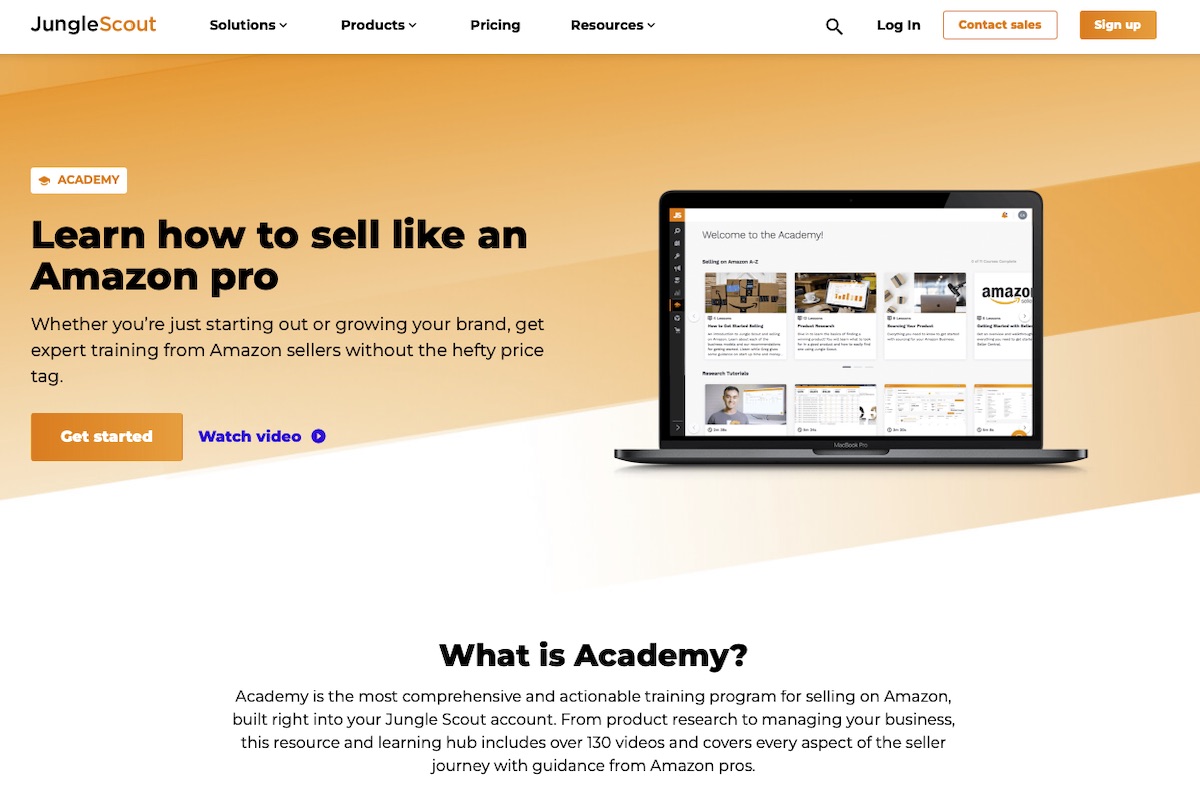 You can contact the company's customer support department if you have any problems using the tool. Their customer service agents are available 24 hours a day, seven days a week.
Helium 10
Helium 10 also includes a substantial amount of training materials. They provide courses like Freedom Ticket, which teaches *Amazon FBA sellers how to sell more effectively.
*Amazon FBA – Fulfillment By Amazon (a service that assists Amazon sellers to outsource shipping to Amazon).
But, to access Freedom Ticket, you must buy one of Helium 10's more expensive programs.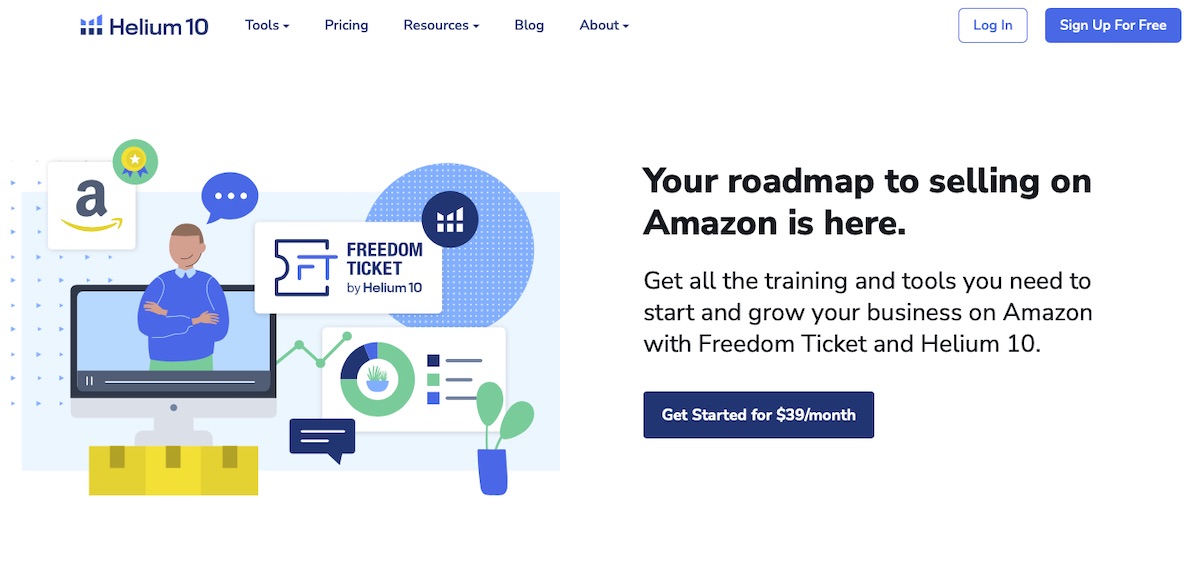 Helium 10's customer service is very similar to Jungle Scout's – pretty good.
Pros and Cons
Here are some common pros and cons of the two keyword research tools.
Jungle Scout
Pros
Much cheaper.
The software allows you to search for keywords in depth.
Excellent Opportunity finder tool.
Tracks all Amazon product sales.
Comparing suppliers is made easier with the product database.
Jungle Scout's interface is easy to use.
Far more accurate as it will reveal actual keyword volume.
Free training from Academy.
Cons
You have to pay for the Jungle Scout Chrome extension.
The payment procedure is confusing.
Not as many features as Helium 10.
Check Out Jungle Scout Here
Helium 10
Pros
Chrome add-on included.
Many of their 13 tools are available on the free plan.
Everything you'll need to sell on Amazon is all in one location.
Cons
Expensive.
The interface is very difficult to use.
There is no tool for managing feedback.
Training is not free.
Try Helium 10 Here!
Jungle Scout vs Helium10 In Closing
I know all the information about both tools can be a bit much, especially if you're new to the game. So, how do you decide: ​​Jungle Scout vs Helium 10? Which one will help with your Amazon business to make the most money?
Most new Amazon sellers don't realize that these are the tools that your competitors are using. You can't beat them if you don't have software like Jungle Scout or Helium 10. It's that simple. So, perhaps the most basic questions to ask yourself are; how much do you know about selling on Amazon? And how much can you afford to spend on the tools you'll need? And will you get the customer support you will certainly need?
Any Jungle Scout review will tell you that it's a simple Amazon seller tool with plenty of great features, but you'll learn to use them pretty fast. Helium 10 has many more features, but it's really difficult to learn to use (no matter what their advertising hype tells you.) Jungle Scout does not offer a free trial, but Helium 10 does. Both offer excellent customer support.
It probably all comes down to this: If you choose Jungle Scout which is easier to learn to use, you can start making money sooner as an Amazon seller.
After all, if you can't use the software – you're not making money.
Once you know how selling on Amazon works, you may decide you need more to give you the edge over your competitors. Then Helium 10 could be the Jungle Scout alternative you need and the next step in helping you make the most money.
Want to learn step-by-step how I built my Niche Site Empire up to a full-time income?
Yes! I Love to Learn
Learn How I Built My Niche Site Empire to a Full-time Income
How to Pick the Right Keywords at the START, and avoid the losers
How to Scale and Outsource 90% of the Work, Allowing Your Empire to GROW Without You
How to Build a Site That Gets REAL TRAFFIC FROM GOOGLE (every. single. day.)
Subscribe to the Niche Pursuits Newsletter delivered with value 3X per week