6 Best Amazon Affiliate WordPress Themes For Niche Sites
When you buy something through one of the links on our site, we may earn an affiliate commission.
If you want to create more freedom for yourself by starting an online business, then a niche website is a great option. Affiliate marketing is one of the best (if not THE best) ways to make money online with very little upfront investment.
The income potential is huge, with some bloggers making up to six figures… a month!
Whether you're brand new to building niche websites, or you've got some experience, finding the right theme for your website is an important part of getting started with a new site.
Choosing the best Amazon affiliate WordPress theme can be tricky, but here are six of the best!
The Best Amazon Affiliate WordPress Theme
The Amazon affiliate program (Amazon Associates) is one of the most popular affiliate programs around and for good reason. Amazon is the largest online marketplace in the U.S. and the third-largest in the world.
There are over 200 million Amazon Prime users worldwide. Whether you are selling your own products through Amazon FBA or making money as an Amazon Associate, chances are buyers clicking your affiliate links are far more likely to convert. This is because they already know and trust Amazon.
Type 'Best Amazon affiliate WordPress Theme' into Google, and you will be presented with hundreds of options. But not all themes are as good as others.
The themes we are going to show you in this article are some of the very best Amazon affiliate website themes. They will help you create your dream Amazon affiliate website and make it easy for you to make money promoting affiliate links with Amazon associates or any other affiliate programs you want to join.
And many are free WordPress themes, so you risk nothing!
Astra 3.0
Astra is known for being a very powerful WordPress theme of all time, and for good reason too. This theme is one of the most customizable themes around, so if you have an idea of what you want your website to look like, chances are you can create it using Astra.
The Astra theme was released back in 2017. Since its launch, it has grown to become the most popular WordPress theme in the world, with over 1.6 million active installations. It receives 5 stars almost everywhere it is rated and reviewed, including on WordPress, and TrustPilot.
Astra makes it easy for anyone (even complete beginners) to build great-looking websites without needing to use even a single line of code. You can choose from over 150+ ready-made templates and then customize each element until it looks just the way you want it to.
Astra offers unparalleled performance too.
This is partly because it's super light and uses less than 50KB of resources compared to most other WordPress themes that require around 300KB. It loads in less than 0.5 seconds which is great for your conversion rate. This means it almost always receives 100% on Pingdom speed tests.
Making it a great Amazon affiliate WordPress theme to avoid Google penalties for being slow.
Here are just a few of the benefits of using Astra:
Easily create beautiful sites
Less than 50KB
0.5 seconds page loading time
150+ templates to choose from
WooCommerce ready
Fully customizable
Easy to use
Free version available
Affordable pricing for the Pro theme
100% money-back guarantee
If you want to find out more about this theme and why you should use it to build your website, check out our review of Astra 3.0.
GeneratePress
GeneratePress's powerful multipurpose WordPress theme offers an ideal toolbox for anyone hoping to create an Amazon affiliate niche site.
It's easy to build websites using GeneratePress's innovative block-based theme builder.
If you're a GeneratePress premium user, you simply install the free plugin to your WordPress site, and you can start visually building your site using dynamic block elements. You won't need to use any code (unless you want to, of course), so it's a great option for beginners as well as seasoned professionals.
There's also an extensive library of pre-built, professionally designed themes to choose from. It's possible to have a great-looking site up and running in under an hour.
You will be pleased to know that GeneratePress is extremely lightweight too, taking up less than 30KB of resources on your site.
Here are some of the benefits of using GeneratePress to build your website:
Powerful and Lightweight
Uses less than 30KB
Free and open source
Affordable premium version available
100% page speed scores
Unrivaled customer support
Easy to use
Compatible with all your favorite plugins
Dynamic block page builder
Want to find out more about GeneratePress? Read our GeneratePress review.
Do you like the sound of GeneratePress?
It's one of the very best Amazon affiliate WordPress themes you can use, so why not download and try it for free!
Try GeneratePress Here
Divi by Elegant Themes
Divi by Elegant Themes is one of the most well-known WordPress themes around.
The main reason it's so popular is because of its advanced visual page builder technology. It completely replaces the standard WordPress editor.
There are over 40 drag-and-drop elements to choose from when building your site, as well as over 800+ pre-made designs and over 100+ full website packs. This makes it easy for beginners and professionals alike to effortlessly create beautiful custom websites.
Whether you are building an Amazon affiliate website or you want to create a profitable online store like a dropshipping site, you will be able to do it with the Divi theme.
Divi is a paid premium WordPress theme and does not have a free plan available, so you need to pay for a yearly license.
Here are some of the benefits of using Divi to build Amazon affiliate websites:
Unlimited use
Constant updates
Simple pricing
24/7 support
Easy to use
Fully customizable
No coding required
Great value for money
30-day money-back guarantee
Want to find out more about Divi? Check out our Divi review here.
Thrive Themes
Thrive Themes builds conversion-focused WordPress themes and plugins, designed to help turn more of your web visitors into subscribers, paying customers, and clients.
It's an all-in-one solution that gives bloggers all the themes and plugins they need to build websites, sales funnels, landing pages, opt-ins, quizzes, online courses, and more.
The Thrive theme builder makes it easy to visually build a theme for your WordPress website. It's very easy to use, and you can have the editor up and running in a couple of minutes. It comes with ready-made themes (Omni and Shapeshift), or you can build your own using one of the hundreds of professionally designed pre-built templates and sections.
Using the Thrive theme builder (Thrive Architect) will ensure that every element of your site is 100% mobile responsive. Whatever device your visitors are using, they will have the same great experience on your site.
Here are just some of the benefits of using Thrive Themes to build your Amazon affiliate WordPress website:
Conversion focused themes
Drag-and-drop-theme builder
Visual page editor
Great customer support
Mobile responsive themes
Easy to use
Affordable pricing
All-in-one solution that includes plugins as well as themes
Form builder
Build quizzes and courses
Landing page builder
Integrates with most popular software
If you want an all-in-one solution that will not only enable you to easily build a great-looking affiliate marketing website, but also build landing pages, forms, and courses, then Thrive Themes will be a great option for you.
Although Thrive themes is slightly more expensive than other themes, when you consider what's included, it's actually good value for money.
Electro by MadrasThemes
Electro is a modern, user-friendly WordPress theme that has been designed specifically for WooCommerce electronics stores. It's also a great option for anyone building a dropshipping or affiliate store based around electronics, gadgets, or another tech.
You can choose from a variety of vendor or multi-vendor marketplace-style themes, which are all 100% mobile responsive.
Almost every element of your site can be customized, from the colors to the header and even the layout of the product pages. And the 'buy' button on each of the products you are selling can lead your customer straight to Amazon (or another company you are an affiliate for) via your Amazon Affiliate link.
Here are just a few of the benefits of using Electro to build your affiliate site:
Very affordable, just pay once, and you can use the theme forever
Easy to use
Fully customizable
Mobile responsive
Professional looking
E-commerce style main page
Compatible with Elementor Pro
Widescreen ready
WooCommerce compatible
REHub
REHub is considered by many to be one of the best Amazon affiliate WordPress themes around.
It is one of the most powerful WordPress themes for affiliate marketers. Whether you want to create an affiliate site for Amazon products, a review site for travel companies, or a comparison site for insurance, you will be able to do it with Re:hub.
It's easy to use too, with over 30+ product and post layouts to choose from to help you build your perfect site. It includes everything you might need for an Amazon affiliate site, from static and dynamic product comparison charts to directory listings.
It's even officially recommended by Amazon as being a great theme for members of their affiliate program.
The benefits of using Re:hub to build your Amazon affiliate website include:
It's perfect for Amazon affiliate niche blogs
Affordable one-off payment
Easy to use
Compatible with Elementor
Comparison chart builder
High converting pages
30+ product and post layouts
Completely customizable
Animation framework
Mobile layouts
Advanced link management
Works great with the Amazon affiliate WordPress plugin
Best Amazon Affiliate WordPress Plugins
If you are building an Amazon affiliate niche site, you will also most likely want to use some plugins. They help to add functionality and create a better experience for your users.
Here are some of the best plugins for Amazon affiliate sites.
AAWP
AAWP is a plugin built specifically for Amazon affiliate marketers.
This premium Amazon affiliate plugin makes it quick and easy to feature Amazon products in your posts.
By using the AAWP plugin you can add amazon product boxes, Amazon affiliate links, bestseller lists, new releases lists, data fields, and widgets to your website.
They use the API, so you can rest assured that they are fully compliant with Amazon associates' policies. They are definitely one of the best options for anyone who wants to start an affiliate website on a budget.
Get AAWP here
TableLabs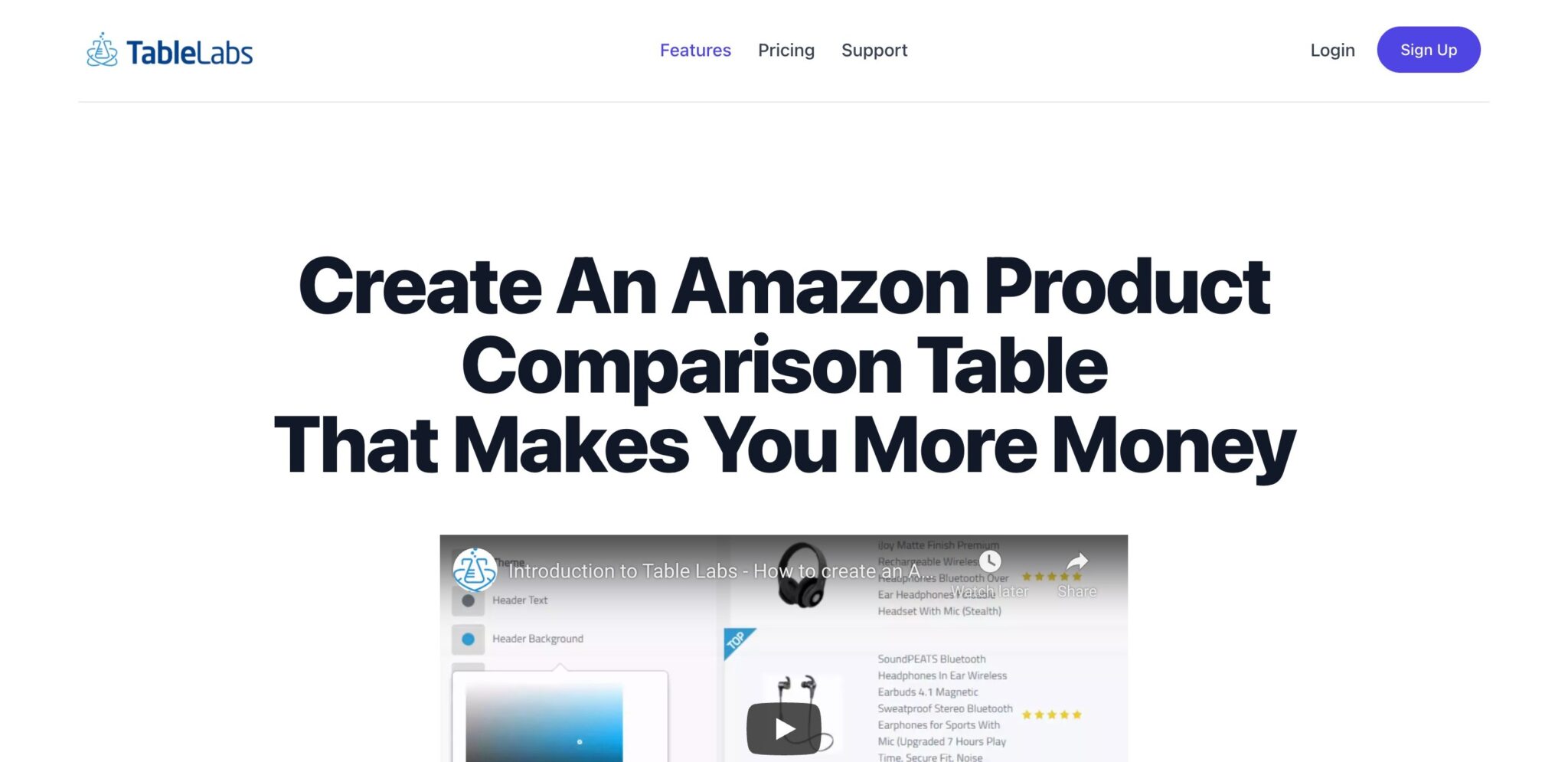 TableLabs is an Amazon affiliate app (technically not a plugin) that makes it super easy to create great-looking high-converting tables to turn more of your visitors into buyers.
Spencer Haws created Table Labs after becoming frustrated with the time it took to build professional-looking tables for his Amazon affiliate websites.
Comparison tables are ideal for affiliate websites. They make it easy for your readers to find what they want, resulting in higher affiliate commissions for you, with less effort. Win-win.
If you want to find out more about how using Table Labs can help you increase your Amazon affiliate earnings, check out this case study.
Get table labs here
AmaLinks Pro
AmaLinks Pro is an Amazon affiliate WordPress plugin that helps with many Amazon affiliate website tasks.
Easily make tables
Call-to-action buttons
Showcase boxes
Add text links
And insert pictures from Amazon
It is completely compliant with Amazon's rules and regulations, and it's very easy to use, even if you're a beginner.
This plugin will make it easy for you to monetize more of your posts without spending any extra time on your blog. Links, buttons, and products can all be added in seconds with just a few clicks. In fact, Spencer still uses AmaLinks Pro in Niche Site project 4, so it's got to be good!
Get amalinks pro here
Elementor
The Elementor plugin is one of the best plugins around for niche site builders.
It can be used to make buttons, showcase boxes, add in videos, and even set page and post templates. There is a powerful free version, as well as the option to upgrade to Pro if you want to take advantage of the customizable theme editor too.
You can get the free version, or if you want to find out more, you can read our Elementor review here.
Get elementor here
Link Whisper
This one is not just for Amazon affiliates but for anyone building a blog or niche site.
As you probably already know, internal linking to other posts on your site has a huge impact on your SEO, but it's time-consuming and can be hard to get right every time.
Link Whisper uses AI to check your content and gives you suggestions for relevant internal links in just a few seconds. Because of this, the process of internal linking is quick and easy.
This gives you more time to focus on other tasks that will help your site. Link Whisper was created by Spencer after he found that there weren't any other tools out there to fulfill this need.
Get Link Whisper Here
Amazon Affiliate WP Theme
Amazon affiliate marketing is one of the best ways to make money online.
It's the perfect online business for anyone who doesn't want to invest too much money upfront. As long as you are dedicated and willing to put in the time and effort it takes to build a profitable niche site, the rewards can be huge.
Whether you are just starting out with Amazon affiliate marketing, or you have done this before, using a fast, powerful affiliate theme for your website will help you increase your conversions, and make more money.
All of the sites listed in this article are perfect for anyone who wants to create a profitable Amazon affiliate website using WordPress. They are all easy to use too, so even if you're a complete beginner, you will be able to create a beautiful website with these themes and plugins.
If you're just starting out, you should check out our 11 step guide on how to create a profitable niche website that makes $2985 a month. This will tell you everything you need to know, from brainstorming a profitable niche idea, right through to long-term growth strategies. It's a must-read for anyone who wants to make money online.
Want to learn step-by-step how I built my Niche Site Empire up to a full-time income?
Yes! I Love to Learn
Learn How I Built My Niche Site Empire to a Full-time Income
How to Pick the Right Keywords at the START, and avoid the losers
How to Scale and Outsource 90% of the Work, Allowing Your Empire to GROW Without You
How to Build a Site That Gets REAL TRAFFIC FROM GOOGLE (every. single. day.)
Subscribe to the Niche Pursuits Newsletter delivered with value 3X per week