Surfer SEO Review: Is It the Best All-In-One On Page SEO Solution?
Want to see what it would take to outrank the competition? Well in this Surfer SEO review, we'll look at what the tool can do from our first-hand experience.
But here's a quick summary if you don't have time to read the entire blog post:
After countless hours using the tool, it's safe to say that Surfer SEO is one of the best on page SEO tools on the market.
It's like a Swiss Army Knife to help you rank like an SEO pro.
Get Started Today
---
Surfer SEO
Ease of Use -

100

Effectiveness -

95

Customer Service -

95

Price -

90
Summary
Surfer SEO is an excellent on page tool that helps take the guesswork out of the process. Not only is it easy to use even for beginner SEOs, but using the tool can actually help make you a better SEO. Plus you'll rank faster and more often!
Try Out Surfer SEO for Free
Pros
The user interface is clean and easy to use

The ability to create your own unique charts and data comparisons for keyword research.

One of the best tools for optimizing existing content to improve search engine rankings. 

Surfer provides both keywords and content optimization. Other keyword tools don't offer content editors inside their platform; you'd have to pay for another tool like Clearscope or MarketMuse. 

Free Chrome extension is well worth it.

New, helpful features continuously added (like Grow Flow)!
Integration with Google docs, Jasper, etc.
Cons
Only 30 Content Editor credits a month for their basic plan can be used up quick.

Some features like the Keyword Research tool aren't as effective as the content editor and content audit features  

Their internal linking suggestions aren't always relevant
Surfer SEO: What Is It?
Slawek Czajkowski started Surfer in 2008. Slawek started an agency that focused on bringing data to every step of the SEO process. As they grew, his team built an internal tool for optimizing content. This tool became more and more powerful and ultimately was the motivation to create Surfer SEO and share it with the world.
Surfer SEO helps you create the most Google-friendly and on-page optimized content possible. It analyzes over 500 ranking factors, compares your content against your competitors, and provides a data-driven SEO blueprint to help you rank higher in the SERPs using on page optimization.
While most software relies on basic keyword research, user information, and a list of instructions to get your work done, Surfer uses data-driven modeling to help you rank your pages.
You can focus less on the how and more on what it takes to outrank a competitor.
Think of Surfer SEO as your personal Data Scientist. Quickly analyzing competitors, performance metrics and finding technical factors that are positively impacting search rankings. Using that data, you can reverse engineer your way to the top of the search results.
Some ranking factors Surfer SEO analyzes
Here are just a few of the ranking factors that SurferSEO looks at:
Text Length
Number of headings
Number of Images
Page Speed
Keyword Density
Partial Keyword Density
Referring URLs
Referring Domains
Meta Tags Structure
These are just a sample, Surfer SEO analyzes 500 different factors across the keyword results at any given time.
How do you use Surfer SEO?
With so much data, I thought it would be overwhelming. But Surfer SEO makes it easy to identify the best way to rank on Google.
Using it was my absolute favorite part- it's like surfing the web, but with a lot more data. I found myself riding some "keyword waves".
Unlike some of its competitors (which may have a steep learning curve), this SEO tool is easy to navigate. Everything is laid out well, and the UI and UX, in general, is very strong.
Surfer SEO users now get access to 6 on page optimization tools (used to be 4), and a few add-on tools you can use with Surfer SEO.
Let's take a look at the tools, as an added bonus we'll also do a brief review of the Surfer SEO Chrome extension keyword research tool.
Content Editor
Keyword density is no longer enough. That's why Surfer SEO uses Artificial Intelligence (AI) technology to check the prominence of each word on your competitor's pages.
The data collected will give you the most accurate and competitive guidelines to help your content hit the metrics that Google is requiring.
You'll get instant feedback via Surfer SEO's content scoring graphic for your target keywords.
What's a Content Score? The content score is the spot where Surfer SEO analyzes your text and gives you immediate feedback on your writing quality compared to your competition for the target keyword.
It's not really about how good your content is, but how good your content is to rank in Google.
In other words, Surfer SEO's content scoring system doesn't just look at if you have good grammar; that's a really basic function. But instead, it looks at relevant keywords, content structure, headings, images, content length, and about a hundred other factors to determine how good your content is COMPARED to current top-ranking sites.
The rating ranges from 0 (worst) to 100 (best).
Content Score takes into account 100s of on-page factors
Usage of relevant words and phrases
Title and H1
Structure of the headers
Content length
Images
OG data
Hidden content
Main keyword and partial keywords
And many more…
Looking at Surfer SEO's content scoring graphic is an excellent indication of when you're ready to publish. Similar to how Yoast provides you with their green score indicators, Surfer will do the same, however, the difference is Surfer is comparing your content to hundreds of your closest competitors' content.
Using the content editor in a way feels like a game. As you write, you aim to hit your high score. Let's look at a couple of examples.
Example #1: How to start a blog
I've taken a previous post written on Niche Pursuits (how to start a blog) to see how it could be optimized using the Surfer SEO content editor.
After putting in the content, I immediately got a content score of 74. According to Surfer, "A score over 66 means your content is ready-to-go. You should aim for the highest content score; however, anything over 66 indicates a decent on page optimization."
This article is one of Niche Pursuits' longest articles, with over 9,000 words. This is a highly competitive keyword, and the competition has written even longer posts. The Surfer recommended word count is showing 9,227–10,611 words. The content is also just a bit short on the number of images included in the article.
In addition, Surfer recommends that I use these terms more:
WordPress blog
WordPress
Blog posts
The terms that are highlighted in red, indicate the terms that should be added to the article. I've used the term "wordpress blog" only 2 times in the entire 9,000+ word article. Surfer sees that my competition has mentioned this term quite a few more times and recommends that I use the term at least 12-39 times in the article.
Surfer also recommends headings that I should be using in the content structure. Here are a few examples:
How to start a blog
Blogging platform
Domain name
For the headings, I have used almost all the terms Surfer recommends; however, the term "blogging platform" is highlighted in red, indicating this term should be used in a heading within the article. Before publishing, I will want to either create another paragraph or two covering "blogging platforms" or update a current heading in the content structure that would be more meaningful if the term was included.
Example #2 Best Croquet Sets
In the next example, I've taken an article from Own The Yard and ran it through the Surfer content optimization tool.
For the main keyword term "Best Croquet Set", the score of 80 was achieved. Again it shows a few updates I could make for word count, images, and headings. But one of the more powerful components of the Surfer content editor is its keyword term suggestions and natural language processing (NLP).
A list of related keywords is provided to include in the article. For example, the term "six player croquet set" is mentioned only 1 time in the 3,201-word article. Surfer SEO is recommending I include this term at least 3-7 times.
By adding related keywords Surfer suggests to the blog post, your chances to rank for keyword rises. Plus you'll likely rank for other related, long-tail keywords like the six player croquet set in this example above.
Following the Surfer Content Editor recommendations, I have a much better shot of ranking pages above my competition, with the updated Google-friendly optimized content.
Audit
The Surfer SEO Audit function allows you to go back and optimize your existing content to improve its rankings.
We've been doing this content audit with a bunch of our posts and here are the results from just one of the articles:
As you can see in the image, the dotted line (which represents the 3 months prior) was on a downward trajectory. Once the article was updated using Surfer Audit, there was a spike in clicks which have been slowly growing since.
This is a relatively recent edit but clicks are already up by close to 3000 and impressions have almost doubled since the content audit.
SERP Analyzer
The next tool on the Surfer SEO list is their SERP Analyzer.
While the flagship product is the content analyzer, the Surfer SERP analyzer is my favorite feature and is what I believe sets them apart from the competition.
Surfer SEO's SERP Analyzer is unique because it gives you clarity into keyword ranking factors. With a few clicks, you can see the impact of your chosen ranking factors with easy to understand charts.
The Surfer SERP analyzer tool will challenge your keyword post against hundreds of factors that may impact your position in Google ranking pages.
For example, if you type in "croquet sets reviews," the results will return all the sites currently ranking and the alternate queries that websites in this space are targeting.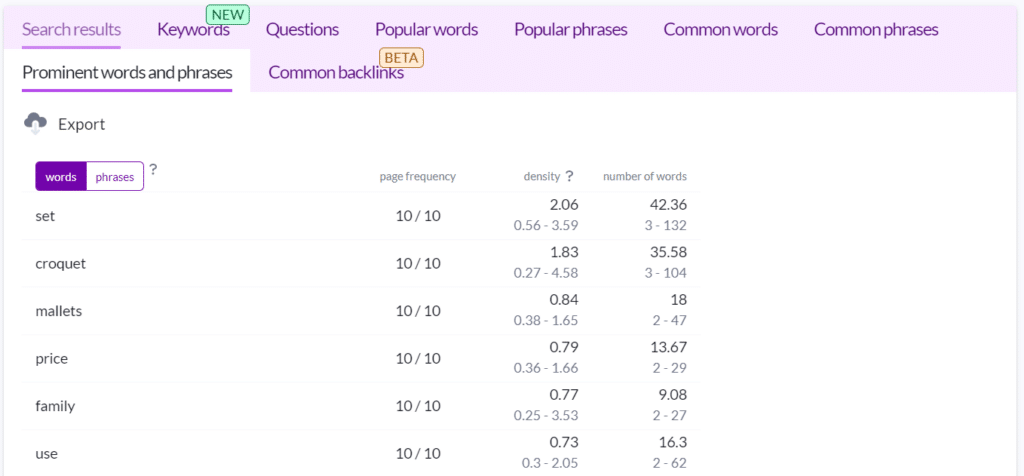 We'll also see what is currently working for the current articles to give you a solid baseline.
For the keyword Croquet set reviews, the SERP analyzer makes it easy to see that the top 10 results average around 3,500 words per post. So to compete for this keyword, you would need to do the same or better.
Word count is just the beginning. You can slice and dice the SERP analyzer tool data in so many ways. Backlinks, keyword density, page speed, page size, or even content above and below the fold are just a few of the factors you can analyze.
Surfer SEO Keyword Research
Surfer SEO has its own tool for keyword research. In many ways, Surfer's keyword research tool is similar to the other tools within the software. You'll enter a seed keyword, and a handful of similar primary keyword suggestions will appear.

Once you've picked the keyword you want to target based on the seed keyword, you can easily add it to the SERP Analyzer or Content Editor (the two tools we looked at above)
The Surfer SEO keyword research feature is a great add on to the tool, but it's easy to see that Surfer's core strengths are in the SERP and Content editor options.
Content Planner
With the Surfer SEO Content Planner, you'll get a grouping of keyword clusters to target to gain topical authority. What's unique about this tool is the classification of the type of content.
When it comes to writing content such as product reviews, it could be challenging to rank in "shopping" keywords. Big players like Amazon and eBay typically cover the first few pages of Google for terms with high keyword difficulty.
With the Surfer content planner, you can easily see keywords based on search intent. And create supporting SEO optimized content with internal links to your money pages helping them rank.
The Surfer search intent categories are informational, shopping, and customer investigation.
Here are a few examples of content intent categories :
"Rules of Croquet" – informational.
"Croquet Set Reviews" – Customer Investigation
"Cheap Croquet Sets" – Shopping
In the above examples, someone searching for "Cheap Croquet Sets" is likely looking to purchase, while someone searching "Rules of Croquet" is searching for informational content. The classification of keywords helps sift through many keywords quickly for the types of content you are writing.
Grow Flow
Grow Flow is a new freemium feature from Surfer SEO. It's their latest release and is a tool intended to make it easier than ever for users to grow their sites!
What it is, is a AI powered growth management platform accessible in the Surfer dashboard. Basically, what it does is suggest important tasks you can focus on every week to improve your rankings.
In short, Grow Flow takes the guess-work and decision fatigue out the on-page SEO process.
At the moment this includes 3 different types of task suggestions:
What keywords to add to existing pages on your site (up to 10 sites at the moment) to improve their overall performance.
What new or untapped internal link opportunities are available.
And what new keyword suggestions you should target for content this week. (To help build out your topical authority based on content clustering and any content gaps.)
In order for this tool to work best though, you'll want to connect it to your Google Search Console. But that's a small price to pay for convenience and efficiency in your work flow.
Another cool feature about this new tool is that it's a complimentary addition to the platform. Not only is it free for non-Surfer users (with limited functionality), but all Surfer users get access to it's fully-loaded features!
Check out more information about Grow Flow.
Chrome Extension
While not necessarily part of the suite of products of Surfer SEO, Surfer developed a Google Chrome extension that is a free keyword research tool.
You can download the chrome extension with the button below.
Free Surfer SEO Chrome Extension
After installing the Google Chrome Extension, navigate to Google as you normally would, and enter your keyword into the search.
SurferSEO makes it easy to see keyword traffic without even opening a new tab.
And although it's free, the keyword research tool give you more than just search volume. It's actually very generous with the information it provides.
On the right-hand side, you'll get more in-depth details for additional similar keywords. You can easily switch between countries or copy to your clipboard. Everything is built into the browser.
You can use a few charts to quickly visualize the search volume traffic, word count, and keywords within the search results.
You can quickly see the word count for each post in the top 10 search results in this example, which will save you a ton of time when content planning.
Other Notable Features
Surfer SEO has far too many features to review in this article alone, and as everyone is a bit different, you should just take advantage of their trial option to see for yourself. Here are just a few of our favorite features we thought were notable in our Surfer SEO review.
Built for Collaboration
If you use a writer or assistant to help with your content writing, you can use Surfer SEO as an all in one SEO tool. Not only will your writer get real-time results, but once your writer is finished with the article, they can easily share it with you.
Using the Surfer SEO share options could save you many hours when it comes to the editing stage of posting your content. Your writer will send you a completed article with headings, images, and paragraph counts already optimized. The tool comes built for collaboration with click to share options.
Google Docs Integration
A case-in-point example of the tools' understanding of collaboration is its integration with Google docs. When you plug a keyword into the Content Editor feature, you can then choose to share a link with Google docs.
This is an excellent feature as some writers prefer to write in Google docs. And with this integration, writers can see all of Surfer's suggestions directly in the Google Doc.
Location-Based SERP Analyzer
What works in one country won't necessarily work in another. In this new search era, most businesses with just a little international presence are making it over to a global marketing strategy. If your audience can find your business in any language with globally relevant keywords, you'll be noticed.
Surfer databases work with different languages and countries, so it doesn't matter if your page is Spanish, German, or Swedish and where you want to rank.
Structural Data Search Engine Optimization
With Surfer, you can go beyond "typical" ranking factors like keywords and anchor text to see which pages have the best structure. The schema markup describes certain aspects of content that search engines expect to find on your site.
As Schema.org improves over time, it should improve SEO and be a more realistic indicator of who ranks well on major search engines like Google and Bing.
Rank for multiple keywords with on blog post
Creating content to target just one phrase or keyword is not how SEO works anymore. Running a multi-keyword analysis can increase your chances for more organic traffic and help you rank higher in search engine results pages.
Surfer SEO tools allow you to view your existing content to review search volume for your exact keyword and other potential target keyword opportunities.
Optimize for True Density
What are essential terms missing from your content? Is your search presence predictable and consistent? Well on page SEO optimization can sometimes feel like a guessing game, but it doesn't have to be.
To find out if you're off-target, True Density offers simple yet powerful ways to discover and fix these issues to optimize content.
Audit
The Surfer SEO Website Auditor gives you a step-by-step recipe for higher rankings based on your organic competitors' data. If you are wondering what is an SEO audit? The Surfer SEO audit tool answers questions such as:
How does your content stack up now?

What essential terms should you add to get the best possible SERP?

Is this page fast enough?
With the audit tool, it's easy to see what to optimize that will matter the most.
Backlinks Optimization
If your competition in the SERPs is outranking you, it could be due to your backlink profile. Surfer SEO will discover missing common backlinks.
Backlink optimization is unique for each business. Surfer looks at what matters in your business, which link building tactics your competition uses to increase their search traffic, and reports on missing common backlinks.
Surfer SEO strategy understands that it's good links, not just any links; great content, not just links with keywords in them.
How much does Surfer SEO cost? surfer seo pricing
With the Surfer content optimization tool, you'll get an incredibly detailed analysis of your on-page and off-page data and backlinks – for a relatively low monthly fee.
Of course, more features require more money. However, the information you receive is quite useful and worth the cost of admission.
At a minimum, you can get started with the Surfer free chrome plugin. Which is a great deal as is. But also do keep in mind that all Surfer plans include a no-risk 7-day money back guarantee.
And if you are just looking to use SurferSEO to compare your article with those already ranking on the first page, you should check out this free SurferSEO alternative as well.

Plan
Price

(If paid annually)

Content Editor
Audit
Team Members
NLP (Natural Language Processing)
Basic
$49
10
20
1
1 Month free trial
Pro
$99
30
60
3
Yes
Business
$199
100
140
10
Yes
The business plan also includes white labeling and API access. And besides these plans, the company also offers a customizable offer for enterprise customers.
And every Surfer SEO pricing plan includes SERP analyzer and content planner with the offer. Plus, with the addition of Grow Flow and whatever else they eventually include on the platform, it's safe to say that Surfer SEO has you covered for content optimization.
Surfer SEO Vs Alternatives
There are lots of Surfer SEO alternatives on the market that offer similar functionality. The SEO keyword space is highly competitive, but if you're curious how Surfer SEO vs other SEO tools compare, it's usually safe to say that it's the Surfer SEO content editor that sets them apart.
Some Surfer SEO alternatives that provide similar data-driven content options are:
Page Optimizer Pro

Clear scope
Surfer SEO Pros:
The user interface is clean and easy to use.

The ability to create your own unique charts and data comparisons for keyword research.

Helps you optimize for many on page SEO factors.
One of the best tools for optimizing your current content to improve rankings.
Surfer provides both keywords and content optimization. Other keyword tools don't offer content editors inside their platform; you'd have to pay for another tool like Clearscope or MarketMuse.

Free Chrome extension is well worth it.
Surfer SEO Cons:
Only 30 Content Editor credits a month for their basic plan can be used up quick.

While the Surfer SEO tool excels in the content editor, the keyword research tools felt somewhat challenging to navigate, but appear to have a few additional features coming in beta.

Other tools excel when it comes to identifying exact backlinks of competition.
Who uses Surfer SEO
No matter your profession or industry, Surfer SEO can help you with your website traffic.
The ideal Surfer SEO user values a data-driven approach to content or creates content professionally in a scalable manner.
The Surfer SEO website shows some impressive testimonials of notable SEO experts. Including a handful that has been featured on Niche Pursuits previously, such as Matt Diggity, Gael Breton, and Matthew Woodward.
Surfer is a quick yet extremely accurate way to get data-driven advice for your site. I've seen ranking gains in many different niches by applying its suggestions. Bonus: It takes the data and presents it in such a way that even beginner SEOs would understand so… you can outsource the actions as well.
Surfer is the perfect balance between ease of use and depth of data. They understand SEO and make optimizing for your queries accessible to the masses.
Surfer's analysis told me to delete 22,000 words of content which was…weird. So I deleted 85% of my content including 901 blog comments. 2 days after doing precisely what Surfer told me to do, I moved straight into the number 1 position.
Future updates for Surfer SEO
Surfer SEO software has a public roadmap of what they are working on. The roadmap is conveniently placed in Trello.
TIP: If you have a Trello account, you can use the "Watch" option to be notified when new features are released or added to the queue.
Surfer SEO Review Conclusion: Ready to Start Ranking?
Surfer SEO has a lot of great tools at great prices to get you started with SEO optimized content. When writing this Surfer SEO review, the basic package starts at just $49, which is a steal compared to competitors.
Try Out Surfer SEO for Free
Want to learn step-by-step how I built my Niche Site Empire up to a full-time income?
Yes! I Love to Learn
Learn How I Built My Niche Site Empire to a Full-time Income
How to Pick the Right Keywords at the START, and avoid the losers
How to Scale and Outsource 90% of the Work, Allowing Your Empire to GROW Without You
How to Build a Site That Gets REAL TRAFFIC FROM GOOGLE (every. single. day.)
Subscribe to the Niche Pursuits Newsletter delivered with value 3X per week