Publisher Rocket Review (KDP Rocket): Best Research Software For Kindle Publishers?
When you buy something through one of the links on our site, we may earn an affiliate commission.
Welcome to our Publisher Rocket review (formerly KDP Rocket).
We're here to help you decide whether it is the right platform to help boost your self-publishing success.
After all, studies have shown that the average self-published book sells around 250 copies in a lifetime. So the ultimate goal is to not only sell lots of books, but also to avoid writing a book that fails to resonate with your target audience.
So how can you stack the odds in your favor?
Well, while there are no guarantees to become a bestseller or overnight success, there are specific tools and book marketing best practices to improve your chances of succeeding.
One effective method is by conducting proper market research before writing such a book. If you want to devote months of effort and time, it only makes sense for you to invest some time into research.
And that's where this Publisher Rocket review comes to the rescue. I'll tell you what the tool is all about, what it does, and how to use it to launch your next best-selling eBook.
Editor Note: KDP Rocket is now called Publisher Rocket. Since this post was updated, I have changed all the headers and most of the phrases saying "KDP Rocket" in the body of the post to "Publisher Rocket".
In a rush?
Using Publisher Rocket as your kindle publishing software gives you the edge over 90% of competing authors. And it'll definitely make life easier for you.
---
KDP Rocket Review
Ease of Use -

97.43

Stability -

95

Customer Service -

93

Price -

99
Summary
If you're an Amazon Kindle Publisher struggling to discover the right keywords that will boost your book's visibility in Amazon searches, then KDP Rocket is for you. It's undoubtedly one of the best research tools for Amazon Kindle Authors. Get KDP Rocket Right Here.
Pros
Unveils handle niches
Finds the best keywords for your Amazon Ads
Very easy to use
Affordable price
Cons
It is not a web app
The sales figures can be twisted
Physical and kindle book categories are mixed
Publisher Rocket Review (KDP Rocket) | The Amazon Kindle Keyword Tool
Publisher Rocket/KDP Rocket software is not like any other book keyword research tool. Some refer to it as a complete author market research tool.
Nevertheless, in a concise manner, you can say Publisher Rocket helps you know if a particular book market is feasible or not. And it can be used for researching both fiction and non-fiction books.
Therefore, rather than depending on guesswork or intuition, you are equipped with relevant data to know whether to enter a particular book niche or not.
Undeniably, writing what you love and passionate about is essential. But discovering the missing link between what you love to write and what people are willing to pay for lies a goldmine.
Furthermore, getting an accurate understanding of the market, what keywords customers use, and learning the pros and cons of your competitors will surely give you a unique advantage.
Apart from this validation, you are merely writing blindly.
Let us assume you have the following information before writing a book.
The kind of books and ideas people are looking for.
The number of people searching for such books in that niche every month
The amount of money people within that niche earn
The kind of books succeeding the most
The type of books failing
With this information, you will be ahead of your competitors and command a large portion of the market while increasing your earnings effortlessly.
Publisher Rocket/KDP Rocket Features
Literally, with Publisher Rocket, you can know if this book is suitable for such a market. The software answers the question of "what does Publisher Rocket do" in four different ways.
To help you get a clearer picture, we will analyze them one after the other.
Evaluate Your Competitors
Before you decide on writing a book in a particular category or genre, it is imperative for you to know the competitive nature of such a market. This information is helpful in two ways.
First, you get a better understanding of what you have to do for your book to be successful in the market.
Second, you will know if writing in that genre is worth it or not.
One misconception many authors have is to think that writing is all about making money. Actually, there are easier means of making money.
Nevertheless, writing a book to a hungry genre is fulfilling when compared to writing to only a handful of people who are going to read.
How does one determine if a book market is competitive?
Once you have a solid idea of what to write, plug it into the "Competition Analyzer" feature of the Publisher Rocket software.
All you need is to type the description of the book and allow the tool to perform the magic. And you are on your way to more book sales.
Find the Perfect Category for Your Kindle KDP Book
The category feature (aka "Category Search Feature") is a recent addition to the Publish Rocket/KDP Rocket tools.
If you want to be among the top bestseller, you need to find the right category. And that means you shouldn't choose categories that are hard to rank for.
Previously, finding the right category for a particular book involves spending hours going through Amazon search results, manually calculating book sales numbers, and jotting down categories.
This is not only stressful but also incredibly time-consuming. The category feature on Publisher Rocket allows you get great results in a fraction of the time.
However, the process is straightforward if you use the Publisher Rocket software. Just go straight to the "Category Search" feature and key in the descriptive keyword for your book. Indeed this is a seamless process that is as simple as ABC.
Publisher Rocket will automatically produce a list of categories relating to your book description. Furthermore, you will get an analysis of the first twenty books in each category including the number of books to sell to beat other books.
If you can rank among the first 20, it gives you the opportunity to be listed on the first page of the category results on Amazon search.
With this information, you can know the kind of marketing push needed when you finally launch your book. Through this, you can hit the top of the category search.
Validate and Discover Great Book Ideas - Become a Kindlepreneur
Perhaps you have started writing or have challenges choosing from different ideas. And so on and so forth. In that case this tool is just what the doctor ordered.
Becoming a Kindlepreneur and making more than $100 a day with your book is achievable. Thousands of independent authors have done this.
But you'll need to do the right research. Excellent book idea usually intertwined in the following.
You have an interest in the topic
The market is a sizeable one
It is not hard to break the competition in the market
If you are starting out with these points, the likelihood of your book becoming a success is high. Publisher Rocket doesn't have the ability to tell if one is passionate about a particular topic or not (although one of the Publisher Rocket alternatives we researched may).
But the software has the capacity to make your bestselling book ideas quite simple.
It is as simple as keying in your idea in the "Keyword Search" box and allowing the software to do what it knows how to do best.
The outcome of the keyword search will give you a breakdown of keyword and related keywords that readers are searching on Amazon.
Additionally, you will have access to extra information such as the search volume for each keyword, number of books competing for such keyword, and the average profit generated for the keyword to rank.
Equipping yourself with this information gives you the ability to compare different book ideas. Once you've got your idea, you can get started making money.
Publisher rocket helps you Write Better Titles and Book Descriptions
The writing industry is filled with lousy book titles that will make you pull out your inner Simpsons and think "meh." But, this isn't surprising. A memorable book title doesn't only need to be interesting but also connect to your readers, and tell them what your book entails.
Furthermore, you need to add the relevant keywords to enable you to show up in the Amazon search results.
Most forward-thinking authors understand the critical role that keywords play when people wants to buy a book. But selecting the right keywords and incorporating it into the title, subtitle, and book description is still a mystery for many.
Most of these people don't sell very many books.
If you don't use Publisher Rocket to choose your keywords, you are merely doing guesswork. Some people think they're pretty smart about their guesswork.
publisher rocket review - Find Good Keywords
With Publisher Rocket, a writer might type the keyword into the Amazon search bar and base their judgment on the strength of the keyword by the number of search results that appears.
For instance, you will see the following search results when you use the keyword "meditation for beginners."
However, this is inaccurate. Your keyword might be getting tons of results but have low search volume.
The whole self help market is filled with titles, but it doesn't get a fraction of the searches that fiction books get.
Even worse, guessing demand from the Amazon results page can blind you.
There may be tons of results with low competition, but high traffic. These niches are ripe for your book!
When using Publisher Rocket, the keyword research tool unveils the search volume of your target keywords. With this, you know exactly what is popular.
When you add the competitiveness score of each keyword, you can see that using Publisher Rocket is an added advantage.
If you can know the keywords your target readers are typing on Amazon, you will know the particular words they are using. This will make it easier for you to include popular keywords in your title, subtitle, and the description aspect of the book.
Kindle KDP- Find keywords for your Amazon ads simple & Easy
With Publisher Rocket, you can find more than 150 moneymaking keywords for your Amazon ads campaign within the snap of a finger.
Immediately you have the keyword list, click export, and upload it to Amazon Advertising Console.
That is all you need because Publisher Rocket takes all the suggested Amazon keywords, author names, and all titles for the books that show up during the search.
Furthermore, it also provides relevant categories including new and hot books within such categories.
Once you open the Publisher Rocket platform, you select "Amazon Advertising Keyword Search," and type the keyword that describes your book, author name or title. You get a downloadable keyword list based on the following:
Keywords suggested by Amazon (A-Z)
Keywords based on author suggestions and title for the top 20 in categories
Keywords based on author suggestions and title for the top 20 keyword results
AMS Keyword Search Tool
Many authors might ignore the AMS keyword search feature that comes with Publisher Rocket because they don't plan on buying paid ads. But that would be a big mistake.
Ads on Amazon can be very inexpensive. And when targeted correctly, a HUGE boon for the indie author.
Ads on Amazon connect your book to the Amazon shoppers most likely to click on an ad and buy it. Why would you pass on that opportunity for more book sales?
The AMS Keyword Search Tool is one of the more interesting features with Publisher Rocket. Use it to view how Amazon views books, related books, AMS ads, and how one AMS keyword relates to another.
This helps you find very targeted, very inexpensive terms that are most likely to get you in front of the eyes of a lot of Amazon readers. And do it without completely busting your budget.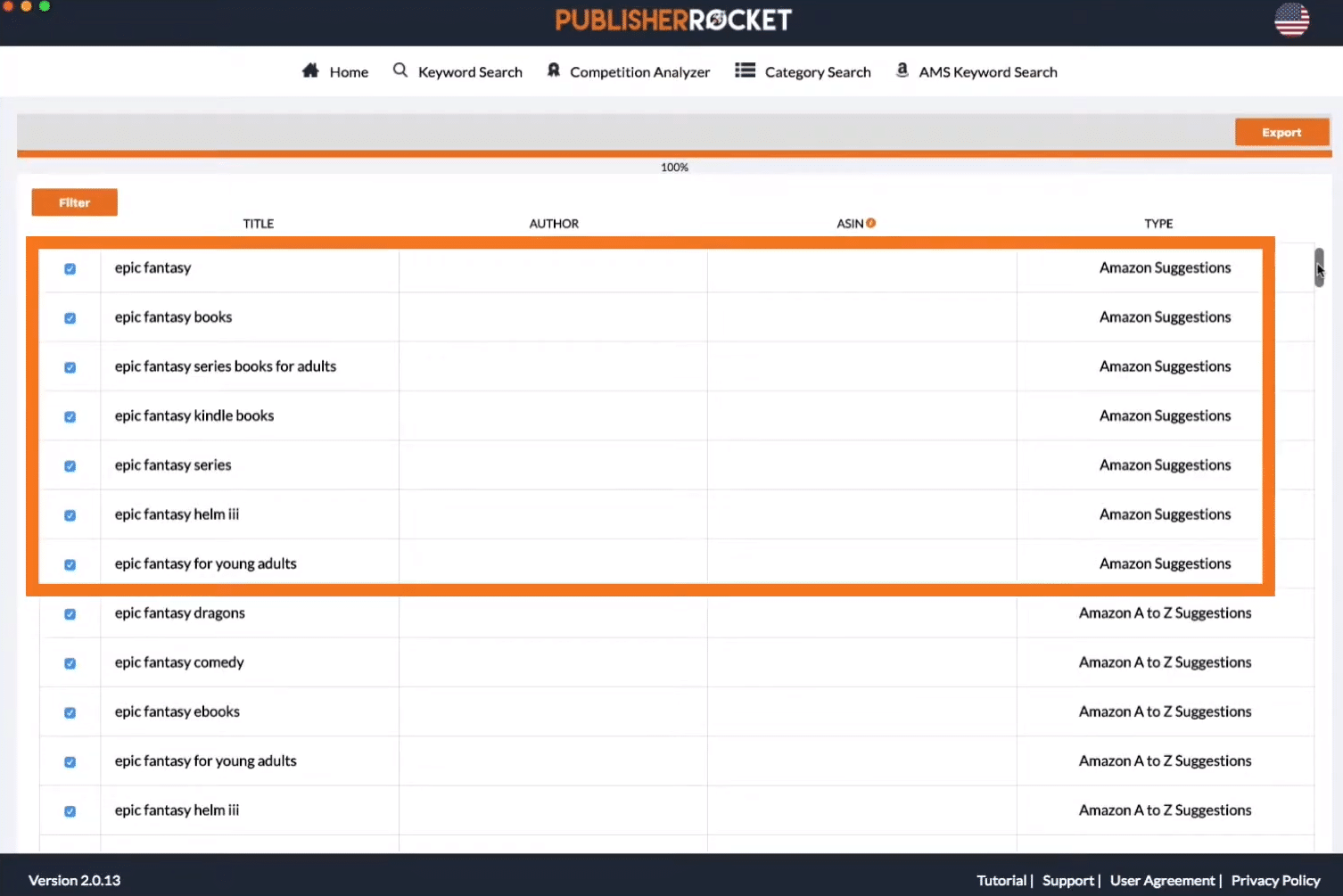 Screenshot Source: Publisher Rocket Tutorial Video - click here for full video.
Once you have all this data that can be filtered, targeted, and adjusted as you see fit, you'll have all you need to create profitable AMS ads. This data is easy to transfer to spreadsheet and doesn't require hours of manual labor to gather it all.
That's a powerful feature. And one that can potentially pay for the price of the software many times over.
Publisher Rocket/KDP Rocket vs. KDSpy
Besides Publisher Rocket, there is one other major player in the Kindle book research space. KDSpy is the alternative most people are familiar with.
Perhaps you are considering which of these tools to choose, or thinking if it is worth investing in any. It doesn't matter your reason for choosing one over the other; it is essential to know how each fare with one another.
KDSpy
This software tool brags itself as a category research tool, but does that hold up? The objective of the software is to enable authors to gain a deep understanding of the category they decide to write in.
Furthermore, it provides relevant statistics such as the number of reviews, rankings, sales, and the size of the market. Also, it gives authors a global view of the competitiveness of the niche.
| | | | |
| --- | --- | --- | --- |
| | Publisher Rocket | KDSpy | |
| Keyword Research Feature | Yes | Yes | |
| Amazon Ads Keyword Finder | Yes | No | |
| Competition Research Feature | Yes | Yes | |
| Window/Mac | Both | Both | |
| Standalone Software | Yes | No | |
| Shows Google Demand Data | Yes | No | |
| Shows Amazon Demand Data | Yes | No | |
| Detail of Keyword Analysis | Detailed | Basic | |
| Detail of Competition Analysis | Detailed | Basic | |
| Price | $97 | $59 | |
Is Publisher Rocket Worth It?
When it comes down to it, we think that Publisher Rocket is worth it. There's no doubt that it costs a little bit more than competitors, but it offers a huge amount more detail. Think of it in terms of how many books you'll be selling with each tool.
Being an author is a crowded field. The United Nations estimates that 2.2 million books are published each year. That is 6000 books per day.
You might pay less for a lesser tool, but your book will sell less if you don't have the highest quality information. Detailed keyword analysis is what will set your book apart from the all of the other books that never sell.
Yes, Publisher Rocket costs more than the other tools. But the level of detail and the quality of information is just what you need to set your book apart.
If you make just 20 extra sales from from Publisher Rocket, you will more than pay for the price of the tool.
So is Publisher Rocket worth it?
Yes.
Click here to start your self-published, Kindlepreneur journey with Publisher Rocket.
publish the book you've always dreamed of with Publisher Rocket
Publisher Rocket/KDP Rocket Pricing | How Much Does Publisher Rocket Cost?
Currently, Publisher Rocket comes at $97. There are no hidden charges, subscription, or even an upsell.
This is great because most people don't like subscriptions and don't want to pay additional fees to learn how to use the software.
publisher rocket review - Frequently Asked Questions [FAQ]
At times, some questions are lurking in your mind concerning this beautiful tool. However, we will explore the most common questions.
However, if the question in your mind is not covered in this area, don't hesitate to write such a question in the comment box below.
1. Does Publisher Rocket Work on Mac and PC?
Yes. It is certified to work on both Mac and Windows computers.
2. Does It Work for International Markets?
Currently, it reads and interprets only the US market. Nevertheless, the tool is being worked on for it to apply to the international markets. When this becomes a reality, it will be a free update for those using it.
3. Is Publisher Rocket Useful for Fiction Authors?
Yes, fiction author can use it as well as other authors. Are you a fiction author? Do you want to know what readers are typing in Amazon's search bar? Are you inquisitive about what your competitors are doing?
Do you want to know the current trends and get specific words suggestion that connects with readership?
Do you want to know if their book is making money?
If your answer to any of the aforementioned question is yes, then Publisher Rocket is perfectly suitable for you. It's not just for non fiction book writers.
4. How Does Publisher Rocket Calculate the Competition Score?
Publisher Rocket's competition analyzer is extremely valuable and uses different factors. For instance, the 1-99 scale informs you of the difficulty of ranking for the keyword you choose.
The score is based on known ranking factors like titles, subtitles, description, and a number of reviews, bestseller ranks and many more.
5. What About Software Updates?
Since you download and install the Publisher Rocket software on your computer, it is natural for you to expect routine updates. Therefore, all updates on the software come free without additional cost.
6. Who Can Use Publisher Rocket?
Publisher Rocket is a wonderful tool for authors who want to treat their writing as a business. Most authors are simply concerned with writing what gives them joy forgetting whom they are writing to.
They don't consider the reader expectations, market trends, or producing novels that sell while fulfilling their creativity.
Publisher Rocket offers many helpful features that solve the problems of the self published author.
Want to have a deep comprehension of the market before writing a single word?
Want to improve your chances of selling the book before writing it?
Do you understand how important Kindle keywords are and want to optimize your book accordingly?
Do you want to see more clickable titles when people are searching for books in your genre?
Need help with Amazon ads and want to discover easier ways of finding keywords?
Additionally, if it is not clear to you, Publisher Rocket is easier to use and very intuitive. So there is no need to be a super technical freak to use Publisher Rocket.
start your self publishing journey
KDP Rocket Review
Ease of Use -

97.43

Stability -

95

Customer Service -

93

Price -

99
Summary
If you're an Amazon Kindle Publisher struggling to discover the right keywords that will boost your book's visibility in Amazon searches, then KDP Rocket is for you. It's undoubtedly one of the best research tools for Amazon Kindle Authors. Get KDP Rocket Right Here.
Pros
Unveils handle niches
Finds the best keywords for your Amazon Ads
Very easy to use
Affordable price
Cons
It is not a web app
The sales figures can be twisted
Physical and kindle book categories are mixed
Publisher Rocket Review | Conclusion
Starting out as an author, you've got a lot on your plate.
You are not only confronted with the challenge of writing a compelling book but writing one in a competitive market, choosing the right keywords, categories, and optimizing your book listing.
Furthermore, you are also faced with the challenge of launching it the right way, getting reviews, and marketing it properly.
Once you do all of these, writing that book you desire is much easier.
Using Publisher Rocket affords you the opportunity to simplify your research process, come up with great ideas, and finally know what to do to rank higher.
If you're an aspiring author or you're already an author who wants to improve your success rate in building a strong and profitable book marketing career, then Publisher Rocket is a worthwhile investment that shouldn't be neglected.
In short, I recommend Publisher Rocket because it'll help you to write and sell more books.
But in the words of Jeff Goins, "Before you can launch a bestseller, you need to write a bestseller."
So take advantage of the Publisher Rocket software today and transform your book marketing career.
Have you ever used this software before? Share your experience with us in the comment section. And if you enjoyed this post, don't forget to share it on social media.
I hope you found this Publisher Rocket review useful!
Want to learn step-by-step how I built my Niche Site Empire up to a full-time income?
Yes! I Love to Learn
Learn How I Built My Niche Site Empire to a Full-time Income
How to Pick the Right Keywords at the START, and avoid the losers
How to Scale and Outsource 90% of the Work, Allowing Your Empire to GROW Without You
How to Build a Site That Gets REAL TRAFFIC FROM GOOGLE (every. single. day.)
Subscribe to the Niche Pursuits Newsletter delivered with value 3X per week