What is the Best Keyword Research Tool For You? [Free & Premium]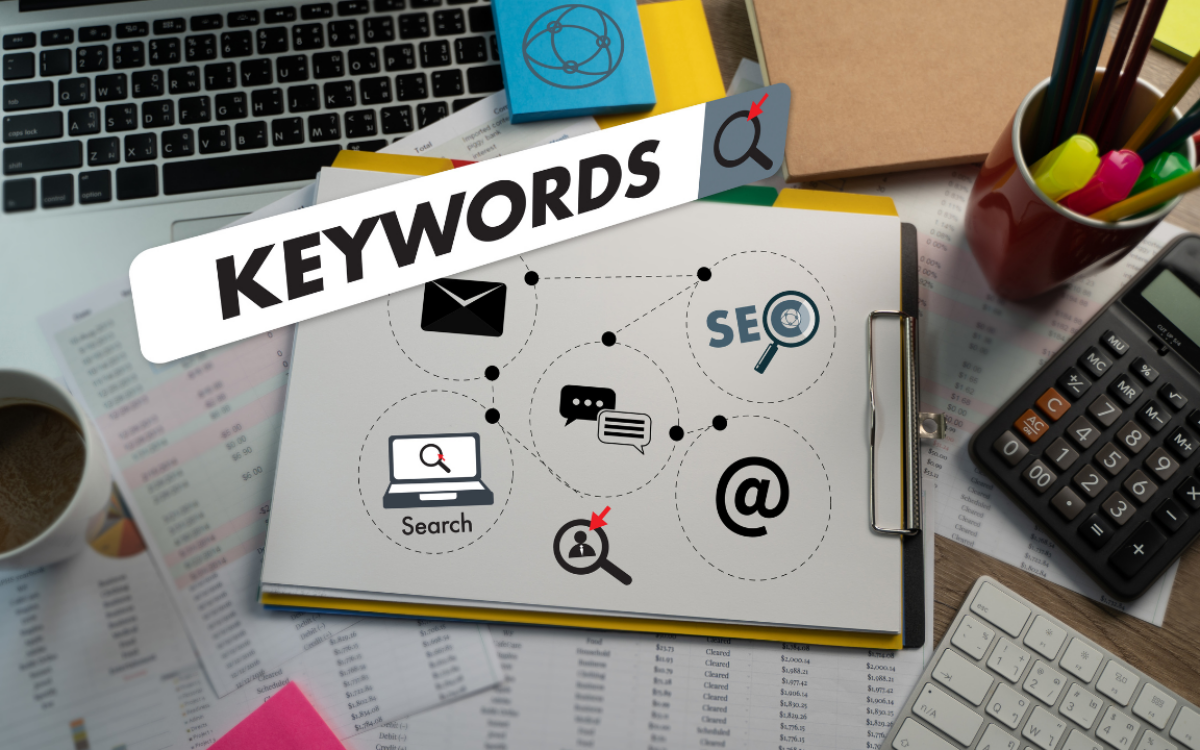 When you buy something through one of the links on our site, we may earn an affiliate commission.
The jury is unanimous on this one: without keyword research, you're dead.
Your website won't rank, your income won't rise, and you'll never accomplish what you're trying to do. But with so many options out there, it's easy to get lost and wonder which one fits you.
Here we discuss the best keyword research tools for various situations. Whether you're running a small operation on a super tight budget, are a budding entrepreneur, or do keyword research for a big site like Niche Pursuits itself, we explain which is the best tool for you. We also look at some popular tools that aren't any good (hello, Keyword Planner)
Let's get started with our free tools.
No time to waste?
We recommend checking out Semrush. Not only does it have a database of the most keywords of any tool on the market but its Keyword Magic Tool is a fan favorite, making it incredibly easy for even beginners to find tons of great keywords! And unlike other paid tools on this list, Semrush offers a 14-day free trial.
Get Semrush Today
Best Free Keyword Research Tools
Here are a list of great free options to get you started!
Answer The Public
Answer The Public (ATP) is a not-so free keyword research tool (since Neil Patel acquired it) that's great for giving you tons of keywords related to topics you search. We're looking for buyer intent (best X for Y, reviews, etc) and informational (how to guides, questions). ATP provides both.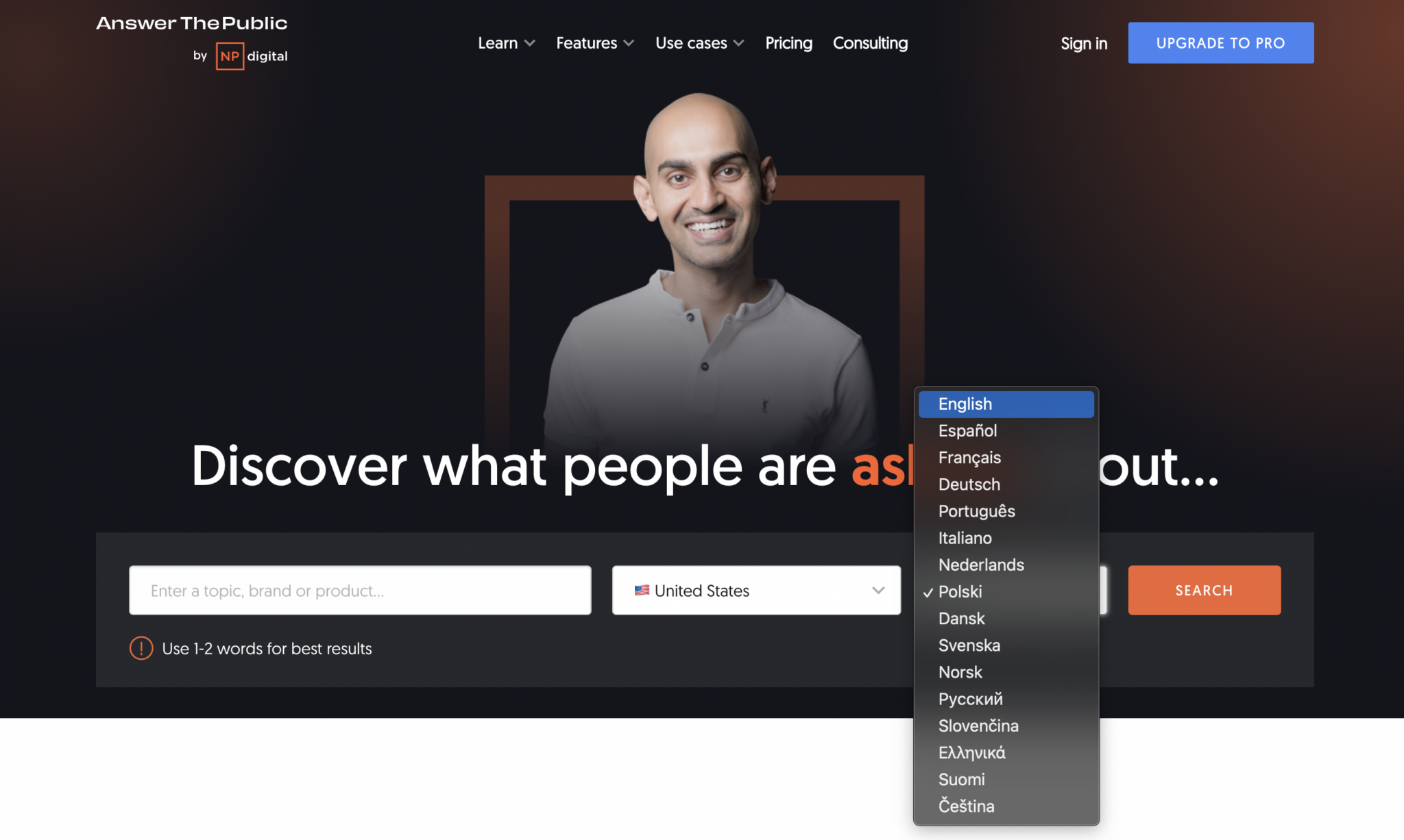 If nothing else, no one argues that ATP has one of the most unique landing pages in all the kingdom.
When you do put a keyword in, you're given a huge number of different options. Even though this is a free too, I got more results than the highest tier version of KWFinder (infamous for how few keywords it returns, but I still love it).
KWFinder maxes out at 700, but ATP gave me a mighty 967 keywords. For free.
So why does it have to do something so crazy with the keywords it gives you? Look at how these are laid out.
A circle?
A circle?!
There are any number of ways to lay out keywords that are better than a circle. I get having an eccentric design for your site, and I get having a circle as a fun little add on. But it shouldn't be the default way that keywords are returned.
Thank goodness they offer a second option that lays out keywords in a list.
You can't argue that there are tons of long tail keywords here. That's great news. I see plenty with informational intent, but I couldn't find a single buying intent keyword. This could make it difficult to find review/buying guide article topics as you progress with your site and run out of ideas.
I already have a few ideas for buying intent keywords, so I searched for "best protein powder". The results are in list form.
And wow. That is a lot of buying intent keywords.
As long as you have rough topic ideas, I think you'll be able to generate enough keywords related to your topic to last you a lifetime with this tool.
The downside is that you don't know how many people are searching for these things. You also can't know the difficulty.
Answer The Public Summary
Answer The Public is a great way to get an amazing amount of long tail informational keywords. You can also locate lots of related keywords with buying intent if you have a topic in mind already.
Who it's best for: Answer The Public is one of my favorite free keyword research tools. I recommend it for anyone who refuses to pay to get a premium tool. This is about as good as it gets while staying free.
(but really, premium tools are still a lot better)
Google Keyword Planner
Google Keyword Planner is the poor man's keyword planner, but this tool might be doing you more harm than good.
In olden days of the internet "Wild West", you could get some decent results out of Keyword Planner. Accurate keyword search volume data, a few long tail keywords, and you were off to the races. But things have changed quite a bit since Keyword Planner started.
You can still get some pretty decent seed keywords and long tail keywords.
If you put any of these into the Keyword Idea tool, you get some nice long tails.
But the biggest problems with Keyword Planner are the monthly search volume and competition metrics. These two metrics are both inaccurate, and ideally you don't want that from keyword research tools.
But how is search volume data inaccurate if it's from Google?
Good question. In recent years, Google has combined their keywords into ever larger "parent categories". These parent categories help advertisers on Google reach larger audiences and get their ads in front of more people. But the parent categories also end up hiding the long tail keywords from Keyword Planner that we want target.
To bring this example to light, here's what we get if I search "best cheap protein powder" in Keyword Planner.
It's almost the exact same results as when I type just "protein". These results are worse than my results for "best protein powder" even though my seed keyword now is even longer tail.
To give you a comparison, here's what I get in KWFinder (which is notorious for its low amount of returned keywords). I typed the same seed keyword: best cheap protein powder.
Look at those new long tail keywords.
Google Keyword Planner obscures the longest tail keywords. These keywords get "sucked up" into parent categories. This is helpful for advertisers (the intended user of Keyword Planner) but pretty harmful for anyone doing true keyword research.
This means that Keyword Planner can give you long-ish tail keywords, but not true long tails. You are crippling your business from the get-go if you just rely on Keyword Planner. The monthly search volume is bogus and the competition score is for ads, not for ranking on the first page of Google.
Let me repeat that. The competition score is for ad buyers. It is not a metric of how difficult it is to rank #1 on the first page of search results.
Google Keyword Planner Summary
Overall, Keyword Planner can give you some decent seed keywords. But it can't give you accurate monthly search volume compared to other keyword research tools (search volumes are in ranges + for parent categories). The competition metric is for ad buyers and doesn't mean anything for keyword research.
Who it's best for: Keyword Planner is free, but there are other free tools out there that do the same thing and do it better. I recommend Keyword Planner for my worst enemy and for masochists.
Click here to go to Google Keyword Planner (don't do it).
Google Trends
Google Trends is a tool by Google that shows you how interest in a topic is evolving over time. It gives you historic keyword data on how many times the keyword used to be searched for and how much it's being searched for now.
To show you how this works, I added 3 keywords: "protein powder", "best protein powder", and "best cheap protein powder".
You can see here that Google allows us to look at keywords and compare their popularity over time. This is super helpful if you are getting into a new business. When evaluating a niche, this gives you an idea of how seasonal the niche will be.
You can also use this tool to gauge whether a certain niche is something you want to pursue at all.
Check out this graph when I search "Amazon FBA".
Sweet mother of SERPs.
That is an obvious growing trend and one that has been rising in popularity over 5 years. The best time to get in was 5 years ago, but this trend doesn't look to be stopping. That's a niche I'd be willing to enter.
In contrast, here's what happens when I search for my favorite book store.
It's a slow decline, but it's a decline. This downtrend means I wouldn't touch the physical book niche with a 10 foot pole.
One feature that I love about Google Trends is that you can also find the keywords that have had a meteoric rise in recent times. While searching for my protein-related queries, I scrolled down and found this gem of a keyword.
Now I'm always hesitant to start niche businesses based on "to the moon" rises in monthly search volume. I figure that what goes up fast comes down fast, and I'd rather have a steady uptrend than a meteoric rise.
But if you have an existing business, these explosive rises in search interest indicate a trend that you can take immediate advantage of. If you are looking at Google Trends and your competition isn't, you have the opportunity to grab a massive amount of visitors. Your competition won't even be aware of these new keywords if they aren't going out of their way to look for them.
Google Trends Summary
Google Trends is an invaluable tool for any business. You won't be able to find many long tail keywords with it. But you can find some keyword related to your topic. And it's a great complement to keyword research tools where you can see how a niche performs over time, whether you should get involved or not, and find growing new trends.
I used it when I started my niche site and recommend it to anyone who asks.
Who it's best for: Google Trends is free and can be used for any business. I recommend it to anyone who wants to have or grow their business.
Keywords Everywhere
Keywords Everywhere is a keyword explorer that works by way of plugin on Chrome or Firefox. It doesn't have a page that shows you keywords like other tools do, but it integrates in with your Google searches.
When I search protein, I get 2 boxes off to the right side of the search results:
This is pretty neat since it integrates right in with my search engine. It shows how much traffic each keyword is getting under the Vol metric.
This is also handy for advertisers since Keywords Everywhere shows the CPC of a certain keyword as well as the competition in the Comp score.
The competition score is on a scale from 0 to 1 with 0 being easy and 1 being difficult. This competition score only measures advertising. It does not measure the difficulty of organic ranking on the first page of search results.
There are several long tail informational keywords and some pretty good seed keywords for buyer intent.
I searched for "best protein powder" and here's what I got.
There are several long tail keywords here and I love how it shows the search volume. So far we haven't seen that from earlier keyword tools.
One downside to Keywords Everywhere is that they don't show a lot of keywords. Answer The Public showed hundreds or thousands, Google Keyword Planner showed over a thousand. But Keywords Everywhere gives less than 50.
It's interesting to see where Keywords Everywhere gets their data from. Check out this list.
Funny to see that they get their data from all of the tools we've looked at so far. If they returned more keywords, Keywords Everywhere would be my favorite free research tool.
Keywords Everywhere Summary
Keywords Everywhere doesn't require you to go to a specific website to do your research. That's a nice feature for a keyword research tool,  and the keywords they give are great. But I wish they gave more results.
Who it's best for: Keywords Everywhere is best to get keyword data and ideas while you're already searching. It's an extension on Chrome and Firefox, so there's no reason to not use it while you're already searching. I recommend taking the seed keywords you get from here and plugging them into a tool like Answer The Public, KeywordTool.io, or Ubersuggest for more long tails.
Click here to download Keywords Everywhere.
KeywordTool.io
KeywordTool.io lets you find keywords on a ton of different networks.
I love that you get the option to search on Youtube, eBay, Play Store, Instagram, and Twitter. Other keyword tools make it a bit tougher to search on these networks.
I got a pretty big chunk of keywords for "protein". 683 isn't bad at all. I had a great mix of buying intent and informational. I don't appreciate how they only let me see search data for two keywords, but I know that developers have to eat too. So I'm not too upset.
When I searched for "best protein powder", I got some great long tail keywords.
The filtering options in the left box are pretty lame, but better than other free keyword research tools with the exception of Ubersuggest.
KeywordTool.io Summary
KeywordTool.io is one of the most powerful free keyword research tools. It gives you a lot of keywords, some basic filtering options, and lets you search multiple networks. I love how you can check places like Youtube, Etsy, or Instagram for keywords.
Who it's best for: I'd recommend this tool to anyone who wants to do keyword research on specific networks. It's a great fit if social media, apps, Amazon, or Etsy is more your game.
Soovle
Soovle is by far the least complex free keyword research tool on our list. But it may just be the coolest and is super easy to use.
There's not a lot to Soovle. You type in a keyword and it gives you results for different networks.
By blending together so many search engines like Amazon, Wikipedia, and Youtube, Soovle gives a great blend of buying intent and info keywords.
There's no data on search volume or competition though.
I got a lot of good search results for "best protein powder" but you can see that the user interface is pretty messy.
They're good results. Just ugly.
Soovle Summary
Soovle is a super easy-to-use keyword research tool. It's biggest strength is that it looks in several networks to find keywords.
Who it's best for: Soovle is cool and different, but it doesn't offer a lot that other free tools don't have. I recommend this if you want something new or if you want your eyes to bleed.
Ubersuggest
Ubersuggest is Neil Patel's free keyword research tool and I've gotta say, it's pretty powerful. I searched for the word "protein" and you can tell that there's a ton of information on this screen.
The information presented here rivals some of the paid keyword research tools. You can see on the left side of the screen that you can analyze a ton of data here. You can search for keywords, check what your competitors are ranking for, audit your site, and look at backlinks.
For a free tool, that's pretty incredible.
And the results are pretty good. I searched for "protein" (surprise surprise). I got 552 related keywords, but also got another 361 keyword ideas. That's a total of 913, about 25% more than what KWFinder gives me.
You can see that there are plenty of informational and buying intent keywords.
Another thing that I love about Ubersuggest is that it gives you the ability to see what keywords your competitors are ranking for.
Here is a short list for thewirecutter.com.
This feature is one that some premium tools don't offer. It's pretty amazing to see it in a free tool.
As I mentioned above, you can also check backlinks and audit your website to give you some pointers on speed or user metrics. These tools are almost always reserved for paid software.
After I tried Ubersuggest, I read what some other reviewers had to say about it.. Some reviews said that Ubersuggest's "SEO Difficulty" score was off. I did some independent testing on my own and didn't find this to be the case.
I searched for 4 terms using Ubersuggest and a few of the paid tools that I review below. Here are the results:
| | Ubersuggest | KWFINDER | AHREFS | SEMRUSH | LONG TAIL PRO |
| --- | --- | --- | --- | --- | --- |
| best protein powder | 61 | 39 | 26 | 77.78 | 49 |
| best protein powder for women | 40 | 32 | 10 | 71.51 | 47 |
| best protein powder to gain muscle | 36 | 42 | 20 | 75.92 | 46 |
| best protein powder for weight loss | 38 | 43 | 16 | 75.92 | 46 |
If anything, SEMRush is the one that looks "off". Ahrefs tends to trend lower than other tools (I explain why in just a minute, so read on). With the exception of the keyword "best protein powder", Ubersuggest trends close to KWFinder and Long Tail Pro.
Ubersuggest isn't perfect. It's data can be a little wonky (or just not available). For example, there's not much information on SERPs. And since I use SERPs to measure keyword difficulty (something I talk about later on, so keep reading), this is a bit of a bummer.
The best we get is this:
Estimated visits, links, Domain Score (DS) and social shares. That's pretty lame.
Other than that and a few other little things, Ubersuggest is by far the most powerful free tool available.
Ubersuggest Summary
Ubersuggest is a super powerful tool. It helps you find keywords, check competitor keywords, and even helps you grab competitor backlinks.
Who it's best for: This is my favorite of the free keyword research tools. I recommend it to anyone who needs to do keyword research but cannot afford a paid tool.
Best Paid Keyword Research Tools
Once you've been building your sites long enough though, you'll likely want a premium option.
Here are some great choices:
SEMRush
SEMRush has been in the game a while and they've definitely come a long way. So, how do they compare with other keyword research tools?
Well, when I search for "protein", I'm hit with a pretty significant number of results.
SEMRush gives me a total of 1,590,824 keyword variations for the seed keyword "protein".  Further on down the page, SEMRush gives us a view of the SERPs and examples of ads for the keyword.
And SEMRush also has another way of looking for keywords called the Keyword Magic Tool. When you open it and search for a keyword, you get some more detailed information.
You can see that it's super easy to find a ton of keywords using this tool. That's by far my favorite feature here. You can specify what words you want in your results by clicking them to the left. You can narrow your results to just questions. And other filtering options allow you to choose word count, search volume, keyword difficulty score, cost per click, and include or exclude keywords.
I also love that you can view SERP features here. I explained above how SERP features can make users search but not click, so this is nice to have at a glance.
There is another tool in SEMRush called Keyword Difficulty. But it doesn't do anything that we don't have in the Keyword Magic Tool.
I wish that SEMRush would allow you to see SERPs for keywords like Ahrefs or KWFinder. You can click on each option in the Results column to see for yourself. But as mentioned before, I like to do my own research using Domain Authority/Domain Ranking and referring domains in one place.
SEMRush Summary
SEMRush has grown to become one of the best keyword research tools around. They have a larger library of topics than other keyword research tools and they also give you 50+ features to help your site and marketing campaigns in various ways.
Who it's best for: Since Ahrefs arguably dropped the ball with their pricing and billing issues, SEMRush stumbled into a great position. They're a premium keyword tool that do quite a lot to ensure that users have all sorts of tools and functionality in one place. If you're willing to buy a year upfront, you can get their most basic plan for just under $100 a month.
Click here to read our full SEMRush review.
Try SEMRush for free
Ahrefs
Ahrefs is often seen as the darling child of the internet marketing community. But they've come under some scrutiny for pricing changes and billing issues.
And also their emphasis has always been in backlink checking. So, is their keyword explorer worth a significant cost?
The Ahrefs keyword explorer is very powerful. Out of all the tools I'm reviewing, none return so many keyword suggestions. When I search for "protein", here's the keyword data I get.
A massive 1,681,429 keywords. With that much data, it's important to have solid keyword filtering. Ahrefs allows you to filter by keyword difficulty, search volume, word count, SERP features, include/exclude words, clicks, clicks per search, cost per click, and return rate.
Let's be honest, that's so many filters that you stopped reading halfway through.
One thing that's very unique about the Ahrefs keyword explorer compared to other keyword research tools is what's called Volume Distribution. I've highlighted it in the screenshot below.
This metric is super important.
Look at the keyword "protein synthesis" in the results above. The KD is 8 and it has a whopping 44,000 searches per month. Say what you will about long tail keywords, but that looks tempting, right?
No, it doesn't. Because this little metric called volume distribution measures what percentage of searches visit a web page after searching for "protein synthesis". In this case, it's 35%.
Why is it so low? Why do people search for "protein synthesis" and then not click on anything?
Because they don't have to.
Notice anything interesting about this SERP? First off, Google takes care of what most people are looking for. You get immediate access to information and common questions regarding protein synthesis.
Second, there are only 2 clickable links: One to ScienceDirect and one to Wikipedia. In my screenshot above, I can't even see the first result in the SERPs.
When Ahrefs shows volume distribution, it measures how many visitors are actually visiting ranking websites in the SERPs. This has a huge impact on whether or not you should fight for a keyword. Protein synthesis looks attractive until we see the facts.
And unless you have access to volume distribution, you have to do a manual search for each keyword to see whether there are featured snippets.
Another thing I like about Ahrefs is that it shows you a timeline of what websites have shown up in the SERPs.
This is helpful for figuring out user intent. If you see a website that has been at the top of the SERPs for a while now, you can be certain that their page is what visitors want to see. If you see a SERP where a bunch of websites are springing up and down, then you can tell that it's hard to pinpoint what users are looking for.
And if you don't give users what they're looking for, you'll never rank at the top.
Ahrefs is the perfect example of why free tools can't substitute for paid tools. Not even Ubersuggest has this type of data. And without this data, you'll spend months or years trying to rank for keywords that get clicked 35% of the time. You'll spend years trying to figure out what users are looking for.
You'll just get clobbered by your competition who is using tools like Ahrefs.
Ahrefs Summary
Ahrefs is a powerhouse in everything it does and provides awesome keyword research features (but you may also want to check out Ahrefs alternatives). But its lowest cost plan starts at $99 per month. That's pretty steep for people who are on a budget.
Who it's best for: I recommend Ahrefs if you want to do several things at once. Ahrefs lets you do keyword research, analyze sites, and they're famous for their backlink checker. It's a good pick for advanced site builders ($1000+ per month) or users with a bigger budget.
Click here to read our full Ahrefs review.
Try Ahrefs's 7 day trial for $7
Jaaxy
I said in my Jaaxy review that it was the "secret" keyword research tool. This tool isn't very well known and there aren't a lot of marketers who use it.
This isn't a problem. It's a feature.
Jaaxy gives keywords that I haven't seen in any other keyword research tool. Not KWFinder, not SEMRush, not Ahrefs.
These "secret" keywords are often low competition but sometimes have a pretty high search volume. Jaaxy makes it easy to rank your site by targeting these low hanging fruit. You have to be careful though; Jaaxy has two keyword research tools. They work hand in hand, but it can take some work to figure out how to use them.
One of these tools is called Alphabet Soup and it makes up about 75% of how I use Jaaxy.
Type in "protein", and here's what we get:
There are a ton of long tail buying intent keywords here. That's great news for an affiliate site.
This also highlights my favorite feature about Jaaxy that I mentioned earlier: you get keywords that other tools don't show you. Not one keyword tool other than Jaaxy gave me "pure protein plus cookies cream protein bar review". Even in the 1.6 million keywords that Ahrefs spit out, this keyword just wasn't there.
That is invaluable for niche site builders. These are keywords that your competitors may never target.
You can click "Search on this" by any of the results to go to Jaaxy's Keywords tool. This tool helps you identify keyword difficulty and one other interesting metric called QSR.
I love the QSR rating. It's a measure of how many other websites are ranking for that exact keyword. At once glance, you can get an estimate of what your competition is going to be like. That is pretty handy.
If you'll notice, the keyword difficulty scores look way high on Jaaxy. "High protein low carb diets" has a keyword difficulty score of 94?
That's because Jaaxy does their keyword difficulty backwards from everyone else. 100 is easy, 1 is difficult. Keep that in mind as you're going through results.
The SERP analysis on Jaaxy is pretty cool because it gives you some unique metrics to look at.
I love how you can see the word count. This is helpful to figuring out how good your content needs to be. The Back Links metric measures referring domains, not backlinks.
Jaaxy Summary
Jaaxy is a pretty neat tool that can give you keywords your competitors aren't going to find. It's a little wonky; keyword difficulty score is from 100-1 and the KQI score is basically made of mystery meat. But at $49 per month, it provides a lot more value than what it costs.
Who it's best for: Jaaxy is a good pick for budget buyers or those who need some unique keywords for their content.
Click here to read our full Jaaxy review.
Try Jaaxy for free
KWFinder
KWFinder is a tool in the Mangools suite. It's one of the best looking keyword research tools, but how does it compare in terms of raw power?
I input my search term "protein" and here's what I get:
I love how I don't have to go back and forth from the keyword tool to a SERP explorer. The SERPs are shown on the right side of the screen and can be expanded if you want to view more.
One thing I don't love about KWFinder is that at the highest tier plan, you're only shown up to 700 keywords per search. For "protein" I got 606 results. Considering that Ahrefs gave me 1.6 million, the 606 I get from KWFinder feels pretty lame.
But there are more ways to search on KWFinder than just one.
You are allowed to choose between Related Keywords, Autocomplete, and Questions. As a rough rule of thumb, I use Related Keywords to give me ideas for seed keywords. I use Autocomplete for buying intent keywords, and Questions for informational keywords.
Since each of these search queries can return up to 700 keywords, the upper limit here is really 2100 keywords. But that's still pretty low. I explain later why even if you only have 2100 keywords, your site will be fine. So this isn't a huge blow against KWFinder.
KWFinder makes it easy to do the keyword analysis that I explained earlier where I rely on domain authority and referring domains. With any keyword you search, KWFinder updates the SERPs on the right side of the screen.
When you hover over any of the results under "Links", you are given referring domains.
KWFinder Summary
KWFinder is a solid tool that makes it easy to do keyword research without needing unreliable keyword difficulty scores. It's lowest plan starts at $49 per month, but goes to $29.90 per month if paid in full for a year. There's a ton of value here and I've used the tool for a while on my site. It doesn't return a ton of keywords, but I explain later on why that's not a huge blow against it.
Who it's best for: I like KWFinder since it packs so much in the tool. It has all of the functionalities of tools like Ahrefs or SEMRush but doesn't cost as much. I recommend it to anyone who isn't producing 1,000,000+ words of content per year. If you're in this level, you're at risk of running out of keywords.
Click here to read our full KWFinder review.
Try KWFinder and the Mangools suite for free
Long Tail Pro
Long Tail Pro is the tool that Spencer created in 2011 and then sold the business in 2016. How has it kept up with the other options on our list?
Pretty well. I type in the keyword "protein" and here's what I get.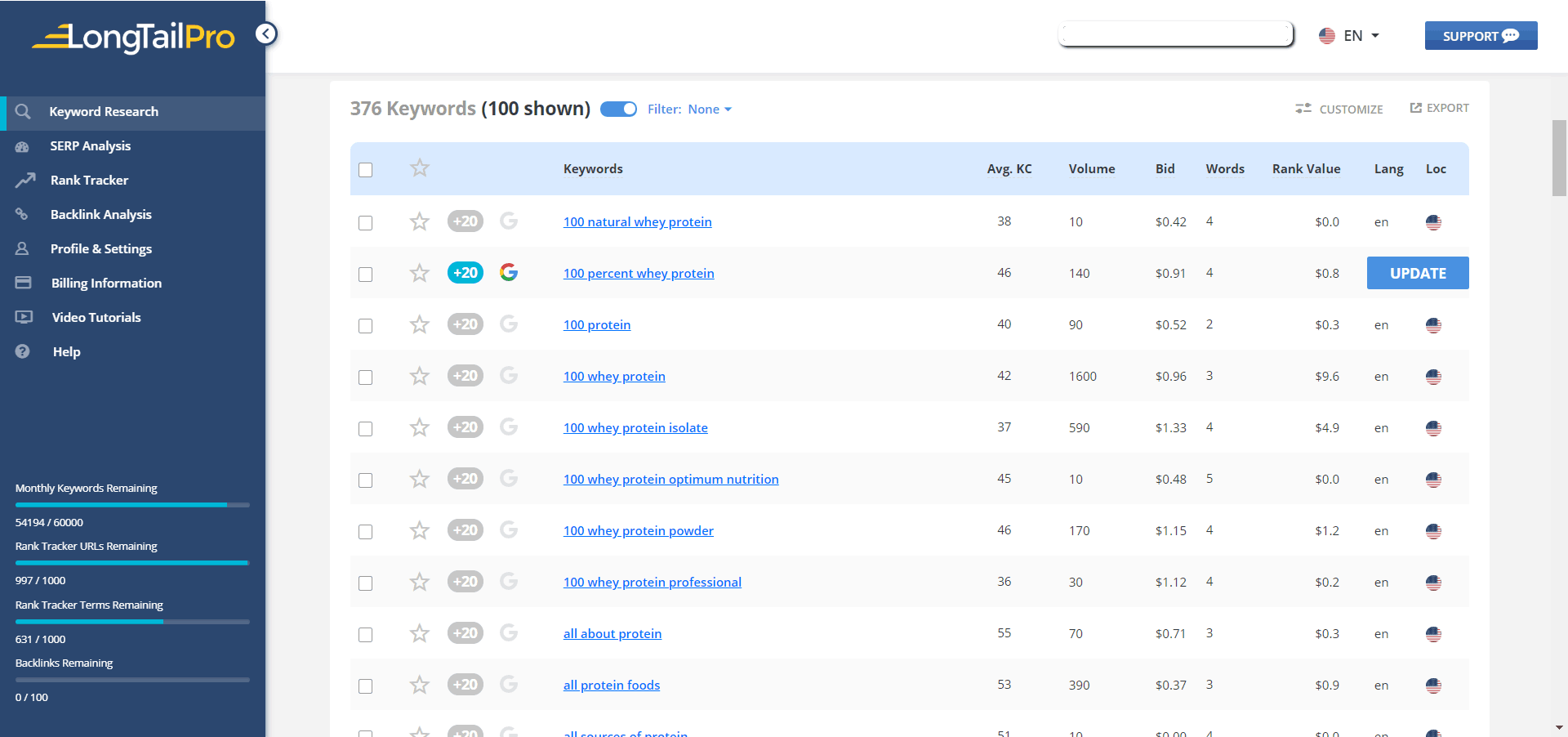 There's a good bit of stuff here that I like. First, these keywords are very long tail. Second, I get back 376 keywords that are all pretty usable. When you search a much less crowded niche like "camping gear", you can find gold mines.
The 376 results I get back is a low number, but it is more than enough to write on any number of protein related topics without feeling overwhelmed by the sheer number of options. This is the most budget-loving option I review, so I love seeing so much power under the hood.
Another thing I like are the options that I have with each keyword. I can click the "G" to the left of any keyword to look it up in Google. And if I highlight a certain keyword, Long Tail Pro gives me several options.
I like the ability to set rank value. This is an approximate number of how much money each keyword will get you for ranking at the top of SERPs. Setting the rank value yourself is a helpful option for tracking keywords since you know what is most valuable to your site at a glance.
SERP analysis might just be my favorite part of Long Tail Pro.
We can capture some very useful information with just a glance here. The Google results breakdown at the top right is super helpful by itself. Remember how Ahrefs showed us how many results in the SERPs got clicks?
Google results breakdown in Long Tail Pro accomplishes a similar task. You can see here that ads and a knowledge graph are present in the SERP. The ads aren't a huge deal, but the knowledge graph will have an impact on how many searchers click on results.
The Google results breakdown isn't perfect though. When I searched for "protein", I also had a "People also ask" box.
Long Tail Pro didn't say anything about that. A "People also ask" box will have a negative impact on how many searchers click on results.
My favorite feature in the SERP analyzer is all of the data that I can see for each top ranking page. Just take a look at this.
Domain KC is another name for Domain Authority/Domain Rating. One metric that other tools don't have at all is the Site Age. It's nice to see because it's a significant ranking factor in Google.
Long Tail Pro Summary
Long Tail Pro is a tool that's dedicated to keyword research. It doesn't offer a lot in the way of site analysis or backlink checking, but it excels at what it does. It's smallest plan starts at $37 per month BUT you can get it for just $27/mth through Spencer's special link (he pulled some strings for you).  And it's even less if you pay a full year in advance. That is by far the most budget-loving option on our list.
Who it's best for: Long Tail Pro is best for someone who just wants keyword research. It's also a great pick for budget buyers since it packs so much keyword research power in a very reasonable price.
Click here to read our full Long Tail Pro review.
Try Long Tail Pro free for 7 days – And Get Spencer's Special 30% Discount!
Serpstat
Serpstat is a bit newer on the scene than some of these other tools and they aren't as well known. But I've been impressed with them as I've used them so far. Let's take a look under the hood.
I don't want to shock you, but I'm going to search for the word "protein" and post a screenshot.
First, we can see here that Serpstat returns a monster amount of keywords. Only Ahrefs gives more results than 1,171,449. And then Serpstat gives a monster amount of paid keywords as well, which is helpful if you're in the ad buying game.
What is that we see near the bottom of the screenshot? A graph pulling data from Google Trends? Yes, yes it is. If you click on "Google Trends" you're allowed to take a longer view of the graph.
That's not a huge deal; you can search Google Trends anyways and most keyword research tools give at least a minimal glance at interest over time. But it's nice to be able to take a longer view (5+ years) of how the keyword is trending. That can give you an idea of whether it's worth targeting.
Later on down the page, Serpstat gives us detailed information about the SERPs. This is helpful for the type of keyword research that I like to do. You can see referring domains and domain authority, but…
The Serpstat Trust Rank is the same thing as Domain Authority/Domain Rating. Serpstat is saying that WebMD and Healthline have domain ratings of 23 and 24 on a scale of 1-100. To give you some perspective, Ahrefs says that WebMD's domain rating is 92. Healthline, 91.
I don't know how Serpstat makes up their Trust Rank but it is way off base.
Serpstat Summary
Serpstat has all the features of Ahrefs, SEMRush, and the Mangools suite. It's not quite as powerful as Ahrefs, but the least expensive plan starts at $69 per month. That's very reasonable. The keyword research tool does all that we could ask and has centralized location. But the Serpstat Trust and Page Ranks are way off.
Who it's best for: I recommend Serpstat for someone who wants something with more juice than Long Tail Pro, Jaaxy, or KWFinder but doesn't want to shell out $99 per month for Ahrefs. Serpstat is a good middle ground.
Click here to read my full Serpstat review.
Try Serpstat for free
Paid Vs Free Keyword Tools
Do I Need A Paid Keyword Research Tool?
Now we've looked at all of the free options. And after my glowing Ubersuggest review, I thought it best to take a few minutes and ask the question: if free options are so great, why include paid keyword research tools?
You won't hear it on a lot of reviews like this one, but the truth is that not everyone needs a paid keyword research tool.
(yes, I did just feel my affiliate commissions take a dive, but I'd rather not talk about it now, thanks)
If you can't afford a keyword research tool, then you shouldn't be pressured into buying one.
So before we discuss who can't afford a keyword research tool, let's first talk about how important keyword research is to the overall success of your site.
How Important Is Good Keyword Research?
Good keyword research is the foundation that your website is built on. Period. Exclamation mark.
If I could counsel you to do one thing with your website, I wouldn't tell you to build links, tweak the design, or even set up an email list. I would tell you to do keyword research.
Here's why.
As entrepreneurs, we solve needs that people have. You can say that we invent products, or make software, or that we create niche websites. All of that is fine, but those are all symptoms. The real indicator of an entrepreneur is this: an entrepreneur solves problems. That's the cause. Everything else is just an effect.
When you do keyword research, you are finding out what problems that people have. Does someone want to know how to drive a nail? Maybe they're looking for the best barbecue grill. Without doing keyword research, you have no idea what people need. You're basing a business off your desires instead of what other people need.
And that's a recipe for a failed business.
Keyword research is the single most important element of your business. It's even more important than great content; without keyword research, no one will ever see your great content anyways.
So the question isn't whether or not keyword research is important. The question is how much more benefit you'll get from a paid tool vs a free one.
Are Paid Tools Worth The Money?
There's no question that free tools can be helpful. But no one argues that paid tools get a lot more done.
Let's compare Ubersuggest (the best free tool) with Long Tail Pro ( the least expensive paid tool). When we look at SERPs in Ubersuggest, we see this:
As mentioned above in the Ubersuggest review, we get estimated visits, links, Domain Score (DS) and social shares.
Long Tail Pro gives us this:
Look at all of those statistics! I put all of the super important and super helpful things in a red box.
I won't get into what all of these metrics mean. But this is a huge leap forward from what the best free keyword research tools have to offer. And Long Tail Pro is the least expensive of all the paid options I'm reviewing below.
You can try it for free yourself and see the difference.
A few important things that we didn't see in any of the best keyword research tools that are free:
Google results breakdown helps us see whether or not the results in Google get any clicks. The less organic results (and the higher snippets, ads, etc), the less traffic that the #1 page gets.
Strongest competitor helps us to get an estimate of how difficult it will be to rank. You can just glance and get an idea of who you'll need to beat.
Domain KC shows us how strong the competitor is.
Page Ref Domains shows us how many domains are linking to this page. This is a huge metric and I do all of my keyword research based on this. I explain how below, so keep reading
Internal Links shows us how many other pages in this website are linking to the page in the SERPs. This is very important as internal links influence rankings
Site Age shows us how long the site has been around. This is debated as to how it affects rankings, but there is a strong correlation between older sites and high ranking.
I'll let you in on a little secret: I never target a keyword because of the keyword difficulty (KD) score. I only look at these metrics listed above, the very things that free keyword tools don't have.
To be specific, I look long and hard at Domain KC and the number of referring domains. Here's an example of how I do this.
How To Do Keyword Research Without Keyword Difficulty Scores
Let's say I'm in the health niche and looking for keywords to target. I search for "best protein powder" in KWFinder.
That picture is pretty scary. I'm looking for Domain Authorities (DAs) under 30. I don't have a specific number I look for with Backlinks or Ref Domains, but I like to see them low. Like, under double-digit low.
So I do some more searching and find the keyword "best protein powder during pregnancy".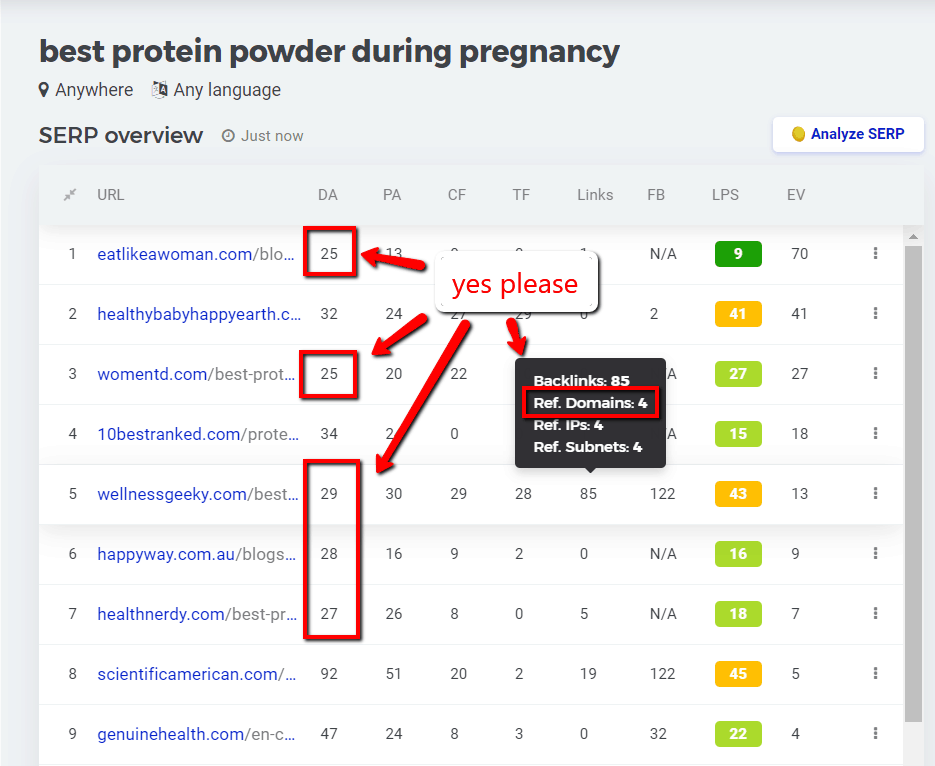 On the first page of Google, I have 5 results with lower than 30 domain authority. The strongest backlink profile has 85 backlinks, but only 4 referring domains. This means that the page has an average of 21 links per domain. After the first backlink from a domain, each subsequent link is weaker.
So in theory, I could have a stronger backlink profile than the strongest result just by having 5 or 6 referring domains.
5 or 6 domains is easy if you're not doing anything more than guest posting. And if your content is better written, better looking, or better optimized for the viewer, you won't even need referring domains or a high domain rating. Google will just rank you.
This is why I don't rely on KD scores. No matter how smart software is right now, humans are still the greatest pattern recognition systems on the planet. And at the time of writing, the best keyword research tools listed that are also free, don't provide all of the data points needed to make smart, informed decisions.
Going with a free tool could be crippling your business. So the question is not about who can afford a premium keyword research tool. The question is: "Who can't afford a premium research tool?"
Who Can't Afford A Paid Keyword Research Tool?
I meant what I said earlier: you shouldn't be pressured into buying a paid tool if you can't afford it. But let me give you a hypothetical situation.
Let's say for instance that my mom walks up to me and says "Hey Brady, I want to start a niche website, but I don't want to spend more than $100 bucks. What do I do?"
I love my mom and I want her to succeed, but I know she's on a very tight budget. I tell her to buy a domain name at Namecheap, get hosting with Iridium, and spend the rest on one month of a keyword research tool.
What if she just had $75?
I'd tell her the exact same thing.
And if she had less than $75 to start her site?
I'd tell her to save up her money, keep educating herself, and don't bother for now.
So the question now becomes whether you have $75 to start a business that has the potential to give you residual, almost passive $2985 per month. The kind of business that you could sell for a $425,000 like Spencer did. Even if you paid $100 to start that site, it would be a 424,900% return on investment.
There are some people who don't have the $50 or less is would take to get one month of a decent keyword tool. For these people, I say do all that you can using Ubersuggest. It will be tough, but once your site makes an income you can reinvest it in a higher quality tool. Until then, do the best you can with the free stuff.
For everyone else, I recommend biting the bullet (One month of Long Tail Pro is only $27). I promise that the extra tools and features will take your site to 10x the level you could get to by just using a free tool. You will make money faster, rank better on Google, and have a larger stream of residual income.
I understand if you pass on email marketing tools, webinar software, and even lead generation stuff until you're making an income. But keyword research is the step that you can't miss.
This is most of all true for the person who "can't afford it" but has a new phone, new car, the last 6 Call of Duty games, and a life sized mannequin of Tom Brady. There's nothing wrong with spending it if you got it, but the small amount of money put into a keyword research tool could pay you big bucks for the rest of your life.
So with that, let's take a look at the best paid keyword research tools. They are not in the order that I recommend them. Below each review, I specify who each tool is best for.
What Should I Look For (and not care about) In My Keyword Research Tool?
Down below, I give my final recommendations as to what are the best keyword research tools for who. But I thought it would be helpful to explain the things that I think you should look for in your tool (and the things that don't matter so much).
Let's start with the easiest metric to measure: how many keywords you get
Quantity of Keyword Results
The tools we looked at above range from 606 to 1,681,429 keywords that they spit back at you. But how important is this metric really?
Not as important as you might think.
If you're a niche site owner, how many articles do you think you'll put out in the lifespan of your website? 100? Maybe even 1000! The quadruple digits sounds doable, right? After all, you're committed and driven and maybe even have a team of writers.
To give you some perspective, Niche Pursuits has been around since 2011 and at the time of writing, we have 658 published posts. Spencer has written a lot of content himself, has hired out writers, and now I'm doing my own small part.
Let's assume that each published article targets one keyword (some target more, some don't target keywords at all). And I don't mind telling you that right now, we have 352 keywords on deck to be written over the next few years. That means for the total lifespan of Niche Pursuits, we have only made use of 1010 keywords.
We've filtered out a lot of bad keywords, sure. We have exclusive targets on long tail keywords. But let's say that we filter out 10 keywords for every 1 keyword that we do find and target. This means that our total amount of keywords that we have ever needed is 10,100.
Even if you have the lowest plan of KWFinder and can get only 200 keywords at a time, you'll just need to do 50 searches. That should cover you for the foreseeable lifespan of your website.
10,100.
That's 1% of what Ahrefs gives you.
So how important is the number of results you get from your keyword research tool?
It's not too big of a deal. You can do more than adequate keyword research with any of the paid options we've outlined above. It is the quality of the keyword data that matters far more than quantity here, and all of the paid tools above offer quality by the truck load.
Keyword Difficulty Score
This metric isn't super important either. To be honest, it is very difficult for machines to recognize the 200+ ranking factors used by Google. It is even more difficult to translate those factors into a number that tells you how hard it is to rank.
Here is an idea of the different scores you'll get using some of the best keyword research tools.
| | Ubersuggest | Serpstat | KWFINDER | AHREFS | SEMRUSH | LONG TAIL PRO |
| --- | --- | --- | --- | --- | --- | --- |
| best protein powder | 61 | 35.76 | 39 | 26 | 77.78 | 49 |
| best protein powder for women | 40 | 17.28 | 32 | 10 | 71.51 | 47 |
| best protein powder to gain muscle | 36 | 18.14 | 42 | 20 | 75.92 | 46 |
| best protein powder for weight loss | 38 | 46.85 | 43 | 16 | 75.92 | 46 |
I didn't include Jaaxy since it calculates keyword difficulty score backwards. It can be a bit confusing.
There is a bit of consistency here, but not much. Serpstat trends with KWFinder and Ahrefs. Ahrefs is always low, SEMRush is always high. KWFinder and Long Tail Pro are pretty close.
How can you know which one to trust?
You can't. This is why I recommend that you ignore keyword difficulty scores. Be the pattern recognition machine that your brain allows you to be. I suggest looking at the SERPs for each keyword, peeking at referring domains and domain rating. Use these metrics to scout out which keyword suggestions are viable targets for you.
If you do want to rely on keyword difficulty score, I tend to trust Long Tail Pro, KWFinder, and Serpstat's scores the most. They trend together most of the time. Ahrefs trends low, SEMRush trends high.
Centralized Information
One thing that is important if you aren't relying on keyword difficulty scores is to have central information. I like to have access to the SERPs from my keyword research tool. KWFinder and Ahrefs do this the best.
I like when tools don't require you to go to several different places to get the keyword data you're looking for. Long Tail Pro, KWFinder, and Ahrefs are great about having everything pretty close together.
Unique Results
You want your keyword research tool to give you results that aren't just like the results you get everywhere else. Jaaxy and Long Tail Pro excel at giving you some amazing keyword ideas that you don't find elsewhere.
Ahrefs, Serpstat, and SEMRush pack in plenty of unique keyword ideas too, but you have to get pretty creative with the filtering to find them.
What Is The Best Keyword Research Tool For Me?
It's about time we get to talk about you! There are a ton of options above, so let's get down to the nitty gritty and discuss which is the best tool for you to use.
New Niche Site Builder or Business Owner
I'm going to put you in the camp of the "new" niche site builder if your site or business is making less than $1000 per month. Your budget is pretty small and you need functional, not all the bells and whistles.
I recommend Long Tail Pro if you're in this camp. It is the most budget-loving tool on our list but it's a powerhouse for keyword data. You can't do a lot of backlink checking or site auditing type stuff, but there aren't many other tools that help you rank on Google better.
Keep pumping out content and doing some minor link building like guest posting. When your site is making more and your budget is bigger, you can go for bigger tools with more features.
I don't recommend going with a free tool unless you just don't have any budget at all. Free tools make it harder to rank and cripple you in the long run. For that matter, they cripple you in the short run as well. If you don't have money to buy food next week, then I think Ubersuggest is your best bet.
Otherwise, go with Long Tail Pro.
Try Long Tail Pro free for 7 days and Get a Special 30% Discount
Experienced Niche Site Builder or Business Owner
I'm going to put you in this camp if you're making more than $1000 per month from your website or business. You're at the stage where you've got a bit more money to spend and your needs are evolving. You might be ramping up content production, auditing your site to check speed, broken links, etc. You may be doing some bigger link building campaigns like skyscraper.
If your emphasis is just on content production, then I think Long Tail Pro is still a great option. You get tons of unique keyword ideas for a budget price.
If you are moving on to link building, site auditing, or CPC, I think that KWFinder is a good fit for your changing needs. It's less expensive than Ahrefs but provides a lot of tools. You can analyze competitors, check your site, and mine for backlinks.
You won't get as many keyword ideas with KWFinder as with other tools, but they are all high quality.
Click here to read the full KWFinder review.
Try KWFinder free for 7 days
Agencies
I'm including you in the Agency camp if you run or are a part of a group that makes content, builds backlinks, runs social media campaigns, or so on. You have multiple team members, SOPs, and a raving fan base of clients.
You have escaped the ranks of the wantrepreneur and, as a reward, must now pay even Uncle Sam for your success.
The answer varies depending on what you do in your agency, but I recommend Semrush. It does it all, admittedly with varying degrees of accuracy, but having everything available in one place remains a luxury.
It's safe to say that Semrush will solve most people's needs if they're in this category. And luckily the people in this category have the cash to pay the price.
Click here to read the full Semrush review.
Try Out Semrush
Link Building Monsters
The Link Building Monster spends his or her days working to build some awesome backlinks. To test if you're a Link Building Monster: ask yourself a few questions.
Do you hope that the first word your newborn child learns is "skyscraper"?
Would you rather eat crusty guacamole than use a tool that isn't Ahrefs?
If Brian Dean were in the room, would you kiss him?
If you answered yes to any of those, you're probably a Link Building Monster. Or a very big Brian Dean fan.
If you spend your days mining backlinks, checking on links to error pages, and most of your focus is on skyscraper content, then you fit in this camp. Ahrefs is the best tool for you.
Click here to read the full Ahrefs review.
Content Production Machines
If you or your team produces more than 1,000,000 words per year, I'm going to go ahead and label you a Content Production Machine.
(i'm one of these too)
It's pretty hard for a single person to be a Content Production Machine, but it's possible. If you're in this group, you're going to need keywords. A lot of keywords.
I think that your best bet is Long Tail Pro, Serpstat, or Ahrefs. Long Tail Pro is a great budget option if you want to save some cash. But it can spit out keywords with the best of them.
Serpstat is a good middle ground between Long Tail Pro and Ahrefs. It is more powerful than Long Tail Pro but costs less than Ahrefs.
Ahrefs is overkill. Even if you're producing 1,000,000 words per year (about 500 articles of 2000 words each), you're never going to need 1.6 million keywords. You just aren't.
Click here to read our Long Tail Pro review.
Try Long Tail Pro free for 7 days
Click here to read our Serpstat review.
Try Serpstat for free (no time limit – it's a great free plan)
Your Next Keyword Research Tool
Thanks for reading my (enormous) review of the best keyword research tools! If this post has been helpful, please let me know what you loved in the comments. If it could be better, let me know how and I'll see what I can do 😉
When it comes down to it, the best choice will depend on where you're at in life and business. But I think that wherever you are, relying on free keyword research tools will cripple your efforts to rank on Google. I say even if you have to scrounge up the money, save up $37 and buy one month of Long Tail Pro.
That $37 will be the best investment you can make in your business. Keyword research is that important.
If you have a new site/business or your focus is on content, I recommend Long Tail Pro. It's affordable and still one of the best keyword research tools out there. Spencer continues using it for his Niche Site Project 4 even now.
Click here to try Long Tail Pro for free and Get 30% Off
If you're moving on and need a little bit more juice but don't want to pay the big bucks, I recommend the Mangools Suite and KWFinder. You won't get a ton of keywords, but they are high quality. Mangools also allows you to check backlinks, audit your site, analyze your competitors, and gives great SERP breakdowns.
Click here to try Mangools and KWFinder for free
If you're a big shark in a ocean full of guppies, you're going to need serious power. Serpstat or Long Tail Pro are both great if you're producing tons of content. But Semrush is a beast for it if you have the budget.
Click here to try out Semrush for a 14 day free trial
Want to learn step-by-step how I built my Niche Site Empire up to a full-time income?
Yes! I Love to Learn
Learn How I Built My Niche Site Empire to a Full-time Income
How to Pick the Right Keywords at the START, and avoid the losers
How to Scale and Outsource 90% of the Work, Allowing Your Empire to GROW Without You
How to Build a Site That Gets REAL TRAFFIC FROM GOOGLE (every. single. day.)
Subscribe to the Niche Pursuits Newsletter delivered with value 3X per week