Podia Review: Can a Cheap Platform For Creating Digital Products Be Any Good?
Launching your online course, membership, or digital product can initially seem daunting, but thankfully, some great tools are available to make things easy. One of the most popular platforms for this is Podia. It's an all-in-one toolkit for building your digital brand.
And in this Podia review, we'll cover everything you need to know about the online course platform so that you can decide if it's the right fit for you. From Podia pricing and features to ease of use, we'll be diving deep into this software to give you everything you need to know. So whether you're just starting out or are looking for an upgrade, you should find everything you need here.
If you want to start immediately, you can try Podia's free plan right here.
---
Podia Review
Ease of Use -

97

Stability -

92.5

Customer Service -

95

Price -

95
Summary
Overall, Podia offers excellent value for money. The plans are good value, and the software is easy to get to grips with, making it easy for beginners to hit the ground running.
Pros
It's well-suited for beginners because it's very easy to use.

A diverse range of digital products can be sold through Podia.

Unlimited bandwidth

An easy-to-use messaging system for contacting customers

Easily host communities

Low-cost pricing structures

Global tax support

No transaction fees on paid plans

You can offer users a single-page checkout experience
Cons
No mobile app

No cloud import feature

No memberships or affiliate marketing options in the lower-cost plans.

Reporting tools are relatively basic and lack advanced features.
---
About Podia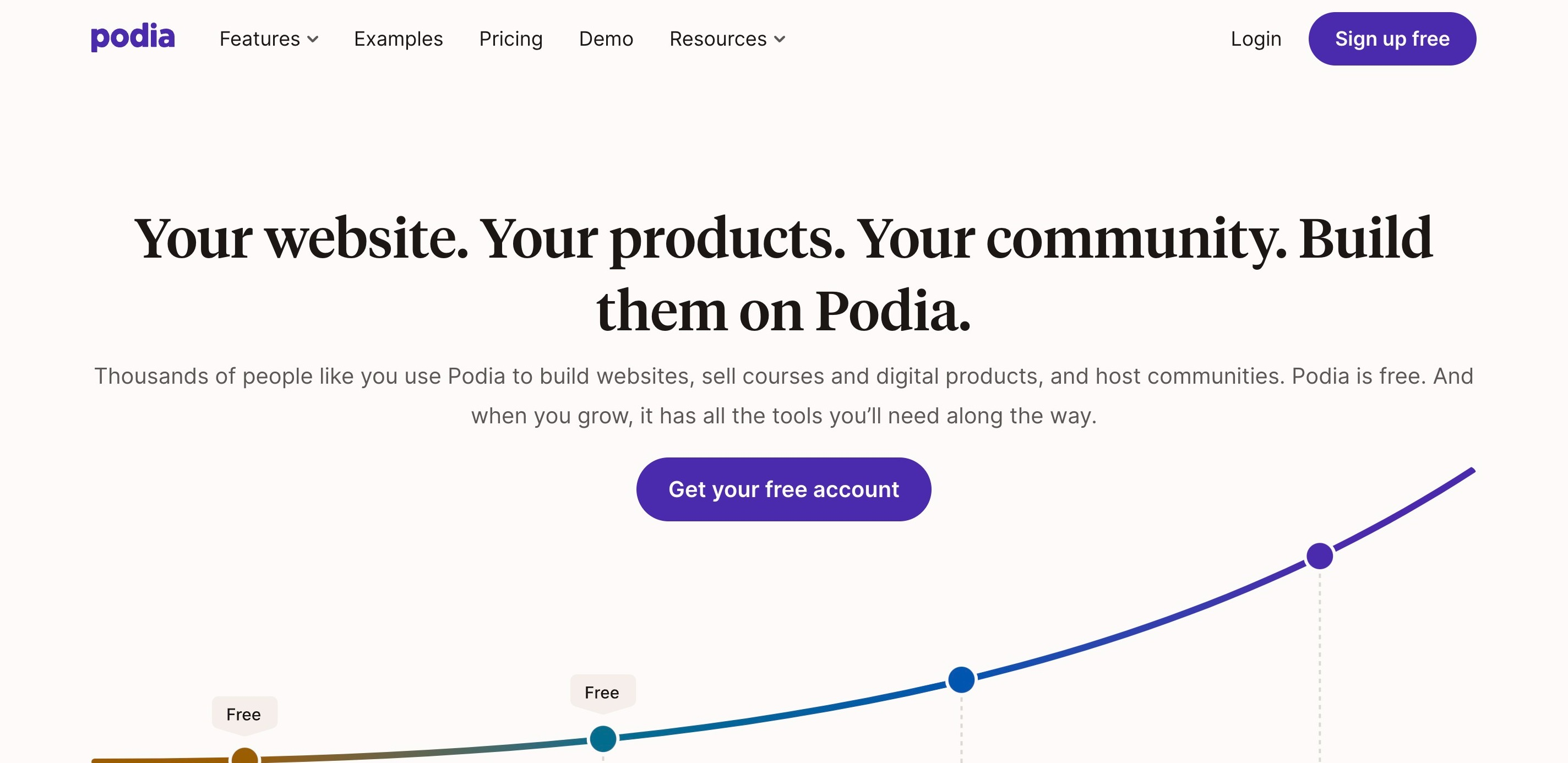 Podia is a user-friendly platform that makes selling online courses and digital downloads easy.
Podia has a wide range of tools available to its members to help with the selling of an extensive range of digital and virtual products.
Some available tools include a website builder, online course creator, digital download maker, and a host of tools that help you market these correctly.
The team behind Podia prides itself on putting creators first, ensuring that their platform is friendly, fun, and suitable for people at all stages of their online careers.
It's also renowned for being extremely user-friendly, making it an excellent option for beginners and experts alike.
Podia's Main Features
As an online course platform that offers an all-in-one solution for everything to do with digital course creation and marketing, it will be no surprise that Podia provides a pretty extensive list of tools available to its users.
Each of these tools includes tutorials to enable you to get the best of each feature. This means that whatever you're looking for when it comes to creating a website, selling digital products, and/or creating online communities, you should be able to find them within the Podia list of features.
Let's take a look.
Online Courses
If you're looking to offer online courses to your audience, it stands to reason you're going to want to offer a smooth service – and Podia helps you do this. They offer a range of ways to personalize your course to ensure that you offer the exact type of course that your users need.
For example, Podia allows you to set up payment for your online courses as a one-off payment or allow potential students to sign up using a payment plan. You're also able to set up drip courses. This means that students must complete one section before being able to progress to the next.
You can build more into your courses, up-sell products, and offer bundles if you have more than one online course available.
You can also send interested parties discount coupons to encourage them to sign up and even pre-sell courses before launch.
These features help online course creators generate more sales and offer great value for money to online students.
Website Builder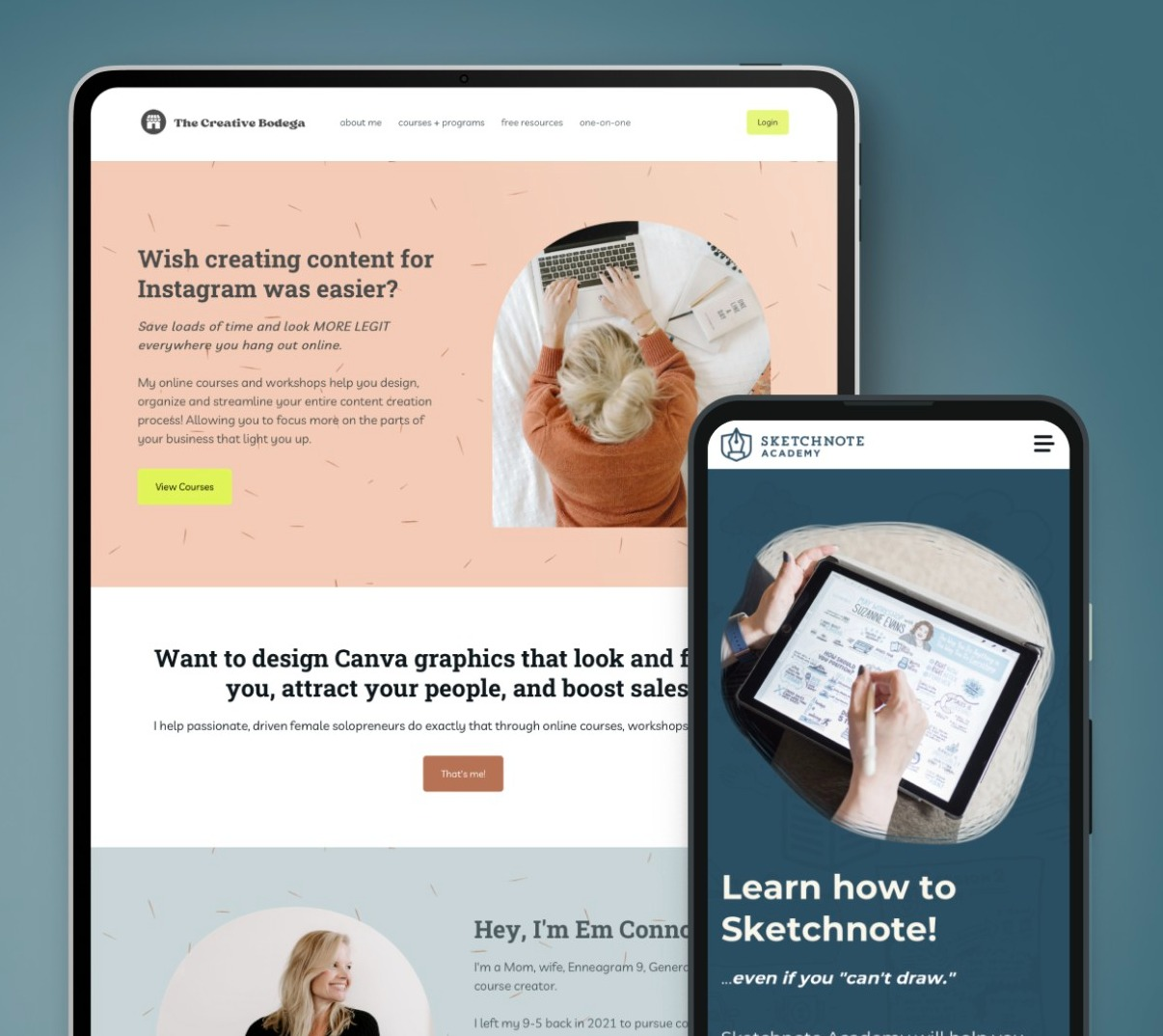 Podia provides all the tools you need to build yourself a fully functioning website without the need for any coding. Unlike other website builders, you won't be choosing from a pre-selected list of themes.
However, you can customize almost every aspect of your Podia site by changing colors and fonts, adding media, and other content.
The website layout and user experience are also good and will be the perfect solution for many people. However, there are no options for introducing themes or CSS, so it may not suit the needs of a more advanced user. If that's the case for you, you may prefer to use WordPress for your main site, alongside Podia, for your course and membership site delivery.
Digital downloads
Podia allows its users to sell online courses and digital products to add another income stream to their online business. Users can upload and sell various products, including books, technical diagrams, videos, digital prints, and even your own recipe collection.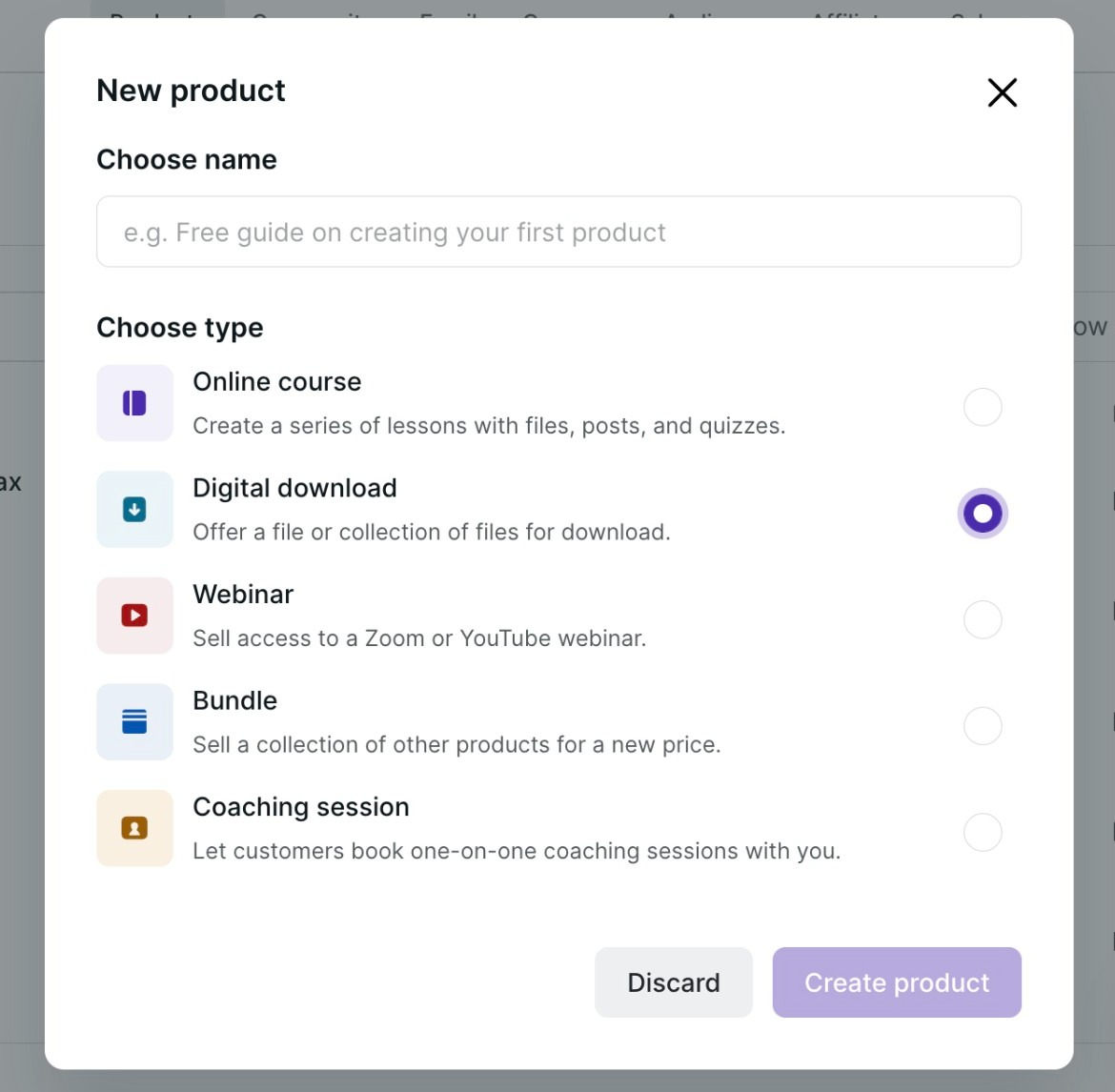 Listing your products for sale is easily done, and Podia gives you a hand with marketing by providing helpful features like a Lead Magnet, where you can offer one product as a free download to help you build a list of subscribers and a client base.
Podia has a great checkout flow too. After a sale is made, the Upsell feature shows your customer other products from your store that may interest them.
Email Marketing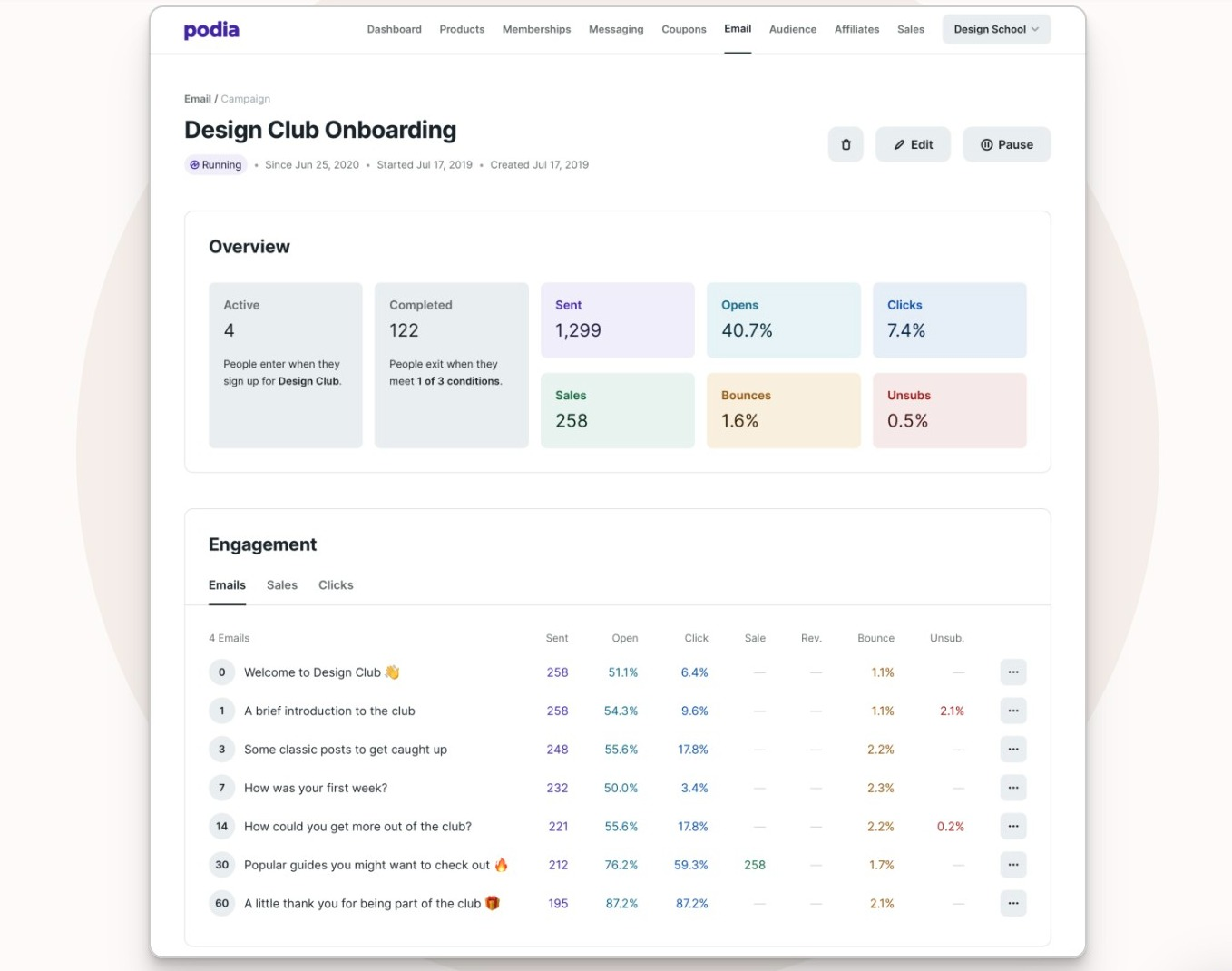 It is all well and good creating courses, but you need people to be able to find them for them to be a financial success. Podia has a range of email marketing tools that creators of all sizes can take advantage of.
The email marketing tool itself has a range of features that you can use, including the ability to send broadcast emails and set up automated email campaigns. Both of these features allow you to keep in touch with people on your email list – sending timely and targeted emails to reach the right people at the right time.
The email marketing tool also has a range of clever tools, such as emailing products to customers once they have purchased certain items. This enables you to feel confident that you're introducing them to products they are likely to love.
You also get a range of email analytics and revenue metrics so you can track how all of this is working for you and see whether you need to make any tweaks.
Affiliate Marketing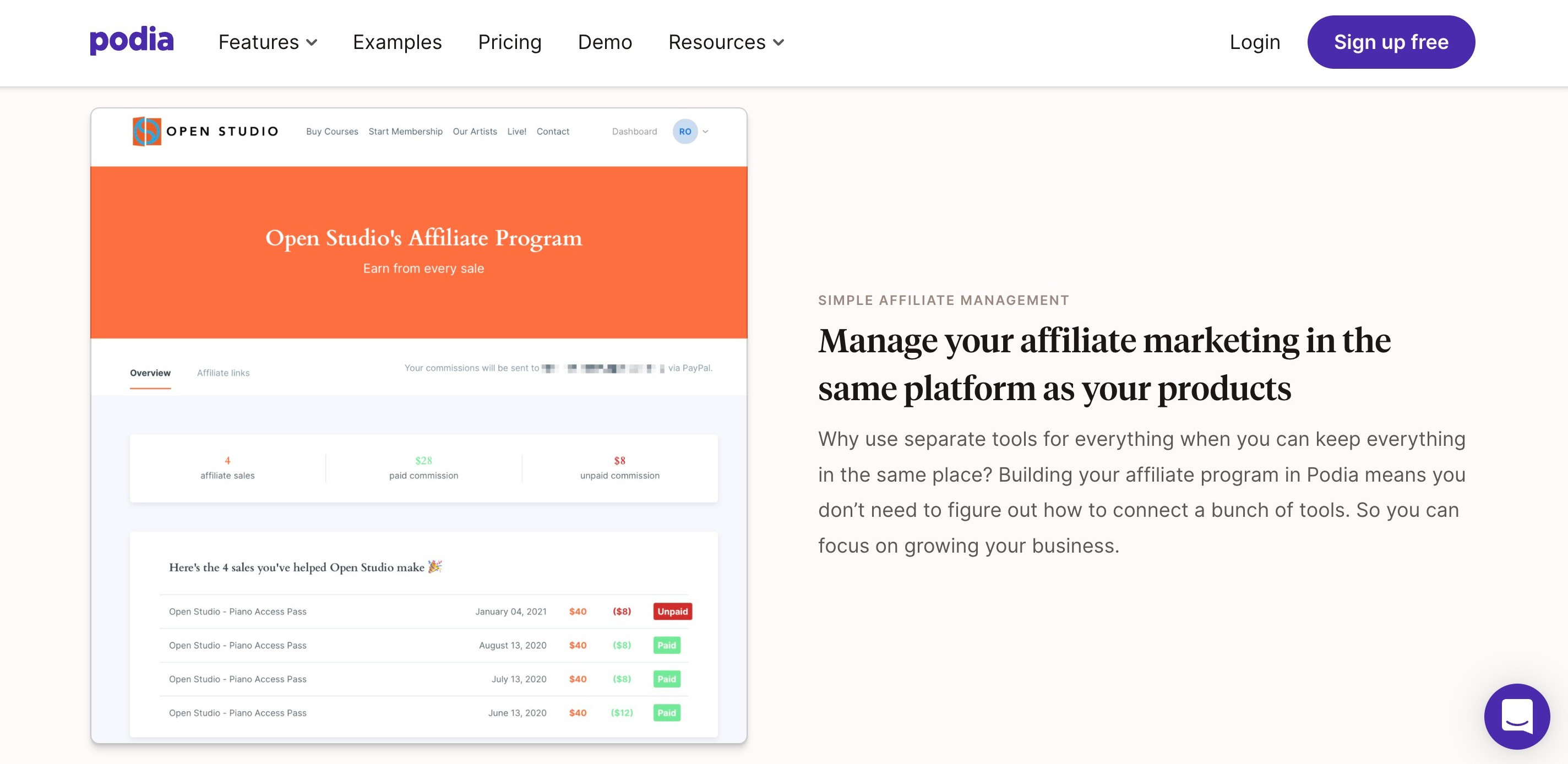 One great way to grow your business is to have other people promote you. After all, what's better for spreading the word of a great business than word of mouth?
This feature allows you to set up your own affiliate program where you can reward the people helping to promote your business. This, in turn, encourages affiliates to tell more people about you.
As you may expect, Podia has a range of tools to help with this, including a tutorial on getting set up within just a few clicks. They'll help you set up what you're paying commission-wise and whether anyone can join your scheme or if you want it to be invite-only.
It will also work out the payouts for your affiliate program and process this monthly. This means once you're set up, there really isn't much for you to do but sit back and watch your sales take off.
Webinars
The webinar feature allows you to integrate with either Zoom or YouTube Live to offer webinars to your users.
Rather than putting your live video content out there for all to see, Podia lets you set up member-only screenings. This means that you're building your email marketing list as you go.
With the option to offer free and paid-for webinars, Podia allows you to get your voice out there to engage audiences as a way to grow your own website. Set up a scheduled time in advance and sell places in advance so you have time to take advantage of other Podia tools and advertise your webinar to potential viewers.
You can even sell replays of the webinar, offer free replays to those that signed up, and sell your video content as part of a bundle with any of the online courses you have hosted with Podia.
Coaching
If you want to arrange one-to-one coaching sessions with your audience, then Podia has the tools to help you get this off the ground too.
It seamlessly integrates with various scheduling platforms, including YouCanBookMe, SavvyCal, and Calendly. Coaching sessions are a great way for you to share your knowledge with others while you monetize your offering.
Podia helps you get your coaching sessions off the ground by enabling you to set up payments and sales pages and even sort out your schedule. Built-in tools help you upsell products, and you can add coaching sessions as an optional extra to any online courses you have set up through Podia.
Podia Integrations

Podia supports integrations to cater to most needs. This way, you can ensure that the platform works as effectively as possible for you and your business. The most popular integrations include:
Advertising - Facebook, Google Ads, Pinterest
Analytics - Google Analytics, Hotjar
Payments - PayPal, Stripe
Email service providers - MailChimp, Convertkit, AWeber, Drip, ActiveCampaign, Mailer Lite, GetResponse
Scheduling - Offer you webinars and coaching sessions via online scheduling tools such as YouCanBookMe, SavvyCal, and Calendly.
Many further integrations are available, and these cover most eventualities. They include integration with Zapier, which enables you to automate Podia across all your platforms.
Third-party tools can be linked to Podia by dropping the tools code snippet into the designated box on Podia. This covers you for using specific feature-adding tools within your website design.
Is Podia Easy to Use?
Overall, Podia is very easy to use. It has a well-thought-out homepage that is clean and intuitive to navigate. Even newbies will find they can hit the ground running without too much trouble.
The creators behind Podia talk a lot about putting their users first and investing in making the user experience as smooth as possible. Podia's website has an extensive overview and a help section too. This breaks down what each tool can do and how you can use it into bite-size chunks, which is a great place to start for anyone not used to this type of software.

The fact that Podia integrates so well with other popular tools and has an easy-to-use dashboard to get started from means that for most people, Podia is considered extremely easy to use.
Reporting and Analytics
Any software like this needs analytics and reporting built-in, and Podia is no exception. Analyzing data on your courses and email marketing gives you a solid view of what methods are working and what needs to be tweaked to be more efficient.
Podia allows you to connect to Google Analytics and other third-party apps like HotJar to help you get a bigger picture of how you are performing.
Help guides on their website talk you through setting up things such as Google Analytics, Facebook Pixel ID, and even track visitors via a Pinterest tab. Different plans have access to different analytical data. Because of this, it's worth considering what you might need from the platform when deciding which plan and Podia pricing structure you want to sign up for. 
Podia Pros and Cons
It's well-suited for beginners because it's very easy to use.
A diverse range of digital products can be sold through Podia.
Unlimited bandwidth – a great feature if you are selling large downloads or many smaller ones.
Recurring income from the site membership offer
An easy-to-use messaging system for contacting customers
Easily host communities
Low-cost pricing structures
Global tax support
On all paid plans there are no transaction fees
You can offer users a single page checkout experience
The omission of a mobile app
No cloud import feature
No memberships or affiliate marketing options in the lower-cost plans.
Reporting tools are relatively basic and lack advanced features.
Podia Review: Pricing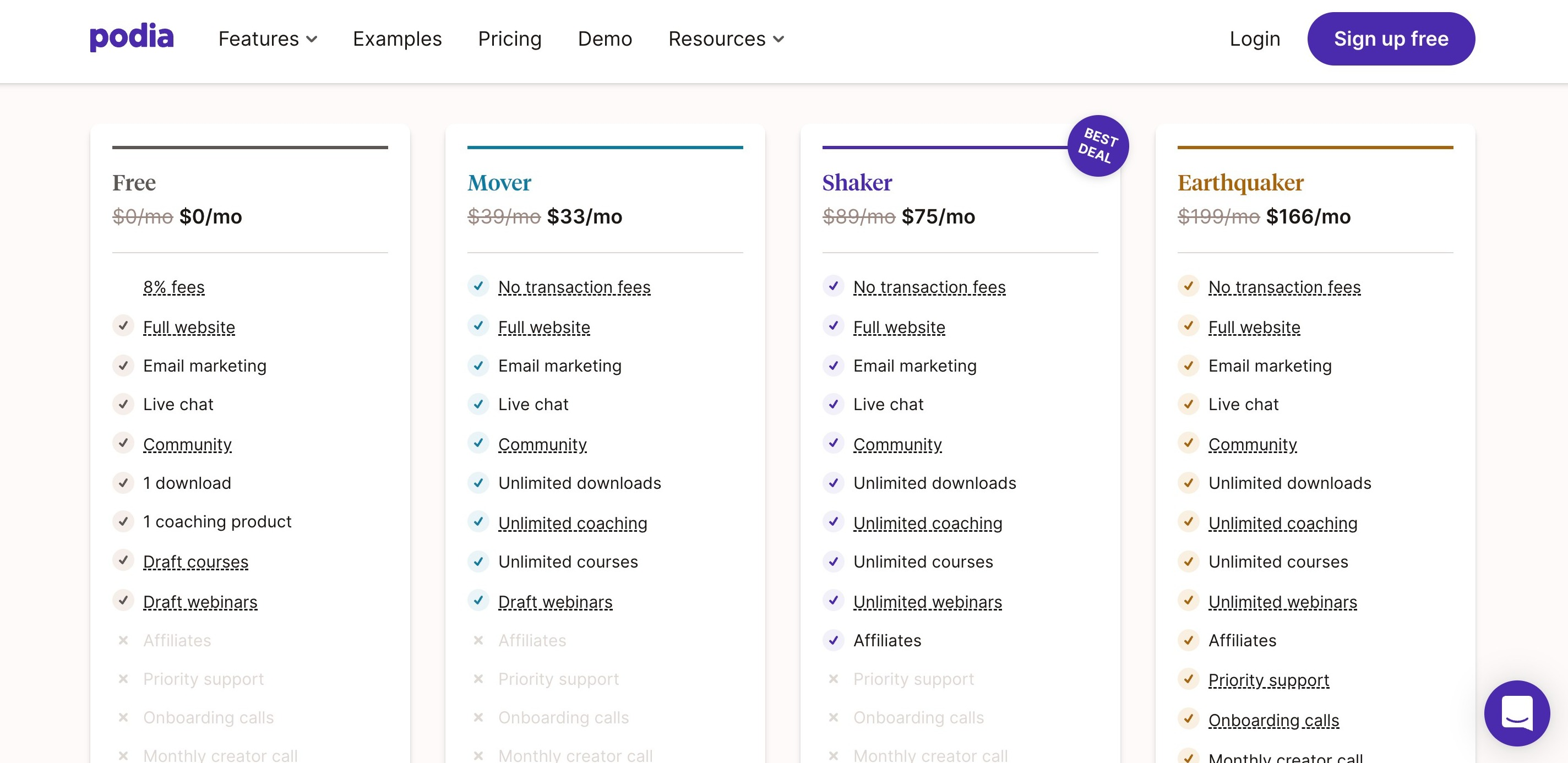 One of the great things about Podia is that there are several pricing packages to choose from. This means that there is something for everyone. For those looking to get started with one download, the free package has plenty to offer, with the option to upgrade further down the line if that is something that you decide you need.
Podia's pricing structure starts off with a 14-day free trial with no requirement for your credit card details. This allows you to try the platform for free and experience all the features for yourself.
Podia Plans Available
The free plan of Podia has no time limits and offers access to most of their features; a transaction fee of 8% is all you pay. Larger users can choose from one of these two pricing plans: 
The Mover Plan  - The lowest Podia cost is the Mover plan at $39 per month, or $33 if paid yearly. This plan requires you to pay an additional $20 per month for each additional team member. Email marketing is limited to 5000 recipients per month, and memberships and affiliate marketing features are excluded.
The Shaker Plan - The Shaker plan is next at $89 when paid monthly or $75 per month if paid yearly. This plan is similarly specified, but the email limit is lifted to 15,000. 
It is also worth keeping in mind that they also often have one-off discounts and special offers! And that these paid plans don't charge transaction fees!
---
Three Podia Alternatives Worth Considering
Although Podia is an excellent tool, you may find it's not the right fit for your business. If that's the case, don't worry, there are plenty of other good options to consider.
Thinkific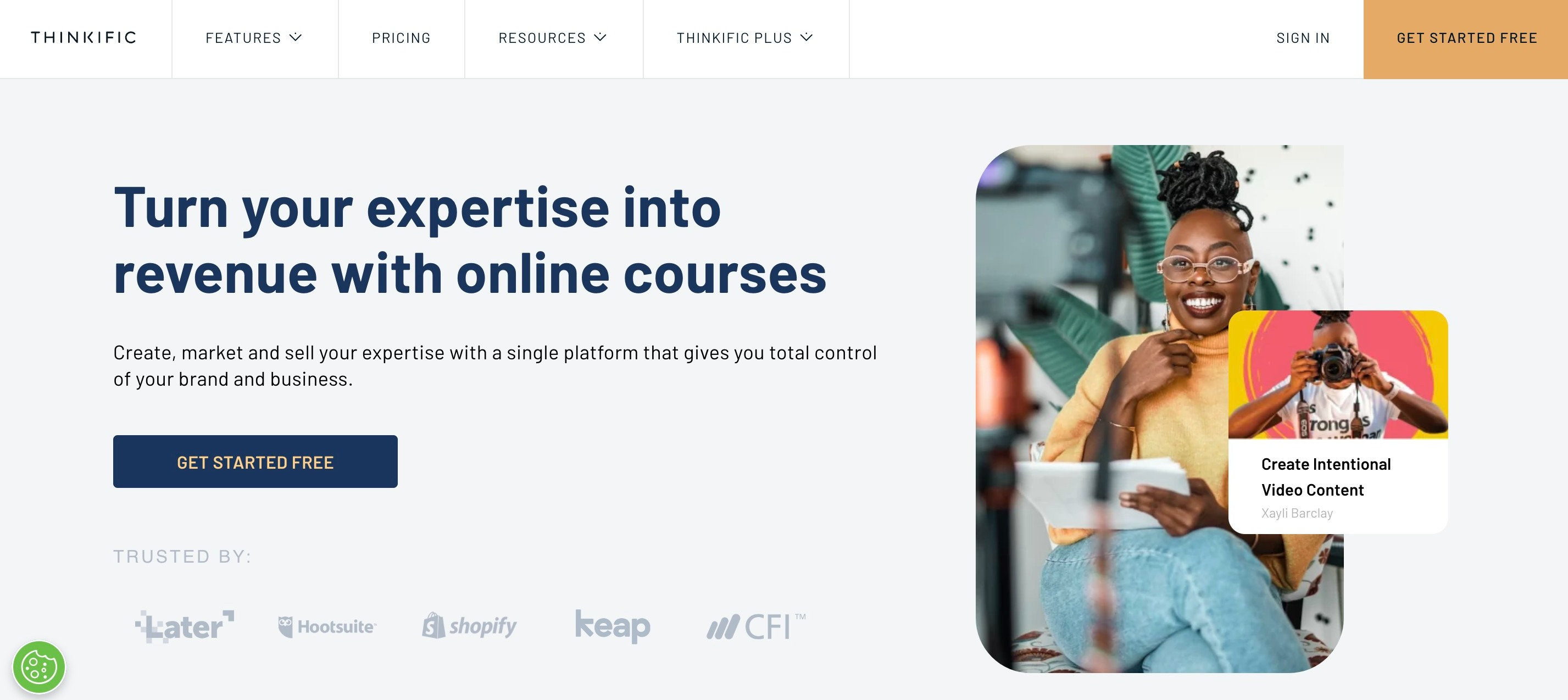 Like Podia, Thinkific provides a platform for building, marketing, and selling courses. It has many features to help you, like course templates and quizzes for testing your students. Then features like drip schedules take care of marketing, while your students or customers are encouraged to feel part of a community. Check out our full Thinkific Review for everything you need to know about this powerful tool.
Thinkific offers a completely free plan, so you can test the waters before deciding if it's right for you.
---
Kajabi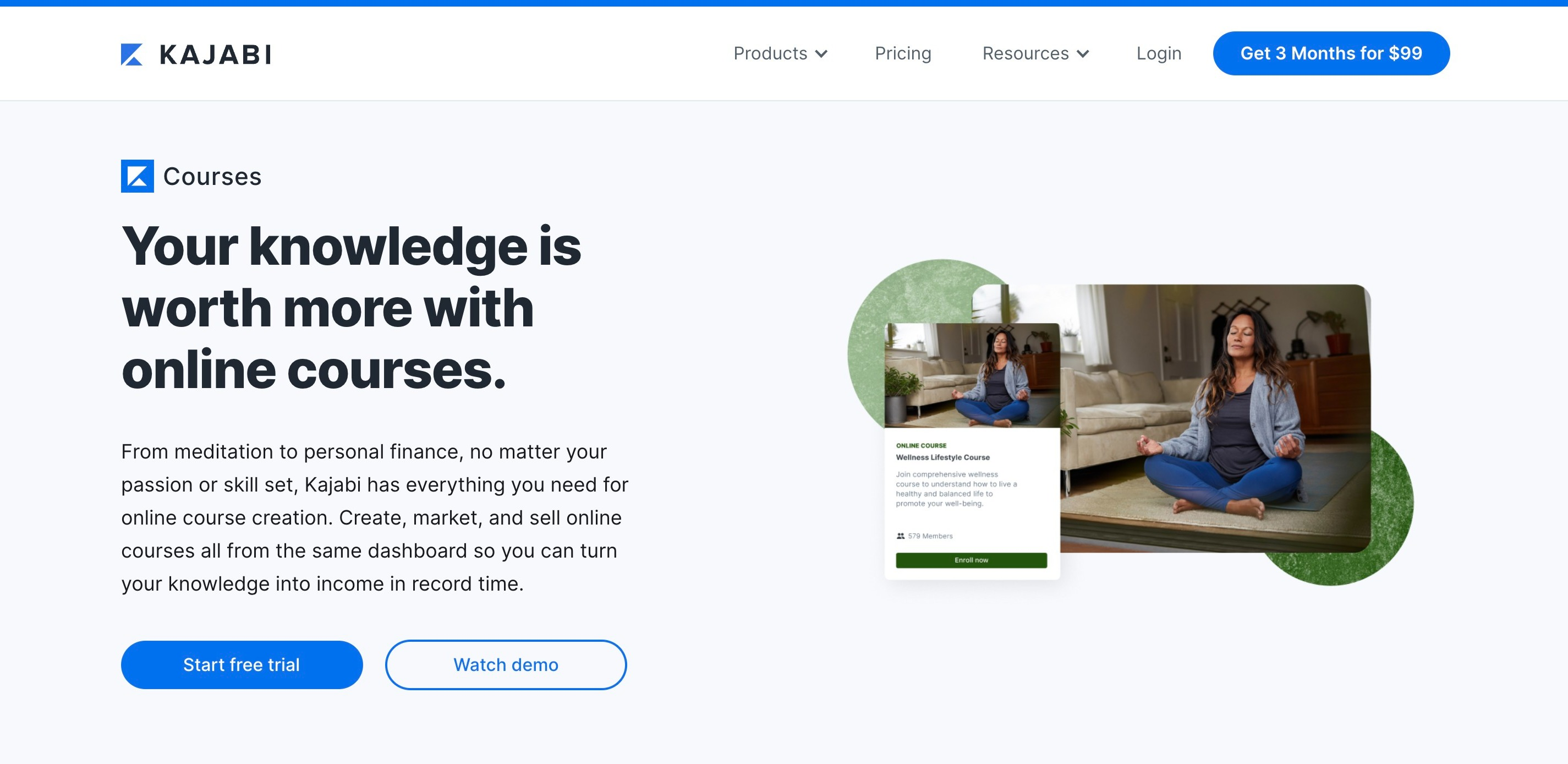 Kajabi is another alternative platform with pretty much the same offering as Podia. It provides a comprehensive platform with features like analytics and marketing covered. Kajabi has a few more advanced features like customizable templates and greater flexibility when it comes to design. It also offers greater detail in analytics for individual students and groups for assessing course effectiveness.
---
Teachable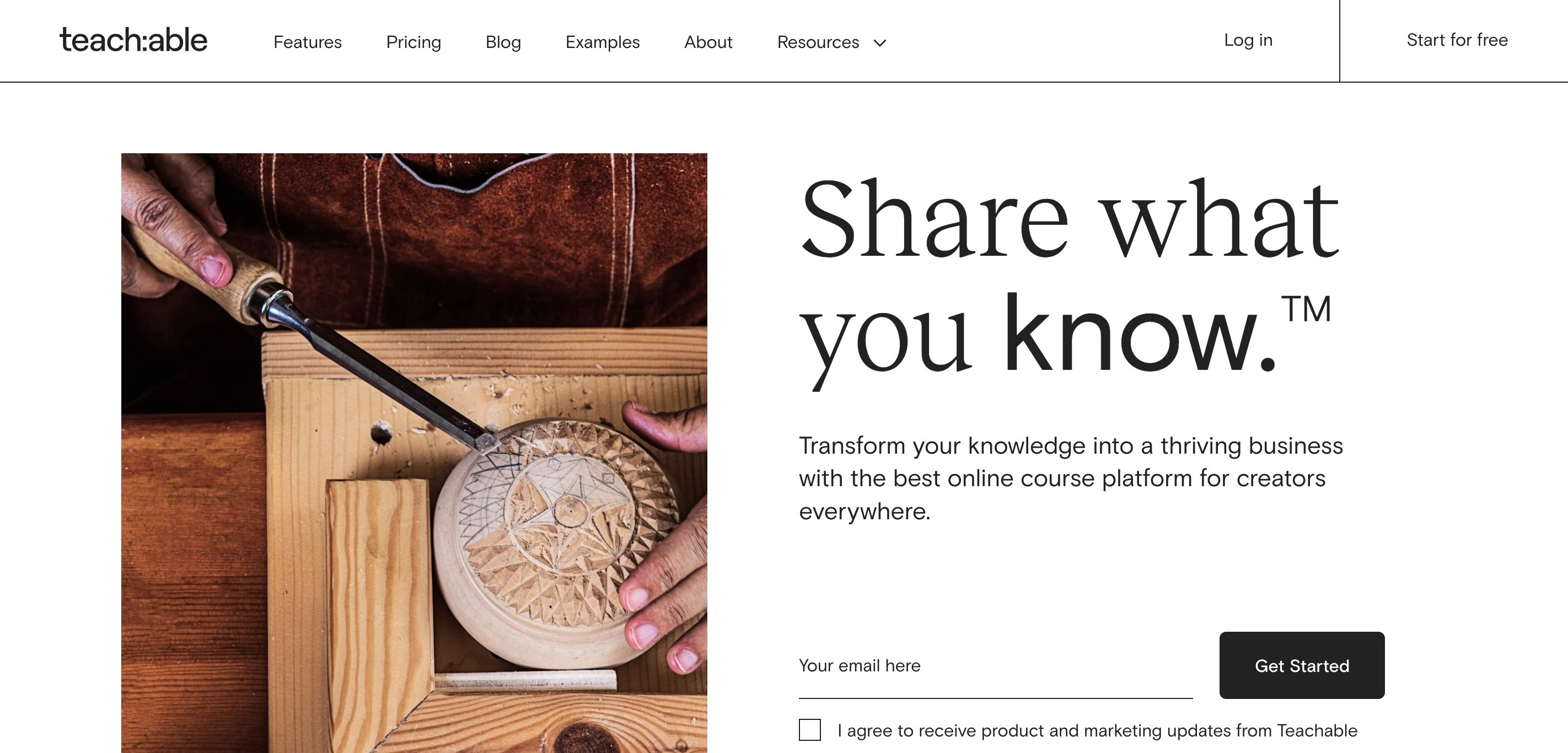 Similarly, Teachable is one of the better-known Podia alternatives offering online course creation and marketing. It is a flexible platform that will handle the needs of various courses and learning products, including live classes. Teachable has an easy-to-use website builder with further customization options. The platform comes with comprehensive analytics and reporting systems.
---
Podia Review Conclusion: Is It Worth The Money?
So, what's the verdict? Well, overall, Podia offers excellent value for money. The plans are good value, and the software is easy to get to grips with, making it easy for beginners to hit the ground running
That being said, a few features are missing, such as a mobile app and more advanced analytics. Because of this, more advanced course creators and larger businesses would be better suited to a more advanced tool like Kajabi.
Podia is one of the best options for beginners, so if you're just venturing into the world of business to sell digital products and unlimited courses, it's absolutely worth considering.
FINAL THOUGHTS
One of the great things about Podia is that if you're just getting started and you aren't sure how much business you'll be generating to start with, you can sign up for their free plan until you have gotten to grips with things.
This allows you to offer one download and one coaching product, and you pay a commission on sales rather than a set monthly fee.
However, even their basic package offers unlimited downloads and coaching options. You can get great value from their Mover package if you're looking to offer more than one product. In general, Podia offers great value for money to most people.
If you're looking for an easy, all in one platform to help you set up, create and sell online courses and digital products, then Podia most certainly has enough to get you started. The platform covers everything you need, from making the course to getting it seen by the right people, so signing up is a great step in the right direction of getting your online course business off the ground.
Want to learn step-by-step how I built my Niche Site Empire up to a full-time income?
Yes! I Love to Learn
Learn How I Built My Niche Site Empire to a Full-time Income
How to Pick the Right Keywords at the START, and avoid the losers
How to Scale and Outsource 90% of the Work, Allowing Your Empire to GROW Without You
How to Build a Site That Gets REAL TRAFFIC FROM GOOGLE (every. single. day.)
Subscribe to the Niche Pursuits Newsletter delivered with value 3X per week