15 Best Niche Markets To Make REAL Money Online
When you buy something through one of the links on our site, we may earn an affiliate commission.
Do you want to start an online business, but you have no idea what the best niche markets are?
Well, you're not alone.
In fact, choosing a niche is one of the biggest hurdles faced by most digital entrepreneurs.
It's also one of the most important decisions you'll make.
Choose the wrong niche and you can end up investing your time and money in a losing (too competitive) or non-existent (no market) battle.
That's why we did the research and made this list. To help you choose the right niche market.
So, let's get to it.
Aren't All The Good Niche Markets Too Competitive?
Let's just quickly get this out of the way first.
No, niche marketing is alive and well.
There are crap loads of niches. And with the exception of maybe adult and online gambling niches, most niches have a big enough pie (mass market) so that everyone can eat.
Whether you are looking at drop shipping, affiliate programs, ad-based programs, there are still amazing options out there just waiting to be discovered.
The reality is you can compete in any of thousands of niche industries. Basically any niche market ideas you can think of. But make sure to check the trending niche in Google Trends and remember that competing in the most lucrative niches will require:
An investment of time or money
Innovation
Effort
Some marketers want you to believe that certain niches like health and dating are too competitive. So much so, that there's no way for you to break into them.
However it won't take you long to find a successful niche marketing example in either.
So how can you gain traction in a competitive marketing niche?
You have two choices here:
Develop a strong niche marketing strategy. And take an idea that works and then improve on it in a way that people can't ignore.
Accept that you'll have to invest 2 – 3 years of your life to dominate that niche.
Remember that you don't need to find some untapped niche market or 1,000,000 niche customers to make you rich. And you don't need mass marketing.
As a niche marketer all you need is a market segment and 1,000 True Fans of that niche audience who like what you do.
Even if they only spend $10 each per month with you from your marketing effort, that's $10k a month in revenue.
From there you can turn a small business focused on a niche segment into a very successful career.
List of the Best Niche Markets (That Are Still Accessible)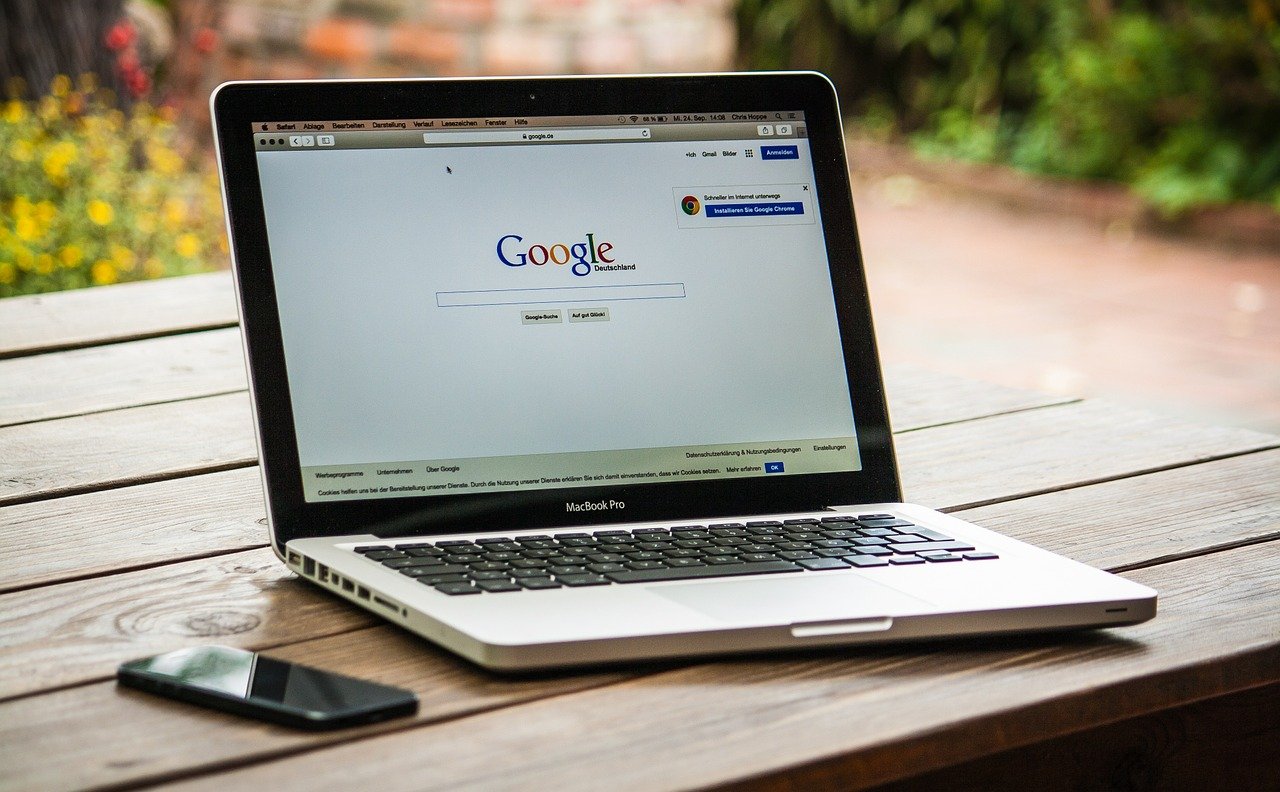 While some niches offer plenty of money, they've been over-saturated for over a decade now and are dominated by authority sites typically run by companies or individuals with entire staff working to produce content.
We steer away from those.
Below are niche market examples that still have plenty of room for new sites to grow and prosper.
1. Languages & Translation
Did you know that only 21% of the world's popular are native English speakers?
In fact, by 2050 the United States will have more people speaking Spanish as their first language than English. Some Canadian schools even teach Chinese as a subject because of China's growing economic power.
People like to learn new languages.
But, over the next few decades, many of us will be forced to learn a new language. The world is changing.
In terms of a niche marketing strategy this is fantastic.
It means there's an existing market for language tuition software, online language coaching services, and everything else related to learning a new language.
Market value: US$43 billion per year
2. Pet Niche Markets Are HUGE

Here's a broader market that's not going away anytime soon, and has massive potential for all kinds of niche businesses.
Companion animals are very much a part of Western life and are becoming so in other parts of the world.
There's a generation of people not having kids and raising pets instead. They refer to them as "fur babies."
The author of this piece has to admit he treats his dog as a child. Her name is Butters, and she's amazing.
Editor's note: I have 4 chickens that have a special place in my heart. They are named Dumpling, Noodle, Wok, and Parm (it's short for parmesan). The pet market is real.
You could start a niche website about a specific breed of cat. Another option could be a YouTube channel reviewing dog chew toys.
Or you could start an authority site about caring for exotic birds.
You could also go offline with your niche business by targeting a specific need like starting a pet sitting service.
Pet owners in some cities are willing to pay up to $100 per day for reliable pet sitters.
Pet owners are fanatical about giving their companion animals the best of everything, from food to toys to health treatments.
And in terms of a customer base, that is the definition of an ideal customer. Plus there are some mainstream providers like Chewy with a great affiliate program.
So as a niche marketer, why not tap into that?
Market value: $66.75 billion per year
3. Prepping
If you listened to the news you'd have to at least suspect that the world is getting worse by the day.
(That's good enough reason to not listen to mainstream news.)
But even if there's isn't a zombie apocalypse, there's no denying that it makes sense to be prepared to take care of your family.
Our planet's weather patterns do seem to be changing, for example. So, why would you not prepare for situations where extreme cold or a violent storm might pose a risk?
You could choose to start a full-blown eCommerce or FBA business drop-shipping prepper supplies. If you aren't sure what those supplies would be, you can figure out some low-hanging fruit using software tools like Jungle Scout or Helium 10.
Or you could start an affiliate marketing niche site about prepping for complete newbies. There are countless ways to make this niche market work.
The neat thing about this niche market is that it expands beyond just buying freeze-dried meals and shotgun ammunition. It also includes topics such as gunsmithing, blacksmithing, knife making, food preservation, wilderness survival, off the grid energy, etc.
This is a popular niche that is growing exponentially. There are plenty of unique needs under this topic.

A good entrepreneur can create a great niche marketing campaign to meet the needs of one group and perhaps use smart social media to quickly grow into a larger market.
Any of these sub-niches will appeal to the prepper community. If you're looking to sell some stuff on Amazon, you'll need to find keywords that get a lot of searches and don't have much competition.
We love Jungle Scout, and have reviewed it here on Niche Pursuits.
Market value: US$16 billion – US$37 billion per year
Find Niche Products to Sell in the Prepper Market
4. Relationships & Dating
Until there's some massive evolutionary jump where we become an asexual species, relationships are going to matter for a long time to come. And what's the biggest problem most people have with relationships?
Finding somebody to fall in love with.
It's kinda funny looking back at how far online dating has come.
There was a time when anyone using online dating was the butt of jokes. Now, it's an accepted part of the dating scene. Recent studies show that up to 50 million Americans have tried online dating at some point.

Now that's a big market.
You can engage with this niche market in a number of ways.
You could write a Kindle book on dating for people over 40 (or find another niche with low hanging fruit), self-publish it on the Amazon platform, and make over $100 per day.
Or maybe you could put together a digital product on the best way to break up with somebody. Everyone else is trying to get their ex back, so why not take a different approach?
Being in a relationship is one of the biggest commitments people make during their lifetime. That makes them more than willing to pay for solutions to their relationship issues.
This is an area where there are a lot of opportunities to publish books, and it's never been easier to self publish a book on Amazon. These books can generate more than $100 per day.
If you have a publishing dream, we recommend taking a look at KDP Rocket. It helps you find niches and dominate the Kindle Direct Publishing sphere. You don't have to struggle with traditional publishing, can get your word out, and can make bank.
Write best selling books with KDP Rocket
Market value: US$2.5 billion
5. Personal Finance

The financial meltdown of 2008 taught a lot of us some very harsh lessons about how quickly you can go from boom to broke. What it made most people wake up to is the fact that diversifying your incoming and planning for your future is smart.
You can't rely on the government to take care of you. Especially not when most countries in the developed world are effectively bankrupt.
This niche has tons of opportunities for different products or services. All with the goal of either increasing a person's income, or helping them get back in control of their outgoings.

This is one of the heavyweight classes of any niche marketing strategy.

And some people like Jeff Proctor are making over $100,000 per month in this niche through SEO traffic and smart keyword targeting.
Niche businesses that could work really well in this market include informational sites about budgeting.
Another sub-niche is how to live without cable TV. Or you could come up with ideas for family meals that cost less than $10 each.
A financial advice coaching service is another option.
Selling high-end digital products in this market might prove to be a challenge though.
Remember, people are usually more interested in learning how to save money. If, however, your niche business is about generating more income, then selling digital products shouldn't be a problem.
If you get into the personal finance niche, you'll have to do some serious keyword research, in order to find gaps in the market.
Market value: US$17 billion per year
6. Home Security
Nobody likes the idea of having to turn their family home into a "Fortress of Solitude", but crime isn't going away any time soon. Even the most liberal families are being forced to look at just how secure their home is.
In short, home security is a growing market and has lots of sub-niches within it.
You could start a niche site focused purely on home defense weapons of the non-lethal variety.
Home monitoring software and hardware is also growing in popularity, including video doorbells, Wi-Fi security camera systems and PIR lighting systems.
A sub-niche could be offering solutions to deter "porch pirates" from stealing packages from outside homes. You could also create a series of digital information products for this market, or a YouTube channel reviewing home security gadgets and appliances. Another approach could be to start an affiliate marketing site on making your home burglar proof.
This is a good niche, and you can tackle it from many different angles.
Market value: US$51 billion per year
Check out our article on security business name ideas for naming inspiration for your home security niche website.
7. Babies
There were 900 million people alive in 1800.
By 1900 that figure increased to 1.65 billion.
By 1980 that had increased to 4.4 billion people.
And in the last 40 years, the population of our planet has almost doubled to 7.6 billion people.
That's a whole lot of babies born every single day: 386,000 of them if my market research is correct.
Unless we wind up in some kind of dystopian nightmare, like in the movie "Children of Men", the market for baby-related products is getting bigger every day.
Not only that, but parents are "raving fan" spenders. New parents spend an average of $4,000 per year to care for, clothe and feed their baby.
Sub-niches within this market include Amazon affiliate marketing sites, how to organize baby showers, and sites dedicated to baby names.
You could create a blog dedicated to first-time parents who are in their late 30s. Or a blog about the adoption process in different countries.
So yeah, the opportunities within this niche are pretty much unlimited.
People in this market are willing to pay almost anything to ensure their families get the best possible start in life.
Market value: US$18 billion per year
8. Weight Loss Niche Markets
America is in the middle of an obesity epidemic. It's not the only country in the world with that problem though – the UK and Germany are following close behind.
There is a massive market for helping people lose all those extra pounds, and then keeping them off.
Sub-niches you could take part in include ideas like a personal trainer YouTube channel aimed at young adults. Or you could run a niche site, or offline business, offering customized meal plans. Or maybe a digital product on weight loss for busy people.
Although it is still very competitive, you can compete via time and effort, innovation, and the right niche offering.
While there may be some ethical boundaries with certain types of content promotion, you can still make some good revenue from programs like the Amazon Affiliate program, or even with display ads.
For those combining both ads and affiliate, you can drastically improve your profit margins and make a killing.
There are many advertising platforms, including Mediavine, Adthrive, and Ezoic. We recommend Adsense and Ezoic if you have a newer site that doesn't meet certain pageview requirements.
Ezoic in particular is great for any site that runs ads.
They use AI to text the optimum placement of ads on your site and maximize your earnings.
You can sign up for free for Ezoic.
Try Ezoic Here
Market value: US$66 billion per year
9. Learning a Musical Instrument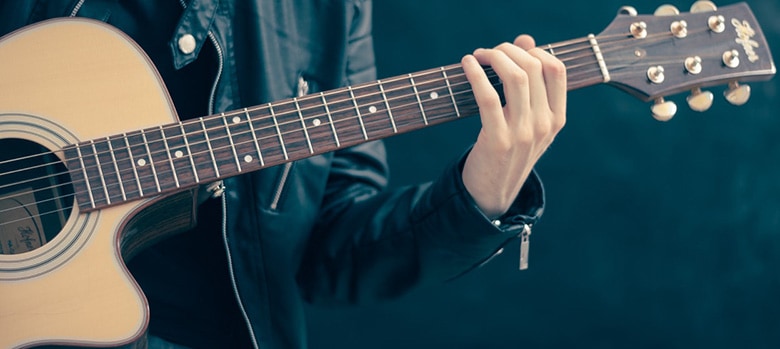 Now, this niche isn't for everyone and that's because musicians are a different breed. They can spot a non-musician marketer a million miles away, so you've been warned.
With that warning aside, learning to play a musical instrument is something most people aspire to.
And it's not just for beginners. There's just as big a market for improving musicians who want to take their skills to the next level.
One of the most popular approaches in this market is to create a membership site featuring lessons on a specific instrument.
You could also start a YouTube channel teaching people how to play covers of popular or classic rock songs, monetizing your channel as your income source.
Or, you could sell digital products on the ideal effects pedal setup for the new guitarist or bass player.
If you like the idea of a membership site, Clickfunnels help you do the whole thing. You can make the landing page, use their shopping cart software to save you from big fees, offer upsells, and host the membership area.
Best of all, you can try Clickfunnels for free before committing.
Try Clickfunnels for free
Market value: US$6 billion per year
10. Electronic Entertainment Niche Markets
It's worth taking a few seconds to look at how many electronic "gadgets" you own.
You have a smartphone, a tablet and maybe an eReader like the Kindle or Kobo. You probably also have a Netflix, Hulu and Spotify account.
Basically, electronic gadgets and entertainment devices are part of your life. They're part of everyone's life, including people in the developing world.
In fact, the developing world is going to be one of the biggest markets for electronic gadgets and entertainment services over the next decade.
Making money in this market means looking closely at focused sub-niches.

One example would be a YouTube channel about video streaming services and media players they connect to. Or a digital product on how to make money with game streaming platforms like Twitch (find out how to become a Twitch affiliate).
You could also build a niche website dedicated to setting up your own media streaming servers at home, and reviews of all the required equipment such as Network Attached Storage devices.
And don't forget to leverage the brand loyalty in the tech space, to help easily build rapport with your target customer.
Market value: US$65 billion per year
The Value of Finding a "Niche" Mentor
I won't promise you an unlimited amount of money with minimal work. Building a business is hard. But I think that building a business and failing is even harder.
One of the most powerful ways you can avoid failure and reach success is by finding a mentor. The problem is that no one wants to mentor someone who doesn't know what they're doing in the first place.
So your next best bet is a course.
If you want to skip years of failing when building a niche website, I recommend taking the Authority Site System course. They walk you step by step through what you have to do to win at the game of niche business.
Grow your niche empire with The Authority Site System
Bonus: 5 Profitable Emerging And Growing Niche Markets
Now, you probably have a hundred ideas for niche businesses based on the multi-billion dollar industries we just shared with you. But we didn't want to stop there.
Why?
Because finding your niche in established markets can be daunting. There are, however, lots of emerging niche markets for you to consider instead. And most of them have far less competition than you might think.
Here are five of our favorite emerging niches for you to take look at.
1. Renewable Energy

As the supply of fossil fuels dwindles, the demand for renewable energy sources has increased. This includes everything from solar tiles and Tesla Powerwalls, to solar-powered USB charging packs.
There are opportunities to sell more than just solar solutions here. People are also looking at wind and water turbines to generate electricity for their home.
If you don't think this is a big market then please take a look at the direction Saudi Arabia is taking. Their goal is to become the world leader in solar energy by 2030.
One of the biggest oil producers in the world is rapidly moving towards renewable energy solutions. The writing is on the wall for the fossil fuel industry.
Market value: US$140 billion per year
2. Biodegradable Consumables
This is a prediction based on current environmental trends. Everyone can see that plastics are clogging up our oceans now as well as landfills.
Something has to change.
There's massive space in this market for people to promote bottles, straws or other items that will biodegrade after several months. Biodegradable drinking straws made from hemp is just one product with the potential to change an entire market.
People understand that plastic waste is no longer acceptable because it's now entering our food chain. It's not just birds and fish that are consuming plastics – we are too.
The author's prediction is that biodegradable packaging and consumables will be a huge market over the next 5 – 10 years.
Market value: US$3.4 billion per year
3. Subscription Boxes
Who would have thought you could convince people to pay money to have a box of "random" stuff posted to them each month?
Sure, it's stuff they want to get, but it's like the mail-order catalog days are back all over again. The postal and parcel delivery services must be grinning like a Cheshire Cat.
Mishibox is one example of how you can put a different spin on the subscription box model. Their Korean skincare boxes are usually sold out every single month.
Imagine owning a business where your entire inventory sells every single month?
There should be a meme for that.
You could also create a subscription box as part of your existing niche business e.g. pet supplies for older dogs and cats, focusing on organic ingredients.
Market value: US$5 billion per year
4. Virtual reality products
People have been saying VR is the next "big thing" for as far back as I can remember. The market desire was there, but the technology didn't exist to keep up with it.
The Oculus Rift changed all that, making VR cool again. And not just cool for geeks and nerds, but cool for people who want to immerse themselves in the virtual entertainment experience.
Market value: US$12.1 billion
5. Tiny Homes

After decades of "bigger is better" people now want to live simpler lives.
Sure, the idea of owning a 12-bedroom mansion is still appealing. But there's just as many people who want to tune in, drop out and get off the grid.
The emergence of tiny homes is proof of that desire. Regardless of the cause, more and more families are looking for second homes outside major urban areas.
A tiny home is a very efficient way for them to achieve that goal. Plus, they get a tiny holiday home in the event that Yellowstone Park doesn't blow apart.
Tiny homes are also popular with people who want to expand their home to create more living space. There's also growing demand from people who want to use them as a home office.
Market value: US$400+ million
What Makes These Niche Ideas Profitable?
We've already covered one of the key principles of niche marketing, one ignored by most people:
Sell what people are already buying.
You see, niche marketing is all about is tapping into the mindset of people who have a problem they need help with.
You'll particularly want to look out for these kinds of points:
People who have disposable income to spend on stuff.
People who are ravings fans of something, and habitually spend money on it.
For instance:
Golfers habitually spend money on their hobby year after year
People with acne are willing to pay for a cure
Anyone with "too little money and too much month" needs more income
Movie fans are always on the lookout for collectibles to spend money on
The best niches are ones where you're solving a problem for somebody.
And the neat thing is that solution to the problem might be as simple as owning the latest Star Wars collectible. It doesn't need to be a foreclosure-threatening situation, and it rarely is.
Instead, it's about simply meeting the demands and expectations of a target market.
Your business also doesn't need to be based on selling a niche product. Your niche could be offering a specialized SEO service just for psychotherapists.
Or helping parents put on the best birthday party for their kids. You could teach people how to start their own dog grooming business (and use this list of dog grooming business names for ideas).
Or even how to write a great novel that will sell by the bucketload.
A niche strategy to be wary of is starting a business based on any "passion" you might have.
You might be passionate about South American indigenous art supplies, for example.
It doesn't matter because if there's no market for those products then you're a hobbyist and not a business owner. That might sound harsh, but that single piece of advice can save you thousands of dollars.
Once you figure out a way to help people with their problems then the money will follow.
All you need to do is find a niche and fill it.
How to Find a Hidden, Profitable Niche Market
There's a quote that works really well for the niche marketing industry:
Give a man a fish, and you feed him for a day. Teach a man to fish, and you feed him for a lifetime. – Anne Isabella Thackeray Ritchie
Unless of course, he doesn't live near a body of water. Or he's vegan (check out these vegan affiliate programs). But let's not get off-topic.
We've already given you 10 established niches to work with. You also got 5 bonus emerging niches. But we're taking it to the next level by showing you how to find profitable niches all on your own.
Why?
Because that's how Niche Pursuits rolls!
Don't worry if you're struggling.
Every successful eCommerce business owner, niche site owner or online entrepreneur had to go through this challenge when he was first getting started. It wasn't always an easy road, but it worked out alright.
And, there's also the reality that we could never find and research every niche known to humanity. We could…but you'd lose the will to live after page 2,438 of the PDF file.
So, how do you find profitable target niche markets for you to emulate?
Website Flipping Services
The two best services of this type are Flippa and Empire Flippers. The benefit of using Flippa is that you can often see not only the URL of the site for sale, but also how much it's earning per month.
These are good services to buy or sell a website. They are also a great source of niche market ideas for online business ideas of all kinds.
Empire Flippers will give you the same data, but only after you give them a 5% refundable deposit based on the value of the site. So we'll stick with Flippa instead.
In less than three minutes of browsing through Flippa we found the following profitable niches:
Quilting
Water purification
Customized knives
How to Conduct Your Own Niche Research on Flippa

Go to the Flippa.com homepage
Scroll down to 'Featured Websites'
Click on 'See All'
Adjust the 'Monthly Profit' slider to your required level
Leave the 'Keyword' field blank
Click on the 'Search' button
Scan through the listings for sites with a public URL
Yes, website owners do actually show you the niche they're involved in. That includes how much search engine traffic they're getting, and how much money they're making each month.
Spending a few minutes on Flippa is enough for you to find several profitable niche ideas. Now all you need to do is find low competition keywords in that niche.
Amazon Bestsellers
Why spend time trying to figure out what's selling right now when Amazon has done all the research for you?
In fact, their bestseller lists are one of the best ways to find profitable niches you'd never have thought of otherwise.
You can find Amazon best sellers using either of the following methods:
Click on the Departmentsmenu on the left-hand side of the Amazon homepage.
This gives you a breakdown of the best sellers in their most popular "departments" like Toys, Electronics, and Books.
Choose a category you find interesting. You don't need to be passionate about it and ready to dedicate your life to that one topic.
It just needs to be something that makes you go, "Yeah, I can see money here."
Let's say you chose 'Beauty and Health' and then the sub-category of 'Men's Grooming'.
Scroll down until you see the 'Best Sellers' carousel: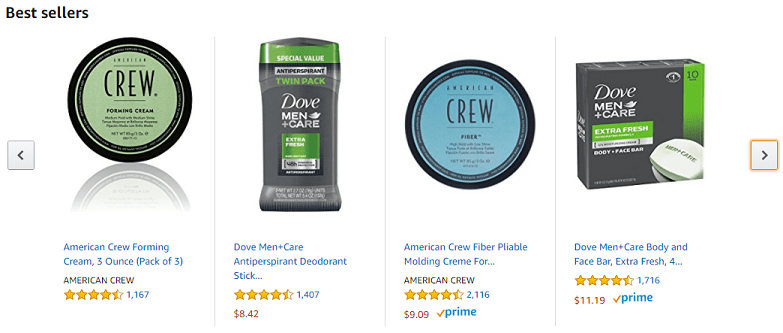 You can now see what products are selling like hotcakes in this category, and how many reviews each product has.
Repeat that process as many times as you need until you find several products that you can build a niche business around.
And that niche business could be an Amazon affiliate website, a YouTube channel reviewing/unboxing men's grooming products, or even an Amazon FBA business selling competing products in the same niche.
Selling what people are already buying is a no-brainer.
Keyword Research for Your Niche Idea
Finding keywords that people are searching for is kind of like finding the internet best seller list. These are topics and terms that people need to find the answers to.
If these terms are commercial, all the better. Commercial terms just indicate a higher potential margin for profit.
There are lots of tools out there to help you do keyword research.
Long Tail Pro is my own tool that helps you to find keywords that people are searching for. These keywords have low competition but high buying intent.
If someone searches "best protein powder for muscle gain", then that person has a very specific request and is looking to buy.
This is the heart of long tail keyword research.
There are plenty of great options that a good tool can give you. Make sure these are evergreen.
You don't want to go through niche selection and find out you picked a seasonal niche. Or a trending niche that had its moment in the sun and then died off.
Go Narrow & Go Deep in Your Niche Market
A mistake most first-time online entrepreneurs make is that they want to build the biggest and baddest website in the entire world.
One that has reviews and information on any product you can think of. "Like Amazon…but better," is the motto of some of these fledgling businesses.
And yes, those owners are still working a 9-5 job.
The best niche markets are those where you look at a broad niche, but you dig down into it. You dig 1 inch wide and 1 mile deep, exposing a sub-niche or micro-niche in the process.
Going through this process when picking a particular niche gives you a more viable business idea that is more likely to succeed. This is true of almost any specific niche. Charging for a larger market as a pure beginner is a quick path to failure.
Let's take the example of the vintage houseware niche. It's huge, but getting increasingly more competitive. You could build your niche business around everything vintage, but it makes more sense to specialize.
Instead of trying to find and sell every single vintage item you can think of, you instead choose to find and sell Sadler teapots. Your business becomes the go-to source for Sadler teapots in the United States. You wind up dominating the market without breaking a sweat.
Another example is Star Wars collectibles. This is another great niche to be involved in, especially if you're a Star Wars fan. It's competitive, but that's only because people try to feature every collectible known to man.

So, why not become one of the leading sources for rare Kenner Star Wars toys? That's a micro niche within the Star Wars niche itself, and a very profitable one.
Competing in broad niche markets is entirely possible, but competing in narrow, super-focused niches is easier and can be more profitable.
It's also lot less work when it comes to attracting free search engine traffic.
When you can niche down small enough, your income starts sooner, you struggle less against big sites with big budgets (hello, New York Times), and you can later expand when you're ready.
Only Choose Evergreen Market Niches
Evergreen niche marketing is one of the most repeated phrases in this industry and with good reason (learn all about evergreen marketing here).
These are markets that will last for more than a few years, making them a good investment of time and effort.
You build the business, and it generates money year after year because the core subject matter or products never really change. This is really the name of the game in the modern world of niche sites; build a site that can dominate its niche year round.
Your target audience never really changes with these types of evergreen niches. There's always another generation waiting to get involved.
But let's take a contrarian view for a moment.
Why would you not build a niche business in an emerging market that you might only profit from for five years?
Let's frame this another way: How much money would you pay to travel back in time and get involved in the cryptocurrency niche when it first started?
Yes, a non-evergreen site might only generate silly money for a handful of years, but should you avoid it because of that?
It's a question worth asking yourself when you notice an emerging market trend with a lot of potential.
Evergreen niches should be the core of your digital marketing strategy. But never be afraid to look at short-term niches that could quite easily make you wealthy.
These short term niche ideas won't make you as much money over the long run and will require more work. But they might just make you enough money where you never have to work again.
With the right systems in place, and a strong target audience, you can turn these market niches into passive income streams. You'll get paid day in and day out whether you work or not. Short term niches just don't allow you to do that.
Take time to consider your niche. Do you want short and sweet or slow and steady niche growth?
There are plenty of great profitable niche markets out there that really aren't that competitive. One of these untapped niche markets could be the start of your own success story!
Focus on the Long Term
The days of throwing together a blog and making maximum money from minimal effort are over. The lack of "instant results" is what puts 90% of people off ever starting an online business, like niche sites.
They want easy money, and they want it now. And when that doesn't happen they pack up their stuff and go sulk in a corner for the rest of their lives.
Everyone who has succeed online has had to work through this. Whether you're building an eCommerce business, trying to own a dropshipping niche, or struggling to find good affiliate programs, it's all part of the process.
If you want to succeed that means in the beginning you need to put in the hours. This can mean early mornings before everyone gets up or long nights after everyone gets to bed.
Even the best business idea or potential niche market idea requires you to put in the hours.
You will fail, fail some more, succeed a little, then fail even more. But at some point you will understand your target audience.
You'll develop a niche product. You will eventually get attention on social media. If you put in the work you reach a larger market you can succeed.
Most people will look at this work and simply pass.
That's actually great news for anyone putting together a niche site right now. Ongoing Google algorithm updates have knocked all the "easy money" people out of the Internet tree and back into 9-5 jobs.
The big difference right now is that you may need to allow several months for your site to generate significant income. It takes time for your audience to develop.
It takes time for Google to sit up and pay attention to your site. One social media post isn't going to create a tsunami of potential customers.
That's based on you operating your niche site as a side hustle and not your full-time job. If you're doing it full-time then you can generate income more quickly.
The best niche businesses are built to last through the ages. It is better to produce two articles a week for a year than it is to produce ten articles a week for a month and then get burned out. Make sure that you stay in the fight to grow your niche business. 
It's alright if you aren't going as fast as you want. That is okay!
The biggest thing is that you keep at it. The very fact that you want to start a niche business puts you ahead of 90% of people out there who would rather watch Game of Thrones.
If you can start your business and stick to it, you'll be a part of the handful of people who generate long term passive income. So don't get caught up in the daily struggles, but focus on the long term.
Summary
So why not have a much longer list of hundreds of options?
There's no point giving you "2476 niche ideas you can profit from today" because:
Ain't nobody got time for that
You'll feel completely overwhelmed by that amount of data
You'll spend weeks analyzing the information instead of taking action
You only need one good niche and one good product idea or niche market idea to make it work
Instead what you get is ten established niches, but ones where you can still compete.
Some of these will be familiar. Others will have you sitting back going "What didn't I think of that before?"
We want to demonstrate that choosing a niche doesn't mean reinventing the wheel.
The Truth on Finding Good Niche Market Ideas
Niche marketing isn't dead, no matter what anyone says. That applies to both the big, established niches and the ones that are still emerging as we speak.
In fact, there's never been a better time to get involved in starting your very own niche business.
Why?
Because most people think all the best niche markets are saturated.
Want to learn step-by-step how I built my Niche Site Empire up to a full-time income?
Yes! I Love to Learn
Learn How I Built My Niche Site Empire to a Full-time Income
How to Pick the Right Keywords at the START, and avoid the losers
How to Scale and Outsource 90% of the Work, Allowing Your Empire to GROW Without You
How to Build a Site That Gets REAL TRAFFIC FROM GOOGLE (every. single. day.)
Subscribe to the Niche Pursuits Newsletter delivered with value 3X per week