So, I have been thinking about long tail keywords a lot lately.  Actually, I think about long tail keywords quite a bit all the time…but I've been reflecting on my own websites a bit more lately.
Today, I want to dive into several examples of websites that are doing really well by targeting long tail keywords and share why this is still working so well.
I actually started thinking a bit more about long tail keywords a few month ago after I conducted a survey right here.  I asked people, "What is your biggest obstacle to starting an online business?"  Their number one response was that they had trouble finding the right keywords or niche to target.
Long Tail University
As a result, I actually spent the last few months in my "man cave" creating a keyword research course.  
Some of the examples below are one's that I shared in the webinar last week.  However, I wanted to go in more depth on a couple of them, including an update on the Authority Site Project website.
With that, let's jump in and discuss some real life examples demonstrating the power of long tail keywords.
Examples of Successful Websites
Before I jump into the 6 examples, I want to remind you what a long tail keyword is.  I've done a couple of blog posts in the past that will help get you up to speed right here and here.
Basically, a long tail keyword is one that is low competition and doesn't get very much search volume (less than 1,000 a month and more often less than 100 search per month).  The "long tail" refers to the "tail" of the graph (as shown below):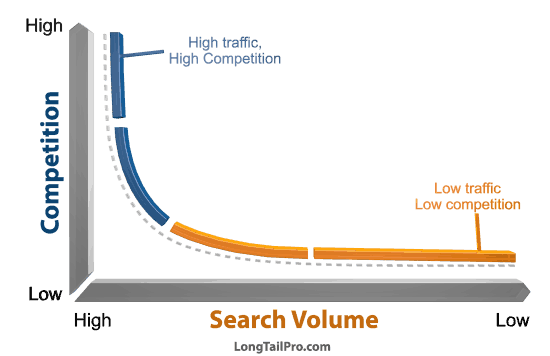 So, long tail keywords doesn't simply mean long phrases; it really is referring to the tail of the graph.  However, it just so happens that most low volume and low competition keywords are longer phrases, so if it helps you to think about long tail keywords as long phrases, you will still be right most of the time.
Now, I'd like to demonstrate why these low search volume and low competition keywords add up to big results.
1. Consistent Traffic Niche Site – Making $1,000 to $1,500 Per Month
This first website that I'm going to share is a niche website that I own that simply gets consistent traffic day in and day out.  As you can see from the screenshot below, the site consistently gets around 2000 to 2500 unique visitors a day.
Where does the traffic come from?  Well, look at the second screenshot below, that displays ONLY the organic search engine traffic coming to this site:
The HUGE majority of the traffic coming to this site is through natural search engine traffic and long tail keywords.  I can tell you that this site has very few links and not a ton of authority.
However, because the content of the site targets lots of different very long tail keyword phrases, the traffic really adds up.
In other words, if you are targeting REALLY low competition keywords (even if they don't get searched for very much each month), you can rank near the top of Google without much effort.
2. Niche Site Without Link Building – Making $300 Per Month
The next site I want to share is one I started with the intention of growing into a large authority site.  I wrote lots of the content myself (not the case for most of my sites).
My strategy for the site was simple: find lots of long tail keywords that were easy to rank for and then produce great content related to these topics.  This site actually started to gain traction after only a few short months.
However, with lots of projects I got sidetracked and never built it to be a big as I wanted.  In addition, I never once went out and did any link building.  However, that is not to say that this site doesn't have any links.  Because of the quality content and the fact that I'm targeting such laser focused subjects that people are searching for, the site has gotten quite a few genuine links.
I haven't done ANYTHING with this site in almost a year.
Here's a screenshot of the traffic:
As you can see, this site gets anywhere from about 500 to 900 unique visitors per day.  So, where does this traffic come from?
Well, the below screenshot shows ONLY organic traffic; which you can see makes up the majority of the site traffic:
Again, the reason for this traffic is simple: I targeted long tail keywords and wrote great content based on those keywords.  I didn't do anything else; no link building or promotion.
The types of keywords that this site is ranking for are often 5 word phrases or longer and have a keyword competitiveness (a metric from Long Tail Pro) in the low 20's.
70 Searches a Month Is Enough…
I want to drive home a point here about long tail keywords.  If you are thinking, "well, if a keyword gets searched for 100 times a month, why would I ever target that…its not worth it?!"
Well, I'm here to tell you it IS worth it.
My highest traffic article on this niche site is an article that targets a keyword that only gets searched for 70 times per month!!  In fact, this one article on my website got just over 6,000 unique visitors from Google over the past 30 days! (It's been getting similar traffic each month for over a year now).
So, how does a keyword that only gets searched for 70 times per month bring in so much organic traffic?
First, not all keyword data is 100% accurate.  According to Webmaster Tools, I actually got about 200 impressions for this keyword…so the search volume is really closer to 200 rather than 70.
Secondly, and the bigger reason, is that long tail keywords often have TONS of variations.  In other words, I'm ranking for lots of very similar phrases that might only be 1 or 2 words different.  Because people might type in very closely worded phrases in hundreds of different ways, the search volume for each of these phrases is very low.
However, in aggregate there are TONS of long tail phrases that this one article is ranking for to make it get 6,000 unique visitors in a month.
Makes me want to put some more time into this site and monetize it better!  If only I had more time in the day…
3. Perrin's Authority Site – Making $2,000+ Per Month
If you have been tuning in to our podcast and picking up a few mentions I've made on the blog here, you will know that Perrin started a brand new website near the beginning of this year.
After the PBN penalty that Perrin got on aPennyShaved.com (the Niche Site Project 2 site), he wanted to give website building another shot.
So, in his spare time, Perrin took the long tail keyword principles that I've taught all throughout the Niche Site Projects and started a fresh site.  Well, all his efforts are really starting to pay off!
Want To Build Smart & Relevant Internal Links...Quickly?
Link Whisper is a revolutionary tool that makes internal linking much faster, easier, and more effective.  It makes it simple to boost your site's authority in the eyes of Google. You can use Link Whisper to:
Bring out your orphaned content that isn't ranking

Create smart, relevant, and fast internal links

Simple yet effective internal links reporting: what has lots of links and what pages need more links? 
Click here to revolutionize your site's way of doing internal links
I'm happy to share that Perrin's site will clear over $2,000 this month in earnings and there is plenty of room for growth.
Here's a recent screenshot showing the ORGANIC traffic to his site:
Please note that this screenshot is showing only the organic traffic coming to his site. The growth has been very strong since May or so.
The reason for all the growth?  Perrin has been targeting long tail keywords with really low competition; both product based keywords and informational type keywords.  In addition, he's done some basic outreach to garner some great links to his site.  This one-two punch of great content based on long tail keywords and links through outreach has proven to be a winning strategy.
I'm just excited to share what Perrin (my "student"!) has done and the success that he is seeing with his site.
4. Jake's Authority Site – Making $400 a Month
In case you missed my post a while ago, Jake is one of my employees for Long Tail Pro.  He is the brand manager to help with content marketing and recruiting affiliates and more.  He's doing an AMAZING job and we've seen tremendous growth in the Long Tail Pro business (as I'll share more below).  A lot of that growth can be attributed to Jake.
Whenever Jake's awesome boss allows it, he works on one of his own niche sites on the side.  We like to swap success stories for all our sites, and I was really impressed with the growth I've seen from Jake's site this year!
Here's a screenshot of Jake's site:
And once again to show that the traffic is coming from organic sources, here's another screenshot:
The orange line is organic traffic.  Long tail keywords are clearly powering the growth of this website.
I'm actually quite optimistic for Jake and his site because I see lots of growth potential in the niche…lots of money to be made there.
5. Authority Site Project – Just Sold for $19,076
Well, I finally have an update on the Authority Site Project!  I was contacted by a potential buyer just a couple weeks ago, and we were able to strike up a deal.  I will cover all the details in a future blog post, and even reveal who the buyer is.
But for now, here's what you need to know.  The site has been earning an average of $1,156 per month over the past few months.  Based on our agreement, we valued the site at $28,900.
However, the new buyers wanted to keep me on the project, so they bought 66% of the site for $19,076.  I will retain 34% ownership of the site and will of course be happy to take the cash :).
Again, I'll go into a lot more details once the entire deal is finalized.  But you will be happy to know that you can expect MANY more updates on the Authority Site Project in the near future.  Because I will retain an ownership stake in the site, I'll continue to provide updates as the new owners take an active role in growing it.
I'm excited to share with you what's coming.
But why was the authority site valued at nearly $29,000?  Well, here's a screenshot of the traffic coming to the site:
This is showing the traffic by week.  So, I'll admit the traffic to the site itself is not that impressive.  It's getting perhaps a couple hundred visitors a day; and of course that traffic is coming through long tail keywords.
However, this project is a bit different in that lots of the revenue is coming from Kindle books (see previous earnings report here).  Some of the same long tail keyword principles apply to the Amazon Kindle store.  We are selling quite a few books on a consistent basis, I believe, because our books are ranking for lots of long tail searches and topics.
The buyers of the Authority Site Project site feel the same way.  They see TONS of potential with the site itself.  However, they also see lots of potential with the assets we've already created on the Amazon Kindle store.  These "long tail" type of books are meeting a real need, and there is no reason not to continue growing that part of the business.
Again, this is just a quick highlight…I'll be sharing LOTS more details in the very near future.
6. LongTailPro.com – Making $ Undisclosed Each Month
I would be remiss if I didn't share the success that LongTailPro.com is seeing believe it or not…through Long Tail keywords!  Yes, perhaps that is a bit meta.  However, content marketing and long tail keywords work so well, I would be an idiot not to apply them to my own software business.
Here's the deal, about a year ago, I simply had no time to blog actively both here on NichePursuits.com and on LongTailPro.com.  For this reason and a few others, I hired Jake full-time to write blog posts, do outreach, recruit affiliates, and help with the overall marketing of Long Tail Pro.
I can now take a step back and look at the results that Jake has produced in the past 10 months on the Long Tail Pro Blog. (By the way, if you guys aren't reading the Long Tail Pro Blog you seriously should be…the content is as good as the content here).
Here's a screenshot of the organic traffic from this year:
I know that by looking at this graph it may not seem that impressive at first glance.  However, the organic traffic from back in January and February was only around 2,200 to 2,300 unique visitors per week.  The organic traffic in the past couple of months is now around 3,500 to 4,000 a week.  That's nearly double!
I also want to point out 2 quick things.  First, most of the traffic to LongTailPro.com is not organic…most is referral traffic and other sources.
Secondly, traffic coming to a product based website is MUCH more valuable than traffic coming to an affiliate based website.  In other words, each additional visitor to Long Tail Pro is worth a lot.
So, the fact that the organic traffic to Long Tail Pro has almost doubled in the past year is a significant accomplish for the business.
So, how did we get all this new traffic?  Well, very simply: Jake has been finding long tail keywords to target for content, and then writing great blog posts based on those long tail keywords.  You can see the examples of his blog posts right here on our blog.
We've done several other things to improve the bottom line of Long Tail Pro (special offers, new upgrade options, and more); however, we are definitely seeing more natural traffic to the site.
Your Thoughts
Overall, I wanted to share just a few examples from businesses that I'm involved with that are taking advantage of the power of long tail keywords.  There are thousands of other amazing websites employing similar strategies.
This blog post may just serve as a reminder for many of you about the importance of keyword research and great content; or perhaps it can simply provide some motivation that you are looking for in your own business.
Even if you don't want any additional training, I hope you've found some value in what I've shared today.
As always, I would love to hear your thoughts on the subject.  Do you have any examples that you can share?  Are any of your websites performing really well in the search engines from long tail keywords?
Leave a comment or two below and let's discuss!
---