Your Guide to Selling on Amazon FBA: 0 to $4,399 in 30 Days Case Study
When you buy something through one of the links on our site, we may earn an affiliate commission.
Today, I'm going to share with you how to get started selling on Amazon FBA.
I'll tell you how I personally started from scratch with no experience and built my business to over $4,399 in sales in the first 30 days.
We'll cover it all:
How to set up your Amazon seller account with their FBA program
How to set up your business so that selling on Amazon FBA is as smooth and passive as possible.
Plus I'll share some tips that really helped me grow fast.
And we'll even go over the best products to sell on Amazon FBA and how to find them.
In a rush?
The success of our Amazon FBA store has largely been made possible with the help of Jungle Scout.
It's the tool that helps us find competing products on the Amazon marketplace are selling! And Jungle Scout is 30% OFF for Niche Pursuits readers.
Jumpstart Your Amazon FBA Business with Jungle Scout
How I got into fulfillment by Amazon
First, you should know I don't read many blogs. As a result, I'm somewhat "naïve" to many online business ventures others are pursuing. That even included, until recently, becoming an Amazon FBA seller.
I do follow a handful of blogs that I peruse from time to time about online businesses. One that I like is my buddy Chris Guthrie's blog.  We've known each other for about 10 years now. So I like to keep tabs on his business.
Back in 2014, I remember reading a post from Chris where he shared how he made $12k in his first 68 days of being an Amazon FBA seller.
For some reason, that post was the first time it ever dawned on me how hands-off the FBA (fulfillment by Amazon) business really is.  I always thought manufacturing and selling a product on Amazon was cost and time-intensive. Mainly producing designs to get manufactured and turning your house into a warehouse, then shipping products to customers while you handle customer service emails.
In a nutshell, I was clueless about how to start selling on Amazon FBA. As it turns out, none of those worries are real.
So, for the first time ever, I did a little bit of Googling about selling on Amazon FBA and reached out to Chris to see if he'd be a guest on the Niche Pursuits podcast.
Fast forward 5 months, and I had a product on Amazon. Not only was it up and listed, but I sold over $4,300 worth of my product in just 30 days.
I went from a total newb just a few months before I got started to having a very profitable business up and running. And I'm about to share my journey with you!
How to start an Amazon FBA Seller Business
Let's just get the basics out of the way first.
Amazon fulfillment opened up tons of opportunities for anyone with an Amazon seller account, an idea, a willingness to do a bit of product research, and some starting capital.
Fulfillment By Amazon Overview
Amazon FBA stands for Fulfillment by Amazon.  In a nutshell, Amazon allows 3rd party sellers (you!) to sell your products on Amazon.com. And by signing up for an Amazon Seller account, they'll pack and ship the products your customers purchase for you.
After signing up for an Amazon Seller account, you will tell Amazon what products you want to sell. Then Amazon automatically assigns you which Amazon warehouse to send your shipment of goods to. You then just print out the UPS packing slip that Amazon provides on the Amazon seller central platform, and you drop off your goods at UPS or FedEx.
Once your shipment of goods arrives at the Amazon fulfillment center, you can begin selling!
As soon as you make a sale, they will pick out your product from Amazons warehouse, pack it in one of their boxes, and ship it to the customer.  It's totally hands-free for you.  They also handle customer service in regards to returned products, so the time investment for you is minimal.
An Amazon seller outsources inventory management to Amazon's warehouses.  You use Amazon's superior resources to create an FBA product they then ship to your customers. It's a win-win for everyone involved!
You can sell new products that you manufacture, used products, or re-sell products that perhaps you purchased that are still in their original product packaging (often called retail arbitrage or online arbitrage).
There are some big benefits for using the Amazon FBA program as opposed to shipping products yourself (fulfilled by merchant):
Your product will be available for Amazon Prime shipping.  This is HUGE for many buyers to get free 2-day shipping.  Being able to ship via Prime and two-day shipping means you are likely to get more sales. Especially from Prime customers.
Amazon handles everything, so it's REALLY easy for you.  They handle shipping and returns. You just worry about your Amazon listing.
What Are the Amazon FBA Fees?
Now, of course, Amazon FBA costs money, and you have to pay Amazon fees (like monthly inventory storage fees) to do all of this. And you will need to weigh these fulfillment fees up when deciding whether to use Amazon FBA or not.
If you are curious to see how much the fees are, Amazon has provided an FBA calculator that I use all the time.
For example, if you wanted to sell this backpack or one similar to it, you can see exactly what your Amazon selling fees will be using their calculator. Just input the ASIN number (found in the URL or the listing as shown) into the FBA calculator.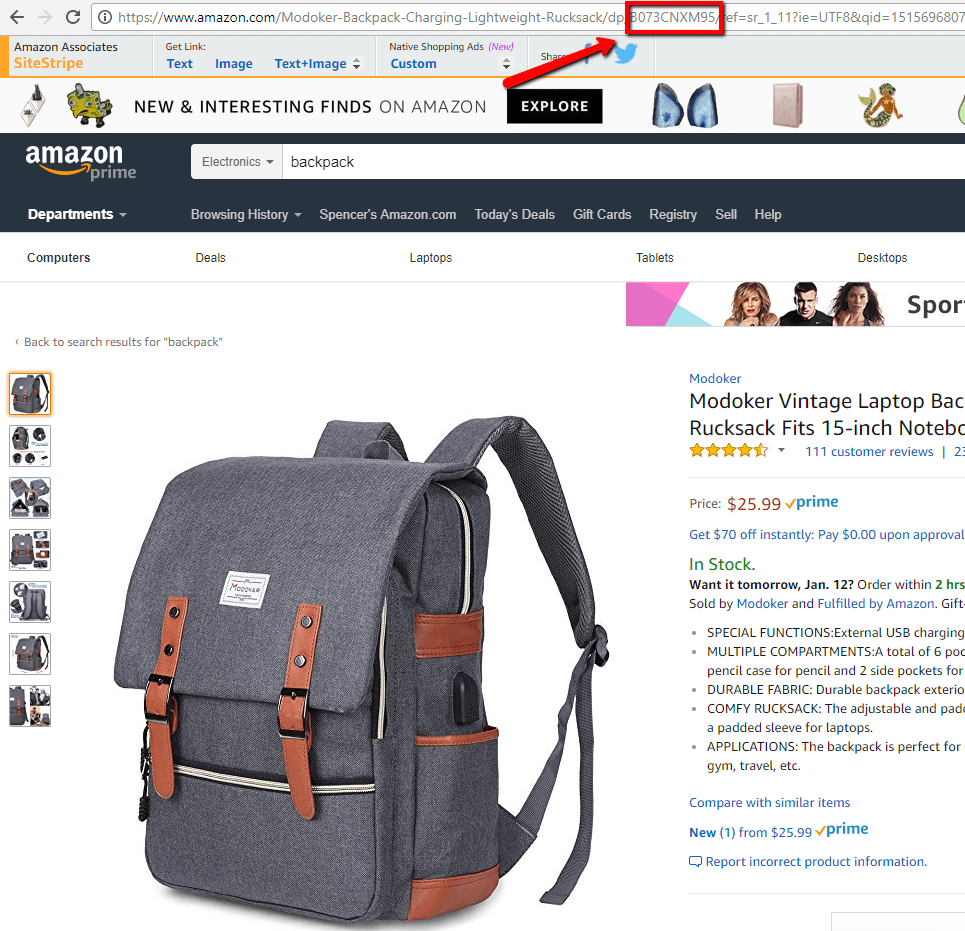 Here's what the Amazon FBA fee calculator looks like.
So, if I were to sell this item (backpack from above) my total Amazon seller account fees would be $8.63 ($3.90 + $4.73).  Here's an exact breakdown of all the FBA fees for this particular item:
Selling on Amazon fees = $3.90.  This $3.90 is the Amazon referral fee which is always 15% of the sale price of your items.  This is a 15% commission that Amazon gets for allowing you the privilege of using the Amazon platform.  You only pay this 15% when one of your items sells.
Fulfillment by Amazon Fees = $4.73.  This actually includes 2 fees: a fulfillment fee (for picking and packing items) of $4.57 and monthly inventory storage fees of $0.16 for using one of their fulfillment centers as a warehouse. These selling fees to your professional seller account vary based on the size and shipping weight of your product packaging.
Overall, this quick overview gives you a good idea of what Amazon FBA is and the selling fees associated with selling your items.
How to Sell On Amazon FBA
Before I dive in and show how I made $4,399 in my first 30 days of selling on Amazon, I want to share the different possible ways that you can sell.
In a nutshell here are your options for selling on Amazon FBA:
Retail arbitrage
Sell used or returned items
Sell wholesale products on your Amazon stores
How to Sell Private Label Products With FBA
My personal favorite way to sell with Amazon FBA is through selling private label products. This is how I generated $4,399 in my first 30 days and have much more since.
Private label products are those you find a manufacturer that already produces a product and then slap your label or brand on the box.  This is obviously a very simplified description, but that's essentially it.
Let's say you wanted to sell this Silicone wedding ring:
Well, it would be illegal to manufacture and sell an "HonorGear" branded silicone wedding ring.  However, "HonorGear" didn't invent the silicone wedding ring and there is no patent on it.  In fact, dozens of other sellers are already selling other silicone wedding bands.
So all you need to do is find a manufacturer that makes these types of wedding bands, and then just have your brand name stamped into the ring or on the box.
That's private labeling in a nutshell.
Find a manufacturer already producing something that sells, then ask them to produce it for you with your label.
As long as there are no patents, this is 100% legal and has been done for a really long time.
Most products bought and sold on Amazon don't have any IP or patent protection.
Think about common everyday products: forks, bedding, curtains, brushes, backpacks, etc. Whatever you can think of, it's very likely there aren't any patents on them.
Side note: I've written extensively about how to find the right product to sell on Amazon right here.
For all of my products, I've simply used Alibaba.com to find manufacturers producing the products I want to make. I then simply start communicating with them to get samples or modifications done.
Try to be unique
Just because you are starting with private label products doesn't mean you can't be unique!
For example, instead of a plain silicone wedding band, maybe you come up with a unique pattern that can be stamped into the ring to give it a unique style.
Or perhaps instead of black, you make it pink (this has of course been done, but hopefully this gets some ideas flowing for you).
For all of my products that have done really well on Amazon, I've always added some unique features to help them stand out from the crowd.
One of these "unique features" can even be something that your competitors are doing wrong.
Read reviews on your competitors' products. What are the bad reviews saying? If you can fix that problem, you'll have more customers than you'll know what to do with.
How to Sell with Retail Arbitrage
Retail arbitrage is simply finding something cheap at retail stores (like Walmart or Target) and then selling it on Amazon.com for more money. You can read more in-depth about how to get started selling with retail arbitrage right here.
Retail arbitrage is less risky than private labeling products.
You'll also find it less complicated. All you have to do is find items that are at a steep discount or on the clearance rack, verify that it sells for more money on Amazon before you buy it, then ship it into Amazon and wait for it to sell for more money!
The risk is low because you can verify that the product will sell before you ever buy it.
With retail arbitrage, you CAN sell other branded products.  So, if you happen to find a brand new pair of Nike Jordan's on sale for $20, you can likely sell it for $100 or more on Amazon. Just a heads up – reselling shoes is a big business.
You have likely noticed that some products on Amazon have "Available from Other Sellers."  For example, here is a screenshot of some Energizer batteries showing other sellers below the buy box:
If I click the link to see all the sellers, there are a total of 13.  And some of them are indeed Amazon FBA sellers: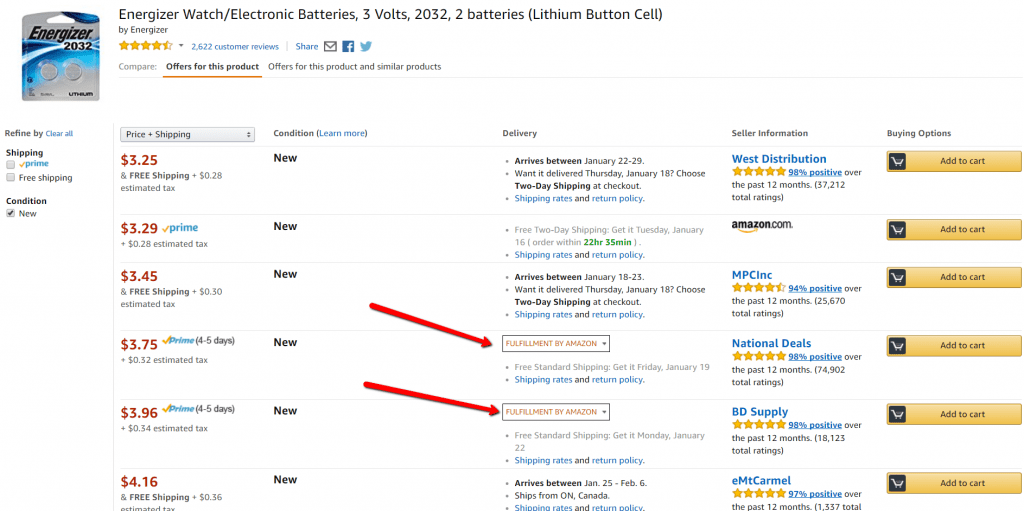 In general, this option is all about hustle and reduced risk. If you are able to find name-brand products that are selling well at a cheaper price than they are selling for on Amazon, then you should have no problem flipping that item and pocketing the difference as an Amazon FBA seller.
You can read a more complete guide to getting starting with Retail arbitrage right here.
How to Sell used or returned items on Amazon
Did you know that a huge volume of used or returned items are sold all the time on Amazon (and we even created a helpful guide on how to buy Amazon returns so you can profit)?  And these are not just being sold by Amazon the corporation. 3rd party sellers like us are profiting from it as well.
One of the best categories for selling used items is books.
In fact, you may even have books sitting in your home that could be listed and sold on Amazon right now! This is especially true for those over-priced college textbooks you may have laying around. Some books can be bought and flipped for a profit and textbooks can be a prime target for this type of flipping.
Pro tip: If you want to get an (almost) passive income stream of up to $1000 per month, you can check out Textrader to learn how to flip college textbooks.
Their course mentors you so that you learn what textbooks are the right ones to buy, how to price them, and the best way to resell these textbooks.
Click here to get started with Textrader and develop passive income.
check out textrader to get a passive income stream selling textbooks
Look at what options are available
With the exception of textbooks and reselling sneakers, most "used" categories are harder to profit from on Amazon.  If you are just trying to sell stuff around your own house, then eBay.com may be a better option.
On the other hand, if you still want to dip your toes into the returned items world, then Amazon can certainly be a great fit.
So, how do you find returned items that are still new in their product packaging?
The best source for buying pallets of returned items is Liquidation.com. You'll often be able to find returned items (often brand new in original product packaging) from Home Depot, other major retailers, and even Amazon itself.
The idea here is very similar to retail arbitrage. You find a pallet of items you want on Liquidation.com and have it shipped to you.
Then you go through the pallet and only ship the items to Amazon (via their FBA program) that you know will sell. Obviously you'll want to exclude any broken items.
Another option for buying liquidations is through Walmart directly!  You can go here to see truckloads and pallets of returned items that Walmart is selling.  As you can see, you can buy these returned items for dirt cheap.
It mostly comes down to how much you're willing to hustle as it's more labour-intensive than other options mentioned in this article.
How to Sell Wholesale on Amazon
I must admit that I've never bought wholesale from a manufacturer and sold retail on Amazon. The main idea for becoming a wholesaler is to find a brand that is not yet selling on Amazon and to convince them to allow you to sell their products for them. Like an authorized reseller.
An example of this might be a small local manufacturer that makes a unique product.  Perhaps they are really good at making the product and perhaps even running a local retail store. But they might have no idea or desire to get involved with online businesses and selling.
If you can make a deal with them, you can access a great brand at a wholesale price and sell for a profit on Amazon.
Look for advice from those with experience
Here are some additional words of wisdom that was recently shared on the Amazon FBA Seller central forums by a wholesaler:
We buy wholesale direct from manufacturers to sell and make profit on FBA sales. There is no easy, get-quick option. A viable business model requires being a business, having a wholesale license (which we have a full guide for how to get a wholesale license here), and making your buying and selling power to wholesalers/manufacturers clear.

I will not give my sources as I already have enough competition. However, a good place to begin is to find a local manufacturer that may benefit from selling to you so you can sell on Amazon. You may be lucky enough to get exclusive selling rights so that you can minimize competition.

This is how we got started years ago. After that arrangement we were able to market to other suppliers the value we offer and get more contracts and business. It was a rough and hard few years; trying to make the right decisions and learning from the mistakes of others.
How Much Money Can You Make Selling on Amazon FBA?
As you can see, there are plenty of ways that you can make money on Amazon.  However, my favorite option as an Amazon FBA seller remains private labeling products (manufacturing my own products). This has larger profit margins and usually room for growth than the other options mentioned.
I know you guys want to see the screenshots of income, so here you go!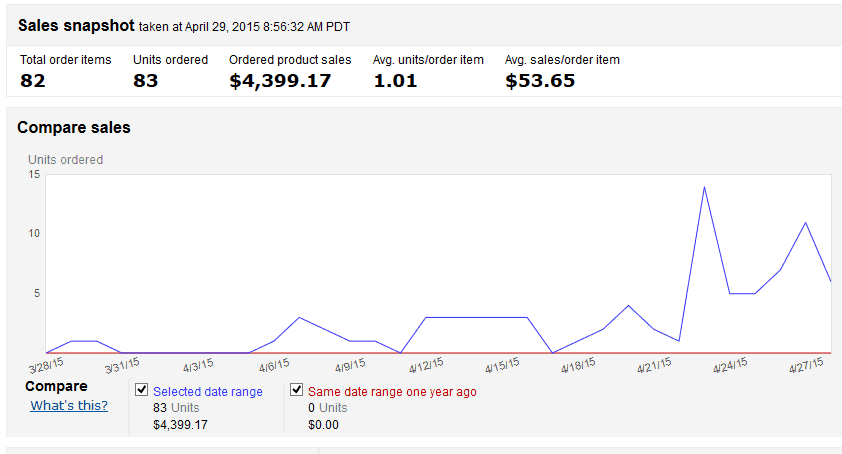 This is a screenshot from my first 30 days selling on Amazon. This is also my very first 30 days of having a private label product listed.
I was NOT expecting to make $4,400 in my first month of listing the product! This went from a little side project that I tried not to spend much time on to a business with huge growth potential.
In fact, I saw so much potential after 30 days of selling on Amazon, that I decided to ramp up quickly and start selling more products.
If we fast forward a couple of years after I took that first screenshot, I've now sold well over a million dollars worth of product on Amazon.
(In fact for a quick update, I sold the Amazon FBA business this screenshot was taken from for $425,000.)
But What About the Profit?
I want to be clear that the above numbers are REVENUE numbers, not PROFIT. I don't expect to make much money on the first 100 units sold, but I expect my profit margins to be 30% or more for all units sold in the future.
Here's a quick breakdown of fulfillment fees for my first batch of 105 units ordered:
Manufacturing costs: About $1,000
Logo/branding/photo editing: $150
Shipping products/Freight costs: $2500
Amazon fulfillment fees: About $15/unit
Giveaways/Discounts: 20 units (about $1,000 in soft costs)
So, as you can see from the screenshot above, at the time I sold 83 units. The screenshot shows the full revenue, even on units I actually sold for $1.
So, after coupons (12) and giveaways to family/friends (8), the actual revenue was about $1,000 less.
My total Amazon FBA fees on those sales were approximately $1,245.
With some quick math, you can see my total costs were about $4,880.  So, I was still slightly in the hole, but I broke even after the final 22 units sold from this batch.
And remember to sell on Amazon FBA costs money in the start but in the end, my net profit was MUCH greater for each new batch.
I was very happy to just break even with this first batch as it was just a test order of 105 units.
A Note on Shipping Costs
Also important to note is that my shipping costs were extremely high, and that was a conscious decision that I made. I chose to ship them via air to get them to Amazon faster.
Not only is shipment via air faster than ocean freight, but at the time, there were some port strikes going on that would have likely delayed things another couple of weeks.  So, I bought myself about a month by paying extra.
Maybe not the smartest decision from a dollar and cents perspective, but it DID allow me to test things quicker and I'm now about a month ahead of where I would have been in placing my next order.
I typically ship via ocean freight. And I highly recommend that you almost always take the shipping method with the lowest fees whenever possible.
Ocean freight for my first 105 units would have cost about $350. So, the extra shipping cost was really what eliminated my chance at decent profit margins.
If I had gone ocean freight, my net profit would have been about $2,000 on my first batch. Which is very close to a 40% profit margin.
So, even though I didn't really make any money on my first order I was able to start making about 30-40% profit margin on all future orders from China.
I also managed to get my products cheaper (because I started to make larger orders). Plus as time went on I didn't have logo and branding costs anymore, and my shipment/freight costs were significantly lower per unit.
So, I didn't "really" made any money in the first month…but those first FBA sales helped me quickly break-even and lay the foundation for a very profitable business and exit.
What Are The The Best Products To Sell On Amazon FBA?
I've written about what to sell on Amazon a lot in the past, so now is a good time to bring everything full circle. We've just gone over to how to sell on Amazon FBA but just important is figuring out what to sell with your Amazon store.
A few principles to keep in mind when you start an Amazon store.
1. Find some competitors… but not too many
A little competition is good because it helps you know the product is viable. If there's no one selling something you're looking to manufacture, you could be the 1st person out of 7 billion to think about making that widget. Or it could mean that other Amazon stores have tried and didn't make any money.
(The second option is more likely).
If there are a few competitors in the space, it means that the product is profitable and worth producing.
A product with no competitors can also be a signal that the margins aren't high enough or that there are other unforeseen problems.
On the flip side, make sure there aren't too many competitors. If you find a great product and all your competitors have 2000+ 4-5 star reviews, that could be a bad sign. You might be biting off more than you can chew without significant connections or resources.
The sweet spot for your Amazon store as an Amazon FBA seller is to find a few products similar to yours on page 1 of Amazon that have less than 50 quality reviews. And if some of the highest-ranking products have a few negative reviews, even better. You can exploit those negative reviews by fixing those problems for quick wins over your competitors.
You can seize on this information to take advantage of a good potential FBA product.
2. Target Amazon FBA Products That Sell For Under $100
This is not a hard-set rule.  However, if you are just getting started, the best price range of products to consider selling is under $100. Many sellers do well with higher-priced products, and if you have the capital, then by all means go for it.
It may sound great in theory, but the reality is that the profit margins for products over $100 are often no higher than they are for products under $25. For both options, you can make somewhere between 15-45% profit for each unit sold.
Consider a cost-benefit analysis
Going for a more expensive product doesn't cost you in profit, but it does require a higher initial investment.
Also, once you creep over $100, you're out of the "impulse buy" category. And now you're talking about things like laptops, TVs, furniture, etc.
For these purchases, customers are more likely to talk to their spouse, read more reviews, look for videos on YouTube, etc.
The further away you are from the "impulse buy" range, the fewer customers you'll end up with.
For first-time users of Amazon FBA, it's better to go for a high-quality, less expensive item. If you want to move to big-ticket stuff after your small business is set, go for it.
3. Choose A Product With A Good Best Seller Rank
A metric that you can refer to in choosing a product to sell on Amazon is its bestsellers rank (BSR).
If similar products are ranking on top of the list (a best seller rank of 1 is the best selling product in the category), it means that there's demand for them.
Choosing products identical to the ones found in the list allows you to position your business on par with these bestsellers. As a result, you can attract the target market of bestselling products and get them to buy from you instead.
You want to see that several of the top listings have a BSR of around 3,000 or better.
I heard a great tip on the AMPM podcast that you should look for the top 3 results with BSR under 3,000.
This means not only is there a demand for the product but there are also multiple products selling well. In this case, at least 3 different products are hot sellers, which is an indicator that the market is receptive to different brands.
Also, the BSR I am referring to here is the main category. In the image above, the main category (Pet Supplies) hosts the product (under Cats > Little & Housebreaking > Little category). While the subcategory BSR of the product is impressive, its performance in the main category is what matters most.
Since it will be competing against other pet supplies products, a high BSR means that it is an in-demand product.
4. Avoid Name Brands Like They Carry The Bubonic Plague
If you can recognize one of your competitors' names, it's best to avoid that niche.
Don't fight Nike, Kleenex, or Tommy Hilfiger. You'll waste a lot of time and a lot of money fighting a nearly impossible fight.
5. Find A Keyword With Lots of Search Volume and Optimize For It
This is the golden ticket of Amazon FBA and the one that most of your competitors will miss out on.
You need to find a product that gets a lot of search volume from customer's search query data. If a product has lots of search volume but is missing dominant players, it is ripe for a new entry (you).
Look for places where your competitors aren't optimized for that keyword. Maybe they're ranking high for "best starter chicken food," but they don't have that in their product description. Maybe it's not even in their product title.
Finding missed optimization opportunities like this is key for growing your FBA business past anything your competition can match. But this type of optimization will only help you if there's search volume to begin with.
You don't have to fumble around on Amazon. Look at their bestseller list, and take the guesswork out of it. Trying the educated guess route can waste you a lot of money on bad products and a lot of time on failed businesses. Learning how to sell on Amazon FBA doesn't have to be complex, difficult, or a waste of money.
When I found my product that made $4,399 in 30 days, I used Jungle Scout to show me the most searched keywords from customer's search query info and the least optimized competitors. And as a reader of Niche Pursuits, you can get a 30% discount on Jungle Scout.
Get Jungle Scout and stop wasting time and money.
Click here & get a headstart on your Amazon FBA business
Jungle Scout gives you a discount if you purchase from one of my links.
Why Did This First Product Sell So Well With Amazon FBA?
Now comes the more meaty question.  "Why did your Amazon FBA product sell so well?"
Why do my products get Amazon orders while many competitors don't?
Create a Slightly Unique Product
First, I DO think a big part of the reason is that it's a slightly unique product.
I don't want to give away my product, so it's difficult to explain what that unique feature is…but it's nothing revolutionary.
Remember, I am selling private label products on Amazon. This means I'm taking a product, then finding a manufacturer to create my own brand of backpacks (just an example, not what I actually sell).
I just took an existing product and made it slightly different (like a different color, or has more padding) and there you have private label products in a nutshell.
Now, because I'm pretty much the only listing that offers this exact product with the variation I added and I KNOW people want this feature, it's selling.
Rank on Amazon with Long Tail Keywords

The second reason this item is selling well is that my product is ranking well on Amazon for several long-tail keyword phrases. Yes, this was intentional. I treated my product description like a niche site and used my targeted keywords in the product title and the product description. Think of it like Amazon SEO.

Because of these 2 factors: unique product and showing up for long-tail phrases, I was making about 2 to 3 sales a day after about 2 weeks of being listed.  I did have a few "sales" from friends and family over the first 3 weeks…but that was 8 units total.

[su_note]Wondering If Your Idea Will Sell? Click here to try Jungle Scout for free and see how much money your competitors are making. [/su_note]

I was making 1 to 2 sales per day before I had a single review on Amazon.  Honestly, I didn't do any marketing outside of getting a few friends and family members to buy the product (which I reimbursed them for doing).

I WOULD have done more marketing if I hadn't been so busy (vacation with family, New Media Expo, and running a full-time business outside of Amazon).

However, the organic FBA sales raised my eyebrows and I thought, "Okay, let's see what happens if I do some basic marketing!"

Jungle Scout is a great tool to help you find products to sell on Amazon, see my Jungle Scout Review.

But another great tool to help you do keyword research and find products to sell on Amazon is Helium 10.  You can read my full Helium 10 Review here.
Special Promotions and Giveaways on Amazon

The 3rd reason I think the product sold so well is promotion. As you can see from the image below, I had a huge spike in sales on April 23rd.  14 units sold that day…but 11 of those sales were from $1 coupons. I now use LandingCube for Amazon Promotions.

[su_note]Check out LandingCube. Click here to try it. [/su_note]

I issued $1 coupons to a group of Amazon product reviewers (not sure I'm ready to reveal the source). So, I didn't make any money from those coupons, but this sudden spike in sales did boost my Amazon best seller rank.

As a result, my product was listed higher on Amazon in various categories AND for the keywords I was targeting. As you can see after April 23rd, the sales continued to be much higher than before…but these were now organic sales!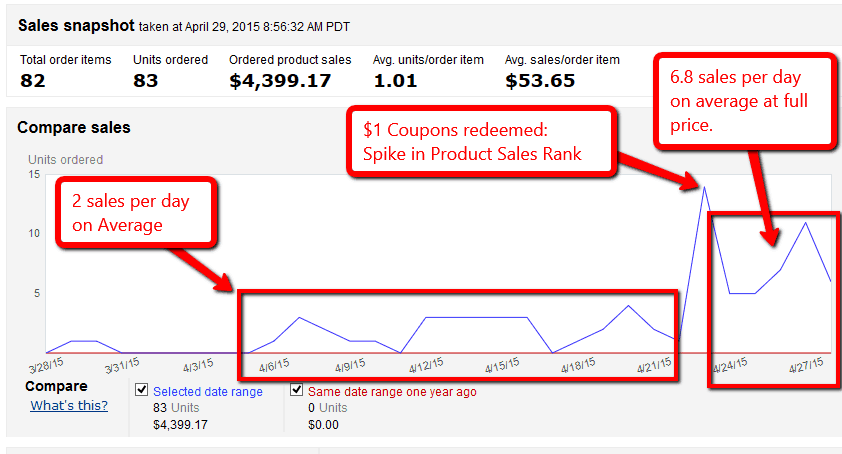 I started selling so much product, that I'm now worried I would run out of inventory.  As a result, I raised the full retail price and people continued buying even after a 50%+ selling price increase!
Here's a screenshot from my highest revenue day.  And yes, all of these sales are from people I don't know. All sold at full retail price (no coupons):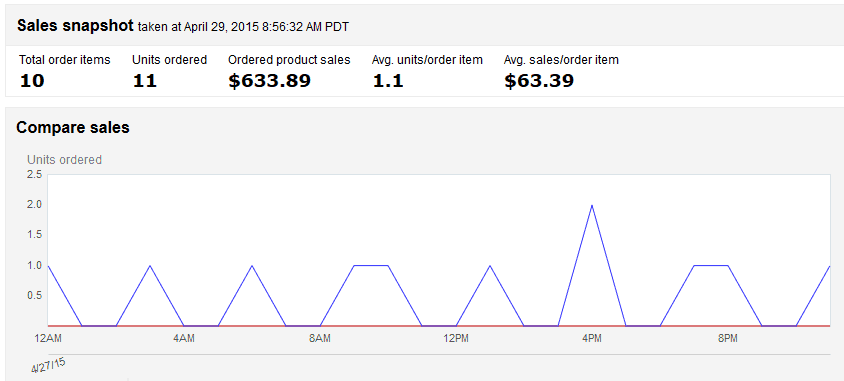 I have started to get a few reviews over the past week or so that I'm sure has helped with the sales as well. At the time this screenshot was taken, I had less than 6 reviews.
Common Problems In Amazon FBA
While I'm a big fan of the opportunities Amazon FBA provides, it's important to understand the common problems you will likely run into at some point. This goes beyond inconveniences like the multi channel fulfillment fee or getting different real-world results to what the Amazon FBA calculator predicted.
Using Amazon fulfillment centers is great. But you need to understand that nothing is perfect.
Inventory Issues
Because my products were selling well after 30 days, I decided that this business was the real deal and that I needed to order some more inventory.  At the rate I was selling, I figured I still had a couple of months before inventory would run out.
However, after doing my coupon promotion, getting a few more reviews, and increasing daily sales…I realized I would run out of inventory in less than a week! There were only about 22 units left and I sold 11 units on my best day…so you do the math.
I share some of these inventory issues because this is an ongoing battle for any Amazon FBA seller.
It's important to stay on top of how fast your products are selling to figure out the lead times to produce new batches.
As a result, I raised my price to slow down the sales each day to prevent my inventory from running dry too quickly. Unfortunately, with the sudden spike in sales, I wasn't able to get excess inventory fast enough and wasn't able to sell any items for close to 3 weeks during May.
Understanding Manufacturing Lead Times
My manufacturer takes about 3 to 4 weeks to produce the product, and international shipping via ocean freight will add at least 2 more weeks. So there can be months where I don't have any product ready for sale on Amazon.
So, when you start manufacturing and selling your own items on Amazon, you need to know that your lead time can be 1 to 2 months before you can "stock the shelves."
I wish I could wave a magic wand to make it all work out sometimes, but honestly, I'm not too worried about it.  The point of my first batch of products from China was to test the market to see if people were willing to buy.
The market has spoken loud and clear to me that people like my product!
So, even though I couldn't bring in too many sales while they were out of stock it did allow me to gear up for bigger things down the road.
After selling for 30 days, I thought it was very feasible that I could sell 10 units a day at close to $70 each.  This would be a monthly revenue of $21,000.  (The net profit on this would be about $11,000).  I've obviously gone way beyond that at this point.
In fact, I was able to add 7 more SKUs and had a number of months where I sold over $60,000 worth of product. That's around $30,000 in monthly profit.
Tax Setup
One thing you need to watch out for when selling with Amazon FBA is the tax implication of all your sales. This varies from state to state and you should contact a tax professional who knows about Amazon FBA for definite answers in your situation.
That said, here's my experience.
You will need to collect sales tax from your customers, that much is a given. The problem that you can run into is that each state has different laws regarding whether or not sales tax needs to be collected in that state.
Most states agree that if your goods are stored there (like in an Amazon FBA warehouse), then you need to collect sales tax.
Here's where it becomes a mess (and don't worry, the good news is coming).
Each state has different requirements on how much sales tax is collected and how often you have to file your taxes with the state. It depends on your volume of sales, but some states can even require that you file monthly.
Just shoot me now, why don'tcha?
Now for the good news. An automated service called TaxJar can take care of literally every bit of this for you.
You don't have to deal with individual states. You don't have to keep up with due dates, and you don't have to waste your life filing taxes. TaxJar saves you from exorbitant fees with your accountant and a ton of wasted time.
Save yourself time and money with TaxJar
A Quick Timeline of Selling on Amazon FBA
As explained, I honestly first heard about this business only a few months before I got started.  After doing some quick research and my podcast interview with Chris Guthrie, I figured this business didn't seem too complicated after all.
I thought it might be interesting to recreate the timeline from when I discovered this business through my first 30 days of selling.  The idea behind this is to show you what kind of timeline you can expect if you decide to get into this business.
Here's how it happened
October 2014 – I learn about the Amazon FBA business
December 2, 2014 – I interview Chris Guthrie on my podcast about his Amazon business
December 27, 2014 – I eat 12 donuts in one day.  Don't ask.
Jan 1, 2015 (at midnight) – Light off massive fireworks…possibly from China. A sign of things to come?
January 8th, 2015 – I have my first "aha" moment and decide on a unique angle for a product I can sell on Amazon (I remember the date because I found scribbled notes in my notebook).
January 10th – I go to Alibaba.com and contact 4 manufacturers in regards to my product.  Just a quick email to each with some basic questions.  We exchange emails over the next several days.
Jan 20th – I order a sample product from the manufacturer that was able to best produce my product.  (I only found one that was able to easily add the features I requested).
February 3rd – I receive the sample product. It's exactly what I wanted!
February 4th – I take pictures of the product.
Feb 5th – I hire someone on Upwork to create the logo and product packaging / branding.
Feb 6th – Contact logistics company to work out shipping details. We exchange several emails over the next month.
February 12th – I have my logo/branding ready and place my first order of 105 units from my manufacturer!
February 13th – The manufacturer informs me that the Spring Festival Holiday is starting in China and that the factory is shutting down until March 5th (an almost 3-week shutdown!).  They expect my order to be completed 2 weeks AFTER March 5th.  I'm sad about that 🙁
March (sometime) – I create my Amazon FBA seller listing and write product descriptions, upload images, and get everything ready to sell on Amazon.
March 12th – Manufacturer completes the batch of 105 units (a week ahead of schedule!).
Mar 16th – The product is loaded on a plane and flown to the US.
Mar 24th – The product has gone through customs and the logistics warehouse. The product is shipped to the Amazon FBA warehouse.
March 28th – Amazon processes the product in their Amazon fulfillment centers, and my product listing goes live!
Mar 29th – My first customer buys my product.  I'm super excited to make my first sale using Amazon FBA!
Mar 30th – I go on a week-long vacation with my family (Spring break) and totally ignore the FBA business other than checking stats.
April 29th – In 30 days, I have sold $4,400 worth of the product!
I hope this breakdown of the timeline gives you an idea of what it takes to get a product up on Amazon.  This is not an overnight business.
From the product idea (my aha moment) to having a listing up on Amazon was about 2 and a half months.
A Quick Update (from 2016)
I've continued to sell private label products on Amazon ever since my first 30-day trial.  Business has been good! I have been manufacturing and selling private label products now for over 2 and a half years.
After seeing the success of my first product, I quickly ramped up to 8 products. Here's a screenshot showing my sales from 2016:
I sold the first brand after 2 and a half years because it was doing so well. Again, you can read all about selling my Amazon FBA business here.
Read on to discover how to launch and grow quickly on Amazon.
Next Steps for Scaling Your Amazon FBA Business
After I tested the waters and saw the revenue coming in, I started scaling the business.
Consider a similar plan to what I did below to help scale your e-commerce business.
Once the sales were coming in:
I contacted my current and other manufacturers to get samples of similar products to what I'm already selling. I believe that I can easily get 5 or 6 products up in my chosen niche. It's impossible to know how each individual product will sell, but it's clear that there is a very healthy market here.
I also began doing adding more enhanced marketing features to my strategy (once I have excess inventory available) to get more reviews, increase the Amazon best sellers rank, and make more organic sales as a result.
Finally, I plan on going outside of Amazon as well in the future. I want to build my own website related to my product. I'll write informational articles to get natural traffic from Google and then people can buy the product directly from my site as well.
Always look to diversify as an FBA Seller
That's right, I'll be building an eCommerce site. The best part is that when you get a Shopify site up selling your own products off of Amazon, you can still have Amazon store, pack, and ship products when you make sales on your e-commerce site (but definitely check out our comparison of Shopify vs Amazon FBA here)! This is called multi channel fulfillment.
So, Amazon FBA fulfillment can indeed extend to sales off of Amazon if you want it to. That's an entirely different discussion though, but just know that if you make product sales on your own site, on eBay, Walmart.com, or other selling platforms, you can indeed use the multi channel fulfillment option to have Amazon fulfill those orders – for a fulfillment fee.
I see a lot of crossover between my experience with building a blog or brand, SEO, keyword research, site building with proper themes, and now Amazon FBA.
Yes, this is a new business venture and this blog post is clearly dripping with optimism, but I plan to capitalize as much as possible on this opportunity.  Will everything work out as planned?  Probably not exactly.  But I see no reason why I shouldn't pursue Amazon FBA and try to grow this into a healthy business.
Overall, I haven't been this excited about a business in a very long time.
We'll see where the ride takes me.
Start Selling on Amazon FBA ASAP
So there you have it. You now have everything you need to start selling on Amazon FBA.
Now that you know how to sell on Amazon FBA, there's nothing stopping you other than you (but if you still need an extra boost, we do have an article about Amazon FBA coaches). What I don't recommend is picking a product at random and calling up a manufacturer to start production. Picking the wrong product can cost you a lot of money (and a lot of wasted time).
You need to know what people are searching for so that you can solve their needs. When you're producing what people want, they can't help but buy from you.
This is where Jungle Scout is so important for your market research. It helps you find what keywords people are searching for on Amazon. Using this knowledge, you can find low competition, high search volume products that you can produce and sell. It even offers you enhanced marketing features like review automation and listing optimization. And it's an invaluable tool for any Amazon FBA business (but also check out our AMZScout review for an alternative beginner tool). Get a 30% discount on Jungle Scout here.
Try jungle scout now
As always, I would love to hear your thoughts on the subject.  Are you currently selling a product on Amazon?  Do you have any comments or questions that you would like to add to the discussion?  Let's hear it below.
1. Jungle Scout – Get new product ideas and evaluate competitors
2. JumpSend – Run promotions and deals
3. Helium 10 – Evaluate competitors & see where we rank for keywords
4. SalesBacker – Automated follow-up to get more reviews
5. Fetcher – Track actual profit numbers
6. SEMrush – For keyword research.  See my SEMrush Review.
Want to learn step-by-step how I built my Niche Site Empire up to a full-time income?
Yes! I Love to Learn
Learn How I Built My Niche Site Empire to a Full-time Income
How to Pick the Right Keywords at the START, and avoid the losers
How to Scale and Outsource 90% of the Work, Allowing Your Empire to GROW Without You
How to Build a Site That Gets REAL TRAFFIC FROM GOOGLE (every. single. day.)
Subscribe to the Niche Pursuits Newsletter delivered with value 3X per week