14 Best Education Affiliate Programs To Monetize Your Blog
When you buy something through one of the links on our site, we may earn an affiliate commission.
Are you looking for the best education affiliate programs to monetize your education blog? You've come to the right place.
In the digital world we live in, skills quickly become obsolete. As a result, people are always learning new skills or improving the skills they already have.
And thanks to the internet and various training platforms, you can learn anything you want to without going to a physical class.
Regardless of the nature of your blog or traffic generation techniques, below are some of the education affiliate programs you can earn from.
Best Education Affiliate programs
Here is a list of great education affiliate programs in no particular order for you to promote and profit!
Babbel Affiliate Program
Babbel is one of the best language online learning platforms, especially for beginners. The name is derived from the Tower of Babel in the bible, which tries to explain how multiple languages came to be.
Launched in 2007, Babbel offers an intuitive way of learning a new language thanks to their team that comprises native speakers, editors, researchers, polyglots, and teachers. The platform teaches up to 13 languages, which include;
English
Spanish
Dutch
German
Russian
Turkish
Swedish
Indonesian
French
Italian
A learner gets to choose what to learn and how long the language training courses should be, based on the level they're in.
Better yet, the language training courses are also offered based on the industry or occasion. For instance, you can learn marketing, traveling, or business-related words. This makes it easier to learn the relevant vocabulary faster.
Babbel is offered on a subscription basis, with prices starting at $6.95 per month or a $499 one-time fee where the learner gets access to all languages for a lifetime. Affiliates earn $32 for every sale, which is pretty great.
Cookie Duration – 45 Days
Commission Rate – $32 Per sale
Minimum Payout – N/A
Affiliate Networks – N/A
JOIN BABBEL AFFILIATE PROGRAM
Bionic Turtle Affiliate Program
If you're in the finance industry, you probably already know how vital certification is –most importantly, the FRM (Financial Risk Management) certification.
Those with this certification, also known as FRMs, are equipped with knowledge and skills to assess risks and work in top banks, insurance companies, asset management firms, and accounting firms.
To become an FRM, you have to take and pass two exams. So, where does the Bionic Turtle come in? This e-learning program helps you prepare for the FRM exams through study materials, quizzes, and collaboration with experts and peers.
If you have a target audience aligned with this niche and they want to pass the FRM exams, you can recommend Bionic Turtle. Having been in business since 2003, they've built enough credibility, which makes it easy to trust them. And the 20% commission rate is pretty good, considering their prices start at $349.
Cookie Duration – 60 Days
Commission Rate – 20%
Minimum Payout – N/A
Affiliate Networks – N/A
JOIN THE BIONIC TURTLE AFFILIATE PROGRAM
Brain Sensei Affiliate Program
Brain Sensei helps students prepare for CAPM and PMP certification exams in a more interactive and engaging method.
Instead of the usual PowerPoint presentations you'll find in most courses, Brain Sensei uses animations based on the Japanese samurais to tell stories revolving around project management principles.
Currently, they have over 900 courses, which a student can access over 180 days. Their commission rates range from 10% to 40%, which is quite promising since their courses cost more than $400.
Cookie Duration – 60 Days
Commission Rate – 10%
Minimum Payout – $10
Affiliate Networks – Sovrn (Formerly Viglinks)
JOIN BRAIN SENSEI AFFILIATE PROGRAM
BloomTech Affiliate Program
Formerly known as Lambda, BloomTech takes a different approach to e-learning. While an online learning platform typically requires students to pay upfront, with BloomTech, you start learning for free with an agreement that you'll pay them once you get a job and earn more than $50,000 per year.
BloomTech collaborates with employers to learn the skills they need, then teach students these skills. As a result, their graduates have a higher chance of securing employment.
You can refer a friend to BloomTech, and earn up to $250 per referral, making it the highest payout you'll find in most online education affiliate programs.
However, their application process is quite rigorous, and you have to have to be an alumnus of BloomTech to refer a friend.
Cookie Duration – N/A
Commission Rate – $250 per referral
Minimum Payout – N/A
Affiliate Networks – N/A
JOIN BLOOMTECH AFFILIATE PROGRAM
Discount School Supply Affiliate Program
Education is not all about courses and preparing for certification. Physical educational products like school supplies, STEM learning tools, furniture, etc., also play a significant role in setting the foundation for education.
Discount School Supply specializes in these educational products, specifically for kids aged between 6 months and early teens (up to 8th grade). Any product you think your child needs at this age, you can find it at Discount School Supply.
The broad scope of products and the excellent reputation they've built since 1985 make it easier for an affiliate marketer to promote their products.
A 4% commission rate may not be the highest, but you can cash in on volume sales, especially during back-to-school or holiday offers.
Cookie Duration – 1 Day
Commission Rate – 4%
Minimum Payout – $50
Affiliate Networks – CJ Affiliates, PepperJam
JOIN DISCOUNT SCHOOL SUPPLY AFFILIATE PROGRAM
Hooked On Phonics Affiliate Program
Hooked On Phonics provides an easy and fun way for kids to learn how to read. Started in the 1980s, Hooked On Phonics is famous for the terms "Hooked On Phonics Worked For Me" and "Learn to Read."
Hooked on Phonics has adapted to the changing dynamics in online education and technology by expanding into computer games, videos, books, flashcards, apps, and many other media types.
They also ventured into teaching other skills such as Spanish, handwriting, and spelling.
You can recommend Hooked On Phonics' products to friends or on your blog and earn a 10% commission on each sale. They also have a subscription service where they'll pay $20 for every subscriber you refer from the US and $13 for every subscriber you refer from Canada.
Cookie Duration – 90 Days
Commission Rate – 10%
Minimum Payout – $50
Affiliate Networks – ShareASale
JOIN HOOKED ON PHONICS AFFILIATE PROGRAM
LinkedIn Learning
LinkedIn is one of the fastest-growing social networks. But unlike Facebook or Twitter, a large percentage of LinkedIn users are professionals seeking to connect or find better opportunities. They may also be companies hiring for the best talent.
That's why creating LinkedIn Learning, an online learning platform with courses in the tech, creative, and business industries, seemed like a good idea. LinkedIn users don't just get to connect, but they can also learn new skills.
LinkedIn Learning offers monthly subscriptions, annual subscriptions, and a chance to buy standalone online courses.
As an affiliate, you can earn up to $40 for every monthly subscription and up to 35% on every standalone course you refer. You also gain access to banners, in-text links, and free-trial offers to help you promote and sell online courses.
Cookie Duration – 30 Days
Commission Rate – One-time $40 for monthly subscriptions and 35% Per Standalone Course
Minimum Payout – N/A
Affiliate Networks – Impact Radius
JOIN LINKEDIN LEARNING AFFILIATE PROGRAM
Masterclass Affiliate Program
Masterclass sets itself apart from the rest by allowing you to learn directly from the experts. You may have come across some of their video ads on YouTube or Facebook.
If you're a tennis fan, you can learn directly from Serena Williams. Other notable experts include Bobbi Brown teaching the art of makeup and Ru-Paul teaching self-expression and authenticity.
These online courses are packaged in podcasts, videos, and practice assignments.
I don't know about you, but learning from an expert is reason enough for people to choose Masterclass over other e-learning platforms.
Unlike most platforms where you buy one course, Masterclass offers a $180 annual subscription plan where you get access to all the online courses, but you can only stream on one device at a time.
If you want to stream on more devices, you can subscribe to the $240 per year plan that offers 2 devices or the $276 plan that offers 6 devices.
Besides offering a 25% commission rate, they also offer bonuses when an affiliate reaches a milestone. These include;
$100 bonus for $1500 total sales
$150 for $3500 total sales
$200 for $6000 total sales
$250 for $9000 total sales
$300 for $12,000 total sales
Cookie Duration – 30 Days
Commission Rate – 25%
Minimum Payout – N/A
Affiliate Networks – ShareASale
JOIN MASTERCLASS AFFILIATE PROGRAM
Pluralsight Affiliate Program
Pluralsight is one of the best places to learn coding and software development. I first learned about them through the free scholarships they offered in partnership with Google and other tech companies.
But Pluralsight makes money on a subscription basis. Instructors apply to become authors on Pluralsight, and once approved, they can start creating courses on a variety of topics.
On the other hand, learners can choose a monthly subscription, which costs between $19 and $29, or an annual subscription that costs between $159 and $239. They also offer a 10-day free trial.
Pluralsight is also one of the best education affiliate programs in the tech niche since affiliates can earn in three ways. First, you get to earn $5 for every new learner who subscribes to the free trial.
If the student chooses the monthly subscription, you earn 50%. If they choose the annual subscription, you earn 15%, and if they go for the premium subscription, you'll earn 10%.
These are some of the highest commission rates you'll find in an education affiliate program. And to crown it all, their cookie lasts up to 45 days.
Cookie Duration – 45 Days
Commission Rate – 5% for the free trial, 50% for the monthly subscription, 15% for the annual subscription, and 10% for the Premium subscription
Minimum Payout – N/A
Affiliate Networks – Impact
JOIN PLURALSIGHT AFFILIATE PROGRAM
SkillShare is a leading online learning platform for entrepreneurs and creatives, offering more than 30,000 courses in freelancing, entrepreneurship, gardening, designing, and many other industries.
Like most e-learning platforms and some SkillShare alternatives, SkillShare offers a subscription service, where the student gains access to all courses on the platform. These plans cost $32 per month or $168 per year. SkillShare also offers plans for teams that want to take courses together.
Try SkillShare Here
You can join SkillShare's education affiliate program and earn $7 for every user who joins the paid programs. They also host their affiliate program on Impact Radius, where affiliate marketers can access banners, ads, and tracking tools.
Cookie Duration – 30 Days
Commission Rate – $7 Per sale
Minimum Payout – $10
Affiliate Networks – Impact Radius
JOIN SKILLSHARE AFFILIATE PROGRAM
Teachable Affiliate program
Teachable is one of the best course creation and coaching platforms in the education industry. And as an affiliate, you can earn by promoting Teachable to course creators or promoting individual courses. Either way, they have some of the highest commission rates.
Try Teachable Here
When promoting courses, you can earn between 30% and 70% recurring commissions on the sale, depending on the course.
The rates differ since Teachable gives course creators the freedom to design their educational affiliate programs. The commissions are recurring because courses are sold on a monthly fee, and the course prices range from $39 to $499.
When promoting Teachable to course creators and coaches, you earn up to 50% recurring commissions as long as the course creator pays the annual subscription fee, which ranges from $0 to $249 per month.
As an affiliate, you also have access to a discovery tool where you find the best courses, A/B testing, reporting, banners, and ads to run your campaigns and earn affiliate income.
Cookie Duration – N/A
Commission Rate – 30% to 70%
Minimum Payout – $50
Affiliate Networks – N/A
JOIN TEACHABLE AFFILIATE PROGRAM
Thinkific Affiliate Program Pays Nicely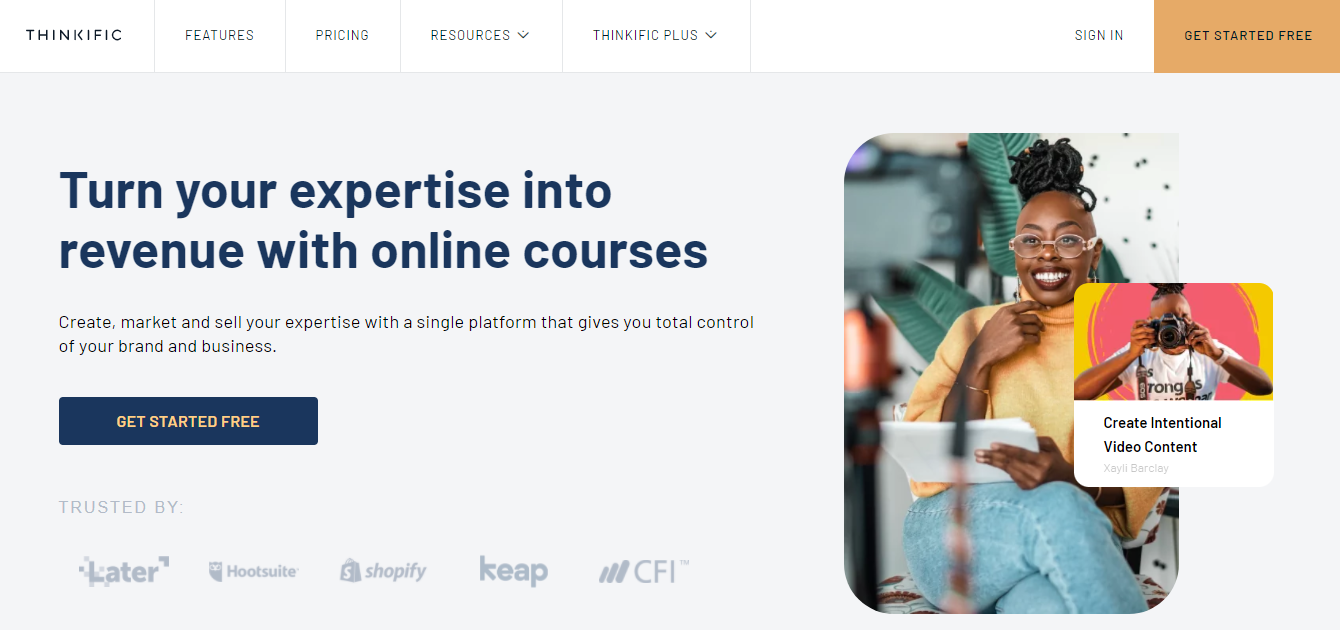 Thinkific makes course creation easy even for those who aren't tech savvy (and we've got a full Thinkific review).
Instead of purchasing a new domain name and integrating different plugins for a course, ThinkiFic gives you all the creation and marketing tools within one platform.
As such, you don't need to learn any coding to build your course.
This course-creating platform is offered on a subscription basis for $39, $79, or $399 per year. But they also have a free plan when you need to test if it works for you.
Suppose you're an affiliate marketer with a target audience consisting of coaches, entrepreneurs, or hobbyists who want to create and sell courses. In that case, ThinkiFic may sound like a perfect fit for you.
They offer a 30% recurring income on the subscription, which translates to about $1700 per referral in a year. Which is quite a nice and sizeable payout compared to some other affiliate programs.
Cookie Duration – 90 Days
Commission Rate – 30% Recurring Commissions
Minimum Payout – $50
Affiliate Networks – N/A
JOIN THINKIFIC AFFILIATE PROGRAM
Udacity Affiliate Program
Udacity is one of the best places to learn the latest tech skills. It started as a free computer and tech skills class at Stanford University, but it became a fully-fledged e-learning platform in 2012.
Unlike other e-learning platforms where independent course creators enroll and create courses, Udacity partners with top companies in the tech industry, such as Google, Intel, and Facebook.
These companies contribute mostly learning materials, but Udacity has also benefited from several venture capital funding rounds. That's why it's possible for them to offer free courses.
Udacity hires highly qualified instructors through a thorough recruiting process, which ensures the quality of the courses.
The courses are packaged in the form of pre-recorded videos and auto-graded quizzes, where you can get a certificate upon completion of a course. However, you need to verify your identity to get certification from their nanodegree programs.
Udacity hosts their affiliate program on Impact, allowing you to promote any of their nano-degree programs. Instead of a commission rate, they pay $25 per order, per person, and per month.
That means that if the learner buys another course within the same month, you won't earn a commission from it. But this shouldn't stop you from trying it out.
Cookie Duration – 30 Days
Commission Rate – $25 Per order
Minimum Payout – $10
Affiliate Networks – Impact
JOIN UDACITY AFFILIATE PROGRAM
Udemy Affiliate Program
Udemy is one of the most popular online courses platforms. They have thousands of courses in any niche you could think of.
When finding ways to make money online, I took courses on writing, transcription, and front-end web development on Udemy. The good thing about this platform is you can learn a new skill for as little as $9.99. And it's very easy to create your own online courses.
So, what's in it for affiliate marketers?
You can promote Udemy in two ways. First, you can use the provided banners based on the affiliate network you're using. Second, you can use deep linking to promote a specific course. Deep linking seems to work best for most affiliates, but you can try both and pick one that works for you.
A 15% commission rate isn't that bad, considering some courses can cost up to $100. However, Udemy often slashes the course prices, and some learners will wait for such deals, translating to lower commissions for you.
Another downside is the 7-day cookie duration, which is relatively short. Most other affiliate programs have a 30-day cookie duration.
Cookie Duration – 7 Days
Commission Rate – 15%
Minimum Payout – $50
Affiliate Networks – FlexOffers, Awin, Impact, Rakuten Advertising
JOIN UDEMY AFFILIATE PROGRAM
Education Affiliate Programs in Closing
And that wraps up my list of the best and most popular education affiliate programs. I picked 14 of the best, but there are thousands of programs ranging from courses, schools supplies, and student finance.
You just have to find affiliate programs that work for you. Do your due diligence to make sure you're promoting legitimate products, and apply the best affiliate marketing practices.
Want to learn step-by-step how I built my Niche Site Empire up to a full-time income?
Yes! I Love to Learn
Learn How I Built My Niche Site Empire to a Full-time Income
How to Pick the Right Keywords at the START, and avoid the losers
How to Scale and Outsource 90% of the Work, Allowing Your Empire to GROW Without You
How to Build a Site That Gets REAL TRAFFIC FROM GOOGLE (every. single. day.)
Subscribe to the Niche Pursuits Newsletter delivered with value 3X per week