Money Robot Review: Pros, Cons, Pricing, and Alternatives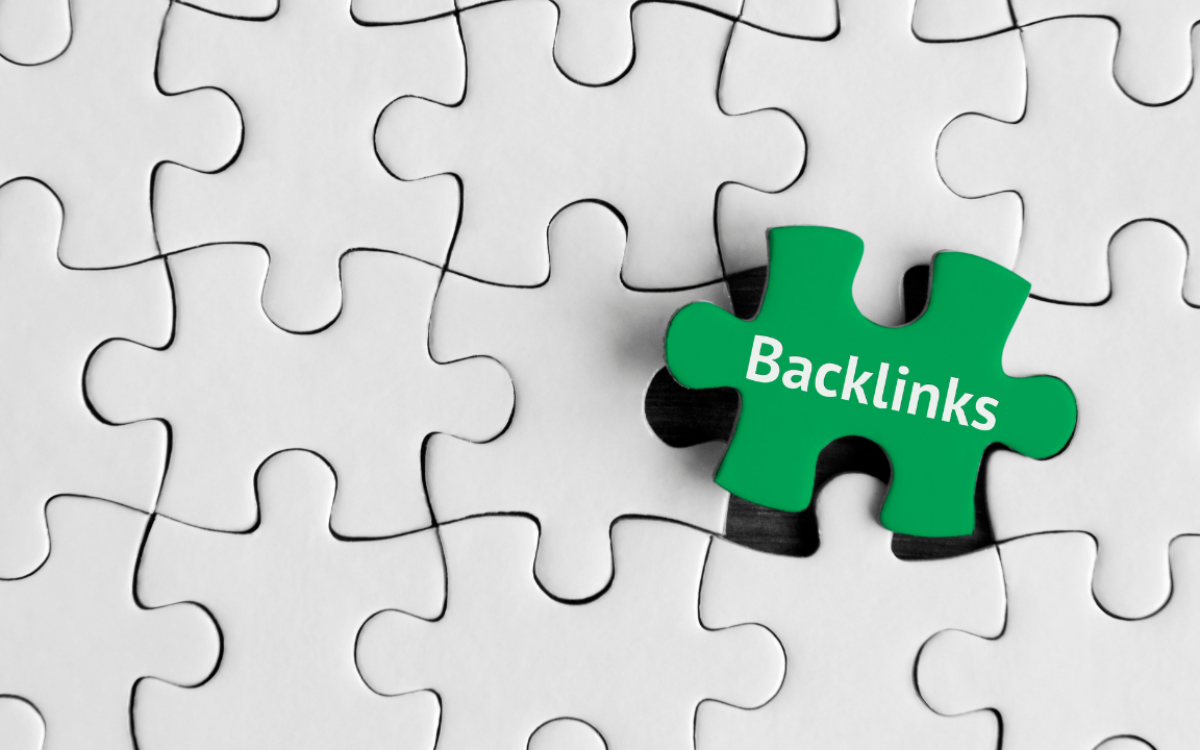 Looking for an unbiased Money Robot review? You're here!
When it comes to search engine optimization (SEO), there are a lot of factors to consider if you want to rank high on the SERPs. But one of the most important factors of your SEO campaigns is your website's backlink profile.
You can choose to build it manually, which is the preferred option, but what happens when you need to amp up your number of backlinks significantly?
The manual approach simply won't work as it's a time-consuming and strenuous process, especially when you're dealing with a lot of backlinks.
Thankfully, there is powerful link-building software available to help website owners with automating your backlink processes, and Money Robot SEO software is one of the most popular options out there for a completely automated way of creating high-quality links.
So in this Money Robot review, we'll take a look at what Money Robot Submitter is, its ease of use, pros and cons, and the features it offers for people looking to boost their rankings.
We'll also compare it to some of its rivals so that you can decide if it's the best tool for you or if you'd rather opt for an alternative to provide quality backlinks.
Let's find out if this software tool is a scam or does exactly what it's supposed to do and increase traffic!
Try Money Robot for 7 Days Free
Get a Free 7-Day Trial of Money Robot Submitter Here
---
Money Robot
Ease of Use -

65

Performance -

64

Customer Service -

60

Price -

75
Money Robot Review Summary
Money Robot is a powerful and affordable link-building tool that helps to ease your backlinking efforts by automating the process and providing a hands-off approach to ranking your website.  
Pros
Evades common and complex captchas
Automated submissions and account creation
Easy to use
Step-by-step instructional videos available
Affordable
Link-building templates available
Cons
Cannot use it on MAC except with a remote desktop
Requires a VPS for effective performance
Slow submissions and indexing
Doesn't have the best user interface
What is Money Robot Submitter?
Money Robot is a backlinking automation software for ranking websites and YouTube videos on the search engine result pages (SERPs). It does this by helping you create backlinks from different resources such as social bookmarking sites, web 2.0 blogs, and other articles. It can even create social media accounts that can generate social signals for your site.
The idea behind Money Robot software is to ease the time constraints on website owners to build unlimited number of links by offering an automated solution capable of boosting rankings on search engines.
Money Robot Review: Ease of Use and How it Works
Money Robot software is an easy-to-use solution for fully automated SEO link building to your site. To get started, you just need to visit the website, choose a payment option, and checkout.
Once you're done with that, you can install the software on your PC. It's important to note here that Money Robot only works on Windows OS. So if you use a MAC, you'd be unable to use this tool.
After installation, log in to the solution.
Next, proceed to "Create New Campaign". You then have to name the campaign and choose your preferred backlinking diagram for how you want that link juice to flow. Money Robot has a ton of backlinking diagrams you can pick from for your site, like the one in the screenshot below:
The backlinking diagram is simply the way you want Money Robot to create a link network or tiers of blogs to your website. There are a bunch of these diagrams, including options like link wheel or link pyramid. You even get the option of linking a couple of them together for a more advanced strategy.
Once you're done with that, you can enter your money site URL or YouTube video that you intend to receive the backlink juice (learn all about YouTube backlinks in our guide). The field for this is to the left of your screen
Next, you can include the keywords you are targeting just below where you pasted your website or video URL. Then paste your content in the space below with the heading (article).
After this, Money Robot takes over and starts creating email accounts, verifying them, and building the whole network.
There's also the option to create content completely automatically from scratch if you don't have articles on hand.
Once you've filled in all of these details, you just need to click Start Campaign, and Money Robot will get started with the process. It'll start creating accounts automatically and submitting content for backlinks.
Customer Support
Money Robot links software offers customer support for English speakers, as well as Spanish support, through various platforms such as email, Skype, and a helpdesk ticket system. They also have a Facebook group that you can join to ask questions to other knowledgeable users of the solution. It even has a forum where you can see answers to common problems asked by users.
Their team also claims a four-hour response time to questions on their support channels.
Money Robot Review: Pros and Cons
Pros
MoneyRobot submits your links automatically, so there is no need for manual link building.
It includes the ability to solve both typical and complex captcha.
You can generate articles automatically with the tool if you don't have content on hand.
They offer a 7-day money-back guarantee.
There's a keyword research tool within the software that you can use to find the best keywords for your campaign.
The tool provides a YouTube and search engine traffic generator to give you a head start.
It offers link-building templates (diagrams) that you can easily choose from or combine.
Money Robot includes proxies and the ability to create and verify email and website accounts automatically.
Cons
Though it offers a free trial, it doesn't really reveal the tool in full capacity.
The software is only compatible with the Windows operating system and not MAC. So MAC users are automatically excluded from it unless they use a remote system.
It uses insane computational power, so you would most likely have to install a remote desktop or VPS to run your campaign effectively.
The backlinking indexing duration is quite a bit longer than that of its alternatives.
Money Robot's website and the user interface look like something from the 1800s. If interface aesthetics matter to you, this may be a problem.
What Web Properties Does Money Robot Use?
The link-building solution supports a ton of web properties. It'll create accounts for you on these types of platforms as well as link to your website from them, with the whole process completely automated:
Social Network Posts
Social Bookmarking sites
Web Directories
Web 2.0 Blogs
Wiki Articles
Press Release
Article Directories
Web 2.0 Profiles
Forum Profiles
Money Robot Review: Features
What smart tools does Money Robot link-building software have to offer? Let's see some of its noticeable features!
Complex and Basic Captcha Solver
This software, unlike most of its alternatives, doesn't require you to integrate a third-party captcha solver but rather includes one within the software. And not just for solving simple captchas but even complex ones. This speeds up the account creation and submission process.
MR Browser
The MR Browser feature allows you to create and manage social media accounts automatedly.
Traffic Generators
This feature is implemented via a social, video, and traffic tab. The social function enables you to add social shares and likes for your URLs, while the video tab allows you to direct real likes and views to your YouTube video.
There's also a search engine traffic generator that sends traffic from search engines to your website. The goal is to boost your rank on YouTube and search engines.
Automatic Article Creation
With Money Robot, you won't need a third-party article creation software as it has one built in.
The tool can create your content from scratch and allows you to spin it for different versions of the same piece.
Automatic Backlink Submission
Building backlinks manually is strenuous. Money Robot automates the entire process by creating accounts and submitting articles automatically and automating the link insertion process as well.
Link Building Templates
The software provides several link-building templates that you can use to create a backlink strategy. They are in the form of diagrams showing how your link network would be formed and your site will receive backlinks. There's even the option of combing various templates to get something unique.
Free Proxies
With tools like this, you'll usually have to use third-party proxies, but Money Robot provides in-built proxies for all its processes.
Money Robot Pricing Plans

The Money Robot software offers 2 payment options. The first is a monthly subscription for $67 per month and the second is a one-time fee of $497.
The one-time fee means you'll only have to pay for the link-building software once instead of a recurring monthly payment plan.
They have a variety of payment methods and, if you're a crypto fan, you can purchase the tool with bitcoin.
7 Day Trial and Money-Back Guarantee
If you want to dip your toes in the water first before diving in, Money Robot offers a 7-day free trial that allows you to test out the tool. But if you're the all-in type, there's a 7-day money-back guarantee available.
You can get a full refund if you use the tool within 7 days and don't find it useful.
Try Money Robot for 7 Days Free
Get a Free 7-Day Trial of Money Robot Submitter Here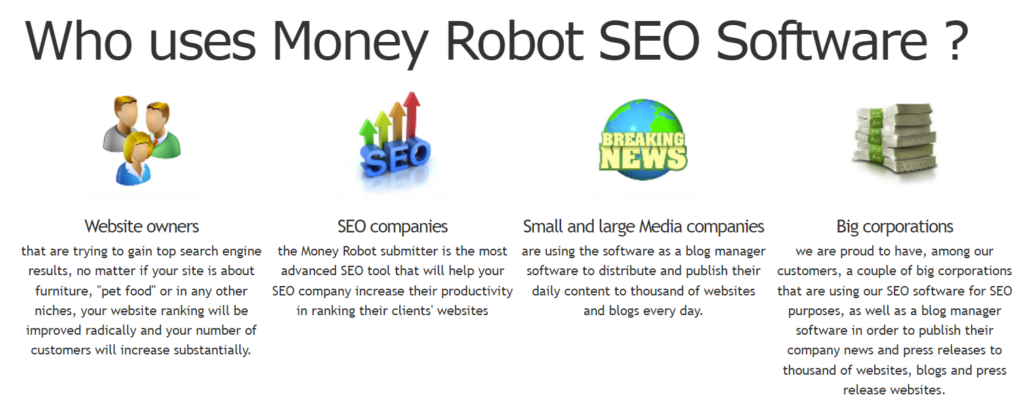 Alternatives to Money Robot
There are a few different options when it comes to link-building software, each with its unique features.
So, let's look at various Money Robot SEO software alternatives.
Magic Submitter
Magic Submitter is a unique software as it not only does the usual link submission automation, but it allows users to build custom bots that can submit their links to whatever websites they choose.
This feature gives this advanced SEO tool an edge over Money Robot which allows you to submit only to preset websites and not ones of your choosing. It also has pre-built bots that submit to pre-set sites. However, the tool seems to fall short here as it doesn't have a 100% campaign success rate most times.
This happens primarily because the pre-built bots aren't updated frequently. If you opt for this SEO software tool, you're better off using a custom bot.
If you're bothered about the technicality involved in building your bot, it's fairly easy. You just have to click a couple of buttons, and the tool will record your actions to perform them later.
That said, you'll have to constantly change your bots as websites evolve, which happens continuously. So, in terms of simplicity of use, Money Robot wins this one.
Also, with regards to cost, Magic Submitter offers a one-month paid "free" trial for $4.95. After that, it costs the same as Money Robot at $67 per month.
It also doesn't have a one-time payment option like Money Robot.
Get Magic Submitter Now!
Money Robot vs GSA SER
GSA Search Engine Ranker is, without a doubt, among the most popular link-building tools for your SEO campaigns available right now.
It's probably the most advanced SEO tool on this list, but it is, however, difficult to get right. This SEO software tool offers a complex interface with multiple submenus and categories that get confusing for the less-advanced user. It also requires you to set up your proxies, emails, and complex captchas. This is unlike Money Robot, which provides built-in automatic captcha solvers when submitting your content completely automatically.
Just like Money Robot software, it requires high computer processing power to complete campaigns effectively. You would have to use VPS as well.
GSA SER also offers a one-time payment plan at $99, which is way cheaper than Money Robot's forever plan.
You even get free updates in the package. The software is only compatible with the Windows operating system. MAC users will have to use a remote desktop to run the solution.
Get GSA SER Here!
Rankwyz
This tool allows you to do the following:
Check ranking for unlimited blogs
Embed images, videos, and translate content
Schedule and post relevant content
Manage PBN, Web2.0, and bookmarking accounts
Monitor SEO metrics and backlinks
Build multi-tier networks
Organize your work in projects
Rankwyz runs on your browser as well, so no need for VPS worries as with Money Robot.
Rankwyz has a free plan with limited features, and its paid plans start from $97 billed monthly and $81 per month billed annually. That said, between Money Robot and Rankwyz, you may find Money Robot's customer support to be more helpful as they respond quickly in comparison to the latter.
Get Rankwyz Here!
The Verdict: Is Money Robot SEO Software Worth It?
That's a wrap on our Money Robot Submitter review!
Money Robot is a powerful backlinking automating software that can help ease up the tedious process of manual backlink building. It also features a lot of functions that make it truly hands-off like its built-in captcha solver, proxies, and automatic article creation.
There are also additional functions like sending traffic from search engines to your website, YouTube videos, and getting social media shares and likes. You can even automatedly create and manage social media accounts.
With regards to its payments options, you have a 7-day free trial, and after that, you get to make either a payment or a one-time fee.
All in all, this tool provides almost everything you would need for a successful SEO link-building campaign.
Try Money Robot for 7 Days Free
Get a Free 7-Day Trial of Money Robot Submitter Here
Want to learn step-by-step how I built my Niche Site Empire up to a full-time income?
Yes! I Love to Learn
Learn How I Built My Niche Site Empire to a Full-time Income
How to Pick the Right Keywords at the START, and avoid the losers
How to Scale and Outsource 90% of the Work, Allowing Your Empire to GROW Without You
How to Build a Site That Gets REAL TRAFFIC FROM GOOGLE (every. single. day.)
Subscribe to the Niche Pursuits Newsletter delivered with value 3X per week