How to Build a Niche Website That Can Make $5000+ a Month
When you buy something through one of the links on our site, we may earn an affiliate commission.
If you are interested in building a profitable niche website, then you've just landed on the only resource you will need to get started.
Today, I am going to share with you the ultimate guide. You will learn how to brainstorm good niche ideas, create a website that ranks on Google, and make very real money online from your very own niche website.
I quit my job in 2011 because my niche sites were making over $10,000 a month, so this subject is very near and dear to my heart!
But does niche marketing as an affiliate still work? Absolutely!
In fact, a recent niche site of mine reached over $5,000 a month and I expect that it will continue to grow over the coming years.
The potential is 100% still there to make good money building niche websites, and I'm going to show you how.
If you want to join my list and get more content like this when I publish it, you can do so right here.
Let's get this started!
How Much Money Can You Make From Niche Websites?
You can make anywhere from a few hundred dollars a month to well over six to seven figures a year with niche sites. I personally know people making over $50,000 a month with their niche sites (but to be fair – those results are not typical).
Watch this overview video to see how I grew one of my niche sites to $3,000 a month. I share where the traffic is coming from, and what my strategies were.
Before we jump into the details, I know that you might be interested in seeing some actual results.  Remember, these results don't come overnight. You have to put in the time and effort to achieve results like this.
I'm going to share a couple of screenshots from 1 affiliate program from just 1 of my websites (affiliate marketing is my primary monetization method for most of my sites).
Then I'll give you more details about how I achieved these results, but more importantly, how you can hopefully replicate this with your own website.
Amazon Associate Earnings
First Tracking ID:
Second Tracking ID (same website):
Google Adsense Earnings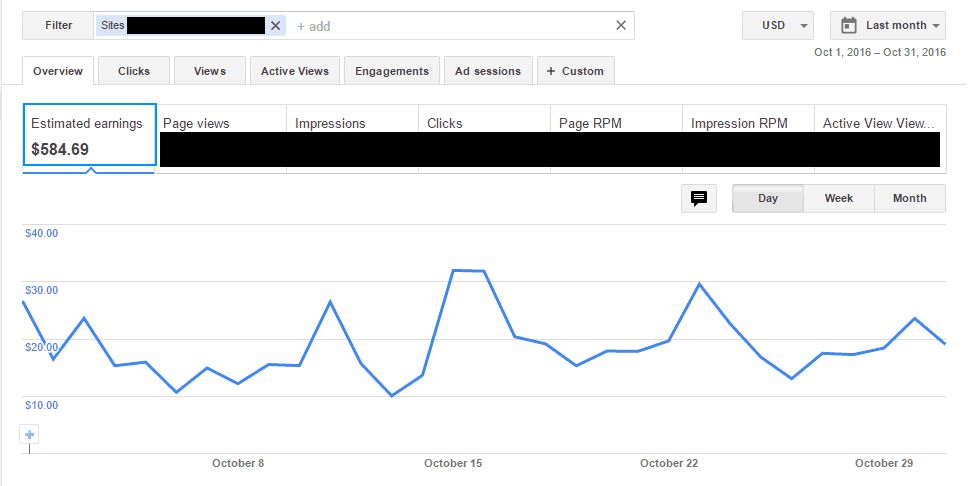 Earnings from these 2 programs for this 1 Niche Website equal $2,985.26
Update: 2020
I understand that the above screenshots are from 2016.  So, here are some more recent results from my niche websites:
These screenshots don't show all my sites, but you get the idea. As a website owner, I continue to make over $10,000 a month from my niche websites (a few sites unrelated to NichePursuits.com).
But now that I've shown you my niche website example, and dangled that tempting carrot in front of you, let's dive into how to actually make a new site like that happen.
The Niche Website Building Process Overview
This massive guide includes everything you need to know to build your very first niche website, monetized with a display advertising network, Amazon affiliates, or other affiliate marketing deals. However, there is a lot of content there, so I'd like to provide just a quick overview of the process.
The whole idea behind a successful niche website is to find profitable niche markets or even micro niches.
You must then create content for your niche blog to start ranking in Google for lots of keywords in your chosen niche. You then turn that free traffic into profit through ads, affiliate programs, or your own product offerings.
Once a site is ranking in the search engines, it can essentially be passive income, where you as a site owner get organic search engine traffic and earn from your affiliate links with very little ongoing effort.
Consider this a table of contents for how to build a niche website from scratch:
Begin in-depth keyword research
Determine what problem your site is solving.  How will your site stand out?
Pick a good domain name.
Host your website.  Pick a Theme and get a logo.
Develop a long-term content strategy.
Pick a monetization strategy.
Link Building.
Social Media and Other Marketing Strategies
Maximize earnings through list building.
Consider long-term strategies proven to help grow websites.
Tools Recommended
Throughout this guide, I mention several software tools that will help you build a website faster or better.  These are tools that I use and recommend, but all of them are not required:
What is a Niche? And What is a Niche Website?
A couple of years ago, I wrote out my definition of what a niche website is…here's what I said:
I want to start off by simply clarifying how I personally think of profitable niche sites. A niche site does NOT mean a small website (aka building micro niche sites). There, I said it.

I think too many people think that a "Niche" website means building a site that only has 10 or 20 pages of content. This is simply not the case.

"Niche" really means a small segment of an overall market or product.  It means laser focused on one particular topic…or niche.  As a perfect example, and to prove that I'm not the only one that thinks this way; check out the Wikipedia page of what a Niche Market is right here.

And even better, guess what example Wikipedia gives as an example of a Niche market / website?  ESPN.com!

That's right ESPN.com is a niche website.  It focuses exclusively (with laser focused intensity) on Sports. Again, this isn't my example, this is from Wikipedia. Yes, this is a VERY large niche site, but it is indeed a niche site.

ESPN.com produces dozens of articles, videos, and more each and every day.

I share this simply to get the incorrect idea out of your head, that "niche" means a "small" website. It doesn't.

However, as a niche website builder, its more common to think of a niche site as one that targets a more narrow niche than just Sports in general.

A smaller niche in sports would be perhaps, Little League baseball, or Curling in Canada, or Speed skating. However, just because your niche site only covers curling in Canada, doesn't mean it can't be thousands of pages of content.  Make sense?

So in short, a niche site is a site that covers the sub-segment of any market. The site could be one page or a million pages of content, its still a niche site.
Now that I've clarified how I view a "niche" website, let's move to step 1 in how to actually build a niche site.
Brainstorm Niche Ideas
You need to find a good niche site idea because the main goal is to build a profitable niche website.
And the first step to building a successful niche website is picking a niche idea to target.  This just means, what general topic are you interested in or even better, what can be a profitable niche?
In general, you will want to find a niche topic that you have some interest in.  You don't necessarily have to be "passionate" about it. But having some level of interest will keep you engaged in the content creation process and will therefore be more likely to succeed.
You also want to find a subject where you can write more than 100 articles.
So, if your chosen niche is hiking, the good news is that there are thousands of topics you could write on from gear, trails, and much more.
But if your chosen niche is ferret hammocks (a real thing) then you are going too narrow. You should broaden your niche site to something like Ferrets in this case…then you can still write about the best ferret hammocks for 1 or 2 articles. Or even start building your site with that category building it out to other ferret topics.
I'll explain more below, but you want to find a niche where you can find lots of low competition keywords quickly and you can also find other examples of newish or smallish affiliate sites ranking in the search engines for these keywords.
These types of sites are your "doppelgangers" which is actually a good thing.
Then when thinking long term, you'll also want to consider whether you can build an authority site that might eventually allow you to sell your own products.
While not required, knowing that you have selected a niche that allows for this potential is great.
That's a brief summary, but please follow the guide and questions below to help you find your niche website idea.
What Does a Successful Niche Site Look Like?

A successful niche website helps readers or customers find answers and solutions to their questions or problems in your chosen niche.
In other words, you need quality content that both people and a search engine will love.
Ideally, your site will eventually have hundreds of articles based on hundreds of very low competition keywords. Over time you will want it to grow into an authority website, that perhaps has even more content and is truly a valuable resource for those in your niche.
As a reminder, your site should not be targeting 1 keyword…but potentially targeting any relevant keyword ideas within your niche!  This could be a product review or a buying guide that you monetize with an affiliate link. Or you might produce content that is targeting more informational keywords that are only monetized with display ads.
You'll almost always want a mixture of both kinds of content as a review site can and often is slammed by a Google update.
Start small and work your way up step-by-step
The overall idea is to start small and perpetually grow into an authority website as the success continues.
You should be more concerned with answering specific questions and low competition keywords than search volume.
I've done very well with some keywords that might only show they get searched for 10 times a month in keyword research tools, but in fact, end up getting much more traffic than that according to my Google analytics.
Focus on free traffic
For the particular type of niche website strategy I'm explaining, your main source of traffic is Google organic traffic.
Some articles that you produce will be "Pillar" articles and linkable assets; others are just short answers to queries. And some will be a compilation of FAQs that are too small on their own to require an individual article.
In general, you need to have a good mix of different types of articles.
And remember, just because the primary focus to start may be on getting organic traffic, that doesn't mean that social traffic can't be utilized!
In fact, depending on the niche of your site, you might be able to drive hordes of traffic from Pinterest, Facebook, Twitter, or other social media platforms.
In general, you should be more concerned with building a brand than taking shortcuts.  And the long-term goal may indeed be to build a large email list and sell your own products.
A couple of examples of niche websites: Survival Life and Own The Yard (I created this one and recently sold it for over $250,000).
Pick a Niche Topic Through Keyword Sampling
I conducted a full case study where I coached a student through picking a niche and building a site. I have a couple of VERY in-depth video training that will help you find a particular niche for your site.
Watch this video to see how I recommend using keyword sampling in order to help you find a profitable niche.
One of the keys to success with your niche website is keyword research.
I've written extensively about keyword research in the past. However, the main idea is that you will rank higher and faster on Google if you target phrases that people are searching for on Google search results which are not extremely competitive.
I recommend using Long Tail Pro (which I created) for all aspects of keyword research.
With "keyword sampling" you are simply trying to see if your potential niche has lots of low competition keywords BEFORE you actually finalize your decision as the right niche for you.
Like sampling ice cream: very small samples, just to get a "taste" of what the niche is like.
Input 10 or so quick seed keywords (in Long Tail Pro) using "Best Practices" (much greater depth in the videos below).

More specific seed keywords are better
Consider using modifiers like: best, reviews, how to, vs, under, for, etc
Sort to only show "long tail" keywords (4 words or more)
Filter based on words, like "best", "reviews", etc
Look for keywords under 30 KC
Find Your Website Doppelgangers
If you can find a weak site that is newer (like you!) ranking on the first page of Google and getting organic traffic, you may have hit the jackpot. The "Doppelgangers" can also reveal great keywords and prove that success is possible…quickly.
To find your website doppelganger, use the criteria below.
Look for sites with Domain Authority (DA) under 25 or so
Look for sites less than a year old (ideal but not required)
Ideally, you will find sites both under DA 25 and less than year old
Analyze Your Doppelgangers
Now to analyze your doppelgangers to see if you should really be going into the niche or even targeting a specific keyword, I recommend using something like SEMrush.com or Ahrefs.
These tools allow you to see what kind of traffic is possible and see what keywords they are ranking for
In addition, you'll be able to see other competitors and their organic traffic levels.  If you are finding sites that a newer (like your site will be) that are already ranking for long tail keywords and are getting a decent amount of organic traffic, this is a great sign.
You will likely also see lots of other keywords that are ranking for that you didn't expect.  This will help expand the vision for your site and give you niche ideas of other types of long tail keywords that you should consider writing about.
Is This a Good Niche? A Checklist
Am I interested in starting a long-term project in this niche?
Can I easily produce 100+ pieces of content with your niche ideas?
From my keyword sample, how many keywords had under KC 30?
How easy was it to find long-tail keywords in this niche vs. others I tried? (rate easiest to hardest)
From the under KC 30 keywords; how many "weak" (Doppelganger) sites did I find? (Under DA 25-30, less than a year)
Using SEMrush, how many other weak sites was I able to find?
How much traffic does each of these Doppelganger sites get (in SEMrush)? (maximum of 10 per niche is more than enough).
Do I see the potential to create products in this niche?
Can I think of any unique angles to stand out in this niche?
Assignment to Pick Your Niche:

Do Keyword Sampling for 3 to 10 Potential Niches

10 seed keywords
Filter (4 words or more, modifiers, etc)

Find the weak (doppelganger) sites ranking in top 10 from your 3 to 10 keyword samples

Under 25 to 30 DA
Less than 1-year old (ideal but not required)

Complete the "Is This a Good Niche" Checklist for your 3 to 10 potential niches
Now think about…what niche "tastes" the best?
This final video will walk you through SEVERAL examples of the exact guidance that I provided above to select a specific niche.  If the outline above wasn't enough details for you, this video definitely will be.  I highly recommend you watch this to help you pick your niche.
Niche Website Ideas
If you're having trouble yourself, here are some niche ideas that can give you a good starting place.  This is not an exhaustive list, this is just to give you an idea of what some niches are that you could potentially target.
Sports

Lacrosse
Hockey
Paintball
Billiards

Passions

Model trains
Magic tricks
Collectible toys

Outdoors

Hunting
Fishing
Hiking
Survivalist

Indoors

Kitchen
Furniture
Indoor animals
TV

Health

Fitness
Paleo
Crossfit
Endurance training
Weight lifting
Workout from home
All of these items are just a drop in the bucket of niches!
And as long as you choose a brandable domain, you'd be able to start out as if you were creating micro niche sites. You could fully cover one of the subtopic examples above before moving onto another in that same niche. This is a micro niche sites strategy that doesn't limit your potential.
You could make websites about computers, sound systems, a church review website (perhaps using one of these awesome church names), chicken keeping, or teaching something. The options are limitless, so get your creative cap on and start searching
Begin In-depth Keyword Research
I highly recommend that you watch this in-depth training video that I created on keyword research.  This video will give you an extremely hands-on overview of keyword research and how it can help you grow a successful niche website.
Now that you know what general niche you want to go into, it's time to do more in-depth keyword research. Yes, you will already have done a little "light" keyword research to find your niche, but remember that was really just to find the general topic of your website.
Now it's time to actually find topics that you will write articles on.
I recommend using Long Tail Pro to make the keyword research process easier and faster.  The most essential thing to remember with keyword research is that you want to go where the competition is low.
If you can target a few low-competition keywords, you are much more likely to rank than if you were to target highly competitive terms.  This means that you will often need to target very low search volume keywords…and that's just fine!
Goal: Target Long Tail Keywords in Each Article on Your Site
Each keyword that you find will get its own article. That's just how Google works, they rank individual pages on your site. So, step 1 is to find 100 long-tail keywords in the first 6 months.
However, please keep in mind that you may find keywords that are closely related. In these instances, you can combine them into the same article to drive more traffic.
Choosing whether they belong together when done manually will require some judgement although you can also google the closely related keywords and see if different pages are ranking.
Once you've found your target keywords, you'll write articles that target these keywords (1 primary keyword per article)
(We'll discuss how to include other secondary keywords in each article later).
Why Long Tail Keywords?
If you want to get more traffic to your site, you should target more long-tail keywords.  Did you know that there are more Long Tail Searches than Short Tail Searches?
In fact, many studies have shown that there is way more traffic in the "long tail" of search than there is in head terms.
For example, the head term "camping" gets 550,000 searches every month.  However, it would be a terrible idea to target that keyword because it's so difficult.
What's interesting is that there are millions of keywords related to camping that may only get a few hundred or a few thousand searches per month individually, but in aggregate equate to MUCH more than 550,000 searches per month.
Keywords like, "can I go camping while pregnant" get only 20 searches a month and "best camping gear for families" only gets 170 searches per month.  But they are WAY easier to rank for.  If you were to combine all the long tail camping-related keywords, you suddenly have a pool of easy to rank keywords that add up to much more traffic than the one "camping" keyword.
Not only are these types of keywords easier to rank for, but usually, people are further in the buying cycle.  They are closer to making a purchase which could equate to higher conversion rates for you.
Here's a graph that visually shows long-tail keywords.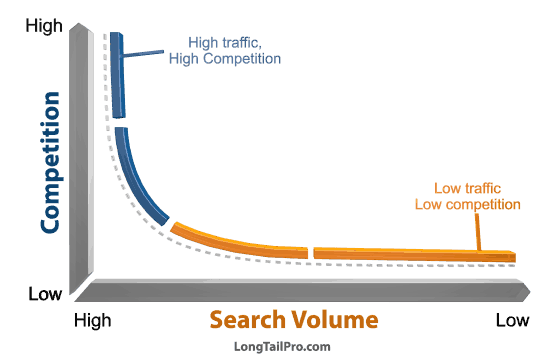 High Search Volume is Not Needed
A common misconception is that you need keywords with high search volume in order to make good money online with your website.
Let me provide an example below that might help you avoid this common mistake.
Let's take a look at the keyword "Ways to Make Money from your website" – (a keyword I rank for on NichePursuits.com) that only gets 10 monthly searches according to Google.
Even though it only gets searched for 10 times a month, that article received 3,791 Unique Pageviews from Google last month.
How is this possible?
Keyword variations.
For any given keyword phrase, people might type in their query slightly differently, even though they are looking for the exact same thing.  So, your article will end up ranking for many of these different keyword variations which add up to MUCH more than 10 searches per month.
For example, here are the keyword variations I rank for in my "ways to make money from your website" example:
How to make money from a website
Ways to make money from website
Ways to make money from a website
How to earn money from a website
How to make money on your website
Dozens of other variations…
All of these variations are things I rank on Google for, and as a result, my page gets nearly 4,000 visitors a month from organic searches.
So, I personally wouldn't immediately eliminate keywords that get less than 100 searches per month. Consider if there would be lots of variations as well. If there likely are, that's great!
Criteria of a Winning Keyword
As mentioned, ideally you will watch the training video above as it will give you the best overview of selecting great keywords to target for your niche websites.
However, here's a quick overview of the criteria for finding a winning keyword.
Relevancy – you want to make sure it's highly relevant to your site's overall topic and content
High Advertiser Competition (this means there is commercial intent)
Search Volume over 1,000 for a few keywords, but not required on all
Low Competition in Google
Similar Sites Ranking (Weak Doppelgangers/other niche sites)
Longer Phrases (3+ words) are usually easier to rank for
Examples of Low Competition Keywords
The KC metric is used in Long Tail Pro and stands for keyword competitiveness.
Best Survival Knife – 9,900 LMS, High Ad Competition, $0.25 CPC, KC of 25, weak sites ranking
Best Garden Shears – 110 LMS, High Ad Competition, $0.65 CPC, KC 27, weak site ranking
How to Find Low Competition Keywords?
Typically, you will start with a seed keyword and then use tools like Long Tail Pro, Ahrefs, or UberSuggest (or other Ahrefs alternatives) to get lots of keyword suggestions based on that seed keyword.
These suggested keywords are often what you will end up targeting.
I would recommend that you start with your own brainstorming to come up with a list of your own seed keywords.
Then consider using Keyword Modifiers, which I will give several examples of below.
A few other places that you can go to find both seed keywords and potentially low competition keywords are:
Amazon and eBay
Wikipedia
Niche Forums
Google auto-complete (Ubersuggest)
Google trends
Other Niche Sites
Keyword Modifiers to Consider
These keyword formulas have been proven to produce great long-tail keywords.  In this example, my seed keyword is "survival knife".  Then using the modifiers, I'm able to produce lots of related long-tail phrases that would be worth considering.
You can plug your own seed keywords where you see the blank spaces in order to find great keywords to target.
Fill in the Blanks with your niche/keywords
Best _________ _________ (Example, "Best Survival Knife")
_________ ________ Reviews ("Survival Knife Reviews")
________ vs. _________ ("Gerber vs. Kabar")
Best ________ Brands (Best Knife Brands)
Where to Buy _______ (Where to buy a survival knife)
_______ Under $________ (Survival Knife under $100)
_________ Alternatives (Gerber alternatives)
How to Analyze the Competition
Again, please watch the video for how to analyze the first page of Google.  This is really the most important step!
This is what you want to see in a given keyword.  If it meets most of the criteria below, then you can add it to your list and start writing an article on the subject.
Remember the First Page of Google is Your Competition, so you will want to see how the top 10 sites on Google meet the below criteria for your potential keyword.
Keyword Competitiveness (KC/KD) of 30 or Less
Low Domain Authority AND Page Authority sites ranking is preferred (or low Trust Flow and Citation Flow)
At least 2 results that have under 30 PA and DA
Relevant Page Title/content?
Root Domain? A subpage is ideal (not required though)
Site Age Less than 1 year is ideal (not required though)
Under 30 Juice Page Links
Question-Based Keyword Research
Another little keyword "hack" that I highly recommend you consider is going after question-based keywords.  People ask all kinds of questions in every niche.
And these are usually long tail and much easier to rank for if you can provide a solid answer to their question. Watch the video below to see exactly how I find question-based keywords.
You can also use Search Response which is a free tool to quickly collect 'People Also Ask' and 'People Also Search For' queries surrounding a given keyword.
Additional Tools to Quickly Find Low Competition Keywords…
UberSuggest.org
Bulk Import Keywords into Long Tail Pro
SEMRush
"Steal" keywords from your competitors (Doppelgangers!)
Assignment for Keyword Research

Find 20 Low Competition Keywords for Your Niche Website
Use the various methods discussed to input seed keywords
At least 3 keywords with a search volume of 1,000 or more
Remaining 17, search volume doesn't matter
Determine How Your Site Will Stand Out
I think you should think about your new online venture as a real business.  That includes creating some sort of vision statement to determine how your site will stand out from all the competitors.  Watch the below video for a discussion on how to do this for your successful niche site.
Vision Statement
What is the overall goal of your website?
What problems are you solving for your readers?
Assignment: Develop an overall vision statement for your website
Examples:
Microsoft – A computer on every desk and in every home; all running Microsoft software.
Nike – To be the number one athletic company in the world.
How to Make Your Website Stand Out
Is there a unique angle or "gimmick" that can make your website attractive to readers?  For example, Fit2fat2fit.com was about a guy that gained a ton of weight on PURPOSE, then went through the process of losing all the weight again.  Now as a fitness and diet coach, he can truly say he understands how his customers feel.  This is a slight twist in a very competitive market.
BlendTec sells blenders.  But they've found a way to go viral.  They have a series of videos called "Will it Blend?"  They take objects like hockey pucks, iPhones, or just about anything else you can imagine and see if their blenders will blend it.
Instant links, mentions, and tons of sales for them.
So, your assignment for this section? Consider ways that your website can stand out from the crowd.
Developing a Voice
You need to determine the tone and voice that will be used on your website. Will it be serious, humorous, or something in-between? Again, this depends on the angle and brand of your website – they should align.
Data-Driven? Take a look at Babygearlab.com
Humorous?  Take a look at Theoatmeal.com
Transparent and Helpful? Take a look at Smartpassiveincome.com by Pat Flynn
Pick a Good Domain Name
Some people spend much too long trying to come up with a good domain name.  However, the reality is that just about anything will work.
I recommend that you do NOT worry about putting keywords in your domain name.
The days of using exact match domains are long gone.  You will do much better with something memorable and brandable.
I recommend using NameCheap.com to register your domain name.
Here are a few tips when considering what domain name to register:
Create a domain that is short and memorable if possible.
Easy to spell if possible
Get a .com if possible
Bad examples: bestsurvivalknifeguide.com and scootersforsalereviews.com
Good Examples: NichePursuits.com, OverStock.com, FinancialSamurai.com
Brainstorm Help: NameMesh.com and Panabee.com
Assignment: Find an available .com that is brandable
Host Your Website, Pick a Theme, and Logo
A web host is simply server space for your website. There are thousands of companies that can host your website and many of them are less than $10/month.
The key to finding a good web host is to make sure it is a reputable and reliable company.  I also recommend that you find a hosting company that allows you to install a content management system like WordPress with just 1 click.
One of the companies that I'm extremely fond of for hosting many niche websites is IridiumHosting.com. They can do it all, helping you get started or even manually migrating an existing site.
And they even offer a variety of WordPress management services for anyone more interested in saving their time and energy for their strengths.
WordPress Theme
I recommend that you get a professional looking WordPress theme for your site.  If you can spend a few extra minutes getting a great looking website, people are more likely to stick around.
Here's a few places you can get great themes.
GeneratePress Premium (this is the WordPress theme I use on OwnTheYard.com and most niche sites in my portfolio).
Themeforest.net – Great themes under $50
Elegant Themes – Divi is a very popular and easy to use page builder.
Thrive Themes – Professional looking, conversion focused, and tons of great options.
Assignment: Install Thrive Themes on your new domain
Logo
If possible, make a logo that aligns with the vision, brand, and voice of your website.
You can make your own design with Canva or Photoshop or get cheap logo designs at Fiverr.com or Upwork.com.  I was able to get the logo below done on Fiverr.

Develop a Long Term Content Strategy
These ideas are what can take you from having just a so-so website to having a great website that helps you stand out as an authority.
So, not only do we discuss things like types of content and on-page SEO (search engine optimization), but we also go into more in-depth strategies like clickable titles and more.
Below are a few points to consider to help your content truly stand out and make sure it's truly valuable for the long term.
Keyword focused (regardless of search volume)
Well Written
Spelling and Grammar checked
Use Paragraphs, Bullet Points, and Numbers liberally in order to make it easy to read
Make sure the content is truly valuable to the reader
Charts and data comparison
Answers their query
Use a combination of Written, Image, and Video content
Internally and externally link to other valuable content
Includes a CTA either to buy something (using buying words), join a mailing list, or click through to another page to learn more
(If you are looking for an example that does all of the above, take note of the current article that you are reading!).
Keyword Focused Content
How do you produce "keyword-focused" content?  Well, follow the bullet points below to give you a good guideline.
Use the targeted keyword in the title (H1 tag in WordPress)
Example keyword: Make money from your website
Example title: "53 Ways to Make Money From Your Website"
Use the keyword 2 to 4 times in the article
At least at the beginning and end of the article
Use related keywords in H2 or H3 tags (subheadings)
Most articles should have at least 2 or 3 subheadings
Find related keywords with Long Tail Pro or Google related searches
For example, "Affiliate Marketing"
Writing and Publishing Content
How often should you publish content on your new website?
Get the first 20+ articles up as soon as possible
Then pick a regular schedule after that and try to stick to it (once a day, 3 a week, 4 a month…)
How long should articles be?
I created an entire tutorial video on this exact question.
Google is telling you exactly how long your articles should be.  Each article should be a different length, determined by what is ranking in Google for the given query.
Follow this video guide:
How many articles should I have on my niche website?
Your website can be as large as you want it to be. It might only have 20 articles or it might have 20,000 articles.
There is often a tradeoff between how many articles you are able to produce vs. how much link building you can do for each article.
However, here are some ratios of the types of articles you might produce.
1 "Pillar" article for every 10 other or informational articles
Pillar = longer and more valuable
Pillar is something that is usually more shareable or link-worthy (i.e. you should put effort into building links to these articles).
Organizing Content on Your Site
You will want to use the "Categories" in WordPress to keep your content organized and in a nice content structure.  I recommend 4 or 5 categories to start in your website and often never any more than that.
Here's an example of the 5 categories I have on one of my niche sites.

When you build internal links, you can link liberally to articles in the same category (linking to other categories is okay too as long as it's relevant).
Example of categories you might have on a site about Camping…
Hiking Gear
Sleeping Gear
Shelter Building
Fire Starting
Water Gear and Tips
How to Create a Great Title
A great title gets more clicks and more shares…so spend extra time on your titles (and look at these clickbait title generators)!
A great resource on creating a great headline is: Headline Resources on QuickSprout.
A title that includes a list with odd numbers can perform well. But you still need to be sure to include keywords (so you can rank in search engines better).
If you want to get a "score" for your headline, you can use the Coschedule Headline Analyzer.
How To Make A Profitable Niche Website: Pick a Monetization Strategy
Now we get to the step where you finally get to start thinking about making money online with your website!  The previous steps will help your site get great content and your site may even start ranking in Google before you do any link building at all!
I have made a list of over 50 ways to make money from your website in the past; however, the short outline below should be enough for you to get started.
How to Monetize a Website
For one of my niche sites, OwnTheYard.com, I make money from the Amazon Associates program and display ads.  However, there are actually tons of different ways that you can make money as an affiliate.
Now, you actually can sell your own products on your website and this can often be the most profitable; long-term strategy. Types of products you could sell:
Information
Software
Physical Products
Services
What articles get the most traffic and earnings?  This could lead you to an ebook to create or other products that you could create and sell.
For example, I've created several products for my NichePursuits.com audience.
A couple of those are Long Tail Pro and Link Whisper.
As an Affiliate, here are a few ways to make money.
Google Adsense or other display ads like Mediavine, Adthrive, or Ezoic.
Amazon Associates
CPA offers
Thousands of other affiliate programs.  Here's a list of some of the top paying affiliate programs.
Amazon Associates Examples
I use Amazon associates extensively on my site OwnTheYard.com.  About half of the income from my site comes from Amazon.  A couple of other examples are below.
TheWireCutter.com
(Now owned by the New York Times)
Detailed reviews
Image affiliate links
Text affiliate links
Links open in a new window
BabyGearLab.com
Comparison Charts
Image affiliate links
Text affiliate links
Links open in a new window
CPA/Lead Offers
And a great example of a hugely-successful site largely monetized with CPA offers is NerdWallet.com.
Build an Email List
Potentially the most profitable way to make money from the traffic coming to your site is to build an email list. Build a community, keep them engaged, and then sell products to that community.
Sure, it's easier said than done, but in the long term, it's an excellent strategy.
The easiest way to stay engaged with your audience.
You can start for free with MailChimp.com
I personally use ConvertKit.com
LinkBuilding for Niche Websites
Linkbuilding is a very in-depth and often controversial topic. On one hand, some people feel link building is critical to a site's success; on the other, you have people who never do any link building and do really well with their niche sites.
Personally, I tend to be somewhere in the middle.
I don't believe that link building is the most important activity you can be doing on your site.
To me, keyword research and creating great content is the most important activity. However, I do see the value in getting links as well…this is clearly a huge ranking factor in Google.
I'm also a strong believer that your most valuable links are going to come naturally. For instance links, you can't really get through outreach.
I have several sites that I've never done a single outreach or link-building "campaign" for that have thousands of links.
So, it's not that I don't think links are important (they are)…I just don't believe that it's always necessary to personally put in the effort to get every single link. Lots of links will come on their own…if you do things right.
Why Links?
Google ranks websites better that have high-quality links.  The below infographic shows what the ranking factors are according to the SEO community (Google does not reveal what the exact ranking factors are).
As you can see keyword and content-based features are very important, but so are page-level links.
There are Do Follow and No Follow (passes PageRank or not) types of links.  Both links are valuable, but Do follow is preferred. Try to stay as "white hat" as possible.
And honestly, it's sometimes debatable what is white or gray hat.
Just do your best to stay within the guidelines that Google has laid out in regards to building links to your site.
Aggressive Link Building is NOT Critical to a Site's Success
I've never done a "link building" campaign for NichePursuits.com or LongTailPro.com.
At most, I've just done simple outreach to build real relationships with no intention to get a link. And yet, I have thousands of links from thousands of different websites.
Another example is Claire Smith; she truly only publishes content and has a five-figure a month online business.
Jon Dykstra is another "non-link building" blogger that has done really well also, and you can read his story here.
How Many Links Should You Build for Your Site?  And How Fast?
Each article that you publish will require a different amount of links to rank.  Many articles may not require any links.
But if you are targeting more competitive keywords, you most certainly will need links to those articles.
For example, if you are trying to rank in Google for "best blender under $100", you will likely need at least 4 or 5 links to that page in order to rank well.
As you can see from the Ahrefs screenshot below, this is roughly how many links the sites ranking at the top of Google currently have:
And depending on how powerful the links are that you get, you may need much more. As you can see positions 2 and 3 sites have 12 and 10 links. You may need 20 or more to rank this article.
How fast should you build those 20 links?
Overall, 20 links is really not a ton, so you can likely try to acquire those as fast as possible.
However, in general, I like to use link building like salt for our steak. We'll just sprinkle a few links in on a monthly basis.
So, perhaps you will start with 5 or so links a month, then after a few months, you can bump it up to 10 links a month.
Again, this all depends on how aggressive you want to get or how large your site is.  If it's large or you are targeting large topics, it would be just fine to build hundreds of links each month.
List of Link Building Strategies…
There are thousands of different ways that you can approach getting links.  I can't possibly cover all those in this article.
However, below is just a list of a few:
Email websites directly and ask for a link.
Ask people you know
Look at your competitor's links and reach out to sites linking to your competitors.
Outreach (after you do something worth reaching out for).
Guest Posting
Broken Link building. (Find broken links on other people's sites and ask them to link to your resource that is better than the broken link).
Build Relationships over the long term to get even more valuable links.
Contests
Infographics
HARO
Social Media Marketing Strategies
Your level of participation on social media and other marketing channels may depend on your niche or your overall goals.
I personally own several niche sites that I never get involved in social media with. But, many niche website owners do EXTREMELY well with some of these ideas, so they are worth mentioning.
I will simply say that it's possible to do very well with Google traffic alone, but the same could be said of social media traffic as well.
You can get tons of traffic from Pinterest, Facebook, Twitter, Instagram, TikTok, and many other social media platforms.
However, they can also be very time-consuming if you try to tackle all of the above.
My advice would be to pick 1 social platform to start and really try to gain significant traction there before considering other platforms.
Pinterest Marketing
Pinterest is one of the highest traffic websites in the world. And the best part for niche website owners is that it can send you hoards of traffic.
If fact, my successful niche site (OwnTheYard.com), gets roughly 500 to 1,000 visitors a day from Pinterest.

However, I don't claim to be an expert at Pinterest traffic, so I will simply say that I've had some decent success with Pinterest.
But there are other site owners that have had PHENOMENAL success with this traffic source.
Maximize Earnings Through List Building
Many niche website builders never get to the step of actually building out an email list.
And quite frankly, there is nothing wrong with that! I've done very well building sites that simply rank in google and I get paid from affiliate offers (Google Adsense / Display ads and Amazon Associates mostly).
However, if your niche website turns into something that you would like to take to the next level, you've got to start building an email list.
An email list will allow you to sell your products or affiliate offers to interested buyers over and over again.
Joe Pulizzi of ContentMarketingInstitute.com said:
"An email list is critical because you can't build your content on rented land. So many brands and companies build their audiences on Facebook and Google+, which is fine, but we don't own those names – Facebook and Google do. If we are thinking like real media companies, the asset is in the audience.

Getting an email address is the first critical step to figuring out who my reader is, and hopefully in the future, my customer of some sort. If our goal is to drive sales or keep customers happy in some way, we first need to get them as part of our audience.
The tools that I recommend for building your email list are:
Thrive Leads – works great on WordPress niche websites and I've had great success with it.
OptInMonster – I've used this great piece of software in the past and have nothing but good things to say about it.
ConvertKit – If you are just getting started building an email list, I still think ConvertKit is a great starter solution.
Long Term Strategies to Grow Your Niche Website
Wow! Now that you've gotten through these steps, you should have a successful niche website on your hands!
However, I would like to point out a few ways that you can keep growing your niche website into a larger business.
Here are 3 ways that you can make more money with your new-found skill of building niche websites:
Build MORE niche websites
Get MORE traffic to your current website
Make MORE money from each visitor
For most of my niche website "career", I've opted for option 1…just building more niche websites.
Often, once I get them ranking in Google and the money is coming in somewhat passively, I have just decided to start a new website. If this sounds like a good option for you, then congrats, start back at step 1 and build a new site!
You may decide to keep all the websites or you can venture into selling off a profitable niche site or two for some extra cash at that point.
Or you may decide to continue focusing on this one niche website and simply grow it larger. The most obvious way to do this is to add more content.
Reach Authority Status
There are always more keywords that you could be targeting in your niche, and these additional keywords and articles are likely to bring in more traffic.
This is an excellent strategy that I employed successfully with OwnTheYard.com.
Building one website to the level that it is making more than your full-time job is not at all out of the realm of possibility.
There are LOTS of niche websites making six figures a year.
Finally, the last way to grow your niche website business is to make more money from each visitor.
You can do this through split testing where your ads are placed, becoming an affiliate for an offer with higher payouts, or building an email list and selling more often to that list.
Sell Your Own Products
Another HUGE way to make more money from your own site is to create your own product.  Instead of making a 6 to 8% cut from Amazon Associates, you could start making 100% of the revenue if you create and sell the product.
The types of products you could create are endless: ebooks, software, video tutorials, physical products, and more.
In the past, I've personally done well with my own physical products and then selling them on my own site and through the Amazon FBA program.
If you want to read about getting started with the Amazon FBA program, I've written how I got started here.
However, the point is to think about whether it's worth it for you to move from being just an affiliate to being the actual product creator. Both have advantages and disadvantages, so I will leave that decision up to you.
Where to Go From Here?
With all the videos and resources to go through above, you won't be able to soak it all in at once.  But this resource is here for you to come back to again and again.
If you are looking for additional support as you begin your niche site building journey, you can join the Niche Pursuits Facebook group right here.
In addition, I would recommend that you get on my email list so that I can notify you when I have more in-depth tutorials on building a successful online business.
Overall, this article provides you with everything you will need to get started building a niche website.  However, the ability to stay motivated and put in the work over the next several months needs to come from you.  This is not an overnight business, but it can be a very real one.
And for extra help, check out our in-depth guide for launching a new blog.
Good luck on your niche site journey!
Want to learn step-by-step how I built my Niche Site Empire up to a full-time income?
Yes! I Love to Learn
Learn How I Built My Niche Site Empire to a Full-time Income
How to Pick the Right Keywords at the START, and avoid the losers
How to Scale and Outsource 90% of the Work, Allowing Your Empire to GROW Without You
How to Build a Site That Gets REAL TRAFFIC FROM GOOGLE (every. single. day.)
Subscribe to the Niche Pursuits Newsletter delivered with value 3X per week