9 Profitable Woodworking Business Ideas to Try This Year
When you buy something through one of the links on our site, we may earn an affiliate commission.
Whether you've enjoyed woodworking for years or you're just getting started, you might have wondered how you could turn such a unique passion into a business. Thanks to the internet, there are more ways than ever to make money from your skills.
In this article, we're sharing some of the most profitable woodworking business ideas that you can start today.
Wooden products are as popular as ever, partly because they are more sustainable than their man-made alternatives, but also because of the fact that wooden products tend to be timeless. If you buy handmade wooden products you can be fairly certain they will last you a lifetime.
There's a near-endless variety of ways to make money with woodworking business ideas. Keep reading to find out more about some of the many ways that you could monetize your skills as a woodworker.
The Best Woodworking Business Ideas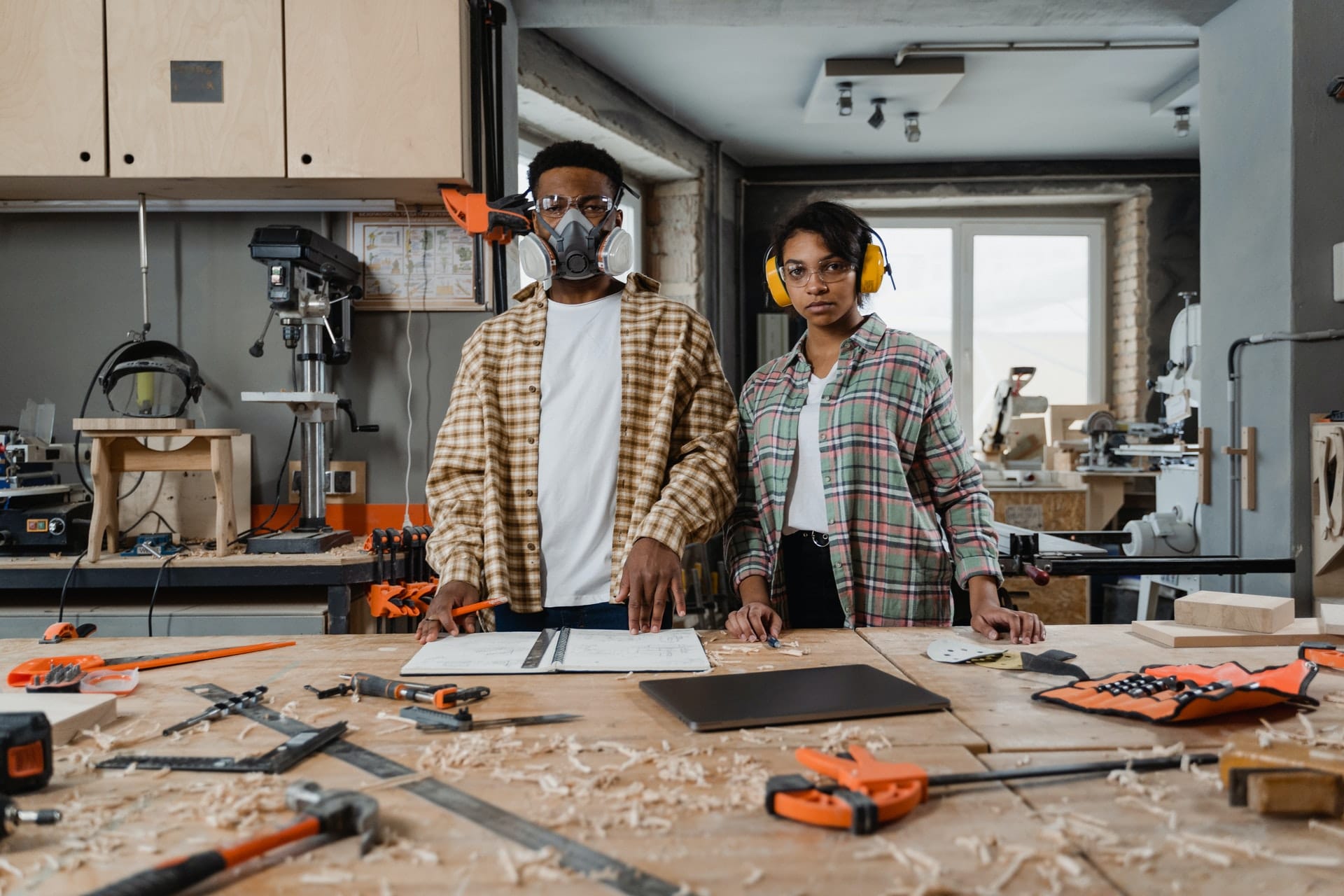 There are a huge number of ways that you can turn your passion for woodworking into a small business.
Some of these woodworking business ideas involve selling smaller products that you could make fairly quickly.
Other woodworking business ideas are labor-intensive and will result in a higher-end product that you can sell for a premium price.
We're also going to discuss how you can make money teaching your skills to others.
There are ideas for woodworking businesses for everyone here, so you can choose something that fits your skill level wherever you're at.
Sell Your Wooden Products on Etsy
One of the most well-known ways that crafters make money is by selling their items on Etsy. But did you know that there's a big market for wood crafts on the platform too?
If you haven't heard of it, Etsy is an online marketplace for handmade home decor items by small businesses (and we've put together a guide about whether Etsy is legit).
Some examples of the most profitable woodworking projects include:
Wooden candle holders
Wooden wall art
Jewelry box
Photo frame
Wooden toys
Wooden pen
Wine racks
Fruit bowls
Garden decor such as wooden planter boxes
Hardwood chopsticks
Bespoke cutting board
And more!
It's very quick and easy for woodworking businesses to start selling on the platform. You could be live on Etsy within a few hours!
To get started, you will need to:
Take photos of your product
Write product descriptions
Choose a name for your shop
Etsy is perfect for a new woodworking business because you're selling to a ready-made customer base. Rather than needing to worry about how you will attract your customers, you can focus on making sure you appear in searches by writing detailed descriptions and taking great photos of your products.
Get this right and your ideal customers will find it much easier to find you! One helpful way to tag your products so that customers can find you is by using an Etsy tag generator.
Of course, you will still need to do some marketing to ensure you're reaching more customers. However, you're certainly not starting from zero.
It's free to create a seller account on Etsy, and there is no monthly fee. Despite this, there are some costs involved in setting up your woodworking business on Etsy.
It costs 20 cents to list your item and this fee is due every time a listing renews. This could be either because it sold or expired. In addition to this, Etsy takes just over a 6% cut in transaction fees every time you sell an item.
Despite the fees, Etsy is an affordable and easy way to start your own profitable business. Just make sure you account for fees when pricing your items.
Many people have found taking an Etsy Masterclass to be helpful in learning about marketing, sales, and social media for their Etsy stores. You can check one out by clicking the button below.
Check Out an Etsy Masterclass
Build Custom Furniture
If you enjoy taking on larger projects and being given a creative brief to work on, then building custom furniture could be a great woodworking business idea for you.
Once you've created some wooden furniture for yourself or your friends and family, take some photos and use these to market the services of your new woodworking business.
There are lots of different ways that you could sell custom-made furniture. One of the easiest ways to start is simply to post photos of your wooden furniture in local Facebook groups as well as on the Facebook Marketplace.
Check out our guide on how to sell on Facebook Marketplace for more information on that.
This gives you a free place to advertise your work, which means your only expenses will be the materials you use.
For this business model, having your own website is a small expense that will have huge benefits to your custom woodworking business. You can start your own website for as little as $2.95/month with Bluehost. It's easy to get started and an essential asset if you're serious about your woodworking business.
Check Out Bluehost
Your website will serve as your portfolio of wood furniture, showcasing each woodworking project you create, and building trust with your customers. With a little SEO, your website will help you grow your business by enabling your future customers to easily find you online.
Other ways to get the word out could include:
Posting on social media
Advertising in local magazines or newspapers
Showcasing your products at local events
Creating custom furniture is time-intensive so you need to ensure that you factor this into your pricing. However, it's a fun and satisfying hobby—perfect if you're looking to start a new business!
Start a Woodworking Blog
If you love woodworking but don't necessarily want to create items for other people, then a woodworking blog is a great way to monetize your skills. The great thing about starting a blog about a hobby you love is that you'll always have something to talk about!
Your woodworking blog could include:
Tutorials and techniques for woodworking
Work-in-progress updates
Your favorite woodworking tools
Basic woodworking skills
There are lots of ways to monetize a woodworking blog too. For example, you could:
Use affiliate links when you talk about your favorite tools
Add display ads to your blog (Ezoic is a great option for beginners)
Partner with brands in your niche
Sell either physical or digital products such as ebooks or plans
Creating a woodworking blog is fairly easy, and once you're established the income can be pretty good.

If you're new to blogging, check out our in-depth guide on how to start a blog.

It's important to note that although it's not physical work in the same way woodworking is, blogging does require time and dedication. As well as actually writing your articles, you will need to spend time on SEO and marketing to make sure you get plenty of eyes on your blog.

.

When it comes to blogging, more readers = more money!

If you decide to sell physical products from your blog, you could consider selling merchandise or small products that you've created.

Selling a digital product is much easier though! This could be an eBook or an online course on woodworking (more on that in a second). Check out our guide on how to make money with eBooks.

Digital products are great because you don't need to make anything when you make a sale, and you can sell each product an infinite number of times.

Blogging is definitely a labor of love to start with. However, if you're really passionate about your craft then it's one of the best woodworking business ideas!
Teach Woodworking Skills with an Online Course
If you like the idea of teaching someone your skills but want your income to be more passive then an online course is a great option.
There are lots of ways to create an online course, depending on your skillset and the amount of work you want to put into it.
First, you could film tutorial videos to upload to Skillshare. Rather than someone buying your course, you get paid according to the number of views you've had from paying members. It's an easy way to create your first course with little upfront investment.
The next (more lucrative) option is to create your own course. You will need your own website for this, which makes it a great fit if you're planning to start a woodworking blog.
Starting your own online course might seem daunting, but it's actually very simple.
There are plenty of free and low-cost tools online that will guide you through the process.
You simply need to create the content (written, photography, video, or a mixture of the three) and then use an online course platform such as Udemy to turn your content into an interactive course.
An online woodworking course is one of the best woodworking business ideas for those looking for passive income ideas for their woodworking industry skills!
Start a Woodworking YouTube Channel
What do you do if you want to learn a new woodworking skill, or need help perfecting a particular technique? If the answer was "look on YouTube" then you've already experienced the next woodworking business idea.
There's a huge number of people who have found success on YouTube by creating tutorials for things that they know how to do. If you consider yourself to be fairly experienced in woodworking then you can create your own YouTube channel sharing your skills with others.
If you're just starting out, that's fine too!
Viewers love to watch someone's journey or progression through a project. If you're new to the craft, create a channel about teaching yourself more advanced skills and show yourself practicing.
There are several ways to make money with a YouTube channel, including:
Ads (The YouTube Partner Program)
YouTube Affiliate Marketing
Brand partnerships
Once you have over 1000 subscribers and 4,000 hours of watch time you can put ads on your videos. However, you can monetize before this point by using affiliate links in your description. You can also partner with brands to create sponsored content.
Take a look at our post on how long does it take to make money on YouTube for more information.
Create and sell Personalized Wooden Items
Handmade and artisan products are hugely popular for gifts, as are personalized products. If you combine the two together then you're likely to have a very successful business.
The best way to go about selling personalized wooden items is to think about the items that you can make fairly quickly, easily, and affordably. You can then offer any wooden decor item for personalization, knowing it will be profitable.
This means that you have a catalog of quality wood home decor items to show potential customers, and ensures that you're always personalizing something that you can easily make in your woodworking shop.
Some ideas for personalized items that you could make include:
Coasters
Cutting boards
Hanging ornaments
Wall art
Picture frames
Wooden boxes
Wooden spoons
Wooden signs
With this business model, there are several ways to market your crafts. You could create an Etsy shop, host a stall at local events or promote your work in local Facebook groups.
You could also film videos of you creating the products that you have for sale on social media. All these things can help drive awareness of your brand.
Selling personalized products is one of the best woodworking business ideas for someone looking to get into carpentry and woodcraft as a side hustle.
Host In-Person Woodworking Classes
If you love connecting with other people, then hosting an in-person woodworking class could be a great option for you. You can teach simple skills, such as how to make a wooden pencil, right through to more complex projects such as how to build a kitchen cabinet.
To do this, you would need to host the class in your own workshop or hire a suitable space. Of course, in-person classes come with extra costs.
You would need to:
Provide lumber for your students to practice on
Have plenty of simple tools and woodworking equipment for students to use
Have the right insurance to hold in-person classes, in case someone injures themselves
Be ready to answer lots of questions!
This is definitely one of the most fun woodworking business ideas, though! You will get to meet many new people, and build your reputation by word of mouth.
You will need to take all of the costs into consideration, as well as how much profit you would like to make. Although it can be hard work, hosting an in-person woodworking class is a great way to earn a living doing what you love.
In terms of marketing, there are a few options. Again, you could turn to social media. Posting in local Facebook groups would be a particularly good option for this business idea.
You could also look at putting posters up on community noticeboards in your town, or take out advertising in the local paper. You can even ask the venue that you want to hold the course at to display some flyers for you.
Hosting in-person classes does have higher setup costs than most other ideas in this list. However, it can also be very rewarding—both financially and socially.
Start a Wooden Toy Business
This is one of the most fun woodworking business ideas on our list. If you love making fun things that children will enjoy playing with, then starting a wooden toy business could be an amazing option for you. There are lots of different wooden toy options to choose from, including:
Ring toss or stacking games
Shape sorters
Puzzles
Toy kitchens
Wooden vehicles
The list is endless!
Creating wooden toys is great fun! They don't usually take too long to make, and you can sell them for a healthy profit.
This is another business that you could start simply by making a few samples to photograph your woodworking projects before listing them on Facebook Marketplace or Etsy and making to order. You could also create your own website with Shopify or sell on Instagram. Or approach local independent gift shops to see if they will stock your wooden toys.
The most important thing to consider if you're planning to make wooden toys is who you're making them for. There are strict regulations for woodworking business owners when making toys for children. It's important to choose the right paints, and make sure that the toys are 100% safe for children to play with.
Create and Sell Woodworking Plans and Blueprints
Selling woodworking plans and blueprints is an excellent way to create a passive income stream from your woodworking skills. If you love making different projects, then you could create PDF instructions or blueprints of any simple woodworking project to sell online.
This involves some hard work upfront on your part because you would need to document each step and explain in detail how to do it. However, once you've finished you can sell each plan an infinite number of times. This means you can make a passive income each month without having to create any new wood items.
You could sell your plans or blueprints as a digital product through your own website or Etsy. If you launched a blog or social media then you could show the finished product and direct people to buy the instructions.
Check out our guide on how to sell digital downloads on Etsy.
Ultimately, it's a small woodworking business that makes it very easy way to make a passive income that doesn't require ongoing work or expensive start-up costs. Just make sure you factor in any transaction fees.
Woodworking Business Ideas
There are so many ways to create a business from your woodworking hobby (and we have a big list of woodworking business names to help brainstorm for different business ideas). The best part is, that not all of these woodworking businesses involve you working full-time to create an income.
As a new business owner, your best option is to choose a few business ventures that complement each other. This could be a blog or YouTube channel alongside digital or physical products.
Choosing more than one of these woodworking business ideas will help you to generate more income streams over time, creating a solid business that can replace your 9-5.
Want to learn step-by-step how I built my Niche Site Empire up to a full-time income?
Yes! I Love to Learn
Learn How I Built My Niche Site Empire to a Full-time Income
How to Pick the Right Keywords at the START, and avoid the losers
How to Scale and Outsource 90% of the Work, Allowing Your Empire to GROW Without You
How to Build a Site That Gets REAL TRAFFIC FROM GOOGLE (every. single. day.)
Subscribe to the Niche Pursuits Newsletter delivered with value 3X per week