Ahrefs vs Semrush: A Detailed Comparison of The 2 Most Popular SEO Tools
When you buy something through one of the links on our site, we may earn an affiliate commission.
It's no secret that Ahrefs is loved by SEO professionals and bloggers alike, but its main competitor, Semrush, is growing in popularity too. Although they share many similar features, some key differences mean one of these tools might suit you better. To highlight these differences, in this article, we will compare Ahrefs vs Semrush side-by-side.
We'll look at all of the features they offer, pricing, and overall usability to help you make the best decision for you and your business.
Ahrefs vs Semrush: Which is Better Overall? [TL;DR]
In a rush? Here's what you need to know.
When it comes to value for money, you can't go wrong with Semrush.
It includes everything you need to find great keywords, optimize your content, and share it across your social channels. It also includes a dedicated PPC keyword tool, which is essential if your business runs PPC campaigns.
Best of all, it's easy to use, even for beginners, and it offers a free trial. If you're new to blogging or online business, it's a no-brainer.
That being said, Ahrefs is a great tool for those focusing on organic search results thanks to its in-depth keyword research and rank-tracking tools.
It also shows an estimation of how much click-through traffic you will get for each keyword, making it a great option for bloggers and anyone focusing on organic search traffic and looking for backlink opportunities.
Ahrefs vs Semrush — A Side-by-Side Comparison
Both Ahrefs and Semrush are powerful SEO tools, and although they share a lot of the same features, they also each have unique features that the other doesn't. This can make it tough to decide which is better for your needs.
In this section, you'll find a side-by-side comparison of their shared features. Later in the article, we'll also list their unique features to give you all the information you need to decide which is the best option for you.
What is Semrush?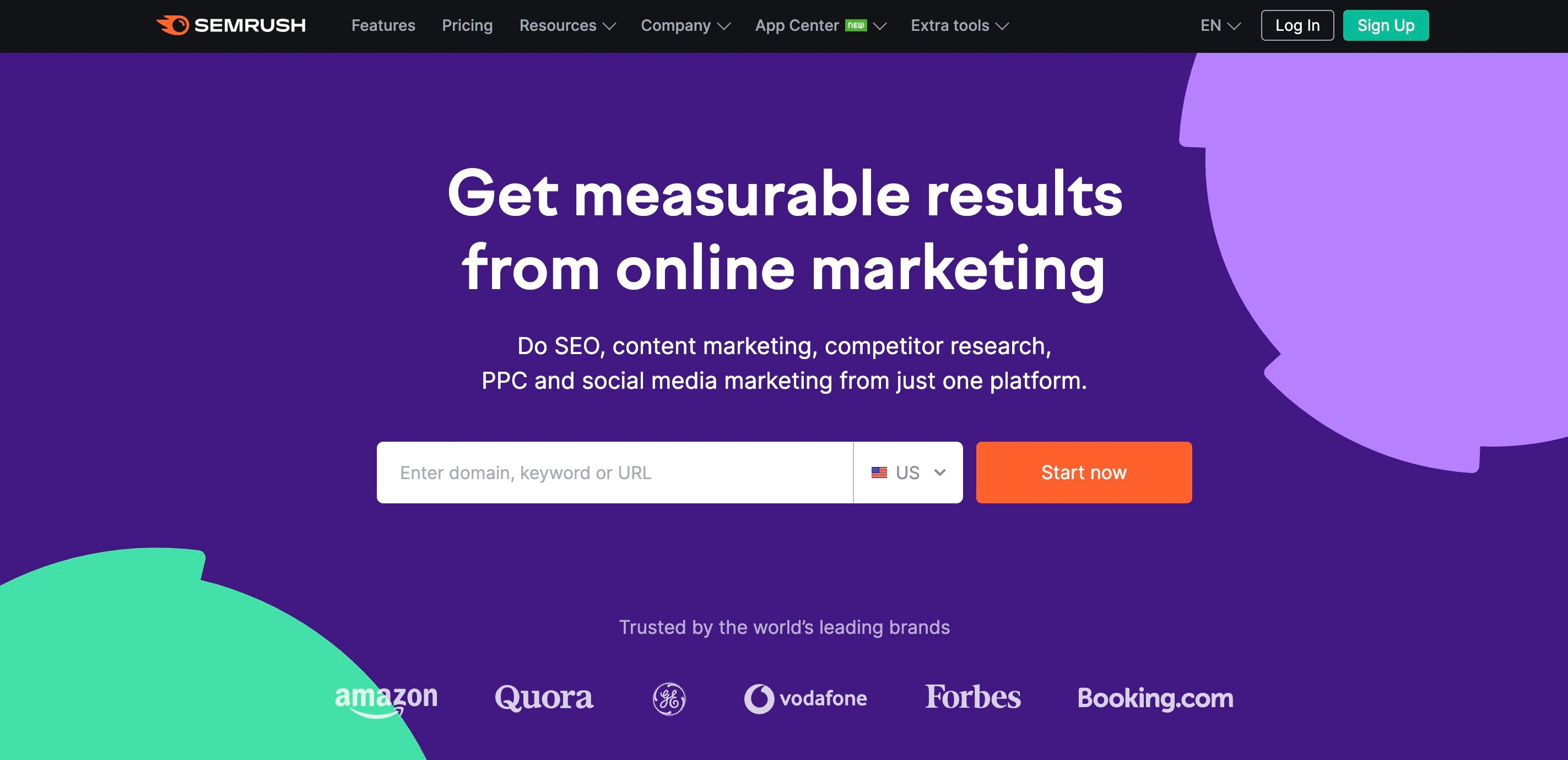 Semrush is an all-in-one digital marketing toolkit designed to help users with SEO, PPC, social media, and content marketing.
It was founded in 2008 by Oleg Shchegolev and Dmitry Melnikov, and has been snowballing. The company now has over 900 employees in 10 different countries, with its headquarters in Boston, MA.
Semrush's SEO software helps businesses find opportunities and maximize their online visibility.
It provides data-driven insights about a website's organic traffic, backlink profile, and keyword rankings. It also offers a suite of tools for competitor analysis, social media management, content marketing, and more.
In short, it gives you everything you need to grow your business online in one place.
What is Ahrefs?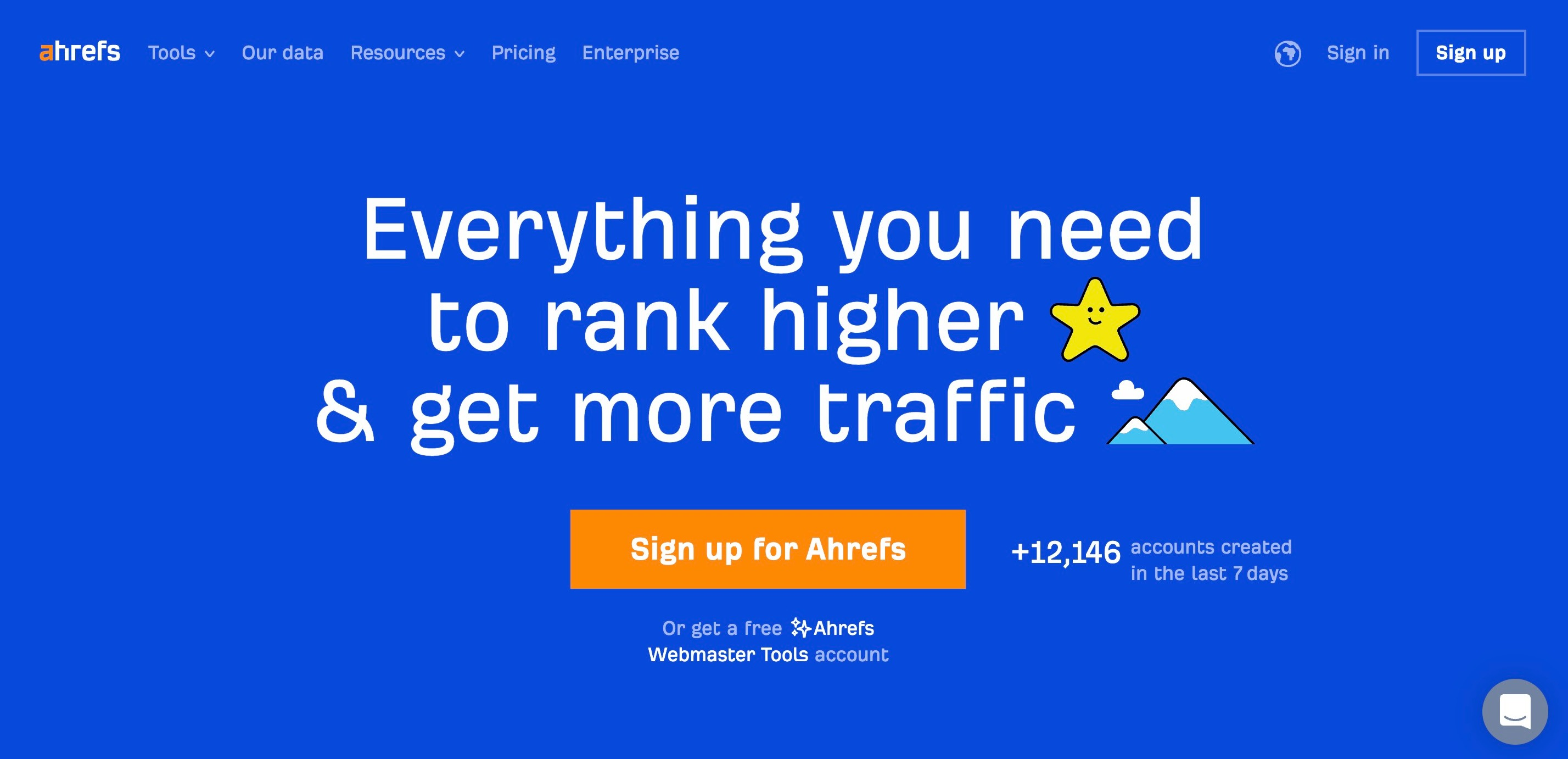 Ahrefs is a comprehensive SEO tool that allows users to track their website's organic traffic and backlink profile. It provides tools for keyword research, backlink analysis, and rank tracking. These give users insights into how they can grow their traffic organically.
The company was founded in 2011 by Dmitry Gerasimenko and has its headquarters in Singapore. It also has offices in the United States, the United Kingdom, and China.
Ahrefs currently operates the largest live index of backlinks, which is part of the reason it's so popular. This gives it an unparalleled ability to show which backlinks are most effective at helping a site rank higher in search engines.
In addition to its data and tools, Ahrefs offers a variety of blog content and training courses on SEO and marketing topics. As a result, Ahrefs is widely considered an essential resource for anyone looking to improve their search engine ranking or learn more about effective SEO marketing strategies.
Semrush vs Ahrefs: Feature Comparison
Both are great SEO tools for different reasons. Because of this, it's important to look at their different features and see how they compare to what you need.
This way, you can be sure that whether you invest in Ahrefs or Semrush, you have made the right decision for you.
Domain Analysis
If you want your website to do well on search engines regarding visibility and traffic generated, then domain analysis is a must.
This is a great starting point because it lets you see where you are now – how you rank for certain keywords and what traffic that brings you. You can also analyze your competitor's websites to see how they are performing compared to you and what you might need to change to improve performance.
Ahrefs
Ahrefs' Site Explorer tool allows you to enter a URL on its site explorer page and be taken to a dashboard-style page with a range of information visible.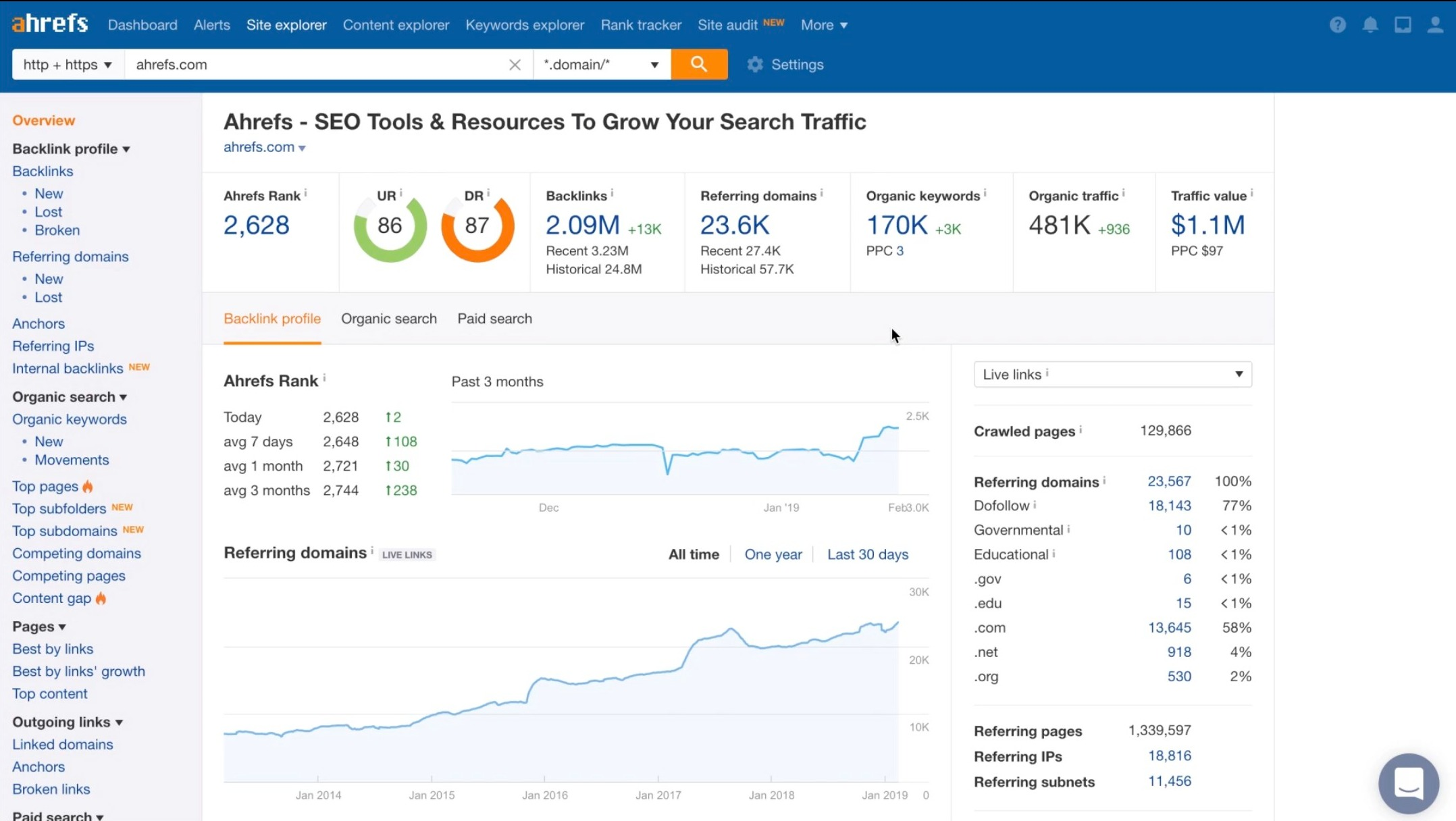 You'll be able to see things like:
Domain rating
How many backlinks the website has
How many domains have generated those backlinks
The number of organic keywords the site is ranking for
An estimation of the organic traffic it receives
Traffic value
You can click on each of these metrics on the dashboard to give you a more in-depth look at that information. For example, which domains most often link to the URL you analyze?
You can select which month you want to check the data for or which country you are interested in to compare as much of the available data as possible.
Semrush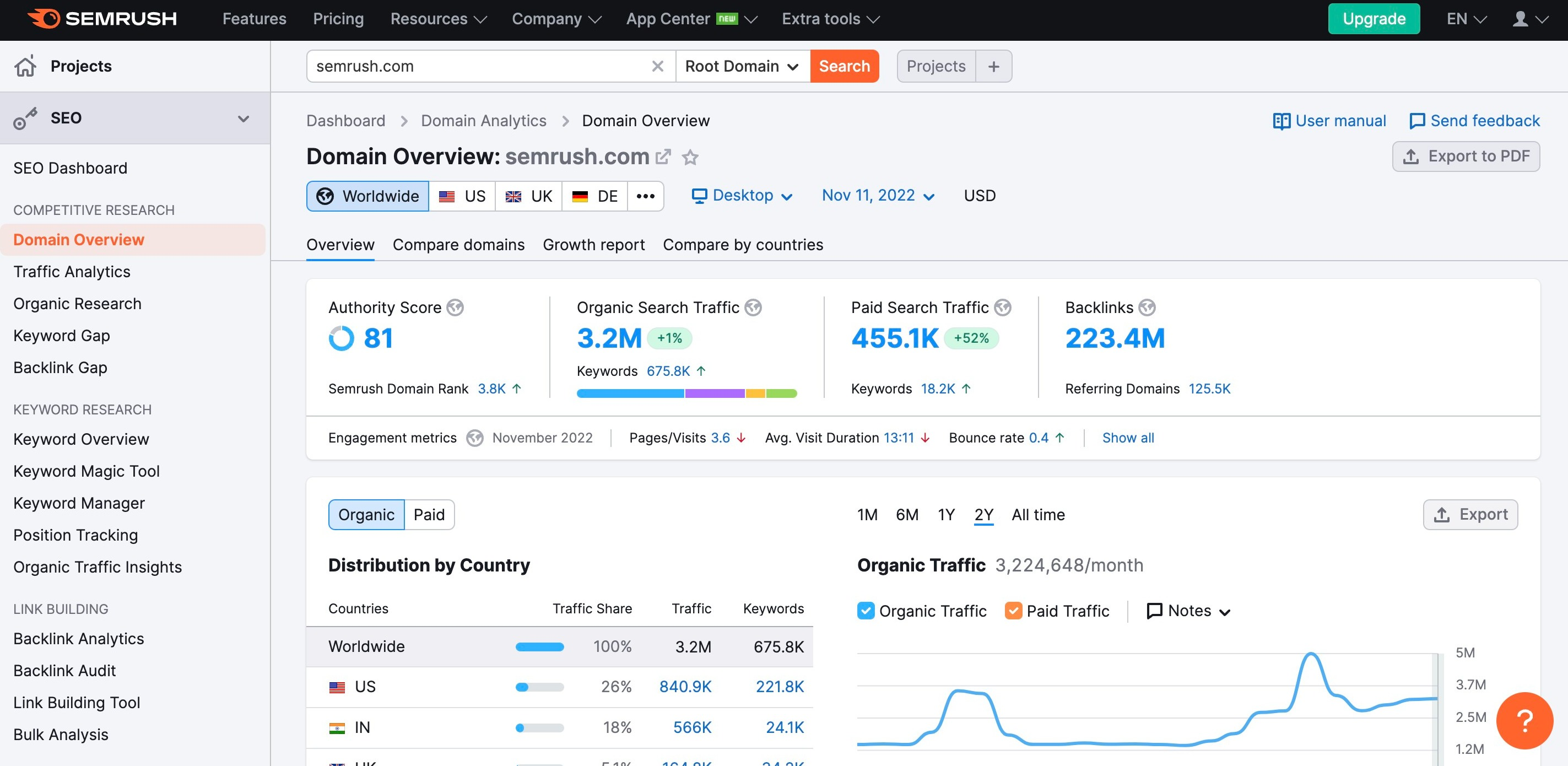 Semrush works similarly but shows you slightly different information.
For example, immediately on the domain overview, you'll see an Authority Score and the distribution of traffic via country. The information you'll see alongside this are top-performing keywords, what websites you're competing with, and what anchor texts link most often to the site.
As you would expect from an SEO tool, you also see what backlinks currently point to the website.
The Verdict
Both SEO tools give you great visibility in terms of where your website is, where other websites currently stand, and what changes you might need to make to your own site to increase search engine performance.
Both dashboards are easy to follow and display plenty of information. However, Ahrefs is slightly easier to read. This is because the information you'll likely be interested in is on one page and, therefore, easier to find.
Most of the same information is available on both options, but you may need to dig a bit deeper on Semrush to find it.
Ahrefs vs Semrush: Keyword Research
​​If you want to get traffic to your site organically, you'll need to invest in keyword research. By identifying and targeting the right keywords, you can ensure that your website shows up in search engine results when people are looking for what you offer.
Let's see how Ahrefs and Semrush measure up in the keyword research department.
Ahrefs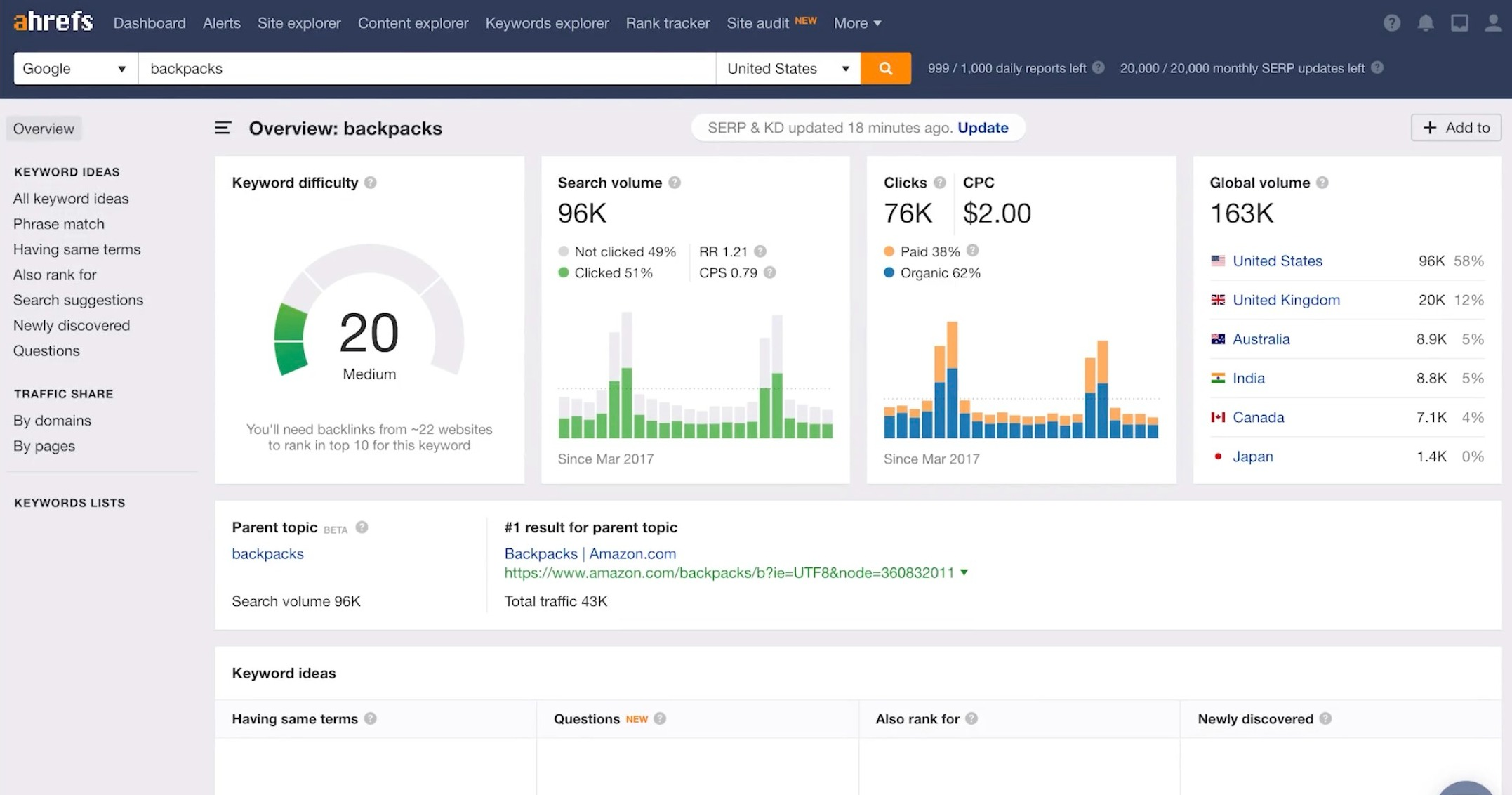 Ahrefs' Keyword Generator tool can provide up-to-date results using clickstream data.
With monthly updates, this keyword research tool is great for providing data on the most popular keywords currently being searched. It also shows traffic potential with the estimated number of click-throughs for your target keyword.
A filter system for the keyword database lets you focus your keyword research on search volume and keyword difficulty.
Filtering options include clicks, click per search, and the keyword's return rate. This keyword research data is easily accessed by clicking the Get Metrics tab.
Ahrefs' keyword explorer provides keyword difficulty data based on the backlink profiles of the 10 highest-performing pages in the search engine result. This is an accurate source of data and provides reliable metrics.
The SERP analysis given by Ahrefs keyword research tool will provide accurate backlink data for any search results. And it even shows you the volume of search traffic the highest-ranking pages receive.
This data covers all the keywords they rank for and your chosen keyword, helping you generate new keyword ideas.
Semrush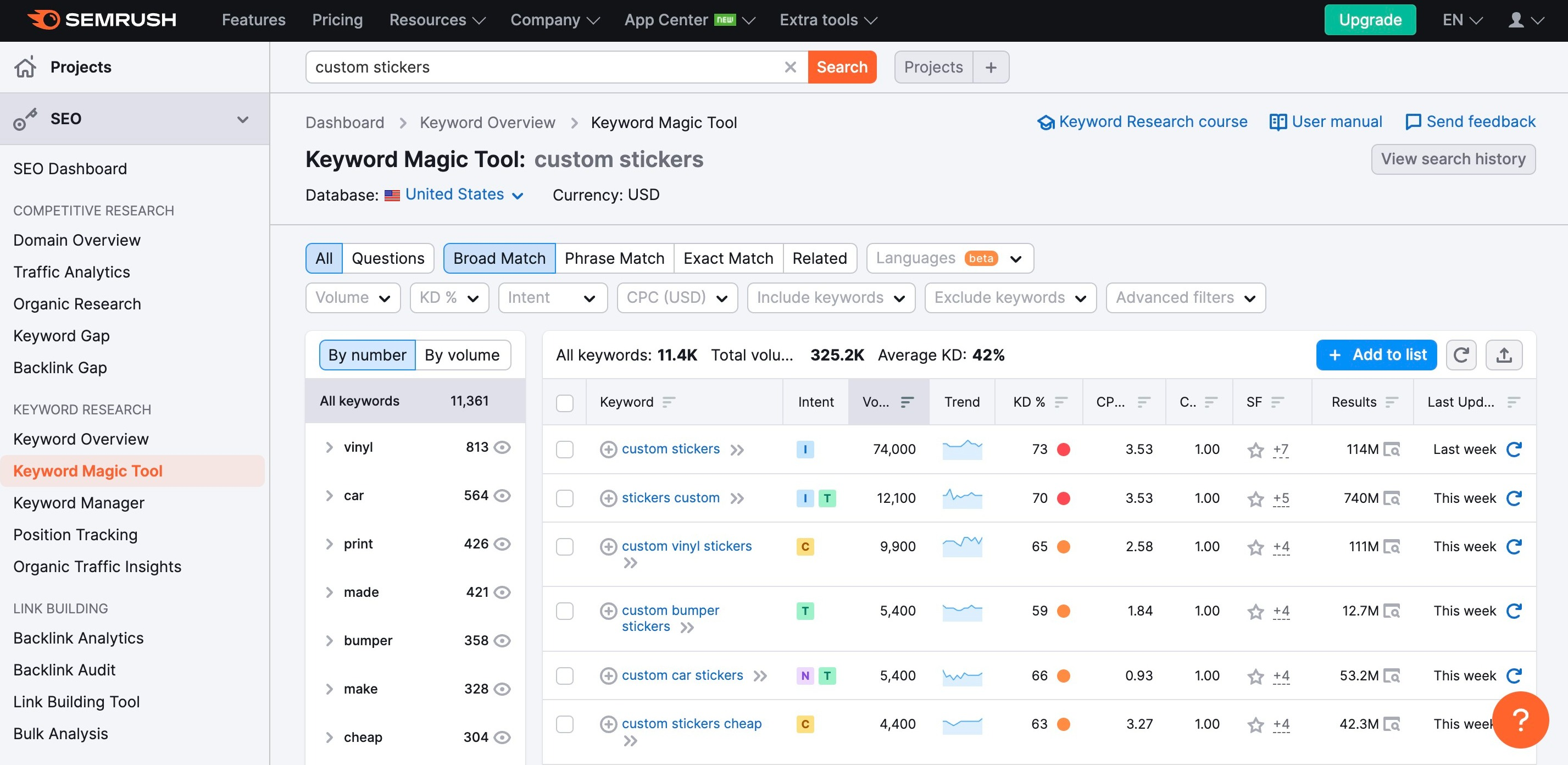 Semrush's Keyword Magic tool presents filterable data on keywords with easy-to-understand results, even for beginners.
Alongside each result, you will also see markers for search intent. These include:
Informational
Transactional
Commercial
Navigational
This additional data (although not always 100% accurate) is very helpful for helping you easily find keywords with the right intent.
Search volume trends are available from its Keyword Analytics facility, with Keyword Magic basing its data on the authority of individual domains within the search results to provide keyword difficulty as a percentage. SERPs are also available for each keyword on demand.
Semrush doesn't provide click data for keyword research in the same way Ahrefs does. Instead, it gives information and data for pay-per-click campaigns. This is useful during a page's SEO development, as keyword research results will include both organic and paid results.
Of course, this is of limited use for those looking to work with only organic listings for their keyword research.
However, it does come into its own when applied to paid marketing campaigns where an ineffective keyword will only waste your money.
And this makes Semrush particularly useful for businesses competing for commercial terms.
The Verdict
Both are similar in what they offer, but for the average blogger, the fact that Ahrefs shows you the number of clicks a keyword could generate puts it slightly ahead in many people's eyes. It also gives you a snapshot glance at traffic potential, so you can see whether it is worth putting in the effort to rank for particular keywords.
However for businesses, the added data regarding pay-per-click campaigns can be invaluable.
Ahrefs vs Semrush: Site Auditing
As the name might suggest, site auditing is about how your website is performing in various ways. Both Ahrefs and Semrush site audit tools allow you to evaluate how well your website performs in terms of on-page SEO and a technical SEO point of view.
For organic success online, you'll need to consider how fast your page loads, how well your pages are SEO optimized, and even how many broken links your website has. And both site audit tools allow you to evaluate all of this and more.
Ahrefs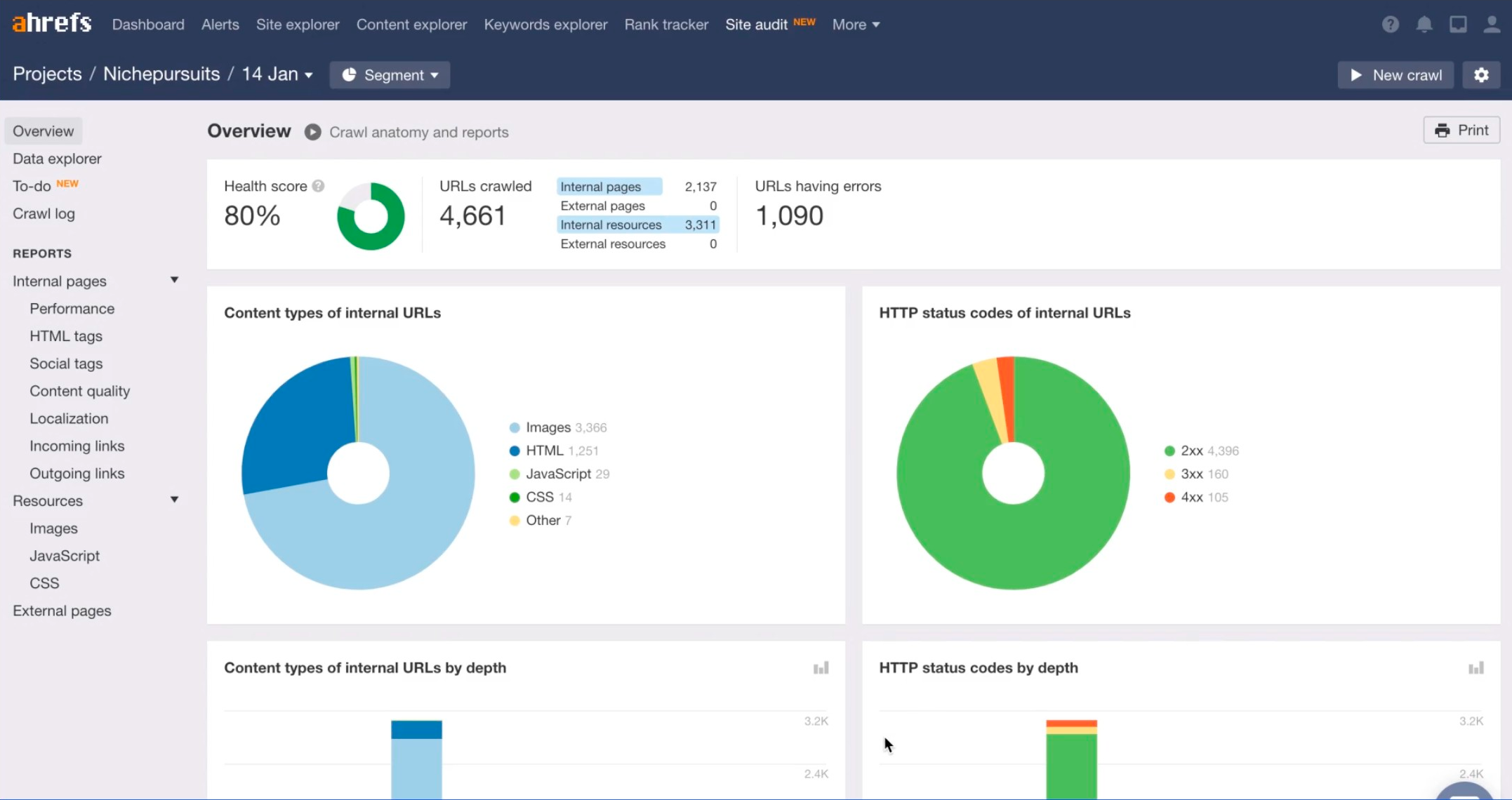 One thing that Ahrefs site audit does well is allow you to keep on top of the technical aspect of your website. Search engines generally favor websites that load quickly, are secure, and are mobile friendly, so monitoring this on your own website is essential.
Ahrefs' site audit tool provides a report that tells you of any slow-loading pages, if you have any SSL issues, missing headers, duplicate content, and even any broken links that have now developed.
You'll get an overall site audit report, a picture of your site's health, and some handy tips on how to fix any problems that their report has highlighted.
And you can run an audit of your site with Ahrefs for free by setting up a Webmasters tool account.
Semrush
Semrush's Site Audit tool helps users quickly and easily identify and fix issues with their site.
The site audit report gives you scores for:
Crawlability
Site performance
Internal linking
HTTPS
International SEO
Markup
Core web vitals
Any issues found in the site audit will be divided into three groups, so you can see which areas require the most urgent attention.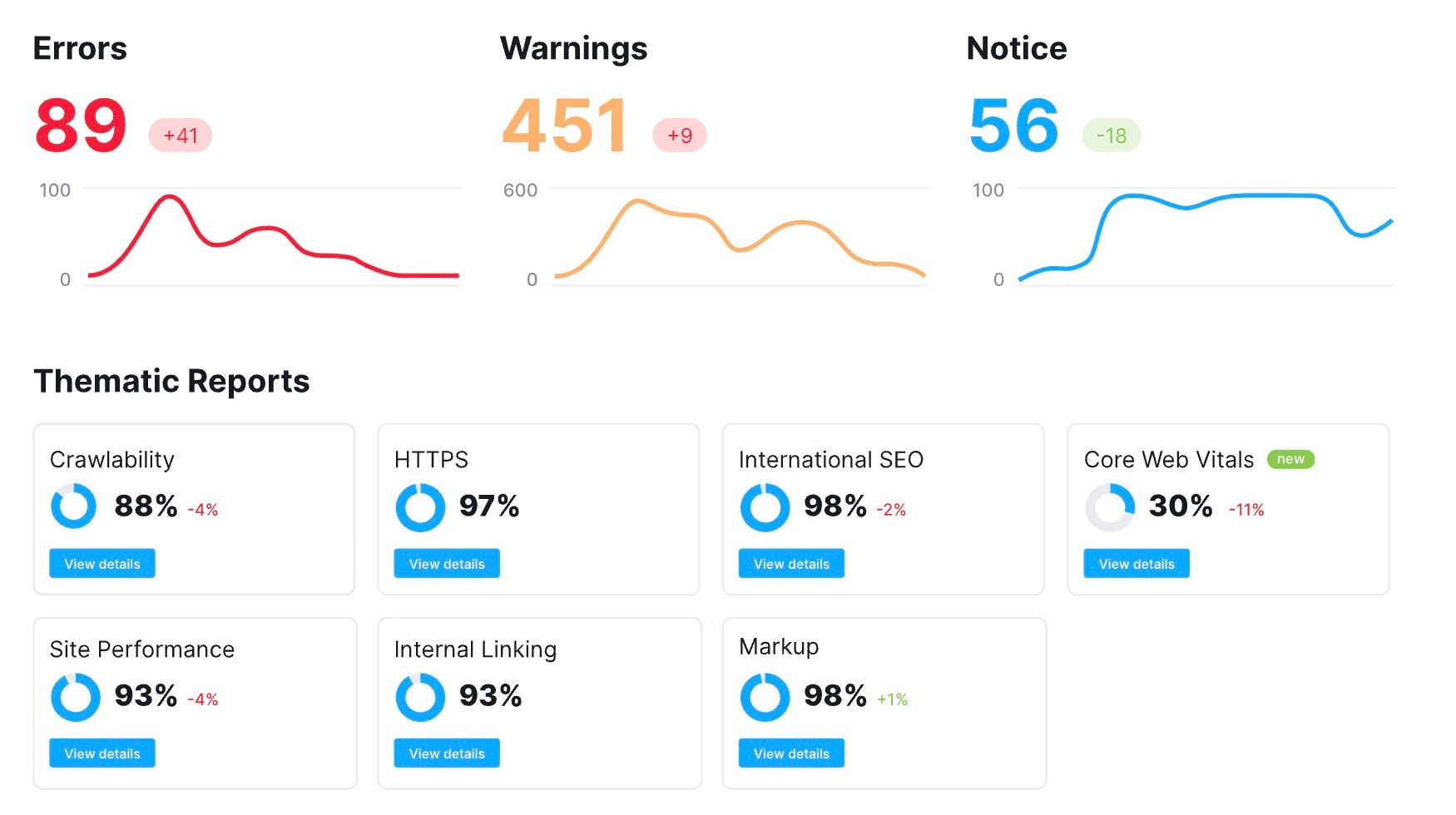 It also has a feature that allows you to compare crawls. This enables you to view your progress over time to see how the SEO health of your website is improving.
The Verdict
Both tools provide valuable data when it comes to analyzing how your website is performing and what steps you might wish to take to improve your site's performance in terms of search engines.
Semrush is slightly ahead in this area in terms of capability. This is because it allows you to send information to 3rd party project management tools. However, in terms of the data they provide, they're both very similar.
Ahrefs vs Semrush: Broken Link Analysis
Both Ahrefs and Semrush allow you to run backlink analysis reports that list the broken links on your website so that you can take steps to remove, fix or edit these as appropriate.
Ahrefs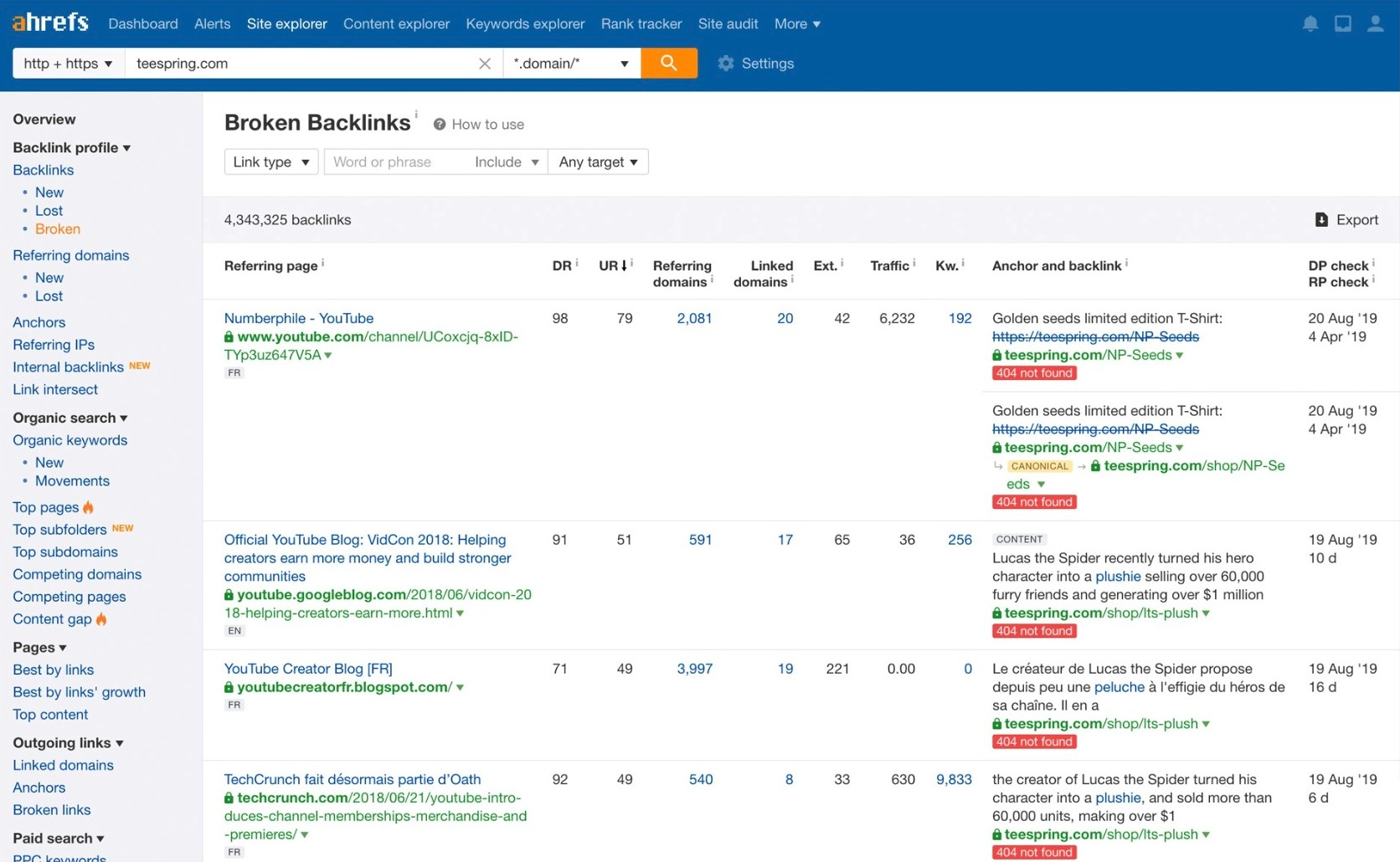 Ahrefs makes it really easy to find any broken links through their backlink analysis data. Simply enter the URL you want to look at in the Site Explorer address bar, and you will see the backlink analysis information you need on the dashboard.
You'll be able to find out which pages on your website contain broken links and also analyze other sites for suitable opportunities for people to link to you instead of a potentially broken link on their site. This is a great way to build your own backlink profile.
Semrush
Although Semrush provides very similar information, it is a little harder to find than on Ahrefs.
Rather than just being available on the main dashboard, you'll need to perform a site audit, create a 'broken pages' report, and download this into an Excel or CSV file to view the data. It's a bit inconvenient but ultimately worth it for the backlink analysis information that you get.
The Verdict
The fact that the information is available in a much easier-to-access way puts Ahrefs ahead of Semrush. But realistically, they both do the job well and allow you to monitor and fix any broken links on your website.
Ahrefs vs Semrush: Content Gap Analysis
Content gap analysis can help you find keywords that your competitors are ranking for but you aren't. Using this information, you can plug gaps in your content and start to outrank your competitors.
The reports generated by both Ahrefs and Semrush will aim to help you find new content opportunities that you haven't already targeted.
Ahrefs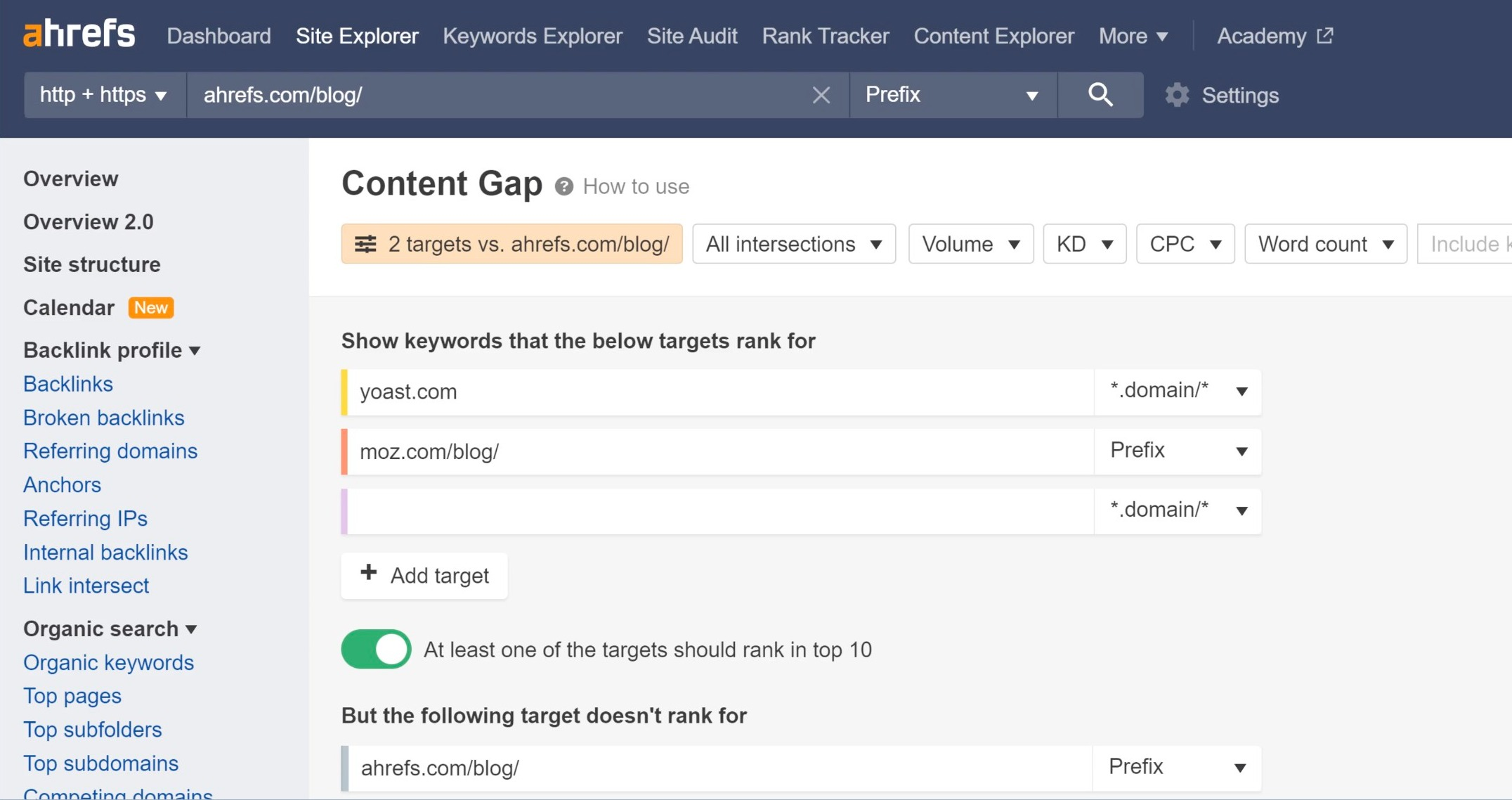 Ahrefs content gap analysis tool provides a report on up to 10 competing websites. If you are unsure which websites to compare yourself against, Ahrefs will generate a report for you on other websites that rank for the keywords you are targeting.
For extremely focused results, the intersections filter can only show the results of keywords that rank for a number or all of your competing websites for target keywords.
Ahrefs makes it easy to narrow down a list of keywords to target through gap analysis and enables you to create content accurately to place on your site for maximum effect.
Just note that with the standard account you're limited to only 100 results, which can be quite frustrating when considering the cost of the tool as it is.
Semrush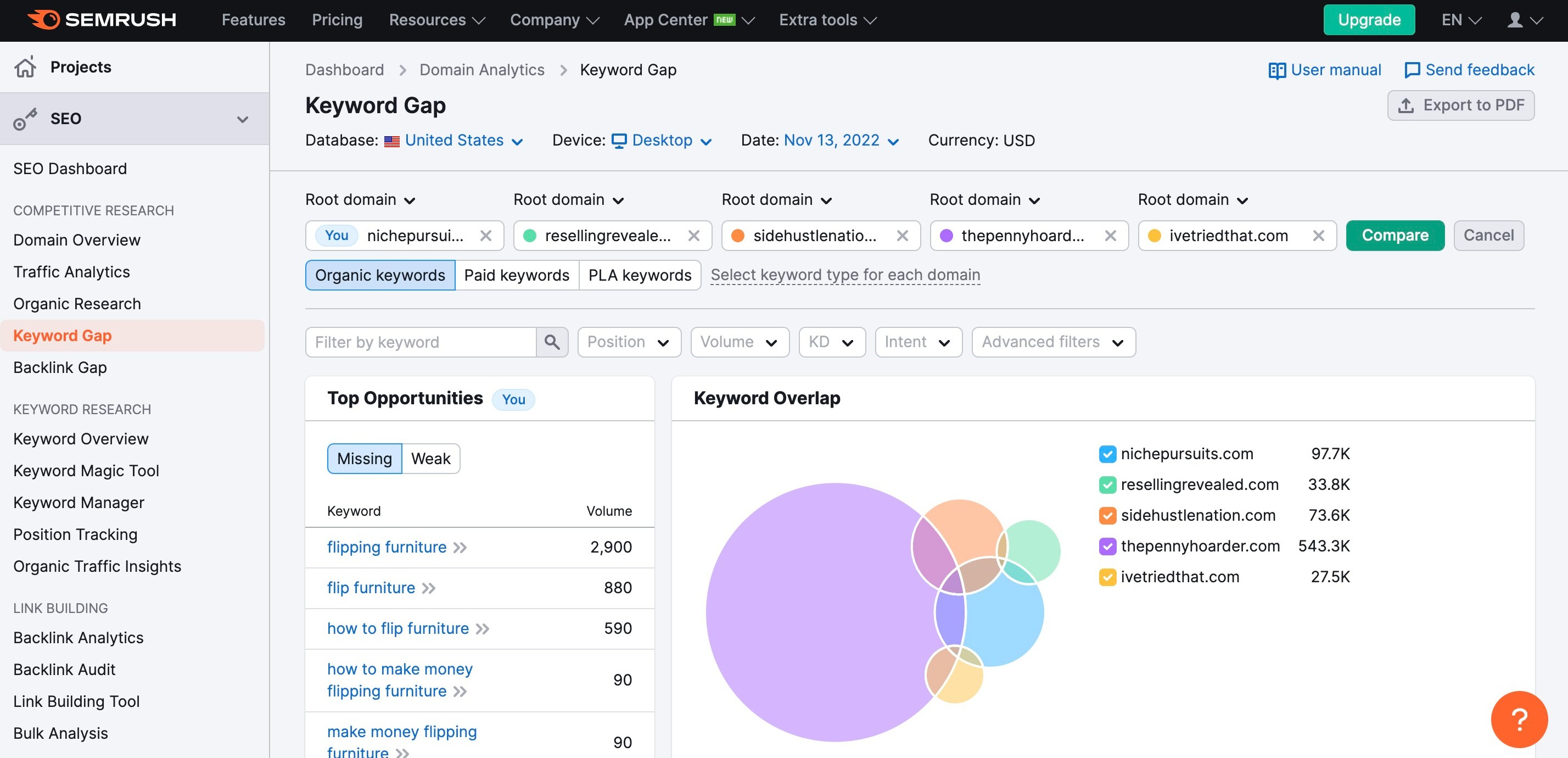 Semrush tackles the task with its Keywords Gap tool. You enter a competitor's websites and a user can quickly assess if sites contain any rankings for shared keywords and where on the list they rank.
You can compare your site and your competitors' keyword rankings. And you can export the data into Google sheets for detailed assessment.
You can modify the reports settings between your own site and competitors and you can also use further filtering to narrow down your choices to those that rank in high positions.
You can also further assess where you rank in lower positions where an improvement in content or backlinks could prove effective.
Once you have found valuable keywords that your competitors rank for that you don't, you can create content to target the keyword effectively.
The Verdict:
When it comes to keyword gap analysis, both Ahrefs and Semrush have the data you need. However, their approaches do differ slightly in displaying the results.
Once you have learned to work with your chosen platform, it then becomes a simple task to apply the knowledge gained by content gap analysis and apply it to your own site to see improved results and higher traffic.
Ahrefs vs Semrush: Site Traffic Analysis
Website traffic analysis yields data on the volume and type of traffic your website receives.
This data is useful in pinpointing weak points in your site's layout and targeting them for improvement.
Using this data to target marketing can yield an increase in sales. This data is just as useful for accurate marketing when sourced from your competitor's statistics and can help you steer your own site in the best direction.
Ahrefs
Ahrefs Site Explorer will give you results on both organic and paid traffic. You can see which of your competitors' pages are driving the highest traffic volumes, and take advantage of this by modifying your content to encourage the same audience to visit your site.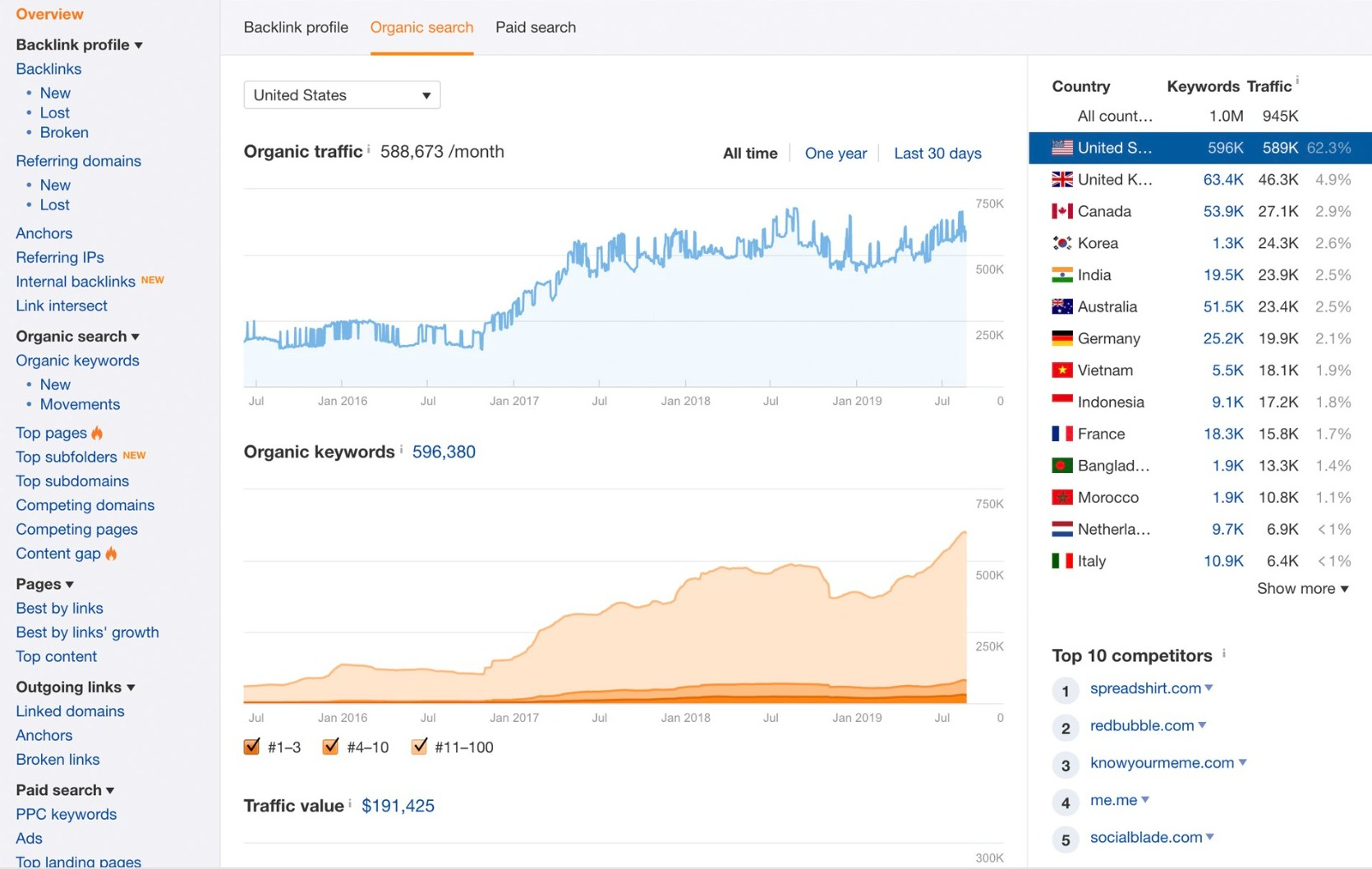 This is especially easy with data being available for subdomains and subfolders. And Ahrefs lets you see which of your keywords they also rank for and how much traffic each keyword brings to the site.
It is easy to also look at the effectiveness of your competitors' paid keyword campaigns and where they are choosing to send the traffic generated. The batch analysis tool enables you to check the estimated search traffic each month for up to 200 separate websites.
Semrush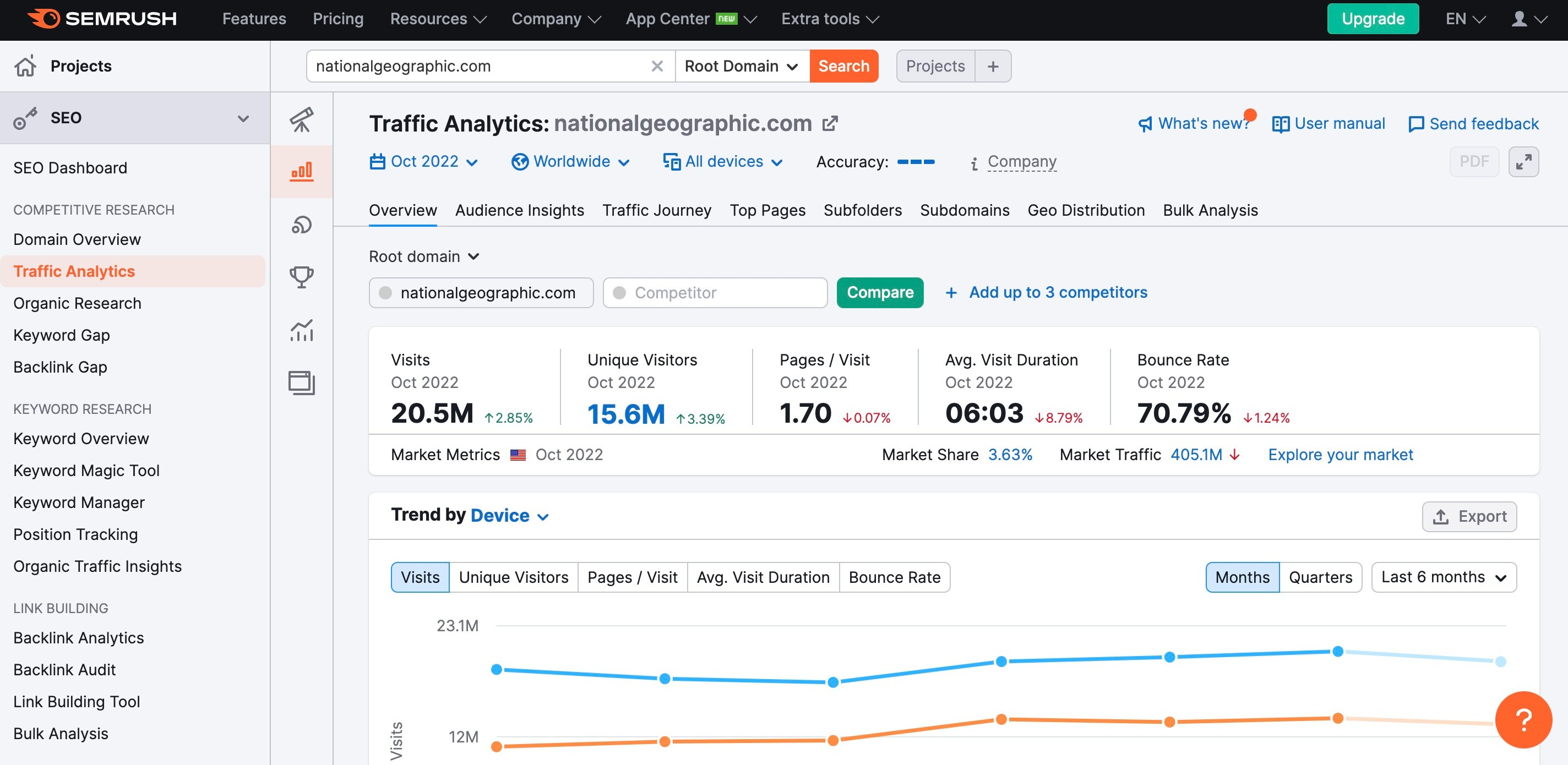 Semrush offers its Traffic Analysis tool with the ability to provide:
An estimate for the number of visitors to a domain
The number of pages per visit
Average duration of a visit
Visitor bounce rate.
Semrush gives you insight into channels your competitors are utilizing to drive traffic, including sources like pay-per-click or social media. It can give you the information you need to make changes and capture the traffic you need through this simple-to-use tool.
The Verdict
Ahrefs and Semrush provide competent tooling to analyze traffic in useful ways to generate the data needed to understand your competitors' customer habits and their journey to get there.
Semrush does stand out here as a platform geared towards the task with a full traffic analysis competitor tool that comprehensively addresses the task.
Ahrefs vs Semrush: Historical Data Analysis
Tracking historical data lets you to see whether any changes you've implemented have made a difference and check if your domain changes are going in the right direction.
Ahrefs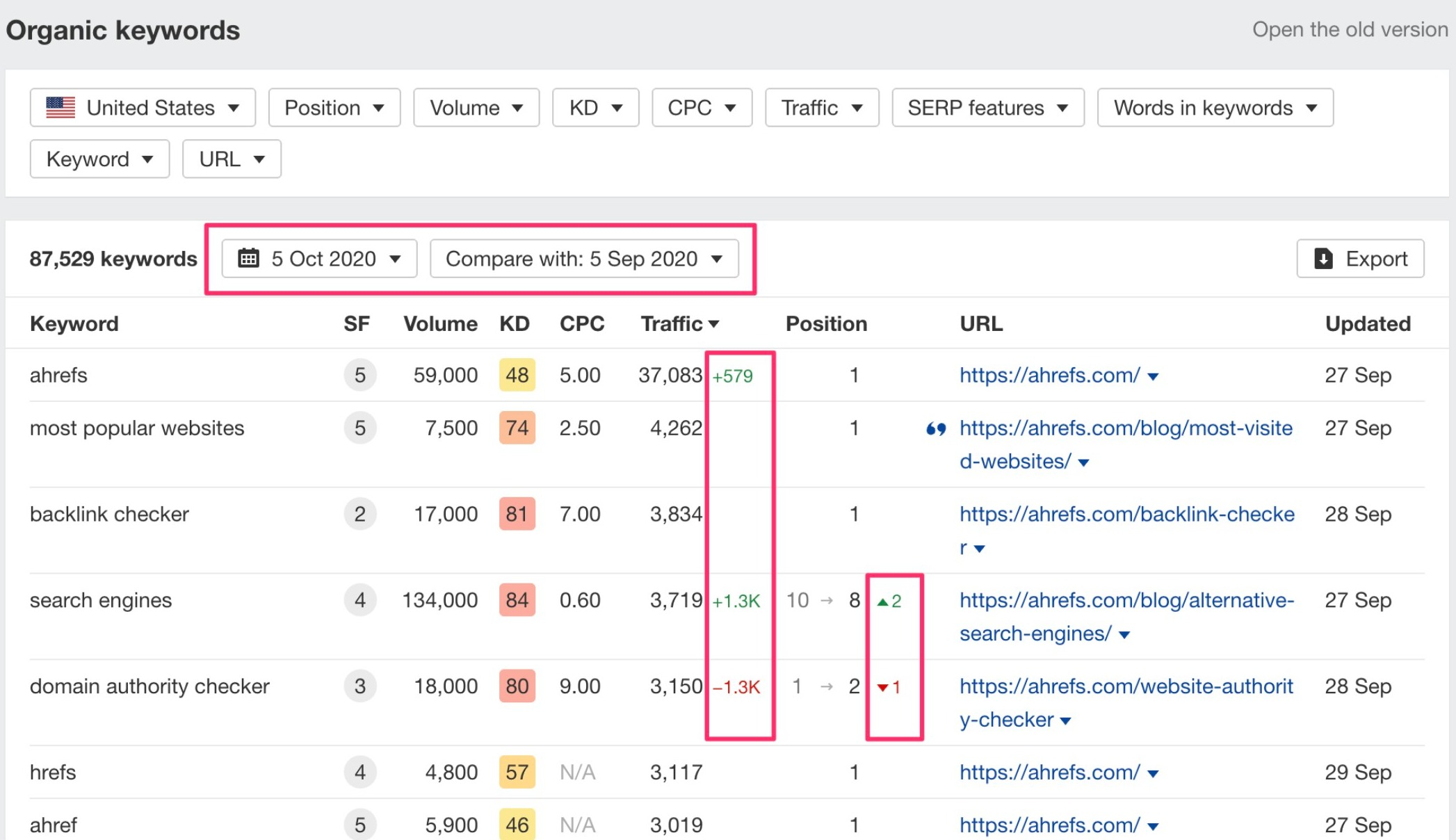 Access to historical data is a key feature that Ahrefs offers to its core customers. This means that you can look at historical data back to 2015. They also allow you to select two dates to easily compare the two and see what has changed regarding your statistics.
Information you'll be able to see and compare includes how keywords rank, the traffic volume they brought in, and their position on Google.
Semrush
Semrush has made it easy for you to see the historical data of any of your domains.
You simply select the historical overview option, and you'll see snapshots of data right back to January 2012.
As part of this, you'll see traffic stats from the dates you select. This gives you an idea of how traffic has changed and whether this relates to particular events, times of year etc., especially if there is a pattern of traffic changes that you can track.
The Verdict
Both offer a handy way to track changes to any domains you own and see how they perform now and how they have performed previously. Both Ahrefs and Semrush make this data extremely easy to access and analyze. Still, the comparison tool that Ahrefs offers to compare two different dates of your choosing is particularly helpful.
Ahrefs vs Semrush: Internal Linking Analysis
Internal linking is an important part of any SEO strategy. However, without a tool like Link Whisper, it can be hard to keep track of what pages have internal links to them and where you have already linked from, so analyzing this and seeing what else might be needed is a really handy tool to have access to.
Ahrefs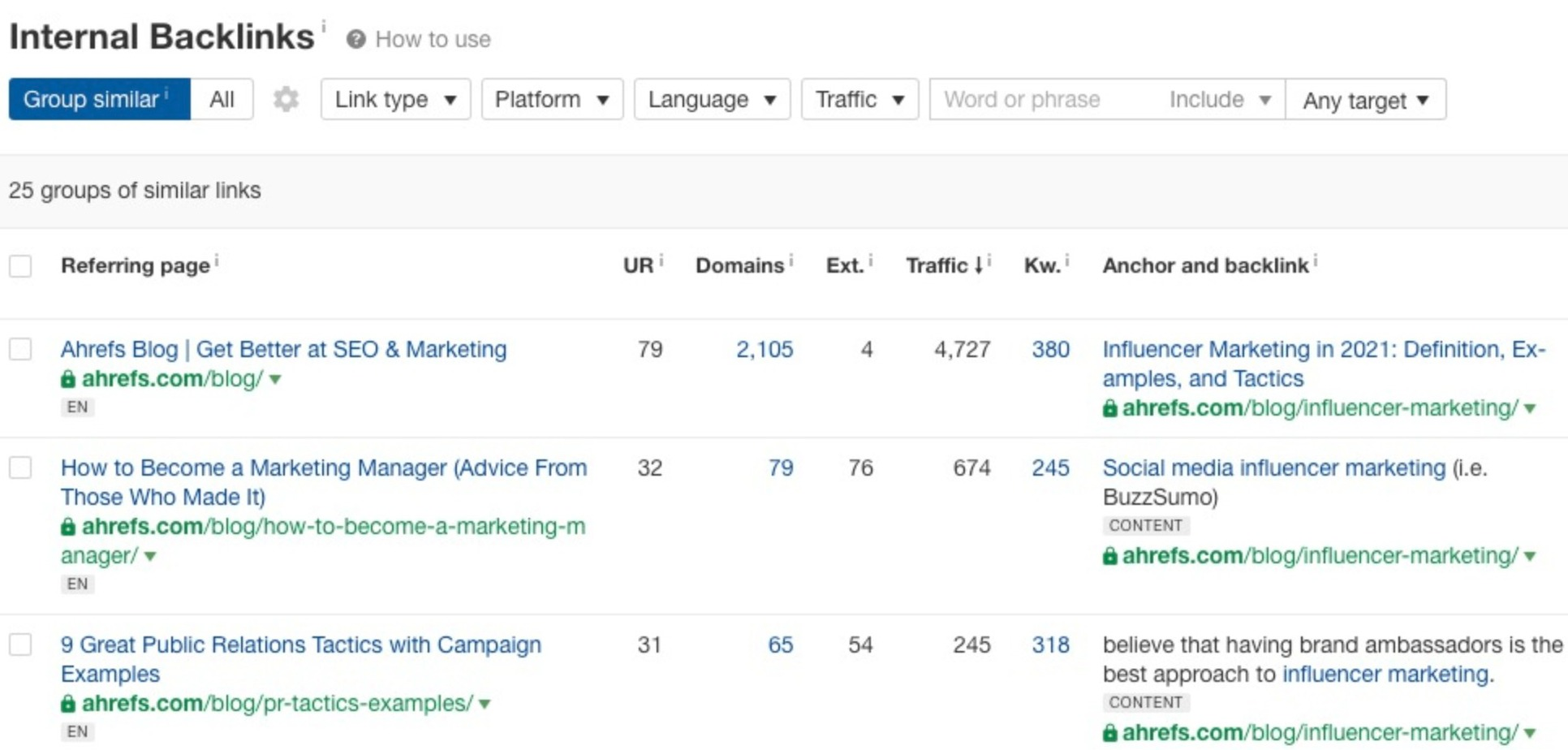 Ahrefs' internal backlink analysis tool can help you view your existing internal links and quickly find orphaned pages (pages with no links directing to them). You can also filter the link type to show either follow or no-follow internal links and make changes if required.
You can also use this feature to check if your competitor's articles are ranking because of the number of internal links pointing to the article.
Semrush
As part of the on-page SEO checker tool that Semrush offers, it advises on internal linking strategies. This allows you to see what internal links you have already implemented and whether you have any pages that don't have any internal links.
You can find this under the site audit section of your Semrush dashboard, so it's easy enough to access.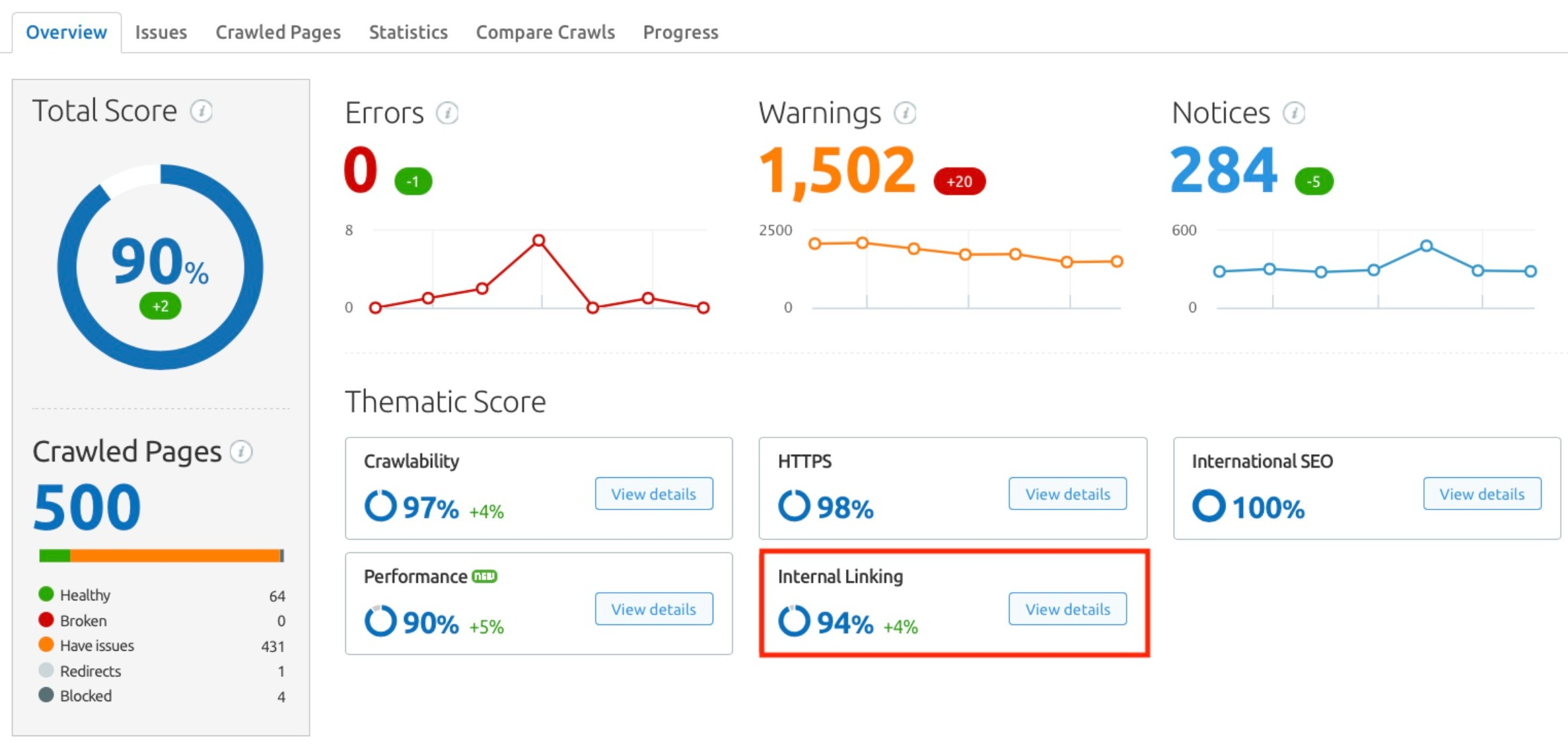 You'll see how many pages have internal links and how many need to have internal links added to them. There is also a section on link issues, such as broken links, whether you have too many links on a page etc.
The Verdict:
Internal linking is essential to SEO, so it is important to get it right. And both Ahrefs and Semrush have easy-to-access, comprehensive tools that let you pull this data and see what changes you need to make to improve things.
Ahrefs vs Semrush: Rank Tracking
Both Ahrefs and Semrush have rank-tracking tools included with their subscriptions. A rank tracking tool allows you to monitor your website's position on a search engine for the keywords you rank for over time.
Let's take a look at how they compare side-by-side for rank tracking.
Ahrefs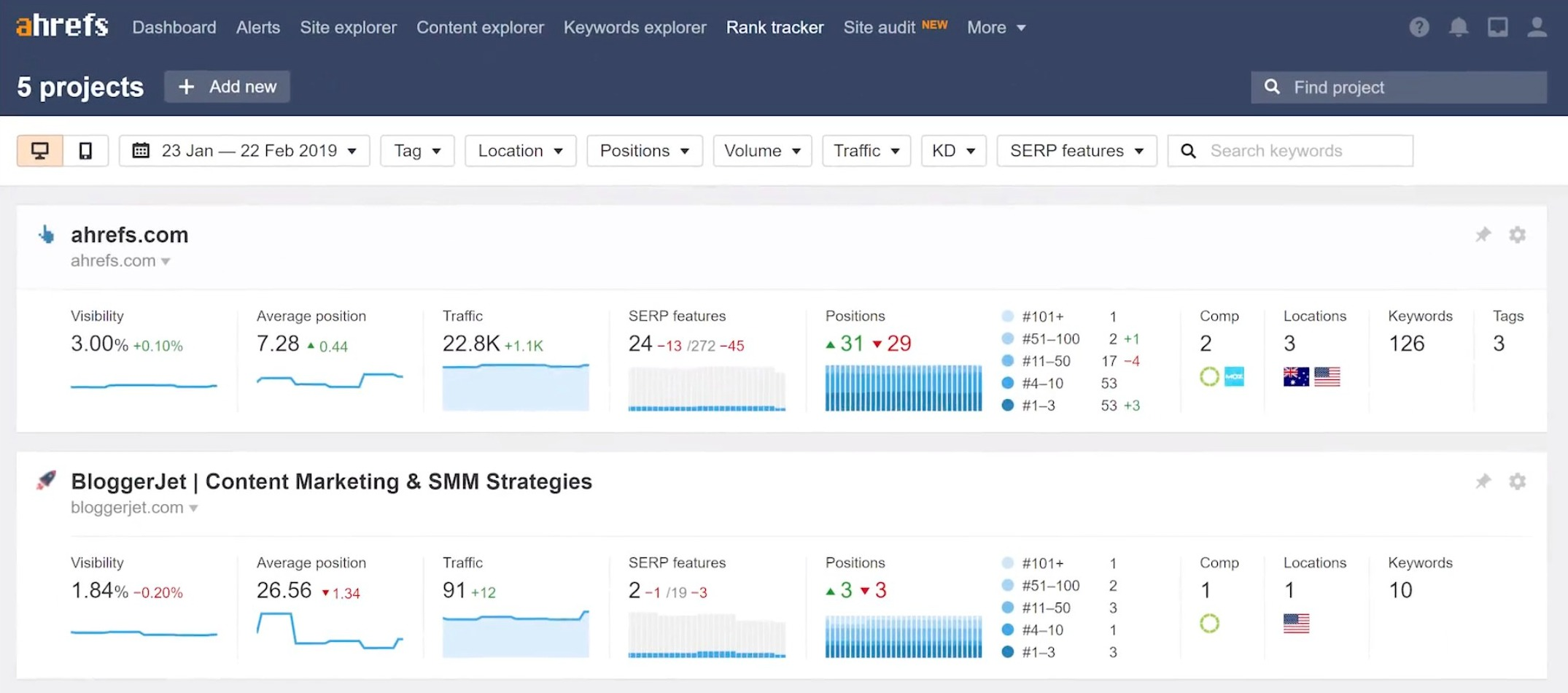 Ahrefs rank tracker allows you to track your rankings via their rank tracker tool. It should be noted that you can only track the ranking of domains added as a project.
The number of projects you can add for rank tracking will vary depending on which plan you are subscribed to. Ahrefs rank tracker can be slightly limiting, particularly if you have many sites that you are looking after in terms of SEO. You can get around this by verifying with Ahrefs that you are the owner of a particular domain.
Semrush
Semrush rank tracking tool allows you to easily access any data regarding your keyword position and what changes it has made over time.
We know that Semrush gives you historical data, so you can see this over a much longer period than how you are currently performing.
On top of that, you can enter the website of any competitors into the rank tracking tool and see how you perform in the organic search results compared to them for keywords you are both targeting.
You can also set up triggers so that if a change happens within your rankings, they will send you an automated email to let you know.
The Verdict
In terms of tracking the ranking of websites that are not your own, Semrush makes it much easier to do so. The information you can have on your own site is similar for both tools, but if you are interested in tracking competitors' rankings, then Semrush takes the lead in terms of capabilities.
Ahrefs vs Semrush: PPC Analysis
Implementing a successful PPC campaign is a great way to get visibility on search engines. However, it can be costly if you don't get it right.
Analyzing potential campaigns, seeing how they are performing for your competitors and getting an estimate of costs helps you to put together a campaign that you can be sure will be successful when it comes to driving the necessary traffic to your website.
Ahrefs
Although Ahrefs shows a chunk of PPC-related data, it is a little more limited when compared to Semrush.
However, if you are looking for competitors' data, you get access to the keywords used to advertise a domain and any landing pages related to.
You can find this data on the main dashboard of the site explorer tool. This lets you see how much it would cost to generate a click-through on any PPC campaigns you might implement.
Semrush
Semrush has a range of tools that can help with PPC, including providing a large amount of data from Google Ads.
Data included in its reports include keywords, ad positions, adverts displayed, landing pages, and even how adverts are performing for your competitors.
Their Advertising Research Tool gives loads of data for websites, including the estimated traffic and how much that traffic is likely to cost via a PPC campaign.
The Verdict
Both give you good visibility in PPC and the potential for your site. However, Semrush has slightly more data available with a dedicated tool for this purpose so it could be the better choice if this is something important to you and your marketing needs.
Browser Extensions
Both Ahrefs and Semrush offer browser extensions that let users view and access data while browsing other sites online.
Here's how they compare.
Ahrefs
Ahrefs offers a free SEO toolbar browser extension that can be used on both Chrome and Firefox. Even without being an Ahrefs user, you can access a wide range of features, including
An on-page SEO report
View redirects
See any outgoing links
Check for broken links
View SERP positions
As an Ahrefs user, you also get SEO metrics for every page you visit and for Google search results too!
Semrush
Semrush offers a range of browser extensions and even has a page on its website that points you in the direction of other browser extensions that you might find useful.
The Semrush Chrome extension allows you to see the Semrush ranking of every website that you visit. Many website owners find their Page Improve toolbar handy, as it allows you to tweak pages that you own directly from your browser rather than needing to log in to Semrush.
The Verdict
Both tools offer browser extensions, so you can easily analyze websites as you go about your day-to-day browsing. However, Semrush probably puts more importance on these, with information from several 3rd party extensions you might find useful and information on their own toolbar add-ons.
User Interface and Ease of Use
How easy a software or online tool is will vary from person to person. Something that one person finds easy might be harder for another. However, when it comes to these two tools, the idea is that the information you need is easy to find and that you can simply analyze what you have found and compare it to others.
So, how do these two compare?
Ahrefs
The main dashboard on Ahrefs is both easy to use and intuitive for most people, even beginners.
For the most part, the information that you want to see is available on the front page. However, you can, of course, click on any of these sections and get a deeper look at any of the data presented to you.
The menu on the left-hand side of the page also has several options, which means that navigating to what you need to find, even if it isn't on the main page, is easy.
Semrush
At first glance, the dashboard at Semrush looks similar to Ahrefs. However, everything is laid out differently.
You'll find the information on the Semrush front page grouped into different categories, designed to make finding the information you need as easy as possible.
Semrush presents a large amount of information that can initially seem confusing. But… it is much easier than it first seems—and it's all helpful data!
The Verdict
Both tools are easy to use, although Semrush often gives more data, making it difficult to get to grips with. Both have easy-to-navigate menus, so finding your way around doesn't need to be too much of a struggle.
API Access
Although each of these tools is fully comprehensive and lets you do most things that you need to in terms of SEO and marketing, API access allows you to integrate different applications so that you can out of the software what you need.
Ahrefs
To make use of any of Ahrefs API functions, you need to be on one of their paid subscription options.
They offer three API plans, so you need to check on these and see what is best suited to you. You can develop applications that use API and/or authorize third-party applications to use Ahrefs API on your behalf.
Semrush
Access data from Semrush without needing to log in with their API options. They offer both a standard API package and a traffic analytics API package, so you can read up and see which one is for you.
The Verdict
API integration isn't something that everyone will need. If you decide it is something you want access to, then reading up about it in advance and choosing the best one for your specific needs will help.
Customer Support
Although no one wants to imagine anything will go wrong when using a marketing tool such as Ahrefs or Semrush, it is nice to have the peace of mind that you'll be able to contact them when you need to. Good customer support can make or break a tool like this, so how do Ahrefs and Semrush measure up regarding support?
Ahrefs
When you log in to the Ahrefs website, you'll notice a speech bubble in the bottom right-hand corner, which takes you immediately to their help page.
Here you can access several pre-written help guides. This includes how to get started, information on account access and billing and how to use each of their tools. It's a pretty extensive section and will cover most everyday inquiries.
The support team can also be reached via email and live chat. You can expect a quick reply using the chat option—usually in 10 minutes or less.
Semrush
If you're looking for support, you can either email or fill in a form with your request. You can usually expect a reply in one working day.
There is also a chatbot, which you can use to get quick answers or wait to chat with one of the customer support specialists. You must be logged into your Semrush account to access chat support.
There is also a comprehensive help section. This includes a knowledge base that covers lots of topics and answers loads of questions that you might have about getting started and using any of the tools that they provide.
The Verdict
Both companies offer good support via a range of options. Ahrefs is generally a little quicker—usually providing replies in under 10 minutes.
Plans and Pricing
Ahrefs Pricing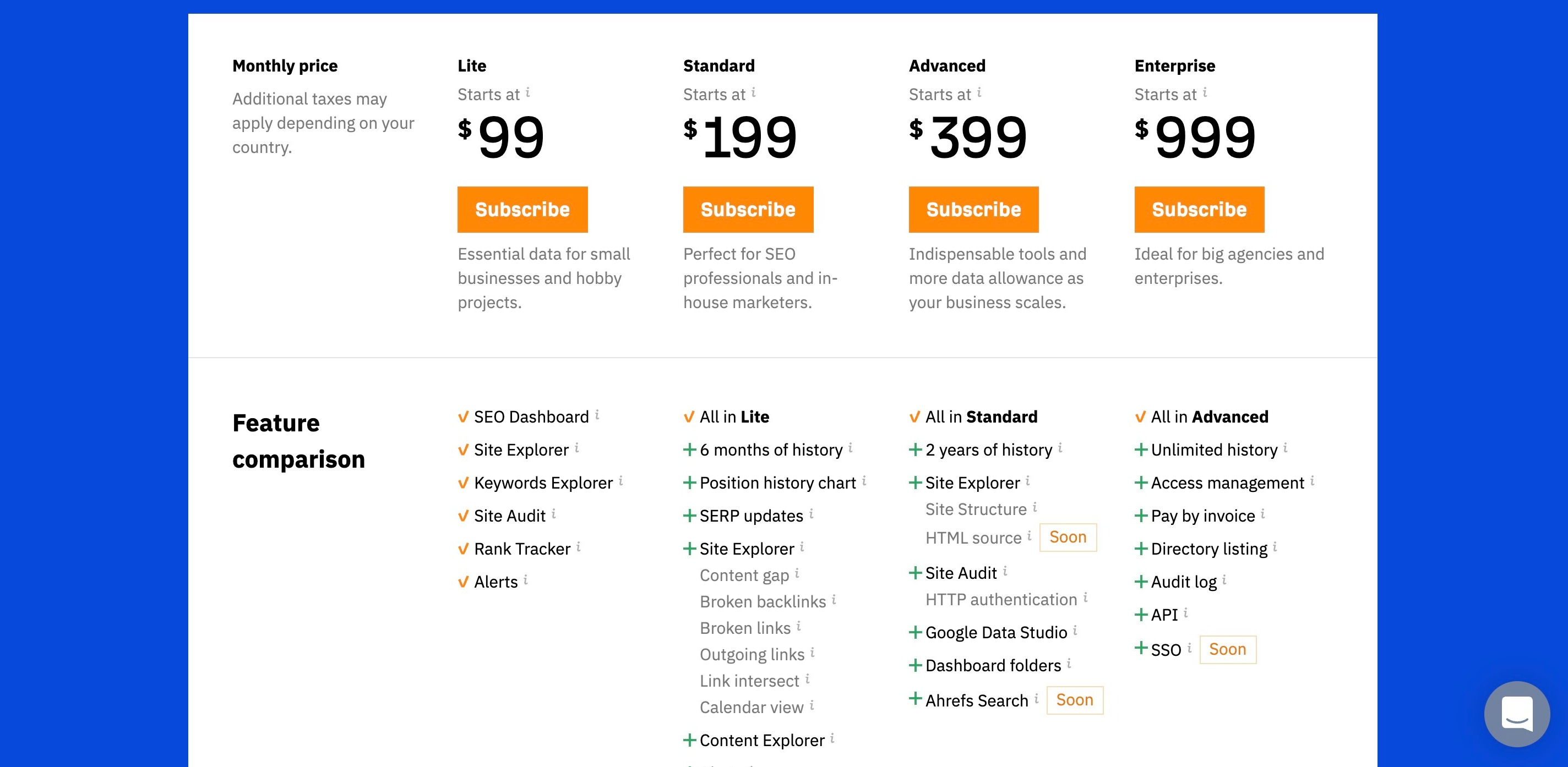 Lite - $99/with a discount if you pay annually. You get access to the full SEO dashboard and site explorer page. You also get daily alerts and can run up-to-date site audits.
Standard - $199/month with a discount if you pay annually. You get access to everything above, as well as six months of historical data, SERP updates, and access to broken backlinks, outgoing link analytics, and SERP comparison.
Advanced - $399/month with a discount if you pay annually. You get access to everything above as well as 2 years of history, site structure and HTML source analytics, Google data studio and a soon-to-be-launched Ahrefs search.
Enterprise - $999/month with a discount if you pay annually. You get access to everything above and the option to pay by invoice. You will get listed in their directory and have access to unlimited history.
Semrush Pricing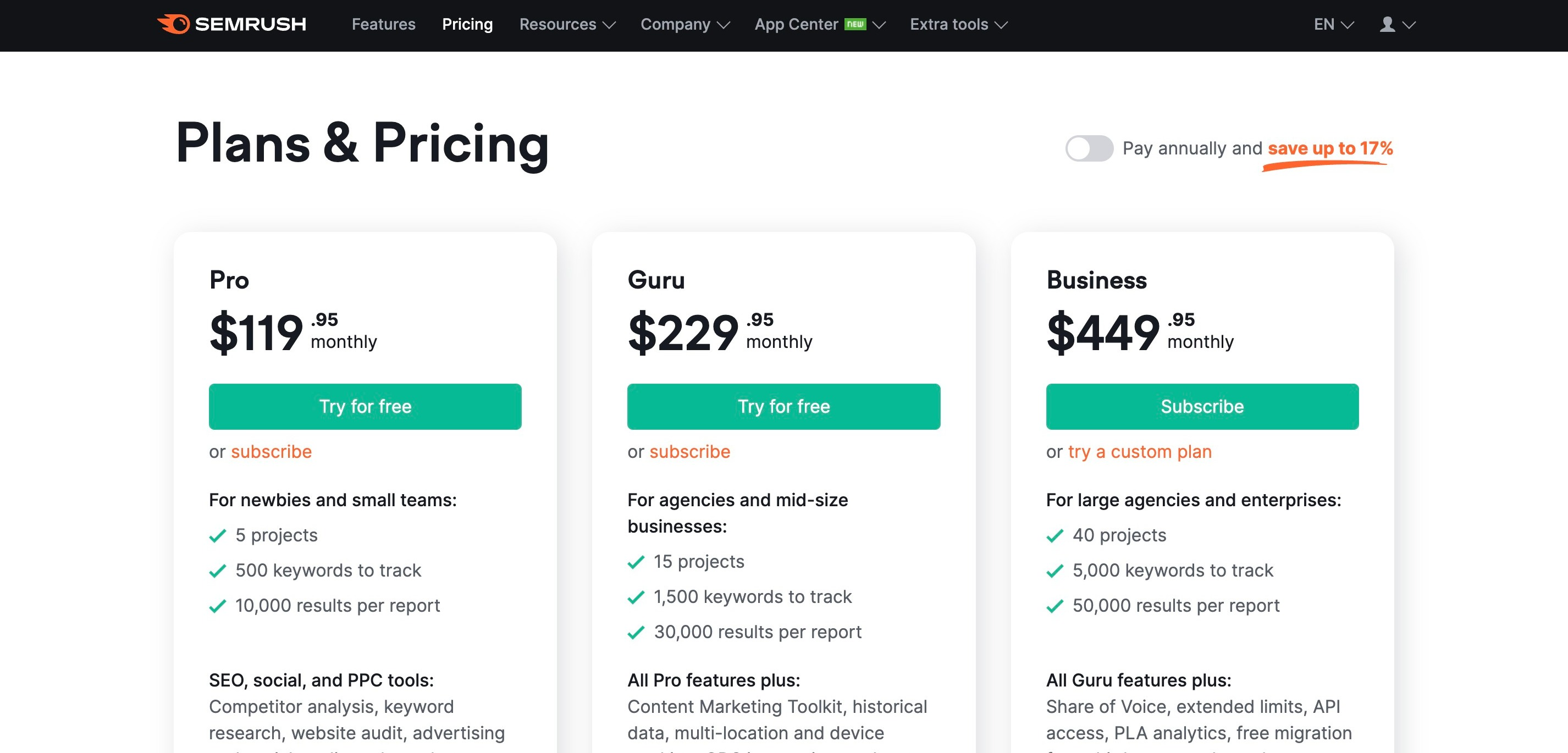 Semrush offers 3 plans and the option to try each of these for a free trial.
Pro - $119.95/month with a discount if you pay annually. This is perfect for up to 5 projects and allows you to track up to 500 keywords and receive 10,000 results per report. You'll also get access to competitor analysis, website audits, advertising, and keyword research tools.
Guru - $229.95/month with a discount if you pay annually. This is perfect for up to 15 projects and allows you to track up to 1500 keywords and receive 30,000 results per report. Extra tools you get access to include historical data, a content marketing toolkit, and also device tracking.
Business - $449.95/month with a discount if you pay annually. This is perfect for up to 40 projects and allows you to track up to 5000 keywords and receive 50,000 results per report. Extra tools you get access to include extended limits, API access, and migration from third-party tools.
Free trials
Ahrefs
Ahrefs doesn't currently offer a free trial. However, there are some tools available that you can use for free. You can sign up for free to their Ahrefs webmaster tools section, which provides basic information and an overview of your website. However, you'll need to verify ownership of the website to take advantage of this.
Semrush
Semrush lets you try any of their plans for free for a limited time. You'll have limited access, such as a maximum of 10 reports per day, but it is a good way to try the tools Semrush offers and see how useful you would find them.
Ahrefs vs Semrush - The Pros and Cons:
Ahrefs and Semsuh each have their own pros and cons. Let's see how they compare side by side.
Ahrefs Pros and cons:
Extensive web crawler

Very accurate when it comes to keyword difficulty

Accurate search volumes

Keyword alerts are sent to you daily

Large backlink database

Great reviews in terms of design and usability

Traffic data and estimated traffic data are available

Historical data is available
The $99 plan is quite restricted

Rank tracking only updates weekly

A steep learning curve at first
Semrush Pros and cons:
Huge keyword database with over 21 billion keywords

A large range of tools available all in one place

Extensive keyword metrics and backlink-building options

Generous usage allowances

Great for PPC campaigns

Social media tools included

Content optimization tool included
Search engine information only covers Google

Traffic analysis isn't always 100% accurate
Things Only Ahrefs Can Do
Traffic Estimations for Top Search Results
It is all well and good looking at the top keyword results and doing your best to get there, but you also need to know it is worth your while. Ahrefs give you traffic estimation for keywords, so you can have an idea of what traffic you'll generate by improving your ranking.
Extremely Accurate Link Analysis
If you're analyzing links, then you want it to be accurate. You'll see loads of information on the site explorer dashboard, including Ahrefs rank, the number of backlinks, referring domains, and keywords, and even look at how this compares over different timescales.
See The Ranking History Of All Pages
As well as being able to see Ahrefs ranks for your own website and other websites you'll also be able to see the history of that and how that has improved or otherwise in recent months and years.
Things Only Semrush Can Do
Content Optimization Tools
SEO content template will help you write content that ranks by providing you with a score for:
Readability
SEO
Originality
Tone of voice
It will provide recommended keywords and help you fine-tune your readability to create a fully optimized article.
Semrush's SEO Content Template Feature helps you create great outlines and provides you with additional data, such as recommended word count and semantically related keywords to include.
Best of all, these features can be used directly within Google docs and WordPress using the free browser extension.
Social Media Features
These days a good presence online is about more than just a website. We all know the importance of social media platforms too. Semrush has many built-in tools that allow you to work on your social media strategy. This includes:
Scheduling posts
Content calendar
Posting to Pinterest, Twitter, Facebook, LinkedIn, and Instagram
Detailed Analytics
Run social media ads
Track your competition
Alternatives To Semrush and Ahrefs
If you're still undecided about which SEO tool to choose, you might want to check out some of these alternatives.
Keysearch
Keysearch keyword research tool is often favored by bloggers and those whose websites don't generate massive income. This is because it's not only one of the best value keyword research tools around for keyword ideas, but it still packs a punch regarding the data provided.
It's a much more affordable keyword research alternative to Ahrefs and Semrush and has many features that you can benefit from. You'll still get keyword analysis, competitor analysis tools, content optimization tools, and competitor gap analyses.
Read my full Keysearch review for everything you need to know about this awesome SEO tool for keyword research.
Get 20% off Keysearch with the code KSDISC
---
Mangools SEO Tools
Mangools offers a bundle of 5 SEO tools to help with your website as a whole, including access to some free SEO tools, websites to speed up your SEO tasks, and even a free SERP snippet preview to get you started.
---
Growthbar
Growthbar is a data-driven all-in-one SEO tool designed to make content creation effortless (and we have an in-depth GrowthBar review from months using the tool). It uses OpenAI's GPT3 to help you create powerful outlines for your blog posts, and includes an AI writing assistant too. Best of all, it offers unlimited keyword research, even on the cheapest plan.
---
Moz
Moz is a great place to start for those who want a tool to help with SEO but also want to learn more about marketing. You'll be able to track the health of your website and that of your competitors to ensure you're doing what you can to be ahead of the competition.
---
Ubersuggest
Ubersuggest gives you access to basic keyword overview information and helps with generating keyword and content ideas. However, for many people, the best thing about Ubersuggest is that it is a marketing tool they can use for free.
---
Semrush VS AHREFS: Which SEO Tool is Better? The Final Verdict
So, what's the verdict?
Well, it's a tough choice. Both SEO tools are awesome, but some of their features vary quite a bit. Because of this, it's important to consider your individual needs before making a decision.
When it comes to keyword research, backlink analysis, rank tracking, and SEO audits, Ahrefs comes out on top. It's easy to see why it's a favorite among bloggers, niche site owners, and marketers. Although there's a bit of a learning curve, once you learn your way around, you will find the UI very user-friendly. Perfect for an SEO tool you will likely be using daily.
However, Semrush shines in several areas, too, and is really perfect for businesses looking to handle their marketing needs under one roof.
It shows keyword intent and in-depth PPC data, which is very invaluable if you're running PPC campaigns. And despite its entry-level plan being slightly more expensive than Ahrefs, it offers much better value for money than its competitor.
It also includes social media management and content optimization tools as standard, which is great news for those on a budget. Content optimization tools can get very pricey, so including them in the package is a game-changer for anyone starting out.
And finally, Semrush is currently the only one out of the two offering a free trial. This means you can risk-free test the waters and decide whether it's right for you.
Want to learn step-by-step how I built my Niche Site Empire up to a full-time income?
Yes! I Love to Learn
Learn How I Built My Niche Site Empire to a Full-time Income
How to Pick the Right Keywords at the START, and avoid the losers
How to Scale and Outsource 90% of the Work, Allowing Your Empire to GROW Without You
How to Build a Site That Gets REAL TRAFFIC FROM GOOGLE (every. single. day.)
Subscribe to the Niche Pursuits Newsletter delivered with value 3X per week