26 of the BEST Coffee Affiliate Programs to Energize Your Audience
When you buy something through one of the links on our site, we may earn an affiliate commission.
As I'm writing this, I'm drinking an amazing cup of coffee from a roaster based in Minneapolis (posh, I know). And, since I work for a website that has to do with niche websites and affiliate marketing, it only makes sense to compile a list of some of the best coffee affiliate programs you can register for.
Most of the ones on this list have extremely generous commissions. Although some niches boast an eye-popping 40% commission rate, the average is closer to 10-15%.
The average commission rates for gourmet coffee affiliate programs either meet that or exceed it (in some cases).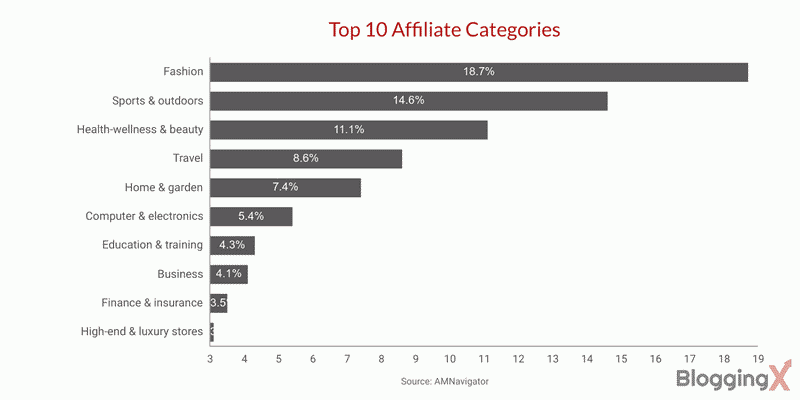 The rationale for these higher prices has to do with frequency. If you're able to drive traffic to a coffee site, the chance of that person becoming a repeat customer is high. The affiliate rates reflect this lifetime customer value.
So if this is an area you're interested in, kick back, pour a hot cup of joe, and build out a coffee affiliate site with these programs as the backbone.
---
Best coffee affiliate programs
Did you know that nearly 65% of Americans drink coffee? That's an amazing percentage of the total population, which explains why there are so many different brands.
When there's this many options, it's best to explore micro-niches. Look for coffee affiliate programs that have to do with conservation or are regionally-specific. Others are geared towards a demographic group or even political interests.
Regardless, find a sub-niche and dive in.
If you need help getting started with affiliate marketing, there are guides on our website that will help.
Coffee Wholesale USA affiliate program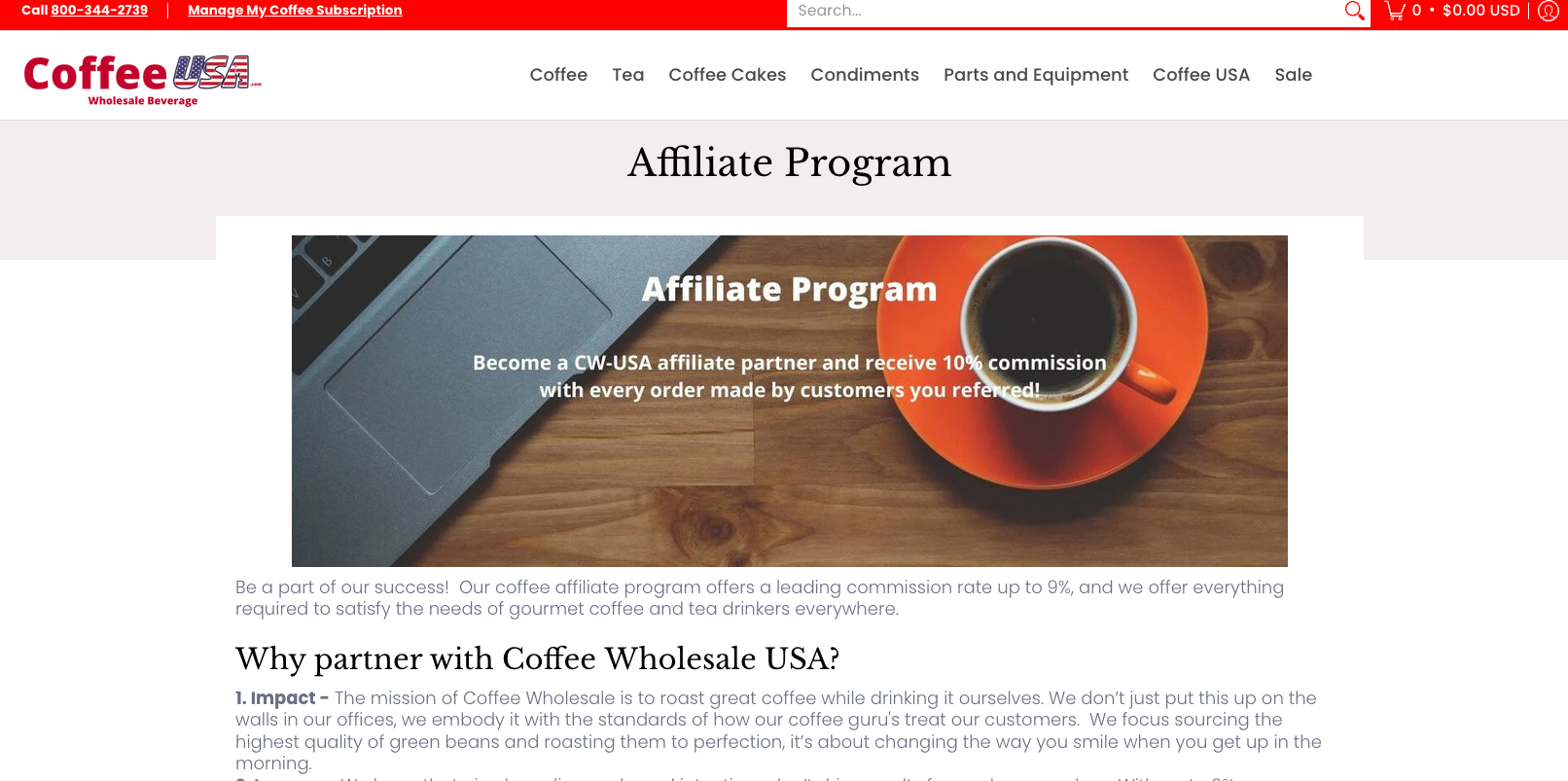 Geared mainly toward distributers and commercial coffee companies, Coffee Wholesale USA sells grinders, commercial brewers and parts. They also dabble in wholesale tea and coffee cakes in addition to their numerous coffee offerings.
The average order value on these types of products is almost guaranteed to be higher than normal (though they sell directly to individuals too). Coffee Wholesale USA also handles all of the order fulfillment and customer service -- all you do is drive traffic.
At 9%, Coffee Wholesale USA's rate is one of the highest in the coffee industry. They should definitely be a part of your portfolio if you have a decent size audience.
Commission Rate: 9%
Cookie Duration: Undisclosed
---
Tayst Affiliate Program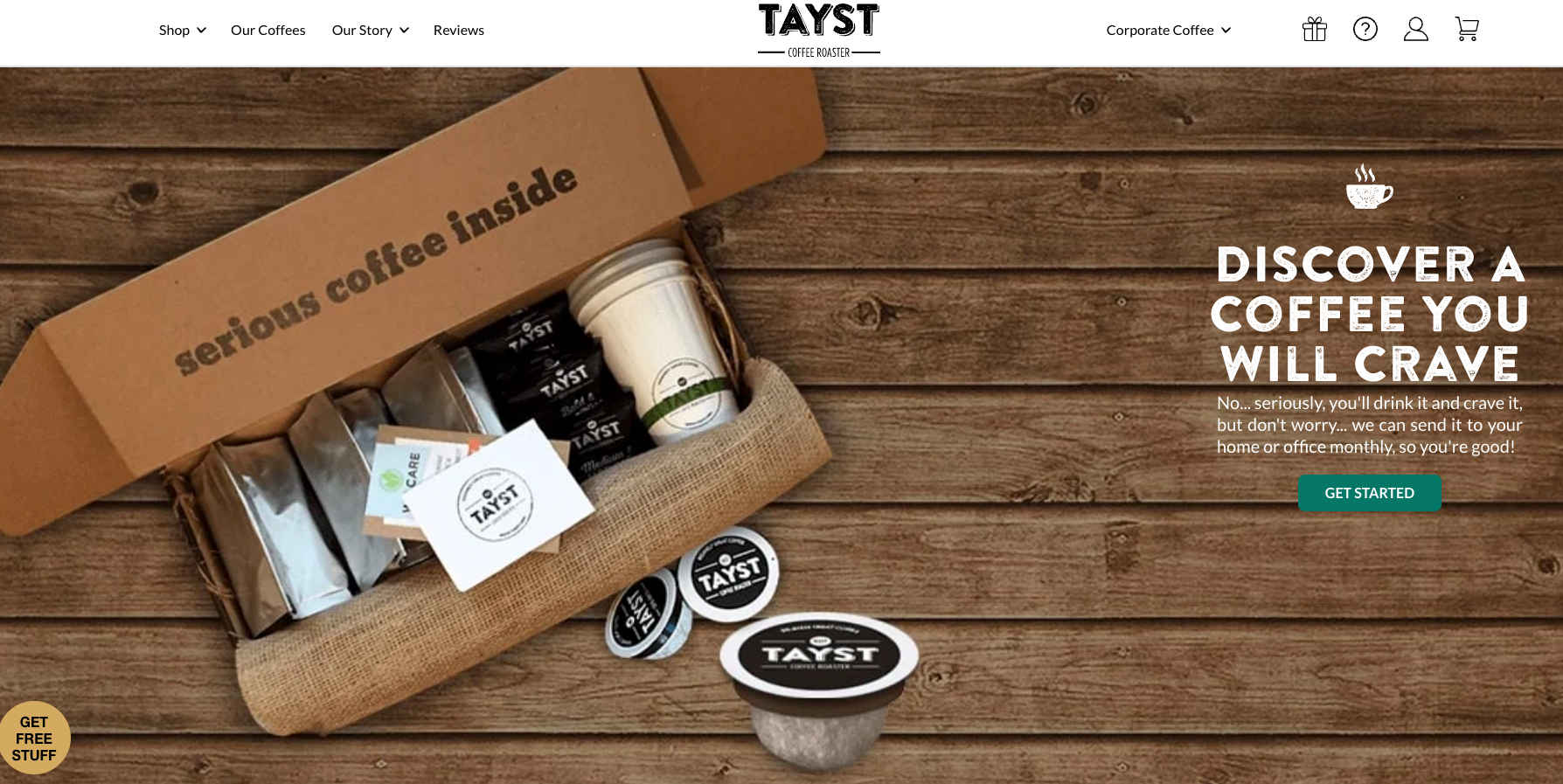 While a lot of coffee companies claim they focus on the environment, Tayst is making a concerted effort in that regard. Their subscription-based coffee service uses 100% biodegradable coffee pods. Tayst also ships their goods using recycled materials.
Unless your audience is very coffee-savvy, chances are, they haven't heard about Tayst. That's why it's a great idea to not only drive traffic as part of an affiliate program but to advertise them to your audience as well.
In return, you'll enjoy a commission of $12-13 on Skimlinks program, and 10% of every sale on ShareASale and 8% on FlexOffers. Drink great coffee, earn money, and help the environment. Could anything be better?
Commission Rate: $12-$13 (SkimLinks), 10% (ShareASale), 8% (FlexOffers)
Cookie Duration: Undisclosed
---
Vitacup Affiliate Program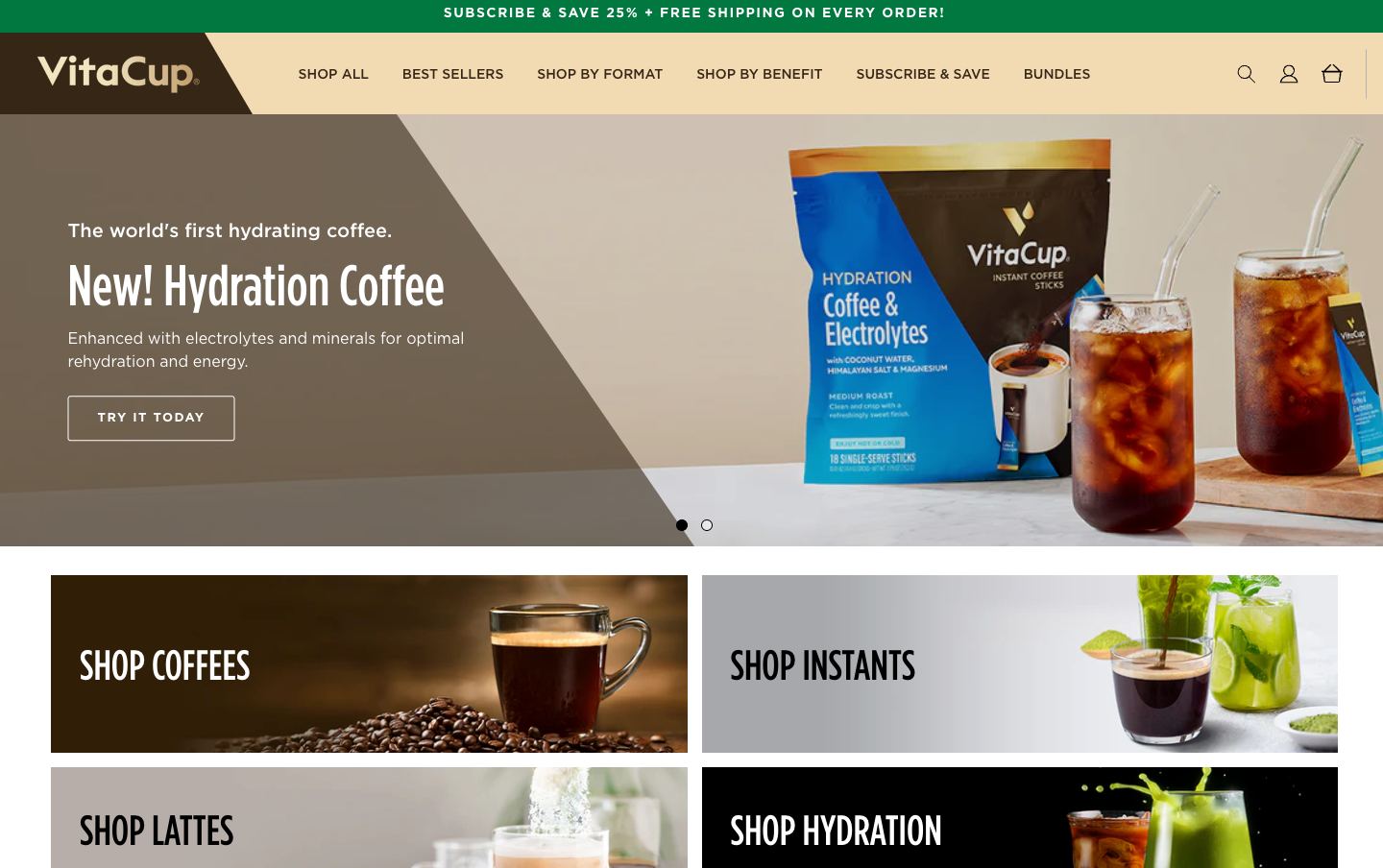 Several years ago, it became trendy to not just have coffee, but healthy coffee. This means adding other things to your morning brew, such as collagen, MCT oil, and B Vitamins.
If that's your jam, Vitacup is where you need to be.
Not only do they provide a lot of tasty options for coffee pods, but they also offer a 20% commission rate per sale. The cookies on the site last for thirty days, and the average order value is around $45. Not too shabby!
Commission Rate: 20%
Cookie Duration: 30 days
---
1st in Coffee Affiliate Program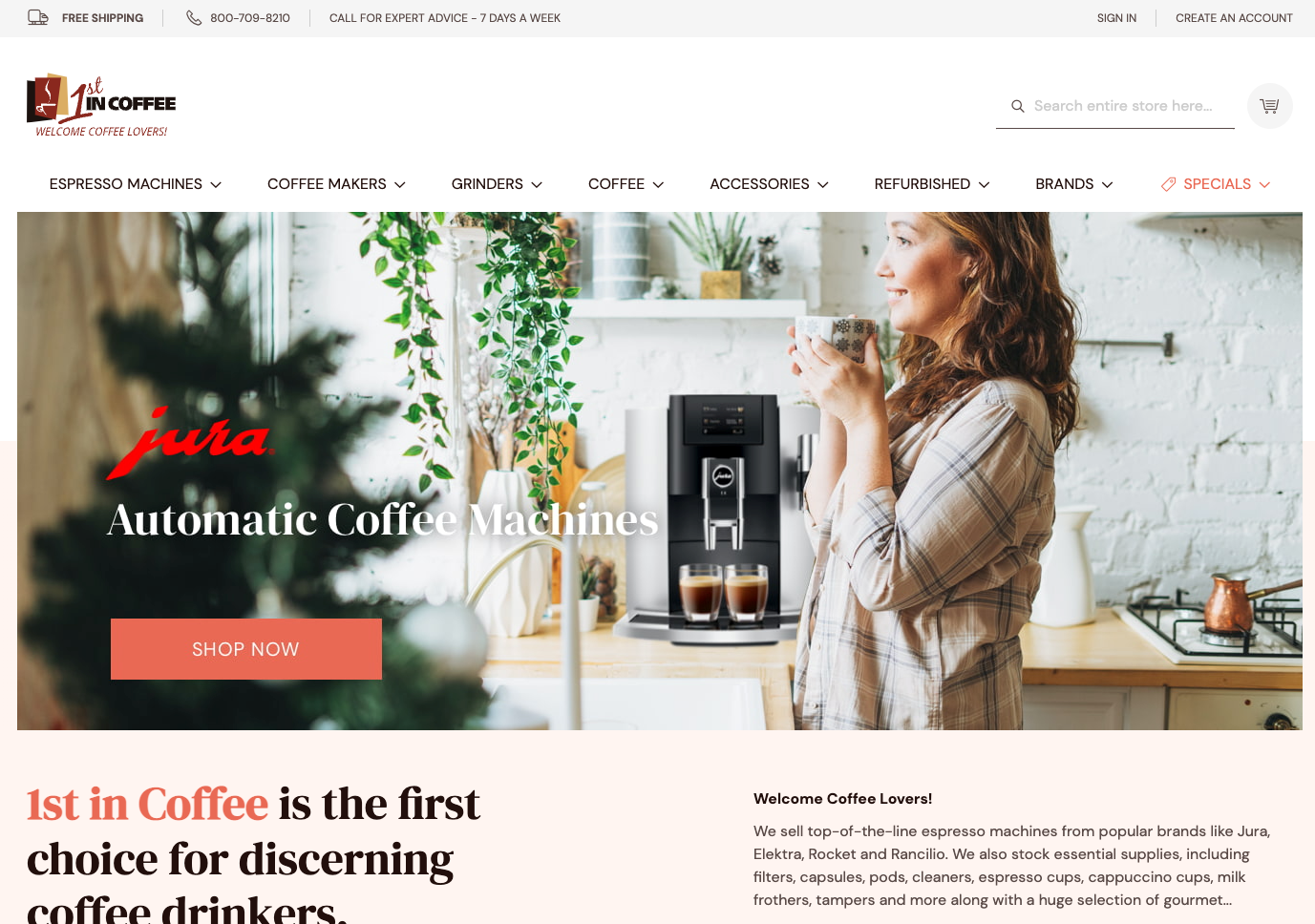 If niching down isn't really your thing and you would rather offer your audience a wide array of coffee-related options, check out 1stincoffee.com. They don't just offer a few different coffee selections. They have hundreds of options for your readers.
Additionally, they have commercial coffee makers and other important equipment that costs more than $20,000 apiece. This brings their average order value up to $320 -- one of the highest on this list. Even though their affiliate percentage is only 7%, with a 90-day cookie, you should see some traction from this affiliate program.
Commission Rate: 7%
Cookie Duration: 90 days
---
Gourmesso Affiliate Program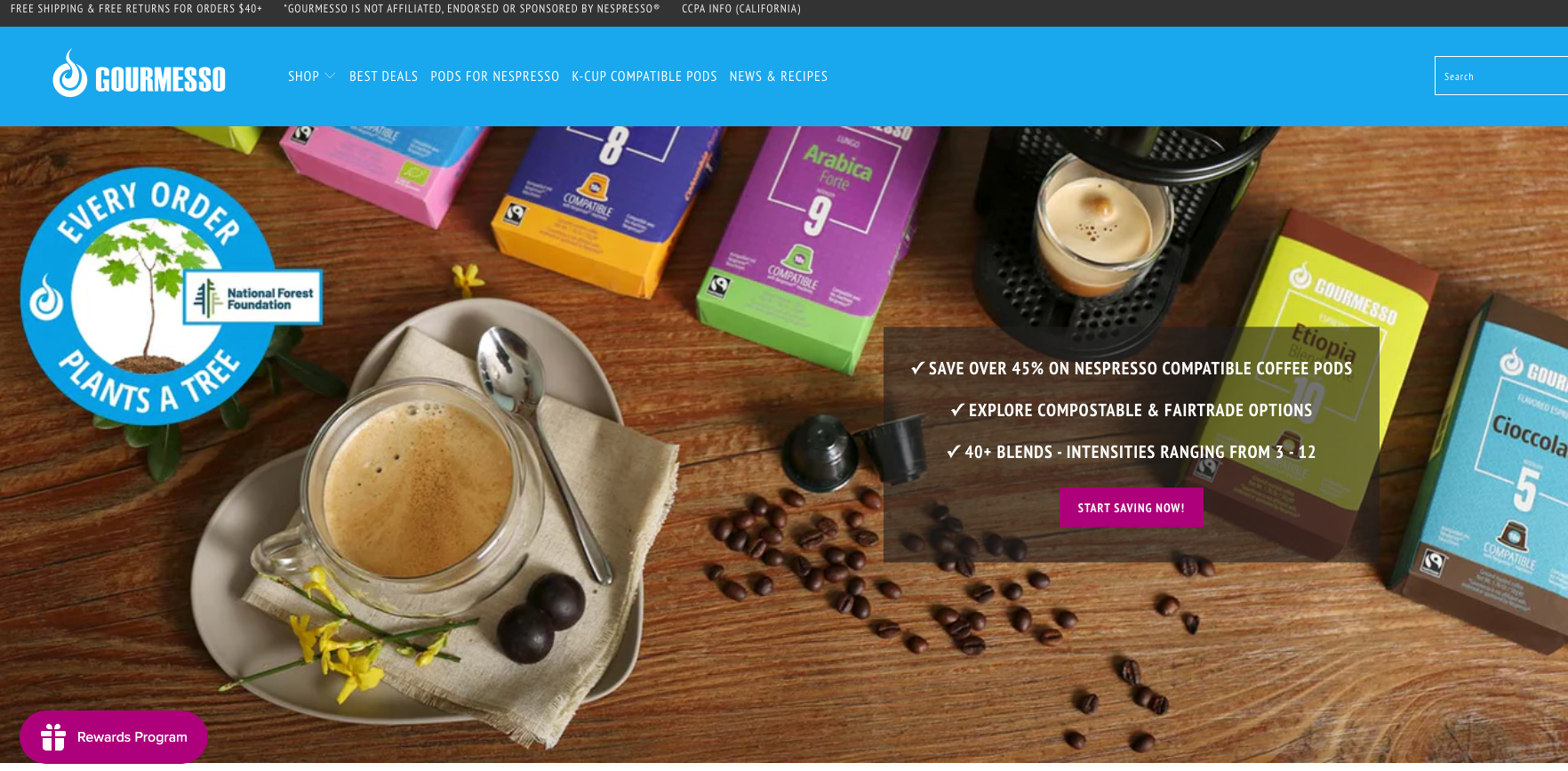 Gourmet coffee is another niche that's worth exploring, and Gourmesso is one of the best coffee affiliate programs to enroll in. They offer 15% for every new customer conversion, and 10% for existing customer sales.
Gourmesso specializes in two areas: eco-friendly gourmet coffee, and coffee designed specifically for Nespresso and Keurig machines. The average order value won't be as high for this program, but the attractive commission isn't bad.
Commission Rate: 15% for new customers, 10% for existing customers
Cookie Duration: Undisclosed
---
Trade Coffee Affiliate Program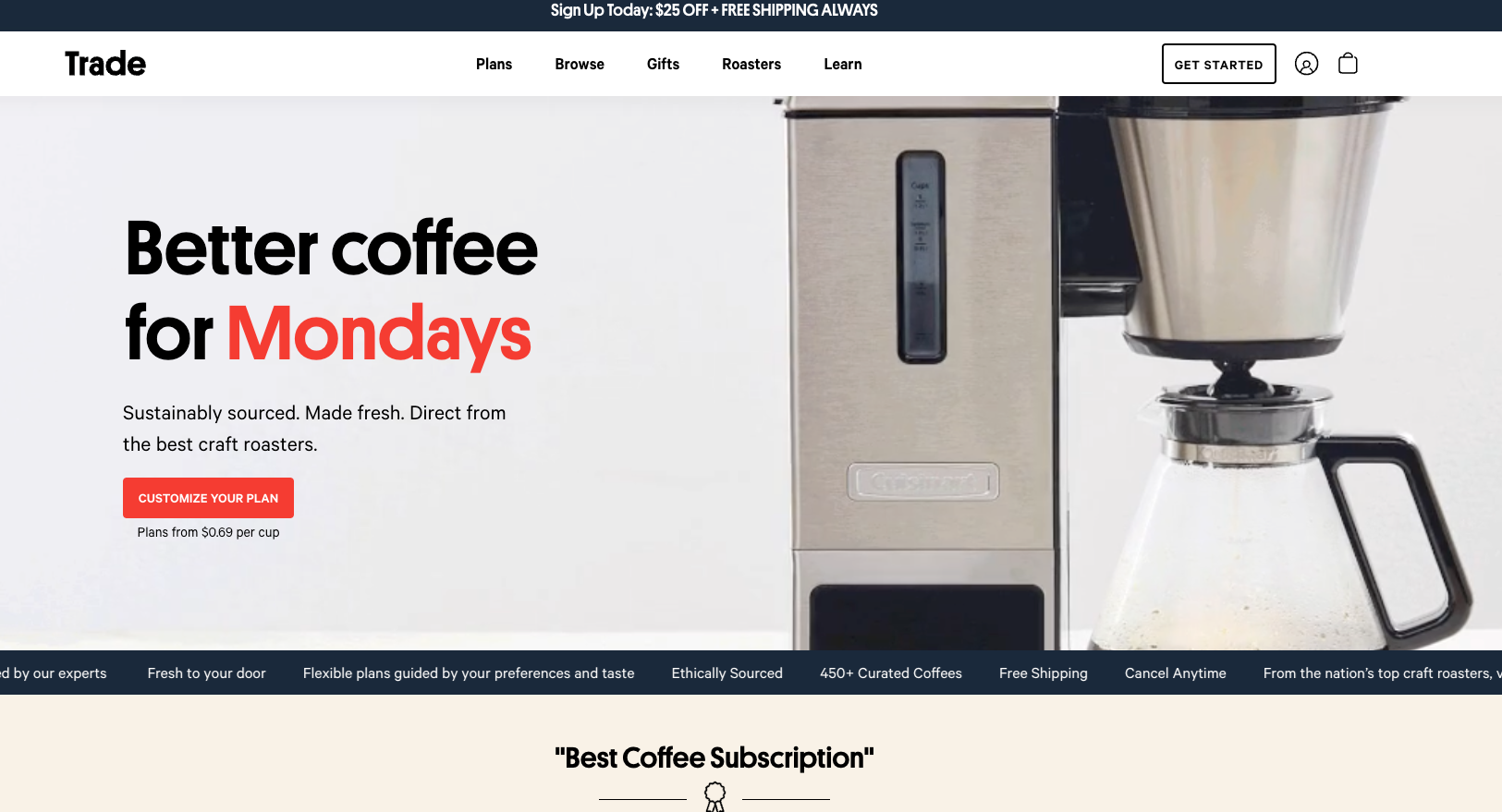 There's something special about locally brewed coffee. It may not have the quantity that you see with name brand, grocery-store style companies, but the flavor is usually off the charts.
Trade Coffee specializes in single-origin, high quality coffee that is chosen by a team of experts. They onboard all new customers and ask them their preferences; if unsure, they will recommend various flavors the customer should like.
The affiliate program with Trade Coffee isn't the best -- only 6% with a 30-day cookie -- but the audience is extremely loyal. And the coffee isn't that bad, either.
Commission Rate: 6%
Cookie Duration: 30 days
---
Coffee Bean and Tea Leaf Affiliate Program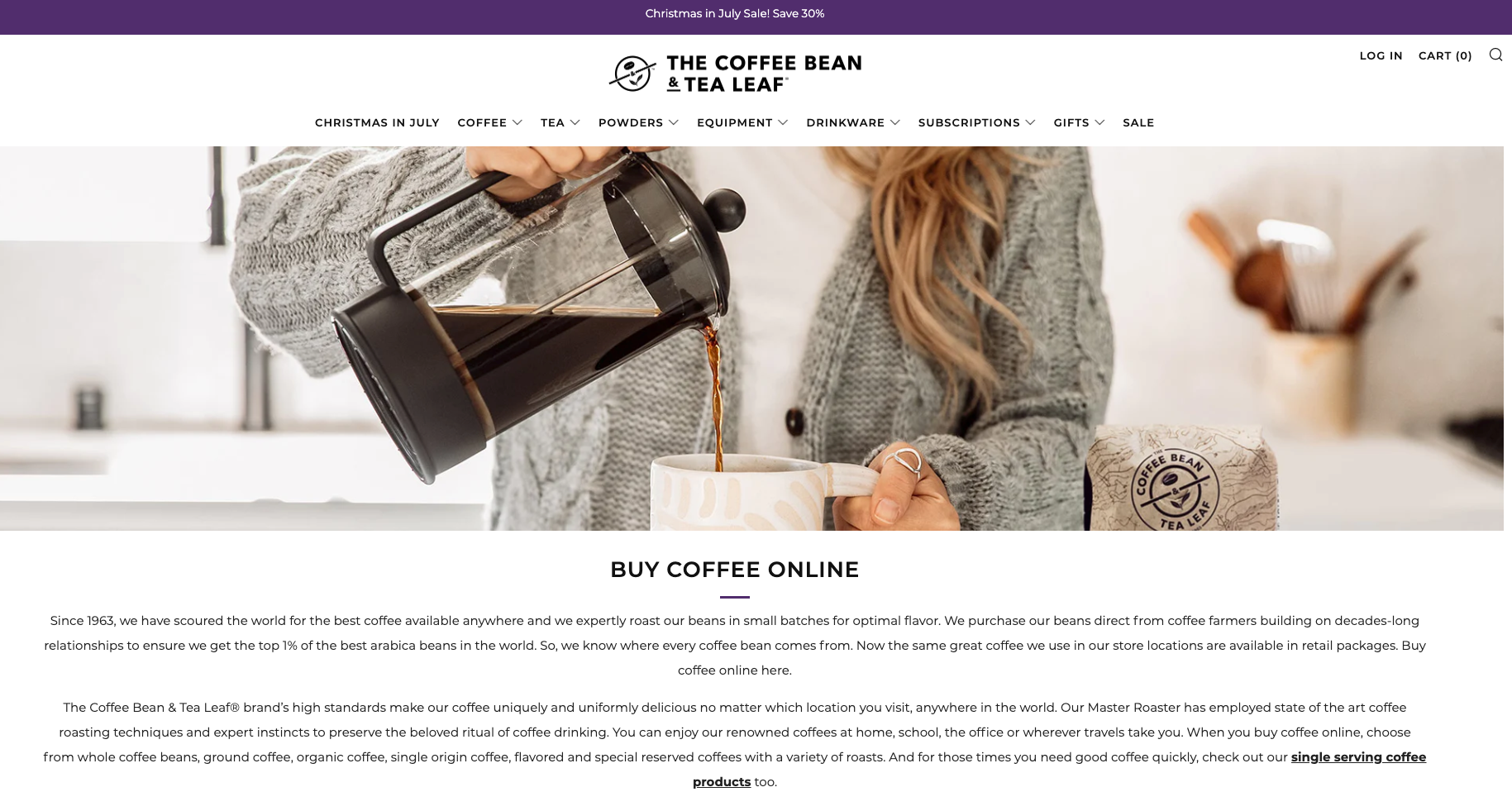 The casual coffee drinker may not recognize the term Arabica, but coffee connoisseurs certainly do. Originally grown in Ethiopia, Arabica comes from the Arabica plant and makes up nearly 60% of the world's coffee supply. It's a popular choice due to the higher amount of lipids and acidity, while also having a sweet taste.
Why does that matter here? Because Coffee Bean and Tea Leaf focuses exclusively on Arabica coffee. Not only that, but they only choose the top 1% of all coffee beans in the entire world. The quality of their gourmet coffee is their main selling point.
Of course, they also sell tea and coffee makers and other equipment, but coffee is what they're proudest of. They want you to be proud of them too; that's why they offer a 10% commission on every sale.
Commission Rate: 10%
Cookie Duration: Undisclosed
---
Bulletproof Coffee Affiliate Program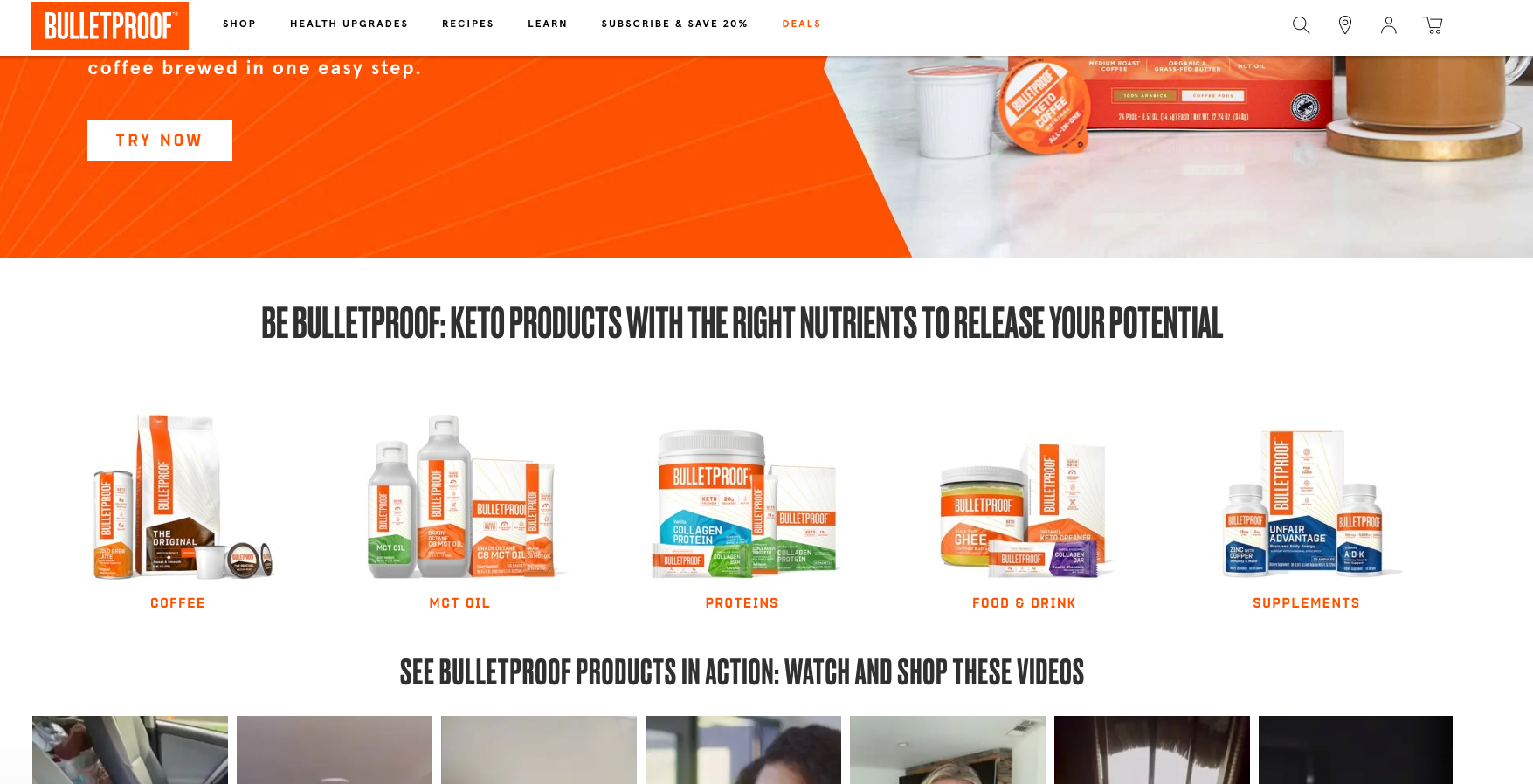 Ask any of their devoted followers, and they'll tell you that Bulletproof Coffee isn't just a drink, it's a way of life. While they may have started out with coffee, they now have a whole line of health-related drinks and supplements to choose from.
Fortunately for you, it shouldn't take much advertising to convince people to give Bulletproof Coffee a try. If they've heard of it, they're in; if not, they might get overwhelmed by all the options.
Affiliate traffic that converts will net you 10% of the sale, though, and $25 for subscriptions.
Commission Rate: 10% for sales, $25 for subscriptions
Cookie Duration: Undisclosed
---
Peet's Coffee Affiliate Program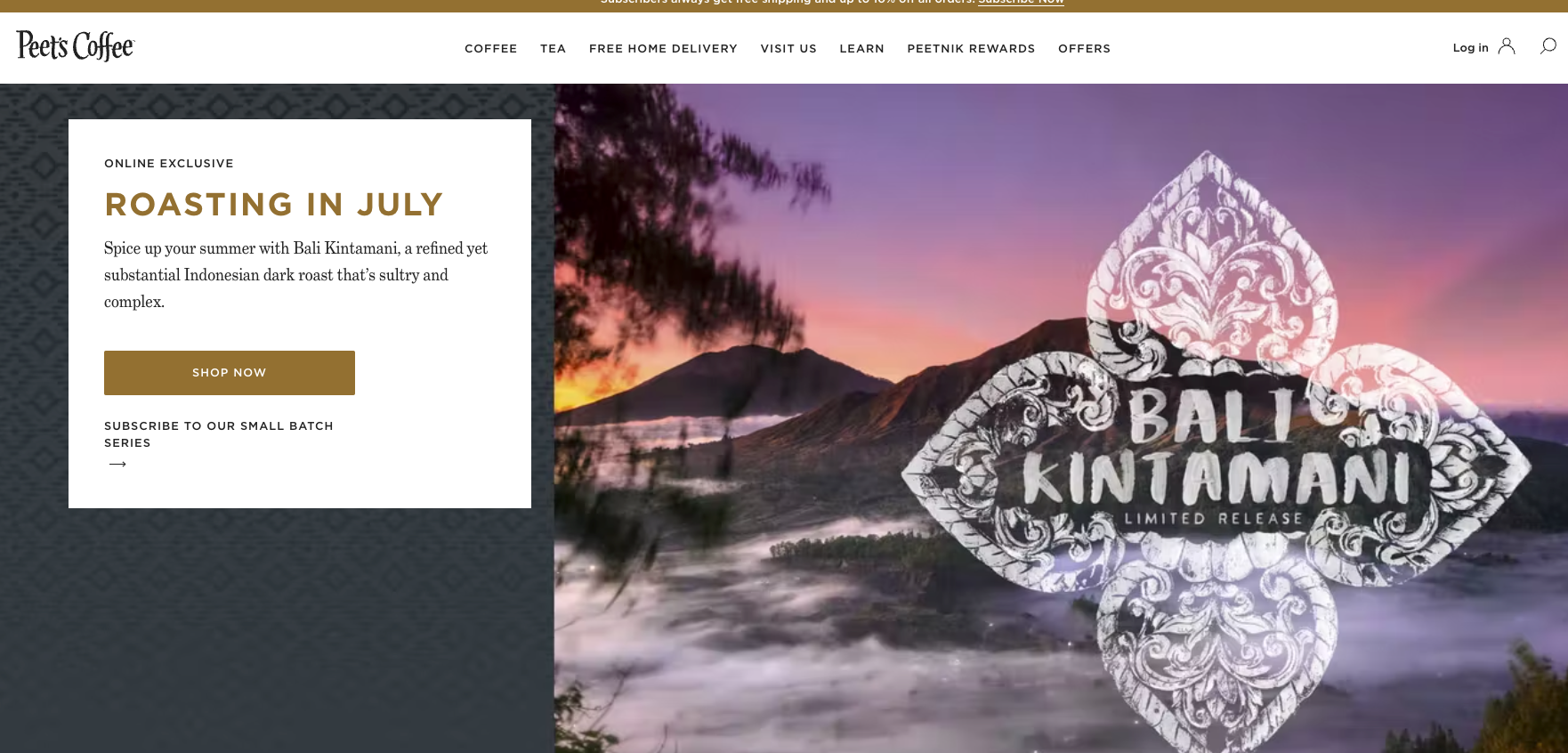 Peet's Coffee is a well-known, established brand that has coffee houses all over the country. They are one of the largest (and oldest) chains, and even supplied Starbucks with coffee beans in their early days.
Unfortunately, Peet's doesn't have one of the best coffee affiliate programs on our list. They offer 8% in commission on regular orders for new customers, 4% for returning customers, and $10 for every subscription. Not the worst, but there are definitely some programs out there that offer more.
If you have an international audience, Peet's Coffee might be the right fit for you. They ship worldwide, and the name recognition is strong. If we were talking about stocks instead of coffee affiliate programs, Peet's Coffee would be a blue chip. Add it to your portfolio if you want steady and consistent growth.
Commission Rate: 8% for new customers, 4% for returning customers, $10 for subscriptions
Cookie Duration: Undisclosed
---
Koa Coffee Affiliate Program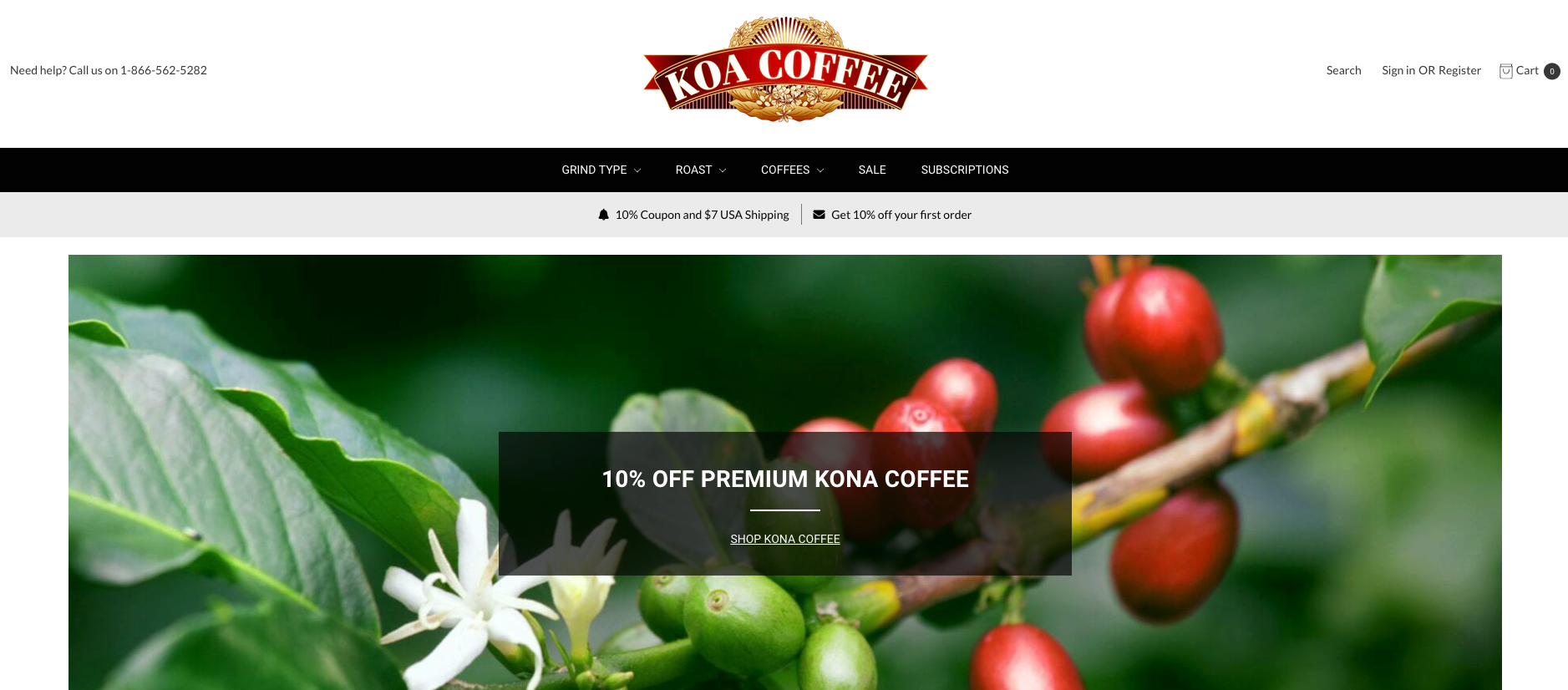 Not to be confused with "Kona," Koa Coffee is an extremely niche coffee supplier that focuses exclusively on Hawaiian coffee and products. That's great if your audience is avid-Kona coffee drinkers, but it might not be the best coffee affiliate program for your site.
Still, Koa is a solid brand that has a long history of serving great specialty coffee. It's not a bad idea to add them to your lineup, especially considering they offer anywhere from 10%-20% per sale. They also have a 45-day cookie and don't revoke commissions for returns to their store.
Commission Rate: 10-20%
Cookie Duration: 45 days
---
Purity Coffee Affiliate Program
As opposed to brands like Peet's Coffee, Purity Coffee is a relative newcomer to the coffee scene. In keeping with the current trends though, they offer health-conscious, organic coffee that even claims to improve your overall wellness.
Purity Coffee can also be good for your wallet, too. Offering a 10% commission on sales and a 30-day cookie, Purity Coffee is a good up-and-comer to consider for your site.
Commission Rate: 10%
Cookie Duration: 30 days
---
Black Ink Affiliate Program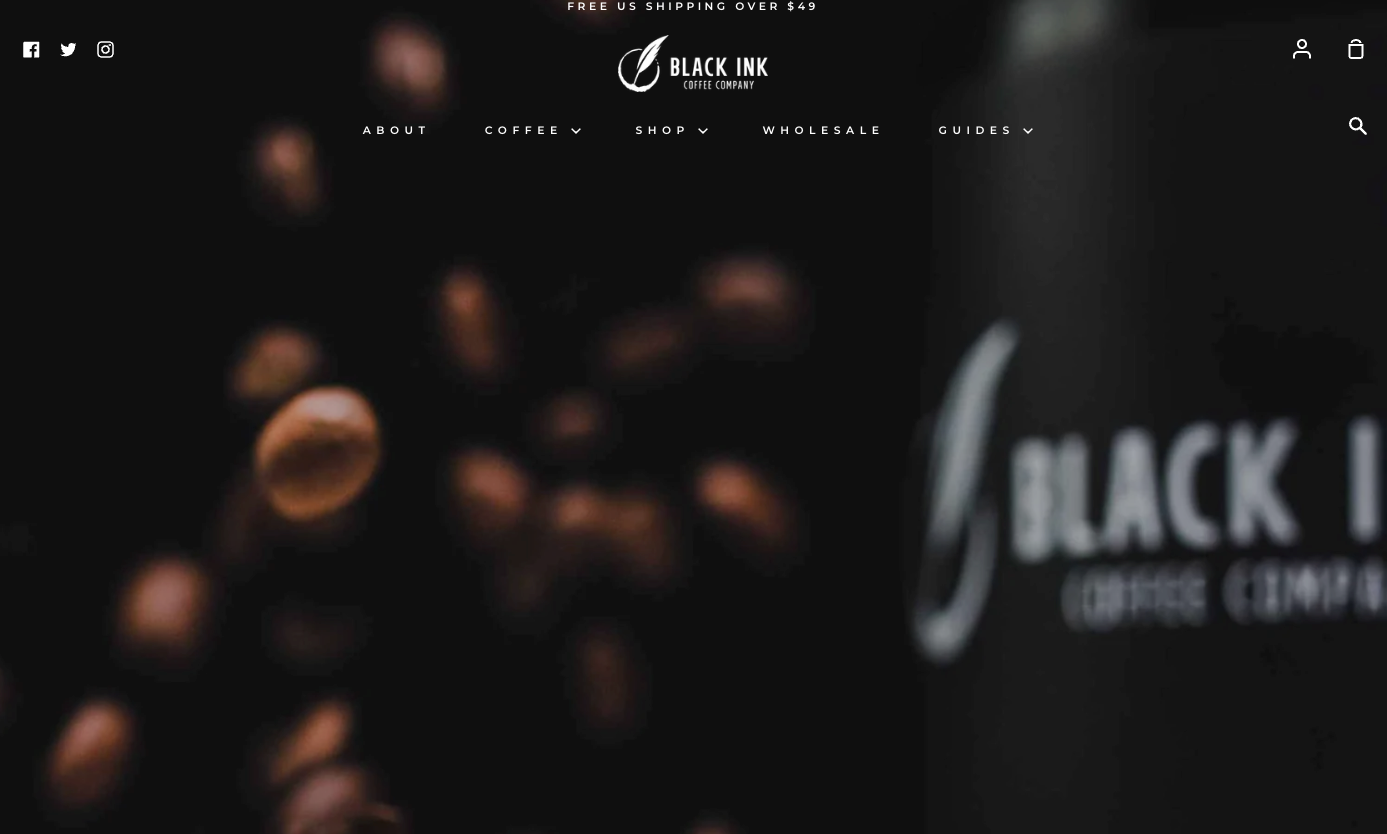 Of all the coffee affiliate programs on this list, Black Ink may be one of the most aggressive. They're relatively new and owned by veterans; as such, their affiliate program is extremely competitive. They offer 15% on every sale, and even include a robust guide that helps you learn how to get started.
If you sign up with them, you'll get a wide array of products to choose from. They sell coffee grinders, coffee pods, commercial espresso machines, and even Black Ink merchandise. Wholesale distribution is also on the table, if your audience is interested in that (and if so, check out these other wholesale affiliate programs to profit).
Commission Rate: 15%
Cookie Duration: Undisclosed
---
Pakt Affiliate Program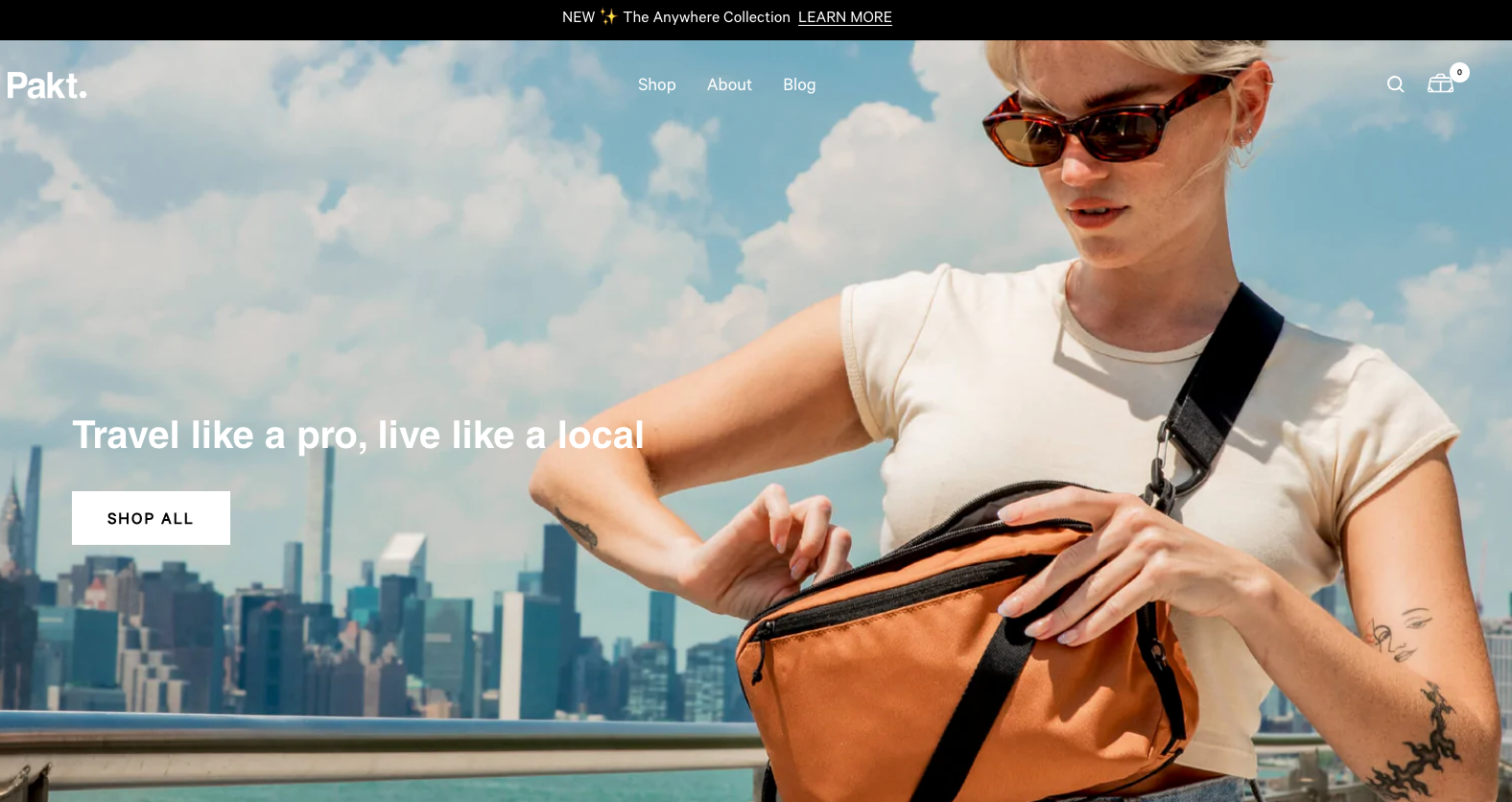 This one isn't coffee as much as it is coffee-adjacent, but it still has to do with coffee so we're putting it on the list.
Instead of selling gourmet coffee, they let others handle that. Instead, Pakt handles coffee creation and transportation. They offer travel mugs, reusable filters, and even a "coffee kit." The kit allows you to make "barista-quality coffee" on the go. You can use it at the office, in a hotel, or even carry it on a plane.
In addition to coffee products, Pakt also sells duffel bags and travel bags.
Despite it not being solely coffee-based, Pakt should still appeal to your audience. And with a 15% affiliate commission, it should appeal to you too.
Commission Rate: 15%
Cookie Duration: Undisclosed
---
Bodum Affiliate Program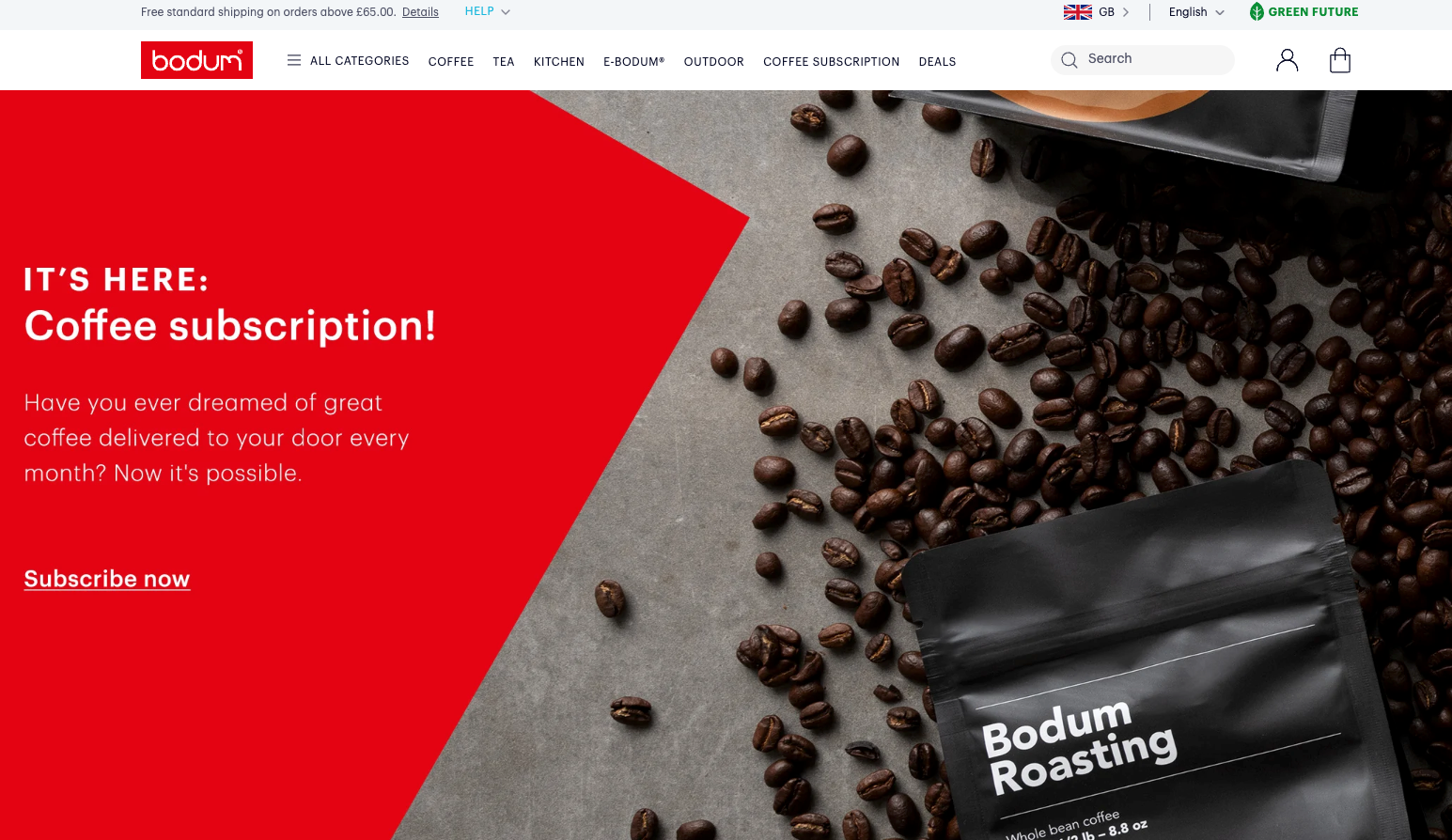 Bodum is another coffee company that doesn't just handle coffee. They also sell kitchen products, outdoor accessories, and tea.
But their coffee accessory line is extensive. They offer milk frothers, thermo jugs, cafetieres, and even "vacuum coffee makers." Don't worry, they still sell standard items like mugs and electric coffee makers, too.
Bodum's actual coffee selection may be pretty sparse -- they only carry their own brand -- but they have a coffee subscription as well. The affiliate commission is only 6%, but the price of the gear boosts the actual earnings into a respectable territory.
Commission Rate: 6%
Cookie duration: Undisclosed
---
Cafe Last Affiliate Program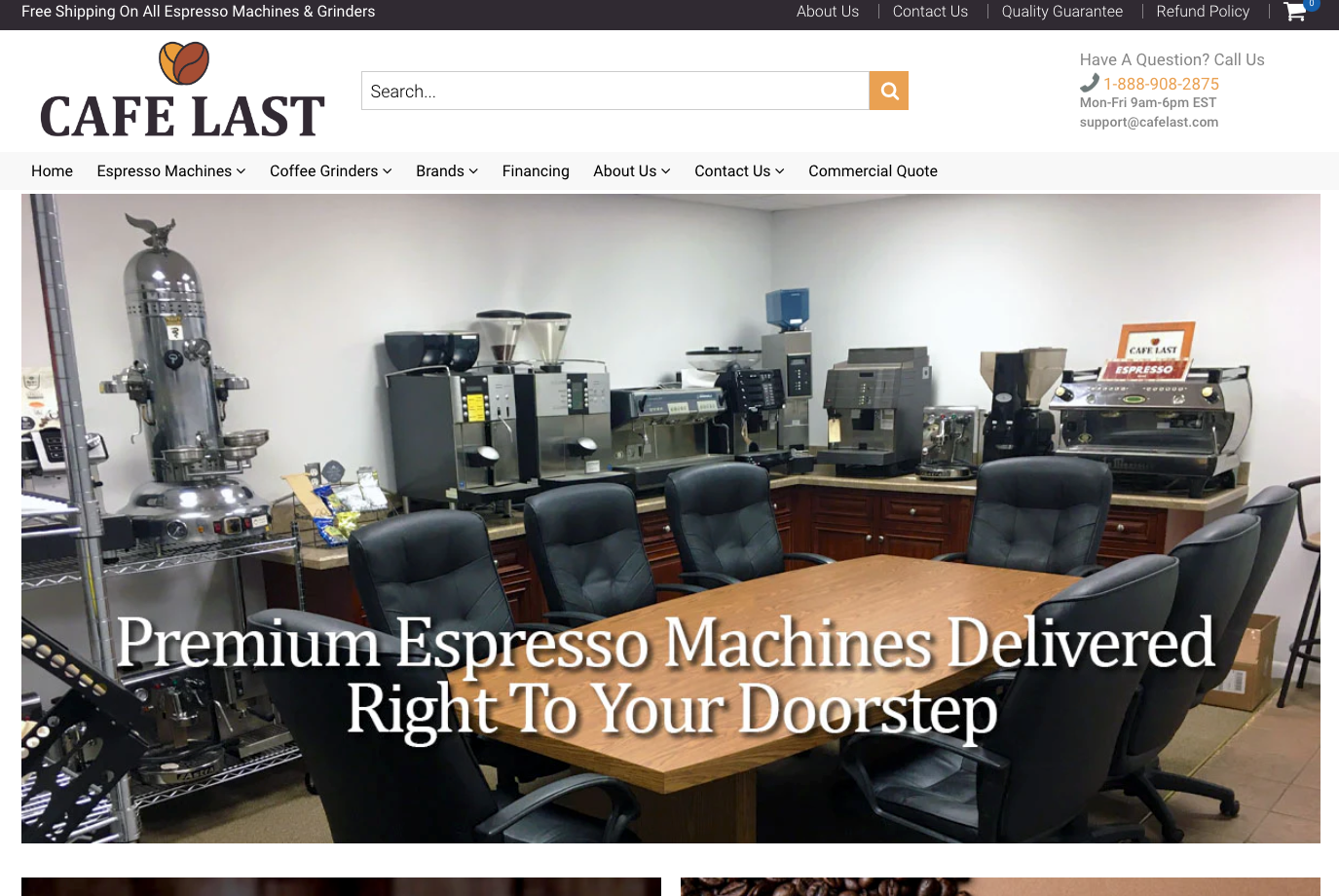 There are two audiences for Cafe Last's coffee equipment. First, there's the individual hobbyist that wants to make the most amazing cup of coffee ever, and second, the commercial coffee companies that need to outfit their stores.
Either one of those target groups may find their way to Cafe Last to gawk at their impressive line of espresso machines, grinders, and other equipment. The affiliate commission isn't much (only 5-7%), but with a 90-day cookie, you have a greater chance of making sales.
Commission Rate: 5-7%
Cookie Duration: 90 days
---
Illy Affiliate Program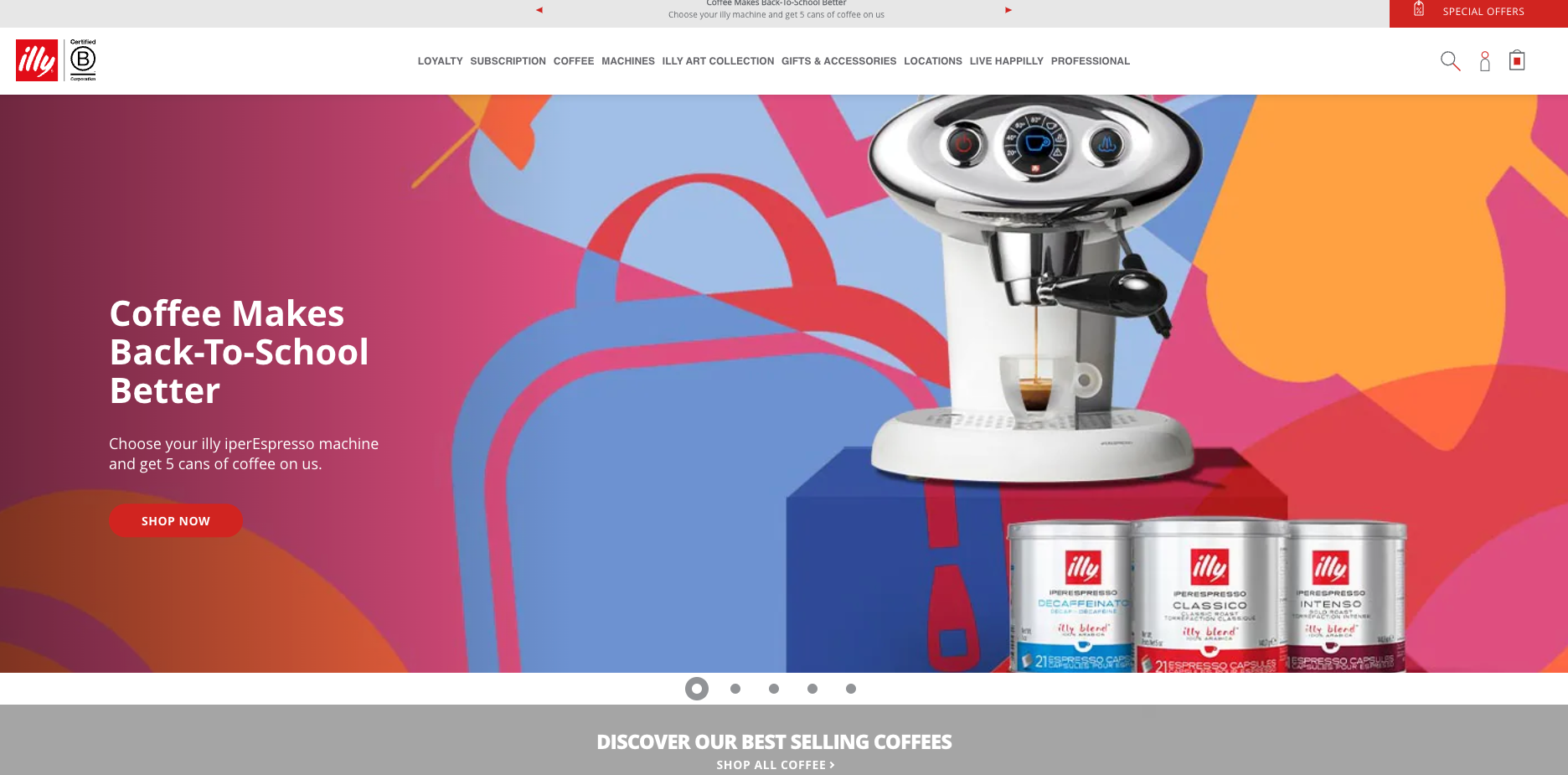 Not as well known in the United States, Illy is a brand that truly has a global reputation. You can find them everywhere in the world (for the most part), and they sell affordable machines in addition to high quality coffee.
Their main focus is espresso machines, so if your audience is interested in that niche, it's worth exploring. They offer 6% affiliate revenue with a cookie length of 45 days.
Commission Rate: 6%
Cookie Duration: 45 days
---
Kimera Coffee Affiliate Program
If you're looking for a great coffee affiliate program opportunity that could potentially be a goldmine for your affiliate business, look no further. Kimera's coffee affiliate program offers an incredible 20% of all sales, and has a strong social media presence.
Kimera's main focus is on vitamin-enriched coffee that even claims to improve your brain health. A lot of people are convinced of this and have a devoted following that rivals some of the bigger sub-niches on this list.
It's a great market to get into regardless, and well worth the time to investigate on your own.
Commission Rate: 20%
Cookie Duration: Undisclosed
---
Lifeboost Coffee Affiliate Program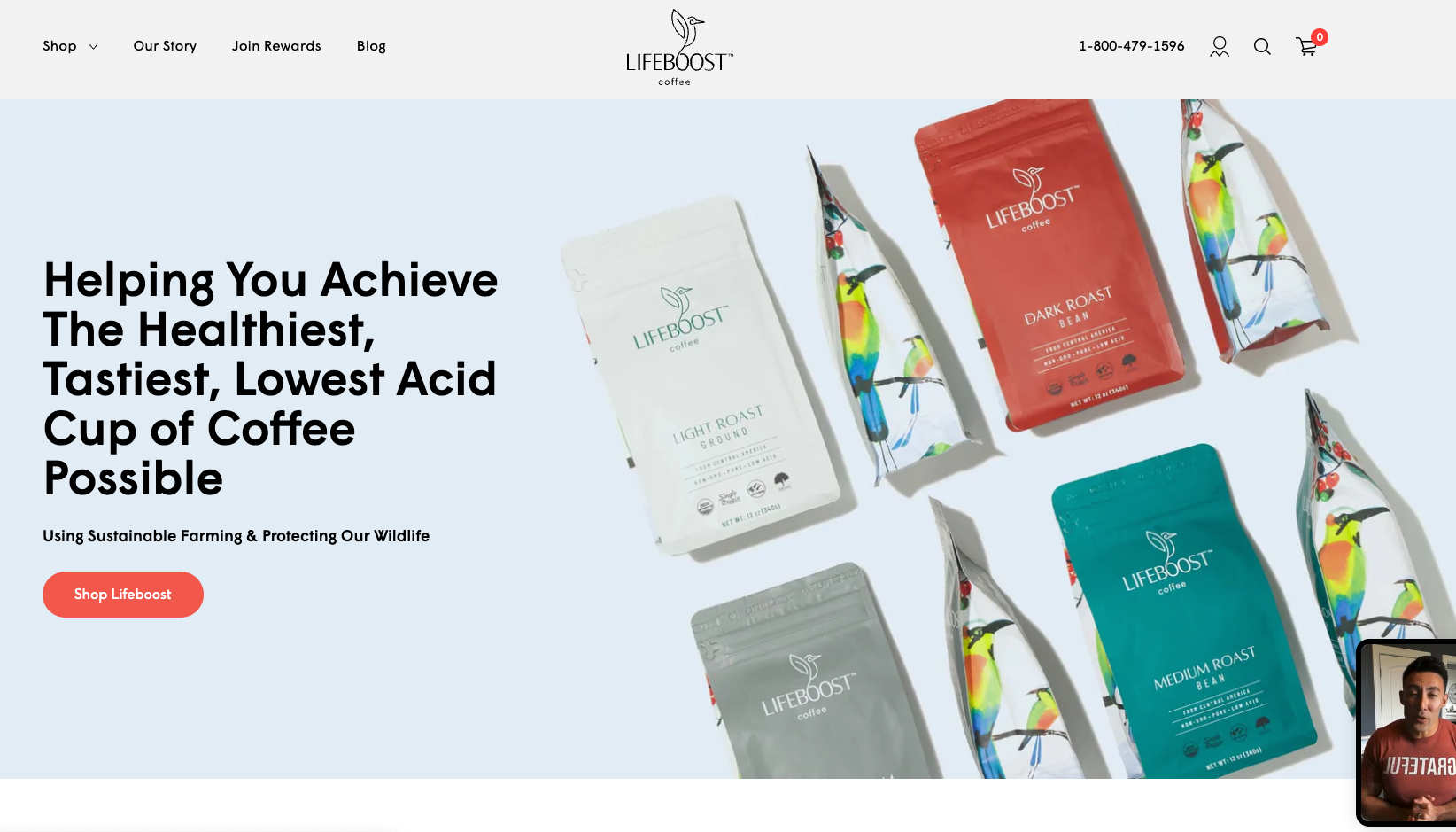 Quality, quality, quality.
That's the name of the game when it comes to Lifeboost, not only in regards to their coffee, but also in their marketing and sales engine. They claimed to have invested nearly $4 million in their business practices to optimize conversions. Tap into that, and you should have a steady stream of income.
They offer a very generous $10 per sale through their affiliate network, and have a 30 day cookie duration. There are a lot worse options on this list than Lifeboost. It's definitely a contender for top coffee affiliate programs on the market today.
Commission Rate: $10 per sale
Cookie Duration: 30 days
---
Bean Box Affiliate Program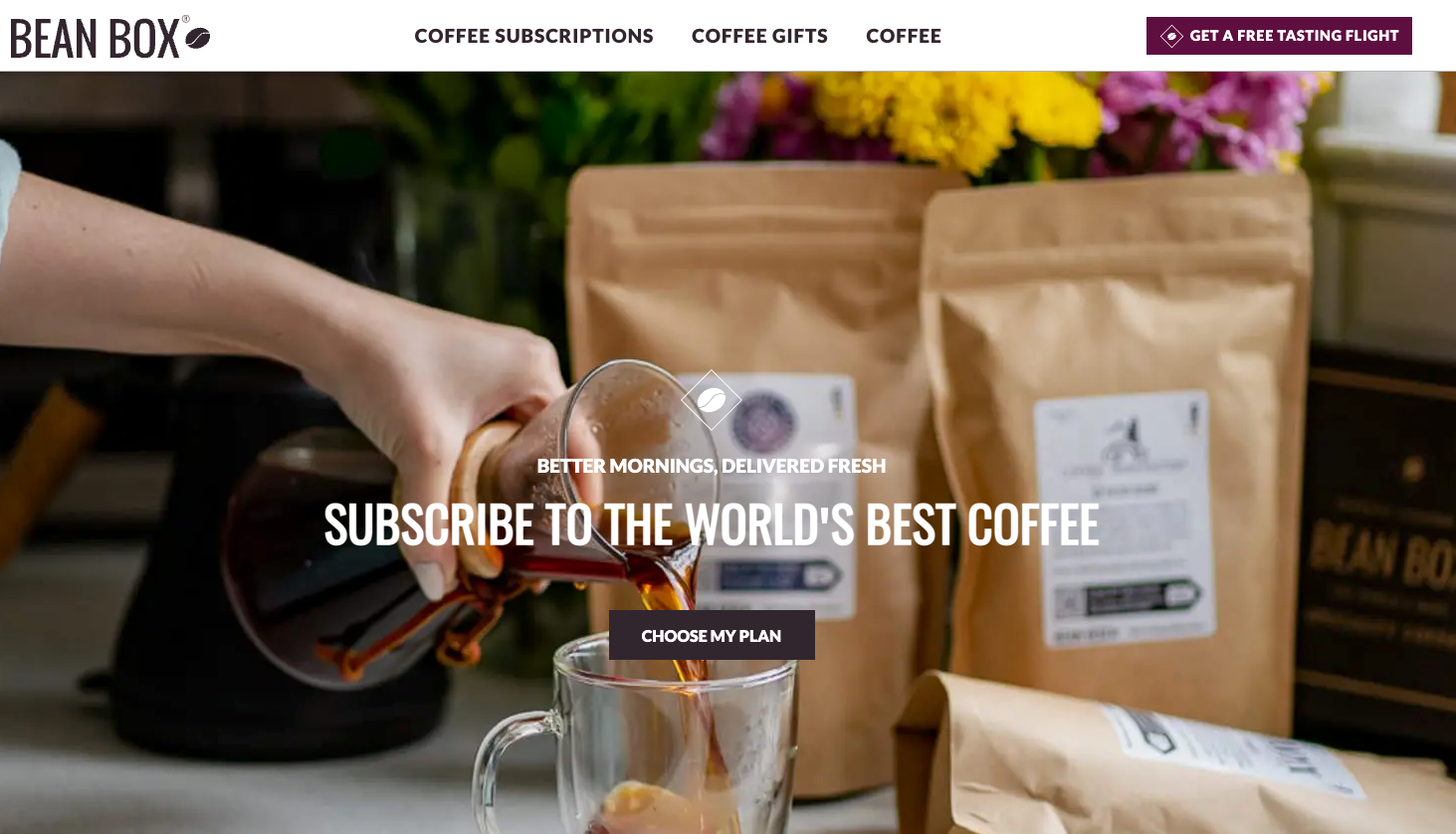 Coffee subscriptions have been around for a while, but Bean Box has done a great job of taking that concept and maximizing it. They're all about the "experience" of drinking coffee, going so far as to sell different types of coffee gift sets on their site.
Their affiliate program is fantastic -- nearly 12% on every sale -- but they also advertise an Ambassador program for potential influencers as well. If you have a strong enough following, they'll send you a couple of free coffee bags, personal promo codes, and insider access to future products.
Bean Box really wants to build up a network of affiliates that aren't just in it to make money, but who genuinely love coffee. It's a great way to build a fanatical fanbase and drive support.
Commission Rate: 12%
Cookie Duration: Undisclosed
---
Volcanica Coffee Affiliate Program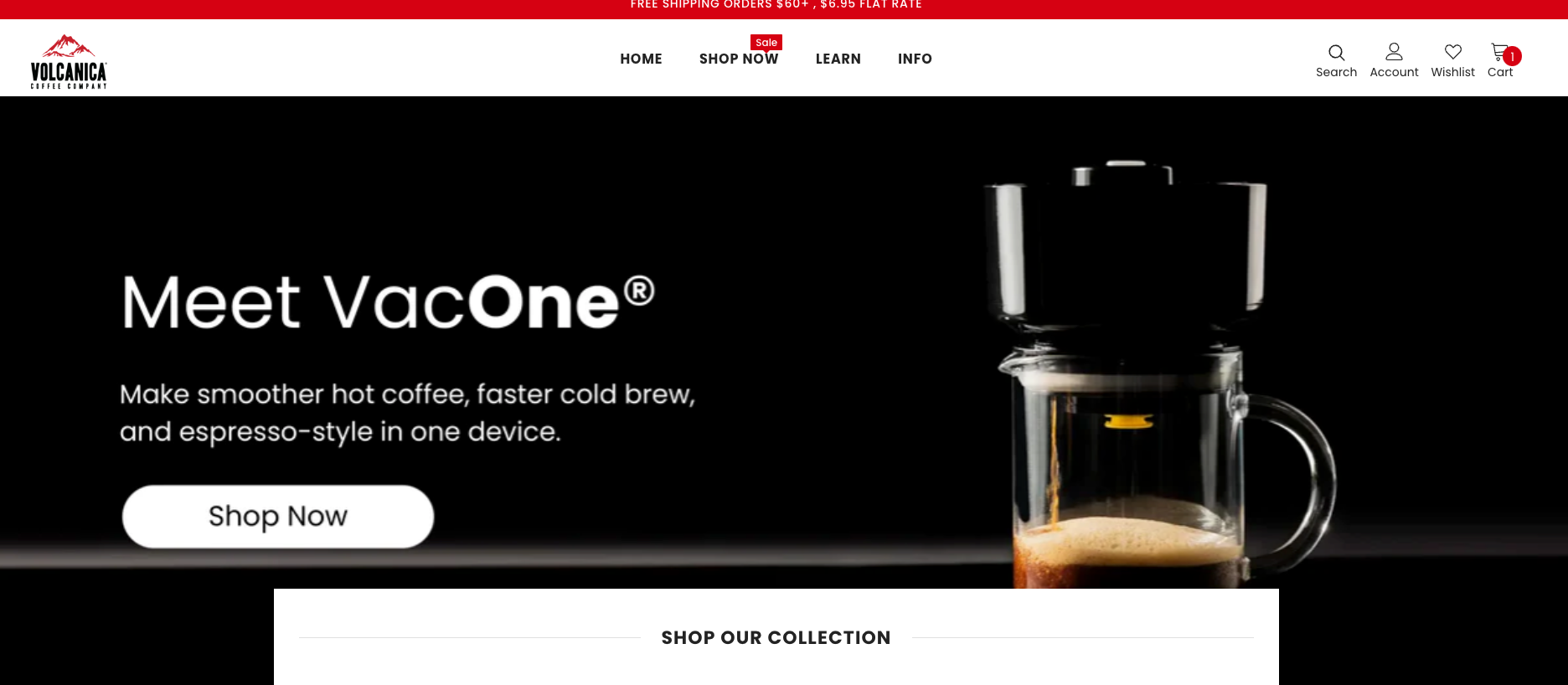 Volcanica Coffee is proof that you don't need fancy marketing to have a great coffee company. All you need is a wide selection of amazing coffee and the ability to deliver it all over the world.
Oh, and if it happens to be created near a volcano, that helps too.
As the name implies, Volcanica Coffee comes from volcanic regions all over the world and roasts them in Atlanta. They're always coming out with new types of coffee (over 150 and counting), and also have a line of sharp-looking accessories.
One product your audience will probably be interested in is the VacOne Air Brewer. This handy device plugs into your computer and makes up to a 14 oz coffee by sucking in ambient air.
If you think I'm kidding, I assure you that I am not.
Volcanica Coffee is a fun brand that is all about innovation. Add them to your affiliate site and start gaining that sweet 10%-15% affiliate commission ASAP.
Commission Rate: 10-15%
Cookie Duration: Undisclosed
---
Lavazza Affiliate Program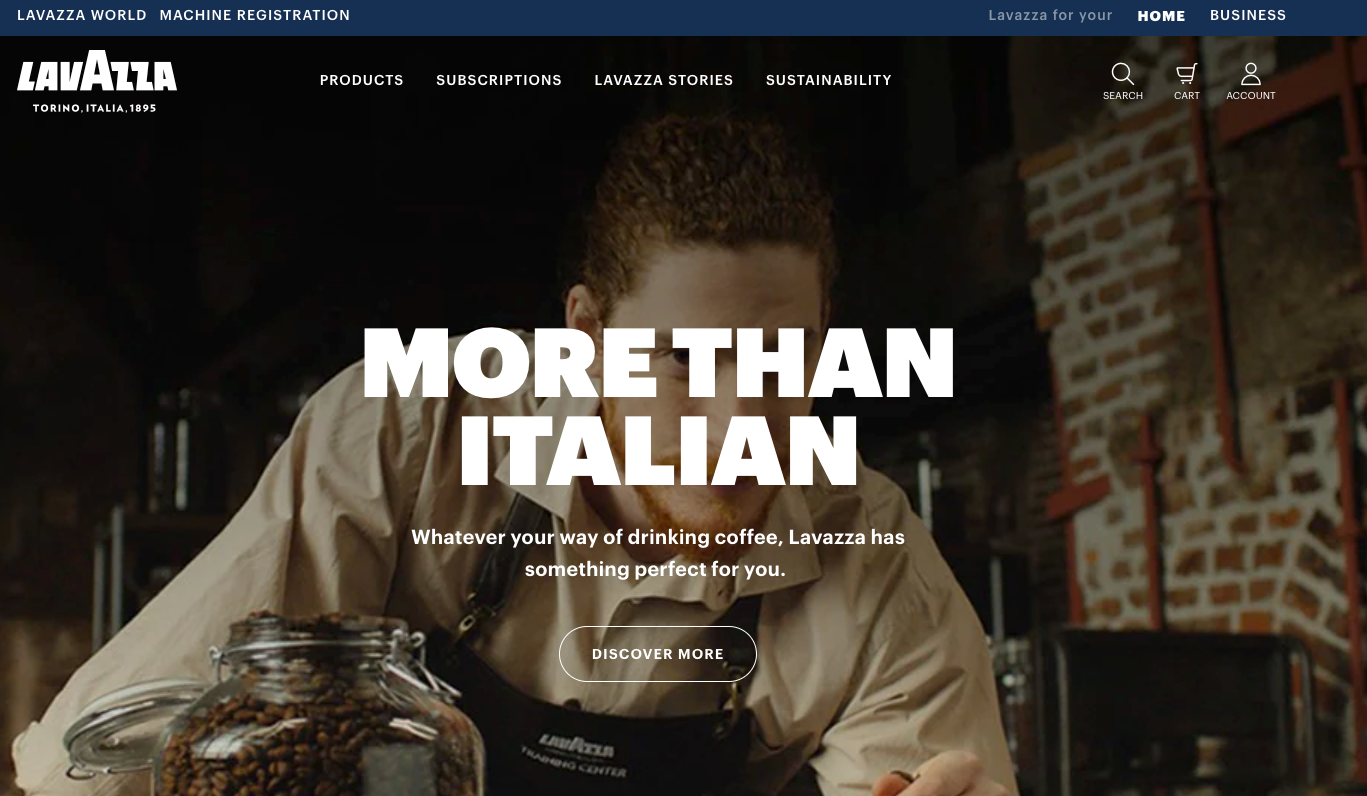 Billing themselves as "Italy's favorite espresso," Lavazzo is an internationally-recognized brand that sells coffee, coffee subscriptions, and coffee pods. They promise to bring the taste of Italian coffee right to your doorstep. That's a concept I can get behind.
But they're also about sustainability. They have several global initiatives -- economic, social, and environmental -- that they're very passionate about.
It's somewhat uncommon for a brand with such prestigious reputation to have such a great coffee affiliate program, but their 11% puts it on par with others listed here. You should derive quite a bit of revenue from the coffee selection, as well as the machines that they sell.
Commission Rate: 11%
Cookie Duration: Undisclosed
---
MyEspressoShop Affiliate Program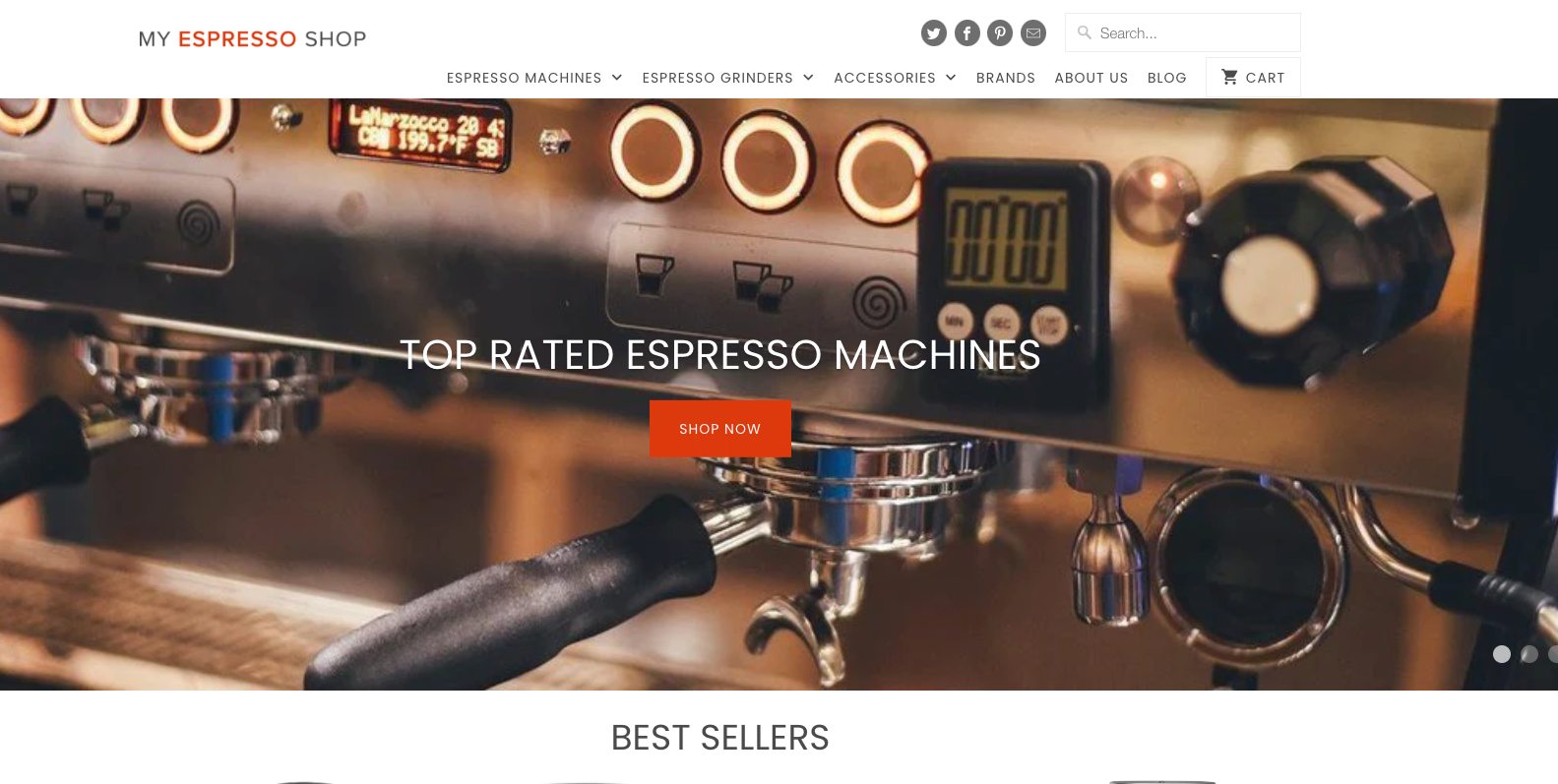 If your audience abhors those $15 coffee makers from Walmart and only drinks coffee out of a machine that costs $15,000, MyEspressoShop is your affiliate partner.
They sell very high-quality, very expensive espresso machines to both consumers and retailers. Some range as high as $28,000! Don't worry, they have financing available for your customers to take advantage of.
Normally, a commission of 5-7% isn't much to write home about, but when you're talking about a five digit sale, that adds up in a hurry. It may be a niche market, but it's definitely a lucrative one.
Commission Rate: 5-7%
Cookie Duration: Undisclosed
---
Coffee.org Affiliate Program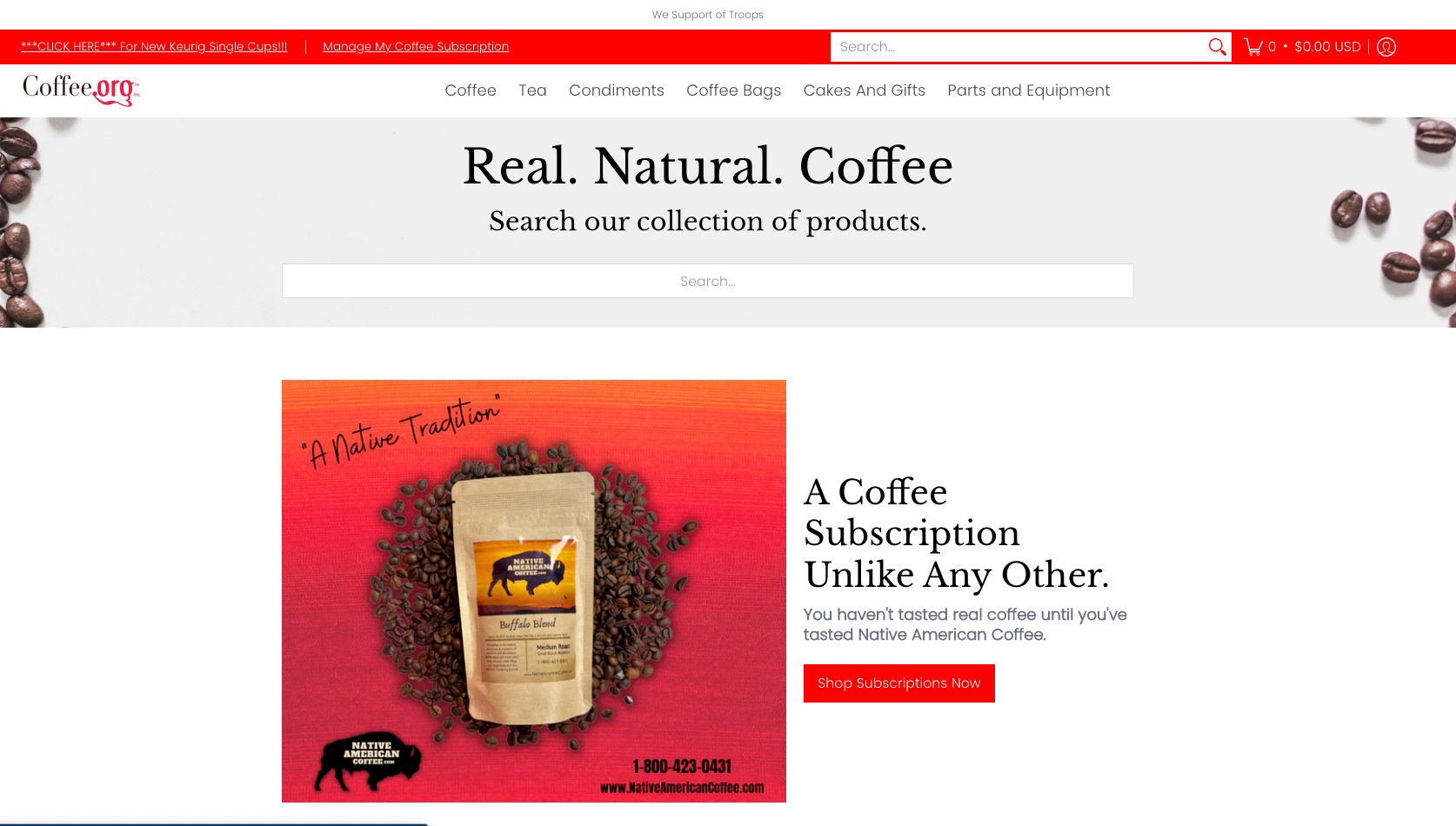 With name like Coffee.org, you know that they're one of the originals. This website sells virtually everything you can think of that's coffee-related, from mugs to cakes and everything in between.
Coffee.org's primary audience is commercial retailers, but if your audience has diverse needs, it's one to consider. They offer a very generous 10% on all successful referrals.
Commission Rate: 10%
Cookie Duration: Undisclosed
---
Forto Affiliate Program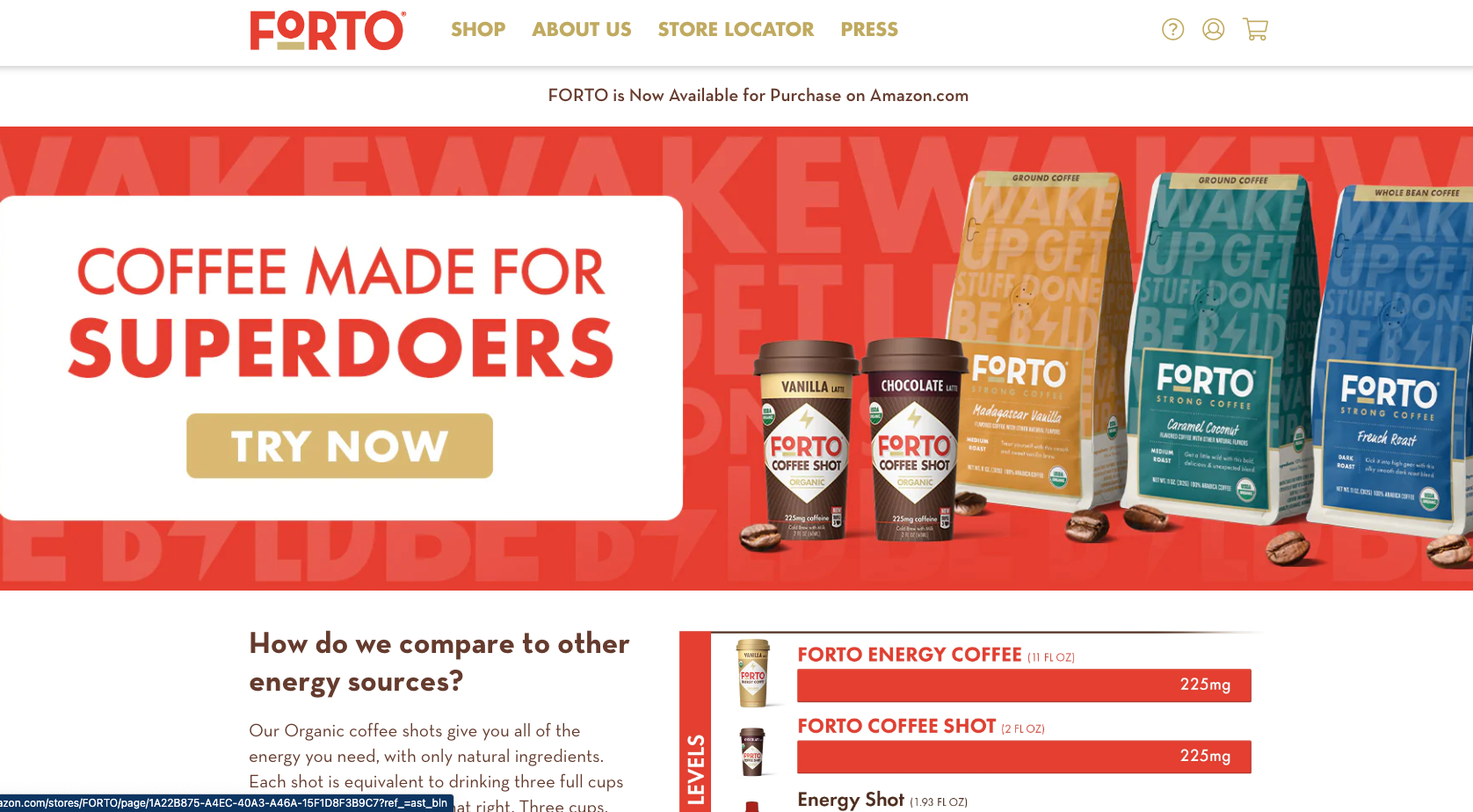 Some people like to take their time with their coffee, drinking it as they watch the morning sunrise over the mountains.
Then there's people that buy Forto -- an organic, energy-rich coffee "shot" that has the caffeine equivalent of three cups of coffee.
That may sound crazy, but they have a strong following amongst first responders and athletes. These people are usually short on time and have a real need to stay alert, and Forto fuels that segment.
Take advantage of this fast-growing market and make good cash to boot. With an affiliate commission of close to 20%, you'll see some rewards in no time.
Commission Rate: 20%
Cookie Duration: Undisclosed
---
EatYour.Coffee Affiliate Program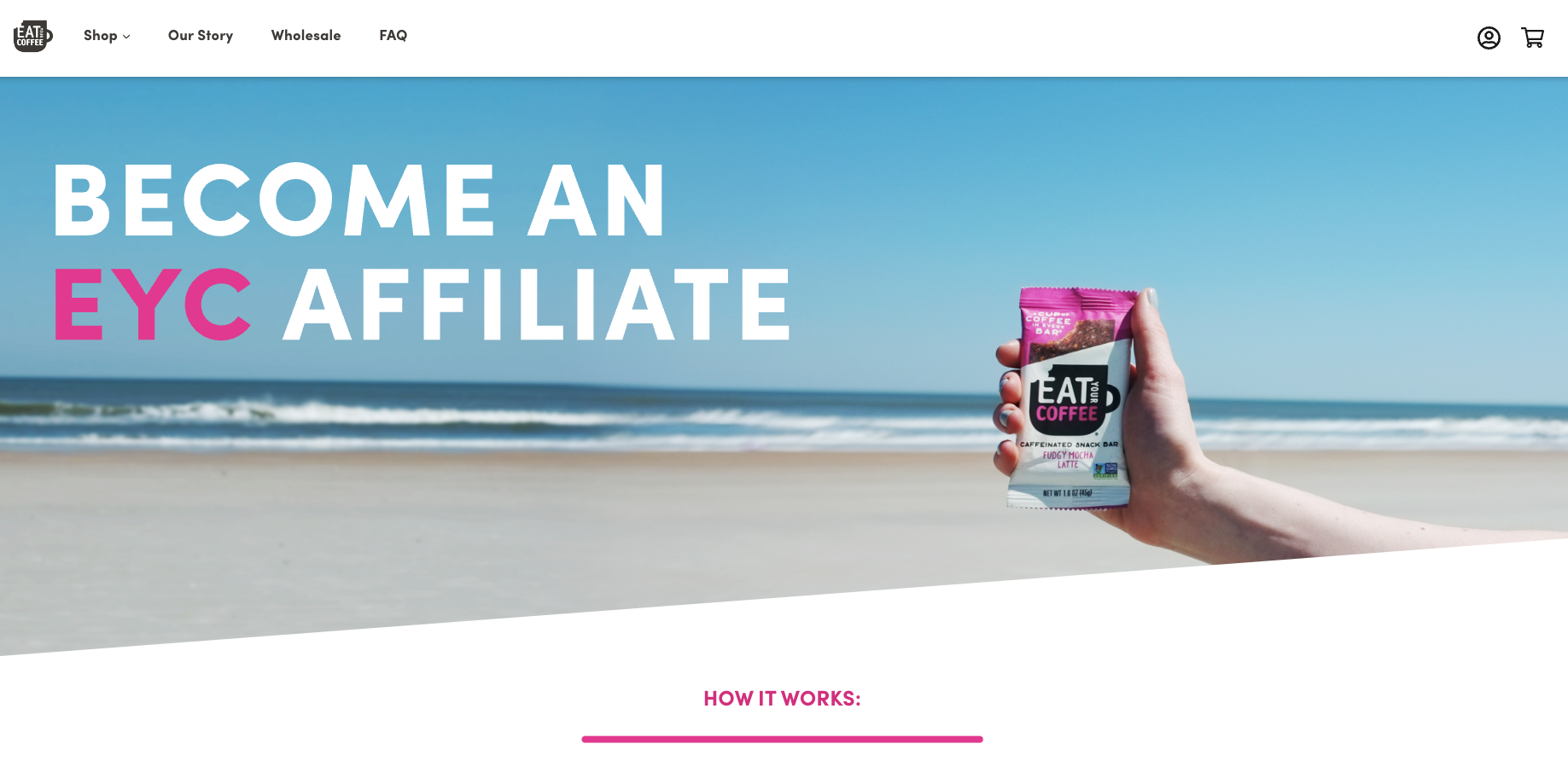 Another brand that is trying to reinvent the coffee wheel is the aptly titled EatYour.Coffee. These bite-sized snacks are loaded with coffee, but come in a variety of flavors, such as Peanut Butter Mocha and Fudgy Mocha Latte.
It may not be your speed, but this type of edible coffee is extremely popular for many consumers, so it's definitely worth offering. To "sweeten" the offer, EYC maintains a great affiliate commission of around 15%.
Commission Rate: 15%
Cookie Duration: Undisclosed
---
Wacaco Affiliate Program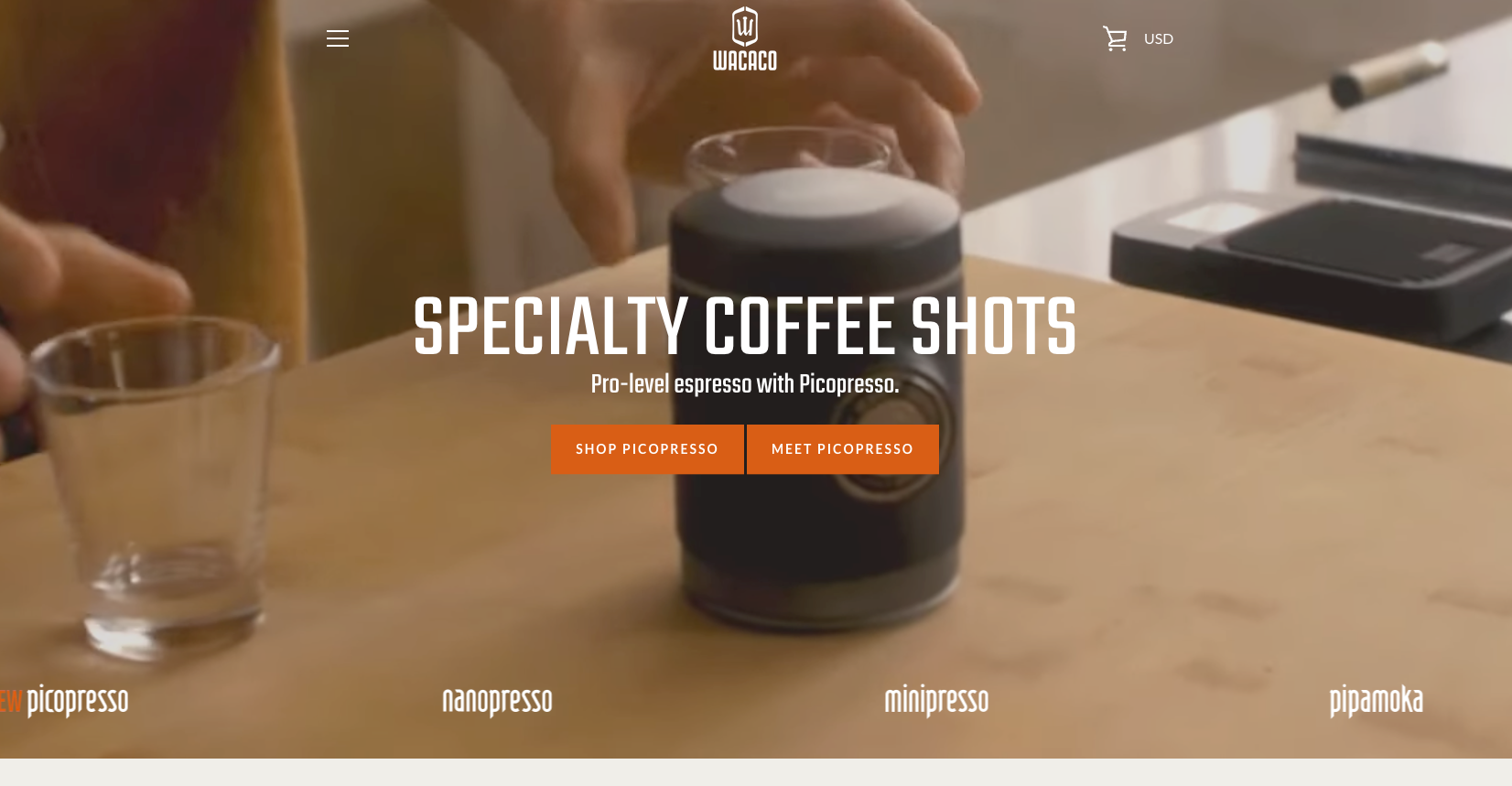 Wacaco doesn't make coffee, but they do make devices to allow you to make and drink your coffee anywhere on earth. It doesn't matter whether you're camping or taking a cross-country road trip, Wacaco's tiny coffee makers are extremely handy.
They also pack a punch. People who have used them rave about their reliability and the flavor of coffee that they produce. They don't list their affiliate rate, but it's a fun site to add to your product offerings.
Commission Rate: Undisclosed
Cookie Duration: Undisclosed
For naming inspiration for your caffeine-fuelled enterprise, why not check out our list of cafe name ideas?
---
How Will You Brew?
To quote the great philosopher Michael Scott, "Coffee is the great incentivizer in the office."
Truthfully, it's the great "incentivizer" anywhere. It's as ubiquitous as a small town and as elegant as an Italian countryside. No matter who your audience is, there's a good chance they drink coffee. And for that reason, it's a great idea to add a few of these programs to your affiliate sites.
For more top affiliate programs to join, consider our other articles:
Want to learn step-by-step how I built my Niche Site Empire up to a full-time income?
Yes! I Love to Learn
Learn How I Built My Niche Site Empire to a Full-time Income
How to Pick the Right Keywords at the START, and avoid the losers
How to Scale and Outsource 90% of the Work, Allowing Your Empire to GROW Without You
How to Build a Site That Gets REAL TRAFFIC FROM GOOGLE (every. single. day.)
Subscribe to the Niche Pursuits Newsletter delivered with value 3X per week