How Much Does Google Adsense Pay Per Pageview? (And Three Good Alternatives)
When you buy something through one of the links on our site, we may earn an affiliate commission.
Google Adsense is the way many new bloggers and YouTubers choose to monetize their sites, but working out how much you can earn from it can be unclear. So, how much does Google Adsense pay per pageview? In short, it varies.
On average, blogs can expect between $2-5 per 1000 page views on the lower end of the scale. If you're monetizing your YouTube channel with your Google Adsense account, a conservative estimate would be something like $8-12 per 1000 views. 
Your Adsense earning potential is dependent on a range of different factors. Things like the demography of your audience, your niche, your traffic etc., all play an important role in determining how much Adsense income you can expect.
At the same time, Google Adsense ads will vary based on the ad space you have. Different ad types and ad placement will also contribute to your Adsense revenue. 
What Is Google Adsense, and How Does It Work?
As the name suggests, Google Adsense is part of the Google network and acts as a middleman between you and the advertiser. Brands looking to use digital marketing to boost their sales work with Google to find appropriate sites for their ads. In turn, Adsense can help site owners monetize by displaying targeted ads to your visitors.
All you need is a Google account to sign up for Adsense. However, you must be at least 18 or have a parent/guardian able to handle your Adsense payments. Since there are no minimum traffic requirements, Google ads are an excellent way for beginners to start monetizing their pages. 
In addition, signing up for an Adsense account is a fairly easy process. However, your website will need to be reviewed before being accepted to make sure it is compliant with all of Adsense's program policies. It's also important that you are the website owner for the site you want to display ads. 
Once you're approved, here's how it works:
Paste a specific line of Adsense code into your site and choose the pages on which you are happy for Google ads to be shown. You can exclude any pages where you don't want a display ad (such as your services page, or your online store/e-commerce pages). 
Adsense automatically matches different advertisers with your site, depending on the type of content you cover. This means that your audience should only be shown ads that are relevant to them. 
Advertisers can bid in real-time for the ad space on your site. 
Adsense collects the payment from the advertisers, and after taking their share of commission, they will pay out your ad earnings. You will receive 68% of the earnings from each Google ad.
How Much Does Google Adsense Pay Per Pageview?
The amount Google Adsense pays per pageview varies from one site to another. There are lots of things that can affect how much you earn, including where you live, the type of content you produce, and what niche you are in. 
If you want to calculate exactly how much you can make, you can use Google's Adsense revenue calculator to help you estimate how much your website could earn annually. 
As an example, a home decor site with 50,000 pageviews per month based in the US could make around $14,010 per year in revenue from Google Adsense.
You can play around with the calculator to see what blogs in different niches could earn. We tested a few different niches to see how much earnings can vary from niche to niche.
Based on 50,000 pageviews per month, and based in North America:
Food and Drink Niche – $8,598 per year ($14.33 per 1000 pageviews on average)
Health Niche – $10,440 per year ($17.40 per 1000 pageviews on average)
Travel Niche – $8,460 per year ($14.10 per 1000 pageviews on average)
Finance – $19,278 per year ($32.13 per 1000 pageviews on average)
Beauty and Fitness – $7,806 per year ($13.01 per 1000 pageviews on average)
It's important to remember that these are only estimates. And to be frank, these estimates are very optimistic. Take them with a pinch of salt. 
At the low end of the scale, you could be earning $2-$5 per 1,000 pageviews. On the other hand, at the higher end of the scale with a blog in a competitive niche and a high cost-per-click (CPC) you could be looking at $30+ per 1,000 pageviews. 
Likely the best way to get a realistic idea of your potential Adsense revenue is to look at the income reports from other bloggers in your niche.
Remember, earnings can vary drastically from site to site, country to country, and also fluctuate from season to season.
The Pros and Cons of Google Adsense
Just about every monetized website owner or YouTube channel is also part of the group of Adsense publishers. Showing Adsense ads is easy, stress-free and just about guaranteed to bring in at least a little bit of money. In fact, it's one of the main sources of blog and YouTube earnings.
Google Adsense Pros
No minimum traffic requirements
Can be used alongside other monetization methods such as affiliate marketing
It enables you to start making money from your website straight away
Free to join
Easy to use – Google handles everything
Google Adsense Cons
$100 minimum payout threshold
Low EPMV (earnings per 1,000 visitors) compared to other ad networks
Essentially, the pros outweigh the cons in this case—but there are other networks which your site may be better suited for. 
Google Adsense Alternatives
It's easy to recommend Google Adsense because it's so easy to use. However, there are some great alternatives that can boost your ad revenue and make you more money with no additional work. 
Ezoic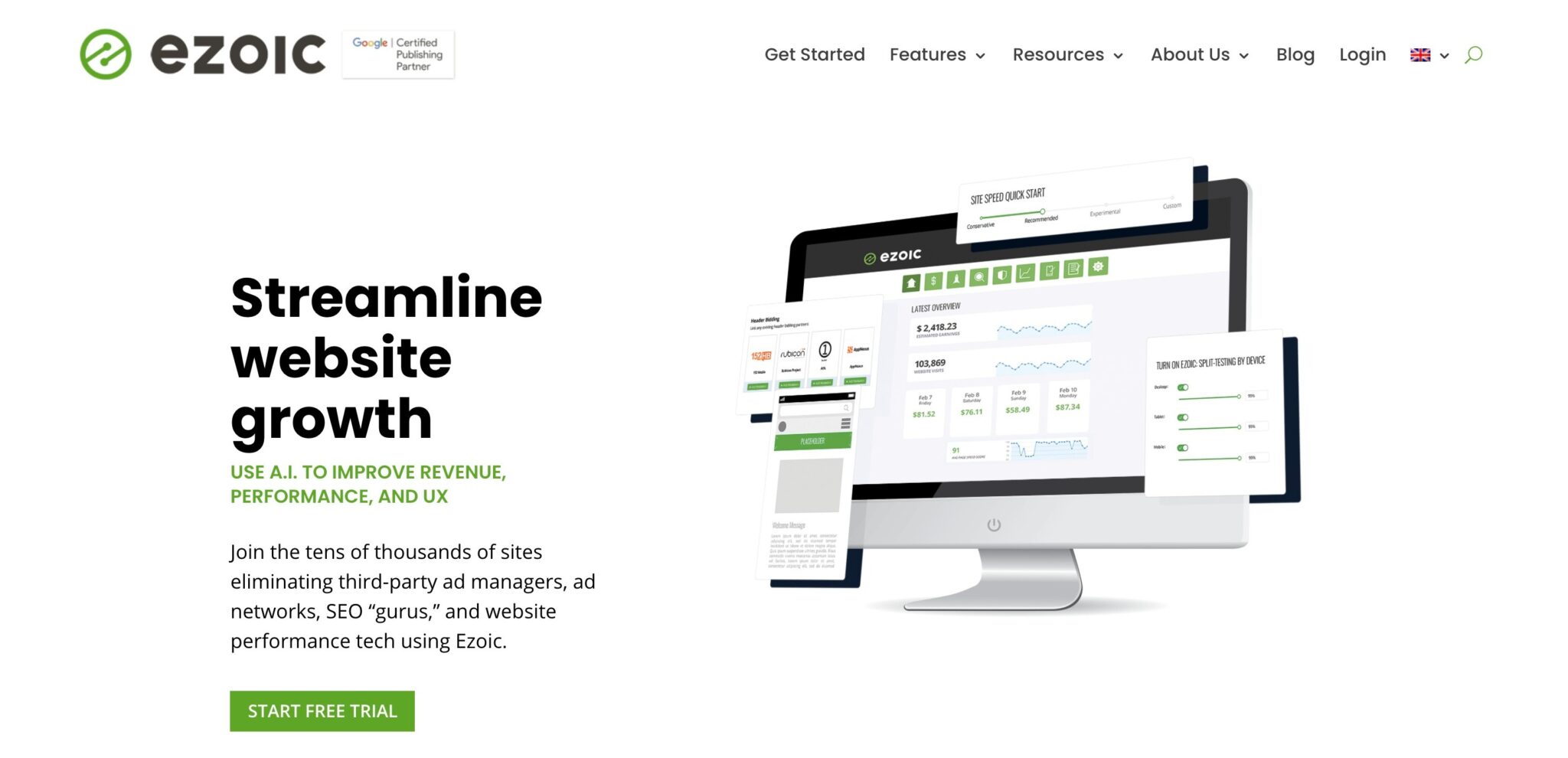 Ezoic is one of the best display ad networks around. In fact, it's what Spencer uses on his niche sites, including Own The Yard (Niche Site Project 4).
As an official Google partner, Ezoic requires you to be approved by Google Adsense to apply to the program. Ezoic uses AI to optimize the ad performance on your website or blog, meaning you can make more money from each visitor to your blog. 
It basically continually split tests the ads on your site, and the AI learns from this and uses the data to choose the ads that get the best response from your audience. Over time this results in a higher EPMV as your ad optimization increases. 
When Niche Site Project 4 switched over to Ezoic, the ad revenue increased by an impressive 232%! 
Ezoic used to have a minimum traffic requirement of 10,000 monthly pageviews to join the network, but they've recently dropped that, and anyone can sign up now (subject to approval). Best of all, Ezoic has a low payment threshold of just $20, making it perfect for bloggers just getting started who want to collect revenue ASAP.
How Much Does Ezoic Pay Per Page View?
As with Google Adsense, Ezoic earnings will vary depending on your location, niche, and time of year. According to Ezoic's 2020 performance report which measured the progress of 300 websites over one year, the average increase in monthly revenue was a massive 93%. 
From the most recent income report, Niche Site Project 4 achieved an EPMV of $19.75. That's $19.75 for every 1,000 pageviews, which worked out at a total of $2911.78 just from Ezoic ads for one month. That's a massive amount of extra cash coming in, totaling just over 50% of Own The Yard's earnings for that month. 
If you're currently using Adsense to monetize your site, it's definitely worth switching over to Ezoic. You can join for free, and there is currently no minimum traffic requirement. 
Get Started with Ezoic Here
Mediavine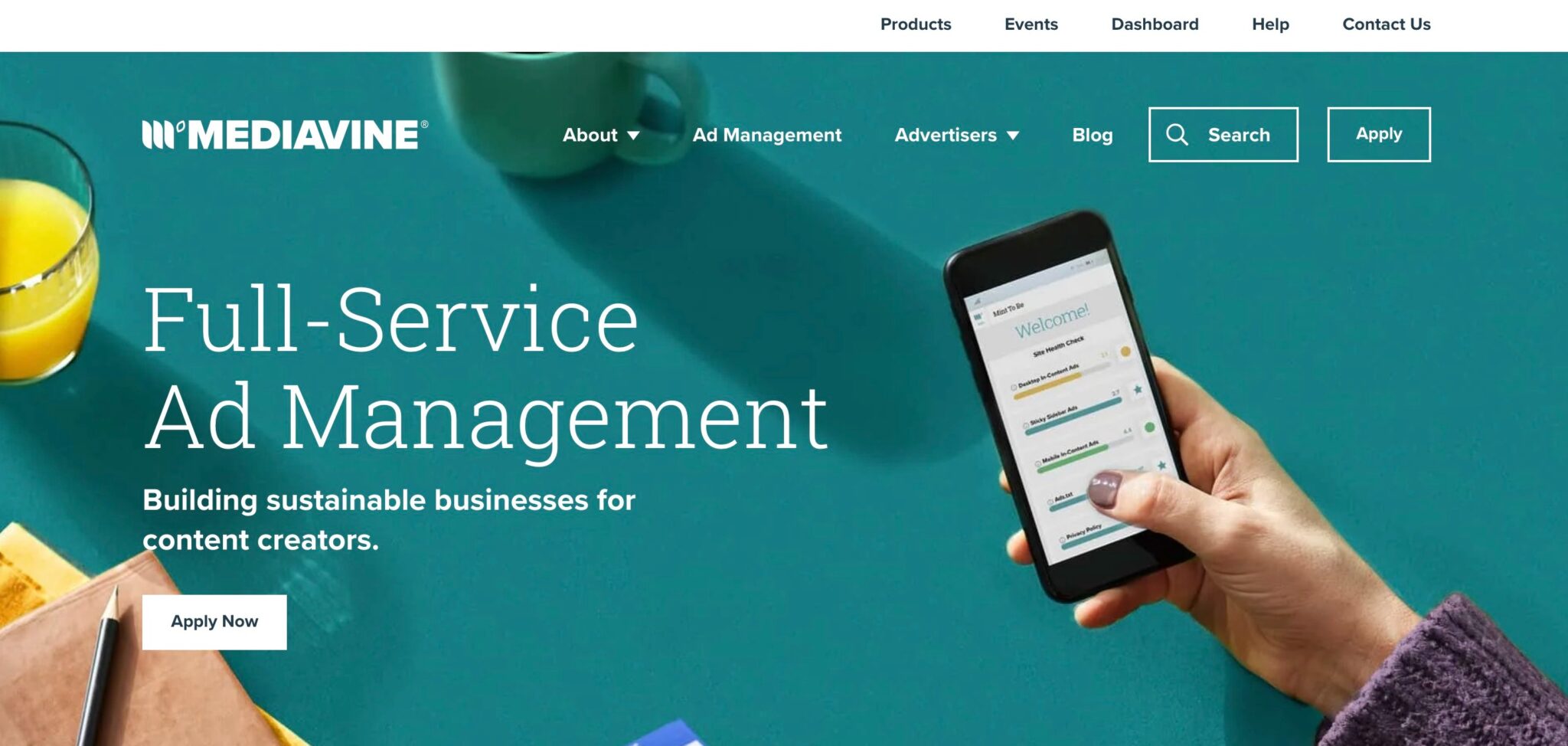 Mediavine is a full-service ad management platform for content creators. It is popular with bloggers in the travel, food, home, personal finance, and lifestyle niches, and is known for offering a high RPM (revenue per 1k views).
To join Mediavine you must have an established blog with over 50,000 sessions per month, and regularly produce original, long-form content. Your website or blog will also need to be in good standing with Google Adsense, because much like Ezoic, Mediavine works with Google AdExchange.
Check out our in-depth review of Mediavine to see how it increased a niche site's earnings by 80% after switching over from Adsense.
Read the full Mediavine Review
How Much Does Mediavine Pay Per Page View?
The amount Mediavine pays per pageview will vary from site to site, depending on the niche, season, and location of your blog. On average, RPM (revenue per 1k sessions) range from $10-$50+.
Adthrive
Adthrive is another premium advertising network that allows content creators to monetize their sites with display ads. It is one of the most popular ad networks around with bigger bloggers and is known for its high RPMs.
To join Adthrive you must have:
100,000 monthly pageviews
A majority of your traffic coming from the United States, Canada, United Kingdom, Australia, New Zealand
No Google policy infringements and the site must be in good standing with Google Adsense
Unique content
As you can see, the requirements for joining Adthrive are a lot higher than Adsense, Ezoic, and even Mediavine. But if you do have over 100k monthly pageviews, you should definitely consider Adthrive.
How Much Does Adthrive Pay Per Page View?
It's tricky to say how exactly, but Adthrive guarantees that your site will earn more with Adthrive than any other ad network.
Publishers using Adthrive see an average increase in revenue of up to 67% compared to their previous ad network.
Which is the Best Ad Network for New Bloggers
The great thing about using display ads on your blog is that you can use them alongside other monetization methods such as affiliate marketing, or dropshipping. If you don't have display ads on your blog already, then by adding them you will see an instant boost in income, so it's definitely worth it!
If you're just getting started, then Ezoic is without a doubt the best option for you. Since they no longer have a minimum requirement of 10,000 pageviews, anyone can join, as long as you have a unique blog with high-quality content.
Ezoic also offers excellent customer service and has loads of great features that can actually help speed up your site. Ezoic users have access to a free SSL (HTTPS) and a lightning-fast CDN (Content Delivery Network) with advanced caching to speed up your site and reduce bounce rate.
If you've been thinking about using display ads on your website, Ezoic is the best option for new bloggers. It's free to sign up, so there's nothing to lose!
How Much Does Google Adsense Pay?
There are pros and cons to having display ads on your site, but for many people display ads are an easy way to bump up a website's monthly revenue with no additional work. In fact, display ads can often be a passive income stream on evergreen content, earning you money for years after initially publishing a blog post.
Figuring out how much you can earn by having an adsense ad on your site depends on multiple factors. However, since Ezoic dropped their minimum traffic requirement, it might be worth considering their service over Adsense in order to maximize profits. 
Want to learn step-by-step how I built my Niche Site Empire up to a full-time income?
Yes! I Love to Learn
Learn How I Built My Niche Site Empire to a Full-time Income
How to Pick the Right Keywords at the START, and avoid the losers
How to Scale and Outsource 90% of the Work, Allowing Your Empire to GROW Without You
How to Build a Site That Gets REAL TRAFFIC FROM GOOGLE (every. single. day.)
Subscribe to the Niche Pursuits Newsletter delivered with value 3X per week