GeneratePress Review: Rated as the Fastest WordPress Theme
When you buy something through one of the links on our site, we may earn an affiliate commission.
If you're looking for a new WordPress theme for your blog, then this post is for you.
In my GeneratePress review, I'll share with you a multipurpose, lightweight WordPress theme that'll be perfect for your next project regardless of the type of website you're building.
Like most of us, you probably don't wake up in the morning thinking of WordPress themes as your mind is already occupied with the thoughts of making money – and a theme is not just part of your problems.
I understand…
But sometimes it's worth paying a little more attention to your theme as the right theme will not only improve your website's loading time and visitors engagement, but it will equally abolish that frustrating feeling you get when you see a blog that looks good, feels good and loads better than yours.
In this post, I hope to reveal to you just how this lightweight, multipurpose, and insanely affordable WordPress theme can benefit your website from both perspectives.
Not only will GeneratePress reduce your page load time to a large extent, but it will equally give you the flexibility to make lots of code-free changes on your site and have more control while working with page builders like Thrive Architect.
Try GeneratePress Here
---
GeneratePress Review
Ease of Use -

93

Stability -

95

Customer Service -

97

Price -

100
Summary
The GeneratePress WordPress theme is one of the most impressive WordPress themes I've used in awhile, and I highly recommend it to every serious blogger and small business owners. Try GeneratePress Right Here!
Pros
Lots of useful features
SEO-friendly and Secure
100% Mobile Responsive
Quick Support & Extensive Documentation
Fully compatible with most Page Builders
WooCommerce support
Cons
The free version is limited in features
GeneratePress Review
Let's start our GeneratePress review with a little introduction.
GeneratePress is a WordPress theme created by Tom Usborne, who's a popular WordPress developer.
The free version of GeneratePress is available to install on the WordPress repository and is loaded with a limited but enough set of functionalities.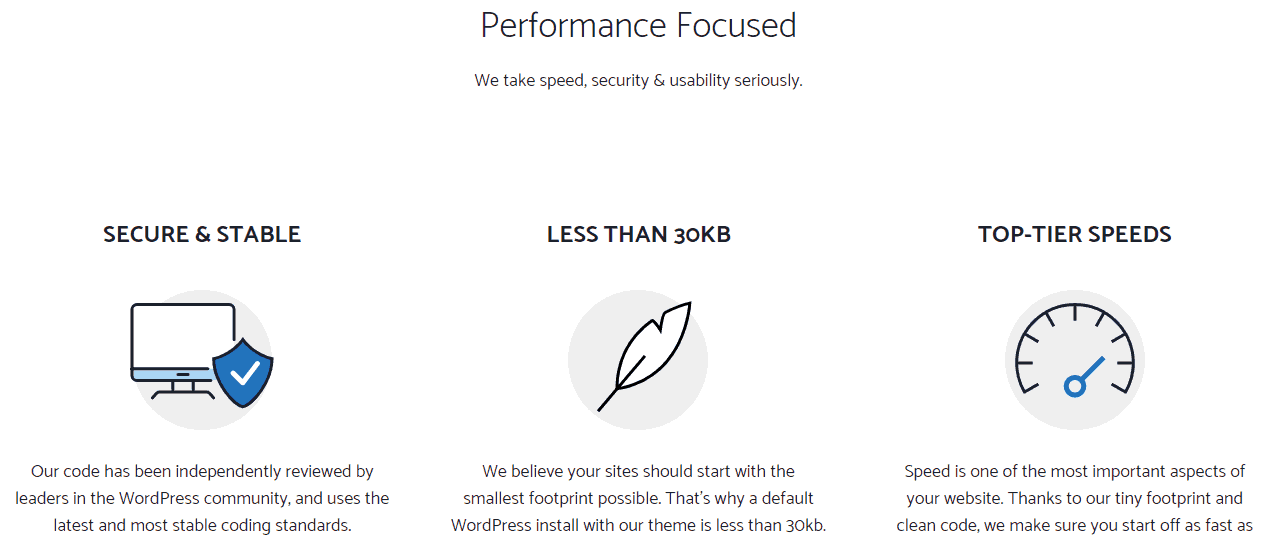 At the time of writing this review, the free GeneratePress theme has been downloaded over 2,170,000 times and is currently active on over 200,000 websites with more than 800 positive reviews and 5-star ratings from its users:
The huge download counter and ratings alone is rare in the case of WordPress products and prove the high quality of the GeneratePress theme. That's not all; you also get access to their support forum, which already has answers to thousands of important questions. They have excellent support, even for the free theme, and you won't feel left out as a free version user.
However, to get all the functionalities in GeneratePress, and also have the ability to customize the theme as you want, I recommend going for the pro version, GeneratePress Premium, over the free theme. Although in this GeneratePress review, my focus is mainly on GeneratePress Premium version, which is basically a plugin with a set of 14 paid add-ons that gives the theme ample essential features that I'll talk about below.
In other words, GeneratePress' main features are only accessible in the GeneratePress Premium version. Therefore, for the remainder of this review, I'll be referring to everything as "GeneratePress" instead of drawing any distinction between the premium and free features.
GeneratePress Tutorial
Let's take a look at how GeneratePress works. We'll be installing it on a new site, taking a peek, and then I'll run you through some different features.
Who Is GeneratePress Theme Perfect For?
If you're more focused on performance and want to be able to customize and control how your website looks, then GeneratePress is the perfect theme for you.
In other words, you can easily make GeneratePress do just anything you want. And because GeneratePress is more focused on performance, your website will have an excellent foundation to make it load pretty fast.
This is why people who build WordPress websites for a living usually go for GeneratePress. They'll just pair it with any WordPress page builders like Thrive Theme and Elementor and use it for literally any type of website.
However, if you want something that will look perfect out of the box immediately after you install it, then GeneratePress might not be for you.
For instance, if you want to create a tech blog, you might be better off going for a theme developed exclusively for tech bloggers.
While the GeneratePress theme is pretty easy to use, thanks to its inbuilt Site Library, the theme still looks very empty after the first install.
For example, here's what it looks like after a fresh install from WordPress.org – you'll notice it looks nothing exciting at all:
Therefore, you'll definitely need to go in and customize things so the theme can look exactly how you want it across your entire site. And while the key benefit of the GeneratePress theme is how customizable it is, many users, especially newbies, dislike having to make those modifications themselves, and it can be totally confusing too.
Compared to some other popular themes such as Thrive Themes, StudioPress themes, Astra or Kadence, GeneratePress doesn't feel as feature-rich as those other three. Or, perhaps that's not the right word to use. So I'd rather say that GeneratePress doesn't have as many bells and whistles as the other three themes.
Whether that's a good or bad sign entirely depends on whether you need those bells and whistles or not. But I personally prefer simple themes, with simple settings and a customizer panel, instead of a theme with several unnecessary features.
Why You Should Switch To GeneratePress Theme Today
Here are some of the essential functionalities that make GeneratePress stand out from other themes to become one of the top-rated multipurpose WordPress theme options.
1. Optimized Performance and Impressive Page Load Times
Website load time is one of the most significant SEO ranking factors you should never ignore. Not only for the sake of Google, but people also prefer a fast-loading website. Hence, about 40% of website visitors will leave the site if it takes over 3 seconds to load.
Although we all know that website load time also depends on web hosting, your theme and its quality of code also have a significant role to play here.
Fortunately, GeneratePress is pretty awesome in this regard, as it has no code dependencies, which enables you to avoid the render-blocking error often mentioned by Google Pagespeed Insights.
Put all these together, and you get a jet-like loading theme. In fact, GeneratePress is known for being one of the fastest WordPress themes. To demonstrate this to you, I performed a little test.
First, I created a fresh website and installed one of the most popular WordPress theme options by ThemeForest (NewsMag).
After testing its performance with Pingdom, here's what I found:
Loaded in 1.17 seconds
Had a performance grade of 91
Had a page size of 267.0 kB
Had 16 requests
That's obviously not bad at all! But wait before concluding.
I then activated GeneratePress on the same website without making any other changes, and here's how GeneratePress performed:
Loaded in 647 ms, about 40% faster
Had a performance grade of 94
Had a page size of 25.4 kB, about 90% smaller
Had 11 requests, about 30% fewer
Now, if you carry out that same test with other WordPress themes, you will continue to find out that the GeneratePress theme is one of the sleekest and fastest-loading WordPress themes at the moment (don't miss our comparison of GeneratePress vs Astra). The only comparable theme may be Astra (check out Brady's Astra review)
The more reason you should start using it immediately.
2. It's Super Responsive, and Will Give Your Website a Very Lovely Look on Mobile
You should have known this by now, but in case you don't, mobile "speed update" is one of the official updates by Google that can tremendously affect a website's ranking in the search engines.
Something funny happened in 2015:
For the first time, over 50% of Google searches were performed on mobile devices. And this made smart marketers adjust to the trend quickly.
Now, many expert marketers suggest having a separate website for mobile visitors though, but it's somewhat technical to implement and not feasible for non-tech savvies (myself included).
However, we still have a good alternative, and that is by using a responsive, SEO WordPress theme.
Unfortunately, most themes today throw "responsive" on their marketing page, but only a few live up to their promise, as lots of them usually end up with poor mobile versions of your site, which aren't good for all the mobile traffic coming to your website.
But GeneratePress is utterly exceptional here. Tom Usborne (the developer) has done an excellent job at improving the theme's responsiveness, and it looks flawless to mobile readers.
That's not all; you're also able to customize margins and padding for mobile readers if needed.
Here's what I want you to do immediately:
Visit your Google Analytics account to see what percentage of your website visitors are on mobile devices.
Check how your current theme appears on mobile devices.
If you found that the percentage is high and your current theme looks ugly on mobile, you're about to make the majority of your visitors really happy if you switch your WordPress site to GeneratePress today!
3. GeneratePress Has Lots of Real-Time Customization Options
Apart from performance, GeneratePress equally does well in its customization options.
For its customization options, GeneratePress uses the regular WordPress Customizer, which is convenient because it will allow you to see all the changes you're making in real-time. You'll get a decent option with the free WordPress theme, but with the Premium version of GeneratePress, you can easily customize pretty much everything about your entire site.
In the Layout area, for instance, you can make detailed settings for:
Navigation – GeneratePress offers 2 different navigation options
Header – you can easily move your header around as you desire and also change its styling
Sidebar layout – GeneratePress features 1 or 2 sidebars
Blog post layout – such as featured metadata, image size, and others.
Footer layout – you can decide on the number of widgets to include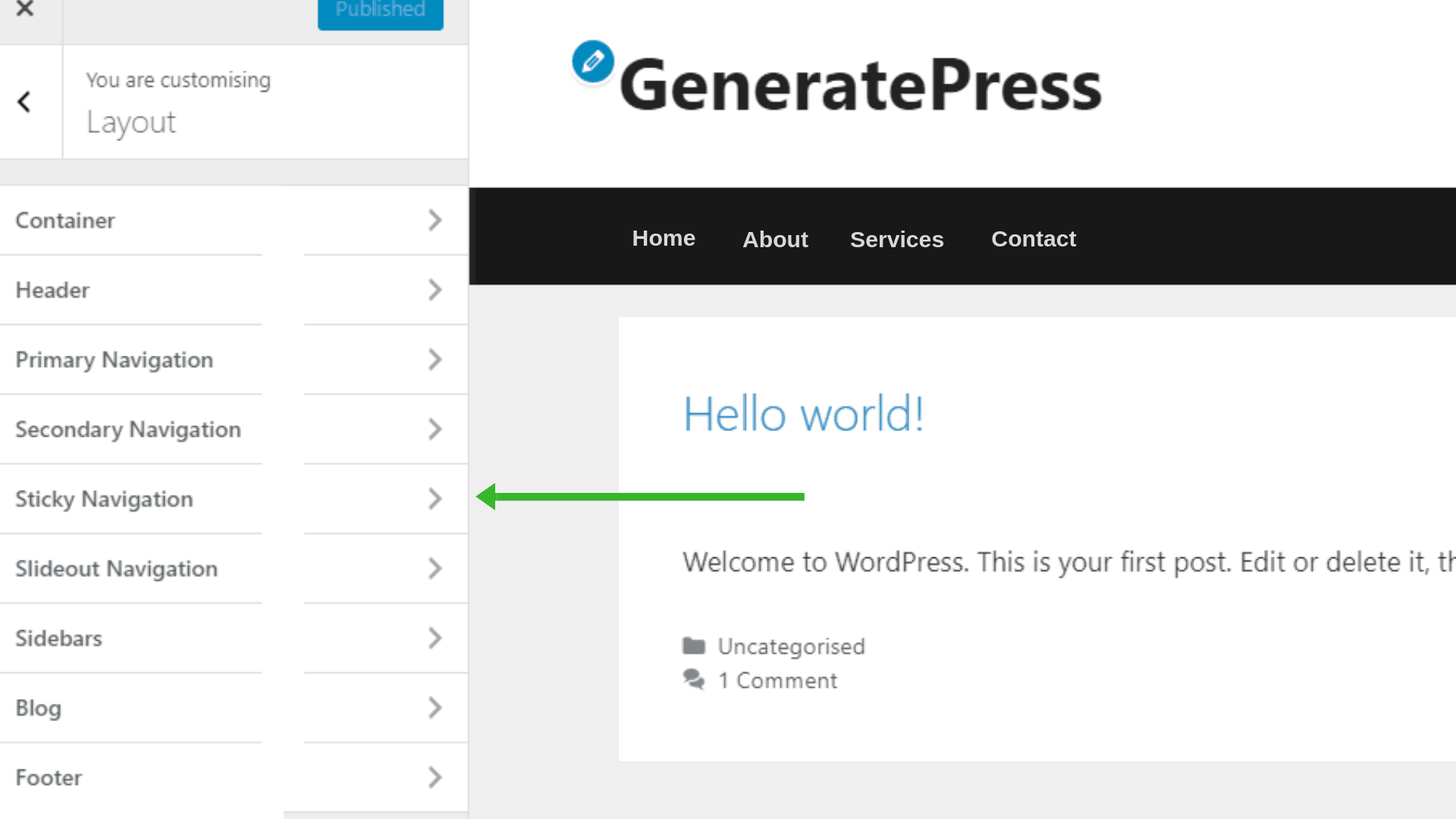 Similarly, you can also control the font for every single element on your website via the Typography area, including buttons:
And you also get an in-depth area to control the color of all the elements on your site.
In a nutshell, the GeneratePress theme features a bunch of customization options in the WordPress Customizer section than most other WordPress themes.
Although, this might be a bit overwhelming if you're a newbie. But once you've mastered how the settings come together, you will have full control over the looks of your website.
4. GeneratePress Lets You Use Only the Features That You Want and Ignore Others
Most WordPress themes out there are one-size-fits-all, which means you'll definitely get all the features.
Now, there's nothing wrong with you wanting all the features that your theme offers for your WordPress site.
But how possible is it to use all the features in your theme? When was the last time you even tried to do that? Well, I don't think anyone can actually use all the features. For example, if you're using a theme from ThemeForest, which comes bundled with several features and you've perhaps used like ten.
That means your website is probably taking a performance hit for features you're not even using.
GeneratePress is a savior in that regard as it comes with a modular design. You can basically turn every single feature on or off as you wish:
Mind you, it's not just about stopping the feature from showing, you only load the code for the features you want to use – and that's another thing that made GeneratePress, so performance optimized.
5. Inbuilt Schema for Good SEO
If you're familiar with Search Engine Optimization, then you would know how critical it is to have schema structured data for all your articles. It helps to improve your search ranking as the search engines can easily crawl your pages since it's already structured.
Excitingly, GeneratePress comes with built-in schema support which abolishes the need for getting another plugin for this task.
6. GeneratePress Works with "Almost" Everything
The biggest trauma of changing theme is to have compatibility related issues with your most essential plugins.
Some themes may start showing errors or act strangely upon switching to them, which will require more time and skill to fix. And in some cases, you'll have no other choice than to replace the conflicting plugin.
Fortunately, that's not the case with GeneratePress – apart from the huge performance boost it'll give to your site, you won't be sacrificing any compatibility when you decide to switch to GeneratePress as it's fully compatible with lots of other plugins including:
Yoast SEO
Thrive themes plugins
BuddyPress
W3 total cache
WooCommerce
bbPress
Easy Digital Downloads
WPML
Etc
In my experience, I encountered no issues or unnatural acts after switching to GeneratePress in one of my sites, and there was no need to replace a plugin. Everything worked smoothly, especially my Thrive Plugins!
7. The Hooks Add-on Made GeneratePress even Easier to Customize
If you have any experience with PHP, HTML, and CSS, you'll love how developer friendly GeneratePress is.
It has a few features that make it pretty easy to customize.
Apart from the detailed documentation, the Hooks add-on allows you to easily add code to any of GeneratePress' 18 hook areas, and you also have the ability to turn off specific hooks:
For clarity sake, WordPress hooks are a powerful feature that lets you effortlessly insert code or content at specific areas on your website.
For example, if you want to insert the Google Analytics tracking code, you can simply insert it on the wp-head hook – and the "After Header hook" is there if you want to add a banner ad below your website's header.
Once you understand how the Hooks work, you won't have to border about editing your theme's source code directly ever again!
Apart from the hook, GeneratePress also has a section called "Additional CSS" if you want to insert your own custom CSS.
8. GeneratePress can be used on Unlimited Sites
Imagine when you have to buy different licenses of the same theme just because you like it and want to use it on your other sites.
It sucks right?
It's really annoying, and often give me the impression that the developer is ripping me off. There could be a limit of 5 to 10 sites though, but getting a separate license for each website is entirely a turn off for me.
Good enough, the GeneratePress team are not here to rip you off as the theme lets you install it on unlimited websites of your own. In other words, the single license can be used on all your sites with automatic support and updates.
9. You have in-depth Control over Each Piece of your Content
The majority of WordPress themes we use today gives you the same settings for each post and page. You might have some custom formats or templates, but you have very little control outside that.
The GeneratePress theme eliminates that by offering you a new "Layout meta box" for every single page and posts on your site:
This meta box can be used to:
Choose the number of footer widgets to use on your site
Change the number of sidebars your website uses, or the orientation of the sidebar (like changing from right to left sidebar)
Setup a special container for your page builder
Disabling some elements such as your navigation menu, header, post title, featured image, or footer (and if you're interested you can also learn how to hide featured images in WordPress here)
As you can see, GeneratePress gives you incredible control over your website, so you can set up your pages and post exactly the way you want.
10. Excellent Support Even for the Free Version
One of the things I love about the GeneratePress theme is its customer support, even for the free version of the theme.
Admittedly, most free WordPress themes have a support forum in the WordPress theme directory, but the developers are often unresponsive, and those forums are nothing compared to a full knowledge base.
Interestingly, the GeneratePress team has a dedicated website for the theme, where you can always check out the theme's features, support docs, and knowledge base content for both the free and premium versions of the theme.
The free theme support takes you to the WordPress.org page, but I discovered that the premium forums answer most of the questions you'll need for the free GeneratePress theme.
Although the knowledge base is meant for GeneratePress premium, it also touches some of the things you might see on the free version. And because many users often end up upgrading to the pro version, it's cool to see that they have all the resources you need once the moment comes.
For instance, the knowledge base covers topics such as installing the theme, debugging, and generating colors through an add-on, etc.
11. Comes with Lots of Beautiful Pre-Made Demo Site Library
Initially, you're required to build GeneratePress sites from the ground up – and that made the theme challenging to set up, especially for casual users.
But earlier in 2018, GeneratePress developer created a new Site Library for the theme's premium users, which allows you to easily import any one of the 25+ pre-made demo sites to your site:
They can be imported right from your WordPress dashboard, and when you're done with the import, your website will look exactly like the demo:
GeneratePress Theme Premium Review | Theme Installation
The GeneratePress theme can be installed right from your WordPress dashboard, just like any other free WordPress theme.
However, if you've decided to buy GeneratePress premium to enjoy all the added features, then simply follow the process below:
Buy the GeneratePress premium license
Download the .zip file to your local storage
Upload the downloaded file to your site's plugin section
Activate it
Once you've completed all these steps, the next thing will be to navigate to WP admin => Appearance => Themes => GeneratePress and activate your desired premium modules.
Now, when you go to the native WordPress customizer, you can see these features are enabled, and you can then begin changing the look of your website as you want.
GeneratePress Pricing | What's the Cost?
As mentioned earlier, GeneratePress has 2 versions – the free and the premium version. The premium version costs $49.95 per year which will give you:
15 premium modules
1 year of support and updates
Site libraries
Unlimited site license
40% renewal discount
As you can see, the theme is affordable considering the features – and a plus for people operating more than one WordPress site. That's not all; you'll also have 30-days money back guarantee, so you can get a refund if you're not happy with the theme.
Is GeneratePress Premium Worth Its Price?
It depends on who you are. I think that the free version is a steal; it works with page builders like Elementor (check out Brady's Elementor review), is lightning fast, and will never cost you a dime. I think that the Premium version is a good option if you want some extra branding on your site. It's a good pick for tons of control options.
GeneratePress Premium is undeniably a good theme for any WordPress-powered blog or business website.
With the free version, you'll get limited customization options, and you need some technical skills to build a professional-looking website. (or you can just use a theme builder like Elementor)
However, the GeneratePress premium will make everything easy for you, which justifies the price – and judging by its performance, features, and customer support, GeneratePress premium is definitely worth the price.
Get GeneratePress Premium Right Here
Frequently Asked Questions about GeneratePress [FAQs]
1. What if I don't renew my license?
License renewal is meant for continued support and updates. You'll still be able to use the full functionalities of the theme even if you fail to renew the license. The only consequence is that you won't get future supports and updates from GeneratePress.
Although, the good thing is that GeneratePress offers 40% discount for the renewal. I'd consider renewing just to maintain updates to the theme since non-updated themes can get exploited. I don't use the support much, but a renewal for less than the cost of a Japanese steak house dinner can help make sure that you don't mess anything up.
2. Is GeneratePress good with page builders?
GeneratePress is one of the best themes you can use with page builders.
For example, Elementor officially recommended it to be used with its fantastic page builder.
I'm personally using GeneratePress with Thrive Architect and loving it as it's very compatible.
3. How many Websites can I use GeneratePress on?
GeneratePress theme can be used on as many sites as you want, both the free and premium version.
However, it's not advisable to use GeneratePress on your clients' websites as you'll be required to share your premium license code with them, except you'll purchase a separate license for them.
4. How does GeneratePress compare with Genesis and other themes?
In my opinion, Genesis Framework is missing out on lots of essential features. It's very costly but lacks many of the vital features in GeneratePress, and that is the same problem with many themes out there.
Although Genesis has lots of stunning WordPress themes, they're nothing compared to GeneratePress.
For the price, Genesis is simply not worth it.
I also think that GeneratePress is by far the fastest theme on the market (alongside Astra). Since speed is so important in ranking now, I think that the free version of GeneratePress is a no-brainer for any site. The paid version is just gravy, helps with branding, and gives you more control over your site.
Click here to start using GeneratePress on your site for free
Run a faster, cleaner, better site with GeneratePress
GeneratePress Review | Conclusion
GeneratePress is a very wonderful WordPress theme, but I don't think it's for everyone.
If you're looking for a niche-specific theme, you might probably consider buying a theme that perfectly fits your niche requirements.
However, if you're happy to spend some time configuring things, GeneratePress gives you the flexibility to transform it into any type of WordPress website. Or, you can even save time by finding a starter site that fits your needs from the demos.
Furthermore, GeneratePress is one of the fastest-loading WordPress themes you'll ever find. Therefore, if you want a lightweight theme with the best possible performance, purchasing GeneratePress is undoubtedly a great decision.
Combined with a fast-loading web host, you should have no problem making your website load in under one second, as demonstrated earlier in the post.
Try GeneratePress Theme Right Here
Try GeneratePress For Free
Finally, do let me know if you have any questions about GeneratePress, and I'll do my best to answer you.
Want to learn step-by-step how I built my Niche Site Empire up to a full-time income?
Yes! I Love to Learn
Learn How I Built My Niche Site Empire to a Full-time Income
How to Pick the Right Keywords at the START, and avoid the losers
How to Scale and Outsource 90% of the Work, Allowing Your Empire to GROW Without You
How to Build a Site That Gets REAL TRAFFIC FROM GOOGLE (every. single. day.)
Subscribe to the Niche Pursuits Newsletter delivered with value 3X per week