How To Start An Online Business That Makes a Great Real Life Income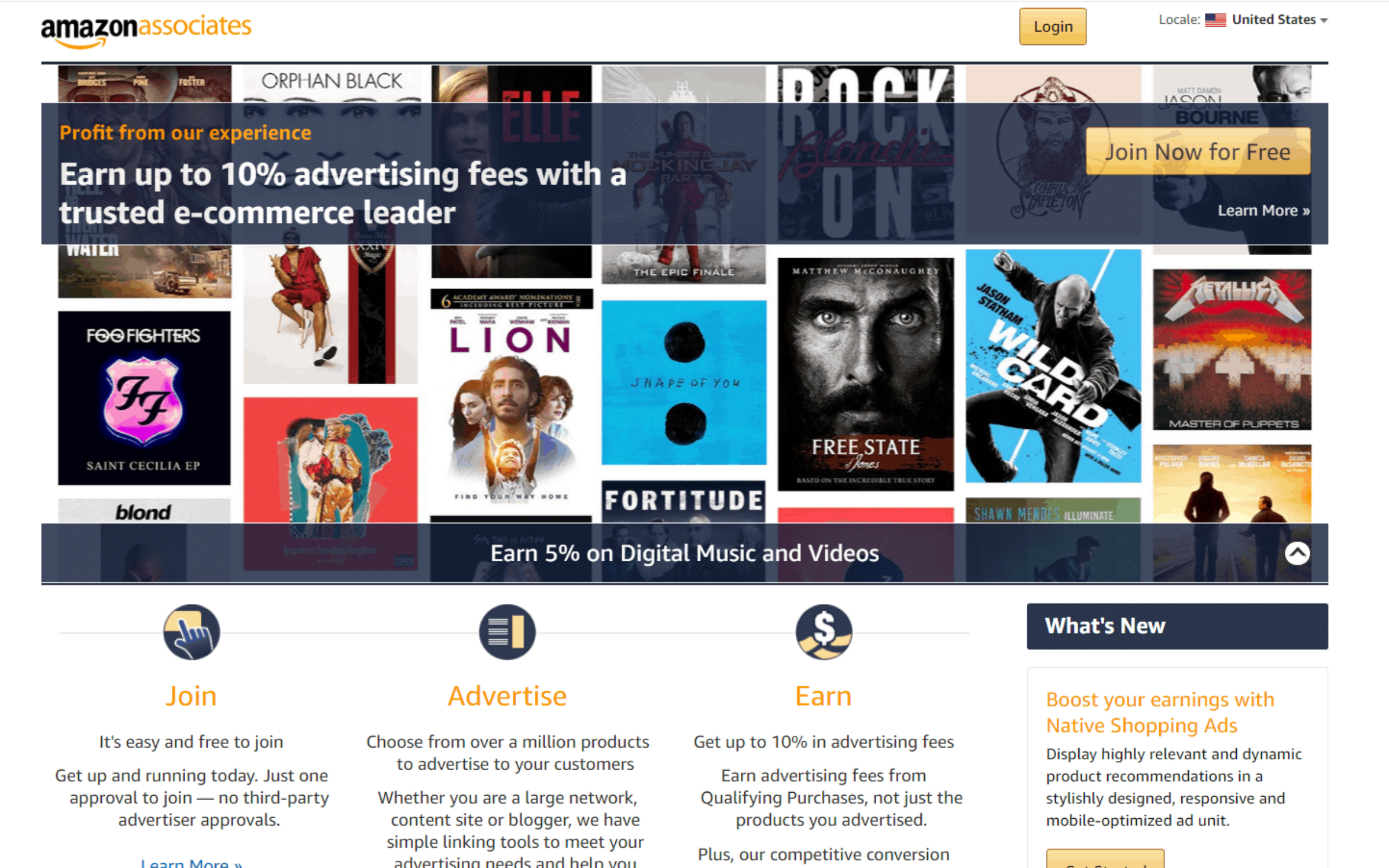 When you buy something through one of the links on our site, we may earn an affiliate commission.
We at Niche Pursuits have gathered information from some of the world's greatest minds in online business. All for the purposes of sharing how to start an online business.
We feature leaders like:
And of course, our very own Spencer Haws has had his share of successes. From quitting his corporate job after making thousands of dollars per month with niche sites to selling software businesses in the 7 figures, he's been able to learn a few things about online business.
So for anyone wondering how to start an online business, this is the place to be. I'm going to walk you through the exact process that these successful business owners went through.
Let's get started.
How To Start An Online Business
Find Your Market's Need
Whether brick and mortar, online, or some hybrid of the two, every successful business starts in the same place: they solve a need.
"Follow your passion" might be good life advice, but it's horrible business advice. Businesses aren't started based on what you  want, but based on what your audience wants. You might be super passionate about your acoustic guitar skills, but you always need to ask whether or not you're helping someone.
And just because people want something doesn't mean there's a need for it.
Here's an example.
People love coffee, right? They love it a lot. They're willing to inconvenience themselves and pay a lot of money for a double mocha latte with an extra shot of vanilla.
(My brother has a "coffee fund" each month. He sets aside a portion of his income to buy coffee at Starbucks or to purchase high quality coffee beans. Right now he's saving his coffee fund for a Beville espresso maker. I am 100% serious)
It doesn't take a genius to see that there's a ton of people willing to buy if you're in the coffee niche (see coffee affiliate programs). But does that mean there's a need in the coffee niche?
No. It doesn't.
Coffee is super popular and people love to buy it, but there is a ton of competition in the coffee niche. So it may be your passion and dream to start a chillaxed coffee shop. But the other 7 coffee shops in your town make it almost impossible for you to succeed. They are sucking away your customers and making it hard for you to stand out and draw attention.
Where is The Need For Your Business
In our businesses, we have to distinguish between a business where there is a need and a business where there isn't. A need exists when your customers want something and they have trouble getting it elsewhere. A need is when you see a good product that you can make great. 
Needs are like the Force in that they are all around us, inside of every living thing. Whenever you hear "I want…" or "I wish that…" or "I hate it when…", you are hearing people express an unsolved need.
To give you some more clarification, here are some examples of businesses that don't solve a need:
A hip clothing store in the middle of a shopping mall filled with clothing stores (customers already have access to what you're selling)
A restaurant downtown (too much competition – there are already a hundred restaurants downtown)
A business selling laxative potato chips (I don't think I need to explain this one)
Businesses selling flavored bottled water for pets (that sounds disgusting, and no pet is ever picky about drinking water)
Business selling prepackaged frozen milk and cereal (this product doesn't make anything easier for the user: it would take as longer to heat up frozen cereal than it would to just make it fresh)
No matter how passionate an owner might be about those businesses, they all fail to solve a need.
But how do we know what businesses the market needs?
How To Find A Market Need
It's not as hard to find a market need as you would think. Just ask yourself, your friends, or your family: What was something annoying that happened to you today?
Someone busted a tire on the highway and drivers were having to swerve around it.
I'm moving next week and it's annoying that I have to buy a bunch of boxes just to get rid of them later.
There isn't any great information online about camping in Utah.
My boss doesn't have a great way of communicating with the team and setting clear expectations for everyone.
I couldn't find a product on Amazon and now have to buy it from a less reputable online store.
The common theme among all of these complaints is simple: there is an unmet need. If you aren't sure what business you should start or what gap you should fill, start by listening to the language of need. Pay attention to what's frustrating, aggravating, annoying, painful, or inconvenient. These are pains for normal people, but opportunities for entrepreneurs. 
The language of need sounds like this
I want…
Need…
Wish that…
It's so frustrating when…
I hate…
The worst part about it is that…
It's annoying when…
It would be easier if…
And to give you some further clarification, here are some examples of business that solve a need:
A business selling inexpensive, environmentally friendly straws to local restaurants
A pet supply store located next to the pound
A website targeting low competition keywords
A business teaching people how to play a niche instrument
A business that makes it easier to find fashionable furniture for your home
An app that makes it easier to communicate with your team, set clear expectations, and review work
A business that makes it safer to travel
When your business solves a need in a space where there isn't much competition, you are setting yourself up for success. This is an essential step and can't be skipped for any business.
Set Up Your Business
Once you know what your business is going to be about, it's time to get started with the set up. This will vary a bit from business to business so here are some general principles.
Starting Your Website
Even if you're just doing something like Amazon FBA, you'll still need a website for your business.
The first step here is to get website hosting and choose your domain name. If websites are like a house, you can think of hosting like it's the ground that the house sits on. Hosting and domain names are an annual expense, but don't cost very much.
Hosting
We recommend Bluehost for your website's hosting. They are inexpensive, reliable, and the support is second to none. Spencer has used them for a ton of his niche sites over the years.
You can get your domain name with a registrar like NameCheap and save a couple of dollars, but I recommend just getting your domain name with your hosting. That way everything is in one place, you don't have to fool with nameservers, and it's a little bit less hassle.
Bluehost gives you a free domain name your first year, so you can't beat that.
Bluehost Domain Name & Hosting
Once you have your domain name and hosting, we recommend using WordPress. Most hosting companies allow for a 1-click install of WordPress where the host gets everything set up at no extra cost to you. You'll be asked to name your site and provide a description.
If you're doing ecommerce without Amazon FBA, you could use Shopify. But since Shopify is a small percentage of all online business, I'm going to place most of the emphasis of this article on a WordPress site. If you're doing ecommerce and want to use Shopify, we have a post coming out just for you soon 🙂
You can do a static HTML site for your online business, but WordPress is a lot easier and just as flexible. Nowadays, WordPress is a lot more user friendly. With page builders like  Elementor you can get a 100% customized website using a drag-and-drop editor. 
Designing Your Website
Your site's design has a few key elements: your theme, your logo, and the site layout. A word of warning for all of us perfectionists (myself included): the design of your website isn't that big of a deal. As long as you have something that won't make your readers bleed from their eyes, you should be okay.
There is no reason to spend days, weeks, or months on your design. Get it done and move on. Pretty good is good enough in most cases. No one will buy your product because you have a good looking website.
(In fact, in one of the greatest mysteries in all of web design, ugly websites tend to convert really well. I have no idea why this is and it keeps me up at night)
Your Theme
Your website's theme is more than just your literal theme. It is your site's personality, its characteristics. What are your brand colors? What are the fonts you're going to use?
And then, of course, it's your literal theme.
For your literal WordPress theme, I like GeneratePress and Astra. Spencer uses GeneratePress on his website. I use Astra on mine. Both are lightweight, fast, and free so it doesn't matter all that much.
Click here to use GeneratePress for free.
Click here to use Astra for free.
Once you have your theme installed, you'll need to input your site's colors. I recommend that you do this using Coolers.co. Coolers shows you a color scheme and you can choose colors that you like. It makes sure that the colors always match and this is a great way to get your site's branding in place.
You can lock colors that you like (I found a few that I liked right off the bat) and then press spacebar to change the others. Coolers makes sure that your colors always go together even when you change some of the unlocked ones.
Coolers will also give you the hexadecimal code for each color. This is the # followed by 6 letters and numbers.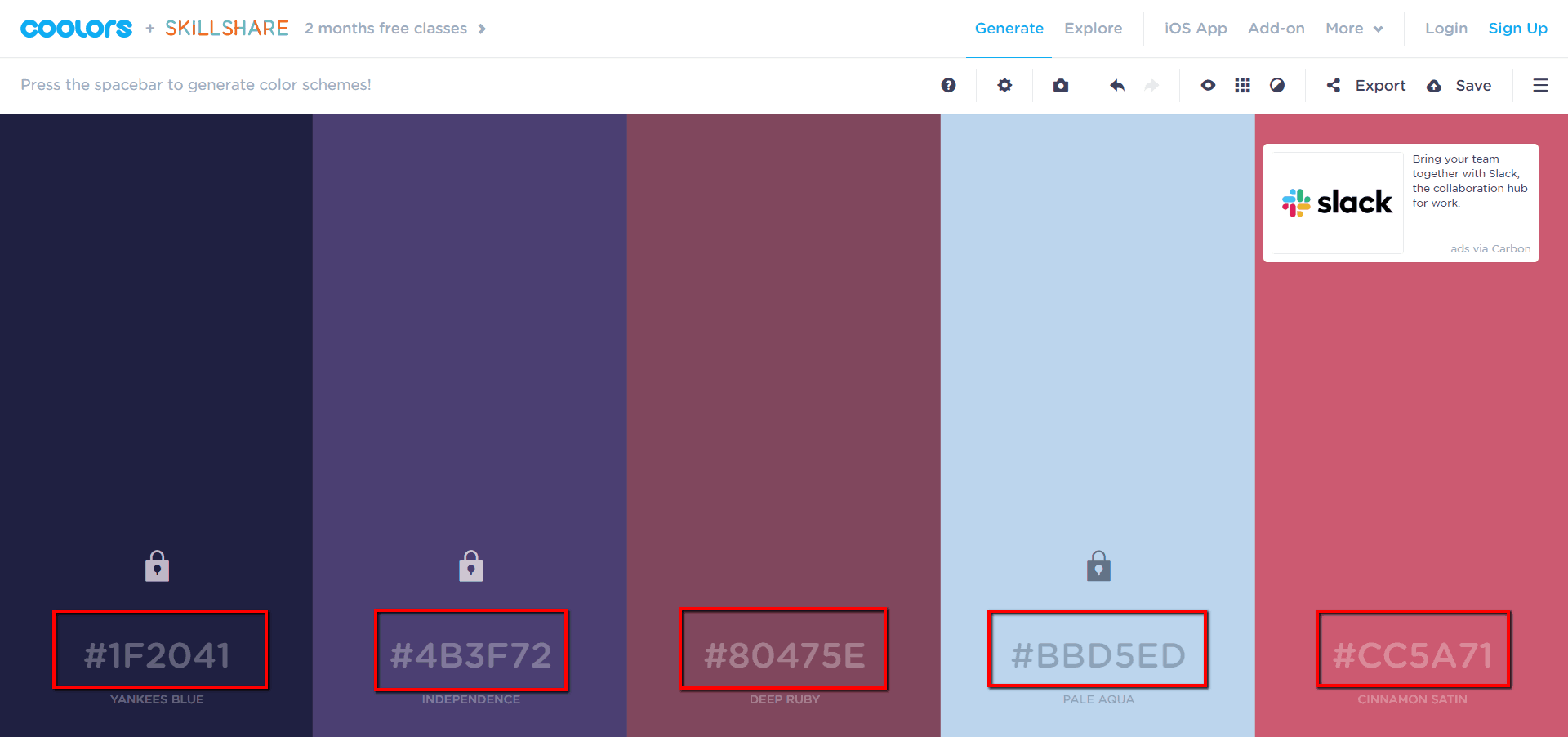 You will want to put this hexadecimal code into your theme. This will allow you to get the exact color shown on Coolers instead of guessing at it and trying your best.
For your fonts, I recommend using Fontjoy. It's similar to Coolers in that it gives you fonts, you can select the ones you like, and then change the ones you don't like. Also like Coolers, Fontjoy makes sure that the fonts always look good together.
Your Logo
Getting a logo is pretty easy. You can get one on Fiverr or Upwork for just a few bucks and there's nothing wrong with that. Spencer got his logo for his Niche Site Project 4 from Fiverr for like $15.
Make sure your logo matches your site's colors and overall personality. Match fonts if necessary. The best way to do this is to give your logo designer the 6 character hexadecimal code you're using for your theme:
In this case, that blue is #0274be. That's a lot better than telling a designer that your site is "admiral blue with a hint of lapis".
Your Site's Layout
Designing a site is a thousand times easier than it used to be. You don't have to customize HTML or fool around with the CSS of your theme. In fact, you don't have to code at all. I'm one of the codeless entrepreneurs who doesn't know CSS from crack cocaine. 
So don't worry if you aren't interested in doing things the hard way.
Almost any website now can be edited and crafted using a drag and drop editor. If you've never used one of these, the simplicity is mind-blowing. These editors act just like they sound: you select an element you want, drag it, and drop it.
I started with a blank page:
And after about 10 minutes with Elementor, I came out with this:
You can't see it in the screenshot, but the text continues down the screen. At the end of the post, I have recommended posts for my readers and an author box.
And please, don't think I'm an expert or anything. My design skills are about on par with your average kindergartner with a crayon.
2 Tricks to Make Your Site Look Good 
The first is that I use Elementor. This tool makes website design super easy:
You click an element on Elementor and drag it over to your main page. Elementor drops this element in and viola. No code necessary.
If you aren't into paid tools, Elementor has a free version with a few less bells and whistles. But you're still able to create something on par or better than what I made above.
The second trick I use is to take inspiration from successful sites. I like to design my theme similar to one site, design my posts similar to another site, design my footers like a third site, and so on.
It's important to make sure that you aren't copying these ideas. Make them your own to let your site's unique personality shine. And when you use other sites for inspiration, make sure that they aren't sites that are in your niche. That can lead to some legal issues down the road.
Once your site is set up and looking good, it's time to move on to the money-making tasks.
Feature Your Products
An important rule for any business is that you need to make it easy for your customer to access your product. This is true whether you sell physical items, information, or pharmaceuticals on the black market. The easier it is for your customer to buy, the more buyers you'll end up getting.
For niche websites, this often means getting your best information up front and center. Take a look at the home page of Niche Pursuits: the first things we feature are Spencer's Niche Site Projects and case studies.
Why do we put projects and case studies first? Because we know that most of our audience wants to learn how to build niche businesses and they want to see someone doing it. Information is our "product" so it's front and center.
Within each post, we try to feature offers that we think our readers would like. We use product boxes like the ones above for Bluehost and Elementor. We use buttons so readers know where to click.
Consider User Experience
On your site, try to feature what you're selling. Make it easy for your readers to get access to the best products you have to offer and make it easy for them to buy.
Amazon does a great job of this. On their home page, they try to direct you to things that they think you'll like:
And any time you go to a product, Amazon shows you other products that you might like:
Your site should have the same sort of features. Make it easy for customers to go from one product they like to another product they like. Give your customer the opportunity to "buy" more.
Internal Linking
One way this is done on an information site like Niche Pursuits is through internal linking. We try to link to topics that are super relevant to you and that are in line with what we're discussing. This makes it easy for you to go from an article about keyword research to an article about starting your own niche site to another article that shows you how to make bank from Amazon Associates on your website.
This type of internal linking works for information sites, products sites, and  any other website where you want to direct your viewers to related contents or products. Internal linking is the best way to feature your best stuff.
The problem is that internal linking can be kind of difficult. How do you know what internal links are best? How can you always know where to add internals and when to add them to new posts?
This is even more challenging with a big site like Niche Pursuits. So to solve his own problem, Spencer made a product called Link Whisper. Link Whisper makes it easy to internal link from one page to another and it uses AI to recommend the most relevant links.
Write Good Copy
This is an area that a ton of people struggle with in their online business. Writing is one of my strengths, so I think I can help out a bit 🙂
Here are some tips:
Give Benefits, Don't List Features
There are two ways to describe any product in the world: features and benefits.
Features explain what a product is:
This pill has Vitamin A & B
This collar works on dogs
Our blog has information on how to build a business
Benefits explain what a product does:
Our pill decreases your risk for heart attack and skin cancer
This collar is the most comfortable collar your dog will ever wear
Read our blog to learn how to boost your income and fire your boss by building your own business
The difference between those two are that features show your readers the characteristics of your product. Benefits tell your readers what they will gain by using your product. Features are facts, benefits are emotions.
Benefits cover a multitude of sins. Your landing page and features don't matter as much when you make an emotional connection with your viewers. That being said…
Make It Easy To Buy
In your copy, have places where the viewer can purchase. Have buttons to add to cart or for affiliate links. Have an easy flow to your viewer's shopping cart.
If you can build an emotional connection and make it easy for your viewer to buy, you will have more sales than you know what to do with.
Spread The Word – Marketing Your Online Business
You've found a need in the marketplace, started your website, featured your products, and have clear explanations of what your user will gain by purchasing from you.
All that's left to do is start your flow of traffic. There are three main ways to start generating traffic for your website: organic search results, social media, and buying ads.
Organic Traffic
Organic traffic is an inexpensive and popular option for driving traffic to your website. This is the type of traffic that Spencer used to build up and later sell his Amazon FBA business. This process involves search engine optimization (SEO) and building out content to bring in traffic from Google.
Things I Like About Organic Traffic
You can use your traffic to drive buyers to your information, ecommerce, and FBA listings
Can build a loyal fan base that returns to your site because they want to see your content
Can be seen as an authority in your niche
It is free if you do it yourself. If you outsource content, there is a one-time cost. Content is not a recurring cost, but can have recurring benefits
Can diversify income with ads and affiliate offers
Once you have your content up, it's pretty passive
Things I Don't Like About Organic Traffic
It takes time to get started (it might take 6 months to a year) for you to rank in google
If you are outsourcing, the one-time cost can be high
Overall, I think organic traffic is a no brainer for any site. Even if you are generating visitors through ads (I discuss these below) , then I think it makes sense to build up a longer term strategy using content.
To read more about generating visitors through content, check out our content creation guide.
Social Traffic
Social traffic happens when visitors go to your website through search results. This isn't quite as powerful as it used to be, but it still has a place in the online business world. This process involves building a social media presence and directing visitors to your website.
In the past, Facebook and Twitter were great ways of doing this. Facebook is still viable, but it's pay-to-win. Pinterest is a good option now.
Things I Like About Social Traffic
Users are very engaged with your posts
Once you get a social media following, it can snowball
It's low cost
It's independent from search algorithms
Things I Don't Like About Social Traffic
It's (usually) not residual. Traffic sees your post one time and then leaves. Pinterest is an exception here 🙂
It can be hard to get started (no one wants to follow a page with 7 active members)
Traffic potential isn't as big as organic traffic or ads
Social traffic can be a boost to your website, but it's hard to build a business just using social media traffic. Spencer used Pinterest for NSP4 from day 1. I don't have any social media accounts for my website right now.
You can click here to read about how to build a massive social media following.
Buying Ads
Buying ads is just what it sounds like: you're purchasing space on a website, email list, or Google search results to drive traffic to your website. I don't recommend doing this unless you're selling your own products. Buying ads doesn't work as well for affiliate sites or sites that generate an income through selling ad space.
Things I Like About Buying Ads
You can control your traffic flow. If you want more/less, you can do that
Detailed metrics about what is and isn't working
Not dependent on Google algorithms or social media
Things I Don't Like About Buying Ads
Doesn't work well for affiliate sites or sites that sell ad space
Can be expensive if you aren't generating a healthy margin through product sales
Requires that you keep a very close eye on your ad spend and results
I've never had a business where I've had to buy ads, but I know plenty of others who love buying ad space. This is a great tactic for ecommerce businesses.
You can click here to listen to a podcast from the guys at EmpireFlippers. They deal in tons of businesses that use ad buying as the main source of traffic.
Should I Incorporate?
Let me disclaimer this by saying that I'm not an attorney or an accountant and you should contact one with this question.
I have heard that it's best to incorporate after you start making sales. Early on, it just serves as a distraction and an extra expense.
Online Business Ideas
We have a whole monster post about the best online businesses to start. Here is a list of a few good ones:
Your Online Business Depends On You
If you want to start an online business, here's a checklist you can follow:
Find a market need
Start and design your website. Build a brand unique to you
Feature your best products
Write emotional copy for your viewers and make it easy to buy
Spread the word – build organic, social, or ad traffic to your website
And that is how you can start an online business. 
You can also think about buying an existing site to give yourself a headstart. Find out how by learning how to buy a blog here. 
Was this post helpful to you? If so, please let me know down in the comments below. If it wasn't helpful, please let me know what it's missing that will help you build an online business. Thanks for reading!
Want to learn step-by-step how I built my Niche Site Empire up to a full-time income?
Yes! I Love to Learn
Learn How I Built My Niche Site Empire to a Full-time Income
How to Pick the Right Keywords at the START, and avoid the losers
How to Scale and Outsource 90% of the Work, Allowing Your Empire to GROW Without You
How to Build a Site That Gets REAL TRAFFIC FROM GOOGLE (every. single. day.)
Subscribe to the Niche Pursuits Newsletter delivered with value 3X per week