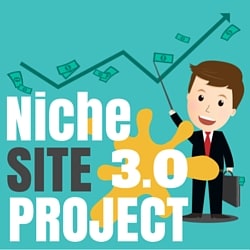 Hey everyone, welcome back to another coaching call for Niche Site Project 3!  Are you ready for coaching call 6?
In our last call, we discussed how to make your niche website stand out.  In today's call, the subject is all about developing a long term content strategy.  These ideas are what can take you from having just a so-so website to having a great website that helps you stand out as an authority.
So, not only do we discuss things like types of content and on-page SEO, but we also go into more in-depth strategies like clickable titles and more.
Overall, I really hope you can apply some of these strategies into your own business!
Samara's Summary of Call 6…
What's up guys?
Coaching call no. 6 is a real doozy; you definitely don't want to miss this one! Spencer finally gets to talking about the content strategy and breaks it down into perfectly understandable bite-size pieces. I now have a much better handle on how to approach the writing side of the project.
As for my site, I have my domain, my About Us page, my Contact page and I'm sorting out the Privacy Policy, but the homepage looks like a barren wasteland! I'm chomping at the bit to start adding some articles, so it was great to learn how Spencer goes about developing a long-term content strategy.
He set out some very useful principles to bear in mind, such as breaking down the text into paragraphs for better readability, combining different types of content, and linking internally and externally. If not for this advice I might have just pumped out some seriously unimaginative, linkless text-only articles.
I have some writing experience, but I've never written for a website in this way—targeting keywords, adhering to SEO principles, using specific strategies to captivate readers—so this is all new to me. I realize that, first and foremost, you have to provide value to the reader and make the content interesting. I personally have the attention span of a gnat, so whatever I'm reading needs to be pretty darn good if it's going to keep my interest; I plan to write with that in mind.
This presentation also answered two burning questions I have always wondered about: how many keywords do you target in a single article, and how many times do you mention that keyword. Spencer lays out some general guidelines he follows (1 keyword per article used 2-4 times in the text) and gives some good ideas for finding other keywords to target in your headings.
I thought that one of the most interesting parts of the call was learning about the different types of blog posts, of which there are around a bazillion. I had no idea there were so many different styles and formats, and I suspect the article on Digital Marketer will be a goldmine. Since learning about the various types of content, now when I read an article online I think, "Oh, this is obviously a crowdsourced post" or "Geesh! Another link round up!"
Spencer also emphasized the importance of having an awesome blog title, which is something I probably wouldn't have given much thought to otherwise. A better title means your article has a better chance of being read, even ahead of pages that are ranked above you. The two resources he shared for scoring and generating titles seem both fun and helpful, and it looks like I'll be spending a little more time trying to create titles that blow my potential readers away.
Well, as you'll see in the video, Spencer isn't afraid to pile on the work (slavedriver much?) and I have a lot of reading and writing ahead of me, but I dare to say this part is especially exciting, as I'm going to (try to) write things people will (hopefully) read, things that will (hopefully) help people. I can't wait to hit "publish" on these babies!
Want To Build Smart & Relevant Internal Links...Quickly?
Link Whisper is a revolutionary tool that makes internal linking much faster, easier, and more effective.  It makes it simple to boost your site's authority in the eyes of Google. You can use Link Whisper to:
Bring out your orphaned content that isn't ranking

Create smart, relevant, and fast internal links

Simple yet effective internal links reporting: what has lots of links and what pages need more links? 
Click here to revolutionize your site's way of doing internal links
Coaching Call 6 Video:
If you prefer to listen to the audio only of the call, you can download the audio file here.
Developing a Long Term Content Strategy
Keyword focused
Well Written
Spelling and Grammar
Use Paragraphs, Bullet Points, and Numbers liberally
Valuable to the reader
Charts and data comparison
Answers their query
Use a combination of Written, Image, and Video content
Internally and externally link to other valuable content
Keyword Focused Content
Use the targeted keyword in title (H1 tag in WordPress)
Example keyword: Make money from your website
Example title: "53 Ways to Make Money From Your Website"
Use the keyword 2 to 4 times in the article
At least at beginning and end of article preferred
Use related keywords in H2 or H3 tags (subheadings)
Most articles should have at least 2 or 3 subheadings
Find related keywords with Long Tail Pro or Google related searches
Example, "Survival Knife"
Examples of Valuable Content.
Writing and Publishing Content
How often?
Get first 20+ articles up as soon as possible
Pick a regular schedule after that (once a day, 3 a week, 4 a month…)
How long should articles be?
2,000 words + for "Pillar" articles
1,000 words or so for "normal" articles
How many articles?
1 "Pillar" article for every 10 "Normal" articles
Pillar article vs. a normal article
Pillar = longer and more valuable
Pillar is something that is usually more shareable or linkworthy (i.e. you should put effort into building links to these articles).
Organizing Content on Your Site
Categories in WordPress
Link liberally to articles in the same category (linking to other categories is okay too)
Start with 5 to 7 categories on your site
Example: Site on Camping…
Hiking Gear
Sleeping Gear
Shelter Building
Fire Starting
Water Gear and Tips
Types of Blog Posts
How to Create a Great Title
Thrive Content Builder
Assignments for Call 6
---