9 Fastest Web Hosting Platforms: Everything You Need To Know
When you buy something through one of the links on our site, we may earn an affiliate commission.
In the high-speed, digital world we inhabit, every millisecond counts. A website's loading speed can make or break a visitor's experience, impacting everything from bounce rates to conversions. This is why choosing one of the fastest web hosting platforms is essential for website success.
With a bit of know-how, you can choose a hosting provider with a platform that isn't just fast but lightning-quick.
We'll dissect their features, assess their performance, and help you decide which one can give your website the speed it needs to stand out in the crowded digital landscape.
So, buckle up and hop into the fast lane of web hosting!
9 Fastest Web Hosting Services For Your Site
These nine platforms have been carefully chosen based on their performance and features. Let's take a closer look at each one.
1. WPX - Fastest Web Hosting
WPX Hosting, hailing from Bulgaria, is renowned for its blazing-fast web hosting and management services. Their streamlined control panel simplifies the WordPress site installation process and provides a staging feature for risk-free testing.
Their hosting plan includes extensive site optimization, such as cache plugin installation, page and image optimization, and database optimization. WPX's focus is on delivering speed and efficiency to all its customers.
A few other notable features include:
Quick email setup for small-scale campaigns
Easy domain configurations (users supply their own domain)
Comprehensive backup management stored on a separate server for 28 days
Despite the premium pricing, WPX focuses on providing value through robust server resources, stringent security measures, and speed optimization. They offer a full suite of site optimization services, aiming for swift load times and efficient operation. With WPX, you're investing in speed and reliability.
WPX is at the top of our list as the fastest web host because it took the #1 place in our WPX vs Siteground speed review. So check that out for even more details about this powerful program.
Pricing: The Business, Professional, and Elite plans cost $20.83, $41.58, and $83.25 per month, respectively, or $249.99, $499, and $999 per year - all with two months free.
---
2. WP Engine
WP Engine, headquartered in Austin, Texas, is a leading managed WordPress hosting platform known for its outstanding speed and reliability. It powers more than 1.5 million websites worldwide, earning a reputation as a trusted provider in the industry.
WP Engine is an ideal choice for bloggers experiencing high traffic volumes beyond the capacity of basic web hosts, such as 25,000 unique visitors per month.
Advantages of WP Engine:
Unmatched Speed: As one of the fastest WordPress hosting providers, WP Engine stands out in the market.
Dependability: With a massive base of over 1.5 million websites, WP Engine's reliability is unquestionable.
24/7 Support: WP Engine provides continuous support to ensure assistance whenever required.
Superior Security: The company is dedicated to offering top-tier security to safeguard your website from potential threats.
Key Features of WP Engine:
Specialized WordPress Hosting: WP Engine's hosting environment is exclusively designed for WordPress installations, themes, and plugins.
Tailored eCommerce Solutions: The platform also offers solutions specifically designed for eCommerce websites.
Enterprise Solutions: WP Engine provides robust solutions for large-scale businesses.
Experience Tools: A range of tools are available for designing, building, managing, and powering your site.
They have carved a niche for themselves as an upscale hosting solution, stepping into this space even before many of their competitors. Their servers are custom-made for WordPress publishers, delivering speeds that shared servers can't match.
Managed with dedicated hosting by WordPress developers, WP Engine offers award-winning support – they've bagged multiple Stevie awards for customer service.
Pricing: Managed WordPress plans start at $20/month or $240/year, the Professional plan for WooCommerce Stores is $50/month or $600/year, and the Advanced Solutions start at $600/month. All plans come with an offer of 4 months free, and additional sites can be added for $17/month.
---
3. Bluehost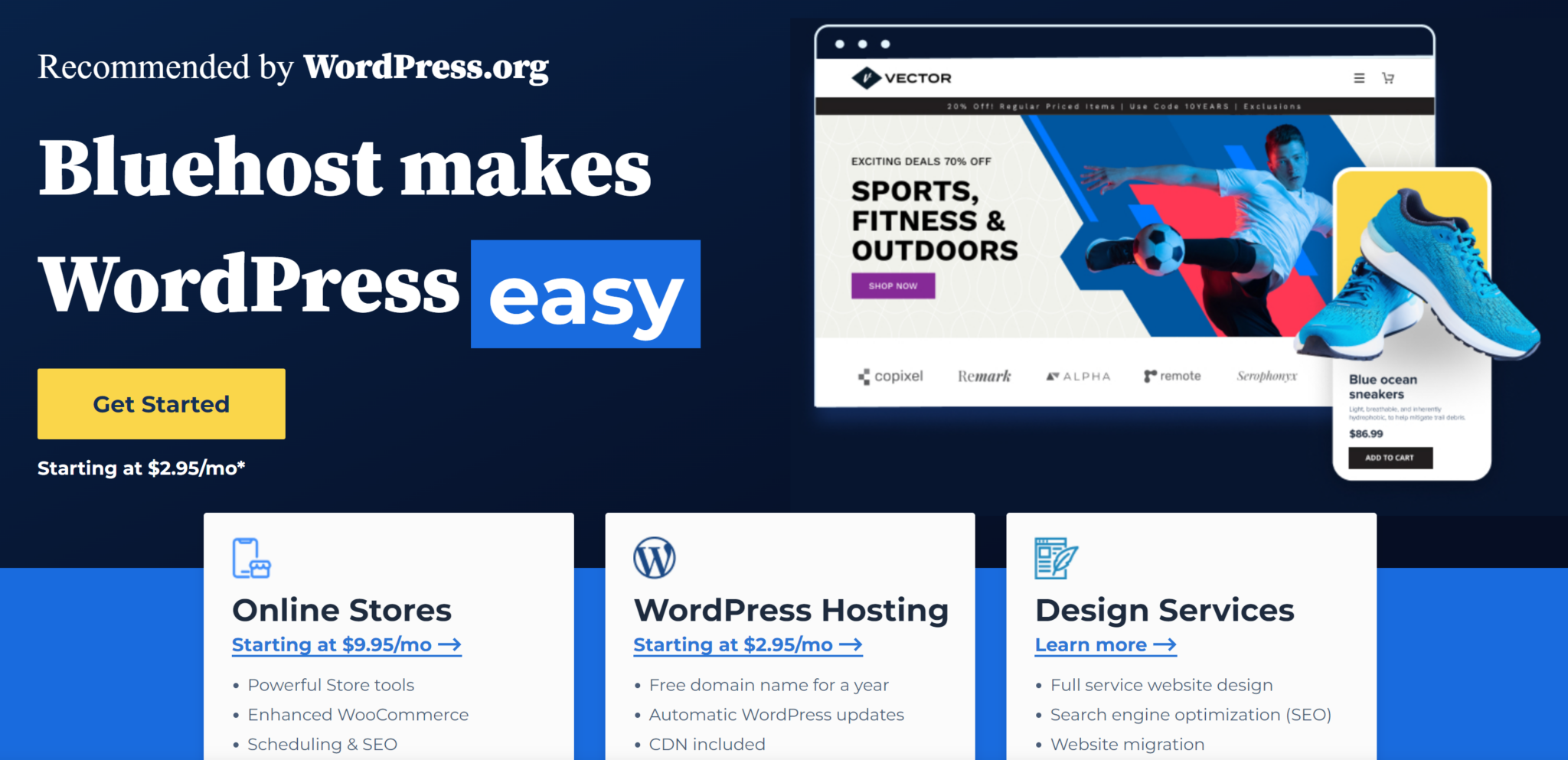 The company Bluehost, a leading web hosting provider under the Newfold Digital umbrella, is recognized for its affordable and reliable services. Notably, it has an official endorsement from WordPress, so you know the company is serious about providing a quality hosting service.
All in all, Bluehost is very easy to use and universally trusted, and people love it for its:
Variety of Hosting Options: Bluehost offers diverse web hosting options to cater to different needs, including shared, VPS, and dedicated server hosting.
Domain Registration: It provides domain registration services, further solidifying its position as a comprehensive solution for online businesses.
WordPress Integration: Seamless WordPress integration is another feature that enhances website management.
Bluehost's commitment to supporting small businesses is well-known, making it a trusted choice for millions of websites globally. It also offers eCommerce add-ons, expanding its utility for online businesses.
Pricing: Plans start at just $9.99 per month.
Inclusions: These plans come with hosting for one website, 20GB drive space, capacity for up to 50,000 unique visitors per month, free CDN and SSL, daily backups, malware detection, and high availability.
Guarantee: A 30-day money-back guarantee is provided for added assurance.
Despite being known for affordability, Bluehost doesn't compromise on speed or efficiency. For the latest and most accurate pricing information, visit the official Bluehost website.
---
4. Kinsta
Since its inception in 2013, Kinsta has become a leading figure in the web hosting industry, particularly known for its speed, making it a top choice among SEO and affiliate marketing funnel professionals.
Despite the somewhat steep price, the quality of service Kinsta offers makes it worth the investment. However, its pricing structure may not suit those who are just starting out.
Kinsta's $35/month ($24 when annually billed) package includes:
Hosting for one WordPress website
Google Cloud hosting
Support for up to 25,000 unique visitors
Automatic daily backups
10GB of storage
Malware/hack removal
One free site migration
Free SSL certificate
Free CDN
24/7 support
A major advantage of Kinsta is its team of WordPress developers. They offer a level of expertise that's hard to match.
Additionally, all accounts are hosted on the Google Cloud platform, meaning sites are served from 25 international data centers, ensuring fast local loading times.
While Kinsta boasts an impressive load time, 99.99% uptime, excellent support, and fair pricing, costs can increase significantly for high-traffic sites, with enterprise costs going up to $1100 per month.
Pricing: The annual Starter plan is $24 per month, the Pro plan is $47 per month, the Business plan starts at $77 per month, and Enterprise plans start at $450 per month. These prices increase when paid monthly over annually.
---
5. Cloudways
Cloudways is a high-performance web hosting provider known for its speed and stability.
The pricing is a bit lower than other web hosts on the list, making it a great option for those trying to lower their website maintenance costs. It offers customizable hosting plans to fit technical requirements and budget constraints.
Users can pick from five hosting platforms: Digital Ocean, Vultr, Linode, Google Cloud, and AWS.
Speed metrics show a TTFB of 155ms and a page speed of 914ms.
Even entry-level Vultr packages deliver impressive load times, according to Pingdom and GTMetrix tests.
Performance is enhanced with features like dedicated resources, SSD drives, PHP-FPM, and built-in caches.
Site speed can be optimized further with a choice of up to 20 server locations.
In essence, Cloudways excels in delivering stable, fast hosting with excellent traffic management. It's a great program to try if you need to run a resource-intensive website or application.
Pricing: Cloudways provides three tiered plans at $14, $28, and $99 per month.
---
6. Siteground
Siteground, founded in 2004, is a globally recognized web hosting provider catering to over 2 million domains worldwide. It has a strong reputation for its top-notch customer support team and reliable WordPress hosting plans.
As a user of SiteGround, you'll have access to one of the fastest hosting platforms around. They're always upgrading their hardware and software to make your site even quicker. Sometimes it comes at an increased price, but the company always delivers more value.
Here's how they do it:
SiteGround uses the fastest SSD drives on shared and Cloud hosting platforms.
Their servers run the latest PHP version with a built-in opcode cache, and you can switch versions as needed.
Nginx serves as a reverse proxy server, caching static resources and speeding up delivery.
You'll get a free CDN, enhancing the hosting speed globally.
The Brotli next-generation compression is enabled by default on all servers, improving load times.
SiteGround's SuperCacher technology caches dynamic pages and database query results (including Memcached) and offers WordPress optimization tools via the SiteGround Optimizer plugin.
With SiteGround, you're set for a super-fast website experience. Check out our Siteground review if you want to dig deeper.
Pricing: The StartUp plan starts at $19.99/month, the GrowBig plan starts at $29.99/month, and the GoGeek plan starts at $44.99/month.
---
7. Host Papa
The popular hosting service HostPapa, a Canada-based web hosting company, is recognized for its exceptional speed and reliability, making it one of the fastest web hosting providers in 2023.
What sets this hosting plan apart from many other hosting companies is its use of SSD (solid-state drives) and a global Content Delivery Network (CDN). This ensures faster data storage and reduced website load times regardless of the visitor's location.
Noteworthy features include:
Utilization of the high-performing LiteSpeed web server optimized for popular CMS platforms like WordPress.
Proven uptime of 99.9%, verified by extensive testing.
With these advantages, HostPapa emerges as a preferred choice for businesses seeking a fast web host, especially those utilizing PHP-based websites like WordPress.
Pricing: HostPapa offers web hosting from $2.95 a month to $5.95 a month, making it incredibly affordable.
---
8. A2 Hosting
A2 Hosting, a leading web hosting service, stands out with its "20x faster hosting" claim. This independently owned provider prioritizes speed, making it the fastest web hosting choice for many bloggers.
Key features of their 'Turbo Boost' plan include:
Unlimited websites and SSD storage
Server-side caching
Free SSL and malware protection
24/7 customer support
They've been dedicated to speedy load times even before it became a crucial Google ranking factor. While the speed is largely due to caching, A2's commitment to superior hosting gear and customer satisfaction sets them apart from other hosting providers.
Pricing: Monthly pricing ranges from $11.99 to $41.99 if you're able to take advantage of a sale.
---
9. GreenGeeks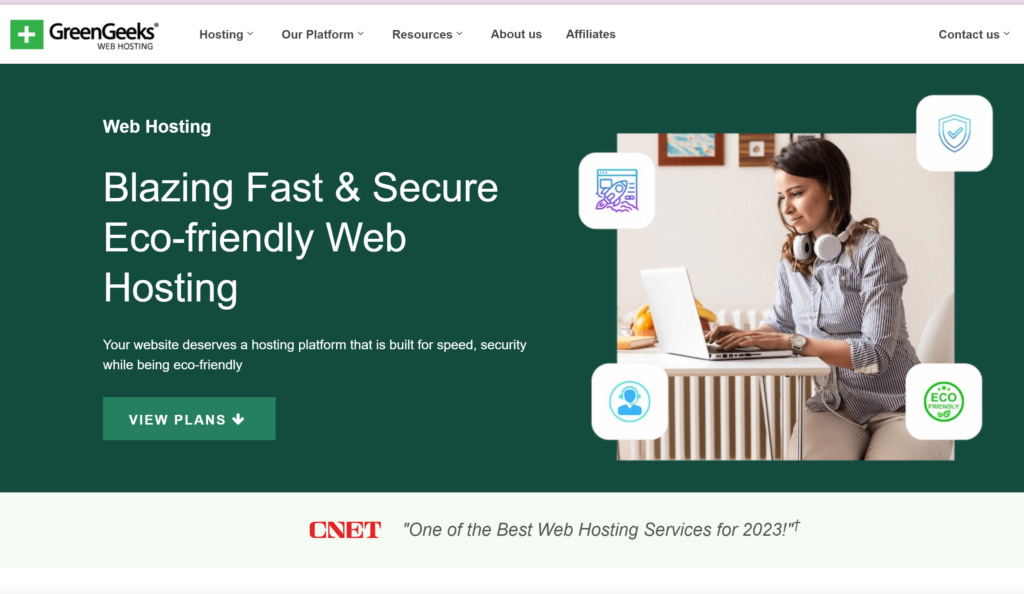 Emerging in 2008, GreenGeeks has carved a unique niche as an eco-friendly web hosting provider, serving hundreds of thousands of clients worldwide.
Based in Canada, GreenGeeks prioritizes data privacy and adhering to PIPEDA compliance to protect user information.
It's recognized for its speed, security, and commitment to sustainability.
Here's why they shine:
GreenGeeks employs a carbon-reducing process, offsetting three times the energy used with wind energy credits.
They plant a tree for every hosting plan purchased.
They provide unlimited resources, including data transfers, databases, domains, and SSD webspace.
Free domain registration and site migration are included in the first year.
The user interface is powered by cPanel, making it intuitive and user-friendly for both beginners and experts.
With a global speed of 119 milliseconds, they offer excellent site performance. GreenGeeks operates five data centers globally, ensuring impressive speeds regardless of your audience's location.
Pricing: Lite Plan starts at 2.95 a month, the Pro Plan at $4.95 a month, and the Premium at $8.95 a month.
Why Does Site Speed Matter?
Site speed matters as it impacts user experience and search engine ranking.
Fast-loading sites keep visitors engaged, reducing bounce rates and increasing conversion rates.
Google also incorporates site speed into its ranking algorithm, meaning faster WordPress sites are more likely to appear higher in search results, driving more organic traffic.
Key Features That Contribute to Site Speed
Here are a few areas you'll want to optimize for the fastest web hosting experience:
Efficient coding and lightweight design
Optimized images and media files
Use of a Content Delivery Network (CDN)
Fast web hosting provider
Caching implementation
Minimized HTTP requests
Use of a reliable website platform or CMS
Regularly updated software and plugins
Use of Gzip compression
Implementation of AMP (Accelerated Mobile Pages)
Final Thoughts: 9 Fastest Web Hosting Platforms
There are so many benefits of using one of the fastest web hosting companies on this list. The speed and reliability of these web hosting services will give you peace of mind knowing that your site is always up and running.
Not sure who to go with? There are plenty of free trial web hosting packages to explore before you put down your hard-earned money.
So go ahead and select a web host that best suits your needs. You'll be happy you did when you notice the search engines favoring your site!
Want to learn step-by-step how I built my Niche Site Empire up to a full-time income?
Yes! I Love to Learn
Learn How I Built My Niche Site Empire to a Full-time Income
How to Pick the Right Keywords at the START, and avoid the losers
How to Scale and Outsource 90% of the Work, Allowing Your Empire to GROW Without You
How to Build a Site That Gets REAL TRAFFIC FROM GOOGLE (every. single. day.)
Subscribe to the Niche Pursuits Newsletter delivered with value 3X per week