Internal Linking: Best Practices for SEO with Real Life Examples
When you buy something through one of the links on our site, we may earn an affiliate commission.
This article is gonna deep dive into internal linking best practices.
I know when some people get started building websites, there are certain things that get the most attention and that they are most excited about. Those tend to be keyword research (find the right topics to write about) and link building. And specifically external link building.
Some people feel like focusing on getting as many links pointing to their site from other sites is the most important thing they can focus on. However, what often gets left behind (or is an afterthought) is building links to your own site – internal links. So, in this guide to internal linking, you'll learn how a solid internal linking strategy is a win-win-win for search engines, site visitors, and your site.
In a rush?
Link Whisper is a WordPress plugin that helps you build smart internal links across your entire site FAST. It'll give you smart suggestions based on keywords of your choice, help you see all existing internal links, fix all orphan pages and broken internal links, give you easy-to-follow reporting, and more.
Try Link Whisper Today
Why Do Internal Links Matter?
Well, Google has stated publicly that internal links do indeed still pass "PageRank" and it also helps your human readers better navigate your site.
In other words, you can help your own site rank better in Google by simply adding internal links to some of your pages!
Today, I'm going to share with you examples of how internal linking best practices have improved the SEO and overall Google rankings for my own sites.  In addition, I'll share what these best practices are and some tools that can help you speed up the process to add internal links throughout your site in minutes.
Everything I share below can be done manually without any software tools.  However, if you are interested in an internal link building tool that uses artificial intelligence to help you build smart internal links much faster, you should check out my new tool called Link Whisper right here.
What Are Internal Links?
An internal link is simply a hyperlink from one page on your site to another page on the same domain. In other words, it's not a link to an outside website, it's a link to one of your own articles.
For example, here is an internal link to my homepage: NichePursuits.com.
Now that we know an internal link is a link to a page on the same website, let's look at a couple of examples of what can happen with good internal linking structure.
The Power of Internal Links: 2 Specific Examples
Ranking better in Google or another search engine due to internal links is not just theory. Today, I want to share 2 specific examples that you can go check out.
Internal Linking Best Practices Example #1
First is the term "best online business". This gets searched for 1,900 times a month, and is a very valuable keyword (as you can imagine). A few months ago, NichePursuits.com (my site) was ranking #8 for this particular keyword.
Now it ranks #3 (you can check it out yourself) in Google. The reason? Lots of internal links.
Niche Pursuits has lots of articles (almost 700) and many of them are related to online business. As a result, I was able to go into some old articles, find existing sentences that talked about online business, and add contextual links to my "best online business" article.
How many internal links did I point to that article? 56. Yep, 56.
I know that because I'm using Link Whisper for my internal links reporting. See the image below that shows me exactly how many inbound internal links (internal link juice pointing to the best online business article), outbound internal links (an internal link pointing FROM that article), and external links (an external link points to another website).
(The publish date is actually the last time I updated the article, not when it was originally published).
56 internal links would take a TON of time if you had to build the links manually. The process would be: do a Google search for your site to find any related articles, click into each of those articles one at a time, find the sentence you want to edit, select the anchor text you want, then add the link, then update the article.
Each link would take a couple of minutes. Multiply that by 56 and you have almost a 2 hour job on your hands.
With Link Whisper it would take 3 or 4 minutes total.
Oh, and I should mention that the traffic difference between ranking #8 and #3 in Google (or any search engine) is significant – plus I now rank for tons of related keywords with that same article.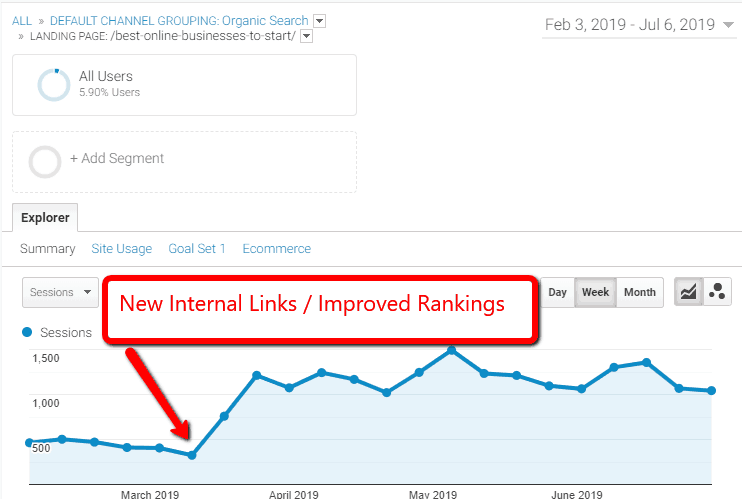 Internal Linking Best Practices Example #2: Niche Websites
Another example is my article I was originally targeting the phrase "successful niche websites". However, after creating internal links, not only does it rank #1 for successful niche sites, but it also ranks #2 for "niche website".
A separate article of mine is ranking #1 for niche website.
I never really meant for my "successful niche websites" article to rank for "Niche websites". And a month or so ago it was nowhere to be found on the first page of Google.
Now after building a bunch of internal links to that article, it ranks #2 for "niche websites", and #1 for successful niche websites.
No external links were built specifically to that article.
How many internal links were built to that article? 152. Yep, I built a TON!
I basically wanted to use this web page as a test to see if building that many internal links would be a good or a bad thing. Turns out it's been a really good thing.
I built every single one of those links with Link Whisper. And the process is as fast as checking 152 boxes and clicking 'Add Links'.
Link Whisper finds the related articles for you. And Link Whisper even suggests the sentence and the internal link anchor text. In short, Link Whisper does everything to find the relevant internal pages on your site.
All you have to do is approve those suggestions.
Even if you don't use a specific tool to speed up the process to build your internal links, you can still big results from SEO.  Here's a screenshot of the traffic before and after the new internal links to my "successful niche websites" example:
Orphaned Content
The "holy grail" of low hanging fruit when it comes to building internal links is to find orphaned content. Orphaned pages are internal pages on your site that don't have a single internal link pointing to them.
I would be surprised if you don't have several orphaned pages on your site. They're like a lonely island with nothing connecting them except maybe a broken internal links to the overall site architecture.
The "ideal" situation for low hanging fruit improvements you can make, is to find an article that you did great keyword research for, wrote a great article, and then simply hit publish.
Maybe you forgot, or maybe you just aren't in the habit of internal link building from your old articles to your new articles; but, building new internal links to this orphaned page can be a great way to improve your site architecture and easily pass some link juice to help multiple web pages rank better in Google and any other search engine.
This is especially helpful if you can link out from high authority pages. After all, internal links pass authority and link value throughout your site.
How to Find Orphaned Content?
If you do a Google search for how to find orphaned pages, you will have to wade through a ton of technical articles. They say, "Oh, it's super easy!". Just install some plugin, export all your pages, open it all up in excel and compare it to this, and eventually, you'll find those pages with no links!
You can use tools like Screaming Frog (but from what I understand, it's still a fairly manual process) or Ahrefs to find orphaned pages.
The 2 additional ways I know of that are easy to find orphaned articles is Yoast SEO premium and Link Whisper.
Here's what it looks like in Yoast:
You go to your posts, then click "orphaned content", and it will display all the articles with no links. This is definitely very useful.
Here's how it looks in Link Whisper:
You can sort the column, "Inbound Internal Links" and see any that have 0…that's your orphaned content.  You can also keep scrolling to find articles that only have 1, 2, or 3 links that you want to add more to.
Topical Authority
Google is getting smarter and smarter these days.  With the Hummingbird update, they are starting to understand the meaning behind voice and other complex queries.  With Google Rank Brain, they are using machine learning to continuously tweak their algorithm to understand which search results best understand their customers.
As a result, it's important that you learn an internal linking structure that's best for your site for both users and for Google.  The truth is that an internal link should be useful to both your readers (helping them find related content) and to Google (to help them crawl internal pages and understand your site better).
So, the question becomes, how do you truly establish topical authority using an internal link? One way is to use Topical Clusters.
What is Topical Authority?
"A perceived authority over a niche or broad idea set, as opposed to authority over a singular idea or term." – Search Engine Journal
For example, NichePursuits.com might be a perceived authority on Niche Sites and Keyword Research Software because of all the in-depth content I've written on the subject.
TalkingComicBooks.com is likely a topical authority on, well, comic books.
However, MathaStewart.com would not be considered a topical authority on Car Mufflers.  This is outside her area of expertise. So, even though here website might have a higher domain authority or be considered more "authoritative" overall; it's not going to rank for things related to car mufflers…even if she writes about them.
Sites with a lower domain authority will outrank Martha Stewart for car mufflers if they establish topical authority using clusters better than she does.
So, what does any of this have to do with internal linking?  Well, that's how you will organize your topical clusters.
Here's a great graphic provided by Hubspot that summarizes the idea pretty well: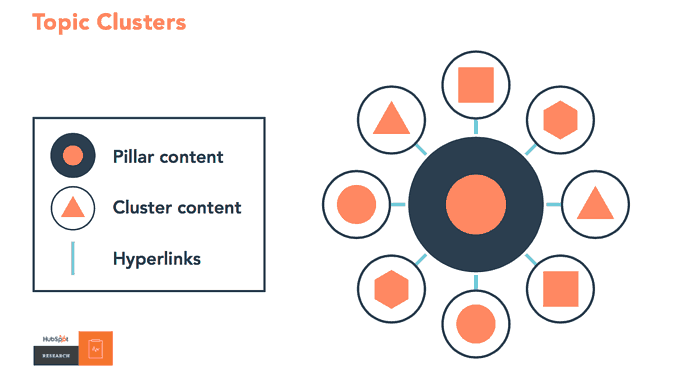 In a nutshell, you should create "clusters" of content that are all closely related topics and linking to each other. This is a solid internal linking strategy.
Internal Linking Structure Best Practices for Topical Authority
Link from Your Pillar article to each of your "sub" topic pages.
Link each of your sub topic pages to your pillar article.
External links to both Pillar and Sub pages are still helpful.
Now here's some examples to drive the point home of topical clusters.
On NichePursuits.com, I want to establish my authority on anything keyword research related. As a result, I've got a Pillar Keyword Research article here.
Then I've got another Pillar article on the Best Keyword Research Tools here.  And then "under" that article I have lots of individual keyword research tools review articles including my SEMrush Review, Long Tail Pro Review, KWfinder Review, and more.
These articles are all linked to and from each other in a nice cluster.  As a result, I tend to rank on the first page of Google quickly for these types of keywords. Google understands that I have a lot of expertise in the space due to these topical clusters and my site's internal linking structure.
We can also take a look at another example from one of my niche sites, OwnTheYard.com.  I am trying to establish that site as an authority on anything related to backyard games.  As a result, I've published a massive Pillar article on 106 different Backyard Games.
Then I've written dozens of articles specifically on the games or activities mentioned in that pillar article.  For example, I have articles on the best croquet set, the best bocce ball sets, best kites, and more.
So, the backyard games article includes multiple internal links to the individual articles (croquet, bocce, kites). And the croquet, bocce, and kite articles all link back to the backyard games articles.
That's how you establish a topical cluster and topical authority for your site using pillar content and internal links.
How Many Internal Links is Too Many?
As online entrepreneurs, we often like to have a complete system laid out for us that we can follow step by step.
Unfortunately, sometimes our situation is different than the examples or steps that we are trying to follow. This can sometimes be the case when you are building both internal and external links.
I was asked yesterday, "how many internal links can I build from an article?" As it turns out, Google has answered this question! Unfortunately, Google's answer isn't very helpful (as usual). Google says, "Keep the links on a given web page to a reasonable number."
Thanks for the specific answer Google.
Matt Cutts (former head of Google webpam team has said): "It seemed about right to recommend 100 links or so," and "in some cases, it might make sense to have more than a hundred links."
Thanks Matt. So, maybe it's 100 or maybe it's more than 100.
It is important to keep in mind that 100 links would also include any navigation, sidebar, and footer links.
Since Google won't provide a solid answer, let me share a couple of examples of articles where I've built a TON of internal links from an article, and I'm seeing great results.
First, I happen to rank #1 in Google for "niche websites" (you can Google it to verify if you want). That article has 101 internal links pointing TO other articles on my site. It also has another 92 external links pointing to other websites.
So, in total that article has 193 outbound internal and external links. That appears to be well over Google's suggestion. However, I also rank #1 in Google for my targeted term ( and hundreds of other related terms).
So, I must be doing something right.
That article is 6772 words long. So, the link density is a link every 35 words. That may seem like a crazy amount of links, but if you read the article here, it doesn't seem overly link heavy and clearly Google and users LOVE that article.
Another article I rank on the first page of Google is targeting the term, "Amazon affiliate earnings". (I rank for well over 1,000 additional terms for that article as well).
This article does really well traffic-wise, and it has 99 outbound internal links and 15 additional outbound external links. So, 114 links total coming from the article. Again, this is over the 100 randomly suggested by Google.
So, how many links is too many? I don't know, I've never reached that level yet. My articles do really well in Google that have over 100 links coming from them.
Here's a Link Whisper screenshot from the 2 articles I talked about in this email:
You can also just as quickly see that I have 143 internal links pointing TO my "niche website" article and 146 internal links pointing TO my "amazon affiliate earnings" article.
I hope you found some value in understanding how many links you can potentially build from your content. Google simply says, "a reasonable amount". Hopefully, the data from my own sites, help you figure out what that reasonable number is.
Can Internal Links Best Practices Improve PageViews and Lower Bounce Rate?
So, we've established pretty well how internal links can help you rank better in Google and really any search engine and help Google see you as a topical authority.  But how helpful are internal links on things like pageviews and bounce rate?
First, let's think about it intuitively. Which article is going to get a human to go to a second page on your site? The one that has 0 hyperlinks on it, or the one that has 50 hyperlinks?
If there are no links to click, the user has nowhere to go. That can be a good thing on a sales page perhaps (other than remembering to have a buy link), but for most content you want people to read more of your articles, not less. And that's another reason why you should add internal links.
This could be HUGE if you run CPM display ads on your site like AdThrive, Ezoic, or Mediavine.  You want as many pageviews as possible because you make more money.
So, one way to increase pageviews is to clearly add more internal links.
How often do internal links get clicked?
It's hard to establish exactly how often your internal links will get clicked, but some of them will get clicked some of the time, which is better than nothing.
I was recently reading the Wikipedia Guide for Internal Linking their site, and it mentioned that 66% of the internal links on the site never got clicked.  Here's specifically what Wikipedia said,
"A 2015 study of log data found that "in the English Wikipedia, of all the 800,000 links added … in February 2015, the majority (66%) were not clicked even a single time in March 2015, and among the rest, most links were clicked only very rarely", and that "simply adding more links does not increase the overall number of clicks taken from a page. Instead, links compete with each other for user attention."
To me, 34% of links out of 800,000 getting clicked is a lot.  However, the point is well taken, overlinking will basically mean that some of your links will never get clicked. So, you don't want to overdue it…but if you want more pageviews internal links (and running an internal link audit) are clearly a tool you can use.
Lower Bounce rate?
Hand in hand with more pageviews is a lower bounce rate.  If someone visits a second page on your site, that means they didn't bounce back to Google.  Many people believe this is a metric that Google uses – lower bounce rate.
Nailing down everything that can improve bounce rate can and should be its own article.  However, I want to take a look at how new internal links improve bounce rate. In full disclosure, the 2 articles discussed were updated with more content as well as new internal links added.
The first article is my Best Niche Markets example. This article saw it's bounce rate improve by 8.53% after adding more internal links and updating the content.
Another article that was updated and had internal links added to it was the Best Online Businesses article.  Although not quite as impressive in terms of bounce rate increase, it did still see an improvement of 2.75% from May to June. And of course, any linked page got more views than they would otherwise.
Overall, a full case study still needs to be done to see the true impact that internal links in an article can have on increased site pageviews and lower bounce rate.
Update: Check out our internal linking case study here
However, the logic is clear, if readers have the opportunity to click through to read other content, they are more likely to do so.
Internal Linking Best Practices for SEO
In conclusion, I'd like to include some of the highlights and additional tips to follow when building internal links.
Include relevant and contextual links with the help of an internal link checker in your articles (rather than images or other types of links).
Rotate anchor text. I wouldn't always use an exact match anchor text every time you link to an article. But general contextual links and anchor text is good.
Don't necessarily limit one page to 100 outbound internal links.  If your article is long enough, the link density is still not that high.
Adding more than 1 internal link from an article to the same URL does not send more link value (juice).  More links to the same article won't necessarily hurt you, but it won't help in terms of SEO. In other words, Article A doesn't need to link to Article B twice; it doesn't get any extra link juice, so once is enough.
Find orphaned content and simply add internal links to that article (more is better).
Don't limit your inbound internal links to an article to just a few.  If you have more relevant pages, consider creating internal links whenever possible as a way to boost rankings – especially if it's in the same category.  (My best-performing articles have over 100 inbound internal links).
Some bloggers like their internal links to open in a new tab.  (If you are using Link Whisper, this is one of the options).
Use internal links strategically to build topical clusters and to improve your topical authority.
Never nofollow links to internal pages – you want to make sure that Google knows the internal links your creating are to pages you want on Google.
Go Add Some Internal Links and See What Happens!
Overall, I hope you've found some of these tips for internal linking useful!  And if you are looking for a tool that can help speed up the process of building relevant internal links, you should check out Link Whisper.
See a Demo Video of Link Whisper Here
Want to learn step-by-step how I built my Niche Site Empire up to a full-time income?
Yes! I Love to Learn
Learn How I Built My Niche Site Empire to a Full-time Income
How to Pick the Right Keywords at the START, and avoid the losers
How to Scale and Outsource 90% of the Work, Allowing Your Empire to GROW Without You
How to Build a Site That Gets REAL TRAFFIC FROM GOOGLE (every. single. day.)
Subscribe to the Niche Pursuits Newsletter delivered with value 3X per week