Shoes and sneakers are a fashion statement. The kind of kicks you're wearing describes the type of person you are.
However, you may have heard that there's more money to make by reselling shoes than by wearing them. Good news: you're probably an entrepreneur.
There's nothing wrong with that at all. Spencer founded this site as a way to record his many entrepreneurial endeavors. After selling businesses in the mid six figure and higher range, I think he's done alright. His story is an example to show that anyone can make a killing as an entrepreneur.
In this post, you will learn the following:
what the sneakerhead culture is, how much the market is worth, and how much you can make by taking advantage of it
the most expensive and sought-after shoes and sneakers in the secondary market
how to find the best shoes to buy and where to sell them
the pitfalls of reselling shoes
additional tips to help you make the most out of reselling shoes
As a heads up, this post is a great overview of buying and selling shoes for profit.  However, if you want to learn from the true expert and get much more depth for how to make this business work for you, I recommend checking out the Six Figure SneakerHead – HypeMaster Playbook Here.
Learn How a SneakerHead Makes Six Figures Here
Use code NICHEMONEY to get an extra 10% off.
Sneaker Reselling
The flipping and reselling business has provided an avenue for hustlers to ethically and ingeniously make a quick buck. And what seemed to be footwear that keeps your feet safe and warm serve a different purpose to other people.
Compared to some other ways of making money online, the sneaker resale market is very profitable and valued at around $1 billion. While only 4% of shoes and sneakers are purchased upon release for resale, the market benefits from side hustlers and entrepreneurs who operate in different channels.
The sneaker market as a whole has opened up itself to more people with the help of online channel. However, back in the day when the internet didn't exist, there was competition within the different communities and tribes in the market. People scoured through a thrift store and flea markets to get shoes under their market price.
Others would run to their nearest Foot Locker to get the latest pair of shoes. Information was spread through word of mouth and Eastbay mail catalogs. In other words, reselling sneakerheads worked in isolation with their communities. The shared experience within a small group of people made the sneaker marker what it is today.
To get your fix on the latest sneaker news, you just need to hop onto Hyperbeast and High Snobiety. Both are fashion sites that extensively cover information and news about the culture for sneakerheads of all levels. If you want to get connected with fellow sneaker lovers, you need to attend SneakerCon that takes places in the different parts of the world.
How much can you make reselling shoes?
The short answer? Millions.
JV is a guy making six figures reselling shoes. He got his start flipping sneakers as a side gig while working retail. After 4 months in, he was clearing over $10,000 per month. He'll teach you how to do the same thing he does, clear the big bucks, in his online course. If you add the code NICHEMONEY, you can get an extra 10% off. 
Reselling shoes isn't a rare phenomenon. A quick look at Amazon and eBay will reveal you a secondhand pair of sneakers up for grabs for every brand new pair. The process of shoe selling is all too common that there are people who made reselling shoes a profitable full-time job.
However, there are only a handful of people who have built an empire as shoe resellers. Arguably the most successful sneaker reseller is Benjamin Kapelushnik. Also known as Benjamin Kickz and owner of the sneaker marketplace Sneaker Don, he started in the business at 13 in 2013 and made it big two years after.
He rose to fame as the shoe supplier to DJ Khaled who referred him to his friends in the music and entertainment industry. He made his first million in 2016 and had been reselling rare and expensive shoes and sneakers to high-ticket clients since then. 
However, if we're realistic, unless you know someone like DJ Khaled, it will be impossible for you to make that much money in two years. If you follow the process of flipping shoes, you can get around $80-100 per pair for starters. You can work your way to generating higher margins if you get better sneakers to resell, maybe around $500 per pair.
This is not a bad way to  make money, and you'll learn the exact process later on.
If you want to take a look at what some of these shoes are selling for, take a quick peak at eBay. Type in "Limited edition sneakers". Some of those options sell for hundreds of dollars!
The To Buy And Sell Most Expensive and Sought-After Shoes and Sneakers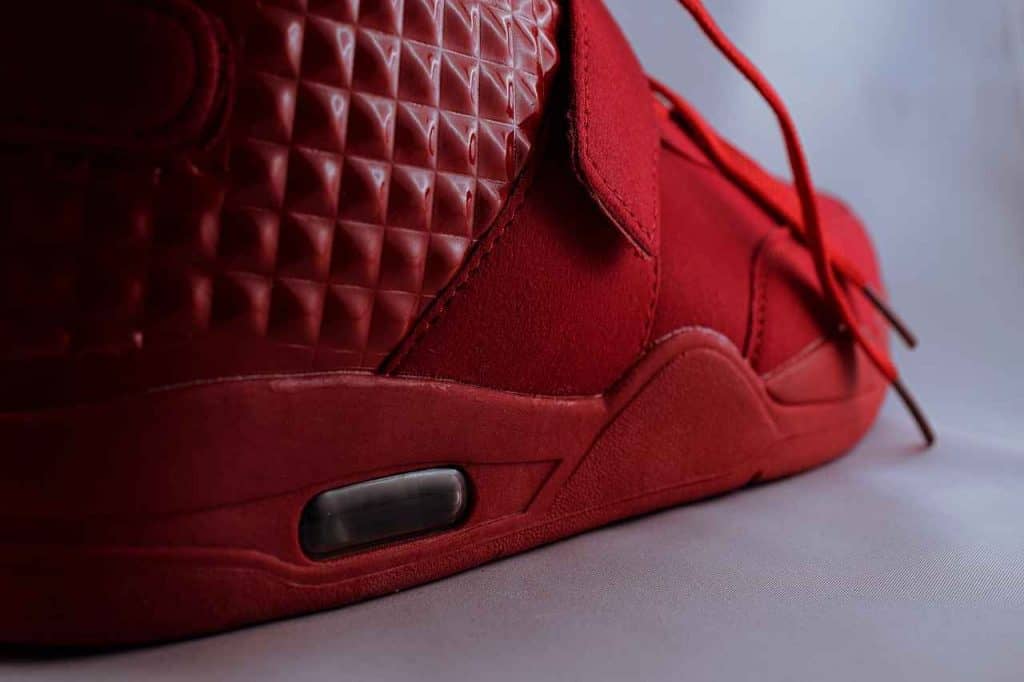 Ever since the 70s, there are only two brands that mattered to sneakerheads: Nike and Adidas.
Both brands have produced lines of sneakers and shoes for athletes and artists, Some of those lines have withstood time and exponentially increased their value since their release. Some brands have made waves (Reebox) and are poised to make one (Under Armour, Big Baller Brand). However, if you're in the sneaker industry, you can't go wrong with these two brands.
Below are some of the more popular expensive shoes in the market pioneered by the two brands:
Air Jordan 12 ($100,000+) – Micheal Jordan needs no introduction. Aside from his accomplishments as a basketball player, he established the Jordan brand that comprises his line of Nike shoes. In fact, you can quickly make a list of most expensive sneakers based on his shoes alone. The most affordable pair of Jordan shoes could go for $4,500 (Jordan III OG) on resale. However, the Jordan 12 collection is easily the most expensive pair of shoes in the Jordan line. In particular, the Jordan 12 Flu Game shoes, where he willed his body to score 38 points in a pivotal game 5 of the 1997 NBA Finals, tops the list at a whopping $104,000.
Nike Air Yeezy 2 "Red October" ($6,000) – Kanye West is one of the most popular artists to date. His fame prompted Nike to launch their first non-athlete collaboration pair of sneakers. Released in 2009, Red October was initially sold for $250. Since then, the pair is resold between $5,600 to $6,400. West collaborated with other footwear such as Louis Vuitton, BAPE, and adidas. The latter started their partnership with West that ended up being the adidas Yeezy Boost line. In fact, a pair of Yeezys is some of the most coveted shoes in the market outside of Jordans.
Nike Air Mag Back to the Future ($10,000+) – Inspired by the sneakers worn by Marty McFly (Michael J. Fox) in Back to the Future 2, there are only 1,500 pairs manufactured by Nike. However, none of them made over to stores as all pairs were sold through auction. Proceeds went to Fox's foundation for Parkinson's disease research. The pair has glowing LED panels and upper contour.
As mentioned, there are other up-and-comer brands with pairs of sneakers worth looking into. Thanks to Stephen Curry, Under Armour's stock is rising. And while Big Baller Brand built their brand around hype (for the time being until Lonzo Ball achieves greatness), the $500 pair of kicks they're selling is interesting to say very least.
The Process of Reselling Shoes
While earning over a million dollars for reselling shoes at this stage is still possible, there are lots of obstacles you must overcome to reach that goal. Aside from bagging clients willing to shell out serious dough for sneakers, you need to learn where to find and acquire the most sought-after shoes.
The competition nowadays is fierce as you'll be lucky to establish a client base as a beginner. Therefore, you need to immerse yourself in the sneakerhead culture and apply yourself 100% to have a fighting chance.
We've already discussed the industry in general above. Now, it's time to delve into the process of the actual process of reselling shoes and sneakers.
How To Find Shoes To Buy and Sell
Before you can even begin finding for shoes to buy and resell, you need to understand the market better.
Reselling shoes are similar to the stock market. There are pairs of shoes that don't start out too hot but eventually accumulate value later on. Conversely, some sneakers generate lots of attention only to fizzle out as time goes by.
[Want even more step by step details how to find great shoes that you can sell for a profit? 
Check out the Hypemaster playbook right here
.]
To truly benefit from reselling shoes, you need to purchase products that are sold on the cheap but have lasting value in the long run. One way of doing so is by buying the sneaker on release day at retail prices, which is where they are at their most affordable. However, instead of lining up to store for hours to buy them, you can quickly place your orders on Frenzy, a Shopify-owned app.
It will notify you of the release dates of the latest sneakers from the biggest brands. From there, you can place your orders (ideally in bulk) and make a profit by reselling them. The goal of the app is to reduce that friction between retailer and consumer so both can seamlessly make transactions and make money faster.
However, new pairs of shoes come far and few in between. To make money in reselling shoes, you need to find pairs sold under reseller price so you can profit off them. But how can you know how much a pair of shoes cost?
This is where StockX comes in. The site shows how much the shoes and sneaker cost over a 12-month period. Just like a stock market index graph, you will see the movement of price over time, thus giving you information on which shoes to acquire for reselling. It also serves as a consignment store where people can bid or ask for shoes for resale. If you got a pair of sneakers you want to sale, you could do so through the site.
AUTHORITY BUILDERS FREE LINK BUILDING CONSULTATION
NichePursuits Subscribers Free Consultation Call Includes:
A fully comprehensive competitor link analysis required to rank.
Custom Strategy Session Tailored For Your Site
Link and Content Velocity Analysis
An exact anchor text road map for your backlinks. (limited to first 50)
Once you have the information you need, it's time to search for those shoes online.
If you want to automate the process of finding the shoes that you want to purchase and flip, then use AIO Bot. Upon buying and installing on your computer, you can choose which shops you want to cop from. Enter the shoe you're looking for, the size, and color and the bot will take care of searching the sites for you.
This is one of a couple of bots to help you efficiently find shoes for you to increase your chances of finding one without having to look for it personally.
However, before you get help from a bot, you may want to roll up your sleeves to do thing manually. A quick search on eBay for Air Jordan 12 yield these results:
There's a chance you will see shoes way below market reseller price and sell them more than 10x you bought for them. Between StockX checking the price on StockX and buying/flipping on eBay, you can get started right now.
Check eBay now for low priced sneakers you can flip for profit
So your journey as a sneaker reseller. But how do you know that sneakers aren't a fake?
How To Determine If the Shoes Are Fake
The last thing you want to happen is for you to purchase fake shoes mistakenly. This is a problem that pervades in online marketplaces without a middleman like Amazon or eBay. If the price is too good for its good, then maybe it's a fake. But before making that conclusion, you need to learn how to find out if the sneakers are legit or not.
Below are ways that you can check if a pair of sneakers or shoes you're trying to buy is genuine or not:
Ask for tagged photos – The price should normally be enough to persuade you to purchase an item. However, you need to consider other factors that go into the sale of the sneakers. Tagged, hi-res pictures of the item are one way to account if the kicks are legit or not. Ask the seller to take multiple photos of the sneakers with the latest edition of the newspaper to see if it's for real. You can then cross-reference the pictures with the actual version of the shoes on their official site. Refer to Fake Education on Instagram to find tips and information on how to spot fake ones.
Ask for the receipts – For new purchases, you must request for the receipt of the item to verify the authenticity of the sneakers. It the receipt proves that the shoes were acquired from the official stores, then it'll be much easier for you to sell the sneakers since you have tangible proof that the shoes are indeed real.
Do your research – For Amazon and eBay sellers you can check their seller rating on their profile. Anything lower than 95% is to be avoided. Also, read the comments and reviews of other buyers. Some may just be complaining about relatively trivial stuff like slow delivery time and those that have nothing to do with the actual shoes. Lastly, check if the reviews were from real buyers and not profiles that were created to help hike up the seller's rating.
Trust your instinct – If you did your homework and had all the facts that point to the authenticity of the sneakers but you still have doubts about the seller and shoes, then don't proceed with the transaction. At first, you probably don't have the intuition yet to determine if there's something wrong with the shoes or seller. In time and with enough practice of buying and selling, you will be able to discern much easier.
While these tips will help you avoid purchasing bogus shoes, it's not foolproof that you will entirely avoid such purchases. Just make sure to ma careful and alert enough to keep these provisions in mind when buying.
Shoe Reselling Tips
Where and How To Buy and Sell Shoes
Now that you have the shoes, you must find the best channels where you can sell them to turn in a profit.
You can start by creating an account on a consignment shop like StockX to resell the shoes there. Both sites serve as middlemen between buyer and seller. Therefore, you deal directly with either website to sell your shoes. Send them the sneakers when you've chosen the highest bid, and they will take care of the rest.
Sites like StockX are convenient ways to sell your shoes and ensures buyers that they won't be duped by fake sneakers. On the flipside, you don't get the personal touch from consignment stores that go with seller-to-buyer transactions. However, if you're not much of a salesman or a people person, then this shouldn't be a problem.
If you want the traditional way of reselling shoes, you can always go the way of Facebook Groups, Craigslist, and eBay. These sites allow you to put your personal touch on your pair's product page. 
As a best practice, you need to be descriptive and detailed as possible about the sneakers. Leave no stone unturned and make sure that you are honest in your description. Assuming that you're a new seller, it'll take time before buyers warm up to you. Therefore, you need to keep working on gaining the trust of buyers and continue marching forward. 
It may be a good idea to start small when you buy and sell shoes. This keeps your initial investment low, allows you to learn the game, and your buyers are more likely to take a risk when their investment is low too.
For more informal selling like in Facebook Groups and even in Sneaker Con, expect to encounter shady people who might show interest in buying your kicks. As mentioned earlier, you need to discern which among the buyers are trustworthy.
About the price, you need to check StockX to see the range of how much the shoes are sold in the market. You must also check the trend and volatility of the sneakers to come up with a price that will make you and your buyer happy. The market dictates the price, and the only unfair price is the one that no one is buying. 
When it comes to your inventory, you may want to reinvest your earnings on another pair or pairs of shoes. Don't cash out early in the game just yet. Do your research and find available shoes that you can purchase even before you have the money to buy them.
What you want is an efficient process where your money comes and goes to another and more expensive pair so you can exponentially increase your income. If done successfully, you can purchase items in bulk and multiply your earnings even more!
The Cons of Reselling Shoes
As a hustler, you need to be aware of the potential problems you will be facing with every venture you undertake. And as profitable as reselling shoes can be, it also has another side of the coin that you need to know before diving deep into the sneaker business. Below are some of the more pressing issues:
Complicated marketing – Apps like Frenzy solves the problem of lining up for hours waiting for the store to open so you can become one of the first to get a pair. However, it also pushes the limit on how resellers can maximize the opportunity to get their hands on the latest pair of hyped sneakers. Apps that let you reserve shoes and sneakers before their release date and social media contests and raffles are just the tip of the iceberg. Over time, new ways of marketing to resellers will increase and become needlessly more complex, and there's nothing you can do but keep up with the changes. 
Sneaker violence – Resellers indirectly have a part to play in the constant violence that surrounds sneakers, just as much as consumers and retailers are culpable. Due to their high price tag and increasing value of sneakers, no thanks to resellers who exacerbate the issue, some people will go to great lengths and get their pair even if it means breaking the law. However, the sneaker culture is ingrained deep in the society that it will be impossible to remove malice and violence from the equation. It is something that comes with the job and perhaps a burden that every reseller has to bear.
Sneakers as an investment than footwear – Given the nature of reselling shoes, this question comes to mind: who is the market for sneakers? On the one hand, some consumers have a passion for sneakers and use them to promote their fashion sense. On the other, resellers try to get their hands on the most hyped shoes and resell them above their retail price. There's nothing wrong with reselling as a hustle, but it potentially robs people who are genuinely interested in the kicks and plan on collecting and wearing them. In other words, the sneaker reselling business robs collectors from pursuing their passions righteously. Retailers do more marketing and promotional campaigns geared to resellers.
Are You Ready For the Rigors of Selling Used Shoes?
This post offers a great overview, but you will need more if you're getting into the game of buying and selling sneakers. If you want to learn from the true expert and get much more depth for how to make this business work for you, you don't need to start as a newby. Without a mentor, your chances of losing money and wasting time are higher since you're competing with the experts.
If you're ready to learn how to become a sneaker reseller, you're going to need a mentor
I recommend taking a look at the Six Figure SneakerHead – HypeMaster Playbook Here.
Make Up To six figures a month reselling shoes
Use coupon code NICHEMONEY for an extra 10% off.
Infographic Courtesy of: Gosmrk.com
Reselling shoes is a fun way to make money as a part-time job, if not as a full-time one, and regardless of your age. If you are into basketball and hip-hop or if you have experience in flipping items before, then you are already a step ahead of other beginners in the game. If you don't have that experience, no worries. 
Going into a new venture can be risky, but having a mentor reduces this risk considerably. If you want to learn how to become a sneaker reseller and generate up to $10,000 per month,  the Six Figure Sneakerhead Course can serve as your mentor. It was written by someone who has done it and makes it easy to resell shoes.
learn how to make up to six figures a month with Sneakerhead
Use coupon code NICHEMONEY for an extra 10% off.
Start Your Online Empire Selling Sneakers
If you're looking for other ways to make some money, look at buying and selling concert tickets.
---