Fiverr Vs Upwork: Which Freelance Platform Is Best for You?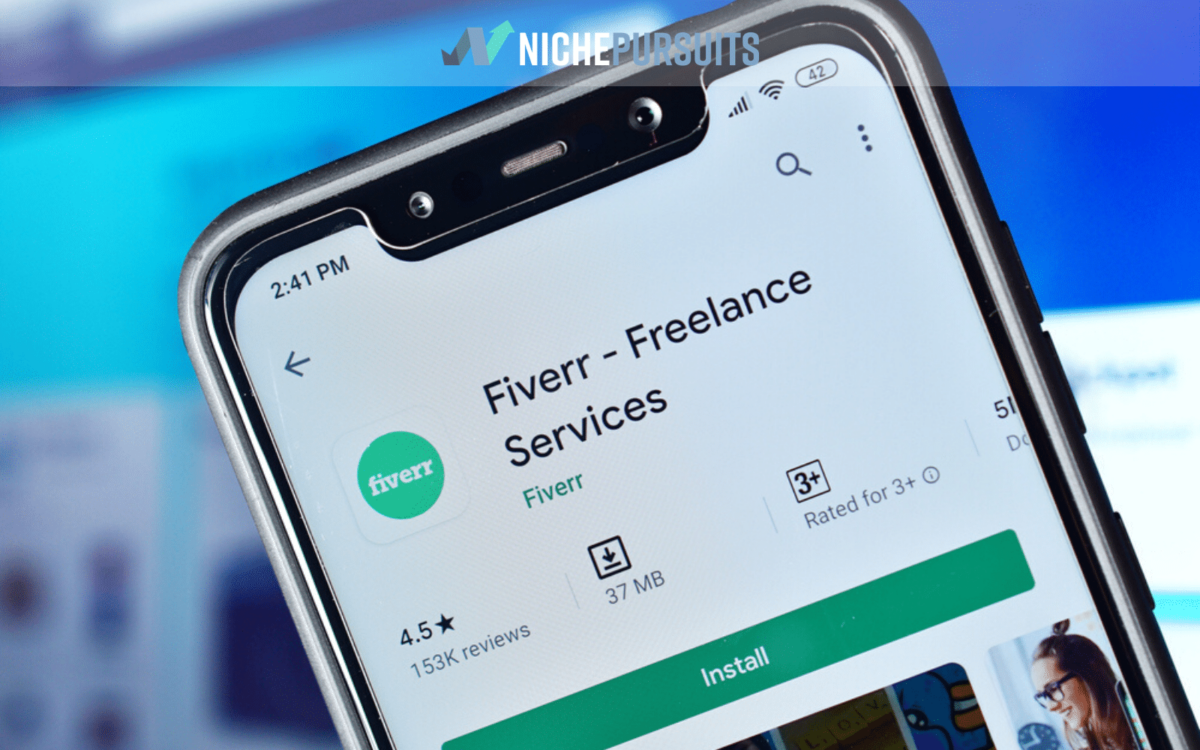 When you buy something through one of the links on our site, we may earn an affiliate commission.
Fiverr vs Upwork is a bit of a strange comparison because the two sites are so different. While both platforms have plenty to offer both freelancers looking for a side income, as well as employers looking to add crucial freelance talent to the team, that's about where the similarities between the two freelancing platforms end.
No matter your needs, understanding how these two freelancer platforms is crucial to picking the right one for your needs.
Depending on what specifically you're looking for there is a time and place for both platforms.
However, it won't take long to see just how much of a difference there is between these two websites.
Both of these freelancing platforms will be compared from the point of view of the buyer looking for some freelance help, as well as the talented freelancers looking for some side income working from home.
Without any further ado, here's the complete Fiverr Vs Upwork platform comparison.
Try Fiverr Here or Try Upwork Here
Fiverr Versus Upwork Quick Comparison Table
| | |
| --- | --- |
| Fiverr | Upwork |
| 35.95 million monthly visitors | 34.76 million monthly visitors |
| Incredibly versatile, can find about anything here | Focuses mainly on the highest in-demand remote work skills like freelance writing and graphic design |
| Better for short one-off or series of one-off gigs | Better for finding established professionals for longer projects |
| Freelancers can offer virtually any (legal) gig | Freelancers are limited from signing up in some "over-saturated" niches |
| Very cheap but quality can vary dramatically, options for quality work at higher set rates | More expensive quality tends to consistently trend to the high side |
| Freelancer focused – buyers come to the gig provider | Client focused – client posts project and freelancers compete to work on it |
| Only fee is one-time 20% cut from the freelancer of paid gigs | Multiple fees to wrestle with on buyer & provider side |
| Freelancers may post for free | Freelancers need to pay to keep account in good standing plus lose a percentage of every received payment |
| Try Fiverr Right Here | Try Upwork Here |
How Upwork Works
Upwork formed when Elance and oDesk consolidated together in a merger back in 2013. Prior to that they were separate websites both offering general freelancing services.
This made them a good match for partnering up. This merger also made sure that Upwork became a go-to name as one of the absolute largest providers of freelance service out there.
Upwork sees just short of 35 million visitors a month.
They have thousands of skilled freelance writers, programmers, graphic designers, and more who have been vetted for skills like content writing, programming, SEO, and other high demand remote work services.
The Basic Process
On Upwork finding work revolves around the buyer.
The buyer will need to create a posting of the job that they are hiring one or more freelancers for.
If you don't already have an account, you will need to sign up for one. This is extremely easy to do.
Upwork takes you through the process step by step, even specifically asking if this is a buyer's account or provider's account.
Don't fret if you want both. You need to choose one option in the beginning, but you can amend your account to do both later.
In fact, this is the way you should do it, as having separate accounts to the same person is technically against the TOS. But one account can be used for buyer, seller, and agency.
Upwork Buyer Setup
There are training modules that talk about how to use the right freelance platform and give some helpful advice on finding the best fit for your needs. While there is some good information here, most of it is going to be unnecessary if you have hired help before.
While setting up payment methods and connecting them to your account is easy there are help modules for those tasks, too, if you really need them.
Once you connect your payment information with your account you can hire a freelancer pretty much right away.
While there's no cost for setting up it is worth noting there is a 3% processing & administration fee on every payment made.
For Basic packages that is all the fees you can expect. There are "upgrades" that are mainly aimed at larger companies or buyers who are going to be hiring a lot of freelancers on a regular basis.
For 95% of the potential buyers out there the Basic Upwork package will be enough.
However, if you think you might be in the market for mass hiring and want to take a look at what the other options are then you can check out this page right off of their website for more details.
That being said, nothing wrong with being Basic if you're about to get started on Upwork hiring freelance talent. You can always upgrade the account later.
Setting up a job on Upwork is easy, as you can see by the screenshot below they quite literally walk you through step by step.
Upwork Provider Setup
The first step is making sure the skills you offer are offered on Upwork. And that you can apply for a listing there.
This shouldn't be an issue if you offer commonly needed skills like:
Customer service
Software development
Graphic design
These are some of the most popular major categories, though there are a dozen in all. With multiple sub-options under each job category listed.
Each of those is obviously a broad umbrella term that breaks down into many different skills, providing plenty of opportunity for a new freelancer to make their mark.
As long as your services fall into one of those 12 categories you are likely going to be good to go. Go through the sign up process, which is a really straight forward and step by step guide.
Take note that if you're applying to a saturated niche (content writing is the biggest example of this – it's not impossible to get in but it is much more difficult for those types of freelancers), you may be required to pass some tests to prove you hit a certain quality before your account will be approved.
This is to provide buyers with the best freelance work possible.
It's also a way to give a talented new freelancer a better chance to prove they can provide quality work.
Otherwise the setup process is very step-by-step and easy to follow. This goes from signing up to filling out the freelancer profiles and then getting access to bid on freelance jobs.
Much like the old Elance system, freelance professionals using the Upwork platform will need to pay for bids to keep their account in good standing.
Not only does Upwork keep a percentage of what the freelancer makes on each job (5-20%) but they will also need to buy packs of "connections" that give them the ability to apply to posted jobs and contact potential employers.
Connects cost 15 cents each and are sold in bundles, although the first 60 are free.
When you freelance on Upwork you need to make sure you have plenty of connects to make sure you're available for clients to contact.
Pros of Upwork
There tend to be bigger jobs advertised on Upwork which makes it a much better spot for freelancers looking to land a larger paying job (just make sure you avoid Upwork scams). This is also arguably among the most likely freelance platforms to find a freelance gig that turns into a full-time remote working position.
There are some other online work sites like Upwork, but none of them offer the same level of size and opportunity.
This is also a large site, meaning you know there's plenty of work to go after here. People are actually paying and making money.
For buyers you can lay out exactly what you want and what you expect from the freelance providers. The terms, expectations, the amount of work, and see what price range comes back in bids.
This can really help shape your idea of a budget and provides a place to find plenty of options for really good potential workers.
Pros:
Bigger jobs for freelancers to make money
More likely to turn into long-term or even remote work
More steady work opportunities
Top performers could earn 6 figures in a year
Upwork has a reputation as a go-to site for employers looking to hire freelancers long-term
Better than Fiverr for jobs that are less likely to be one-time gigs (like freelance developer or designer work)
Cons of Upwork
Upwork has always been fairly competitive, even back when it was the two separate platforms of Elance and Odesk. That has only increased in recent years.
For new providers wanting to be an Upwork freelancer this can make it difficult to get approved. Even for those approved there is a lot of competition for the jobs that are out there.
Some would argue to the point where it takes more time and connections than ever to consistently actually get good work.
Some longtime Upwork freelancers complain about a feeling of a "race to the bottom" for prices and less responsiveness to freelancers now than several years ago.
For some established freelancers, it's no longer worth the time.
Cons:
More fees and payments up front with no guarantee of good per hour work
Time investment is on the freelancer to provide work
Very competitive place for freelance work, driving down prices in many cases
There's a 50/50 chance a job post never results in a hire
The search function inside the site is extremely poor, IMO
What Really Sets Upwork Apart
The potential for high quality jobs for freelance workers, and the potential for really good experienced remote workers, is much higher on Upwork than many platforms.
There's a reason they became the go-to name for years for employers when looking for higher-level freelance help.
Or for many freelancers looking to create a full-time freelance income.
While there are legitimate gripes and concerns about changes over the last few years, no other platform has yet to show any ability to provide the same sized freelance marketplace to connect the remote worker with the hiring business owner.
If you're an inexperienced freelancer who needs to start billing clients while building your online presence, Upwork is still one of the best options for newbies looking to get started.
There are plenty of employers looking to hire freelancers. This is a place to find work, build connections, and to learn how to sell yourself as a professional.
Pro Tip for New Upwork Freelancers
If you're new to freelancing, don't use a template for the first 50-100 bids. Yes, this means taking a LOT of time manually writing every bid, but you will learn how to pitch yourself, how to sell your services, & what you learn will give you a template 10x better than if you mass mailed from the start.
After you have sent enough pitches and successfully won work from a job posting or two (or multiple if you've done well) then you will have the experience to write a template 10x better than anything you could have created right off the bat as a true beginner.
At that point succeeding on the Upwork platform is all about building that reputation from successful jobs. Build enough momentum and you can keep increasing your hourly rate.
All while finding even more work as Upwork freelancers.
How Fiverr Works
Fiverr is more like a job board where the buyer is looking at what freelancers offer instead of posting a job and waiting for workers to come to them. Providers outline the gig they are offering in detail for $5.
This is just the basic fee for your Fiverr gig. A Fiverr seller can offer extras, additional work, or premium packages.
They can then offer stated extras or premium packages from their profile for higher set prices.
This definitely creates a level of convenience. The seller can outline the exact terms. The buyer knows exactly what to expect. No wasted time back and forth for either side which is a definite plus.
Basic Fiverr Process/Overview
As a seller you sign up for a free account. There are no fees unless you sell a gig.
You fill out your profile, fill out one or more gigs for services that you want to offer, and if there's a demand you are good to go.
As a buyer you are looking at hiring Fiverr freelancers on their terms.
Since freelancers post the gigs they offer, you start by doing a search, finding a group of the highest rated providers who seem to hit the bill, find what you're looking for, and then hire a freelancer for a mere $5.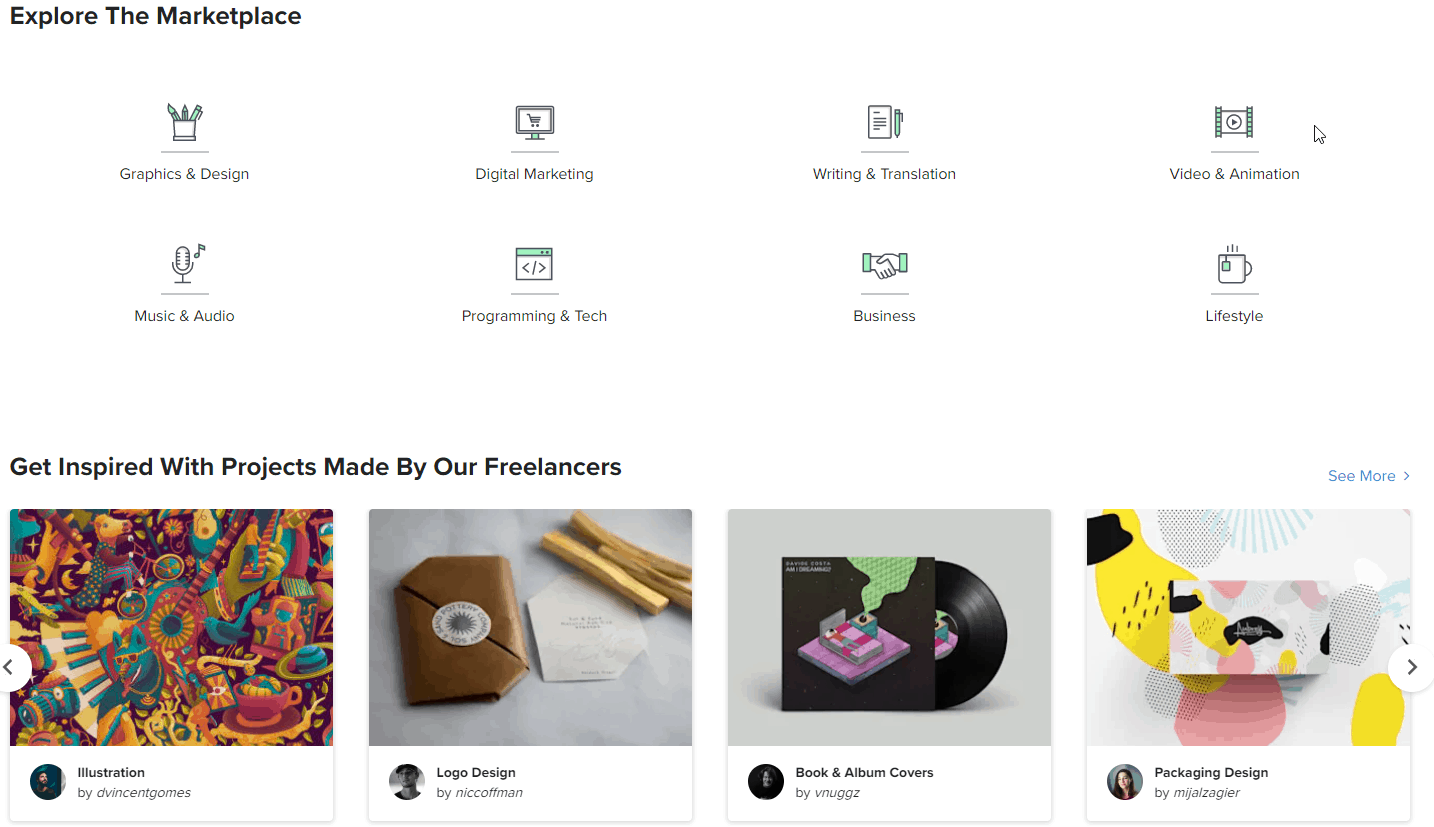 How do Fivver freelancers stand out if they're here to get their share of the new gig economy? Find a way to specialize and stick out.
This might mean fewer people are looking for your specific skills. But you're more likely to get orders when they find you.
Use specific keywords in your description. When I was looking at Fiverr as a buyer, I didn't feel like going through dozens of freelancer profiles for outdoor writers. So I searched specifically for deer hunting writer and antelope hunting writer.
Only a couple profiles came up and those were the Fiverr freelancers whom I hired.
Specific ALWAYS beats general when offering your freelance service on Fiverr.
Also as for the unspoken "starting action" many freelancers take on most sites like these: paying friends or family to order from you and leave a good review. This is often against the TOS of sites like Fiverr or Upwork.
It's certainly against the spirit of the freelancing sites. But it's also a very widely used practice to get those early positive reviews.
I'm generally against it. While there are those who have gotten away with priming the pump this way, there are many other freelancers who were banned from doing this.
If you take the time to hone the skills you need to pitch yourself or optimize your job posting (if offering a Fiverr gig) then you will get to the point where you get plenty of work.
Pros of Fiverr
Fiverr is extremely easy to sign up for. No skills tests given by questionable software, no paid gate keepers, no long thorough check.
If you have something to offer, you can sign up and post.
The marketplace will decide whether it's a gig worth purchasing or not.
Fiverr is also great as a low-cost testing spot for both buyers and providers. As a provider you may give away far more than $5 in value for a tiny project, but end up getting your much more expensive non-basic offerings picked up as a result of the great work.
Those can be very profitable.
As a buyer, you only pay $5 for basic work. If the work is terrible, you get to walk away at only a $5 loss.
If it's good or even great, you know the chances of getting great work from that provider for larger projects is high.
It's like an inexpensive test run to find the right match.
Pros:
More power for providers to create terms for their offering
Incredible variety of services can be found (far more than any other freelance platform)
Providers can test out multiple gigs to find what works
Great platform for buyers to find very specific specific skill or expertise
Successful Fiverr gig providers can unlock Fiverr Pro work
Cons of Fiverr
For buyers the old adage "You get what you pay for," often applies. There are many videos on YouTube of "This is what I got back from a Fiverr 'professional'" that are less than flattering. You can't post a large project to attract freelance talent.
You need to know exactly what you want and reach out to providers who meet those standards. Or the closest you can find.
For side hustlers offering a freelance service, cutting through the noise to get reliable work is hard.
There are some specialists who make a very good steady income from Fiverr with their premium services. Or even a serious full-time inocome
There are also many providers who never get a single sale.
$5 isn't much, and the 20% take that Fiverr takes isn't great, either. This is a bit more standard across many platforms now that Upwork charges a lot but it still is a negative
While very versatile for finding small simple projects, or as a freelancer selling them, Fiverr is equally as bad when looking for help for larger long-term relationships on projects.
Cons:
A lot of unproven or subpar work you have to avoid as buyer
Competing with a massive workforce as a freelance provider
Large cut taken by Fiverr for an already low priced service
Built to small one-offs, not large projects (negative for both buyers and Fiverr sellers)
Takes a LOT of orders to make any decent income
Fiverr Pro
Fiverr also offers a "pro" section. Over time an established provider who gets a track record of good ratings may get invited to apply for Fiverr Pro. This is a section of the website that offers more expensive high-end services.
These are generally more common with things like SEO, high-quality long form content, or app design. The type of things many buyers go to freelancing sites like Upwork for.
While Fiverr Pro does open up opportunities for some providers with certain skills, not everyone can apply.
Nor is everyone accepted. This is still something to keep in mind.
Try Fiverr Right Here!
Upwork vs Fiverr Cost Comparisons
Buyers on Fiverr will need to pay a processing fee of $1. This applies to every purchase $20 total or less.
If they have an order that is more than $20 then the amount charged will be a flat 5% no matter how much larger the order gets.
If you are a provider on Fiverr it does not cost anything to put up a gig.
This is where the Upwork comparison is best for Fiverr providers since Upwork requires upfront purchasing of connects in addition to taking a fairly big percentage of any payments.
For Fiverr the basic gigs are $5, and you are allowed to create packages of more "premium" deals. There's no cost to this but Fiverr will keep 20% of every sale.
On Upwork things tend to be a bit more complicated. Clients are charged a 3% processing fee for making payments. For lump sum jobs this is on top of the lump sum payment while for hourly tasks the fee is figured out on a weekly basis.
If you are working to make a name for yourself among the Upwork freelancers, there are even more fees.
If you are a freelance service provider there are connection fees and there are percentage cuts off of payments. Connects cost 15 cents each and are sold in bundles (five bundle options: 10, 20, 40, 60, or 80).
While providers do get 60 to start with, it's not going to be enough for most freelancers.
Upwork also takes a 20% cut of the first $500 billed to each client. Ouch. Once earnings reach $500.01 to $10,000 Upwork takes a 10% cut of those earnings. Anything above that and Upwork takes a 5% cut.
This does reward freelancers for building long-term relationships with clients.
However, those are still pretty steep cuts on the way up. And most employers will never order $10k or more from one provider.
Those are the costs for freelancers when comparing Upwork vs Fiverr.
If you can get high-paying repeat clients the scale definitely tips in Upwork's favor over time. But that is a big if.
Diversity of Skills
Upwork focuses on the major skills that can be provided through remote workers and are in very high demand. This creates an online marketplace for employers who know they need freelance help but don't know where to look.
There's a good variety of commonly needed skills here. This is also a place where finding long-term work or major projects is possible and even expected.
Fiverr does win in the diversity of skills category because the setup allows freelancers to define the skills they offer.
This means there are all kinds of offers that you just aren't going to find elsewhere.
Attractive model dressed up by a sign of your company name or logo? A very large number of those exist.
Want a simple 3-D print? A quick 20 second voiceover? A couple slides thrown together by a designer on PowerPoint?
These are just a few out of the literally tens of thousands of different services offered on Fiverr.
You're not going to find that type of service versatility anywhere else.
Dispute Resolution
This is a rough spot. While several articles choose to take the resolution statements from each website at face value or copy other printed reviews, I've had first-hand experience with both of these under different accounts.
I've also reached out to others to see if my experiences were outliers or if other people ran into the same thing.
Long story short: neither site has a very good or very reliable dispute resolution setup.
For Fiverr there just isn't really an infrastructure or part of the terms and conditions that really focus on offering mediation services. Considering most gigs are low priced at $5 this isn't surprising.
Wasting time or resources when that little is at stake doesn't make sense. If you're staying with basic gigs then for $5 you can only expect so much.
Upwork offers meditation when there are issues, and it's a really mixed bag here. You can find a lot of reliable horror stories of clients screwing over freelancers without cause and the freelancer not getting paid even after mediation.
There are also a lot of horror stories that go the other way with the same result. So a very mixed bag without a lot of good.
In all honesty 98% of the time it's easy to spot obvious red flags. If everyone has the best intentions things tend to go smoothly. When those other 2% come up, all bets are off.
Once again, 98-99% of the time this isn't an issue. Most people operate in good faith.
But do yourself a favor and just avoid anything that looks, feels, or sounds remotely sketchy.
If you avoid getting into any dispute resolution situations you're going to be a lot happier.
Fiverr vs Upwork for Clients
For buyers who only need a single really quick task done that they can't do in-person or are looking for a simple one-off task Fiverr is the better option.
For skills like writing where a "test article" can be used to measure ability this can be a cheap way to figure out some quality clients to hire while losing a minimal amount on bad providers.
On the other hand if you're looking for more established freelancers for a long-term project, Upwork is still generally the way to go.
This is where groups of professionals can be found who are likely looking for longer term work and have the skills and experience to pull it off.
Fiverr vs Upwork for Freelancers
This is going to depend a lot on what you can offer. For skills like writing or programming, Upwork will likely offer larger clients and jobs that can become consistent long-term work.
Building a reputation here can also help clients find you and develop a working relationship off the platform.
On the other hand, when what you offer is a quick one-off whether a sketch, bit of voice work, 1-shot modeling pic then Fiverr is going to be a much better marketplace for those sorts of skills.
For individuals looking for a little side income who don't have 10, 20, or 30 hours a week to chase after work will also prefer Fiverr in this case.
Upwork and Fiverr are two of the largest spots online to find work as a beginning freelancer right now. Understanding the differences between the two can help you to figure out which of these sites matches your skill set best.
Try Fiverr Right Here! or Try Upwork Here!
In Conclusion
If you're a skilled provider Fiverr is an interesting option. Especially if you can offer a gig that is a bit weird, unique, or unconventional.
If you're aiming for a long-term client or are actually looking to hire a high-quality freelancer for a big time-intensive project then Upwork is a much better option.
The big part of the Fiverr vs Upwork argument is what exactly it is you want. Both platforms have their pros and cons for buyers and sellers alike.
This goes whether you're looking for a way to make money for your next trip or want to hire professional freelance help to scale up your project.
Hope you liked this Upwork vs Fiverr comparison and it gives you a better understanding of what to expect. And how to pick the right one for you!
Want to learn step-by-step how I built my Niche Site Empire up to a full-time income?
Yes! I Love to Learn
Learn How I Built My Niche Site Empire to a Full-time Income
How to Pick the Right Keywords at the START, and avoid the losers
How to Scale and Outsource 90% of the Work, Allowing Your Empire to GROW Without You
How to Build a Site That Gets REAL TRAFFIC FROM GOOGLE (every. single. day.)
Subscribe to the Niche Pursuits Newsletter delivered with value 3X per week