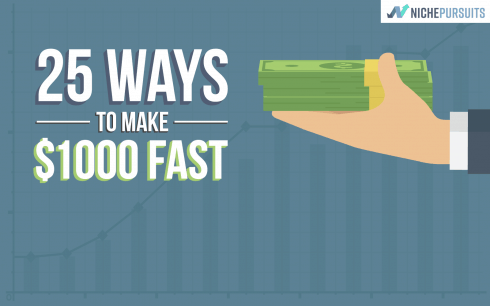 Do you need to know how to make 1000 dollars fast?
Maybe your check engine light is on, the mechanic says a new catalytic converter will cost over a grand. You don't have that kind of money!
Or you have some roof damage after last week's ice storm and the damage to your bank account is just as concerning as the water leaking into your master bedroom.
Or perhaps there is just chronically too much month left at the end of your money and a $1,000 would get you out of this situation by letting you get ahead on some of your regular bills.
In any event, you need to come up with a thousand dollars, pronto. How are you going to do that? Check out these 25 get-$1,000-richer-quick ideas and get moving!
Sell Everything Except the Kitchen Sink
You've probably got a lot of items sitting around your home that you aren't using. Why let them take up room when they can help you make some extra money? Take a walk through every room of your house, including the basement and the garage, and fill boxes with all of the extra items you find.
You can even purchase items from other people's garage sales, fix them up, and sell them for a hefty profit. Restore a dilapidated old dresser or repaint an old picture frame that you find for a few bucks.
Remember, one person's trash is another person's treasure; it's time to let some of that junk go so someone else can stumble upon it, making yourself some extra cash in the meantime!
#1 Have a Garage Sale
If you're looking for ideas on how to make 1000 dollars fast, having a yard sale should be at the very tip of your list. It can be a moderate amount of work and time to pull it all together, but by the end of the day (or the weekend, if that's how sales are typically done in your area), you could net a thousand bucks easily.
Before you start, look into some of the best practices when it comes to having a successful garage sale. A few considerations you'll want to keep in mind:
Timing is key

. You're going to want to hold your sale when it's neither snowing nor stifling hot. If you live in Maine, you might want to shoot for June or July, and if you are in South Florida, February or March might be a better time. Holiday weekends can be a crapshoot, so choose them cautiously.

Advertise your sale in a variety of ways

. Try the newspaper, Craigslist, your town's Facebook page, and signs at intersections near your home.

Price your items right

: Nobody is going to pay anywhere close to what you bought your items for new five years ago. Remember, the goal is to rid yourself of extra stuff while making some extra money.

Try to team up with neighbors to have a community sale

. This is a great way to boost neighborly camaraderie while raking in some extra dough.
#2 Trade In Used Textbooks
This is one of my favorite ways to make quick cash that almost nobody is doing right now. Did you know that on Amazon, you can trade in used textbooks for cash? Some books can pull in over $100 each, which means there's a huge opportunity to cash in on this. Here's a couple ways to do it:
The Quick Way: Use TexTrader to search Amazon for underpriced books you can buy and trade back into Amazon for quick profits (without ever leaving your house.) Click here to see TexTrader in action.  
The Slow Way: Search locally using Facebook Marketplace, Craigslist, garage sales, used book stores, and more to check for used books that you can turn and sell on Amazon for a profit. 
#3 Sell Stuff Online
If you don't want to or can't have a physical yard sale, listing your unwanted items online can be the next best thing. Do be aware that some platforms will charge you a percentage of your sale price. Also, shipping can be an issue; you'll need to charge more to cover it because mailing costs add up quickly. A few ways you can sell your items online include:
eBay

: If your things are small and easy to ship, eBay allows you to market them to people all over the country (and, in some cases, all over the world). There will be some fees involved.

Craigslist and Facebook

: You can use community pages to sell your stuff locally. There are no fees involved, which is nice. When you're meeting in person, be sure to do so safely: meet in a public location and, if possible, bring along a friend. While you're at it, here are some more ideas for

making money on Craigslist.
Phone apps: There are apps you can use to sell your unwanted items to people who are local to you. They include Letgo, OfferUp, and Decluttr. The same caveat about meeting buyers in person applies.
Supplement Your Full-Time Job
If you're already working a nine-to-five, you might decide that picking up some extra hours is an easy and quick way to make $1,000 quickly. Following are a few ideas to get you started on that venture.
#4 Ask Your Boss for Overtime
If you're in a position that pays time-and-a-half when you work over 40 hours per week, you could rack up a grand quickly by putting in some OT. Find out whether you can pick up some extra shifts and watch your paycheck grow by leaps and bounds.
If you make, say, $20 per hour and you can work 10 overtime hours per week at $30 per hour, that's an extra $300 each week in your pocket, which will put you well over $1,000 by the end of the month.
#5 Deliver Pizzas
Another way to earn some extra cash fast is to deliver pizzas. It takes no experience, just a reliable vehicle and some familiarity with the delivery area. If people tip you a couple bucks per pizza, that adds up fast; you could likely make a thousand dollars within a month.
Pizza delivery isn't the only type of job with tips that you could pick up in the evenings or on weekends, of course. If you have serving or bartending experience, moonlighting at a local restaurant or bar should go on your "how to make 1000 dollars fast" list of ideas.
#6 Clean Houses
If you like to clean your own house and you're good at it, you could put that skill to work for you by offering up your housekeeping skills to people who either dislike housework or just don't have time.
Depending on the size and condition of the home in question, you could charge between $100 and $250. Cleaning four large homes per month will allow you to earn around $1,000 per month.
#7 Mow Lawns
If cleaning indoors isn't your thing, how about mowing grass and landscaping on the weekends? Many people have neither the time nor the equipment required to mow the lawn, treat the grass for pests, trim trees and bushes, or put in new plants and flowers.
If you have a green thumb and like spending time outdoors (and if you already have the equipment), you could end up grossing $25 to $50 per hour, which can help you achieve your goal of $1,000 within a month.
#8 Rack It Up $5 at a Time
When you're thinking about how to make 1000 dollars fast, you might only focus on ways to make $100 or more in one fell swoop. It's also good to consider how you can make very small amounts of money over and over again. For example, you can earn $5 at a time on Fiverr doing anything from designing a logo to writing up Twitter posts to drawing a sketch.
You're not limited to earning just five bucks at a time, though; buyers have the option of upgrading their purchases, allowing you to make triple or quadruple your base fee from some or all of your transactions.
Even if you did make $5 a pop, you'd just need to sell 200 transactions to make a thousand dollars. If it's something that takes you only five or ten minutes, you could rack up that amount quickly.
Teach What You Know
You have a lot of knowledge floating around in your head, and you shouldn't take it for granted. Instead, you can put it to work for you and let it help you earn money. Consider the following ideas for selling what you know.
#9 Build an Online Course
Using Patreon or a platform like Udemy or Teachable, you can build an online course and charge for the privilege of taking it. What can it be about? Absolutely anything you have knowledge and understanding of! Some of the possibilities include cooking, coding, French, art history, math topics, traveling on a shoestring, keeping a house clean, and training a dog.
Lili Balfour, a financial advisor, was interviewed by Forbes.com because she's created a powerful revenue generator by putting up six courses on Udemy. And Crash Course, a popular YouTube channel, is making almost $30K per month putting up members-only content on Patreon.
You might not make close to that, but earning $1,000 in a month is a reasonable goal.
#10 Start a Blog
If you have knowledge about a topic and you don't want to develop a course, start a blog. While the material you're posting will be free for anyone to read, you can potentially earn hundreds or even thousands of dollars by allowing marketers to place ads on your blog.
Another way to make money blogging is to post affiliate links within your content. Here's a NichePursuits.com article on using Amazon affiliate links or display ads on your WordPress site to make extra money.
If you have a business, you can also use your blog to promote your service or product, potentially boosting your sales and helping you to rack up a thousand dollars quickly.
#11 Become a Local Guide
Do you live in a location where tourists tend to visit? Maybe you know the woods or trails in your rural area like the back of your hand. Or perhaps you've made it a point to become an expert in the hidden gems in your suburban area.
Everyone from visitors to staycationers might find your expertise something worth paying for. You can become a local guide; either get a part-time job with a tour company in your area or start your own business by moonlighting on the weekends.
Teach others what's special about your city, town, or neighborhood and bring in extra cash! While the average tour guide for a company starts out making about $12 per hour, you could charge double as a private guide. If you made $25 per hour and turned it into a full-time gig, you could make $1,000 in a week.
Put Technology to Work
Do you know how to put today's technology to work to benefit you and help you bring in extra pay? The truth is, making money is, in some cases, easier than ever when you have the power of the Internet (along with some know-how) on your side.
#12 Use Apps to Your Advantage
There are many apps and sites that you can use that will allow you to make some extra money each month.
One popular one is Swagbucks. You can earn Swagbucks, which you can trade in for gift cards, by watching videos on Swagbucks TV. Use the gift cards to purchase items that you need anyway, and use that saved money as found cash.
There are also apps that allow you take surveys. For example, if you have an IOS or Android device, you can sign up for iPoll, which pays about a dollar for every 15-minute survey.
SurveySavvy is another survey company that pays you $5 per month just for installing the app on your devices. In addition, you can make a few dollars (or, in some cases, more) for taking the surveys that you qualify for.
You won't be able to quit your day job with these methods, but if you can squeeze in a few per day while you're watching television or otherwise just sitting around, that can add up to $1,000, particularly if combined with other strategies.
#13 Become a Virtual Assistant
If you know how to do administrative tasks, you could become a virtual assistant in your spare time. VAs generally do secretarial chores, like bookkeeping, online research, entering data into a database, and managing their clients' emails.
According to Leisa Good, the average rate for a good virtual assistant is between $50 and $80 per hour. At the lower end of that scale, you'd only need to work for 20 hours to gross $1,000; this could be done over the course of a month or, if you're really serious about looking for how to make 1000 dollars fast, in just a few days.
#14 Build Simple Websites
There are many people who don't have the foggiest idea of how to start a website. These individuals might be excellent photographers, bakers, roofers, or auto mechanics, but if they aren't able to get a website up and running, they're missing out on a huge opportunity to market their businesses.
If you know how to put together a simple WordPress or similar site, there's no reason why you can't charge these professionals for your expertise. If you're a decent writer and you have a working knowledge of SEO, you can also include the copy that will go on the site.
You could easily charge $1,000 to build a website with some simple images and some search engine optimization. Even better, you could do this over the course of a week in between working your regular job.
If you have more advanced skills, you can charge even more. You can also rake in the dough each month as you maintain and update the site with relevant content and updated SEO.
Let Your Creativity Shine
Are you always creating something? Do you write, paint, take photographs, or play a musical instrument? If you have a creative bent, you can find yourself making money while doing what you enjoy most. Here are some ways to let your creativity take center stage while you learn how to make 1000 dollars fast.
#15 Write a Book
Not everyone can write well, but if you can, it might be worth it to give e-publishing a try. Making money with ebooks depends on developing a niche, packaging your content well, and choosing the right platform.
With ebook royalties being around 2/3 of the list price for most books, you could make $6.50-7.00 per book if you charge $9.99. If you sell just under 150 copies, you'll make $1,000.
#16 Play Music in a Busy Area
You've seen street musicians playing for crowds. Most of them set up a bucket, hat, or guitar case for tips. And many people will throw a buck or two, or at least a handful of change, into the container! Could you put this on your "how to make 1000 dollars fast" list? Maybe!
A very limited study of 10 musical sessions in Boston found that the musicians in question made an average of $42.55 per hour, but this varied greatly. The most lucrative time in this particular case was on a Friday evening, where the duo made three times their average. Give it a try!
#17 Take Stock Photos
Have you ever read a blog post and wondered where the author found the image? Often, you'll see that images like this are stock photos, which are sold through websites such as Getty Images, Shutterstock, and Adobe Stock. People purchase the rights to use the photos in their own work.
If you're a decent photographer, you can take stock images and sell them to these types of sites. The site will take a fee ranging from 50 percent to 85 percent, and each photo will usually be sold for just a buck or two. Still, if you're taking photos anyway, you could conceivably rack up $1,000, and it might be faster than you think!
Care for Others
If you are nurturing and you like working from your home or in someone else's home, you might be able to get a job or start a business providing care. This can be a great job to do on weekends, in the evenings, or, if you are home with your own children, during the week.
#18 Babysit
A lot of parents would prefer that their children are watched in a private home rather than in a daycare center. If you are home with your own kids, you could add a child or two to your busy household during daytime hours and make a nice income.
BabyCenter says that average in-home child care fees range from $300 to $1,000 per month; if you live in a city, you're probably able to charge more than if you live in an area with a lower cost of living. If you watch two or three children even in an area with a low COL, you could bring in $1,000 in one month.
#19 Provide Companionship
If young children aren't your thing, providing companionship and some services to an elderly person or a shut-in in your community can pay off in more ways than one.
A companion might help with errands and light housekeeping, such as grocery shopping, preparing a meal, and cleaning up the dishes or vacuuming. They might also play card games or just sit and talk to their charge.
Depending on your area, an agency might charge $15 to $25 per hour; you can base your fees on that or go a little lower. If you charged $20 per hour and spent five hours with your client on a Saturday, you'd make $100 per week. Adding another client per week would double that and you'd have your thousand dollars in just five weeks.
#20 Become a Petsitter
Humans aren't the only ones who need some extra TLC. When pet owners travel or if they work long hours, they need someone to care for their four-legged family members.
While some people board their pets, others prefer more personalized care. This can be especially true for pets who are nervous around a lot of other animals or for people who don't want their dogs crated for long periods of time.
You could go to your clients' homes or you could have pets stay at your home while their owners are away. For in-home boarding, you might charge $25 to $50 per overnight. You could charge $15 to $20 per visit if you just go in and feed and play with pets for a half hour. Longer visits warrant a higher fee.
You could easily make $1,000 in a month if you keep your evenings and weekends busy with petsitting or dog-walking.
Put Your Assets to Work for You
You likely have two large assets that could be making you money. If you're trying to think of how to make 1000 dollars fast, you'll want to consider these two great tips.
#21 Airbnb Your Home (or Part of It)
When people travel, they don't always want to stay in hotels. Staying in a private home allows visitors to enjoy a bit more space and a functioning kitchen. You can rent out a room in your home or the entire home on Airbnb.
Prices vary substantially depending on location and amenities, but if you have a spare room and you live in an area with local amenities and attractions, you could easily make $1,000 in a month. If you have a larger area, you might make that in a week.
#22 Drive for Uber or Lyft
Companies like Uber, Lyft, Sidecar, and Flywheel are filling a need that people have had for years: transportation. You could sign up to drive for whichever of these hire-a-ride services are most popular in your area and spend your off time raking in the money.
On average, an Uber driver makes about $15 per hour before expenses, and that doesn't include tips. This goes up during "surge" times; these are when many rides are needed. So if you are willing to drive, say, into your nearest city to chauffeur people to and from the airport on weekday mornings, you could make more.
If you made $20/hour with tips, you would only have to drive for 50 hours to make a grand. If you are looking for ideas on how to make 1000 fast because you need the money for something in particular, you could drive for five hours after work for just 10 days and raise the funds you need.
Provide Services for Busy People With Money
Everyone has the same 24 hours per day, but when people are busy, they have the option to buy someone else's time. If you can find people who have the money to spend on this type of service, you could be golden. Here are two services you could provide that could get you a thousand dollars quickly.
#23 Make Travel Arrangements
Do you love to travel? People with money (and even people without money) will sometimes pay out the nose for travel experiences that shoestring-budget travelers have done for far less. You could save people not only time but money as well, if you know how to arrange travel efficiently.
For example, knowing when to book airfares for the lowest cost will help you save your clients some money that can go in your pocket. You can also book hotels, purchase tickets to popular attractions, and make dinner reservations for those who hire you.
They'll save time and will just have to show up and enjoy their vacations. Meanwhile, you can charge $25 for each one-way flight you book and anywhere from a couple hundred to a thousand or more dollars for making the rest of the travel arrangements. If your clients are busy (and wealthy) enough and they trust your judgment, you could practically name your price.
#24 Start a Shopping Service
Everyone needs to shop, but not everyone has the time. Even with services that allow you to order groceries online, some people just don't have the time or inclination. If you have time and you like shopping, this is where you come in.
Personal shopping services are great for busy consumers and even better for people who enjoy shopping and want to make money. You could pick up groceries for one client, shop for a birthday gift for another client's daughter, and run to the hardware store to fulfill another client's home improvement shopping list all before lunch!
The average personal shopper makes about $34,000, or a little less than $3,000 per month. If you put in more hours than average or you live in an area with a higher cost of living, you could probably make $1,000 in a week if you needed and wanted to.
Spend Money to Make Money
There are some ways to make extra money that require you to make an investment first. If you don't have any extra money (hence the need to make $1,000 fast), you could skip this section. Still, it would be remiss to leave this strategy off of a "how to make 1000 dollars fast" list. Here are two of them.
#25 Play the Stock Market
If you've never invested in the stock market before, this can seem a little intimidating, but it doesn't have to be. If you have some money to invest, you can play with some penny stocks and see how you do. If you have a lot of money to invest, low-cost index funds can help you rack up a thousand dollars quickly.
Of course, if you don't know what you're doing, you could end up losing money, and nobody wants that. StockTrader.com published a list of ways to learn more about the stock market before you invest too much of your hard-earned cash.
Trading stocks can be risky, but if you have the funds to invest and you don't mind learning as you go and potentially losing some of your money, they can pay off big time.
BONUS: #26 Make Money With Credit Cards
It's easy to get into trouble with a credit card, so if you are in dire financial straits, it might be best to avoid this one. If you are good with money in general, though, then you can actually make revolving credit work for you. Do be advised that if you misuse your cards, you could find yourself in debt and you could mar your credit score!
Many credit card companies offer a sign-up bonus of cash back or points that can be used toward restaurants, hotels, and other places that you might be spending money anyway. For example, you might sign up for a hotel credit card that offers you $1,000 in hotel stays if you charge $1,000 to your card in 30 days.
The trick here is to spend the $1,000 by purchasing items you would buy anyway. This means putting groceries, work clothes, and even your electric bill or rent on the card. Here's the important part: When the bill comes in, pay it off completely.
Then you can consider your free hotel stay as $1,000 in your vacation fund. See how that works?
BONUS: #27 Cut Your Expenses
If you're brainstorming how to make 1000 dollars fast, you need to consider that there are two sides to the equation: income and expenses. While this list has focused solely on income, it's up to you to think about whether you can shave some money off of your expenses, which will become found money.
Can you cut down on your groceries? Eliminate eating out for a month? Take a hard look at your budget and see if you are overspending in any non-mandatory category (food, clothing, entertainment) and think about whether you could cut those expenses until you have your $1,000.
If you are currently spending $6 every weekday for a coffee and pastry at the coffee shop on your way to work, drinking coffee at home instead will save you $120 over the course of the month. Skipping the movies (complete with popcorn and soda) on Friday nights will save you another $100. Cut your grocery bill by $20 per week and you'll have saved a total of $300 without bringing in any other income at all.
Whether you decide to use just one of these tips or you combine them for maximum effect, you can probably scrape together $1,000 within a month if you're diligent and within a week if you're truly determined. Good luck!
Let us know in the comments if you know how to make 1000 dollars fast in another way!
---