A New Income Stream for Your Site: How Website Owners Can Set Up and Run a Successful Repixel Program
When you buy something through one of the links on our site, we may earn an affiliate commission.
Hey everyone, Spencer here.  I just wanted to quickly introduce this guest post from John Evans.  John is the marketing director for Repixel.co.  Repixel is a new marketplace that allows you to earn money by placing retargeting pixels on your website.  This is a pretty interesting concept and John shares some great thoughts. Enjoy!
Summary: Advertisers are lining up to retarget your visitors. ​Repixel is a marketplace that connects you with them and facilitates easy payment. Just drop a pixel and start getting paid.
A Quick Background on Repixeling
Have you ever noticed that when you're shopping for something but you decide not to make a purchase, for the next couple of weeks (or even months), you'll start seeing a noticeable surge in the number of online advertisements that show up for that item? That's retargeting at work.
Advertisers have been leveraging this technique for decades now, and it's typically very effective. But by definition, traditional retargeting is limited in scale by the number of people visiting your website.
See How to Join Repixel Here
But imagine if it were possible to retarget the visitors of someone else's website.
In other words, if one company owns a website that sells wine, and another company owns a website that blogs about wine, under the right circumstances, the company that sells wine would pay really good money to retarget the visitors of that blog! That's repixeling.
While advertisers are lining up to retarget different websites and seeing an improved return on their ad dollars, the primary benefactor of this kind of strategy has been website owners who are getting paid for their partnership.
The backbone of "repixeling" is Repixel's marketplace, where people who own websites can post a listing announcing to advertisers that they're willing to accept "repixel requests". Site Owners write a short description, they set their price, and then they wait for bites, which they can either approve or deny if they feel the advertiser is too competitive. Here's a fun & quirky example of repixel at work:
The Economics
Every website owner gets to set their own price, a "CPM".
CPM is a popular advertising pricing mechanism that stands for "Cost per Thousand" (mil). In the context of Repixel, it's based on pageviews. So if you set your CPM to $1.25, that means you'll let an advertiser tag your visitors for their ad campaigns for $1.25 per thousand pageviews. It's worth noting that if you're working with multiple advertisers, you get paid by each one.
As a quick example, let's suppose:
– You've agreed to let 25 different advertisers retarget your site.
– You set your CPM to $1.25.
– Each advertiser has set a daily budget of $50 (and you get enough traffic to fill their $50/day order at $1.25 per thousand pageviews).
In this scenario, you would earn: $50 budget * $1.25 per thousand pageviews * 25 advertisers = $1,562.50 per day. Of course, you have to subtract out Repixel's cut (currently 20%) from your take home pay, but still, not a bad deal considering its purely passive income & the entire system works in the background so won't cannibalize any of your other revenue streams.
As you get more traffic & more advertisers, you can imagine the opportunity for scale with a successful repixel account.
Setting Your CPM
Your CPM is one of the first things an advertiser will see when they enter the marketplace and will be a big factor in their decision regarding whether or not to repixel your website.
As you can see above, it sticks out in bright green, and is just one of a few pieces of information available as they browse the marketplace so it's a good thing to be thoughtful about. With that in mind, unsurprisingly, one of the main questions people have about Repixel is what to set their CPM to. Here are a couple of things to note & best practices:
Take a look around the marketplace and try to be competitive with what other's are doing in your niche. For example, if you blog about pet toys, and all of the other pet related websites charge ~$1.50, you should aim to stay in that range (at least initially).
If nobody is in your niche yet, Repixel's recommendation is to try to stay ~$1.25 unless…

You have a very narrow niche. For example, if you blog about rare coins, don't be afraid to charge a premium. Reason being, it's really difficult for advertisers with really narrow audiences to find people to serve ads to, so your pixel data is particularly valuable. Don't be afraid to capitalize on this and bump up the CPM.
If your product is late in the decision stage of the customer journey. For example, if you have a review website about "The Best Accounting Software on the Market", people who are on your site are clearly in the later stages of the buying process so advertisers will be willing to pay a little more to tag your visitors.
If your website fits both of these requirements (i.e. you have a review website for rare coins), don't hesitate to make your CPM $10+ — your audience is gold to an advertiser & you should be compensated accordingly.
One thing to be aware of is that when advertisers request to repixel you, as seen below, they can set a "bid" that's higher than your CPM.
Once you get more and more advertisers, you might be tempted to increase your CPM and get a quick win. But there are two important things to keep in mind.
First, if you increase your CPM higher than the Advertiser's bid, the campaign will be paused, and you'll lose the advertiser (unless they also adjust their bid). And second, if you make your CPM too high, you may make yourself unattractive to new advertisers browsing the marketplace.
The Benefits of Repixeling to Website Owners
There's a certain excitement you get when an email notification from Repixel comes through letting you know a new advertiser has requested to Repixel you. Is this daily budget going to be $10? $100? $500? – Jake Irwin, Account Manager
There are dozens of ways to monetize your website, but most are time-consuming and/or limited in scale. For example, a popular way that website owners have historically monetized their site is by selling ads through a platform like Google AdSense.
But there are only so many ads you can cram onto your website before your website starts looking spammy. And while you get paid for each click from those ads by Google, when a click occurs, you're driving people away from your site which is counterproductive to most business goals.
Another common way website owners have historical monetized their website is by promoting affiliate offers, but this can become time-consuming & difficult to manage. Plus, similar to selling ad space, it is also very limited in scale as there are only so many affiliates you can work with for each of your websites as a time.
Unlike most other popular tactics, Repixel works in the background, requires no additional work, and is unlimited in scale. More specifically, some of the major benefits include:
Scale: Letting one advertiser retarget your website is great, but it's no sweat off your back to allow fifty.
Control: For every repixel request, site owners have the opportunity to either "accept" or "deny" the advertiser, so if you identify a company looking to partner up as competitive, or you don't want to work with them for any other reason, you can easily hit "deny" and move on.
Incremental Revenue: Because Repixel works in the background, it doesn't take away from any of your other business lines. If you sell ads, that business will go on as usual. If you work with affiliates, no problem, that won't be impacted either. No matter how you're currently monetizing your site, any value repixel introduces will be purely incremental.
No risk: As a website owner, it's free to list as many websites to the marketplace for as long as you'd like. Repixel doesn't even ask for a credit card, so it's impossible to come out in the red. The worst case scenario as a site owner is you don't get any repixel requests from any advertisers in which case you net out at $0 in revenue, exactly where you were before signing up.
Join Repixel Here
Getting Setup
The first step in creating an account is to navigate to Repixel's website. Once there, you'll be asked if you want to register as an advertiser (someone looking to retarget websites), a site owner (someone looking to post a listing and allow other's to retarget their visitors), or both.
Assuming you select Site Owner or Both, you'll be prompted with a brief form: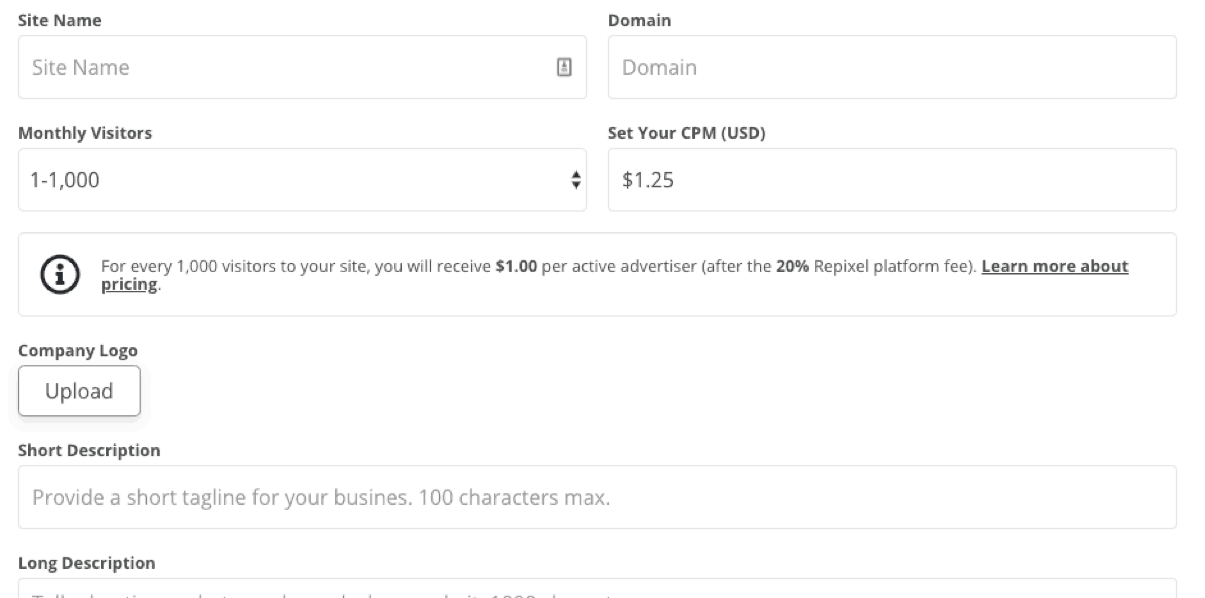 There's no tricks or tips when listing your website except to simply be thoughtful about what you display to advertisers. Your short description is particularly important because it shows up in the marketplace so make sure to write something that grabs the readers attention or they'll never end up reading the long one.
The final step when posting your listing is to copy/paste the Repixel pixel onto your website (you'll be prompted to do this immediately after filling out the above form). No coding is required for this step, but you do need access to your website editor (or a colleague that has access) so you can copy/paste the snippet of code into the global header.
Optional: It's never required to connect a bank account or debit card to Repixel to start accumulating revenue. You can start stockpiling cash right away without doing so, but needless to say, when you're ready to "cash out", you will need to tell Repixel your preferred way to get paid.
Currently, the two options you have to receive your payments are connecting a bank account or adding a debit card. If you're interested, instead of cashing out, you can also easily transfer your earnings into your "Advertiser" balance and start repixeling a few sites of your own using those funds.
Additional Tips
As with all things in the advertising space (and really business in general), the best thing to do is test different things out and see what works best for your company. There's rarely a "silver bullet". With that said, here are a couple of miscellaneous tips you can leverage to get the most out of your Repixel account.
List multiple sites. If you have one website, that's great, and if it's a quality site, you're likely to get some bites from advertisers. But Repixel allows you to easily list as many sites to their marketplace as you'd like, so if you have two or more, list them all and you'll effectively double your odds of teaming up with advertisers.
Keywords. Be mindful about which keywords you include in your listing. Most advertisers will leverage the marketplace's search functionality and you'll want to stay one step ahead of that. For example, if you blog about baseball gloves, consider adding the keyword "sports" in your website description so when an advertiser comes through looking to retarget people reading about athletics, your site gets surfaced.
Speed. There's a common phrase in sales, "time kills all deals." If someone sent you a repixel request, they're probably excited about working with you right now, but there's no guarantee they'll be excited about it tomorrow. Accepting a repixel requests takes less than a minute so we recommend dropping what you're doing and clicking approve (assuming the advertiser isn't competitive) the second you see the email notification come through. Every minute that goes by is a liability that they change their mind, and the loss of a single high-volume advertiser could be worth hundreds of dollars per day to your business.
Be proactive. If you have a website that you think is super valuable to a specific group of advertisers, don't hesitate to go to the Contact form on their website and proactively reach out to them! For example, if you have a review website titled "The 10 Best Cyber Security Companies Commercially Available", companies like Norton AntiVirus would probably pay a small fortune to retarget your visitors, so don't hesitate to shoot them a note and see if they're interested.
Now it's your turn. You now have all of the tips, tricks, and secrets available to create & manage a success Repixel account. Best of luck!
Set Up Your Repixel Account Here
Want to learn step-by-step how I built my Niche Site Empire up to a full-time income?
Yes! I Love to Learn
Learn How I Built My Niche Site Empire to a Full-time Income
How to Pick the Right Keywords at the START, and avoid the losers
How to Scale and Outsource 90% of the Work, Allowing Your Empire to GROW Without You
How to Build a Site That Gets REAL TRAFFIC FROM GOOGLE (every. single. day.)
Subscribe to the Niche Pursuits Newsletter delivered with value 3X per week