Craigslist has been around since 1995 and survived the tenuous online landscape. From the dot-com bubble to the social media craze, America's favorite online classified ads is still alive and running.
People learning how to make money on Craigslist is now a real thing as it helps sellers make money through their products, services, and even properties. The platform connects them to buyers online within the same locale for hassle-free transactions.
Moreover, unlike eBay and Amazon, Craigslist charges you nothing for posting a classified ad on their site. With its free barrier to entry, making money on Craigslist as a seller is easier and cost-effective.
Throughout the years, there have been arguably better Craigslist alternatives that people can choose from. OfferUp and LetGo build on Craigslist's success to provide users with a more intuitive way to shop. Also, despite the provisions set by the site to help you identify and avoid transacting with scammers, finding genuine buyers can still be tricky especially for newbies.
Nevertheless, these did not stop 60 million users post an average of 80 million classified ads a month (both stats as of November 29, 2016) on Craiglist.
Given the volume of users and activity on the site, you only need to determine how you can tap the right people to your classified ads.
In this post, I will discuss with you tips and advice on how to make money on Craigslist featuring products you need to sell and methods you need to follow.
How To Make Money On Craigslist
1. Find Leads For Your Business
Aside from buyers and sellers, Craigslist is a place where you can search for job opportunities. If you are more interested in making money by working for it, then you should take a cue from Claire, who is one of Ramit Sethi's Earn1K students.
Through Ramit's course, Claire was able to earn $8,000 from Craigslist on top of her current graphic design job.
Claire was already making $50,000 a year as a designer but wanted to supplement her earnings with a side hustle. Given the fragile economy, Claire was only looking out for yourself if in the chance that she might lose her job.
One of the things she learned from the Earn1K course is the Craigslist Effect. Ramit describes this as the process of identifying situations where everyone is horrible to them, that by being semi-decent, you can dominate the market and take the lion's share of the profit.
The image above is an example of the Craigslist Effect at play. Ramit applies the concept of saving money by being frugal. He then creates a quadrant that allows him to identify actions and classify each based on their difficulty and scope.
From the image, saving money and tracking your expenses is placed under hard-small wins, which makes sense. Instead, why not do things that are easier and have a massive impact on your costs?
For Claire, it's about writing better emails for part-time job applications, asking for a raise from your current employer, and other easy and big wins tasks.
Key Takeaways
Working multiple jobs may not be the most efficient way to make money on Craigslist. However, it is a viable option if you have nothing to sell and no capital to use. Below are basic things you need to follow to build your profile in Craigslist's job market.
Identify the weaknesses of your competitors – The competitiveness in the job market will require you to build skills that your contemporaries don't possess. If you are on the same level with other professionals, developing your skills they don't possess positions yourself as a frontrunner.
Take action on easy/big wins – Dedicate your efforts on doing tasks that will make a big difference in your job search. For example, if you want to save money, don't think of cutting down on expenses. Instead, find the easiest ways to boost your income, so you don't have to compromise your lifestyle.
2. Flip Items
The concept of flipping items is not new. It deals with buying an item on the cheap, refinishing to make it look better, and selling it at a higher price.
In some cases, you don't even have to improve the item you purchase and sell to make money.
This excellent post at Punch Debt in the Face details the multiple items that the author bought and sold on Craigslist where he made a fortune.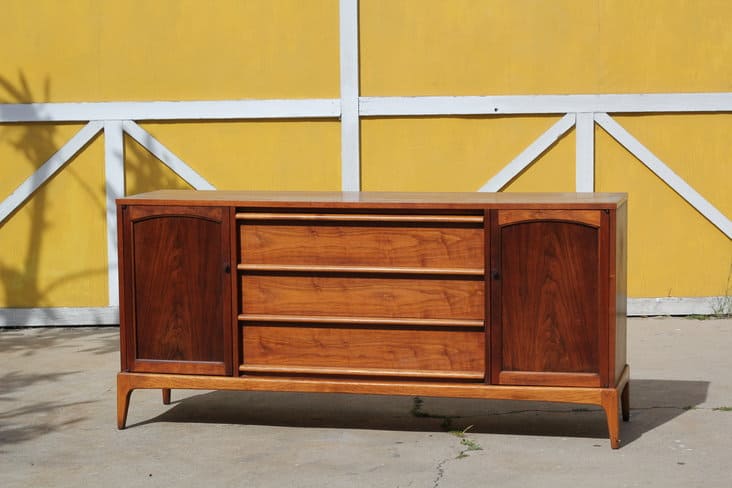 For example, he bought a Lane Rhythm credenza (above) for $250 that he sanded and stained to make it shine. After 24 hours of posting an ad on the site, he was able to sell it for $650.
Key Takeaways
Given the number of case studies he featured in the post, he followed a set of rules allowing him to take advantage of the seller's mistakes. He detailed all of them in the post, but I'll mention the most important ones below.
Look for terrible ads –  Normally, ads with the least images or text scare away buyers. However, this is also an indicator that the seller just wants to get rid of the item by not putting an effort on making the ad look great. Also, by posting a haphazard classified ad, the seller doesn't care if he or she gets the rightful amount of money for the item. Which leads us to the next point…
Always bargain – There's no harm in asking if you could buy the item on Craigslist at a lowered price. Half of the time, they will accept your offer. The chances increase if you can target the crappy ads.
Use hi-res images of the items when posting on your ad – You want your item to sell, so let the item speak for itself. At the same time, you need to apply photography techniques to make your items stand out. Blur the background to put the emphasis on the item and increase the contrast and sharpness on your hi-res camera, to name a few tricks.
3. Flip Some More! Flip Free Stuff From Craigslist
In the case study above, he details how he purchases items from Craigslist and resells them to make money. In this post at The Flipping Ninja, A.J. Hakimi buys discounted items from thrift stores and sells them for more than the original price. His process, which is similar to retail arbitrage on Amazon, helps him earn $2,700/month or more than $40k a year.
In the post, the author shares how he bought The Mystery Chair from Flexsteel (the mystery of which is the hidden recliner) for $10. After taking beautiful photos of the chair and marketing it as such in its classified ad, he was able to sell it for $200.
LinkWhisper Cyber Monday Deal
Link Whisper is a revolutionary tool that makes internal linking much faster, easier, and more effective.  It makes it simple to boost your site's authority in the eyes of Google. You can use Link Whisper to:
Bring out your orphaned content that isn't ranking

Create smart, relevant, and fast internal links

Simple yet effective internal links reporting: what has lots of links and what pages need more links? 
Click here to revolutionize your site's way of doing internal links
Most of the case studies in the post feature couches, sofas, and dressers, which goes to show that there's money to be made in these types of items. However, he also made money by selling art and television, so there's no limit to what you can sell on Craigslist.
There is a whole world of free (or almost free) items on Craigslist that you can take, flip, and resell for major profits. It's true that one person's trash is another person's treasure.
Finding these free items may take a big more work, but the return on investment is limitless.
Key Takeaways
While the process of flipping items on Craigslist looks easy, there is a certain art that you need to apply making selling them on the site. Below are practices that you need to hone and develop to make the all-important sale.
Make your items look like a million bucks – While you may have gotten a steal with the item you bought, you shouldn't make it look like it. Instead, present your items with a certain pizzazz and flair on your classified ad, so potential buyers will be more than willing to spend for you.
Learn how to negotiate –  The art of negotiation is the deciding factor on whether or not you can purchase the discounted items at a lower price. At the same time, how you can strike a deal with buyers will determine how much you will sell it. The most important thing to keep in mind during the negotiation process is never to be emotional. There will be a risk of offending sellers and buyers with your offer, but you should always make a decision that will benefit you. Of course, you need to approach the situation carefully not completely to drive them away.
Set up alerts using the keyword of your product – If you're looking to buy items on Craigslist to sell them again, you can set up email alerts using their respective keywords. The site will immediately notify you if there are items that match your keywords. Doing this allows you to be one of the first people to view the ad and make a proposal to buy.
4. Sell Your Phone
Smartphones and mobile devices sell like hotcakes. Since every manufacturer pumps out a different model every so often, consumers will ditch their "old" phone they purchased months ago to get their hands on the latest version.
Given the trends of electronics, you can take advantage of the high turnover rate of mobile devices by selling them on Craigslist.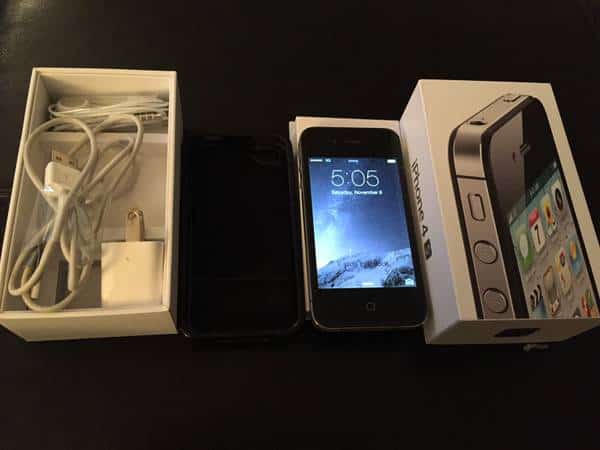 This post by Stephen at Cell Solo details the exact process that he did to sell his phone on the site. He was able to get a buyer for his 3-year old iPhone 4s 32G for $160.
Key Takeaways
Selling your mobile phone can be tricky, given that you need to tweak your phone with the help of your service provider. Below are tips that you should keep in mind before making a sale on Craigslist with your phone.
Unlock your phone – Call your service provider and ask them to unlock your phone. This service is usually free, and the process shouldn't take you long. Also, this is the most crucial aspect of your phone that buyers look for. Typically, they prefer an unlocked phone so that they can put their SIM card from a different wireless network.
Find out the right value of your phone – Use a tool like Movaluate to see the reasonable asking price for your phone on sale. This allows you to come up with a price point for your unit that will attract buyers.
Develop your description – Since the biggest differentiators of mobile phones are their respective specs, you need to detail them in your classified ad. Also, mention other information like condition and the actual images of the phone and its content to attract more interested buyers.
5. Offer multiple gigs
In light of the gig economy, it has become convenient for people to commit to different side hustles instead of just one big job. The beauty of having different jobs is that you are not dependent on a single source of income. By diversifying your income streams, you become resistant to the changing economic landscape that's putting some people out of business.
If you need someone to help inspire you to a career in side hustling, then Jeffro of JasonCouponKing.com is your guy. His post on Budgets are Sexy documents his Craigslist experiment in which he posted different ads offering various services.
Jeffro decided to undertake one-off projects that did not require any long-term commitment. He offered an average of $18 for menial jobs like pulling weeds, tearing down art displays, and working as a chauffeur. By the end of the month, he was able to add $655 on top of his usual income.
Key takeaways
Ultimately, Jeffro's experiment was a mixed bag. He claims that some of the jobs he offered like moving services and paper routing paid so low that it's not worth repeating them. Nonetheless, there are lessons to be learned from his experiences, some of which are detailed below.
Specialize on easy jobs – He specifically notes chauffeuring as the most exciting job out of the jobs he took because of how easy it is. Therefore, if you want to make the most of Craigslist's various job offers, focus on a gig that allows you to produce maximum output with minimum effort.
Be presentable and well-spoken – While these job types don't require you to have a degree of some sort, you still need to keep up a good appearance and be on your best behavior. You need to appear pleasant enough and be able to express yourself in a clear manner to leave a good impression to your client. In fact, if you did good work, you can even ask for a tip on top of your fee.
Keep your clients satisfied – Since you will be working directly with customers, you need to learn how to appease them. If you must make small talk with them for the purpose of providing a good experience, then do so by all means. The idea here is to make clients happy with your service so you can get repeat customers.
6. Sell appliances
Ryan of ReCraigslist considers appliances as the second most valuable item to buy and sell on the site. He even dedicates a full-blown post about selling appliances on his website and even launched a training course on how to sell appliances on Craigslist at ApplianceSchool.com.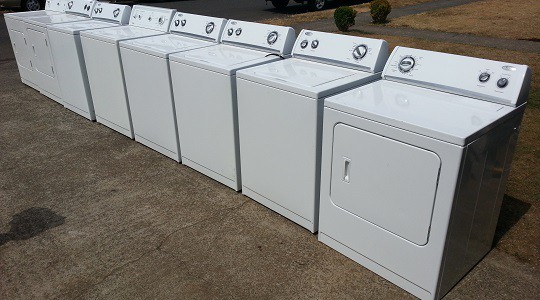 From his post, he explains how appliances are high demand, high supply item. Similar to how people replace their mobile phones, lots of households dispose of their perfectly working machine in place for a newer model. At the same time, appliances straight on the market cost thousands of dollars, so it is only logical for people to browse sites like Craiglist for the same model at a lower price.
Ryan has turned selling appliances on Craigslist into a lucrative business. For every machine he sells, he earns a profit between $75-200.
Bonus: You can also make money reselling concert tickets on Craiglist.  If you are interested in joining a training course that shows you how to flip concert tickets, go here.
Key Takeaways
When it comes to reselling products on Craigslist in general, you need to offer them extra value to purchase your products. The same applies to appliances. Assuming that the machines you are selling are pre-loved, you need to make sure that the units still works and operates at an efficient level.
Below are ways how you can add value to your appliances so you can sell them easier.
Be quick – Whether it's buying the machines for sales and delivering them to customers, you need to be fast and swift. Delaying your decision on buying the machines will give an opening for someone else to buy it from you. At the same time, delivering the appliances and installing them in the household of buyers allows you to get the money from them fast.
Clean the machines first – Appliances work best when they are cleaned regularly. Assuming that you purchased a machine, you need to inspect and clean the appliance in the right places using the right tools. Also, you may need to clean the ducting on the outside of the buyer's house to ensure that the machine is in tip-top shape.
Offer adjacent services – Aside from cleaning the pipes for an additional fee, you can also provide reinstallation of their old appliances to make way for the ones they purchased. By providing related jobs to complement your primary service, which is selling appliances, you can make more money in the long run!
Conclusion
While time may have caught up with Craigslist, there is still no denying that you can still make good money off the platform. By using the case studies above as inspiration for your Craigslist journey, you too can make earn a fortune that you can add as one of your many income streams.
And if you're just getting started, Craiglist is a great place to be. You can use the money you make on Craiglist to reinvest back into your business. I call is stair stepping. That's how I built my first online businesses and I have no doubt that you can follow in my footsteps.
Thanks for reading this post! If you have questions about the article or have experience in making money on Craigslist that you want to share, feel free to comment below with your thoughts.
---