How To Make Extra Money Online Without Ever Leaving Your House
When you buy something through one of the links on our site, we may earn an affiliate commission.
Yes, you can make extra money online. Yes, all you need is a laptop and an internet connection. And yes, you will need a solid work ethic.
Lots of people will make it seem super easy to get paid by "just sitting at your computer." But the truth is, that's only partially true. 
We're going to talk about lots of legitimate ways you can make extra money online.
Making Money Online: What It's Not
This ain't a get-rich-quick scheme. Have you ever heard that phrase, "Fast. Good. Cheap. Pick Two"? Well, that's true for making money online.
There are some tradeoffs: if you want to make a lot of money online, it will take some heavy lifting and time. If you want to make money quickly, you'll probably make much smaller amounts at a time, which will take a while to add up.
The point is, it's not always easy to earn cash online, but when you do it right, it can be a very lucrative side hustle or even a full-time job.
Why You Might Consider Making Money Online
So you're here because you want to make extra money without leaving your house.
You might be going through a financial rut and you need to make some extra moola. You may be thinking you want to start something on the side but eventually transition it into a full-time gig. Or maybe you're a stay-at-home parent looking to make some extra income. You may even be a college student looking to work in between classes.
Whatever your situation, you can do this. We're going to cover lots of different options that could fit all of those possible scenarios.
The beautiful thing is that it doesn't matter where you are — the United States, West Africa, or India — you can earn a supplemental or full-time income online.
How To Receive Payments Online
Before we even get into the types of remote jobs available and how you can get them, we should cover payment methods. This is important to figure out before you start looking into working from home so you don't fall prey to scammers and con artists.
PayPal
PayPal is probably the most used payment method in the self-employment world. It's safe, secure, and fast. Plus, if you have a problem with a client not paying you for your work, they have their own Resolution Center where you can open an investigation or a dispute. They have a whole team to help you resolve any issues.
When someone pays you, it hits your account instantly and then it can take 1-2 business days to transfer to your external bank account. It's free to sign up, but PayPal does take about 3% of any invoices you send.
Cash App
The Cash app from Square allows you to connect your debit card or bank account to the app and receive payment instantly. Square, Inc. is a trusted company, the one behind the free mobile card readers and other merchant services.
Like PayPal, it can take a day or a few to transfer the money from the Cash app to your bank account (but luckily we've found several ways for how to make money on the Cash App). But unlike PayPal, it takes no percentages if you have a personal account. If you sign up for a business account, they will take 2.75% (at the time of this writing).
Venmo
Venmo is another free payment platform (you can find out how Venmo makes money here), probably most similar to PayPal (its parent company). And like the Cash app, it doesn't charge a percentage to receive funds. Although not as proven as PayPal, Venmo is another nice option for getting paid.
How NOT To Receive Payments Online
Basically, it's safest to stick with one of the above methods for receiving payments.
If a client wants to pay you by cashier's check, personal check, or money order, be cautious. You may want to require they pay before you complete the work so you can make sure the check clears. When you receive a check payment, you can call the originating bank to verify that the check is legit and, if so, that the funds are available in the account.
But this is rare. Most clients are totally fine paying you through PayPal.
Ways To Earn Money Online
There are so many creative ways to get paid just by using a computer and a phone (and ways to make money from your used computer parts), but we're going to cover the most legitimate and promising options.
Basically, we tried to rifle through the pile of endless options to present the best ones.
Mobile Phone Apps
Have you ever found yourself just scrolling through your social media feeds and realize you don't know how long you've been staring at your phone? I think we all have.
So instead of idly glancing at the lives of people you hardly know, why not focus on improving your own life by making money through mobile apps?
Slidejoy
Okay, I know I said making money online would not be easy, but Slidejoy is pretty easy. It's the definition of a passive income. Technically, you're not doing nothing to earn money — you're just using your phone normally to earn money.
This app puts ads and news stories on your Android device's lock screen and pays you for it. You can slide left for more info about the content, slide right to unlock your phone, or swipe up to see more content. And that's it.
Then you can either get paid through PayPal or donate your earnings to the Jericho Project, Got Your Six, or TutorChatLive.org.
BookScouter
I think we all have old books we're never going to read again (or for the first time). That's where BookScouter comes in. This app lets you scan or enter the barcode of your books to see what they're worth. Then you can sell them to a book-buying website and ship them off for free.
If you're savvy, you could even turn this into a book-buying and reselling business.
AppTrailers
If you like watching trailers for mobile apps, AppTrailers is your jam. You can get paid to watch app trailers lasting 30 seconds or less on your Android or iOS device. The minimum earnings start at 500 points, which translates to 50 cents. Doing the math, that's about $1 per minute, $60 per hour.
Even though it may not be able to provide hours of trailers for you to watch, that's not a bad hourly rate for watching short videos.
Ebates
You can earn up to 40% cash back when you shop online through Ebates. You simply visit Ebates.com or download the app, choose one of the participating stores, and buy stuff. You can use this to buy things you already buy online, except that you're getting cash returned to your pocket. Plus, if you refer two friends, you get a cool $50 extra.
Ibotta
Similar to Ebates, Ibotta gives you cash back for shopping at certain stores. Simply scan your receipts and the app will determine if you're eligible for rewards. Plus, you can complete tasks through the app to earn a little extra.
Airbnb
With Airbnb, you can rent out part or all of your house or apartment with ease. Whether you have a second home or just have a sizable house with extra rooms, you can get on Airbnb and lease out your place for short periods of time. The only non-online work you'd do is keeping the room/apartment/house clean before and after guests' stay (but you can charge a cleaning fee).
Buy And Resell Tickets (Legally)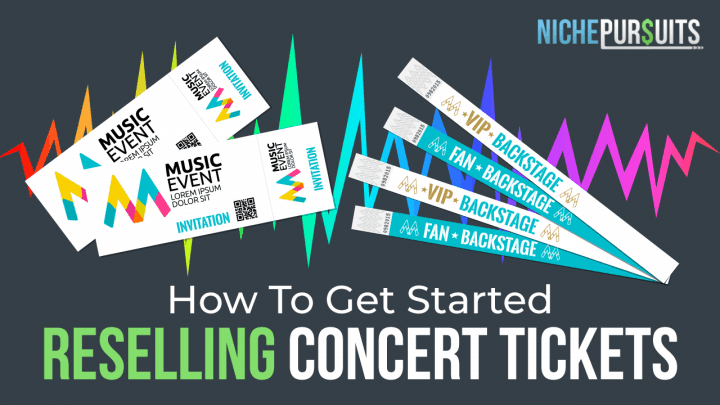 No, this isn't ticket scalping — at least not the way you're probably thinking of it. You don't have to stand on a street corner outside of a stadium, constantly asking people, "Got any extra tickets?" and "You folks have tickets yet?"
Using legitimate and legal ticket broker websites, you can earn a nice little side income from reselling tickets.
StubHub
StubHub is one of the most famous websites where you can buy and resell tickets to various events. And because they're one of the biggest ticket brokers, there's a better chance that more people will see the tickets your selling. One downside to them is that their fees are a little higher than some other competitors.
TicketMaster
StubHub may be second only to TicketMaster. TicketMaster is where most people go when they're looking to snag some seats at a big event.
However, not every ticket is eligible for resale, like those you've bought over the phone or through a third party.
VividSeats
VividSeats is another reputable ticket broker website, although their fees are on the higher end. But they're still a good option.
SeatGeek
SeatGeek is easy to sign up for and easy to sell your tickets (get the full in-depth scoop on whether SeatGeek is legit). It's not as well-known as the others, so you'll get less eyeballs on your tickets. But that also means there will be less competition among ticket resellers.
Resell Items On eBay
If you want to sell something other than tickets, you can use eBay. Just make sure what you want to sell is not prohibited by eBay.
First, you'll want to figure out what you want to sell. It's probably not a good idea to sell anything and everything — just sell what you know. Focus on one niche — this way you can become an expert at certain items so you know which ones are worth buying to resell.
When you visit the home page, you'll see all the categories across the top of the page. If you're not sure what you want to resell, browse through these categories for inspiration and to see what's hot and what's not.
After you sign up with eBay, here are some tips you can follow to help you get started:
Begin by buying small items and reselling them. This will help build your reputation, which comes from good reviews by your customers.

Take high-quality photos. These will be a person's first impression of your product. Use natural lighting and a decent camera (your smartphone is sufficient).

Calculate the shipping costs into your items' cost.

Be organized. Use a spreadsheet to keep track of what items you've posted, sold, and what you will be posting.

Be dedicated to good customer service. Offer open and professional communication with customers — it could be the difference between a sale or not.
Taking Surveys
If you've got a little extra time in your day, you can spend it taking surveys to earn money or gift cards. This section is a bit more sparse because, honestly, taking surveys just doesn't pay that well (usually well below $10 an hour). But it is nice how most of them have a sign-up bonus of a few dollars each.
So we're only going to talk about the better-paying options (and even those are low).
PopulusLive
Within the survey-taking world, PopulusLive is probably the favorite, mainly because of their payout. You can earn about $1 for every 5 minutes of survey taking (~$12 per hour).
The only thing is that they cap the number of people taking a specific survey, so the spots fill up quickly. And they also have ways of making sure you answer honestly and not just rush through the questions for the money.
Valued Opinions
Valued Opinions is a part of a market research group, so it seems like they actually do value your opinions. They send out surveys to users who match certain demographics and profiles.
You can make up to about $6 or $7 in vouchers per survey, and each one can take up to 30 minutes — that's about $12-14 per hour. Plus, when you sign up, they automatically enter you into a drawing to win an iPad.
Survey Bods
Survey Bods works with different companies that want consumers' opinions, and they pay in cash, Amazon vouchers, and giveaways.
Each survey takes about 10 minutes and you can earn up to about $3 per survey. If you meet that best-case scenario, you could be pulling in upwards of $18 an hour.
Affiliate Marketing
Affiliate marketing is a type of income that requires users to click on your referral links and buy a product(s) from the company you've partnered with. Then you get a percentage reward of the amount they spent.
You'll hear a lot of affiliate marketing gurus promising big money and little work. You'll hear them say how to make millions with it. Although I'm not doubting that it's possible, most people in affiliate marketing aren't making $30,000 a week.
But make no mistake, you can make a nice income and do so just by using a laptop.
Benefits Of Affiliate Marketing
Affiliate marketing has a lot of potential, especially for writers or those with a knack for marketing.
Low overhead: affiliate marketing programs are free to join, so there's little to no overhead

You don't have to create, stock, or ship a product or offer a service

Set your own work schedule and work from anywhere with internet access

Can be a part-time job or a full-time income
Disadvantages Of Affiliate Marketing
But of course, like everything in life, there are downsides to becoming an affiliate marketer.
Takes times to generate enough traffic to generate income

Affiliate hijacking (where you don't get credit for referrals) can occur

Your affiliate can tarnish your reputation — choose one wisely

No control over the product or service you promoting

Lots of competition (good affiliates probably have a lot of users)
How To Get Into Affiliate Marketing
Okay, so now that we've covered the potential pros and cons of affiliate marketing, let's take a look at how to get started.
Doing affiliate marketing successfully requires a great affiliate marketing plan, including research, and consistency. Here are a few actionable steps you can follow to make the most of your experience.
First, choose the right affiliate marketing company — read reviews from others, make sure they're a legitimate and reliable company, get to know their products

You can even buy a product from this company to get some hands-on experience with it

Do your research — know how the affiliate program works, how and when you get paid, and any thresholds for payouts

Use images, but mix and match images so your readers don't get overwhelmed or sick of the same images

You always have to disclose your affiliate partnership — most affiliate programs require this, it will build trust between you and your readers, and

it's also the law

Use

SEO

and social media to promote your blog

But don't ONLY use SEO and social media — you need to figure out who's reading your blog (your "target market") and hone in on writing TO them

Start an email list with places like MailChimp, ConstantContact, or AWeber
So if you think you're ready to put in the work, research, and planning, follow the above steps to reach your full affiliate marketing potential.
Freelance Writing
If you can string words together in a clear way, you can be a writer.
As the legendary late writer William Zinsser once said, "Writing is thinking on paper, or talking to someone on paper. If you can think clearly, or if you can talk to someone about the things you know and care about, you can write – with confidence and enjoyment."
Start Blogging
This is the best and easiest place to start. Nearly every modern writer has a blog — many of them started with just a blog.
Here are the reasons you need a blog if you want to be a writer:
Legitimacy

: if you're going to call yourself a writer and you don't have a blog, people won't believe you. Like I said above, every modern writer who's serious has a blog.

Portfolio

: you can use your blog as a place to display what you can do. Potential clients will often ask for a link to your blog so they can see how well you can write on a regular basis.

Practice

: this might be the most important reason to have a blog. Starting a blog is a commitment, and it will give you the incentive to write consistently. And the more you write, the better you'll get.
Do Guest Posts
Now that you have a blog up and running, you have to get your name out there. One way you can do this is to reach out to other bloggers to see about swapping guest posts. They can write something for your blog, and you can write something for theirs.
Start with other bloggers that seem to have small to mediocre followings. Then, after you get a few of these, you can contact bloggers with bigger audiences. Until finally, you can pitch ideas to your favorite blogs and have the content to prove you can deliver.
With WordPress Discover, you can easily find blogs to contact. Tumblr has an Explore feature that allows you to see what's trending and to search by topic. And Medium makes it's easy to find a blog about your favorite subject.
Get In Touch With Your Alma Mater
If you went to college, don't forget about your alma mater. I know, you may be happy to be done with organized schooling forever, but don't burn any bridges.
Your old university probably has an alumni publication and probably needs writers for it (and they may even need your help following our guide to SEO for universities). Get familiar with their pirch guidelines and see what topics they usually cover. Then brainstorm at least three story ideas and pitch them to the publication's editor.
Self-Publish Books
If you have something to say — some intriguing story, helpful tips, or lots of experience in an area that you'd like to share — publishing a book may be a good idea.
And you don't even need a publisher like HarperCollins or Random House. You can self-publish a book from your chair.
How To Self-Publish A Book
First, you'll need to know that this also takes quite a bit of work. And it's best that you're writing about something you're passionate about or the project will quickly fizzle out.
Depending on the topic and how long the book will be, you may have to spend several hours a day for several months finishing the book. It's all about finding the time of day where you're most productive with writing.
Next, you'll need to look at the different companies that can help you self-publish. The top ones include Lulu and BookBaby. And if you want to publish an eBook, Amazon is probably the best option. (For a full step-by-step guide on self-publishing an eBook on Amazon, check out our article "How To Self Publish A Book On Amazon").
You'll also want to figure out how much overhead you're willing to put up by comparing the different companies' packages. Also, you can ask yourself these questions to help figure out your budget:
Will it be a physical book or an eBook (which are more affordable)?

Do I want to self-edit book or hire an editor?

Am I okay to make the book cover myself?

Will I do the marketing and promotion or outsource this stage?
Whether you're editing the book yourself or hiring an editor, you should always read through it before the editing stage. This is so you can proofread it for grammar, flow, and overall structure.
Another crucial part of the process is picking a great title. The title the first thing people see or hear of your book (along with the cover). It can tell them a lot about the book and you, so feel free to spend a lot of time coming up with an eye-catching but accurate title. In fact, some authors start with a title and write the book from there.
Once the book, book title, and cover design are all finalized, copyright that sucker. It's the safest way to protect your book. Although regardless, most book publishing companies add the copyright language to your book for you.
And last but not least, you need an ISBN number. This is a 13-digit code that identifies and tracks your book. Most self-publishing sites provide this for you (and it's best you find one that does).
Do Copywriting
This is where you can make some decent money. If you're not familiar with copywriting, it's basically writing engaging, usually long-form content for businesses. This content is meant to be resourceful for the reader, help the business' SEO performance, and even help sell products.
This is a great option for those who don't have a ton of extra time to work but need to make some extra dough. It pays wells, meaning you can work a couple hours a day and still make $100 or more in those couple hours.
Copywriting involves things like researching keywords, link building, and even email marketing, all of which you can learn more about here.
Where And How To Find Freelance Writing Jobs
So where do you even start? Yes, you can have a blog and do guest posts, but then what? Where do you get the jobs that actually pay?
How Much Should I Charge?
This can be hard to navigate. How do you put a price tag on your writing?
A general rule is to charge around $0.10 per word, but probably no less than $0.05 per word. Starting out, you'll probably have to take some jobs that pay less so you can build your portfolio, but it shouldn't take long before you should raise your rates.
Where Can I Find Jobs?
Great question. Here are some legit job-finding websites with promising writing opportunities posted on a daily basis:
Is There An Email Template I Can Use When Applying For Writing Jobs?
Another great question. Yes, below is a template to get you started, but you can tweak it to fit your voice:
Hi, [FIRSTNAME / COMPANY NAME].
I saw your job posting on [WEBSITE], and as I read through it, I felt like I would be the perfect writer for the position. I love connecting with outstanding clients, and I know I could give your company some really solid content.
Here are some of my writing samples:
– SAMPLE 1
– SAMPLE 2
– SAMPLE 3
Typically, I charge [$0.10 / $0.05] per word, and I can turnaround a 1,000-word article in [NUMBER OF DAYS].
I would love to work together. Can we schedule a Skype or phone call to make it happen?
Thanks!
[YOUR NAME]
Become A Virtual Assistant (VA)
As a virtual assistant (VA), clients pay you for doing a number of different tasks online. Being a VA is a completely remote position and offers a flexible work schedule.
Someone, often a blogger, may hire you as a VA if they don't have enough time to do everything they need to. Here are some examples of what you'll probably be doing:
Research for blog posts

Scheduling blog posts

Edit or create images for blog posts

Post on social media

Respond to emails

Literally anything else that you can do online
VAs can be instrumental in the success of some of the biggest bloggers, freeing those bloggers to do other work that can bring in bigger money and exposure.
How Much Can I Get Paid As A Virtual Assistant?
Usually, VAs are paid hourly, sometimes on a retainer. The hourly rate ranges anywhere from $15 to $100 per hour, depending on the VAs experience and the blogger's budget. Basically, you set your own rates and increase them as you gain experience.
How Can I Become A Virtual Assistant?
You just do, that's how. Honestly, just start doing it like you would any of these other ways to make money online. You don't need a degree or certification — just do it.
But here are some tips to get you started:
Start a website, whether through

Bluehost

or your choice of website platform.

Make it clear that you're a VA — brand yourself.

Spread the word that you're now taking on new clients — use social media and online ads.

Use websites like Upwork and

Freelancer

to get your first jobs.

As you gain experience, you may want to reach out to bloggers directly offering your services.
Become A YouTuber
Yes, you can make a living on YouTube. Lots of people do it. Many YouTubers make money through a combo of monetization (advertisements preceding the video), affiliate marketing, and sponsors.
And the better your content, the more views it will get and the more money you'll make. But how do you do this?
Here's a walkthrough to get you started as an entrepreneur and entertainer on YouTube.
Make Goals
Before you even create a YouTube account and channel, ask yourself why. Why are you getting on YouTube? What's the point of it all?
Your answer probably involves the making of money — that's why you're researching the topic in the first place. But what are the other reasons?
In addition to the income, you may want to use your YouTube channel to help people. You may want to get famous. It could be a helpful resource for other entrepreneurs like yourself. You may want to help others in your niche.
Choose Your Niche
Speaking of niches, you need to find one. There is so much content on YouTube — you can't just be a catch-all channel. You have to hone in and find your specific target audience and speak directly to them in your videos.
The most successful YouTube channels have done this. They know exactly who will be watching their videos and they cater their content with that in mind.
And as you go, your viewers will let you know what they want and what they're not too interested in. Don't ignore this input. It will help you shape your channel.
Get The Right Equipment
Now that you've figured out the why and the who, you'll need the tools to get going. Nowadays, you technically can make high-quality videos with your smartphone, good lighting, and decent editing software.
But if you want to stand out, you may want to go the extra step and invest in some actual video equipment.
First, make sure you have a reliable computer — this is how you'll edit and upload your videos

Next, you'll need to get some video editing software — you can grab OpenShot Video Editor for free or you can invest in Adobe Premiere (PC / Mac) or Final Cut (Mac)

Then you'll want a simple point-and-shoot camera — these typically shoot better quality video than a smartphone and you can easily transfer the files to your computer via USB

You should pick up a decent microphone (preferably that you can connect to your camera) — it will certainly pick up better audio than the camera's built-in mic

Good lighting is crucial to a good video — if people can't see your face well, the video will be less engaging
Make A Plan
So many people start a YouTube channel but then fizzle out because they run out of time or ideas. This is why making a plan is so important.
When you plan ahead two, three, four, five videos ahead, it's easier to stay on schedule. Come up with ideas that speak to your niche (see above) and bring the energy in every video. Then schedule these videos. Expert YouTubers say you should be posting no less than one video per week if you want to be successful.
One way to come up with ideas is to look at other YouTubers in your niche and borrow ideas or let their videos inspire yours.
Create Your Channel
Now that you have your niche, your plan, and your equipment, you can start your channel. It's simple: visit YouTube.com and hit the "Create An Account" button at the top-right corner.
Choose your artwork, your channel's icon, banner art, and your about section (don't forget to include your website).
Now you're ready to start posting your videos. As your fan base grows and you get more and more views on each video, you can begin monetizing your channel. You can do this in a number of ways:
Sign up for the

YouTube Partner Program

to make money by letting YouTube show ads before or in the middle of your videos.

You can join an affiliate program (as we talked about earlier), reviewing products from the affiliate company or just pasting the referral links in the video description.

You can get a sponsor, meaning you get paid for mentioning the product of whatever company is sponsoring you.
Obviously, to do any of these, you'll need a decent-sized following. But remember, it's a marathon, not a sprint.
Other Ways To Make Money Online
If none of these options work for you, there are dozens of more ways to earn extra money with only a laptop and an internet connection (check out our list of weird ways to make money online). In fact, we put together a list of 53 ways you can make an income online.
Conclusion
As you can see, you can make extra money online. You can do it as a side hustle or a full-time gig. You can do it whether you're a mom with kids, a college student looking to earn some supplemental cash, or a driven entrepreneur who is gung-ho about never leaving your house for work again.
So yes, you can do this. And hopefully, this guide has helped you get started on the right path.
standard building-niche-sites
Want to learn step-by-step how I built my Niche Site Empire up to a full-time income?
Yes! I Love to Learn
Learn How I Built My Niche Site Empire to a Full-time Income
How to Pick the Right Keywords at the START, and avoid the losers
How to Scale and Outsource 90% of the Work, Allowing Your Empire to GROW Without You
How to Build a Site That Gets REAL TRAFFIC FROM GOOGLE (every. single. day.)
Subscribe to the Niche Pursuits Newsletter delivered with value 3X per week