How to Sell on Facebook Marketplace: Beginner's Guide + Tips for Success
When you buy something through one of the links on our site, we may earn an affiliate commission.
Mastering how to sell on Facebook Marketplace can be a great way to unload unwanted items for money.
The personal one-on-one aspect of Marketplace conversations via Facebook Messenger and the fact that you can list items for free also make the platform ideal for small e-commerce businesses looking to boost their sales.
Marketplace is mobile-optimized and beginner-friendly. That makes it easy for casual sellers and Facebook merchants alike to connect with customers.
Why Should You Sell on Facebook Marketplace?
Forget about hosting a yard sale, these days it's all about selling online. There are lots of places to sell items online but depending on what you're selling, there are a few reasons why Marketplace might be the best platform for you.
Public profiles and buyer/seller ratings
As you complete transactions, whether as a buyer or a seller, you will receive feedback from the other people involved in the sale.
Your rating is then viewable to other people who are interested in doing business with you.
This helps build confidence between both the buyer and the seller. A good rating as a seller can make people feel more inclined to buy your products.
Integrated marketing tools
Setting up a Facebook page shop automatically gives you access to a host of integrated tools to help you market your products.
These include automation tools so you can set up automatic replies to inquiries and a chatbot to answer frequently asked questions to make sure you never miss a potential buyer.
You can also take advantage of Facebook advertising and run Marketplace ads for your product.
When a potential buyer is interested in your listing, they can send an inquiry via Facebook messenger.
The instant messaging app gives you the ability to converse with them in real-time. This provides a one-on-one experience that can help build the buyer's confidence in you and your product.
Posting an item for sale on Facebook Marketplace is completely free with no selling fee, no matter how many products you list.
Listing on Facebook is free. However, you may incur additional costs if you make use of Facebook ads or use Facebook Pay.
5 Easy Steps to Start Selling on Facebook Marketplace
Whether you are a casual seller or a Facebook merchant, here's what you need to know about how to sell on Facebook Marketplace.
Step 1: Set Up or Log In to Your Facebook Account

With roughly 2.89 billion monthly active Facebook users, chances are, you already have an account, so you can just log in. If you don't, go ahead and set one up.
Step 2: Go to Marketplace

If you're using the browser version of Facebook, you'll find Marketplace on the menu on the left-hand side of your screen.
Mobile app users should look for the symbol with three lines in the top right-hand corner of their screen. From there, you'll be able to view the Marketplace icon.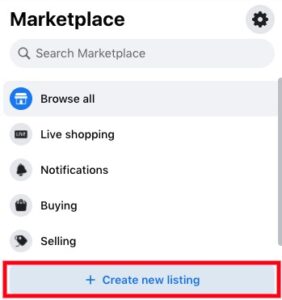 Once you've found the Marketplace, click on the button to create a new listing to get started.
Step 3: Create Listing

To begin, you will have to choose a category when you click create for your new listing. The more specific you can be, the more likely a potential customer will find your post.
Additionally, when creating your listing, you can provide a title, price, description, and the availability of your item.
Making your listing look attractive to buyers can take a little bit of time. It's important to include photos that best showcase the item you have for sale.
Make sure that your title clearly states what you're selling. Also, use the description to clarify anything that you need to about the item. You will also be able to list the condition of the item for sale (i.e. new or used).
When creating your listing, keep the following in mind:
Consider the demand for the product
Set a reasonable price
Include keywords in your title and description
Step 4: Option to Publish to Additional Groups
Once you're happy with your listing and press the next button, you will have the option to automatically list your item in relevant Facebook groups.
Buy and sell groups were part of Facebook long before they launched their official Marketplace in 2016. A lot of people still use them to find unique items or items in their community.
Make the best use of this feature to ensure that you maximize the number of people who will potentially view your post. The more groups you publish in, the more likely you are to attract an interested buyer.
For more information about Facebook groups, check out our guide on how to create a Facebook group.
Step 5: Publish Your Listing
The final step is to simply hit "publish" on your post! This will make your post public for anyone searching on Facebook Marketplace. Congratulations, you're on your way to your first sale!
You can also create a new listing directly in the Facebook app by following the same steps.
7 Tips For Successfully Selling Your Items on Facebook Marketplace
To be honest, creating a listing isn't all that difficult. However, it's not enough just to learn how to sell on Facebook Marketplace; you need to learn how to sell better than the competition.
Here are some tips to make sure your items sell quickly and you're able to maximize your profits.
1. Take High-Quality Photos
People tend to be visual buyers. If the item looks good in the listing, it's easier to imagine it looking good in their home.
To that end, high-quality photos go a long way in making your item more attractive to buyers.
Take photos from all angles to show off the item you have for sale.
For big-ticket items like furniture, you might want to consider staging your piece to show its potential.
If the item you're selling is used, then include some shots of any potential damage such as stains or marks to avoid any confusion with the buyer later on.
Always make sure the product in your photos matches the actual physical product you are selling.
Brands might want to consider hiring a professional photographer to photograph their stock.
2. Write a Useful Description
Including a well-written product description can go a long way in securing a sale.
The description is a good place for you to include any and all relevant information, such as the dimensions of the piece for sale, the color, details about the brand or manufacturer, and any notes on the condition of the product.
Always ensure your product description is honest and matches the item you're selling to avoid any issues with potential buyers.
3. Remember to Use Tags
Using keywords in your title and description can help with your SEO when you sell on Facebook Marketplace and make your post easy to find for people who are searching relevant terms.
However, you won't be able to include all the possible keywords associated with your item in the title alone. This is where tags can be really useful.
When you're creating your listing to sell items, add as many relevant tags as you can think of. Essentially, this will allow your post to get picked up by alternative word searches and help more people view your Marketplace listing.
4. Make Sure You Respond to Inquiries Quickly
If you set up a Facebook business page, you can set up automated responses to any interested buyers.
However, if you are running a Facebook listing just as a casual seller, you'll want to make sure your messenger notifications are turned on when you sell items, as it's really important that potential buyers get a response from you quite quickly.
A fast response time can often seal the deal.
On that note, be sure to check your "message requests" as well as your general inbox. Facebook automatically sends messages from people outside of your friend network into a separate inbox to avoid users receiving spam. Unfortunately, plenty of inquiries will end up there as well.
5. Be Willing to Negotiate
Do your research and set a realistic price for your product. See if you can find a similar item listed in your area and base your price on that.
At the same time, keep an open mind and be willing to negotiate. A little bit of haggling is to be expected, so sometimes, adding on a bit extra to your listed price gives you more room to negotiate.
However, don't automatically accept a lower offer if you get lots of interest right away.
Get a feel for how people are responding to your listing before you risk losing out on profits.
If you've already listed your price as the lowest that you are willing to accept, then make that clear in the product description.
6. Offer Local Delivery
A great way to push your listing quickly to sell items is to offer local delivery. If you have a car or some way to transport the item you have listed, your item may appeal to a wider audience than those that are pick-up only.
7. Boost Your Listing
For items that don't move right away, your best approach is to renew the listing every two weeks and consider dropping the price.
Renewing your listing is completely free and can help keep your post visible to a pool of potential buyers.
On the other hand, if you feel like your listing isn't getting very much attention, you have the option of spending a little bit of money to increase visibility.
When you view your posting from the seller's dashboard on Facebook, there will be an option to "boost listing". Click on it to navigate to where you can set the terms of the boost.
On the next screen, you can decide how much you want to spend and how long you want your boost to last.
Boosting your listing brings it back to the top of the search results on Marketplace. It'll also make the posting appear in some people's news feeds.
Based on how much you are willing to spend daily, Facebook will estimate the number of people who are likely to see your posting.
Once you are happy with the duration and the cost of the deal, you just have to input your payment details and click "Promote Now."
Once your boost has begun, you'll get insight from Facebook on the results of the campaign such as the total reach of the post.
Using Facebook Marketplace For Your Brand
While Facebook Marketplace was strictly a peer-to-peer platform when it first launched, it has since developed to include merchant selling.
With more and more people shopping online, Facebook is yet another e-commerce avenue for you to take advantage of to promote your brand.
If you already have a Facebook page shop, you can easily list items you have on Marketplace.
Additionally, big e-commerce platforms like Shopify, BigCommerce, and CommerceHub offer seamless integration with Facebook Marketplace.
In order for ecommerce businesses to list their products through Marketplace, the stock must comply with Facebook Marketplace rules and go through an approval process before the item is shown publicly.
Once you have a Facebook shop set up, you can use the social media platform to boost your brand awareness and increase sales.
Marketplace offers an extended reach as well as a personalized experience for your customers.
What Can You Sell on Facebook Marketplace?

Selling strategies for Facebook Marketplace are pretty similar to how you would approach selling on platforms like Amazon or eBay.
However, in order to list with Facebook, you must adhere to Facebook Community Standards, which means there are some limitations to what you can sell on Facebook Marketplace.
Most of the prohibited items are to be expected, such as:
Adult items
Alcohol
Counterfeit items
Animals
Body parts or fluids
Sexual services
Prescription drugs, drugs, tobacco, or any related paraphernalia
Stolen goods
Weapons
Recalled products
Hazardous goods or materials
However, according to Facebook's rules, there are other items you aren't allowed to sell on Facebook Marketplace that you may not have expected to be banned. These include:
Digital media devices that allow illegal streaming
Historic documents
Virtual currency
Supplements (such as protein bars/powders, vitamins, or comfrey)
Medical/healthcare services or products
Subscriptions or digital products (this means you can't sell a digital subscription to videos or a podcast, for example, nor can you use Marketplace to flog your latest e-book).
In general, Facebook Marketplace is most effective for listing everyday items. Things like furniture, clothing, electronics, sports equipment, toys, etc. do quite well on the platform. If you're brainstorming about other items you could sell on Facebook Marketplace, check out our guide on what to sell online to make money!
To understand how to sell on Facebook Marketplace effectively as a Facebook merchant, it's imperative that you understand Facebook's commerce policies to avoid any of your items being in breach of their terms.
How to Handle Payment and Returns on Facebook Marketplace
When an interested buyer sends you a private message to inquire about your listing, make sure you agree on the price and method of payment.
Commonly, Facebook Marketplace transactions will be cash in hand. However, Facebook users are free to accept PayPal, bank transfers, or whatever other payment method works for them for selling items.
If you are a Facebook merchant seller, you can choose to accept payment through Facebook Pay, but keep in mind that this option will incur a 5% processing fee.
Payments made through Facebook can be linked to either a PayPal or bank account.
There is no return policy that you must abide by through Facebook Marketplace. Once you have sold the item, you are no longer responsible for the product.
If the buyer is unhappy for whatever reason, they might choose to contact you, but you're under no obligation to do anything about it.
The only reason you might consider trying to reach a solution is to protect your seller rating on Marketplace. An unhappy buyer could give your profile a low rating and put off other buyers.
Start Selling!
Learning how to sell on Facebook Marketplace is probably one of the easiest platforms to start with. All you need to get started is an active Facebook account.
In addition, unlike other e-commerce sites like eBay or Amazon, there are no additional fees when selling through Facebook. You can create your listing for free, with no selling fee, and keep 100% of the profits earned without having to shell out for posting or commission fees.
It doesn't matter if you are just a casual seller looking to unload some extra items or an e-commerce business looking to boost your sales. Knowing how to sell on Facebook Marketplace (and how Facebook marketplace shipping works) are invaluable skills. If you'd like to learn more, check out our guide on how to earn $500 on Facebook every day.
Want to learn step-by-step how I built my Niche Site Empire up to a full-time income?
Yes! I Love to Learn
Learn How I Built My Niche Site Empire to a Full-time Income
How to Pick the Right Keywords at the START, and avoid the losers
How to Scale and Outsource 90% of the Work, Allowing Your Empire to GROW Without You
How to Build a Site That Gets REAL TRAFFIC FROM GOOGLE (every. single. day.)
Subscribe to the Niche Pursuits Newsletter delivered with value 3X per week