35 Best Virtual Assistant Jobs for Beginners (& 19 Websites to Find Them)
When you buy something through one of the links on our site, we may earn an affiliate commission.
Are you looking for virtual assistant jobs for beginners? Look no further! 
Becoming a virtual assistant is one of the best ways to make money online for beginners. 
It requires no certifications to get started and plenty of VA jobs are entry-level and totally beginner-friendly. 
In this article, you'll find: 
35 best virtual assistant jobs for beginners to offer clients. 
19 top websites for finding freelance and virtual assistant jobs. 
Answers to all the FAQ about becoming a VA.
Let's get into it.
35 Virtual Assistant Jobs for Beginners
This section contains a list of 35 different services you can be paid for as a beginner virtual assistant. 
These jobs are broken down into the best beginner-friendly categories and contain services that are frequently outsourced, yet require no qualifications to do. 
Each of these virtual assistant jobs for beginners can be learned by anyone in a relatively short amount of time (and you can also make your life easier with this list of the best virtual assistant software). Plus, they're in high demand.
Social Media Virtual Assistant Jobs for Beginners: 
Social media is one of the best places to start if you're a beginner VA. Almost everyone knows how to use social media. 
And, for most small business owners, social media management is one of the most frequently outsourced tasks. 
Designing social media graphics/graphic design.
Scheduling social media posts.
Monitoring and managing inboxes and comment threads. 
Repurposing content for social media shares. 
Creating and optimizing social media pages for businesses/entrepreneurs/etc. 
Creating TikTok videos/IG Reels.
Social media analytics reporting.
Customer Service Virtual Assistant Jobs for Beginners:
Customer service is another entry-level skill for beginner virtual assistants. These tasks are easy to learn and they're in high demand.
Processing orders. 
Processing refunds. 
Handling customer inquiries via phone, email, or live chat. 
Email monitoring and forwarding (and there are also lots of email forwarding services you can use for this). 
Customer tech support.
General Admin Virtual Assistant Jobs for Beginners: 
If you like organization and data, general administrative assistant tasks are perfect for you. Here are some of the most beginner-friendly and in demand administrative assistant jobs for VAs. 
Managing calendars – booking appointments, meetings, etc. 
Taking meeting minutes. 
Managing email inboxes. 
Data entry. 
Bookkeeping. 
Creating slideshows or presentations. 
Drafting communication materials like emails, letters, etc. 
Blogger VA Jobs for Beginners: 
Bloggers need help too! Running a blog is a huge task with a lot of moving parts. Here are some of the most beginner-friendly blogger virtual assistant tasks. 
Blog article keyword research and topic ideation.
Writing blog content.
Uploading article drafts into client's website.
Proofreading and editing blog posts/articles.
Adding links and images to articles.
Guest blogging.
Blogger outreach for guest blogging opportunities or blog contributors.
On-page SEO.
Transcribing video or audio to repurpose into blog content.
Video/Audio VA Jobs for Beginners:
Video and audio editing isn't something that comes naturally to everyone. However, if you take the time to learn these skills, you can make a lot of money doing these VA jobs. 
YouTube video/Podcast script writing. 
Video or audio transcription. 
Podcast/video guest outreach. 
Video or podcast promotional outreach. 
Generating video or podcast topic ideas. 
Creating promotional materials. 
Recording video or podcast material. 
19 Best Websites to Find At-Home Virtual Assistant Jobs for Beginners
Now that you have a list of the most beginner-friendly and profitable jobs for beginner VAs, here are the best places to look for them. 
1. Upwork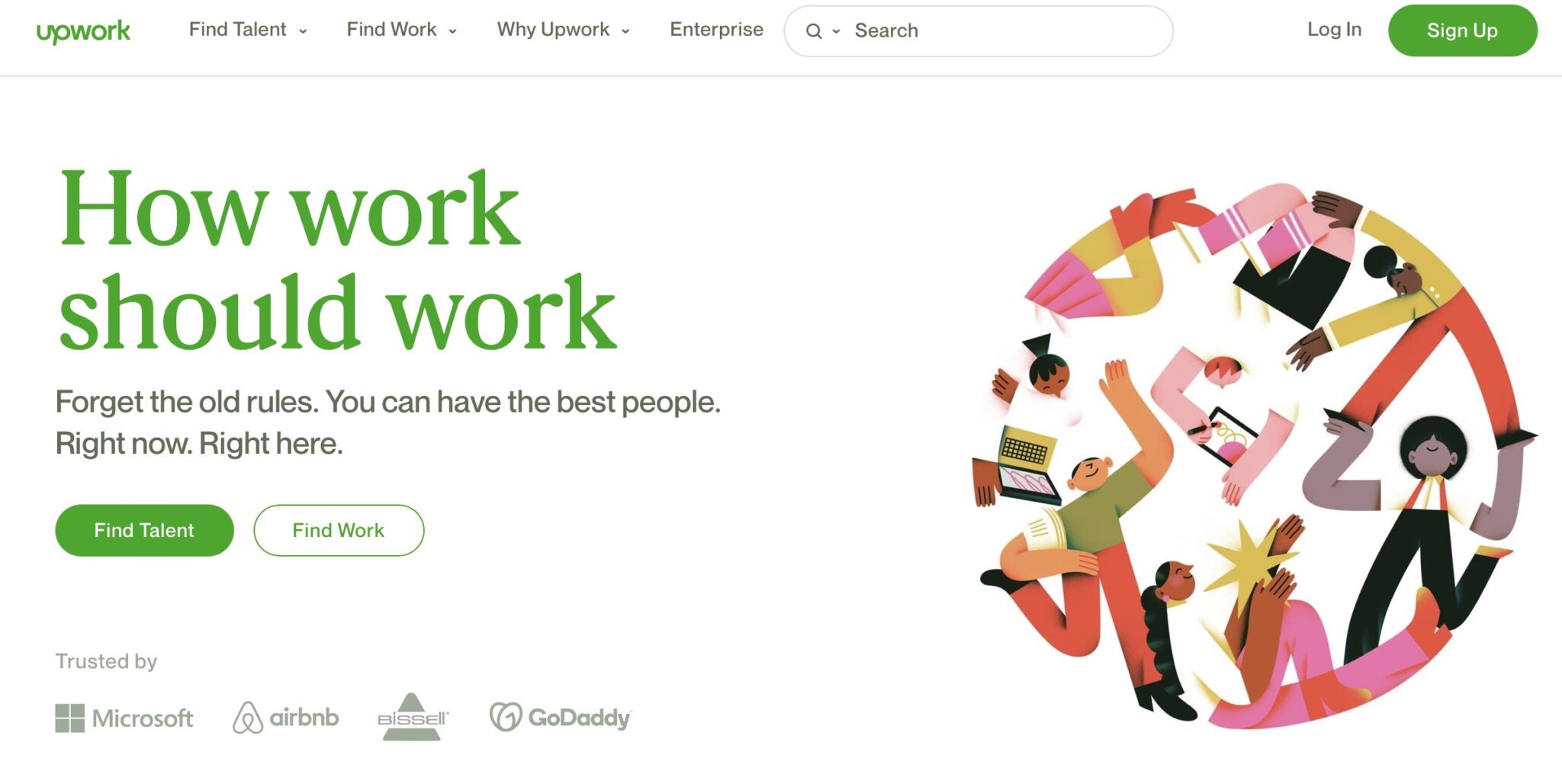 Upwork is one of the largest marketplaces on the internet for freelancers, virtual assistants, and contract workers. 
As such, it's full of beginner-friendly virtual assistant job opportunities. 
When you make a profile on Upwork, you can choose areas of specialty and make a customized profile that offers your services. 
Once your profile is set up, you will have a customized dashboard and job feed that shows you jobs related to your skills. Your personalized job feed shows you the most recently posted jobs.
Applying for jobs requires "connects" and you get a certain amount every month for free. However, you can choose to purchase more to apply to more jobs!
2. FlexJobs

FlexJobs is one of the best job sites for remote work. This site has a wide variety of all kinds of jobs. 
You'll find beginner-friendly virtual assistant jobs, freelance gigs, remote employment, and much more.
FlexJobs is free to sign up, but if you want to apply to jobs on the platform, they charge a membership fee. 
The reason they charge a fee is actually what sets them apart from other virtual assistant job websites. 
FlexJobs hand-selects and reviews jobs on the platform to ensure that job seekers are not tricked or scammed – totally worth the membership fee. 
When you sign up for FlexJobs, you have the option to complete your profile and upload your resume. This makes it easier when applying for jobs – all you have to do is click to apply.
3. Fiverr
Unlike the first two options, Fiverr isn't a job marketplace. Rather, it works in the opposite way. 
Instead of job seekers coming to the platform to look for a job, this platform allows you to create "Gigs". Gigs are jobs and services that you offer that people who need a virtual assistant can choose to buy.
When you sign up for Fiverr, you have the option to create a Gig for each service that you offer. You will write a description, upload photos and video (if relevant), and set your own pricing. 
Each Gig can have 3 different pricing tiers – this is helpful for you to choose to offer more or less customization with your services. 
As you complete work on Fiverr, you earn reviews. Job completions and reviews bump you into higher seller tiers, where you are recommended to more Gig seekers. 
With Fiverr, instead of looking for jobs, the jobs come to you. And it's free to sign up and start working!
4. Freelancer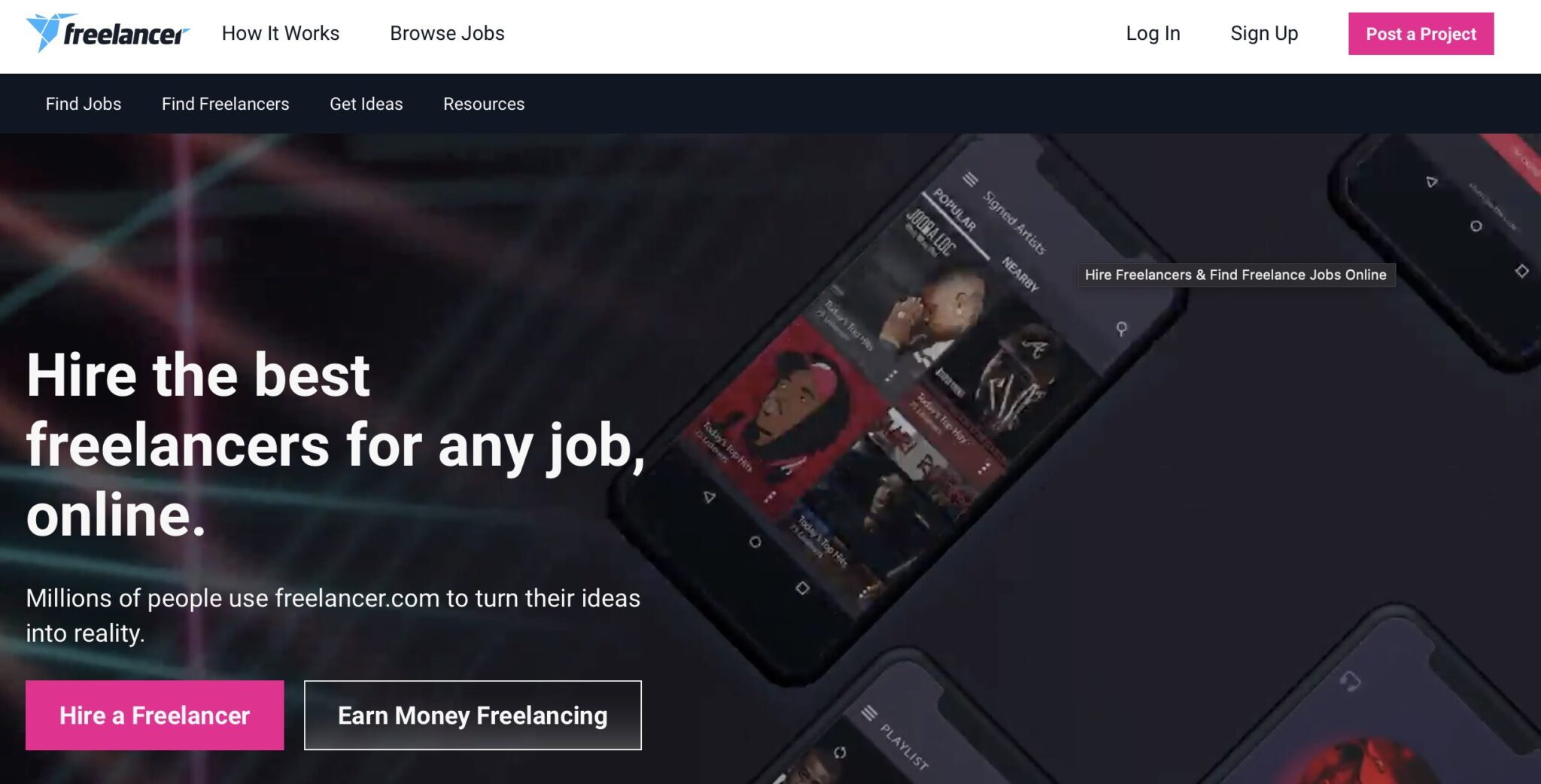 Freelancer is a large online marketplace for employers seeking freelancers and virtual assistants. 
Similar to other online job marketplaces, you can sign up for free and create your freelancer profile. 
However, Freelancer is unique in the way it works. 
On this platform, employers can create jobs or contests for freelancers (you) to bid or compete on.
This competitive style of job listings ends up with most freelancers competing to do the job at the lowest price possible.
It's free and it doesn't hurt to create a profile and search for jobs, and many people have success with it. 
While you might not always want to work for the lowest rate, doing so is a good option for beginners who need to build up a portfolio and reviews. 
5. LinkedIn
While you might just think of LinkedIn as a social media platform for stuffy CEOs, the reality is far from that. 
If you're not on LinkedIn yet, I highly suggest making a profile. 
The LinkedIn job board is full of jobs in traditional roles, but that's not all. You can also find freelance and virtual assistant jobs in many industries on the LinkedIn job board.
You will use your LinkedIn profile and experience to apply for many jobs on this job board. However, you also have the opportunity to upload a resume or write a cover letter. 
LinkedIn is a great place to grow your professional network and look for virtual assistant jobs, and so are some of the best LinkedIn alternatives.
6. Indeed 
Indeed is a huge online job search engine that has both in-person and remote jobs. 
Not only that, there are plenty of freelance and virtual assistant jobs on the platform, too. 
To find virtual assistant and freelance jobs on Indeed, you'll need to be particular about which keywords you use. 
Try searching for jobs with these keywords: 
Freelance
Remote
Virtual Assistant
Contractor
When searching through jobs on Indeed, be vigilant for scammy listings. 
Since this is one of the largest job platforms on the world, it can attract some scammy job listings. 
Stay away from anything that asks you to send or receive money for tasks – other than the pay for the job at hand.
7. Belay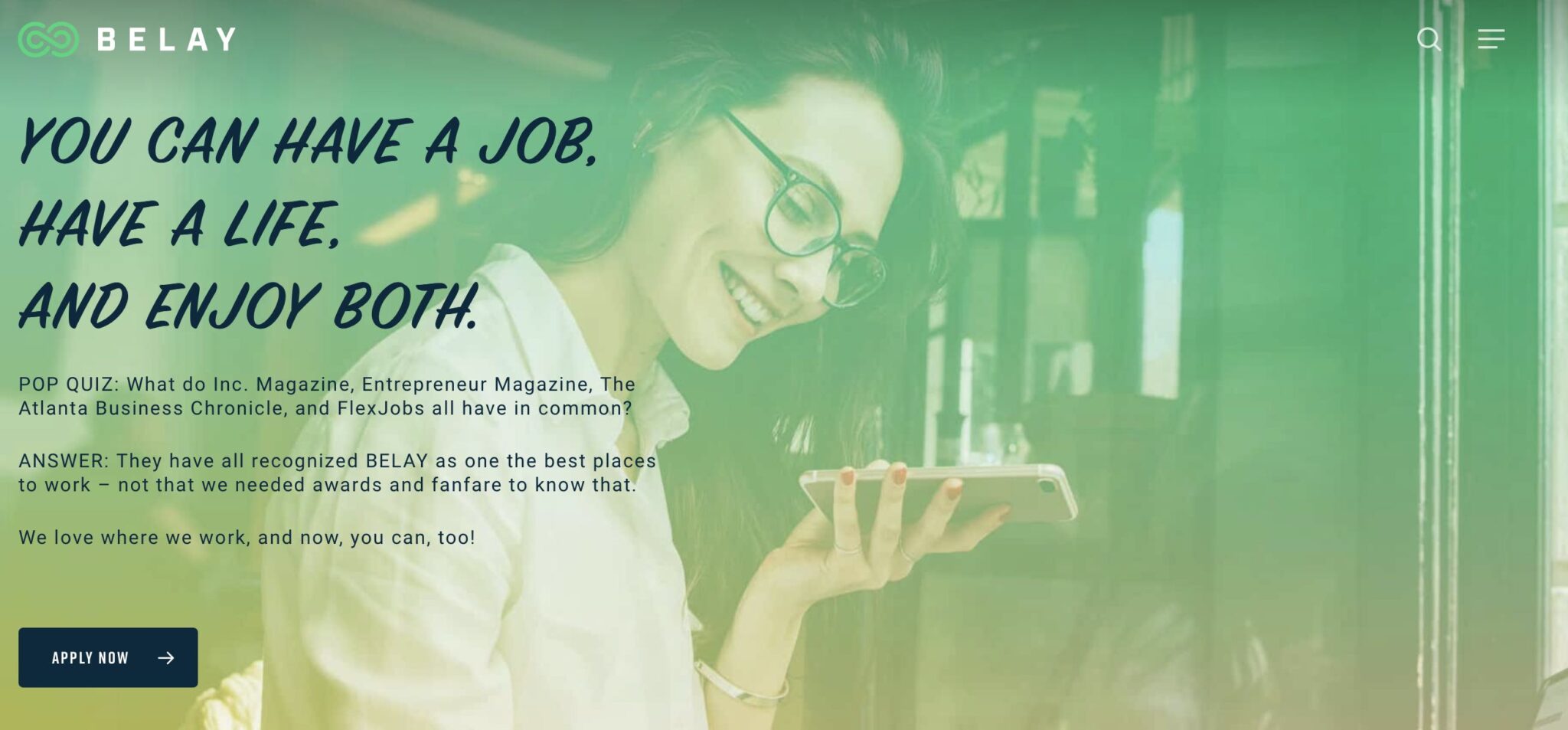 Belay Solutions is one of the top virtual assistant job websites on the internet today. 
This platform specializes in virtual assistant jobs like social media management, bookkeeping, website virtual assistance, administrative work, and much more. 
When you apply for Belay, you'll go through an assessment process to see if the jobs Belay offers are a good fit for you. 
If you're selected and approved, Belay will work to match you with your ideal client. 
This virtual assistant job platform looks for VAs with a bit of experience, but this is a great next step once you start completing jobs on other platforms.
8. ZipRecruiter

ZipRecruiter is an online job marketplace that uses AI to match you with jobs that are a good fit for your skills. 
You can visit the website and start browsing jobs right away. 
Since this is a platform that has every kind of job available, use these keywords in your job search: 
VA
Virtual Assistant
Freelance
Contractor
You can find jobs in just about every industry on ZipRecruiter and the jobs update very frequently. 
To get the most out of this platform, check it often and apply for multiple positions.
9. 99 Dollar Social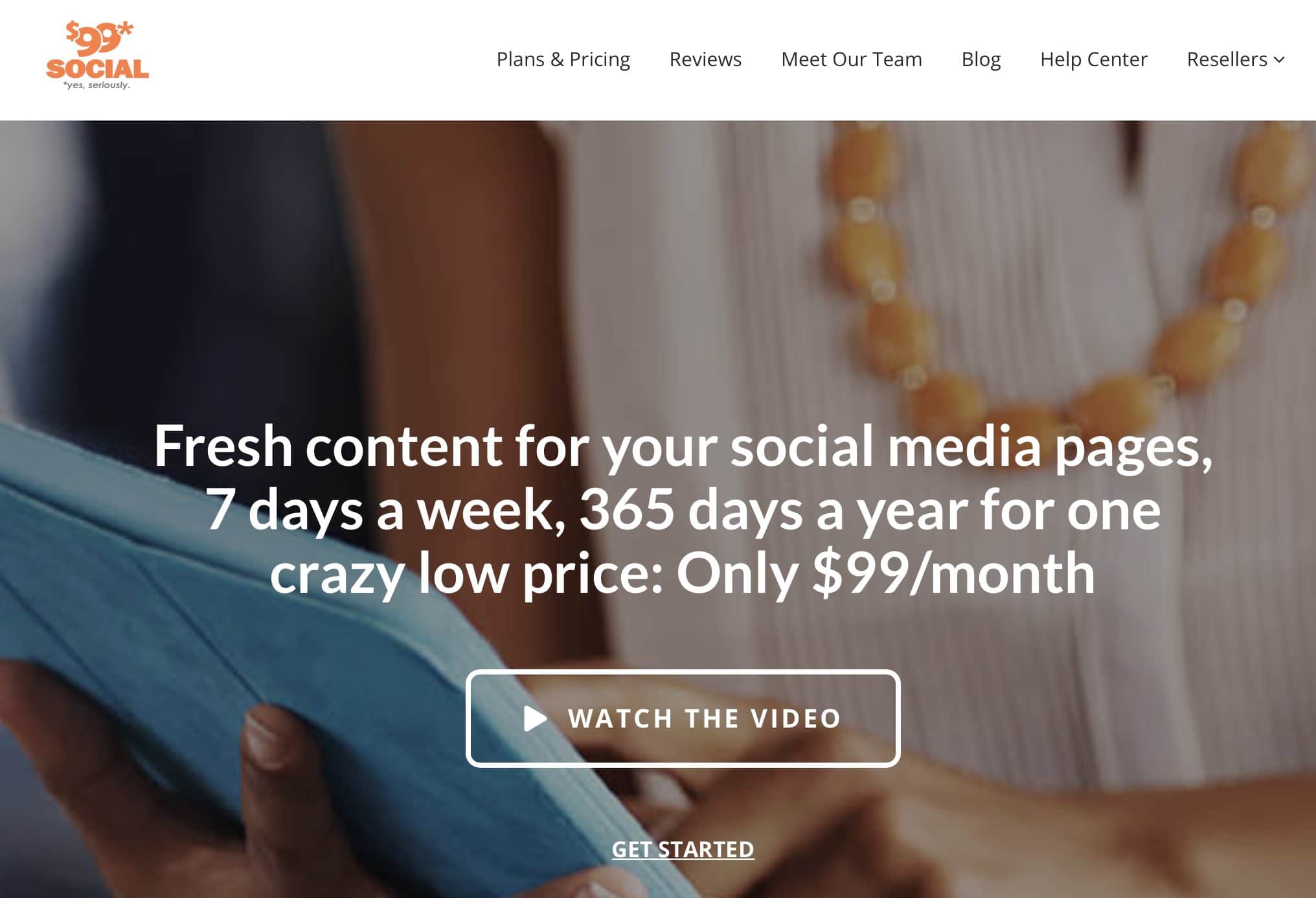 99 Dollar Social is a website with virtual assistant jobs for beginners in the social media marketing industry. 
As a VA at 99 Dollar Social, you work directly for the platform, not other clients. 
This platform looks for VAs with no experience – they train you on their own unique processes so you can get started working right away.
As a 99 Dollar Social VA, you will be trained on creating engaging social media posts for their client roster. 
Once you start working, you are paid a flat rate per account per month. 
As you take on more accounts, your income increases. This is a great place to learn about social media marketing and copywriting and make money while doing it. 
10. Fancy Hands

Fancy Hands is a website that has a team of U.S.-based virtual assistants for people who need to outsource and delegate single tasks, entire projects, or daily assistance. 
This platform hires people to work as virtual assistants for their client roster.
The only experience required to work for Fancy Hands is a computer, a fast internet connection, and the ability to use common websites and software. 
If you're good on the phone and have a knack for internet research, this is a great platform for you. 
Client requests include things like booking flights, appointments, disputing credit card charges, ordering things online, and much more.
These tasks are quick and simple and typically don't take more than 10 to 20 minutes to complete. 
11. Zirtual
Zirtual hires and trains U.S.-based "proactive, self-starter virtual assistants". They provide VA services to small corporate teams, entrepreneurs, and professionals. 
VAs working for Zirtual complete general admin tasks like scheduling appointments, booking travel, bookkeeping, etc. 
As a VA for Zirtual, or ZA as they call it, you don't work with clients directly: you work for Zirtual instead. 
This means that Zirtual pays you a 50% share of what their clients pay for your VA services.
If you're not having much luck finding VA work on other platforms, Zirtual is worth a try. 
12. Time Etc
Time Etc is another virtual assistant platform, and this one is based in the UK. 
Their clients are based in both the UK and U.S., and Time Etc has helped over 22,000 clients since 2007.
Tasks with this virtual assistant company includes general admin tasks, writing tasks, researching, data entry, customer service, and more. 
Like Fancy Hands, Zirtual, and Belay, VAs working for Time Etc don't work directly with clients.
Rather, you work for Time Etc and are paid directly by the platform instead. 
As such, you won't earn as much per task as if you had connected with the client yourself on a job marketplace. 
However, these kinds of platforms are great for beginners to get some experience under your belt. 
13. Delegated
Delegated (formerly known as Red Butler) is a platform created to offer virtual assistants for entrepreneurs and professionals. 
This platform hires U.S.-based virtual assistants to do a variety of administrative tasks, virtual reception, and more. 
No experience is required for this platform. However, Delegated requires their VAs to be based in the U.S. with a High School diploma (or GED equivalent) and some college.
A degree is not required, but it is preferred. 
Other than your education, you will need to have great written communication skills, the ability to use a computer and the internet, and the ability to multi-task.
This platform has high standards for their VAs, but it's still a great platform for beginners. 
14. Remote.co
Remote is an online job marketplace that connects remote job seekers, freelancers, and virtual assistants with jobs, gigs, and projects. 
Remote.co was created by the CEO and founder of FlexJobs; however, this platform is more geared towards remote work and freelancing.
Additionally, this platform does not charge to sign up, browse, or apply to jobs. 
To search for a virtual assistant position on Remote, use keywords like: 
VA
Virtual Assistant
Freelance
Contractor
…And other terms related to your skill set. 
You don't even have to sign up or create a profile on Remote – you can just browse and click "apply for job" on any jobs of interest to you. 
15. We Work Remotely
We Work Remotely claims to be the largest remote work community in the world – and it doesn't just have remote jobs. You can find plenty of freelance and virtual assistant work on the platform, too. 
This is a job board that connects those who are hiring with job seekers like employees, freelancers, and virtual assistants. 
Categories on We Work Remotely are focused heavily on software and web development, but there are beginner-friendly categories like marketing and customer support.
Job posters on this platform are serious: they have to pay $299 just to post a listing. So, no spam or scammy jobs here!
16. PeoplePerHour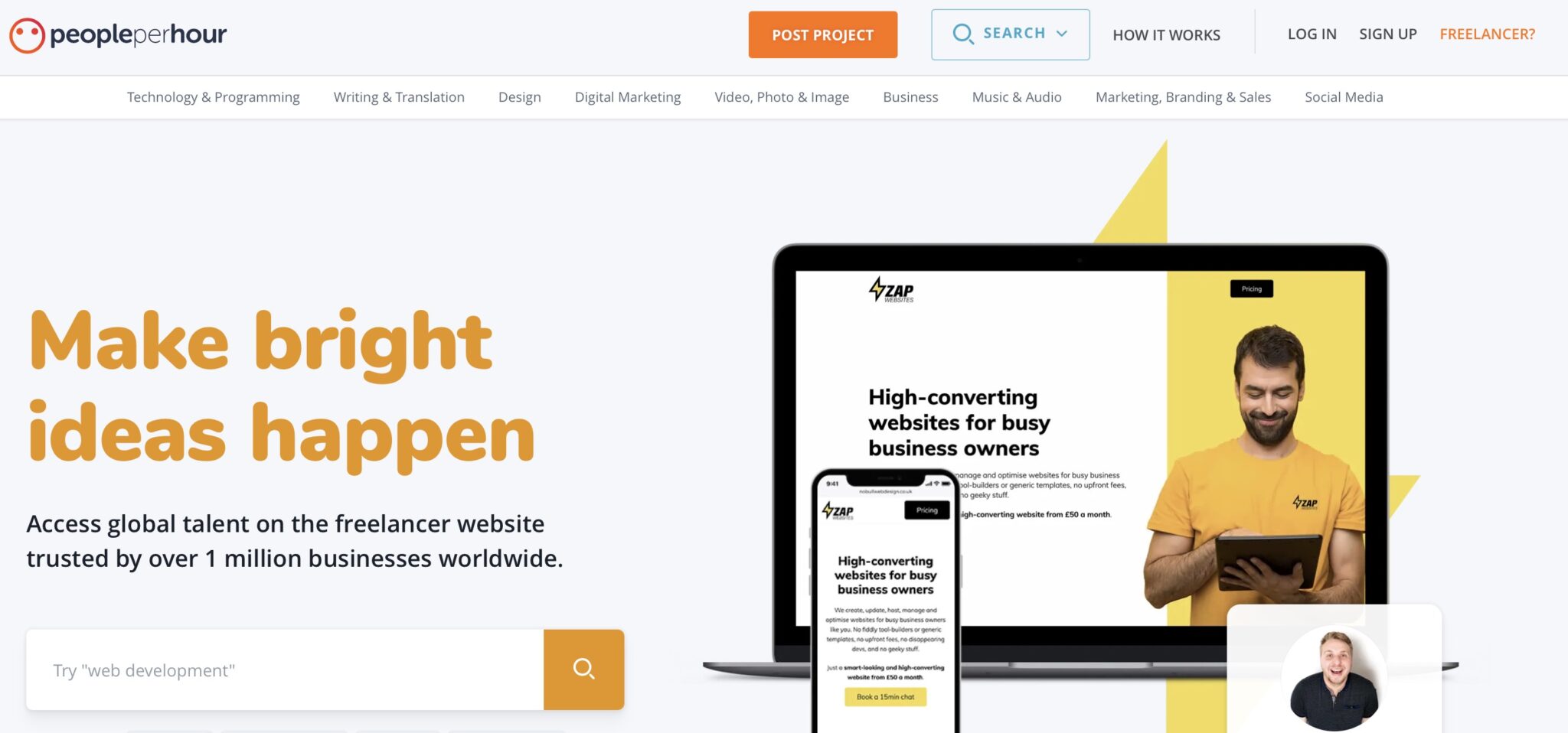 This is a UK-based online job platform for freelancers and virtual assistants. PeoplePerHour has virtual assistant and freelance jobs in just about every category imaginable. 
On this platform, you can create a profile and bid on projects or put together your own offers for those who are hiring to buy immediately. 
PeoplePerHour combines the gig-posting feature of Fiverr and the job-bidding process of Upwork and other freelancing platforms.
Use keywords related to your skills and preferred jobs to find the perfect jobs for you. Or, sign up and post your offers and wait for the jobs to come to you. 
17. Guru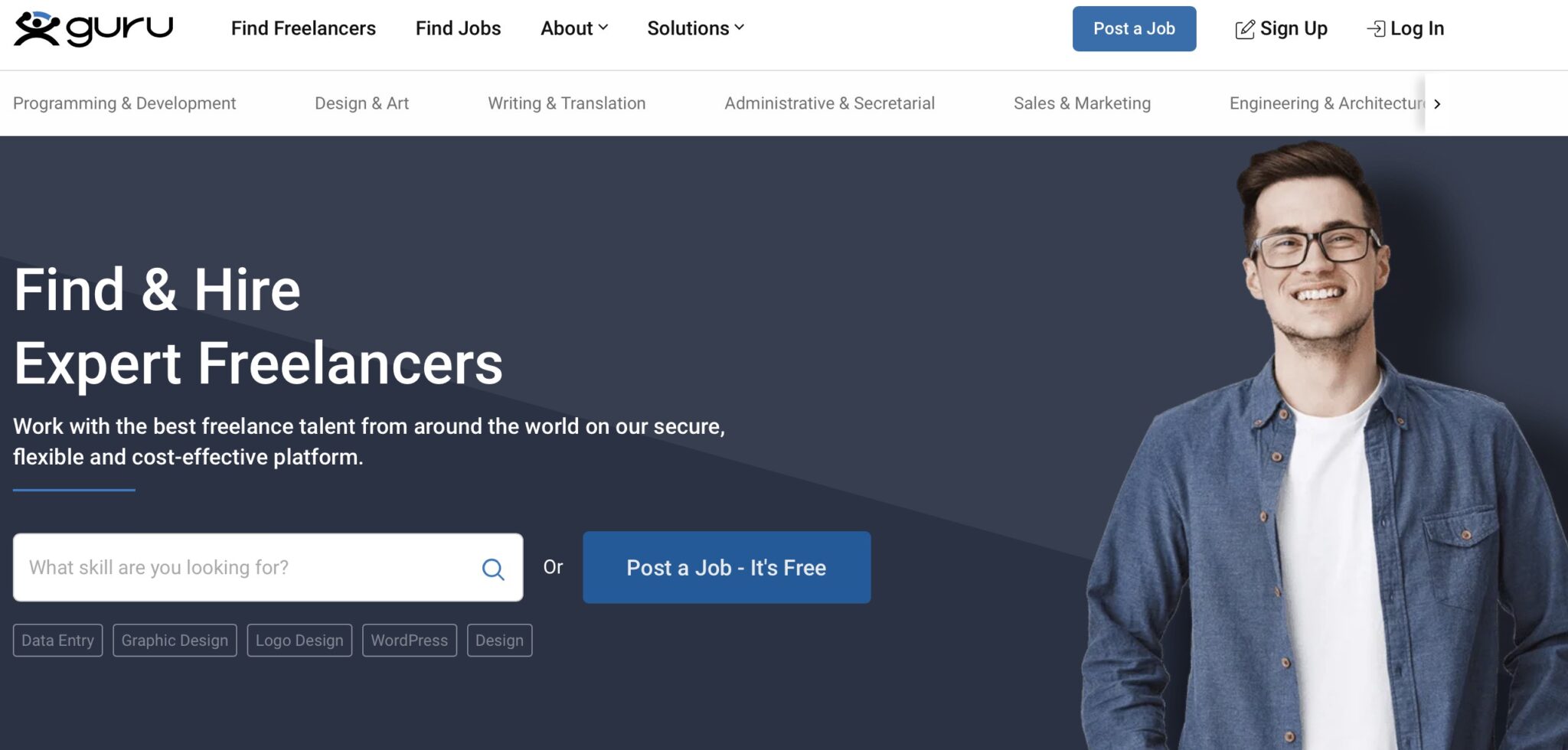 Guru is an online job marketplace for "expert freelancers" – but that doesn't mean it's not a good place to find VA jobs for beginners. 
This U.S.-based freelance marketplace has plenty of entry-level projects for freelancers and virtual assistants. 
However, since this platform is aimed at professionals, you do need to complete your profile to have the best chances of landing jobs. 
You can find beginner jobs in just about every category here, from social media, marketing, writing, transcription, general admin, customer service, and much more.
18. ProBlogger Jobs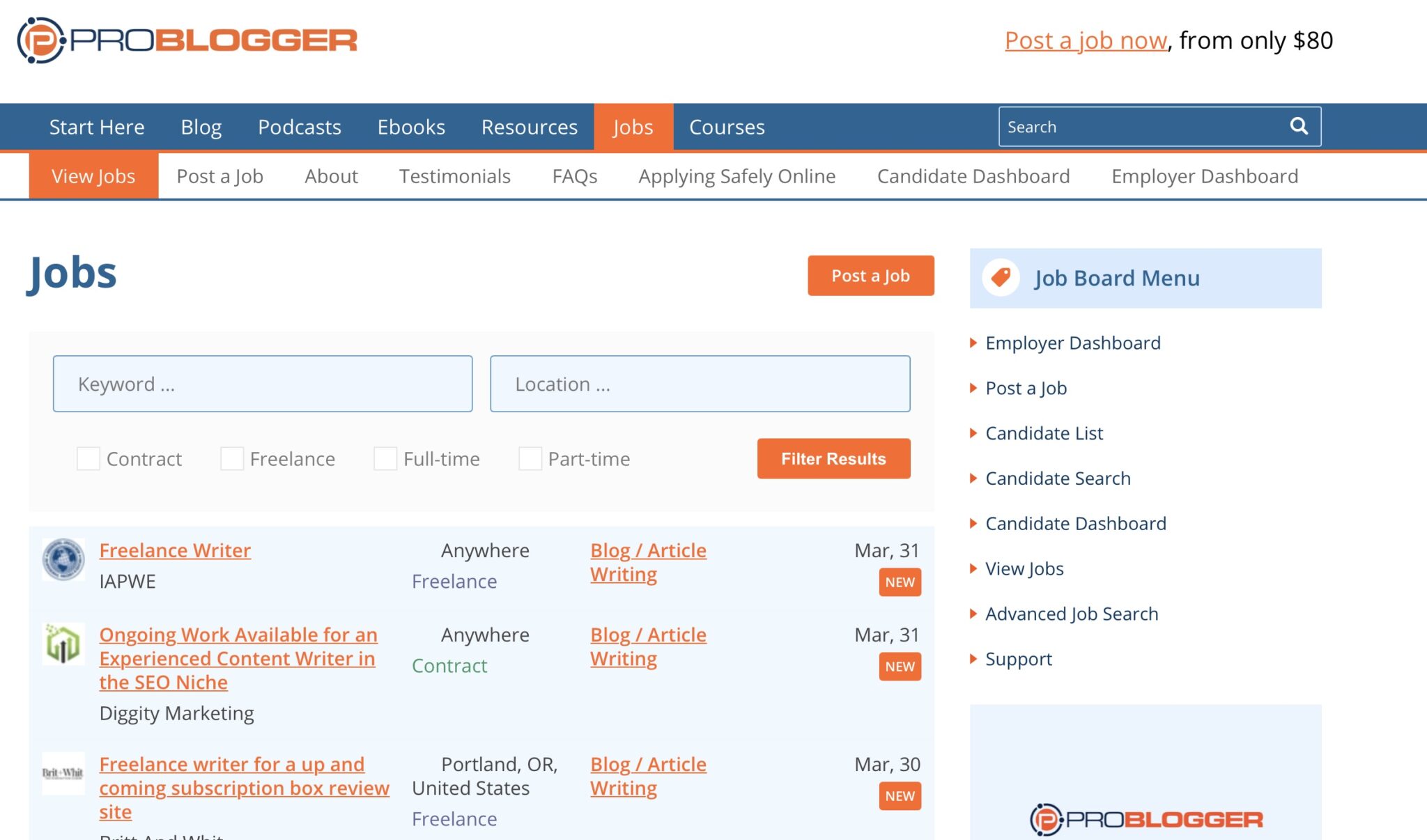 The ProBlogger Job Board is an online job board aimed directly at freelance writers. As a VA offering writing and content marketing services, you can find tons of quality writing gigs here for everyone from beginners to advanced professionals. 
Many professionals and big companies search for their freelance writers on the ProBlogger job board. This job board updates daily, so I recommend checking it every day to get the best job opportunities.
Writing gigs can be a doorway into offering additional content marketing VA services to clients. 
19. Freelance Writing Job Board
Freelance Writing is a website and job board for freelance writers and those looking to hire them. 
You can filter by keyword, skills, and more.
Also – this job board isn't just for freelance writers. It's for any virtual assistant who offers writing services, editing, proofreading, copywriting, journalism, and more. 
You'll find content marketing jobs in pretty much every niche you can think of, too. So if you're a VA in search of quality writing gigs, be sure to check this website daily.
Freelance Writing also has a newsletter where they send out the top jobs every morning called the Morning Coffee Newsletter.
What is a Virtual Assistant? 
A virtual assistant is a self-employed worker that helps businesses, companies, and entrepreneurs with a variety of virtual tasks. Virtual assistants, or VAs, perform vital tasks that businesses and companies need to outsource. 
A virtual assistant sets their own hours, their own prices, and decides who they do or don't work with. In addition, VAs can choose what services they want to offer and can expand their offerings as their skills improve.
Working as a virtual assistant is one of the best ways to start making money online for beginners. Virtual assistant work requires no certifications or degrees, and many tasks are beginner-friendly and require little experience. 
What Does a Virtual Assistant Do? 
What a virtual assistant does depends entirely upon their particular skill sets. Additionally, most virtual assistants change their service offerings as they learn new skills and expand. 
Some common tasks and services offered by virtual assistants include: 
Social media management. 
General administrative assistance. 
SEO virtual assistance. 
Content marketing assistance.
Freelance writing. 
Proofreading. 
Bookkeeping. 
Real estate virtual assistant. 
eCommerce assistance. 
Virtual customer support. 
And more. 
How Much Money Do Virtual Assistants Make?
How much virtual assistants make is entirely dependent on the services offered and the job at hand. Some virtual assistants work through virtual assistant agencies and only earn between $5 to $15 per hour, working just a couple of hours per week. 
Other VAs find jobs through freelance job platforms and online job marketplaces and are able to earn anywhere from $20 to $50 an hour. 
Virtual assistants who don't work through a VA agency have the freedom to set their own pay rates and choose their own hours of work. 
In general, a typical starting rate for an entry-level virtual assistant is around $20 per hour. 
What Are the Requirements for Virtual Assistants? 
There are no real requirements to become a virtual assistant other than having a computer and high-speed internet. 
You don't need certifications or degrees. All you really need is a skill and the ability to prove that skill in order to win potential clients. 
New virtual assistants can prove their skills in a variety of ways. Here are some ideas for proving your skills to potential clients: 
Offer your service for free on a very limited trial basis. 
Create your own blog or website and fill it with self-written articles that demonstrate your knowledge in the subject. 
Ask family and friends to do a small amount of free work for them in exchange for a review and testimonial.
Is Being a Virtual Assistant Worth It? 
If you're looking for a way to start making money online that doesn't require any skills to get started, being a virtual assistant is definitely worth it. 
Working for other people as a VA can help you on your path to making a consistent income online.
And, not only that, starting your own at-home virtual assistant business will help you learn valuable skills that you can use in other endeavors.
As you gain more experience, you may be interested in doing more to help out potential customers. To get more inspiration check out list of virtual event ideas!
If you enjoyed this article, check out our list of 33 real online jobs that anyone can do and make a good living!
Want to learn step-by-step how I built my Niche Site Empire up to a full-time income?
Yes! I Love to Learn
Learn How I Built My Niche Site Empire to a Full-time Income
How to Pick the Right Keywords at the START, and avoid the losers
How to Scale and Outsource 90% of the Work, Allowing Your Empire to GROW Without You
How to Build a Site That Gets REAL TRAFFIC FROM GOOGLE (every. single. day.)
Subscribe to the Niche Pursuits Newsletter delivered with value 3X per week