How to Start a Bookkeeping Business: Your Definitive Guide To Success
When you buy something through one of the links on our site, we may earn an affiliate commission.
If you want to know how to start a bookkeeping business, keep reading!
Bookkeeping is the daily process of putting all of a business's financial transactions into accounts. A bookkeeping business keeps track of its clients' income and expenses. They might also do payroll and file tax returns.
In this post, we'll talk about the different bookkeeping services you can offer. You can also learn how to make a plan, set up your business, and market it.
Let's get started!
Identify Which Bookkeeping Services to Offer
Knowing what you want to offer as a bookkeeper is vital. And it starts with identifying what kind of bookkeeper you want to become.
Here are some of the most common services you can offer:
Basic Bookkeeping
Simple bookkeeping involves entering bank transactions, categorizing payments, and matching bank statements. The bookkeeper is expected to give a basic set of financial statements at the end of each month.
Tax Preparation
Filling out and sending in tax forms for bookkeeping clients is part of tax preparation. A tax preparer can also look at personal information about a client, such as their Social Security number and statements of income and expenses. This will look at tax credits or deductions.
Payroll
With this bookkeeping service, you can keep your potential client's account up-to-date and accurate. This function is very important for paying salaries to employees, including figuring taxes and government compliance.
Corporation Setup
When prospective clients start a business, a bookkeeper can help them choose between an LLC, a corporation, or other business structures. We'll talk more about this in a later part of this article.
Bookkeeping firms can also help with accounting or opening a bank account for a business. They can also help analyze a business plan's finances and financial statements.
Accounts Receivable and Accounts Payable
You can help your client keep track of the money that comes in (accounts receivable) and goes out (accounts payable).
A bookkeeper would not only keep track of all the money owed to the business. They would also get in touch with clients whose payments were late and take care of collections as needed.
Bank Reconciliation
A bookkeeping business can do monthly bank reconciliations. It makes sure that the amount on the balance sheet of your client is the same as the amount in their bank account.
Flesh Out Your Business Plan
Your business plan must cover your company overview, strategy, and actions. It describes your goals, strategies, and revenue streams.
Your own business plan can also help you get investors before your bookkeeping firm is successful. It also helps get loans.
You can follow the business plan outlined above in writing your content. Read the details below for a brief description of each.
Executive Summary
The executive summary is a synopsis that appears at the start of your business plan. It is usually two pages long, and each section is summed up in two sentences.
This part of the business plan should discuss what your bookkeeping business does and its main goals. The summary should be interesting enough to make people want to read the whole thing.
Market Analysis
In this section, write about your research on the bookkeeping and accounting industry. Describe the results of any research you've done on your competitors and the market in general.
You may also address the following questions:
How likely are bookkeeping businesses in your area to do well?
What are the trends and levels of opportunity in your bookkeeping business right now?
How much of the target market do you think you can get?
Who are your rivals, and who do they sell to?
What are the strengths and weaknesses of your competitors?
How are you different from your competitors?
Marketing Strategy
A company's marketing strategy is its overall plan for getting in touch with and getting new clients. It includes the company's value proposition, brand messaging, customer demographics, etc.
Use the picture below as a step-by-step guide to writing a marketing plan for your bookkeeping business.
Mission - A company's mission statement explains what it wants to do and how it might help clients. A mission statement can be inspiring for customers and people who work for the company.
Situation analysis - It gives you a clear picture of the industry trends and your company's current and potential clients. This process also lets you determine your business's health through a SWOT (Strengths, Weaknesses, Opportunities, and Threats) analysis.
Marketing plan - After your analysis, prioritize and plan your target market and how to reach them. Your marketing plan should also include campaign details and expected results.
Marketing mix - Create the best marketing mix for your target audience and the product or service you sell. Begin by following E.J. McCarthy's 4Ps of Marketing Mix: product, price, promotion, and place.
Implementation and control - Make a list of ways to regularly check on and evaluate progress.
Management
In this part of your bookkeeping business plan, choose and describe the type of organization you want to have.
These four choices are a good place to start:
Functional - Most small businesses use this structure because it is built around key functions.
Divisional - Businesses use this method to set up their management teams based on the products, projects, or subsidiaries they run.
Matrix - In this type of structure, employees work for several different bosses, divisions, or departments.
Flat - Also called a "horizontal structure," this type of organization flattens the hierarchy and chain of command to give employees more freedom.
Operations Plan
In the operations section, you'll explain your business's goals, procedures, and schedule. It usually lasts for one year and is the basis for how an organization runs day-to-day.
When writing their operations plan, bookkeeping businesses need to answer the questions below: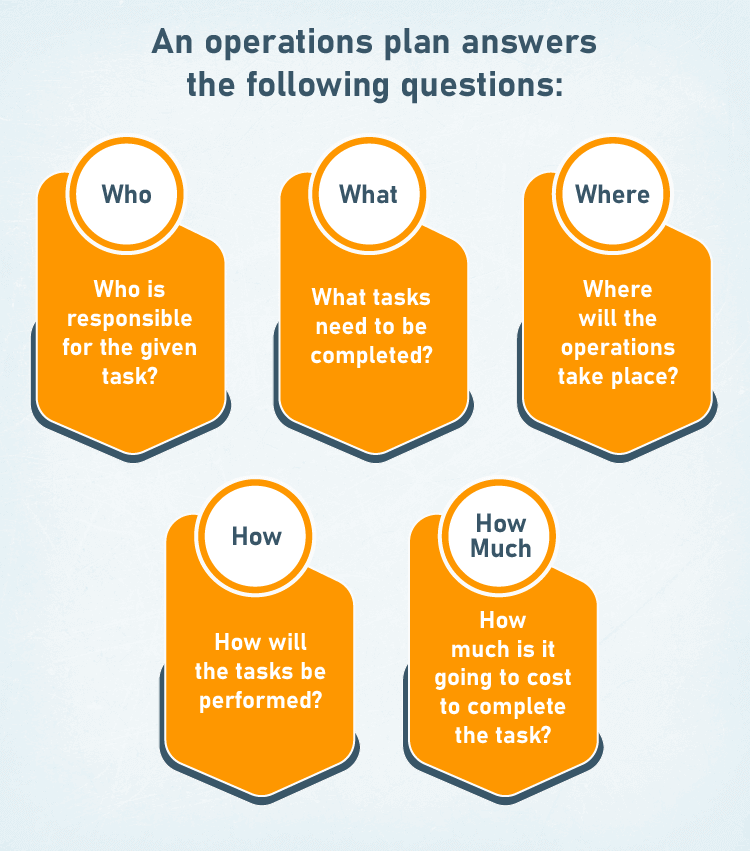 Budget
In this section, think about your estimated startup costs.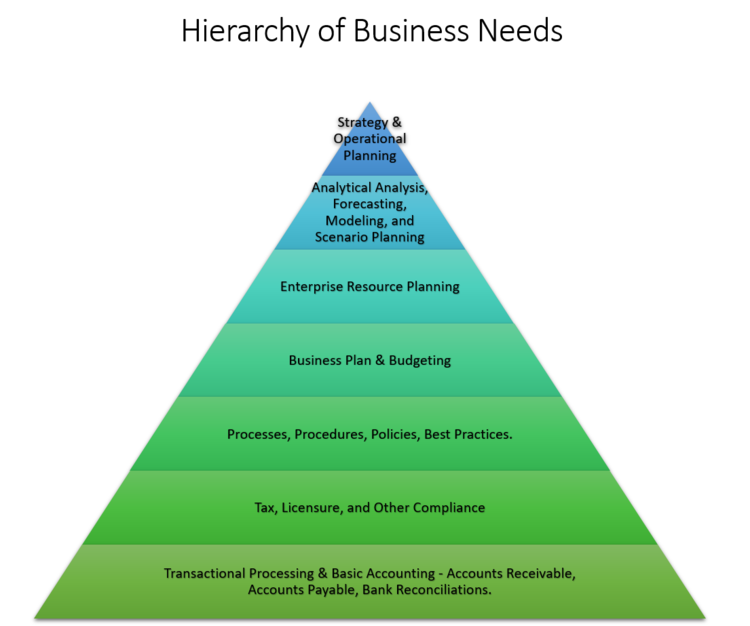 In the picture above, this is shown at the base of the pyramid. As a business grows and expands, its basic needs change.
At the very least, a business needs to bill for its services, get paid by its customers, record its invoices, and pay the recorded bills. So, you can put a bigger chunk of your startup costs toward these functions.
Create Your Pricing Structure
When setting prices, successful businesses take into account the most important factors. This includes fixed costs, variable costs, and irrelevant costs.
Fixed costs, like renting an office space, buying equipment, or using a project management tool (check out our ClickUp review), don't change no matter how many things are made.
Costs that change based on how much a company makes or sells are called "variable costs."
Irrelevant costs include "sunk costs," which are real costs or expenses the company has already paid.
Get Certified
Bookkeeping is an important part of any business or group. But not all bookkeeping professionals know how to determine what the numbers mean. Getting a certification can help in this case and help you perform at your best.
A certificate in bookkeeping shows how skilled a person is. Accredited academic or professional groups can help you get a certificate.
Bookkeeper Certification
The American Institute of Professional Bookkeepers (AIPB) and the National Association of Certified Public Bookkeepers are the best places to get certified as a professional bookkeeper (NACPB).
To get certified by the AIPB, you need 3,000 hours of work experience and to pass a certification exam. This is perfect if you don't have a degree in accounting or bookkeeping.
To become NACPB certified, you must finish courses in bookkeeping, payroll, QuickBooks Online, and accounting. From here, you must start passing tests. You must also have worked in the field for a year.
Accounting Software Certification
The best companies that make business accounting software also offer certification programs. This will show how well your team knows how to use bookkeeping apps.
QuickBooks is a well-known accounting and bookkeeping software for small businesses in the United States. There will probably be potential customers who use it. There are QuickBooks ProAdvisor certifications for both Quickbooks online and desktop versions.
The Desktop certification costs $449 annually, but the QuickBooks Online bookkeeping software certification is free. You can get a certificate by taking lessons at your own pace and passing tests.
Tax Certification
If you're not a certified public accountant but still want to do tax returns, you can sign up with the IRS as an Enrolled Agent (EA) to get a three-year license. EA status is the best thing the IRS can give you. They have to pass an exam and then learn something new every year.
EAs can work in any way they want, just like lawyers or certified public accountants. They have no limits on who they can represent as taxpayers, what kinds of tax issues they can handle, or in which IRS offices they can represent clients.
Set Up Your Business
When you register your new bookkeeping business, you show you are legitimate. It will also limit what you can be sued for.
Start by picking a name for your business that fits your brand and what you do. If you focus on a particular business niche, include this. You could also use the name of the city where you do business.
Determine Your Structure
The legal framework of a corporation, or its "business structure," determines how that company conducts its daily operations.
Here are your options for your bookkeeping business:
Sole Proprietorship
A sole proprietorship is the simplest way to run a business. One person is in charge of running things day-to-day. The business owner's tax returns also include income and expenses.
Partnership
The most common type of partnership between two or more people is a general partnership. Pass-through taxation applies to both sole proprietorships and general partnerships. They are only taxed once, based on how much each partner makes.
Corporation
A corporation gives a business its own legal identity that is separate from that of its owners. Because of this, the owners have to follow more rules and laws. The cost of starting up is also higher.
The most common types of corporations are S-corporations and C-corporations. An S-corporation is like a partnership in that it can have up to 100 shareholders.
On the other hand, a C-corporation is a separate legal entity from the people who own it.
Limited Liability Company
The benefits of both corporations and partnerships are combined in a limited liability company (LLC). It reduces taxes and business requirements while protecting small business owners from legal problems.
You can explore agents like Northwest to help you register your own bookkeeping business.
Secure Small Business Insurance
Liability insurance for your bookkeeping business can help if a client sues you because you made a mistake on their books. Insurance can cover the cost of settling a lawsuit and defending yourself against one. It serves as your liability protection.
Check out insurance providers like The Hartford. Use their programs for small businesses that let you pay for workers' compensation as you go. They work to even out differences in insurance rates and have a network of more than a million healthcare providers.
Submit Paperwork
Next, you'll need the following paperwork to set up your bookkeeping business:
Business name
Depending on the type and location, you may need to register its business name in one of the following ways:
Business entity name protects you at a state level
Trademark protects you at a federal level
Doing business as (DBA) does not provide legal protection, but it may be required by law.
Domain name protects your business website address.
EIN application
EIN stands for Employee Identification Number. An EIN provides several benefits. It is also required when starting a bookkeeping business.
Business bank account and credit card
A business bank account helps you keep your personal and business finances separate. Likewise, a business credit card helps you separate your personal and business expenses. It also helps a business build credit, which can help access more funding.
Additional licenses and permits
How to get a business license varies from state to state. Check the licensing requirements for your state for more information.
Build a Website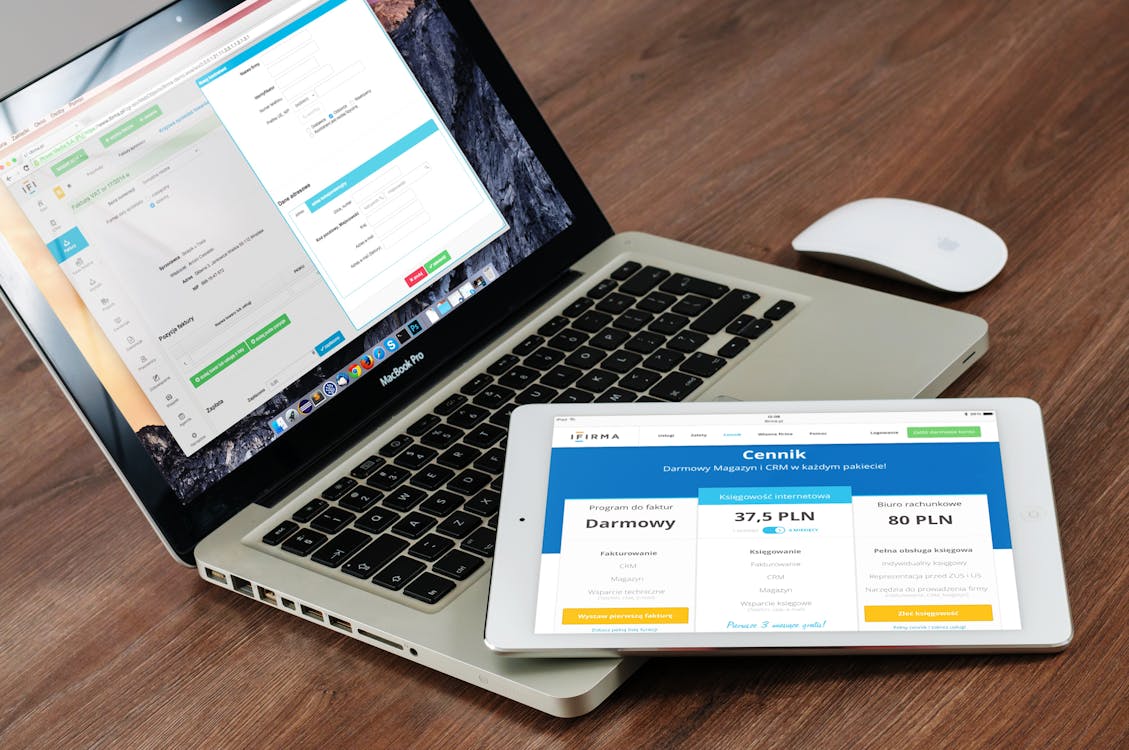 One reason to develop a website for your own bookkeeping business is to boost the company's credibility (and don't miss our full guide for how to create a website for your business). In addition, several local businesses in the market offer similar services to yours. Thus, a professional website can help you stand out from the crowd.
Continue reading to learn the different parts of a website.
Domain Name
A site's address is its domain name. Think of it as a place online where your brand can do business and live. Because of this, it is very important to pick the right domain.
When you register a domain name that fits your business idea, people who are looking for what you have to offer will find you. Check out our post on how to choose a good domain name.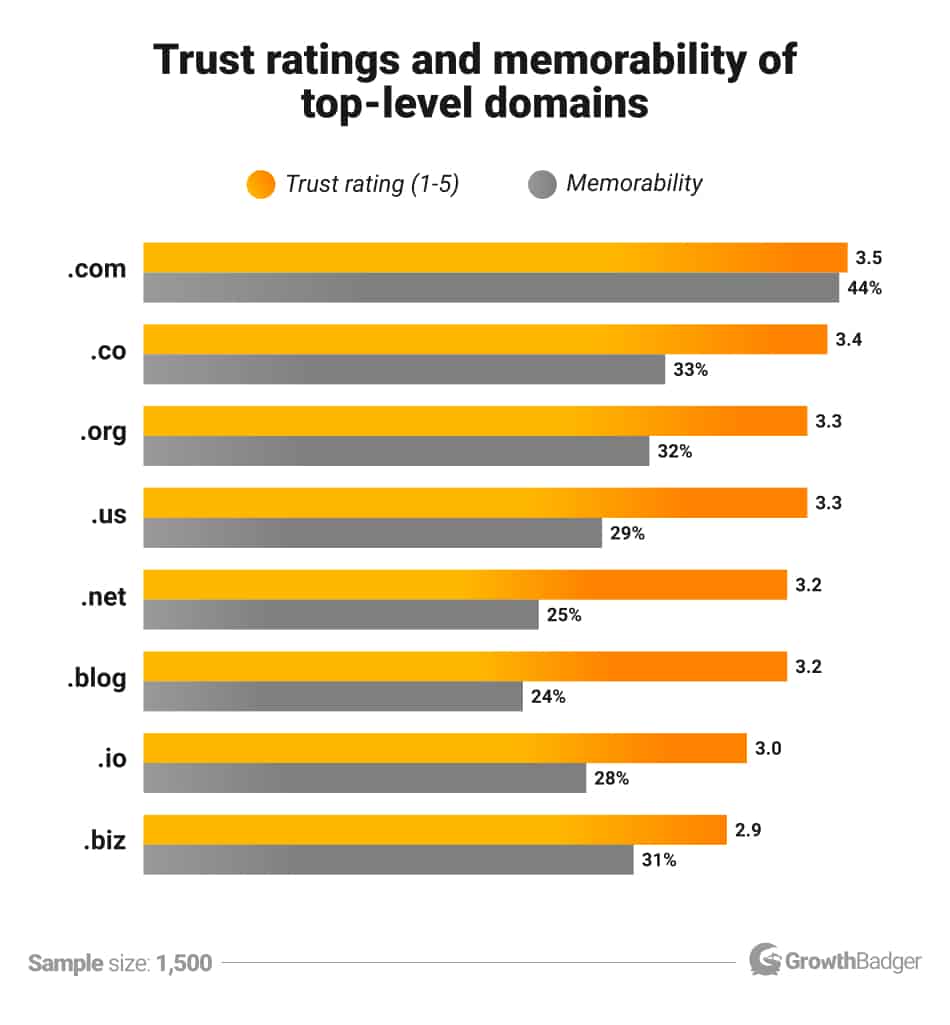 Based on the top-level domain (TLD), the image above shows how much internet users trust and remember a website. If you want to build trust, you should try to register a .com TLD.
You can choose from available domain names and purchase from Namecheap or other domain registrars.
Hosting
Hosting is keeping, serving, and updating files for one or more websites. It decides how much server space a website will be given.
Shared, dedicated (cloud), VPS, and reseller hosting are the main types. When a business first starts up, it may be asked to choose between shared hosting and dedicated hosting.
The most common and affordable type of hosting service is shared hosting. In shared hosting, many sites share the space and resources of a single physical server.
Many think that cloud hosting is better than shared hosting because it can handle more traffic, has better security, and is more reliable. But there is a price to pay for these extras.
Whether you choose shared hosting or cloud hosting for your bookkeeping business depends on how you want to grow it. For instance, how much money do you have? Do you think a lot of people will visit your website?
When you're ready, we recommend Iridium Hosting as a hosting provider option.
Design or Theme
A website theme will typically include the type and size of fonts on the webpage and your color schemes.
There are three ways you can approach the theme of your website:
Fully custom design
You have complete say over how your website looks. Because of this, custom-made websites are expensive. On the other hand, your site can be user-friendly, appealing, effective, and one-of-a-kind.
Semi-custom or hybrid website design
A custom hybrid theme is a website template already made and can be changed to fit your needs. For a small business owner, semi-custom designs are a good choice because they require less money and time than fully customized designs.
Fully stock theme
A fully stock theme means your website will be built using a pre-designed template. Small business owners like this choice because it is the least expensive.
If you're going for a semi-custom or hybrid website design for your bookkeeping business, check out Astra or GeneratePress for fast, lightweight themes for your WordPress sites. 
Market Your Business
Your prospective clients need to know why they should hire you for bookkeeping instead of someone else. Here is where marketing comes into play. Invest in it if you want to make your small bookkeeping business profitable.
Educate your current and potential bookkeeping clients about meeting their needs through email marketing, social media, and content marketing.
Email Marketing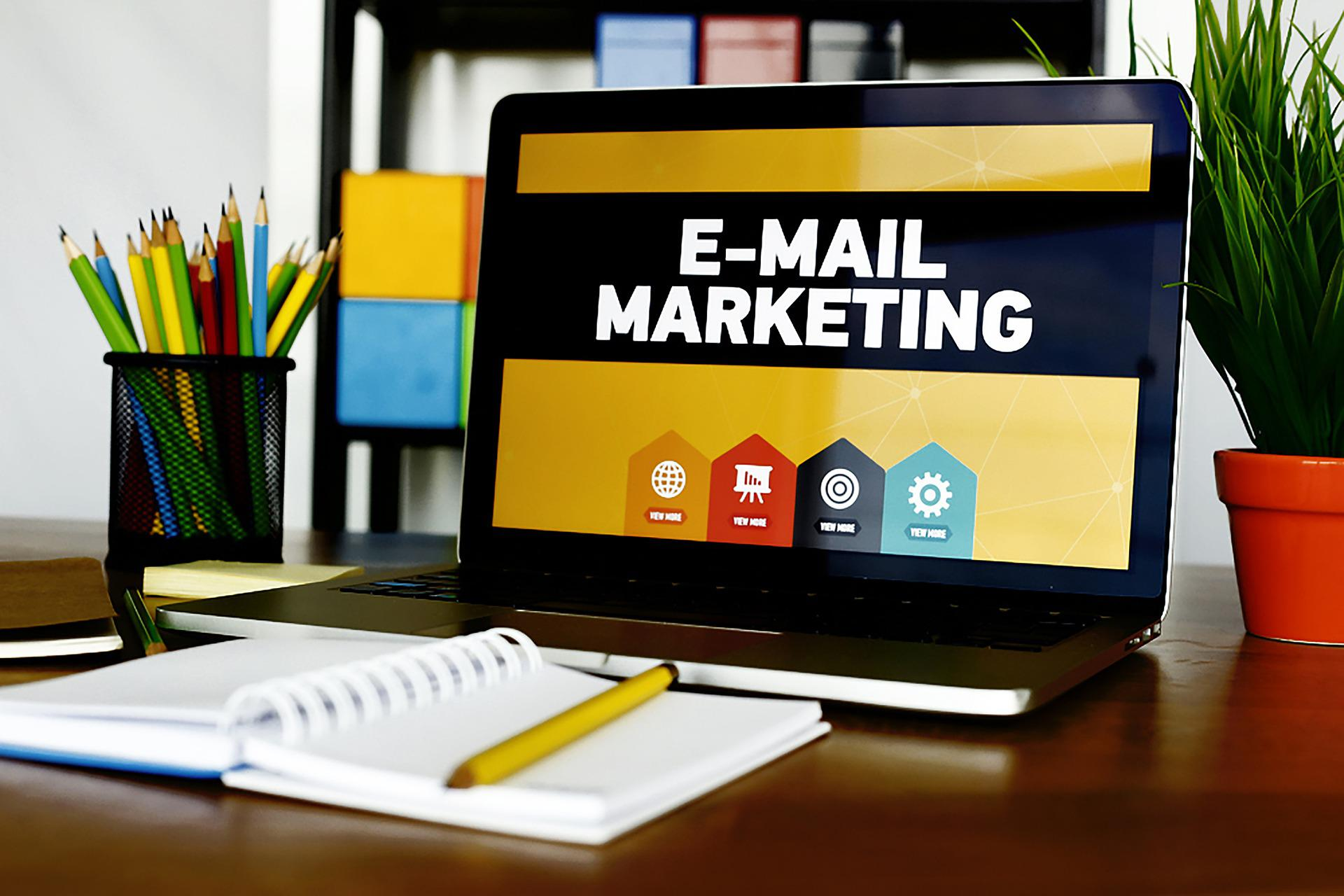 Let prospective clients on your email list know about new business, deals, and other services. Educate your audience on the benefits of your brand. This keeps their interest and can also be a subtle way of selling.
Your bookkeeping business can benefit by using email marketing software. Basic features to look for include the ability to build a list, segmenting subscribers, sending emails, and automating campaigns.
Two software products that can help you get started are ActiveCampaign and GetResponse.
GetResponse does more than send emails. It also has a drag-and-drop website builder, webinars, and paid ads. ActiveCampaign, on the other hand, brags about its CRM features, advanced reporting, and higher delivery rate.
Read this article for a detailed comparative review.
Social Media
Social media is a good way to get people to know about your new business. By sharing content on social platforms, you can also build trust and authority for your brand or business name.
Check out the image below to grow followers in your professional social media accounts.
Paid media - Content you pay to display in front of an audience as an advertisement or sponsorship.
Owned media - Content you create and control, such as a Facebook business page or a website.
Earned media - Content created by others about you, such as reviews or social media posts.
Focus on your owned media when you first start your bookkeeping business. This will help build the foundation of your brand and improve your search engine optimization.
Create and share content on social media that is geared toward your ideal business clients.
It is important to choose which social media to focus on. For example, Facebook is the most popular social media site. But this may not be the best place to market your accounting and bookkeeping services.
Check Facebook alternatives you can try out.
Content Marketing
Content marketing is consistently putting out content that your target audience will find useful. This method will help you connect with potential clients, get them interested, and turn them into new customers.
The three things that content marketing does for you are:
Demonstrates skill
Makes people aware of a brand
Make people remember your brand when they are ready to buy what you sell.
A content marketing workflow is a set of steps your team follows to create, develop, and manage content. It undergoes the following steps:
Plan & Assign -Choose the type of content you want to make and give it to a team member.
Create - Write, design, record, or make the content you want to publish.
Review & Approve - Comment on the results, suggest changes and approve.
Publish and promote -You can schedule when your posts will go live or reach out to influential people who can share your content.
Measure & Archive -Keep an eye on the results and make sure your content assets are well documented.
Conclusion
Congratulations!
You have learned how to start your bookkeeping business. We've discussed making a business plan, getting your business up and running, and marketing your services.
A profitable business requires more than a successful initial launch. Where do you want to go if you get your first client and reach your income goals?
Your next aim can be to hire employees, go after customers with bigger budgets, improve your physical office space, or offer more services. Again, you should keep both short-term and long-term goals in mind.
Want to learn step-by-step how I built my Niche Site Empire up to a full-time income?
Yes! I Love to Learn
Learn How I Built My Niche Site Empire to a Full-time Income
How to Pick the Right Keywords at the START, and avoid the losers
How to Scale and Outsource 90% of the Work, Allowing Your Empire to GROW Without You
How to Build a Site That Gets REAL TRAFFIC FROM GOOGLE (every. single. day.)
Subscribe to the Niche Pursuits Newsletter delivered with value 3X per week