Jungle Scout Review: Is It The Best Amazon Product Research Tool?
When you buy something through one of the links on our site, we may earn an affiliate commission.
Curious to sell products on Amazon but asking yourself "what am I going to sell?" Well then this Jungle Scout review is for you!
There are plenty of Amazon sellers, and for good reason. There's a lot of money to be made! These days you just need the right tool to find the right mix of high demand and low competition products.
That's where an app like Jungle Scout comes to the rescue with market intelligence that's made it one of the leading brands for successful businesses on Amazon.
And in this Jungle Scout review, we'll discuss exactly how we used this tool to build multiple six-figure Amazon FBA businesses.
Get 30% Off Jungle Scout Right Here!
Jungle Scout Overview
Ease of Use -

95

Stability -

95

Price -

95
Pros
Browser plugin is super convenient
Product tracker helps prevent poor decisions based on temporary sales spikes
Product database lets you slice and dice in just about every way possible
Cons
Product tracker maxes out at 60 day timespan
Jungle Scout Offers An Unprecedented Opportunity
You've probably heard that Amazon sales have only been increasing each year. They own about 50% of all ecommerce sales and do hundreds of billions of dollars in sales each year.
Let that sink in for a minute.
And you may have also heard that over 50% of the items sold on Amazon come from third party Amazon sellers.
Many of those sellers are ordinary people like me and you.
A New Age
It wasn't all that long ago that if you wanted to create a product and sell it to people, you'd be pitching buyers from places like Walmart, Bed Bath & Beyond, and other big box stores to give you some shelf space.
Now, almost anyone can sign up as Amazon sellers and get "shelf space" on the undisputed king of e-commerce business.
Truly, you have an unprecedented opportunity (especially if you make use of Jungle Scout).
Jungle Scout Review
Jungle Scout has received a lot of attention. Especially attention as a powerful market intelligence, product research tool, and for being a major FBA seller tool.
The type of tool that many a successful Amazon seller relies on.
So it's got lots of positive reviews. But is it worth it?
Yes it is.
Is this useful for average Amazon sellers?
Absolutely, and in this Jungle Scout review, you'll find out why.
What Is Jungle Scout?
Jungle Scout is an Amazon product research tool popular among successful Amazon sellers, that helps you make informed decisions about what to sell on Amazon.
It does this by taking important metrics from Amazon.
And spitting out information like best seller rank, number of reviews, and other factors, to give you estimated monthly sales numbers and rank the opportunity of any given niche Amazon sellers might be looking into.
Both the Jungle Scout web app and the browser extension are available to Jungle Scout users.
Both are super helpful and while the extension gives you a quick but detailed analysis of a page's results when you're searching Amazon.com, the web app provides even more details on any Amazon page, making Jungle Scout customers very happy!
Finding Profitable Products To Sell On Amazon
Before we dive more into the unique Jungle Scout tools, it's important to provide a little bit of background on how to find profitable products to sell on Amazon.
Not Overly Saturated
Amazon is a competitive place to sell (which is why tools like Jungle Scout exist in the first place).
So you don't want to make the mistake of just seeing high monthly sales numbers for a particular type of product and assuming you can easily get in on the action.
The number of competitors isn't always the best sign of a profitable niche.
If a product category is totally oversaturated with hundreds or thousands of competitors all across the spectrum of high end to low priced – you generally want to stay away from entering that category.
Jungle Scout can certainly help you avoid entering a category that's overly competitive. Which in turn makes Jungle Scout worth its weight in gold.
Consistent Demand
The most clever innovation in the world doesn't really amount to much if nobody is willing to buy it.
It's tempting to come up with what you feel like is a great idea, but then for whatever reason you find out that the kind of product you're creating doesn't sell well on Amazon.
There are a number of different reasons that might be the case.
But the most important thing is to know for sure that people are buying products like yours on Amazon.
If not, you may spend a lot of money creating a really high quality product that nobody wants to buy.
Jungle Scout's sales estimator will help you be informed about how well items are selling on Amazon (and it's our choice for the best Amazon sales estimator).
Unique Benefit
Ideally, your product should have some feature or benefit that's different and better than the competition. This is the easiest way to set yourself apart from your competitors.
You generally want to avoid being a "me too" product that is basically the same exact thing that everyone else is selling on Amazon with a different logo on it.
When you take this approach, you're often left to battle based on price.
Sustaining a long term profit is really tough in those conditions.
Jungle Scout focuses on the data points available from Amazon. While that's important information for any seller on Amazon it's not everything.
Determining things like "uniqueness" isn't something you're going to get from an analysis tool like Jungle Scout.
Jungle Scout Extension vs. The Jungle Scout Web App
Jungle Scout comes in 2 forms: A browser extension and a more full-featured Jungle Scout web app that you sign into and use from any web browser.
Frankly, we've made more use of Google Chrome extension over the years. Mostly because it gives you immediate access to the numbers you need when you're hunting for products to sell.
But the awesome thing is that all Jungle Scout users now get access to both (they used to be sold separately).
Let's quickly go over some of the differences between them.
Pricing
Access to both the Chrome extension and web app are available with all versions of the tool. Jungle Scout cost varies between the Basic, Suite, and Professional plans.
And each one can be purchased with monthly or yearly subscriptions (With yearly payments offering some significant discounts):
And don't forget to use the Jungle Scout coupon code provided on this page to save even more.
If you go through this special link, you can get 30% off any version of Jungle Scout!
Most people will be just fine with the lowest tier. Or perhaps the middle tier which comes with the Niche Hunter functionality.
If you're still in the brainstorming phase of your product idea and are wide open on which category to enter – the Niche Hunter can certainly help you discover some opportunities you might not find otherwise.
While we're on the topic, let's dive into the functionality of the web app starting with the Niche Hunter.
Opportunity Finder (Formerly Niche Hunter)
The Opportunity Finder in Jungle Scout lets you set parameters like the categories you're considering, the average number of monthly sales, the average prices, and a number of other things to help you find the biggest opportunities on Amazon.
Here's a look at the search results when I left everything unchecked and all of the settings at their default levels:
As you can see, not everything is a helpful result.
For example, "gildan 18500 pullover hoodie" is a branded term because "Gildan" is a clothing brand. So obviously, you can't create a Gildan shirt anymore than you can create a pair of Nike shoes.
That means a little bit of brain power is needed to decipher the results you get in Niche Hunter, as you only want to spend time on niche keywords that don't contain a brand name.
So for example, "cassette tape storage cases" is something you could work with.  And you thought cassette tapes were dead…
Here's a quick look at what all the columns mean in Jungle Scout's Niche Hunter:
Average Price
As the name suggests, this gives you the average price of the current top 10 listings when you search that keyword on Amazon.
This probably won't be enough information to make or break your idea.
But if the average price in the top 10 is $12 and you were planning to retail at $50 – it could be a sign that the market trends aren't willing to pay the added expense.
Average Units Sold
Again, looking at the average of the top 10 products, you'll find out how many units they've sold in the last 30 days. Note that Jungle Scout claims to exclude outliers, but I couldn't find exactly what qualifies as an outlier.
Typically this would be if one product has sold zero units or maybe the top product has sold 10,000 and everything else has sold 500 – the 10,000 would be considered an outlier.
But I wasn't able to find any information on how Jungle Scout calculates this.
So take the metric with a grain of salt.
Long story short, you want to see a higher number here. Ideally in the thousands to find a profitable niche.
The color-coded line beneath should ideally be green – showing that this is a healthy number.
Competition
On a scale of 1 – 10, a "1" is the least competitive – which is what you want. Jungle Scout bases this off of the number of reviews of the top 10 of Amazon.
So if most products on page 1 have only a few reviews, in theory your opportunity to get a few reviews and rank very quickly are much better than if page 1 has many listings with hundreds or thousands of reviews.
Sales volume is a great metric but if there's too much competition to break in then you're out of luck.
Listing Quality Score (LQS)
This score is something Jungle Scout calculates that tells you how well the current top 10 listings are optimized.
They look at important Amazon listing optimization factors like:
Things like the number of images
The keyword being used in the title
Length of description
The relevance of the description
The formatting and use of bullet points
You know, all the things that go into a well-optimized Amazon product page.
According to Jungle Scout's recommendation, a LQS of 3 or lower indicates very poor listing quality. Once you get to 7 or above, you're looking at very high quality listings.
This doesn't mean you can't compete in that category. It just means you need to evaluate further and make sure you can find a way to stand out.
Opportunity Score
As you might imagine, the Jungle Scout Opportunity Score is a summary of all the items above.
A 10 means that it's a great opportunity, and a 1 means that you should probably look for a new idea.
In general, the formula is looking for products that have high demand, but the current top listings have poor listing quality and few reviews.
Those are often great opportunities for new sellers to come in and capitalize by simply doing a better job of the basics.
A low opp score means just the opposite. Not only is the demand isn't that great, and the competitors are already doing a good job.
Keyword Scout
The next module in the Jungle Scout web app is the cleverly named "Keyword Scout" tab.
It's kind of like a Long Tail Pro for Amazon keywords.
You start by inputting a seed keyword ( I'm sticking to cheese graters for my example) and it'll pull back related keywords to review:
Many fields here are self-explanatory, like "exact match search volume" which is how many times a person searches that phrase in a 30 day period.
The broad match, on the other hand, includes slight variations like plurals and misspellings.
Then, you'll find 3 columns dedicated to showing you what your pay-per-click (ppc) costs might be to run sponsored ads for those terms on Amazon.
You can also create your own lists of words.
So if you're evaluating multiple product ideas, you can use Keyword Scout to easily sort and see related keywords rather than working with one big list.
Know your Target Audience with Keyword Scout
With Keyword Scout it's never been easier to do product research on keywords your shoppers are really looking for on Amazon.
With a click of a button, the program will reverse search multiple ASINs to give you a list of the top converting keywords used by your competitors.
Not only will you be able to see the most searched keywords, but also get access to the historical data of each to help tweak your strategy and save money on the costs of your PPC campaigns!
This is a welcome addition to Jungle Scout features, and Keyword Scout adds great value to its overall offer as the only tool you'll need to grow your Amazon FBA business (check out our comparison of AMZScout vs Jungle Scout for more info).
And now, let's look at a few of the other columns and what you'll use them for.
Recommended Giveaway
As you may know, launching a product on Amazon can be difficult. On one hand, you usually need some reviews to get meaningful sales.
On the other hand, it's hard to get sales without reviews.
It's the classic "chicken and the egg" situation…
One popular way to launch a product is to nearly "giveaway" your product by selling it at a steep discount. You can also use a service like Jump Send or Viral Launch to distribute coupons more systematically to deal-seeking customers.
You can follow different strategies to run an effective giveaway, like the CPR method made popular by Helium 10.
Essentially, you use a special URL with your giveaway to help give your product ranking a boost on Amazon.
In terms of using Jungle Scout, the number you see in the "Recommended Giveaway" is the estimated number of units you'd need to give away every day over a 1 – 2 week period to make your way to the top 3 spots in Amazon for that search term.
So in the example above, if I wanted to be one of the first 3 listings that shows up for "cheese grater" you'd need to make sure you sell 36 units per day for at least 7 days.
As you can see – that cost can add up quickly!
However, knowing this number is good because it helps you do the math and decide just how viable your product idea is.
Can you afford to lose quite a bit early on before making a profit?
Ease To Rank
Another Jungle Scout algorithm that's similar to the "opportunity score" we looked at earlier.
In this case, the closer the number is to 100, the easier the software thinks it'll be to rank for that term.
In our search, one-word terms like "grater" have a score of 100 – meaning it would be very difficult to rank at the top of Amazon.
While more long tail phrases such as "electric cheese grater" are scored with a 10, it should be fairly easy to rank on page 1.
Relevancy Score
This is all about how relevant a given term is to your original search. If you're well versed in a product niche or the product you're launching, you might not find this column useful.
However, if you're still learning about a product you may find some terms/synonyms/slang that people search for that you're unfamiliar with.
This could mean more keywords to make sure you target in your listing – so do a quick sort based on relevance and see what else shows up near the top.
Product Tracker
The Product Tracker does just what it says – it allows you to track a product's performance over time. (A free alternative where you can also view some helpful historic data is CamelCamelCamel.)
One helpful thing you can do in the Jungle Scout app is to create groups and see the average of like products.
For example, I added several different cheese graters to a single exclusive group to see how they perform as a whole as well as how they do individually.
Notice that at the top I'm looking at numbers over the last 7 days, but I could change that to go up to 60 days.
Which gives you a much wider look at how these products are performing over time.
The reason this matters is because seasonality is a factor with almost every product. In the holiday season, most products are going to have inflated numbers.
Other times, something like a pool raft might look like it has great metrics in June, but look much worse in October.
Even the best Amazon seller product listings probably aren't moving a lot of downhill skis in July, either.
So looking at a 60 day timeframe is going to give you a more accurate picture than a single day in time.
Jungle Scout Product Database
The product database gives you access to filter and search virtually the entire database of Amazon products.
We're talking about hundreds of thousands of product listings. That's a lot of data to parse through.
What Jungle Scout allows you to do with those product listings is rather powerful.
You can run a search using a filtering criteria that narrows down the list in virtually any way you'd like:
Looking for products in Sports & Outdoors that have reviews between 3 and 4 stars and sell at least 500 units per month?
No problem.
You're just a couple of clicks away from getting that list.
Want to discover winning products within a certain category? Try selecting your category and setting the maximum listing quality score to 4.
We ran this below in the beauty category, then sorted the results by sales to see which low quality listings are selling the most products.
Could developing a brand of pimple patches be something worth considering?
Click here to read more about finding profitable products to sell
Supplier Database
Supplier database is a relatively new feature to Jungle Scout.
It's a killer feature for anyone interested in Amazon FBA and relatively risk averse because it does the job of connecting you with only the highest-quality global suppliers available to turn your product ideas into reality.
Think of it like BBB (Better Business Bureau) for manufacturers.
And not only has it done the vetting to verify suppliers, it also helps you find the factories that specialize in your product type or niche (likely reducing your costs in the long-run)… and still a lot more.
Chrome Extension Overview
Think of the Jungle Scout browser extension as a lite version of Jungle Scout that you can take on the go.
In my time using Jungle Scout, I've found that I use the browser plug-in more than the web app.
Why?
Because it's convenient and it works when you're browsing Amazon.
For example, I can search "cheese grater" and click a button to see how well the best sellers are doing: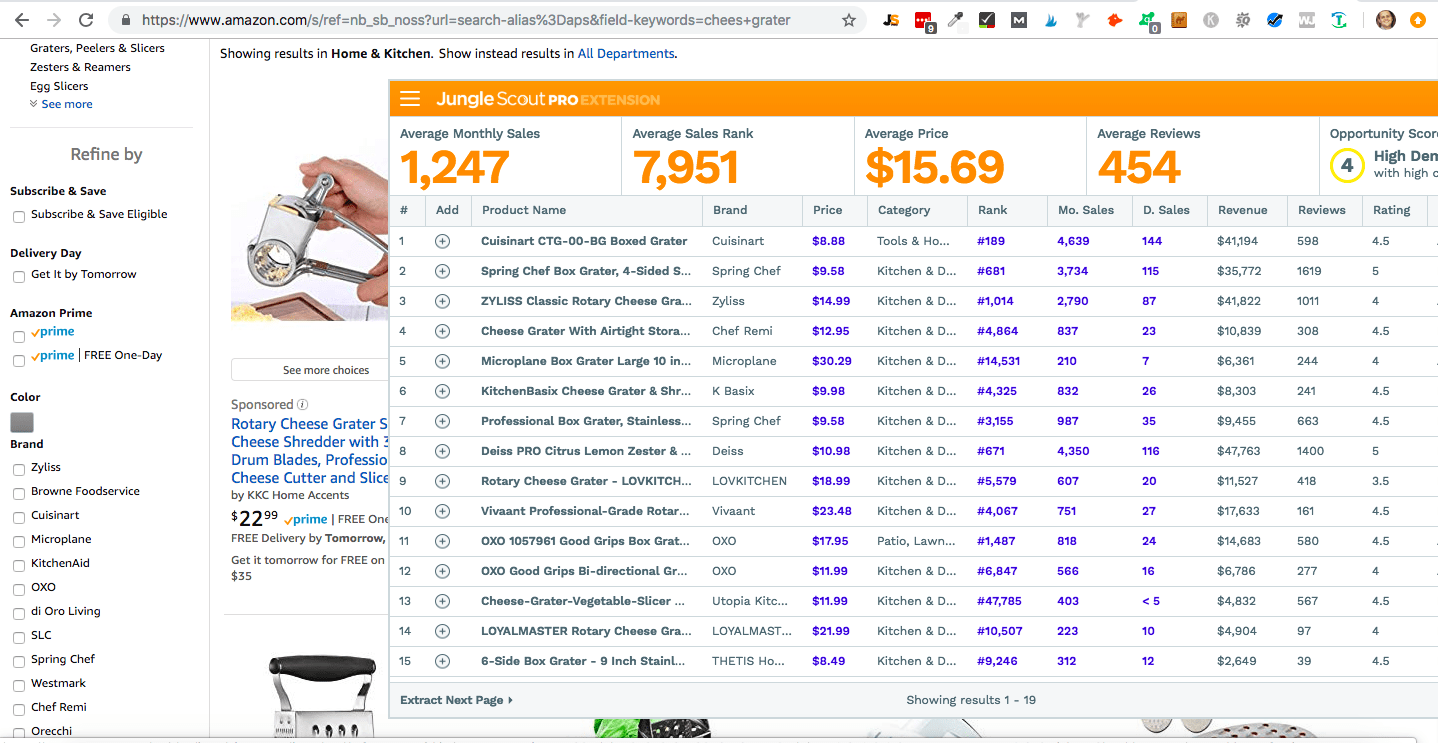 Note that you can click the "+" sign and quickly add products to your product tracker for the web app.
This is helpful because as we mentioned earlier. I took this screenshot during the holiday shopping season. So the graters may be selling on Amazon a whole lot better than they do in a typical month.
Because of that it'd be helpful to look back in 30 – 60 days and find out the average numbers.
Another thing I like about the browser extension is how it gives you a quick, easy to read summary at the top showing the average price, number of monthly sales, and even an opportunity score based on the combination of demand and competition.
While you'd want to do a little more digging before investing in a product, the Jungle Scout extension can certainly get you off on the right foot in terms of which avenues to explore.
In our case, we've launched at least a couple of dozen Amazon products. Many of them have no connection to the others, and are in a variety of categories.
Using Jungle Scout to Grow a Successful Amazon Business Via FBA
When in the brainstorming phase, we spend a lot of time browsing Amazon and clicking on things like this:
Maybe cheese graters are too competitive. But maybe peelers and zesters are better opportunities?
This is the type of information Jungle Scout helps to provide Amazon sellers. And finding your next in-demand product is helpful not only during the initial product research phase but throughout your Amazon FBA journey. And you won't find a successful product until you do the deep dive through product data.
While you're clicking around Amazon and exploring products, just click on Jungle Scout to get a quick look at sales and reviews. Then jot down any ideas that seem to have high opportunity.
Then, you can dig in later on and find out how expensive those items are to manufacture. As well as all the other factors that go into bringing an idea to life.
The Amazon marketplace is full of possibilities. But to get the most out of being an FBA seller you need a powerful market intelligence and product research tool that helps you figure out where the best opportunities for your Amazon business are.
Hopefully this article has given you all the information you need. So you can decide if Jungle Scout is the right tool for you.
And how any Jungle Scout alternative compares.
Jungle Scout FAQ
Here are some common questions and answers concerning Jungle Scout that may help you make the final decision!
You can cancel your Jungle Scout subscription at any time. With a monthly subscription, this process is super simple and straightforward. Just go into Settings, go to Subscriptions, and click Cancel Plan.
If you have their annual plan, you can simply contact their Jungle Scout team at [email protected].
Determining which Jungle Scout plan is best depends on your specific needs. If you're serious about growing an Amazon FBA business than the basic plan likely won't be enough to help you grow.
This is why the Suite Plan is the preferred and most popular option for sellers. You get more advanced seller features and gain access to more in-depth keyword and historical product data. And it's very reasonably priced considering you could use it to grow a very successful Amazon FBA business.
How does Jungle Scout compare to Helium 10?
Jungle Scout is much cheaper, offers more accurate data, and provides tons of free resources to help any Amazon seller grow (and that's why it's our top pick in a list of the best tools for Amazon sellers). It's fair to say that Jungle Scout is the best option for most Amazon FBA sellers.
Another way to think of it is that Helium 10 is more advanced and, thus more intimidating for users. At the same time, another tool like AMZScout is a bit better suited for beginners, and Jungle Scout lies in the middle offering a happy medium that can be useful for all.
But the Jungle Scout vs. Helium 10 discussion is an entirely different article.
Jungle Scout Review Wrap Up
Overall, Jungle Scout is a great tool that offers something for basically all Amazon FBA sellers needs. That's why it's generally considered one of the leading brands and the gold standard that other Amazon product research tools are compared to.
Making money online through Amazon FBA is a terrific online business model but you'll need the right online tool to help you stay on track and grow your successful businesses.
If you're looking for an alternative, I'd point you toward Helium 10, which we've also used and found to be very useful.
That said, Jungle Scout features make it a very helpful and capable tool for evaluating the competition and their product tracker is super useful for seeing how products perform over time.
A mistake many sellers make is looking at a snapshot of sales during a peak season. Then sinking a lot of money into a product that isn't going to sell well for the majority of the year.
If you stay patient and use a tool like Jungle Scout – you can save yourself a lot of headaches and money.
Anyways, thanks for reading, hope you've found this Jungle Scout review helpful!
Get 30% Off Jungle Scout Right Here!
Get my step-by-step blueprint for how I've built a successful Amazon FBA business
Yes! I Love to Learn
Learn How to Research, Manufacture, and Launch Products on Amazon FBA
How to Pick the Right Products at the START, and avoid the losers
How to Scale and Outsource 90% of the Work, Allowing Your Empire to GROW Without You
Avoid having your Amazon Account BANNED (and how to keep up with industry changes)
Subscribe to the Niche Pursuits Newsletter delivered with value 3X per week