Where Is The Best Place To Get a Logo Designed For Online Businesses?
When you buy something through one of the links on our site, we may earn an affiliate commission.
Looking for the best place to get a logo designed for your new business? Deciding on your logo and branding is one of the most exciting parts of starting a business. The perfect logo can go a long way in identifying your brand and connecting with your target audience.
If you've been wondering where the best place to get a logo designed is, that's what we're going to cover here. I'm going to be talking you through some of the best places to get a custom logo designed for your business.
Whether you are on a shoestring budget, or you are looking for a premium logo at a premium price, one of these logo design services is sure to be the perfect fit!
In a hurry?
If so our top pick for a shoestring budget is Canva, while those looking for help from legitimate pros can't go wrong with 99designs.
Check Out What 99designs Can Do For You
---
Where To Get A Logo Made
There are multiple places you can go to get a good logo designed for your business, but these six places stand out from the rest.
Whether you have a lot of money to spend, or you're looking for the best budget option, one of these unique logo design sites will fit the bill.
99 Designs
There's a good reason 99designs has made the top of the list. It is known as one of the best places if you're looking for a totally custom logo.
A bold statement, I know, but hear me out.
The reason 99designs is so good is because of the way it works. You can run a design contest for your logo, which means you get to see design pitches from between 30 and 60 different logo designers, depending on which package you choose.
This means you get to see a huge variety of different styles and concepts before making a decision. You simply wouldn't have access to this many ideas from just one graphic designer!
Here's how it works:
Create a simple design brief to give the designers a good understanding of what you're looking for
Start a contest for your design. Designers can submit their ideas and you can pick your favorite logo idea
Finalize your design: Work with the designer of your choice to tweak and polish your logo until it's perfect
Download the winning logo design and start using it for your business
Alternatively, you can also choose to work directly with a professional logo designer.
You can browse the portfolios of hundreds of designers on the platform, and if you see someone whose work you love, you can contact them directly to create your company logo for you.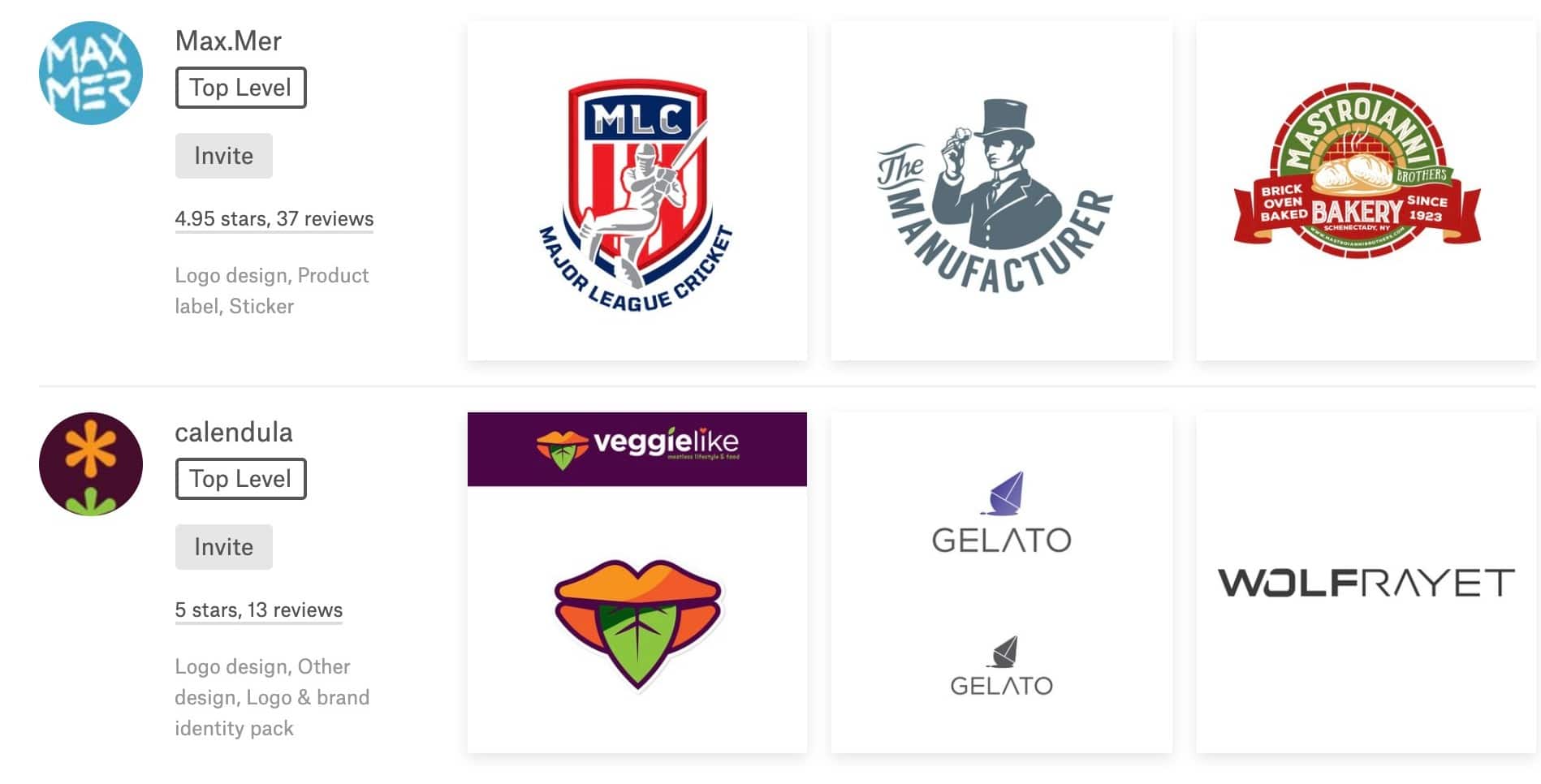 The website is easy to use and takes all of the stress out of the logo design process. You're guaranteed to walk away with a high resolution logo design you love.
As well as offering logo design services, 99designs works on a range of graphic elements for both large and small business owners.
Their additional services include:
website design
app design
art and illustration
packaging and label design
book covers
magazine design
99Designs is basically a one-stop shop for all things design!
99Designs Pricing
There are four different pricing options for logo design contests:
Bronze design package - $299 - 30 design concepts
Silver design package - $499 - 60 design concepts
Gold design package - $899 - 90 design concepts from mid and top-level designers only
Platinum design package - $1,299 - 60 design concepts from top-level designers only
All packages include a 100% money-back guarantee, and full copyright ownership of the design, making 99Designs the best place to get a logo designed if you can afford it.
---
DesignCrowd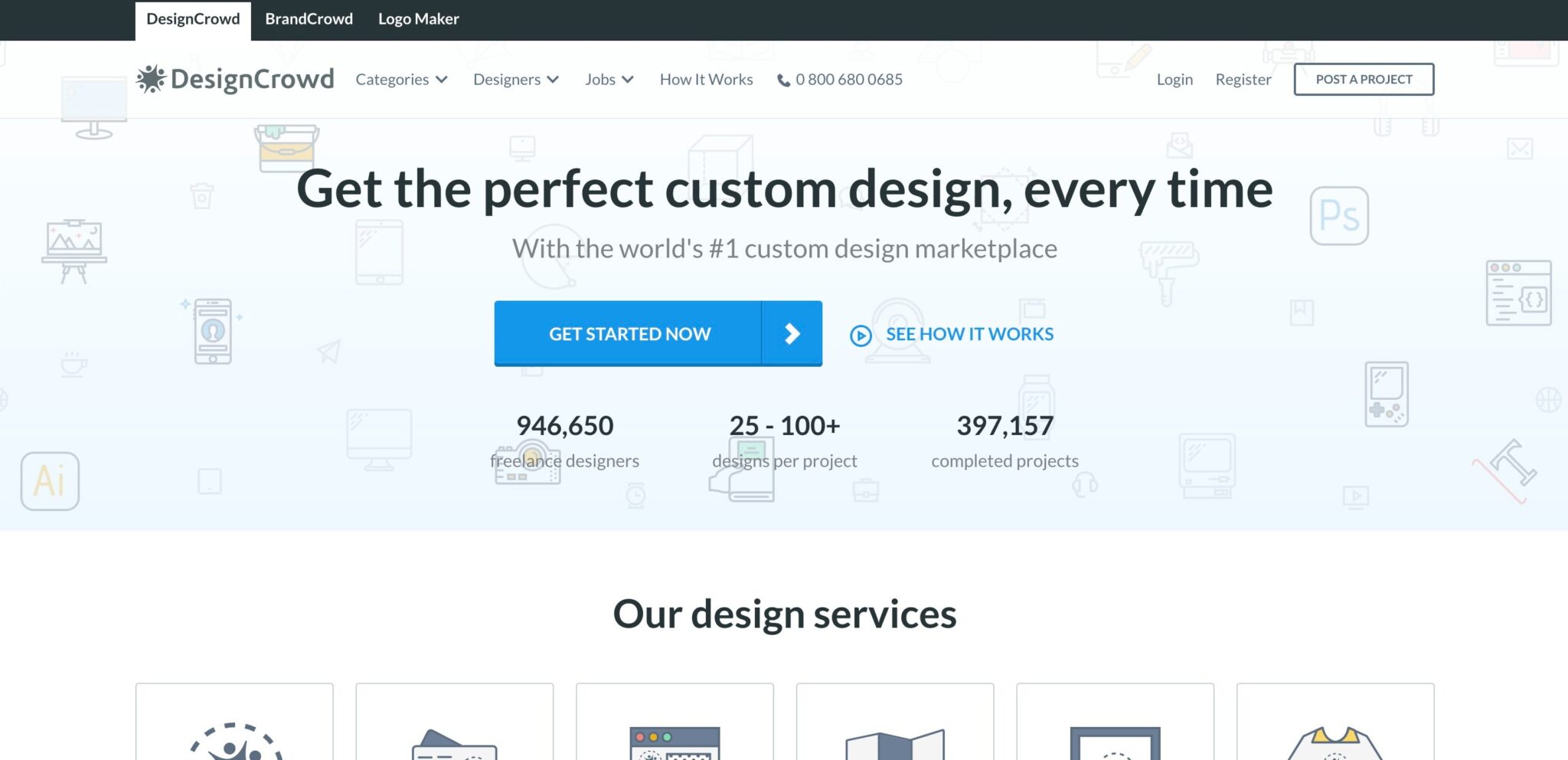 DesignCrowd is a marketplace where businesses can connect with graphic designers for all their logo and branding needs.
It's similar to 99designs in that you can create logo design contests, and have a professional designer pitch their ideas for your new logo. This gives you a lot of options to choose from, with a quick turnaround.
A typical project on DesignCrowd will receive over 100 entries, giving you endless choices and ideas when it comes to choosing a logo for your business.
Here's how it works:
Post a creative brief, describing what you are looking for and your requirements
Designers from around the world will read your brief and submit their entries
You will start to get your first logo options within a few hours
Share your favorite logo concepts with friends and family to narrow down your final choices
Provide feedback to your favorite designers until you have a logo that's perfect
Select your winning design, check and approve the files, and copyright will be transferred to you
If you don't like any of the designs you receive, DesignCrowd offers a 100% money-back guarantee.
DesignCrowd Pricing
There are five different options to choose from when crowdsourcing a logo design with DesignCrowd.
$109 Work with 1 designer, 1-3 designs
$229 Work with 3 designers, receive 6+ designs
$319 Work with unlimited designers, receive 50+ designs
$499 – Work with unlimited designers, receive 100+ designs
$739 – Work with unlimited designers, receive 150+ designs
---
Canva
Wondering where the best place to get a logo designed for free (or at least very cheap) is?
If you're on a budget, but need a great-looking logo, you can create one yourself using Canva's DIY logo maker.
Canva is a free graphic design tool (see Canva vs Photoshop) that enables anyone to create beautiful-looking social media graphics, presentations, and logos in minutes. It's a must-have tool for anyone with a small business.
Canva's free logo generator is super easy to use (check out Canva vs Piktochart), in fact its probably the best logo maker on the market for the price. There are hundreds of logo templates to choose from, or you can start building your logo from scratch.
With all of the templates, you can customize the colors and text, and even change or add extra design elements if you want to.
If you prefer to start from scratch, there are thousands of elements to choose from for your design. Simply launch the logo builder and get started.
Once you have finalized your design, just hit 'download' and your logo files will save to your computer in a .png format.
Canva Pricing
Canva has a completely free plan, as well as a Pro plan which starts at $119 per year. The Pro plan gives you access to premium stock photos and fonts that aren't available in the free plan. You'll also need a pro plan if you want to have a transparent background.
---
Dribbble
Dribbble is a job board and community that helps connect graphic designers with brands around the world.
You can hire a professional designer to create your logo by creating a freelance job listing that designers can apply for. Simply search through the portfolios of your applicants, and choose the designer whose style resonates with you.
You can also search through the database of 10,000+ designers, and message someone directly to work with them. You can filter through the designers by location, years of experience, keywords, specialties, and salary range until you find someone that's perfect for you.
Dribbble Pricing
Dribbble works on a subscription, which gives you access to their pool of designers. There are two different subscriptions available:
Designer Search Access: $299 per month. This gives you full access to Dribbble's database of 10,000+ designers. You can message them to work with them.
Designer Search Access and Job Board Post: $499 per month. This gives you full access to the designer search features and also lets you post to the job board.
---
Upwork
Upwork is one of the world's most well-known freelancer marketplaces. Anyone can post a job or task on Upwork, and freelancers can apply if they feel they are the right fit for your job.
There are a few different ways you can use Upwork to get your business logo designed. Firstly, you can create a listing describing exactly what you need. As each freelance designer applies, you can search through their portfolios until you find the right person.
Alternatively, you can search through the Project Catalogue, and find a designer you want to work with there.
The benefit of searching through the Project Catalogue is that you can filter the designs by price.
This enables you to immediately remove designers that are out of your budget, and focus on what you can afford. Prices on the Project catalog start from $20, and go up to $750, depending on the experience of the designer.
The only downside to Upwork is that they don't offer a 100% money-back guarantee. So if the logo designer completes the work but you still don't like it after the revisions are completed you will have to pay for it anyway.
Upwork Pricing
There is no subscription fee to use Upwork. You will only pay the price you agree on with your freelancer, plus a 3% processing fee on payments.
This makes Upwork a great option for anyone looking for a professional logo design on a budget.
---
Tailor Brands
Tailor Brands is the world's first online logo maker and branding design platform powder by AI.
The logo design software contains a range of easy-to-use tools that anyone can use to create their own professional-looking logo and brand identity for their business.
Here's how it works:
Enter the name of your business, and tagline (optional)
Choose your industry or niche
Pick up to 5 elements that relate to your brand
Choose up to 3 font styles
Choose from a range of great logo ideas
Adjust the size, change the font and brand colors until it's perfect
Download your design
Once your logo design is finished you will be given the option to create your website and other promotional items for your business.
Tailor Brands Pricing
Tailor Brands uses subscription-based pricing, but the good news is you can cancel after one month of using the service (learn all about it in our full Tailor Brands review). Even if you cancel your plan you can keep your logo forever and use it as you would like.
There are three plans available: Basic, Standard, and Premium.
Basic Plan - $9.99 per month
Standard Plan - $19.99 per month
Premium Plan - $49.99 per month
You can save up to 70% on plans if you sign up for a whole year.
Getting A Logo Designed
How much does it cost to have a logo professionally designed?
When you order a logo, you are really buying the expertise of the designer. You are paying for their imagination, concepts, and skill.
If you want an innovative, high-quality, custom logo design that will make you stand out from the crowd, you will need to pay a higher price.
Budget options can start at around $50 (or even less), while premium designs can cost anything between $300 and $1500. Remember, you get what you pay for, but often a cheaper logo is all you need when just starting out.
If you're on a really tight budget, there are DIY options available to you too. You can still create a great-looking logo on your own, although it's unlikely to be 'out of this world' when it comes to uniqueness.
Why is Logo Design Important
The reason logo design is so important is because your logo is a visual representation of your brand. This is why it's important to consider the best place to get a logo designed to make sure you end up with a logo that accurately represents your brand.
The right logo should:
Make a strong first impression
Let people know what your business is all about
Be memorable and unique
Having strong consistent branding will help to build trust and customer loyalty.
People like to use companies they already know and trust. If they have had a good experience with you once, they are more likely to come back for more. Having clear branding will enable them to instantly recognize your business when they see it.
Where is the best place to get a logo designed?
If you're looking for the best place to get a logo designed for your business, then 99designs is your best option.
Not only will you be provided with a huge variety of professionally designed logo ideas to choose from, but you will own 100% of the copyright for the image. There are no hidden or ongoing fees.
Although the price may seem high at first compared to the budget options, the value they offer is very good. You will come away with an amazing logo designed specifically for your business. If you're not happy with it, they offer a 100% money-back guarantee, so there's no risk involved for you.
If you're on a budget, then Canva is the tool for you.
Canva has a completely free logo maker tool, which you can use to create your own logo. You can choose from hundreds of elements and fonts, and create something that is unique to you. You might even be an excellent logo designer!
Want to learn step-by-step how I built my Niche Site Empire up to a full-time income?
Yes! I Love to Learn
Learn How I Built My Niche Site Empire to a Full-time Income
How to Pick the Right Keywords at the START, and avoid the losers
How to Scale and Outsource 90% of the Work, Allowing Your Empire to GROW Without You
How to Build a Site That Gets REAL TRAFFIC FROM GOOGLE (every. single. day.)
Subscribe to the Niche Pursuits Newsletter delivered with value 3X per week