The Ultimate Guide to Creating a Product Comparison Chart for Your Niche Site
When you buy something through one of the links on our site, we may earn an affiliate commission.
One of the most common questions I get from readers is, "How do you create an Amazon product comparison chart for a niche site?"
I've mentioned several times on the blog here that I used TablePress, a free WordPress plugin, but I think I need to give a better answer!
Actually, I know how much I appreciate it when someone has written a detailed blog post for a process I'm hoping to learn, so I hope to accomplish that today.
Let's talk about product comparison tables.
Before I jump into the nuts and bolts of how to create a product comparison chart, I want to review WHY you would want a comparison table on your blog or website.
When people are searching online to buy something, they want information and they want a visual comparison of the different options.
The easiest way to compare the pros, cons, and overall differences of products for many people is to have a list of all the top products along with prices, reviews, features, and more right in front of them on one page.
So, if you can provide all the detailed information for the user with a product comparison tool, they're much more likely to do their analysis and make their buying decision through your website (meaning you would get an affiliate commission from Amazon).
A shopping comparison chart is priceless in this process. And as a result, it can increase your buyer conversion rate as part of your overall marketing strategy.
While some themes like these here offered by Thrive actually have table comparison software built-in, most WordPress themes don't offer this feature.
Update!
Since writing this article, I've created my own software tool to make creating product comparison charts easier. There's a chart template for just about any product on Amazon. You can see my software too here: Table Labs.
Here's an image of the comparison table on my survival knife site, which I created as a public niche site example. I'm going to show you step-by-step how to create a visual comparison table like this using TablePress:
How To Create a Product Comparison Table
Here are the steps for creating an effective product comparison table…
Find Top Products
Before you can create the best possible comparison table for your niche site, you need to put in the research and make sure you REALLY are selecting the best products.
I cannot over-emphasize this step; you truly do need to do your keyword research and select the best products to review.
People are smart, and will eventually know if you are not recommending the best products. So, do your research!
Amazon.com is a great place to review potential products.
Not only can you see just about everything that's available in your market, but reading reviews from existing customers can give you a great sense of what customers actually think.
Yes, ideally you will have purchased and used the product. But I don't think it's realistic to own all 10 or 20 brands in a niche.
When I created my survival knife niche website, there is no way I could have purchased all 50 knives and compared them firsthand.
But by doing research on Amazon, reading the survival knife forums, and other websites, you can quickly pick up the products that customers truly value.
You need to do this research for your own niche.
In a nutshell, select the products with the highest ratings on Amazon, are most talked about on forums in your niche, and have been highly reviewed by other bloggers/websites.
If you can find the 10 to 15 top products to compare, you will have really helped the end consumer in their buying decision!
Find Features To Compare
Once you have done your research to find what PRODUCTS to compare, you should already have a good idea of what FEATURES to compare.
Try to put yourself in the shoes of the buyer and think about what features are most important to consider.
Two options that you should almost always have in your chart are price and ratings. People always want to know how much something costs and how well it has been rated by others.
One important note here is that you should never display actual price numbers if you are an Amazon associate. The only time that Amazon allows prices to be displayed is if the prices are pulled from the Amazon API.
Displaying prices without using the API goes against Amazon's Operating Agreement that affiliates take part in. It's a huge no-no and will get you banned.
If you want to read more about the Amazon Associates Program, check out our Amazon Associates review and tutorial.
In addition, you should be able to find a couple of other features to compare as well.
For example, in my survival knife comparison chart, I also have columns for Overall Length, Blade Length, Weight, and Blade Material.
On Perrin's niche site for safety razors, he has Price, Ratings, Size, and Type (along with Name and Picture).
Here's an example of his Amazon product comparison table below:
There is an exception here if you're doing a typical buying guide where you review 5 or so products. A "best X for Y" type of article.
With these types of articles (which are very common now), I've had great results just listing the product name, a rating pulled from the Amazon API (affiliates can't use star ratings unless they come from the API), and the price pulled from the API.
Here's an example of a product comparison table on my Niche Site Project 4:
This was made using my own product TablePress, but there are other viable alternatives.
I also like the Amalinks Pro version of a comparison table: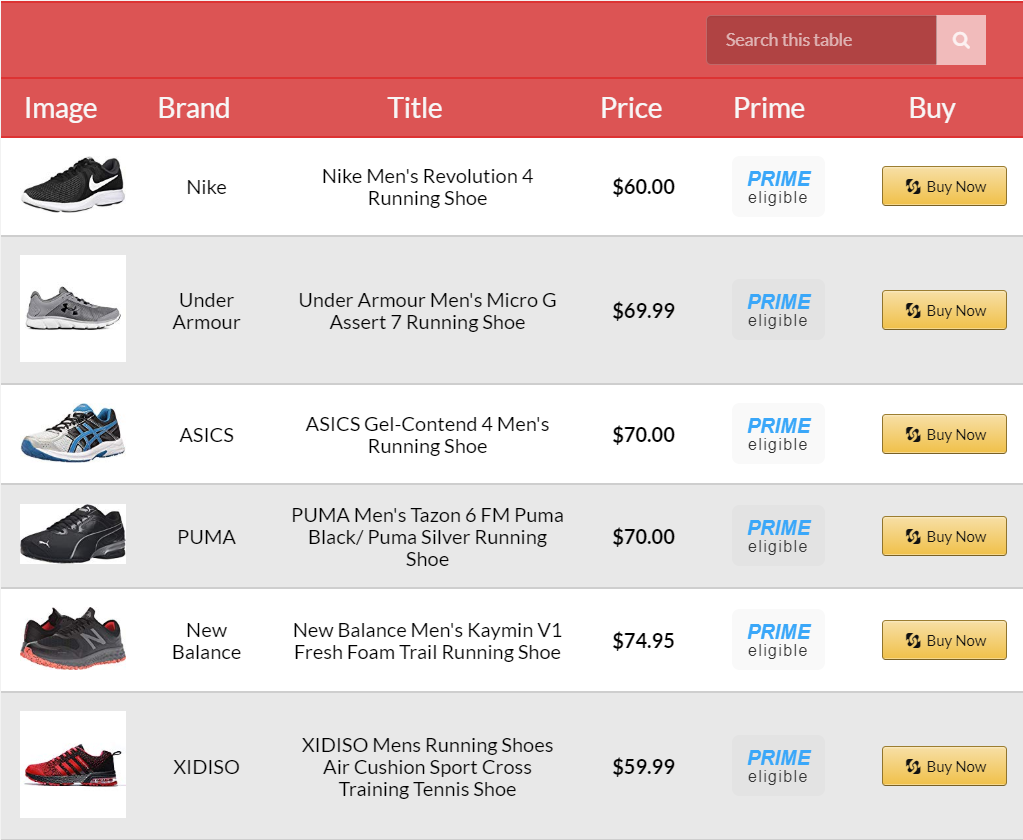 You can edit both tables to include or exclude certain things. But the best part of these is that everything is pulled from the Amazon API.
You can display prices, show whether an item is Prime eligible, give descriptions, insert buttons, and more.
I like to have tables on my buying guides since they give users more opportunities to click. I've found that tables often increase conversion rates and boost my income.
How To Create Product Comparison Tables and Charts Using TablePress
Here's a straightforward guideline for creating your first product comparison table, chart, or graph with TablePress.
So, now that you know what information you want in your chart, you need to actually start creating it!
I'm going to review a few different plugins that will allow you to create these comparison charts for free.
The first plugin is called TablePress. This is the plugin that I used on my survival knife website.
I wish I could say there was a way to automatically create the chart with all your desired information, but in reality, it needs to be manually input.
So, here's a look at the back-end of the TablePress plugin with my survival knife comparison chart:
IMAGE
Update!
If you don't want to manually input information like you do with TablePress, I created a software tool that now pulls everything in automatically! Check out Table Labs right here.
Overall, here's the steps needed to create an Amazon product comparison chart using the TablePress WordPress Plugin:
Gather all the data you need from Amazon or other websites and input directly into TablePress or in a spreadsheet to build your product comparison charts from
Make sure you manually insert your affiliate links or use EasyAzon to assist in affiliate link creation (or other tools)
If you collected all your information in a spreadsheet, you then need to save it as a CSV and upload it to TablePress
You can reorder the columns or rows using the drag-and-drop features in TablePress
You can also change how the product comparison charts look with a few options in TablePress
Overall, it's a very manual process to create product comparison charts, but it's not overly complicated.
Then if you select an individual chart:

Using TablePress, you can either input the data directly in WordPress, as shown in the screenshot OR you can input all the data in a spreadsheet, then upload that CSV file into WordPress.
Using a CSV file is actually what I did for my survival knife site.
See this image of the spreadsheet I created before uploading it to Table Press (yes, I had to input all that information manually):
Now, as you can imagine, the most important part of creating the chart is getting the links correct (column A above).
Your affiliate links is how you make your money, so you want to make sure they work properly and send people to Amazon. You can either get affiliate links directly from Amazon to input in your chart, or you can use a tool to create shortcodes with your affiliate links.
And again, here's what the TablePress chart looks like. (You can actually change colors and format it quite differently using the TablePress options):
How To Use AmaLinks Pro To Create a Product Comparison Table
Amalinks Pro is a newer plugin with all of the basic functionalities you need.
You can use this plugin to build Amazon product comparison tables. Since they pull info from the API, you can display pictures, prices, whether an item is Prime eligible, and more.
Instead of a whole bunch of words, here's a quick video showing you how it works:
You can see that these tables are super flexible and look great. Everything about the Amazon product comparison tables that Amalinks Pro uses is customizable, including the color, layout, and responsiveness.
How To Create Links For Your Tables & Charts
Here are a few options for creating links for your affiliate site…
How To Create Links On Amazon
There are several ways to create links; either using Amazon directly or using plugins.
Amazon gives you all the tools you need to create basic text links.
When you log in to your affiliate account on Amazon and go to the Amazon home page, you'll see a bar at the top of your screen. This bar is called Sitestripe.
Sitestripe allows you to grab several different kinds of links from Amazon. You can use the text links and the image links in your tables.
I don't recommend using Text+Image too often. It's not that great.
To find links, locate a product that you want to mention. Click on Text or Image to grab your affiliate link.
You'll almost always want to get your images Large. Even the biggest size is pretty tiny.
The downside to this method is that Amazon doesn't nofollow their own links. This isn't a huge deal since Google has a pretty good idea when you're using Amazon affiliate links.
But if you want to be extra safe, you can install a WordPress plugin that allows you to nofollow links. Or nofollow the affiliate link on the text editor.
I don't worry too much about adding nofollow to Amazon links.
How To Create Links Using Amalinks Pro
Amalinks Pro also has an option for adding text or image links to WordPress. They do allow you to nofollow and open links in new tabs, so that's nice if you're concerned about the nofollow.
While on the editor side of WordPress, click Amalinks Pro:
Search for the product you want and click on Text Link:
You can decide to make this link nofollow, open in a new tab, or to add a product to a visitor's cart.
I'd recommend Amazon itself or Amalinks Pro for most of your Amazon linking.
How to Automatically Create Product Comparison Charts Using Table Labs
Since originally writing this article a couple of years ago, I've made my own software tool called Table Labs that makes creating Amazon product comparison charts much easier and faster.
In fact, what usually would take 2 to 3 hours (or more) with TablePress using the process I just demonstrated, now only takes about 5 minutes or so.
To demonstrate, here's a video that shows just how easy it is to use Table Labs:
When you get started using Table Labs, you simply link up to the Amazon API and then the software does all the heavy lifting for you.
So, if I wanted to create a chart comparing my favorite business books, here are the steps I would take using Table Labs.
Step 1: Search for the product I want to select in Table Labs
Step 2: Click the + Symbol to Add the Products I want to my chart
I selected a few books that I like, notice that the titles, images, price, and my affiliate links are automatically pulled in…I didn't do anything manually to get this data to show up like that!
Step 3: Rearrange Columns and Rows using drag and drop, and make a "top pick"
Step 4: Select a professionally designed theme OR use a color picker to make a custom looking table
Step 5: Embed the Table code on your site and start earning money!
Your chart is now created and you simply copy and paste a small snippet of code on your website. The code works on WordPress, regular html, PHP, or any other type of website builder out there.
Here's a screenshot of how to insert the embed code on WordPress:
Below is the chart I just created using Table Labs! You can see how it looks and works with my affiliate links inserted. This took less than 5 minutes to create.
You can also completely change the design of your tables with just a few clicks. And you don't have to re-insert the embed code and you won't lose the embedded contents — it will update automatically.
Overall, I spent a few years creating product comparison charts manually using TablePress or other plugins because they are free. They still work and there is nothing wrong with using them.
However, I found that tables convert so well that I wanted to create more and more. That's why I created Table Labs.
If you want to see more details about Table Labs and some of the additional features that I didn't mention here, go to TableLabs.com.
Summary and Your Thoughts
Overall, I hope that the great detail provided here on how to create your very own comparison table for your niche site is helpful!
When creating a niche site, I think it is important as part of your marketing strategy to create as much value as possible to the end user, and one way to do that is to create a well-researched table of the top products in your chosen niche – even if it's an Adsense dominated niche.
Now, I'm sure there are many other ways that you can create a comparison table, and if you find a better way that works for you, that would be great!
However, this is the process that I have used on my survival knife site and many other niche sites.
I know that many of you have already been implementing this same table strategy, as I've seen your niche sites popping up as I do research…I'm in awe actually of how many niche site creators are out there reading — thank you!
But for those of you that haven't jumped into creating tables, this should be the only post you need to get started.
If I had to recommend one product for all of your Amazon linking, it would be Amalinks Pro. It makes linking fast, easy, and is super flexible. I use them for the buttons on my Niche Site Project 4, but I think the showcase boxes look great.
I hate to admit it, but the tables are pretty good too. 😉
Amalinks Pro
Amalinks Pro helps create better Amazon links than ever before. You can use it to:
Create easy and beautiful links to Amazon
Make showcase boxes that convert well
Create tables with no problem
I would love to hear your thoughts! If you have any input that you would like to add to the process, please let us know. I look forward to the discussion below.
Want to learn step-by-step how I built my Niche Site Empire up to a full-time income?
Yes! I Love to Learn
Learn How I Built My Niche Site Empire to a Full-time Income
How to Pick the Right Keywords at the START, and avoid the losers
How to Scale and Outsource 90% of the Work, Allowing Your Empire to GROW Without You
How to Build a Site That Gets REAL TRAFFIC FROM GOOGLE (every. single. day.)
Subscribe to the Niche Pursuits Newsletter delivered with value 3X per week