The Most Downloaded WordPress Theme in the World? Astra 3.0 Review
When you buy something through one of the links on our site, we may earn an affiliate commission.
Astra 3.0 is here and we're going to take a really good look at it!
This Astra theme update makes some significant changes, adding some interesting new features and improving usability.
We're testing out the new Astra 3.0 theme to discover if the changes are worth getting excited about.
Astra Theme
Believe it or not, the Astra Theme was only released in 2017.
Since then, it has gone on to become the number 1 downloaded WordPress theme in the world.
It is the only non-default WordPress theme reach over 1 million active installations, a milestone that was reached in 2020. It continues to be extremely popular, and each day there are between 4 and 6 thousand new downloads.
These numbers are significantly higher than the next most popular WordPress theme installations:
OceanWP has 700,000+ active installations

Elementor's Hello theme has 600,000+ active installations

GeneratePress has 300,000+ active instalations
Why has the Astra theme become the number one choice for bloggers, designers, and other website builders (and the best WordPress theme for SEO)?
Why Astra?
There are a great many benefits to the Astra theme – obviously!
One of the reasons Astra has grown so quickly is that they offer a quality free version of their theme.
They aren't unique in this, but the features that are offered at the free tier are actually really good and go beyond what most are willing to give away.
There is so much you can do with the free Astra theme that upgrading to Pro really isn't necessary for many users.
Here are some of the other reasons so many choose to use Astra:
Fast – it's one of the fastest loading themes available

Intuitive – it's not a complicated theme to learn how to use

Many site templates – huge range of attractive templates 

Lightweight – the standalone theme is bare bones

Highly customizable – control all design aspects

Good for beginners – there are so many helpful Astra tutorials

Integrates with everything – works with all the best page builders and plugins
Astra also became a favorite of online marketing and business influencers.
Many large YouTube channels and blogs have spread the word that this is their preferred theme. It's what they're using for their blogs, niche sites, design agencies, and everything else.
The word got out and hundreds of thousands of users followed suit!
Starter Templates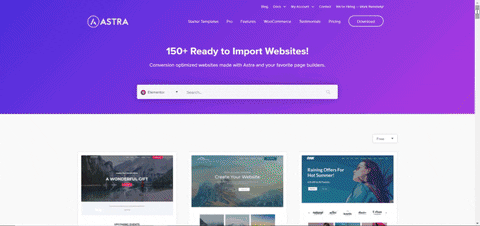 Astra's Starter Templates also set them apart from the competition.
There are over 150 website templates to choose from, many of which are available with the free theme download.
No other theme has so many starter templates which make building an attractive site so quick and easy.
There are templates that can be used with the most popular page builders as well:
Or, you can choose to use Astra without any page builder at all. All this option requires is WordPress's Gutenberg.
We're going to be testing Astra 3.0 without a page builder, using only Gutenberg, Astra theme, and a free starter template. 
To test the 3.0 update, we've selected the free Outdoor Adventure site template.
The starter templates really do look great, and you can find one for whatever type of site you're building:
Personal blogs
Business landing pages
Agency websites
Ecommerce stores
Affiliate sites
Activating the site template is very quick and easy. Within moments you can have a beautiful site ready to customize using Astra 3.0.
Learn more about the Starter Templates plugin here.
Astra 3.0
The Astra 3.0 theme update was released in January 2021 and included three main changes.
New Visual Header/Footer Builder

Customizer Improvements

Frontend Performance Improvements
BLITZ DEAL: 20% Off ASTRA 3.0 (INCLUDING LIFETIME PLAN)
The Astra 3.0 WordPress theme is better than ever.
New Visual Header/Footer Builder

Customizer Improvements

Frontend Performance Improvements

Powerful Site Design Options
Multiple Site Layout Options
Use coupon code "NichePursuits" to get 20% off any annual or lifetime plan!
We've got our new theme and site template installed and are ready to try it out!
Header Builder
The new Astra header and footer builder is a drag-and-drop editor – it's unlike any header builder we've tried before!
It really is just a case of dragging around the different elements to test what looks best.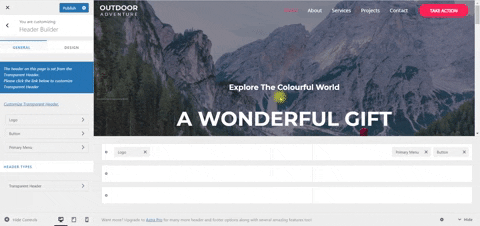 The customizer is incredibly fast (one of the other 3.0 improvements) and the changes are made almost instantly.
It's quite a difference from other theme customizers which can be very slow and clunky.
It's easy to add and change what you like to the header:
logos
search
social icons
menus
widgets
And each element has its own highly customizable design options.
For example, the primary menu has the options:
Hover style
Top offset
Border width, color, and radius
Menu color, font, and spacing
Margin controls
In the general options, you can also alter the width, container animation, and customize it for mobile and/or tablet.
All this is without using a page builder!
The free version allows you to create a transparent header, while Astra Pro exclusively gives the ability to create sticky headers.
That's a bit about the desktop view, but it's also very straightforward to create custom headers for mobile and tablet.
Simply change to the view you want to customize and you'll find the same drag-and-drop editor waiting.
You can have the same header display responsively across all devices, or build custom headers for each device.
While the free theme will be perfectly suitable for many, Astro Pro comes with a greater range of header design features.
These include:
Sticky headers
Extending the number of different elements that can be added
A greater range of pre-built headers from the site library
The big difference between the old Astra and the new Astra is much greater flexibility when it comes to creating headers.
We're no longer stuck with a clunkier customizer with fewer options but, rather, have the ability to easily put everything where we want it to go.
It's the same set-up with the new Astra footer builder.
The drag-and-drop editor within the customizer makes it very easy to get your footer looking just the way you want it.
Many theme footers are extremely difficult or nearly impossible to customize. One can spend hours just tinkering around the customizer trying to work out how to change things and never find the answer.
This footer builder lets you make your footer as complicated or as simple as you need it to be.
As with the header builder, there are a great many design options for each element, letting you take control of the way your site looks.
The footer is broken up into three sections:
Above footer
Footer
Below footer
And the number of columns and layout can be altered for each – up to 6 columns if you like!
The customization options seem endless, and the ability to see what it's going to look like in real-time is extremely helpful.
This new way of designing footers from Astra is a breath of fresh air.
New Customizer
As we've already touched upon, the customizer has been completely revamped in the latest updates.
While this isn't the most exciting thing for those who are only building one website every year or so, it is big news for designers who are building new sites every day.
The new customizer is much faster and much more user-friendly.
Some of the improvements include:
Updated color picker UI
Cleaner spacing control design
Tidier UI between all controls
Updated drag-and-drop meta-structure
Slider input control updated
Align select field converted to multi-button control
Individually, these are all relatively minor changes to the user experience, but collectively they make a big difference.
It's nice when things look good and are made more intuitive and easier to use.
Frontend Performance
The frontend performance enhancements are a bit technical but nonetheless important!
They have served to make this already speedy theme even faster.
As detailed by Astra, the improvements include:
More refined HTML
Reduced page size
Upgrading to the latest CSS standards
This isn't the best way to judge the theme, but we ran a GTMetrix test on the starter site right out of the box with all the dummy content.
This is an excellent score when you consider:
we've got no caching plugins installed
there has been no image optimization done
the site is not being served through a CDN
The Astra 3.0 updates have made it up to 25% faster than the previous version, and improvements continue to be made.
Astra 3.1
The team at Astra continues to work on making the theme even better.
Version 3.1 was rolled out in early March 2021, making further improvements and granting greater functionality.
The customizer was again updated to improve the user interface and experience. Extra features and elements were added inside the customizer to give more website design options.
Here are some examples:
Ability to add extra phone and contact icons to social icons
Transparent header improvements
New page meta options for above, below, and mobile header
And there were further technical updates, such as:
Optimizing SVG icons
Optimizing dynamic CSS functionality
HTML structure improvements
All that to say that the team isn't asleep at the wheel.
Seemingly small improvements are continuing to make this theme lighter, faster, and easier to use. Not to mention giving website builders greater design options and flexibility.
Astra Review
While initially investigating the Astra 3.0 update, the changes appeared to be fairly minor and insignificant.
However, after digging much deeper into the improvements we discovered there was a lot more going on.
The header and footer builder really are the standout features of the update and will make life a lot easier when it comes to completing these tasks.
The fast customizer and drag-and-drop editor make designing attractive headers much quicker and simpler. The same goes for the footer builder. 
The UI improvements within the customizer are also worth writing about. 
We've all used our fair share of ugly, clunky, unintuitive theme customizers before, and this ain't one of them.
User experience is important and the Astra team have gone out of their way to tidy things up and make them better.
And finally, the starter templates are second to none, both in quality of design and quantity of options.
It would be difficult to scroll through even the free site templates and not come up with one perfectly suited for your needs. Not to mention the huge range on offer with Astra Pro.
If you are looking for a new theme for a new site, or to update from an old theme on an established site, you won't go wrong taking a closer look at Astra.
Want to learn step-by-step how I built my Niche Site Empire up to a full-time income?
Yes! I Love to Learn
Learn How I Built My Niche Site Empire to a Full-time Income
How to Pick the Right Keywords at the START, and avoid the losers
How to Scale and Outsource 90% of the Work, Allowing Your Empire to GROW Without You
How to Build a Site That Gets REAL TRAFFIC FROM GOOGLE (every. single. day.)
Subscribe to the Niche Pursuits Newsletter delivered with value 3X per week