How to Sell Alibaba Products on Amazon – Alibaba To Amazon FBA Made Easy
When you buy something through one of the links on our site, we may earn an affiliate commission.
Alibaba is one of the best places to source products for your ecommerce business. And Alibaba to Amazon FBA can be a very easy and profitable business.
Before Alibaba, it could take months of back and forth to find the right manufacturer, but not anymore.
Alibaba allows you to search through a huge database of suppliers and manufacturers in minutes. You can chat with them, order samples, and negotiate prices all from the comfort of your living room.
In this article, I'm going to be showing you how to sell Alibaba products on Amazon. We're going to go through everything you need to know to start a successful Alibaba to Amazon FBA business without ever having to pack or ship a product yourself (and you may also benefit from our guide on how to start an Amazon FBA business with very little money).
How to Sell Products: Alibaba to Amazon FBA
You might have heard that it's unsafe to order products from Alibaba, but that's simply not true.
If you go about it the right way, using Alibaba can be one of the best ways to start your ecommerce business.
Alibaba to Amazon FBA is the perfect solution for anyone who wants to start an ecommerce business. It comes without the hassle of storing and shipping products. 
If you haven't heard of it before, FBA stands for 'Fulfilled by Amazon'.
Here's how it works:
Find a product you want to sell
Ship your product in bulk directly to an Amazon FBA Warehouse
When a product sells it will be picked, packed, and delivered to the customer by Amazon
You pay a small fee for storage and handling, and the rest is your profit
Now that you know how it works, it's time to find products to sell.
Whether you are just getting started or are a seasoned entrepreneur, Alibaba can be your best friend.
What is Alibaba?
Alibaba is a huge online marketplace that connects manufacturers and wholesalers with buyers around the world.
Made up of many different parts and offering a huge range of services, they are one of the best ways to source products to sell on Amazon.
It's free to create an account, but you will need to pay through the platform once you have found a manufacturer and agreed on a deal.
Pros of Sourcing Products From Alibaba
There are loads of benefits to sourcing your products from manufacturers on Alibaba, including:
Low-cost products 
Thousands of products to choose from 
Lots of different manufacturers in one place
The platform is easy and convenient to use
Saves days (maybe even weeks) of time sourcing products
You will usually deal directly with the manufacturer, cutting out the middleman
Alibaba offers Trade Assurance, so you will get your money back if you don't receive your products
Is it safe to buy products from Alibaba?
Yes, Alibaba is one of the world's largest retailers.
They are a well-respected company listed on the New York Stock Exchange.
Of course, just because Alibaba.com itself is a reputable company, that doesn't mean all of its suppliers will be. You will still need to do your own due diligence when you find a manufacturer you want to work with.
The best thing about using Alibaba is that it offers Trade Assurance. This means that if your order is late, or the quality control isn't satisfactory, you will be entitled to your money back.
Finding a Product Idea
The tricky thing when it comes to starting an Amazon business is finding out what to sell.
You need to make sure there is:
Demand for the product
The product is available at a good price point
Good profit margins will make it worth your while to buy and sell the product
It can be tricky to work this out on your own, so the best way to find the perfect product is to use a tool like Jungle Scout.
Jungle Scout will help you find profitable product ideas quickly. It also helps work out what time of the year certain products will sell best, so you know what and when to buy.
Pricing
Once you have found a product to sell, you need to think about pricing.
Again, you can use Jungle Scout to assess the competition, see what's selling, and for what price.
To work out your profit margin, you will need to subtract your costs from your sale price.
Remember to include:
The cost of the product
Shipping costs
Customs fees
Seller account fees
Amazon FBA fees
Whatever is left is your profit. You should then calculate it as a percentage of your sale price.
If you are selling your product for $10, and your total costs come to $7, you are left with $3, which is 30% profit.
Intellectual Property Rights
As a seller, it's your responsibility to ensure that the products you are selling do not infringe on any intellectual property rights.
You risk your Amazon seller account being suspended if you break these rules.
Intellectual property rights include:
Copyright
Trademark
Utility Patents
Ensign Patents
Alibaba is not a reliable place to source licensed or branded products, so do not order branded products from Alibaba. Selling unlicensed or fake branded products on Amazon is illegal and could get your account suspended.
There are a few things you can do to avoid any accidental infringements:
Make sure all of the wording in your listing is original, particularly the product information
Do a trademark search to check that there's nothing out there with a similar name
Research your suppliers, and only buy from reputable companies
Keep all of your invoices safe, and get an invoice for every order
Don't let this frighten you, Alibaba is still the perfect place to source generic unbranded products.
You can also buy 'Private Label' products under your own brand.
Product Safety
Amazon is very hot on product safety and compliance. After all, it's their reputation at stake if a dangerous or faulty product ends up causing harm.
There are some restricted products that cannot be sold on Amazon.
These are:
Alcoholic beverages
Vehicle tires
Gift Cards
Products with unauthorized marketing materials
Loose packaged batteries
Products with pricing labels
Products that have not been prepared according to the FBA requirements
Damaged or defective goods
Improperly labeled items
Illegally replicated, reproduced, or manufactured items
As long as you follow these rules you shouldn't have any problems.
Finding the Best Manufacturers on Alibaba
It's surprisingly easy to find manufacturers on Alibaba.
Simply type the item you are looking to sell into the search bar on the main page. This will bring up similar items that are already being produced by manufacturers.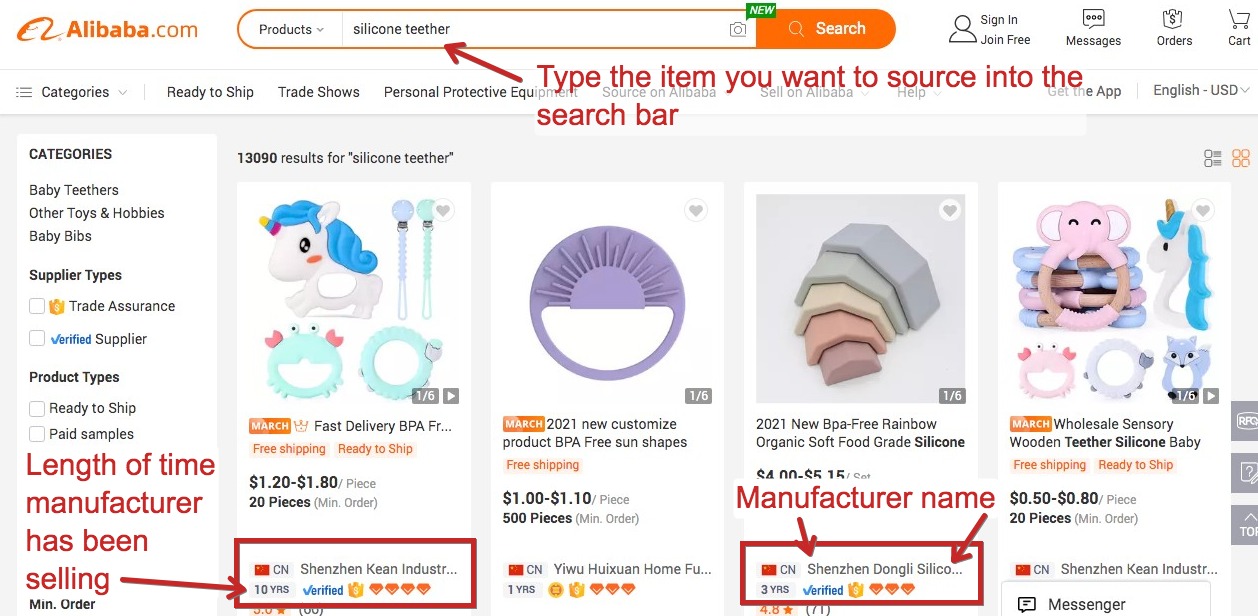 If you see an item you like, click on it and you will be able to see all the information about the product and supplier.
Reputable suppliers often include copies of their certificates and licenses, as well as photos of their factories.
You can also see how many years a manufacturing company has been trading on Alibaba. The longer they have been trading, the more likely they are to be a reliable seller.
Before starting an order, click 'contact supplier'. From here you can ask questions, and talk about how they can help you with your products.
Getting Quotes
Create a list of 5-10 suppliers that you think you might want to work with and get quotes from each of them.
Keep your list in an Excel or Google spreadsheet so you can add to it when you need to, to keep track of everything.
You can reach out to each supplier using the 'contact supplier' button, and they will provide you with a quote.
You should ask the suppliers the following questions:
What is their MOQ (minimum order quantity)
Prices for different order quantities
Lead time
If they offer samples of products and packaging
Whether they have trade assurance
Are they authorized to ship to the country you are selling in?
Do they understand Alibaba to Amazon FBA packaging requirements?
If you don't want to email manufacturers manually, you can send out a 'request for quotation' on Alibaba.
Simply include the details of what you are looking for, and relevant suppliers will contact you with a quote.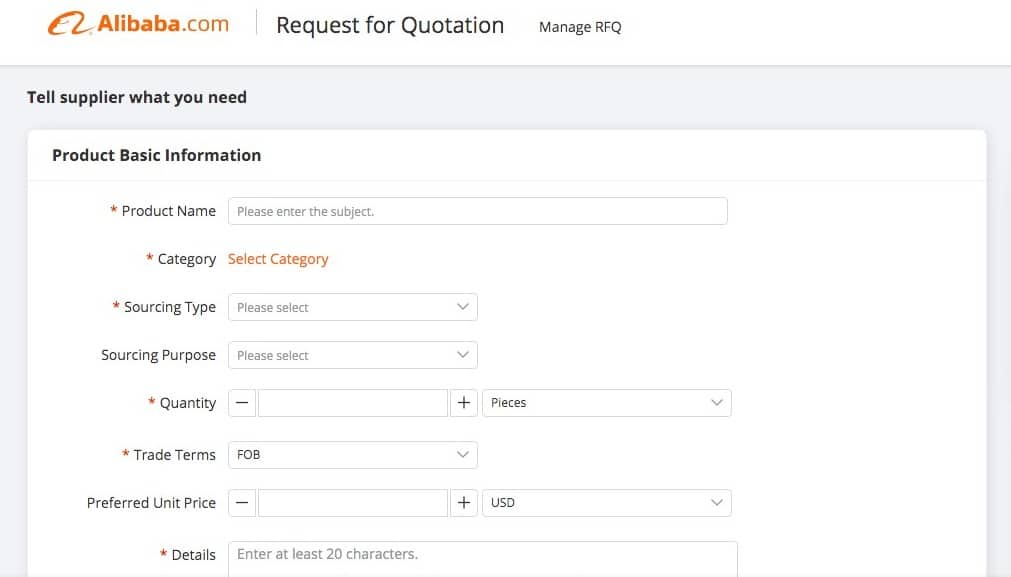 Negotiating Prices and Quantities
Everything is negotiable. On each product page, you will see prices for different order quantities. 
There will also be a minimum order quantity (MOQ) listed for each item.
These are usually negotiable too, so don't be afraid to ask, and explain to the supplier that you are a new business, they may well be happy to lower the MOQ for you.
Ordering Product Samples
Once you have your quotes, your next step will be to order samples from your preferred suppliers. You should order samples from more than one manufacturer so that you can compare the quality. 
You should always order samples before committing to a larger order. It may feel frustrating to wait, but it will be worth it if it helps you find the right product and avoid any duds.
You may also wish to order samples of packaging at this stage too.
Manufacturers will often have a range of packaging options they offer, such as a box, or bag, so if you order samples of these now it will save you paying twice for shipping.
Inspecting Products
When your samples arrive, inspect them thoroughly.
Look for any defects and potential problems that may arise. If there are any problems with the product quality control, raise them with the supplier immediately and request new samples if required.
If you have ordered samples of packaging, check the quality. How will it look to paying customers? If you are creating your own brand with private label products you will want everything to be perfect.
Labeling And Packaging
If you are creating a private label product, you will need a logo.
If you are on a budget then create your own logo using Canva.
Alternatively, Fiverr is a great place to find an affordable graphic designer to create your logo for you. For a more premium logo, check out 99 Designs.
Once you have a logo you can send this to the manufacturer who will create a mockup of how it will look on your packaging.
You will also need to make sure any relevant safety information is included on your product label and packaging. This will vary depending on the country you are selling in so be sure to check.
Product photography
You will need good, high-resolution photos of your products if you are going to be selling on Amazon FBA.
You have two options here:
Find a local photography company and have professional product photos taken
Go the DIY route, and take photos yourself
Either option is fine, as long as you comply with Amazon's product image requirements
If you are taking the DIY route, it's worth investing in a photography lightbox to help you take compliant pictures.
That being said, using a professional photographer will give you much higher quality photos, and save you lots of time and stress, so it's a service worth paying for if it's in your budget.
You can find professional photographers who specialize in taking Amazon product photos on Jungle scout.
Get 30% off Jungle Scout here 
Shipping Your Products Directly to Amazon
This is the best part about Amazon FBA.
You can ship your products in bulk directly to the Amazon warehouse, and Amazon will fulfill the order when a product is sold.
The easiest thing to do is have your products shipped straight to Amazon from the supplier.
The downsides are:
you might want to inspect the first order yourself
keep some of the order back to save on the Amazon FBA storage costs
These are the main steps required to ship your inventory to Amazon:
In your Amazon seller account, select 'Manage Inventory' and find the listing you want to ship
Click 'Edit' on the right-hand side, and select 'send/replenish inventory'
Enter the address you are shipping from, and select whether you are shipping 'Individual products' or 'Case-packed products'
On the next screen enter the number of products in each case, and how many cases you are shipping
Amazon will then tell you what kind of preparation your product requires
You have the option to ask Amazon to do any prep for you for a small additional fee per product
Create labels for your products or request the FBA Label Service
Choose your shipping service, enter the details and print your shipping labels
Ship your package
This may seem scary the first time you do it, but trust me, it will be much easier the second time around!
Customs forms and duties
Depending on where you live you may need to fill in customs forms and pay duties on products you import.
These will be calculated for you, and you will receive a bill with details on how to pay.
Selling your products
Amazon FBA is the best way for many to run an ecommerce business using Amazon.
It gives you all the benefits of running an ecommerce business, without any of the hassles of packing and shipping inventory.
This gives you more time to work on other areas of your business and will allow you to scale your business more quickly.
Creating listings that stand out
After you have found a profitable product to sell, you want to make it an Amazon bestseller.
Jungle Scout will give you everything you need to optimize your product listing and make sure your product is found by people searching on Amazon. 
This tool will help you to find the most impactful keywords for your products and identify search volume trends.
It also has a clever extension tool that helps you automate requests for product reviews from your customers. Having good reviews can help boost your rankings within Amazon and increase your sales!
Get 30% off Jungle Scout here 
How To Sell on Amazon From Alibaba
Alibaba is without a doubt one of the best places for entrepreneurs to find manufacturers for their ecommerce business.
It's accessible to everyone and easy to use, so if you've been thinking about giving it a try, go for it.
I hope you have found this article on Alibaba to Amazon FBA useful.
FBA is a great way for entrepreneurs to get into ecommerce without the stress that comes with storing inventory and fulfilling orders manually. 
Want to know more about building an FBA business?
In this article Spencer Haws shows how he went from $0 to over $4,399 in sales in the first 30 days with a brand new FBA business.
How To Build An Amazon FBA Business
Want to learn step-by-step how I built my Niche Site Empire up to a full-time income?
Yes! I Love to Learn
Learn How I Built My Niche Site Empire to a Full-time Income
How to Pick the Right Keywords at the START, and avoid the losers
How to Scale and Outsource 90% of the Work, Allowing Your Empire to GROW Without You
How to Build a Site That Gets REAL TRAFFIC FROM GOOGLE (every. single. day.)
Subscribe to the Niche Pursuits Newsletter delivered with value 3X per week