So, how much money do bloggers make from their blogs?
Maybe you've heard stories of bloggers making a full-time living.  Or perhaps you just have a passion for writing and sharing your expertise on a particular topic and you are curious if you can actually make any good money from doing it.
I should add that I've been a full-time blogger and online business owner since 2011, so I have some expertise in this area.
The truth is that bloggers can indeed make really good money each year.  But how much does the average blogger make?
Not very much.
The problem is that many bloggers get excited when they first start and then if they haven't made very much money from their blog after a few months, they throw in the towel and call it quits.
However, those bloggers that take a long term view are MUCH more likely to succeed.
So, the real answer is that a blogger can make anywhere from a few dollars a month to over $100,000 a month.  Yep, $100k/month.  I personally know bloggers making more than $1 million a year from their blogs!
But remember, this is not the norm.  The bloggers that are able to strategically think about their blog as a business and stick with it for the long term are the ones that have the potential to make a very significant income.
Blogging as a Paid Writer vs. Business Owner
To clarify, when I answer the question, "How much do bloggers make?", we are answering that question from the perspective of a blog owner.
However, you technically can get a job as a blogger.  Other blogs can hire you as ghostwriter or staff writer for their blog.  
If this is the type of position that you are looking for we've got some statistics for you.  The average blogger is paid roughly $0.04 to $0.06 per word for content.
How do I know this?  Well, I've hired lots of bloggers in the past and this is currently the going market rate for US based, Native English speakers.  If you are a writer outside the US or have English as a second language, your rates may be a little lower.
However, on the high end, some bloggers are making over $0.08 to $0.10 a word.  So, if you are tasked with writing a 2,000 word blog post you can likely expect to be paid anywhere from $100 to $200 for that single post.
If you are looking to get a paid position as a blogger, I would recommend checking:
Or if you would like to learn how to maximize your earnings as a freelance blogger, I highly recommend you check out this course by Holly Johnson (one the highest-paid bloggers I know).
Now, if you are actually looking to OWN a blog that you run as your own business, your income potential is much higher.  No longer will you be trading time for money, but you can entire that ever-seductive "passive income" potential.
You obviously won't start making money from day 1, but if you stick with it over the long term, you have the potential to make money when you are not working. (People will visit your blog at all hours of the night and they might be viewing ads or buying affiliate products which you can make a commission on).
So, while you can get paid immediately if you just want to trade your time for money as a paid writer or freelance blogger.  But you can increase your income potential significantly if you are able to delay the gratification of getting paid right away as you work to build the traffic and audience of your blog that you own a genuine online business.
How Many Bloggers Exist?
According to Statista, there are currently nearly 32 million bloggers.  Wow!
According to other statistics, there are actually closer to 600 million blogs that exist.  I assume this larger number takes into account old blogs that are no longer active or include sites like Tumblr or Medium that allow bloggers to write on their blogging platform.
Either way, there are a plethora of bloggers.
So, how do you stand out with so many existing bloggers?  I will dive into some of the more detailed specifics later on.  However, to stand out as a blogger you need to:
Stick with it for the long term (too many bloggers give up)
Build a real audience
Select a good blogging niche that can actually lead to full-time income potential.
Use great keyword research to make sure you are writing on topics that have search volume and are low enough competition
Use tools to help you optimize your blog's performance
Test and find the best way to make money from your blog
Examples of bloggers making money
Fortunately, many bloggers publish income reports, so we know exactly how much money they make.  Some of these income reports show that some bloggers only make a few hundred dollars a month, while others are making over $100,000 a month.
SmartPassiveIncome.com – $100k+ per month
One well-known blogger that used to share income reports is Pat Flynn.  He stopped sharing income reports a couple of years ago, but at the time he was making over $100,000 a month.
I believe below is the last income report that he shared: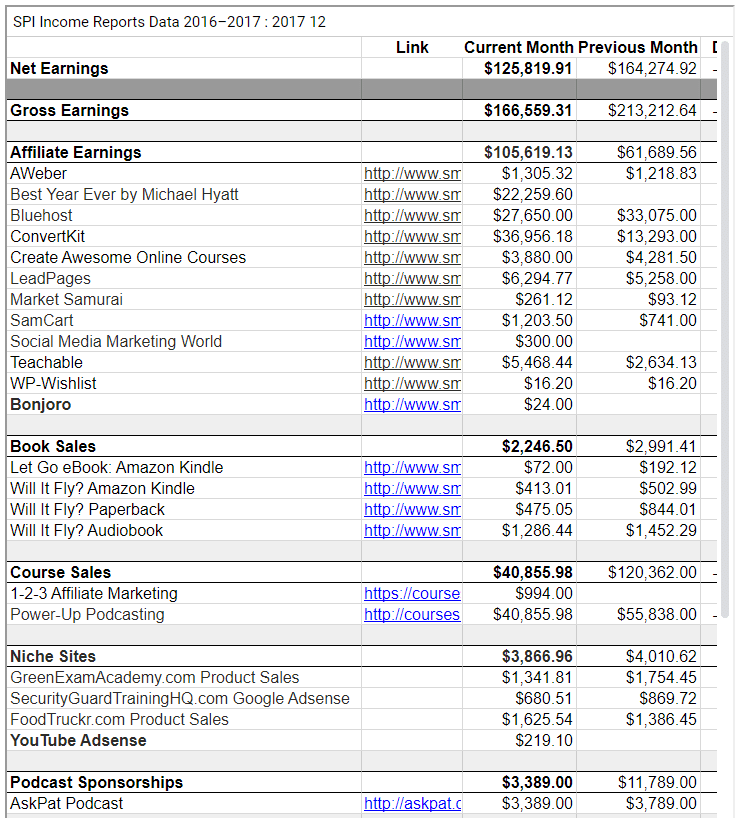 As you can see, his net earnings were just over $125,000 for the month.  Pat no longer shares his income each month.  But based on my recent interview with him, it's clear that his income has continued to grow and he's expanded his business operations.
RyRob.com – $36+ per month
RyRob.com is another blog that is making a healthy six figures a year.  In his most recent income report, he shared that he was making a little over $36,000 a month. 
You can see a sample of where he makes his money from his blog below: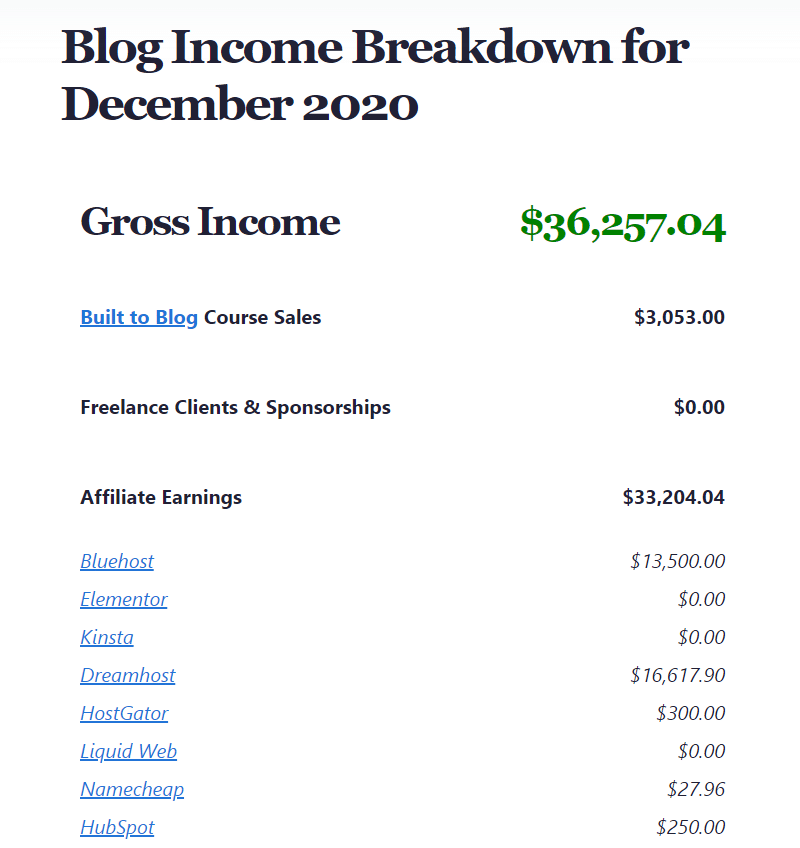 You can see that he makes a significant portion of his income as a web hosting affiliate.  Affiliate programs like Siteground and Dreamhost can be quite lucrative if you have the right kind of traffic coming to your blog.
PinchofYum.com – Over $50,000 a month
One of the most popular categories for bloggers is food blogging.  Starting a food blog can be a great way to start a little side business that can grow into something much larger.
Bjork and Lindsay Ostrom have been running Pinch of Yum for many years and the dedication has really paid off.  One of the last income reports that they published showed that they were generating revenue of over $50,000 a month.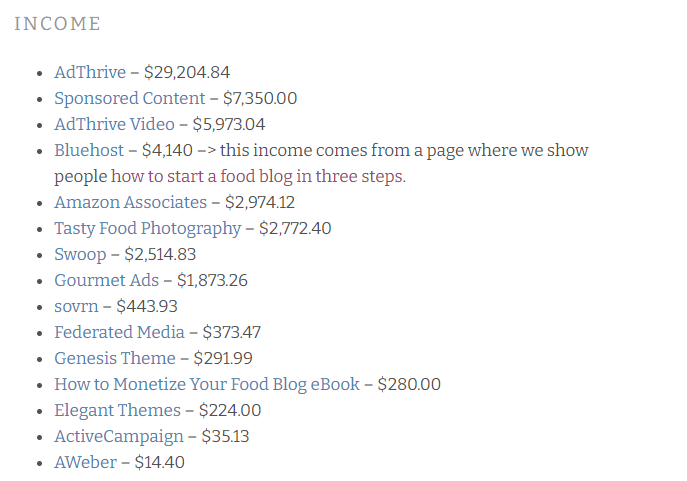 While they have stopped publishing monthly income reports, its clear that the site continues to grow.  They have since launched a Food Blogger Pro course, released a few of their own WordPress plugins for food bloggers, and I'm sure grown the income from sponsored content on the site.
CreateAndGo.com – $101,000+ per month
As you can see from their income report here, Alex and Lauren are crushing it with their blog!  They recently pulled in $101,499!
This works out to about $47,000 from affiliate marketing and another $57,000 selling their own courses, services, or other digital products that they created.
Check out this month by month income from 2020:
If you want to learn from Alex and Lauren about how to create a successful blog, you can check out their full training course right here.
Check Out Six Figure Blogger Course Here
LivingTheDreamRTW.com – $7,661 a month
Jeremy is a full-time travel blogger from Pittsburgh.  He's been travel blogging for over 12 years.
Jeremy recently shared that his travel blog made nearly $8,000 last month.
Check out his income report for the past few years: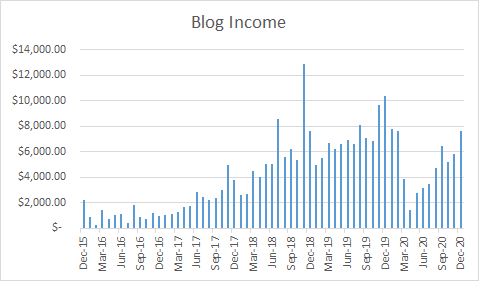 I think Jeremy's blog gives a little bit more realistic picture than some of the previous income reports.  Sure, a blog CAN make $100,000 a month, but as you can see, for a long time, Jeremy was making less than $2,000 a month.
Building a blog to $7,600 a month is a lot of work and you can see that income can fluctuate both up and down from month to month.  So, nothing is guaranteed…but these do show you what is possible with blogging.
SimplifyingCollege.com – $2,000 a Month
Simplifying College is a resource for all things college and dorm related content, as told by a recent college grad.  Dale is just getting started making money blogging with this particular site.
Dale shares that her income last month was just over $2,200, her best month so far!  In previous months, she was making closer to $1,000-$1,500.  She likely got a lift due to the holiday buying season.
I like that she breaks out the sources of her income:
December 2020 Blog Income:
Amazon: $1,278.77
Mediavine: $942.12
Skimlinks: $6.79
Total: $2,227.68
So, she's making money from the Amazon Associates program and then display ads (Mediavine).  She also made a little bit through other affiliate links (skimlinks).
OwnTheYard.com – $3,500 a month
I created a public niche site a couple of years ago and that site is now making me roughly $3,500 a month.  Sometimes it makes more, sometimes less.  You can read about how I built this niche site (or "niche blog" if you want) as part of Niche Site Project 4 here.
I hired a freelance writer to create nearly 100% of the content for OwnTheYard.com, so it was all outsourced.  My primary monetization strategy for this WordPress blog is Ezoic display ads and Amazon Associates for affiliate income.
Check out the income over the life of this niche site:
You can learn more about how I build niche sites here. 
Or if you are looking for an online course that teaches you how to build niche sites and grow the blog traffic, I recommend checking out Jon Dykstra's Fat Stacks Bundle here.
Jon Dykstra – Over $55,000 a Month from Niche Blogs
Jon Dykstra owns several sites and combined they recently made him over $55,000 in a single month!  I recently interviewed Jon, and you can see how he makes a full-time living blogging right here.
Jon's primary monetization strategy is display ads.  Sure, he makes some money through affiliate income, but primarily he uses AdThrive or other display ad networks.  As you can see from his ad revenue screenshot below, his blog monetization strategy is working out well!
Jon is a very successful blogger that also shares all of his strategies.  You can gain access to all of his course material for starting and growing niche blogs right here.
How Do Bloggers Make Money?
A blogger has several different ways that they can make money from their blog.  Perhaps the most common income stream is display ads.
A blogger will make money when a visitor visits a page that has an advertisement.  Many times the blogger will get paid even if the visitor doesn't click the ad or buy anything, it truly is a display ad.
Some of the most popular display ad networks right now are Adthrive, Mediavine, and Ezoic.  Google Adsense is a pay per click network that can also be a great place for bloggers that are just getting started.
Ad Rates and RPMs
Ad rates are typically based on the number of times that your display ads are viewed.  So, the more visitors you get to your site, the more money you will make.
So, how much can you make per visitor?  Well, the numbers are pretty small per single visitor.  As a result, the ad industry has adopted something called RPM, which stands for Revenue Per Mil.
Mil = 1000
So, RPM is the amount of money you make per 1000 ad views.  So, if you get 1000 visitors to your blog and they each view 1 ad, that's 1000 ad views.
A typical range is anywhere from $5 to $25 RPM.  So, you would make up to $25 for every 1,000 people that come to your website (roughly speaking).
So, if you are able to build your audience to 10,000 visitors a month, you could definitely be making $250 a day or more just from display ads!
Affiliate Marketing
Another common way that bloggers make money from their blogs is through affiliate marketing.  Perhaps the most common affiliate program is the Amazon Associates program.  A blogger will get paid if a visitor clicks one of their Amazon affiliate links and then buys that product on Amazon.
Amazon is obviously huge and millions of dollars worth of goods are sold on Amazon every single day.  And because there is such a huge variety of products that can be recommended on Amazon, it makes it an easy entry affiliate program for bloggers to use.
For example, here is a recent screenshot of the Amazon Associates earnings for a food and craft blog that I own.
Below is a list of the most common ways that bloggers make money:
Display ads (Adthrive, Mediavine, Ezoic)
Affiliate marketing (Amazon, etc.)
Selling digital products (training courses and software)
Selling services
Sponsored Content (blog posts written for brands)
Podcast sponsorships (if the blogger creates a podcast)
These few categories really cover the majority of the ways that bloggers are monetizing their sites.
Building Traffic to Your Blog
So, while blogging may start out as a passion where you just want to write or connect with other people that have similar interests, you have to consider the business side of things if you want to end up making some money.
At the end of the day, getting more traffic to your blog is going to increase your earnings.
So, what are the most common ways for bloggers to get visitors and traffic to their blogs?
Google search
Pinterest
Other Social Media
Referral traffic
Email list
YouTube
How Blogs Get Organic Traffic from Google
My personal favorite way of generating traffic to my blogs is through organic traffic from Google and other search engines.  If you are unaware, Google will "rank" your website when someone is searching for something related to what you have written.
Ranking in Google is a somewhat complicated process, but I've written an entire beginner's guide to ranking in Google right here.
The process of getting free organic traffic from Google can be broken down into a few high level strategies.
Keyword Research
First, you need to write on subjects that people are actually searching in Google for.  In other words, the smart bloggers do keyword research before they write an article. 
This keyword research process will help you know how many people each month are searching for the keywords you are considering writing about.  For example, I could be all excited about writing an article on the subject of "Spencer Likes Honeycombs", but at the end of the day no one is searching for that phrase in Google, so I'm not going to get any traffic from Google.
On the other hand, I have done keyword research and found that close to 1,000 people every month are search for the term, "Niche Websites".  As a result, I've written an in-depth article on how to build niche websites here.
I now rank at the top of Google for this search term and as a result, I get free traffic every single day to that article.
So, keyword research is critical to your success. I recommend that you check out my in-depth guide to keyword research here.
Quality Content
In addition to keyword research, you need to write your articles in a way that Google can find and WANT to rank them.  At a high level, this includes using either your target keyphrase or other related keywords in your article.
But I wouldn't overthink it.  Just pick what your core topic is and try to cover that topic thoroughly.  By doing this, you will usually naturally cover all the latent semantic keywords that Google might be looking for.
However, if you want to go in more depth, you can use tools like MarketMuse and Surfer SEO to help make sure you are covering your topic well.
The other key way to ensure that you rank well in Google is to do competitor analysis.  Look at the first page of Google and see how long their articles are, try to determine what subtopics they cover in their article and how well its written.
If you can write a more in-depth article that answers the search query better, this is exactly what Google is looking for.
Link to Your Site
The final step to ranking in Google is links.  When other blogs or websites mention your site with a hyperlink, Google views this as a "vote" for your site.  The more links your site gets from quality blogs, the more likely your blog will rank higher in the search engines.
Bloggers that are truly passionate about their site often do a good job of connecting with other bloggers in their niche.  As you are social and build these real relationships with other bloggers in your space, you are likely to start getting mentioned on their site.
Not only do mentions on other blogs send over free traffic from visitors to their blogs, but it also counts as a link and vote in the eyes of Google.
Finally, many bloggers should not forget that you can actually build internal links to other pages on your site.  These internal links actually help Google rank your site better as well.
For example, the hyperlink at the end of this sentence is an internal link that you can click and read my ultimate guide to building internal links.
Keyword Research and Link Building Tools
When you start to move from planning to start a blog to actually building a revenue stream from your blog, you will want to invest in tools to help you do better keyword research and other tools to optimize your site.
Now there are literally thousands of different tools that you could invest in.  However, you will likely only need 2 or 3 to get started.  Below is a list of a few tools that professional bloggers will commonly invest in:
Building Traffic and an Audience Through Social Media
Social media can be a huge source of traffic (and eventually earnings) for many bloggers. 
The most common social media sources for bloggers are:
Pinterest
Facebook
Instagram
Twitter
YouTube (if you consider that social media)
Honestly, there are dozens of other places that a blogger can get social media traffic from.  
My advice would be to pick one or two social media sources and become an expert at those sources.
Most bloggers nowadays choose Pinterest as an excellent source of traffic.  You can post an image pin that links back to a related article on your blog that will drive free traffic to your site.
The above screenshot is from one of my blogs that gets close to 3,000 visitors a day just from Pinterest.  As you can see, Pinterest can be a GREAT source of traffic to your blog, which can turn into great earnings.
The key to Pinterest is consistency (Pin every day) and quality content.  Here's a short guide on how to make money with Pinterest.
Facebook can also be a great source of traffic if you spend the time to build up a Facebook group and Facebook page.  A Facebook group tends to get more engagement, so it could be a good idea to focus there.
I know 1 blogger that is currently getting nearly 800,000 pageviews a month directly from Facebook traffic!  Now, I don't think this is very common because Facebook can be difficult to generate traffic from.
But there definitely are people that have been able to leverage this platform to their advantage.
What are the Most Profitable Blogging Niches?
You can start a blog in really any niche that you want.  But just like picking the right keyword for an article, making sure you are in the best blogging niche that has the potential to make money is important as well.
Some of the most popular blogging niches are:
Craft Blogging
Business blogging
Personal finance blogging
Health and Fitness Blogging
Now the list could go on and on as there are thousands of different niches that you could potentially go into.  Here's a short guide on how to choose a blogging niche.
Blogging Income Risks
As with any business, there are definitely risks associated with blogging.  Nothing is guaranteed in the online world.
While I've seen some sites take off and grow extremely quickly, I've also seen the other side of the coin where sites lose lots of traffic in a short period of time.
Google is well known for making updates to their algorithm at least a couple of times a year and sometimes these updates can have a negative impact on how much traffic your blog might be getting from search.
You can mitigate this risk by always following the guidelines published by Google and avoiding shady SEO tactics.
The same type of "algorithm updates" can happen on social media as well.  So, Pinterest has also been known to change how they show Pins and rank Pins on their site.  As a result, some bloggers will see a significant decrease in how many clicks they are getting from Pinterest to their blogs.
But again, on the flip side, some of the updates can help other bloggers (they might start getting more traffic after an update like this).
The same can be said for Facebook, Instagram, TikTok, or any other social media platform.  They can both give and takeaway.
So, the keys to mitigating some of these risks are:
Build a real audience as much as possible on your own blog.  Keep people coming back to your site directly to hear from you.
Leverage other platforms like Google, Pinterest, and Facebook, but never let 100% of your business be reliant on them.
Build an email list so that you always have control over your audience.
Truly provide value to your readers and they will follow you no matter where you are.
How to Increase the Earnings of Your Blog
Overall, hopefully, you are no longer wondering, "How much bloggers can make?"
How much money a blogger can make really does vary quite a bit.  In the early days, it won't be very much money.
However, if you are willing to put in the time and effort, I've shared several examples of bloggers making anywhere from a couple thousand dollars a month to well over $100,000 a month.
If you want to start a blog that can end up making money at the higher end of the spectrum, there are a few areas that you should focus on.
Here's how to grow your audience and increase the earnings of your blog:
Be consistent with blogging.  Pick a schedule and stick with it.
Write about topics that can bring in traffic and money.  Do your keyword research.  Don't just write about random topics and hope people will come.
Stick with it for at least a year.  You will need to put in a year of effort before you start to gain much traction.
Try to be helpful to your audience.  Go out of your way on social media or in your posts to truly connect.
Get involved with other bloggers!
Adopt an attitude of constant improvement. Consistently word on becoming a better blogger. Learn more about SEO and social media strategies.  Get better every day.
Overall, I hope that in the process of learning how much bloggers make, you've also picked up a few ideas that will help you start and grow your blog!
---