Elementor Review: Can You Build Your Website Without Code?
When you buy something through one of the links on our site, we may earn an affiliate commission.
Welcome to our Elementor review.
Long gone are the days of mastering HTML and CSS. WordPress might have dealt some of the first blows to code, but Elementor might have dealt some of the last.
Today I want to show you that you can build websites, make landing pages, and convert your visitors to leads or buyers without an ounce of custom code.
The question is not whether code is necessary; most website builders know it isn't. The question is whether Elementor is the best page builder for your website and audience.
In this Elementor review, we're going to take a look. Elementor has a free option if you want to follow along in the review. The free plugin has a ton of power (as much or more power than the paid option of other tools). Elementor's paid version gives you access to some page templates and the theme editor.
Again, the free plugin is more than enough if you just want a page builder for your WordPress site.
Click here to get access to Elementor for free.
Build your site's pages for free with Elementor
Let's get started.
Elementor Review
Ease of Use -

85

Versatility -

100

Customer Service -

90

Price -

100
Pros
Unlimited free version
Edit posts and pages how you like
Create efficient systems with your own templates
Brand your website with the theme editor
Make your website beautiful on desktop, mobile, and tablet
Great support system
Cons
A bit of a learning curve
Can't contact support through chat or phone (but the Facebook group is awesome)
Elementor Review
What Is Elementor?
Elementor is a drag-and-drop page builder plugin for your WordPress website. This is the same type of software as Beaver Builder and Thrive Architect. When you're editing a post or page on a WordPress site, you'll get this little button that allows you to edit with Elementor:
( You can see that I've still got Thrive Architect installed and active. We discuss how the two tools compare later on, so keep reading)
Clicking that "Edit with Elementor" button will take you to a visual drag-and-drop editor. You can see it on the left side of the screen: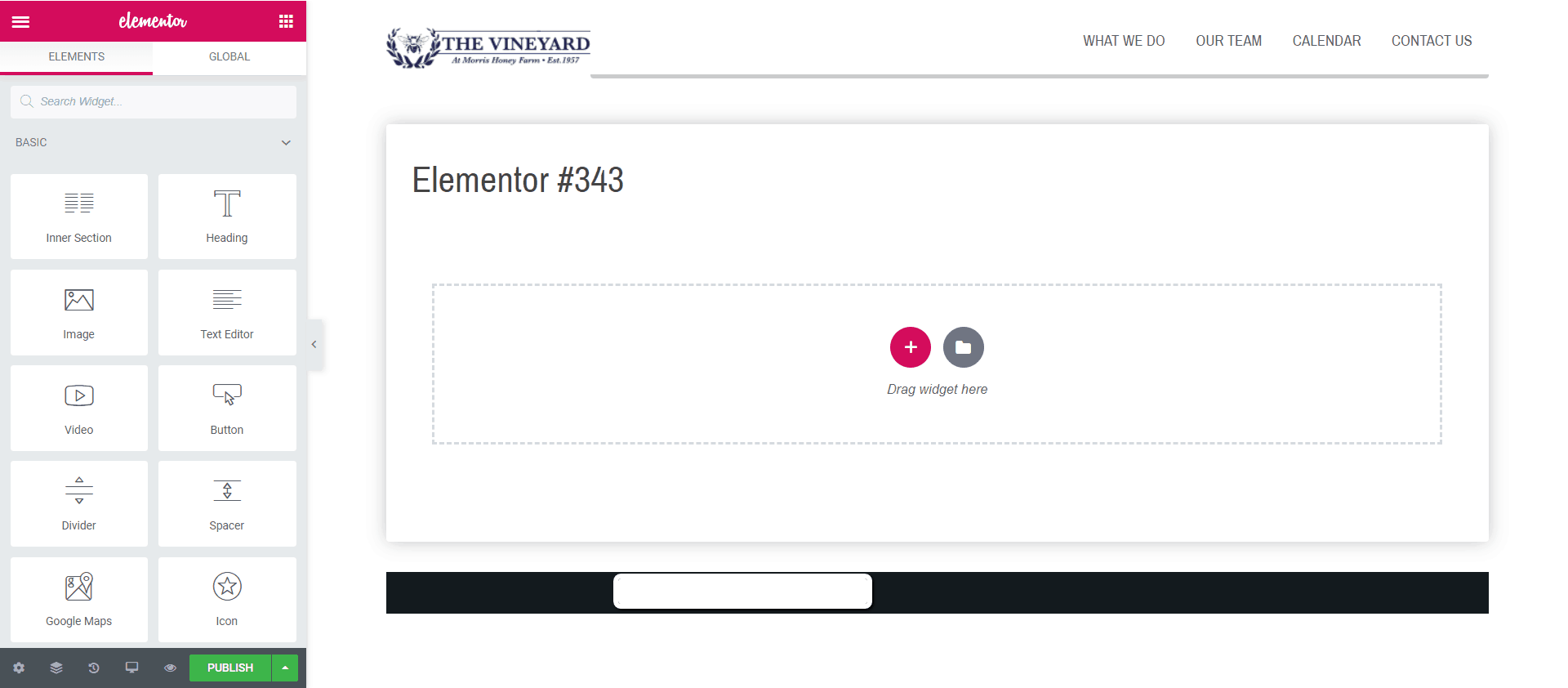 Elementor can be used to customize and craft a page, post, template, or even a theme. When I pull up Elementor, I have a total of 98 different items that I can drag and drop. That's a pretty big number, even more so considering that Thrive Architect only gave me 45 options.
How To Use Elementor
Post and Page Construction
Start using Elementor on any post or page by clicking the "Edit With Elementor" button.  When you do, you'll get a screen sort of like this: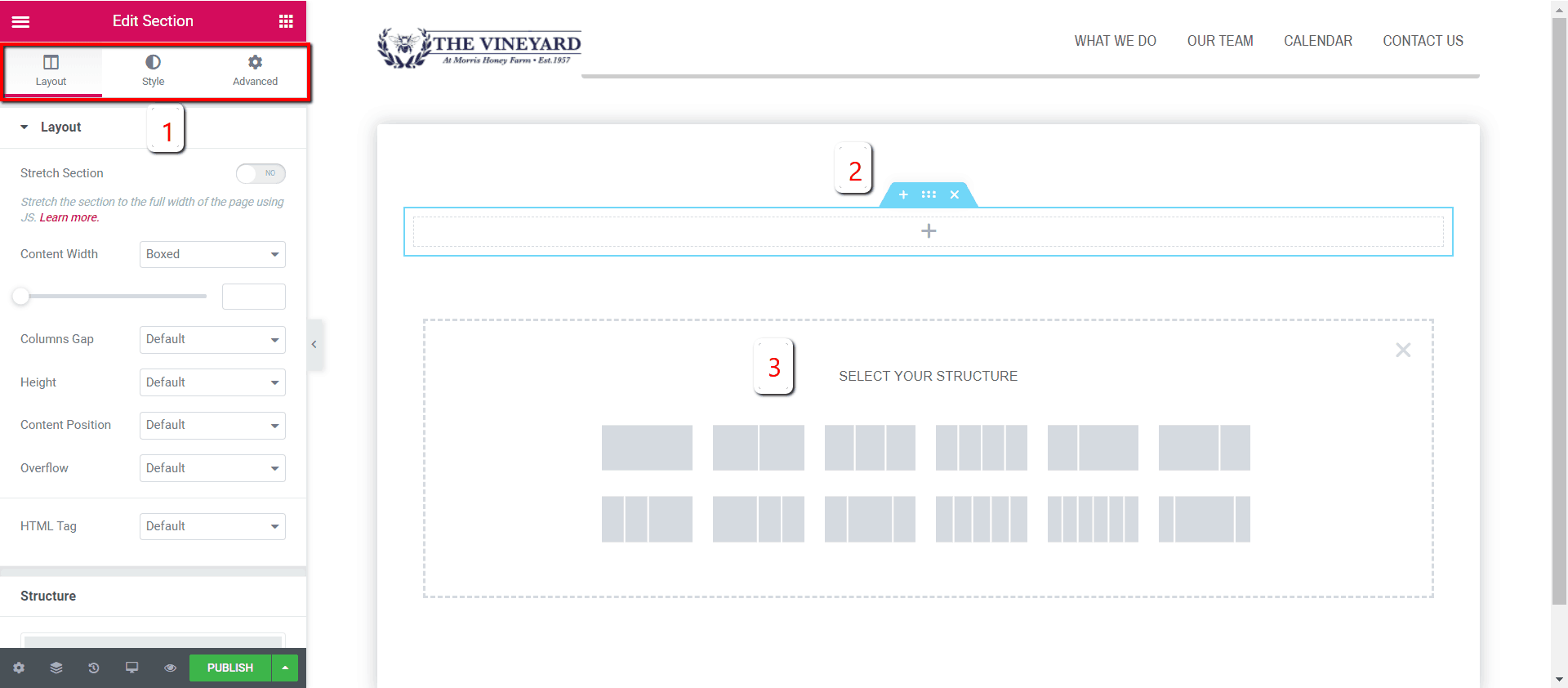 The Elementor user interface looks like an eye full, but the drag and drop page builder is pretty intuitive once you get the hang of it. I've put numbers beside the things we're looking at:
#1: Anything you edit with Elementor has options for Layout, Style, and Advanced. These are just what they sound like.
Layout allows you to edit things that affect how the content sits on the screen
Style is for colors, background, borders, and text
Advanced edits responsive views, margins, padding, motions, effects, etc.
#2: This is a structure that I have already built. I made it 1 column wide and can drag text, pictures, video, or any of the other 95 options available in Elementor into the box.
#3: Here, you can select new blocks that you want to put in the page. You can choose how you want the blocks laid out and how many columns you want.
All of this is editable. If you have two columns and decide that you wanted three, you can add another by dragging and dropping.
One thing I love about the visual drag-and-drop editor is that what you see while editing is what you get while viewing.
You can edit posts and pages with the Elementor interface just like that. But my favorite part is that Elementor lets you add post and page templates for consistency in your web pages across your entire site.
Elementor Templates
The ability to make templates is huge. It turns busy work into a system that works on its own without any of your feedback. My favorite use of Elementor (and I do use it on my WordPress site) is that I can create a custom post or page template. I don't use the page templates a lot, but I use the post templates for every one of my posts.
A post template means that every single one of my posts will look how I want it to. To make your own template, you can go to the WordPress Dashboard. Click on Templates:
Once you click Add New Page, you'll get a few options. You can create almost any kind of template that you want, but a post template (which I'm going to show you), will look like this:
And when you click Create Template, you're off to the races.
Elementor offers you a choice of templates. The free version of Elementor gets 30 templates. The paid version gets hundreds.
You can see that there are Block templates and Page templates. The Block templates are pieces of a page. You could have a pricing page, an FAQ, a short description, testimonials, or more.
The Page templates serve as whole pages. You could plug one in and have a whole page that's ready from the get-go. For our purposes, I'm going to ignore all of the templates and start fresh.
The template builder works similarly to the page and post builder, but it applies to all of the pages or posts that you set it to.
The template builder is also available on Elementor's free version.
You can make different templates for different types of posts. For example, you might want to keep a sidebar out of your review posts (find out how here), but add a sticky sidebar on your info posts for more ad space. Elementor can handle that no problem.
I find page templates less useful. I tend to use them for my category pages but not much else. Either way, this is an awesome feature that isn't around in other popular page builders.
Elementor Theme Builder
Elementor isn't just about pages and posts. It can even customize your website's theme.
Everything I've shown you so far can be done in the free version of Elementor, but here we step into the power of Elementor Pro. With Elementor Pro, you can edit pretty much everything about your theme. You can edit your header and footer to reflect something that you like.
You can access the theme builder from the WordPress dashboard. Go to Templates and then Theme Builder.
When given the choice, make sure that you select Header or Footer for your template. I'm going to build a footer.
As with the post and page builders, Elementor gives us templates that we can choose for our headers and footers. I picked a template, changed some colors, and here's what I made in just a few minutes:
That footer is now on the bottom of all of my pages and posts for the site. You have the same level of customization for the header.
This ability to build themes can save you a bit of money: premium themes can be a little pricey, and you still might not be able to make your site look how you want. Elementor allows you to make your theme match your brand.
And as I did with my theme above, you can add places for visitors to sign up to your email list, be redirected to more content, or to get back to your top level pages.
Overall, Elementor packs a ton of features into their free service. I'd recommend the free version for a page/post builder and the paid version if you want to customize your theme.
Click here to get Elementor for free.
Elementor Pros and Cons
The Good
Elementor WordPress page builder has a lot of things going for it. Let's take a look at some of those:
Unlimited Free Version
Elementor's free version is what I recommend you use if you just want to build a few pages or posts. There's no time limit, but you won't have access to the theme builder or some templates.
Elementor's free version is more powerful than the paid version of some other tools.
Powerful Page & Post Builder
Elementor is flexible. I showed you above that for my dummy site, Elementor has 98 different options of things that I can drag and drop on to the page. To give you a comparison, Thrive Architect has 45.
Responsive Elements & Easy Mobile, Tablet, or Desktop View
It just takes a second to see how your site looks on ever-more-popular mobile and tablet devices.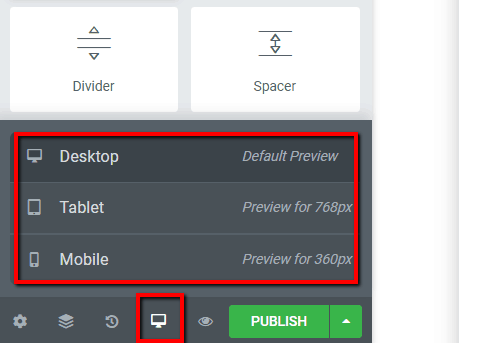 And you can customize how your site looks in desktop, mobile, or tablet without affecting either of the other two options. So you could remove a post template and add a heading text on mobile that wouldn't show up on desktop or tablet.
That kind of power is very important for the mobile age.
Custom Templates
I love that I can set my own post and page templates for Elementor. This turns web design into a system that I can set up once and forget about.
Easy Branding With Theme Customizer
This might be my favorite part of the Elementor WordPress plugin. I love branding my site by customizing my own theme. This eliminates 100% of the work that used to require custom coding. I can get my own header and use my footer to send visitors back to content or use it as an opt in box.
Elementor Support
Elementor has a pretty clever solution for support. Of course, as a Pro user with Premium Support you can go on their site and submit a ticket to the Elementor team (I did this and got a response in a few hours). But you can also access a private Facebook group.
This is genius because the Facebook group is super helpful. When someone asks a question, a fellow member often answers it before the developers ever have to. These answers are concise but intelligent and are often right on track.
For example, here's a post I saw in the Elementor group when I checked it this morning:
I've blocked out this person's name, but you can see that they have a problem. And within the span of 24 hours, this post got 23 comments. Most of these comments were from other Elementor users offering help.
All in all, I think the Elementor support works just fine. I recommend that you join the Facebook group if you're using Elementor since they are so nice and helpful.
The Not So Good
A Bit Of A Learning Curve
Elementor has so many options that there can be a bit of a learning curve. But I think that the software is laid out about as well as it can be for packing 98 different drag-and-drop options.
No Way To Contact Customer Support Through Chat Or Phone
This is a bit nitpicky, but there is only a ticketing system for customer service. You can use the Facebook group (which is awesome), but I wouldn't mind a chat or phone service.
Elementor Price
Elementor has 4 different pricing plans: Free, Personal, Plus, and Expert. There are no differences in Elementor Pro features between the Personal, Plus, and Expert plans except for the number of license keys you get. In other words, the only difference is how many sites you get Elementor Pro on.
Elementor Free
Elementor's Free plan is just what it sounds like – free. It doesn't cost anything now and won't cost anything in the future. You get full access to the post and page builder for your website. You can create templates, but can't edit your theme.
Elementor Personal
Elementor Personal allows you to have the premium version of Elementor on 1 site. It costs $49 per year.
Elementor Plus
Elementor Plus allows you to have the premium version of Elementor on 3 sites. It costs $99 per year.
Elementor Expert
Elementor Expert allows you to have the premium version of Elementor on 1000 sites (yep, you read that right. It's not a typo). It costs $199 per year.
Is Elementor Pro Worth It?
Since the free version is so powerful, is the paid version necessary at all?
Not for everyone (and yes, I did just feel my affiliate commissions take a plunge. I'd rather not talk about it now, thanks).
If you just want to build some posts and some pages, maybe have set templates for posts and pages, then the free Elementor plugin is plenty. It provides as much power as the paid versions of other page builders.
If you want to customize your theme, and get hundreds of advanced templates, special effects, or dynamic elements, then purchase Elementor Pro – it's a great investment. Here are all the differences:
And then some more…
Overall, I think that paying under $50 per year is a low price to brand my site. I think the Elementor interface gives WordPress users the ability to make a website that looks like it was made by a professional.
And your readers stay longer, you convert better, you make more sales, and you get more links when your site looks good. Elementor helps you get there.
If you just want to edit some posts and pages, then I think the free version is fine. If you want to build a strong branding and a unique look, go for Pro. I think it can offer a high return on investment for your business.
How Does Elementor Pricing Compare To Other Tools?
Elementor is in a great position in regards to pricing compared to other page builders. It is about half the price of Divi, 1/4th the price of Beaver Builder. The most comparable pricing is Thrive Architect ($67 one-time payment), but Architect comes with less templates and no theme builder. So there isn't much comparison there.
Elementor packs more into their pricing than other tools while still costing less. I don't know how they do it, but I like it.
(but I will tell you that due to Elementor's low cost and super awesome free plan, we would make a lot more affiliate income promoting other tools)
You can click here to use Elementor's page & post builder for free.
Try Elementor on your site before buying
Who Is Elementor Best For?
Let's take a look at some people in different life spans of their website.
The New Niche Site
Elementor is a great choice for the new website builder. In a lot of ways, it might be best for a new site builder.
Since your site is new, you're still working on and building your systems and processes. Having Elementor from the get-go will save you some work later on since you can set up all of your templates from day one.
The Established Niche Site
The software might take a bit more time to implement on your site than a new site, but Elementor can help your site look good, run smooth, and have consistent branding. I think that established niche sites can get a lot of good out of Elementor.
At this stage in your site's life, you're ranking for some keywords and drawing natural links. It's more important than ever for you to appear to be trustworthy and well-branded. Elementor's theme builder and post/page templates will help you get to that point.
Someone Who Codes Websites Full Time
Elementor is bad news for you 🙁
Frequently Asked Questions
What Is The Best Theme For Elementor?
Elementor works independent of your theme, meaning that you can use Elementor with any WordPress theme.
That said, I always recommend GeneratePress and Astra themes. Both are free, light weight, and work awesome with Elementor. My site uses Astra, Spencer's NSP4 uses GeneratePress.
Click here to get GeneratePress for free.
Click here to get Astra for free.
Where Can I Get Elementor Templates For Free?
Elementor's free version comes with 30 basic templates. Elementor Pro comes with 300+ awesome templates (and they're always adding more – it just had 200ish when I started using it).
If you don't like their templates, you can make your own.
Your Next Page Builder Plugin
Thanks for reading my Elementor review! If it was helpful to you, please let me know in the comments. If it wasn't helpful, please let me know what else needs to be done or what questions I didn't answer.
All in all, I love Elementor and you can check it out here. I use it for my site and think it's much more powerful than other page builders for a fraction of the cost.
Want to learn step-by-step how I built my Niche Site Empire up to a full-time income?
Yes! I Love to Learn
Learn How I Built My Niche Site Empire to a Full-time Income
How to Pick the Right Keywords at the START, and avoid the losers
How to Scale and Outsource 90% of the Work, Allowing Your Empire to GROW Without You
How to Build a Site That Gets REAL TRAFFIC FROM GOOGLE (every. single. day.)
Subscribe to the Niche Pursuits Newsletter delivered with value 3X per week