WP Astra Theme Review: The WordPress Theme To End All Themes?
When you buy something through one of the links on our site, we may earn an affiliate commission.
Content, backlinks, and relevancy have always been important ranking factors for search engines. But starting in 2015, 2 new ranking factors came out of the blue:
Mobile optimization and a speed score.
Google started ranking sites based on whether they were mobile-friendly back in 2015. This happened because for the first time in all of history, mobile searches outpaced desktop and tablet searches.
In fact, there were more mobile searches than desktop and tablet combined.
Then in 2017, Google started ranking all sites based on how fast they were. If you couldn't load in a reasonable amount of time, you could kiss the first page goodbye.
You can imagine that the search landscape felt an impact. Webmasters overhauled pages, niche site owners eliminated plugins, everyone was changing themes.
And it was in this change that lightweight, mobile-optimized, fast tools began emerging.
One of these tools is a theme called Astra. Astra theme was created to provide an easy-to-use, already-crafted WordPress theme for SEO that was perfect for mobile and ran lightning fast.
In this Astra WordPress theme review, we're going to take a look to see if this great theme can help you rank better. We'll check speed, see how it looks on mobile, and see what else Astra theme has under the hood.
But my favorite thing about Astra theme is that it's free. Always and forever. You can click here to try Astra for free on your WordPress site.
Build a fast, flexible, mobile-optimized site with Astra
Astra Theme Review
Ease of Use -

100

Speed -

99

Customization -

100

Price -

100
Pros
Super fast
Mobile optimized from day 1
Great pick for beginners or the design challenged
Super strong branding options
Free!
Cons
They don't pay me anything if you sign up for the free version (but I think the free version is enough for 90% of buyers)
WP Astra Theme Review
Astra wants to be the theme that ends all WordPress themes for your site; the last WordPress theme you ever use (see Astra vs Kadence). Here is what the Astra free WordPress theme offers:
Lots of speed
Optimization for mobile devices
Customization without code
Pre-built website templates for you to use
Easy functionality with page builders
A fast, global customizer
Let's take a look at each of these in depth.
Astra & Speed
Astra theme claims to have 3 ways that they reduce speed:
Astra theme doesn't allow jQuery, the theme is less than 50 KB, and they've optimized the code. But let's take a look at how this theme compares when we put it in tools like Pingdom and GTMetrix.
Here are the results from Pingdom:
The page I tested is Astra's speed test page. A lot of WordPress themes have a speedtest page, but you might have to search a bit to find it.
The page I tested has a bit of text, so it doesn't load at quite 50 KB. Your site's pages will do the same things, so no need to worry about that.
One thing that's interesting is that Astra could speed up their site more by making one or two little tweaks.  Before I show you how I know that, let's take a look at what GTMetrix finds:
No doubt about it, Astra's speed test page runs super fast. It didn't quite load in under half a second on Pingdom, but that's to be expected. The theme might load under a half a second, but the text on the speed test page can slow things down.
On GTMetrix, Astra theme did load under a half a second. And one thing that's surprising about this page is that Astra hasn't optimized it like they could have. When I scrolled down the page, GTMetrix let me know that Astra theme isn't using a content delivery network (CDN) like Cloudflare.
I use Cloudflare as my CDN. They are free and help your website load faster for users worldwide. If you use a CDN, your home page could have the potential to load even faster than Astra's barebones speed test page.
How Does Astra Compare To GeneratePress?
So no doubt about it, Astra theme is lightning fast. At 50 KB, it is one of the smallest WordPress themes out there.
But how does the other lightning fast, lightweight theme stack up? Who wins in the battle between Astra theme and GeneratePress?
(by the way, you can check out our GeneratePress review here)
Let's take a look using GTMetrix.
I plugged in Astra's speed test site and GeneratePress's speed test site. Here's what we get:
At first glance, it seems that GeneratePress wins on all fronts. And there's no denying it: GeneratePress's speed test page is tiny.
So is that what makes GeneratePress faster? It's just smaller, more light weight?
Maybe. Or maybe not.
Because when we take a look at the actual differences in the pages, the results tell quite a story:
We see here that the Astra speed test site (on the left) is making more HTTP requests and isn't using a CDN. Neither of these things are related to the theme itself, but will be different from website to website. I'm pretty confident that GeneratePress has invested resources in perfecting these two scores; I don't think I've ever seen a website get a 100 on HTTP requests.
It's not a huge deal, but this isn't a true fair test if GeneratePress has invested resources to make their speed test site faster and Astra hasn't.
So I tested it out.
I bought a dummy domain (maybe I'll turn it into a niche site one day. Who knows?) and on this domain, I tested GeneratePress and Astra. Here's what I got. Results are with GeneratePress first.
And here are the results for Astra theme:
These untainted results help us out quite a bit. GeneratePress is about 10 KB smaller and loaded .1 second faster. Everything else is equal, so we can see that GeneratePress does load just a fraction of a second faster than Astra.
But in the grand scheme of things?
Both of these WordPress themes are lightning fast and I don't think that .1 second makes a big difference. If you like Astra theme for one of the other reasons we outline below, don't worry about the speed.
I think that other than GeneratePress, Astra is the fastest theme on the market. And as we'll see, Astra WordPress theme comes with other perks that GeneratePress doesn't quite match.
Since Astra theme and GeneratePress are competitors, I do an in-depth analysis between the two of them later on down the post, in the How Does Astra Compare To GeneratePress section.
Read on.
Astra On Mobile
One thing I like about the Astra WordPress theme is that it's mobile optimized from the get go. You won't need any page editors like Elementor (read my Elementor review here). Your pages of your WordPress sites are ready for cell phones from day one.
To test this out, I used my dummy domain. I haven't modified anything on this site; not my posts, not my author name, not a single setting.
Here's how it looks on Astra from day 1:
Not bad. It's already got the menu button to the top right of the page and places the sidebar at the bottom of the screen.
I wouldn't recommend it, but you could start writing posts from day 1 with Astra's mobile design.
(but really, at least get rid of the sidebar at the bottom first)
Doesn't get easier than that.
Can I Use Astra With No Code?
Astra theme claims that their customizer is very easy to use and that you'll never need an ounce of CSS or coding skills.
That's good news for me since I don't have any coding skills.
Astra offers a lot of functionality from the get go… like, a lot.
At first glance, the customizer looks pretty basic, like what you'd find with even the default WordPress themes.
But it isn't.
Once you get into the settings, you can really see the power of Astra WordPress theme. Here is a screenshot of just a few of the customization options when I was editing my header:
That's kind cool, right?
But wait. It keeps going.
And this is just what you can do with the headers on the free version of Astra WordPress theme. Almost every aspect of the standard WordPress customizer works just like this. There are tons of customization options and extra functionalities even without buying Astra Pro.
If you go into the WordPress dashboard, click on Appearance and then Astra Options, you can see a list of everything Astra theme adds to WordPress:
Some customization options I think are notable here:
You can customize your headers/footers
You can have an almost limitless variety of different colors
You can customize your sidebars
You can edit blog post/page layouts (customize width, for example)
You have access to Google fonts
And then as you can see near the bottom of the screenshot, Astra theme gives you even more customization options if you get the pro version. All things considered, there's a ton of value here, even if you just keep the free version of Astra.
I don't think you'll need any code to work with Astra WordPress theme. The out of the gate customization options are plenty and will allow you to get the look, feel, and branding of your website how you like it without knowing code.
This is even more true if you use a page builder like Elementor (which is also free)
Astra's Pre-Built Site Templates
Astra WordPress theme has a unique strength in that it gives you tons of free website templates included with the free version. These are great options if design isn't your sweet spot or if you like to have a starting point.
When you first install Astra WordPress theme on your site, you will get a little popup asking if you want to see some site templates. If you say that you do want some templates, you'll be asked to install a plugin called Astra Starter Sites.
Even if you're a pretty advanced niche site designer like myself, I like to have a launching pad that I can work from. I use these beginner sites to give me a running start in my design. From there, I use Elementor to get branding that I like.
And it's a free WordPress theme, so what do you have to lose?
Once you have the plugin installed, go to the WordPress dashboard. Click Appearance and then Astra Starter Sites. You'll be asked which editor you prefer.
Once you select your editor of choice, Astra gives you several starter sites to choose from.
Not all of these starter sites are free. But 49 of them are, and I think that's close enough. Here is a preview of some of the free ones:
There are 49 free starter sites and 53 other sites that come with Astra's pro version.
To be honest, I think any of the starter 49 with Elementor's free version is enough for 90% of users. Astra plus Elementor puts your total cost for a custom website at about… $0 total.
Can't beat that.
The starter sites is one area where Astra WordPress theme comes head and heels over competitors. Even GeneratePress doesn't offer any starter sites until you use the power of the almighty dollar.
Astra & Page Builders: Your Free (Or Almost Free) Custom Website
Besides the speed, this is my favorite aspect of Astra WordPress theme:
It works great with page builders.
I've already recommended Elementor WordPress page builder a few times, so I'll try to keep from beating that dead horse. Astra integrates with Beaver Builder, Thrive Architect, Divi, or whatever else page builder plugin you're working on.
And I don't think that the Astra free version has better page builder compatibility than other quality themes like GeneratePress (don't miss our comparison of GeneratePress vs Astra). But I do think that if you go the paid route, Astra theme will offer you some unique opportunities for your page builder.
We'll discuss Astra's pricing options in a second, but if you get the Mini Agency bundle, Astra allows you to get a plugin called "Ultimate Add Ons". There are two options here: Ultimate Add Ons for Beaver Builder and Ultimate Add Ons for Elementor page builder.
These plugins pretty much give your page builder of choice a massive upgrade. Think of it like the cheat codes to a video game.
Here is more or less the list of advanced features included in either one of the Ultimate Add Ons packages:
Info box
Modal popup
Dual color heading
Before/after slider
Advanced headings
Multi buttons
Fancy headings
Content toggle
Contact form
Gravity form slider
Business hours
Google maps
Image gallery
Price list
Price box
Table
Video gallery
Timeline
Form sliders
Hot spots
Marketing buttons
Particle backgrounds
Business reviews
Several tools for WooCommerce
And more…
So if Elementor page builder and Beaver Builder give your site superpowers, Ultimate Add Ons pretty much creates the Man from Krypton himself.
I don't think the page builder add-ons are necessary, but they are a nice perk with some of the packages for Astra Pro. If you want to upgrade Astra theme anyways, it might be worth it to get the extra bells and whistles.
Astra's Customizer
Astra made some pretty cool upgrades with Astra 2.0. Most of these upgrades had to deal with the customizer, so I thought I'd take a minute and show you how cool some of this is. As with many of Astra's features, the coolest thing is that it's all free.
Astra solves a huge need with the standard WordPress customizer. In the past (and with any other theme) you needed to have multiple tabs open with the WordPress customizer to get some things done.
Astra fixes that.
They added a Global option to the customizer. This Global option packs some pretty neat features: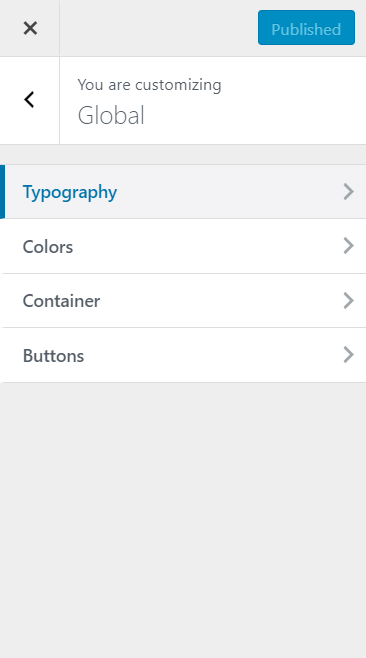 Within each of these sections, you have options to change settings sitewide.
Astra's team also made sure that the customizer runs blazing fast. With their 2.0 upgrade, they got the customizer loading speed down from over 3 sec to just over 0.6 seconds. That won't mean a lot if you're like me and don't use the customizer.
But for someone who uses it a lot, that shaved off time feels awesome.
Astra Pros and Cons
Now it's time to take a dive into the strongest (and weakest) parts of Astra WordPress theme.
The Good Stuff
Let's start with the good news. I've already covered a lot of this above, so some of this won't be new to you.
Very Fast
Our theme review found Astra is one of the fastest WordPress themes in the whole internet. The only two that might be fractions of seconds faster would be GeneratePress and Hello Theme by Elementor.
But despite what "speed plugins" or "speed themes" might say, I don't think 0.1 seconds matters a whole lot.
Super Easy For Beginners & Design Challenged Folks
Astra's bundle of starter sites makes it very easy to get a beautiful website up and running. You don't have to know code or even be a good designer at all.
That's good news for guys and gals like me who want to have a great-looking website but don't speak HTML or CSS. If your design skills are so bad that you'd flunk out of Pre-K art, the website templates are an enormous help for you to grab some inspiration.
Mobile Optimized From Day 1
Mobile optimization is a huge factor now since so many searches are from people's cell phones. Astra WordPress theme saves you a lot of the hassle of getting your site right; you're optimized and ready for mobile from day 1.
Global Customizer
Astra's recent 2.0 update brings some cool changes. You no longer need to have the WordPress customizer open in several tabs; now the customizer is global.
The Astra team also brought some super cool speed customizations to the customizer, so it's a lot faster-loading now.
It's Free!
Hands down, I love this the most about Astra. It's free.
There are premium features that are super cool, and we discuss those in a second.
But here's what I do on my site: I use the Astra free version with the premium version of Elementor. I have all the speed of Astra and use one of the starter sites to give me a template. Then I use Elementor to design my theme and branding how I like it.
Even if you don't want to use a page builder, Astra WordPress theme has extensive customization options and free starter templates. The advanced features of the paid version can do some really cool editing with a custom header and footer builder so that you can be unique and get your branding.
Whether you pay or not, the Astra free version will help your site run fast and look great on desktop, mobile, and tablet.
The Not So Good
Now let's talk about Astra's flaws.
To be honest, there's just one. And it's kinda splitting hairs.
Not The #1 Fastest Theme… But It's Close
As I said, this is splitting hairs. There can only be one fastest theme. And it's worth saying that not even GeneratePress takes the cake for fastest theme.
That award goes to the Hello Theme from Elementor. This the smallest, most lightweight, and fastest theme available.
That's because there's nothing on it.
It is an actual blank page. Here's what Elementor says about it: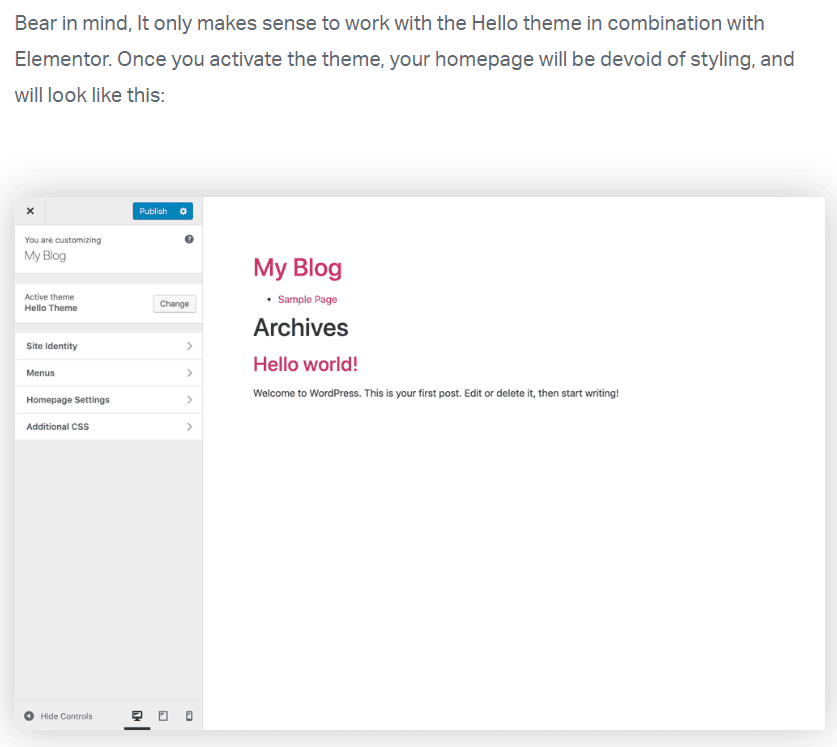 So no, our Astra theme review finds it isn't the fastest. That award goes to the literal blank page theme.
But I'd say Astra theme is in the top 3, and that's close enough.
Astra Price
Now let's move onto how much Astra WordPress theme will run ya. Astra has 4 pricing plans: The Astra options are Free, Pro, Mini Agency, and Agency.
Astra Free
This is my preferred use of Astra. The free version isn't some sort of free trial; it's forever free. And it packs in a ton of features.
The free version of Astra WordPress theme allows you to take advantage of one of the fastest themes around. You can optimize your site for mobile, gain access to new color swatches and hexidecimal codes (that's the nerd way of saying pretty colors).
Astra also lets you have limited customization of your pages. I don't like wide pages, so it's nice being able to change that how I want it.
Astra Pro
Astra Pro version works a lot like a page builder but with more focus on your theme. It costs $59 and then has a 20% renewal discount each year. You can also buy a lifetime package for $249.
Astra Pro features allow you to do some awesome customization on your branding. You can customize headers in super neat ways. You can create sticky headers, transparent headers, customize your breadcrumb trail, and get more header options.
You can set footer widgets, scroll-to-top links, custom layout options for pages and posts, create mega menus, and integrate with tools like WooCommerce, LifterLMS, and LearnDash (check out our Learndash review here).
Astra Pro is a good option if you want your branding to be super strong on your site. I don't know of any page or theme builders that match any of the options presented here. Astra is in a league of its own.
Astra Mini Agency Bundle
The Agency bundles are made for agencies and have some cool benefits. The Mini Agency Bundle costs $169 per year with a 20% renewal discount each year. You can also buy a lifetime package for $499.
The Mini Agency Bundle comes with all of the features of Astra Pro but also includes 50+ agency starter site templates. These are nice for the design challenged like me 😉
You also get the WP Portfolio plugin for free to show off what you as an agency have done. You get white labeling, so your clients never know that they're using Astra. To top it off, you get your choice of Ultimate Add Ons for Elementor page builder or Ultimate Add Ons for Beaver Builder that Astra integrates with.
If you want the branding from Astra's paid version but would also like Ultimate Add Ons, I would recommend that you buy the two separately rather than going for the Mini Agency bundle. You'll save a bit of cash.
Astra Agency Bundle
The Astra Agency Bundle is intended for larger agencies who make client sites. It costs $249 per year with a 20% renewal discount. You can also buy a lifetime package for $699.
The Agency Bundle comes with a lot of very cool features packed in. You get the agency site templates, Ultimate Add Ons for Elementor page builder and Beaver Builder, as well as Convert Pro and Schema Pro.
Since the value difference between the Agency and the Mini Agency is that you get Convert Pro and Schema Pro, let's spend a second talking about them.
Convert Pro is a Thrive Leads and OptinMonster alternative. You collect emails with it. I've never tested it, but I hear that it's a great alternative. Just judging from the other stuff I've seen and experienced on Astra theme, I don't doubt that Convert Pro does a fine job.
Schema Pro works by helping you to secure featured snippets, rich info boxes, image carousels, and more in the search results. Schema Pro helps structure your data so it's easier for Google to take advantage of. If you search "Amazon news", you'll get an idea of what one of these schema may look like:
The real value of the Agency bundle is that you get templates, super strong branding, superpowers for your favorite page builder, an email lead generation tool, and a tool to help you capture featured snippets.
That's pretty valuable, and I think Astra offers all of it at a very reasonable price point.
Is Astra Pro Worth It?
I've spent a lot of time going over the perks of the Astra WordPress theme. And just the free version is amazing: you can run a fast site, have some amazing options in the WordPress customizer, be mobile optimized from day 1, and have an awesome slate for page builders.
So is the paid version worth it at all?
The Perks of Paying
I recommend the Astra theme paid version if you want some extra bells and whistles on your website. Astra's premium version will do a lot to help you stand out above the crowd in regards to your website's design and your branding.
With the pro version of Astra, you can get some awesome tools for branding your website. I would recommend the Astra pro theme for a few situations:
You're a new site owner who wants to look awesome and develop a strong brand from day 1
You're an experienced site owner who wants to differentiate yourself from your competitors with a unique website
You're an agency who wants to create professional websites for clients that are fast, attractive, and well-branded.
You want a variety of tools; Elementor/Beaver Builder add ons, lead generation software (check out our ConvertBox review), and tools to steal featured snippets
If you're on a super tight budget or feel that your branding is strong enough, then I'd say just stick with the free version.
If you do want to look at the paid version, here is a list of what you'll get:
Extra blog layouts
Different site layouts
Starter sites (agency starter sites if you get the agency versions)
WooCommerce integration
Sticky headers
Page headers
White labeling
Unique navigational menus
More color controls
Better typography
Custom layouts
Scroll to top link
Footer widget
Header sections
More header designs
Spacing control
Mega menu
Footer widgets
Hooks and filters
… and more
So what does all that mean for you? You can master your headers and footers (the first and last thing people see). You can set your spacing, get your colors and type how you like it, and make a better website for your viewers.
Full disclaimer: I use Astra pro on my niche site to really set myself apart from competitors.
You can click here to use Astra on your site.
Develop better branding and stand out from the competition with Astra Pro
Who Is Astra Best For?
So now that we know what Astra theme does and how much it costs, let's talk about who it's best for. I'll break down a few situations you might find yourself in and talk about how Astra will do for you.
The New Site Builder
Astra theme is a great option if you're pretty new to all this and don't have a big budget to spend.
Astra is free, so you won't have to shell out any dollars for a quality theme. It's also nice that Astra includes a bunch of free templates that you can use as a launching pad for your brand.
Having a lightweight, fast theme will already put you ahead of 90% of websites. I would say go ahead and give Astra a try.
Experienced Site Builder
I'm going to put you in this camp of WordPress users if you're making more than $1,000 per month from your niche site or online business.
At this point, you aren't just trying to show up in search results; you're trying to beat the competition. You need speed, strong branding, and a great website.
Astra can make your WordPress websites faster and help your branding. If you want a very unique website and some header/footer options that you won't find in any page builder, then you could consider Astra Pro.
I think that as far as free WordPress themes go, you'd be hard pressed to find a better one. I'd recommend Astra Pro if you need some strong branding options. The Agency bundle would be helpful if you want strong branding, email marketing, and a better chance at rich snippets.
If you're an absolute nut about speed, going with GeneratePress might shave off 0.1 seconds worth of load time.
Agencies
I use the term "agency" as a bit of a catch-all. Maybe you're a website design agency, maybe you build niche websites and sell them. Astra is a good fit for your business if you're trying to power your agency and still go white label.
Astra theme allows you to make all of your branding your own. They can provide you with an upgrade to Elementor or Beaver Builder. They help you snag rich snippets, info boxes, news results, carousels, and more. You can even use them to collect email information or to build super unique websites with strong branding.
I think agencies won't have a ton of benefit from the free version unless you're just giving a client site a speed boost. But the Mini Agency or the Agency Bundle could provide a ton of value and help your agency stand out in the results that you bring.
Astra & Your Site
Thanks for reading my Astra WordPress theme review! Overall, I think that Astra is super high quality and one of the best WordPress themes. It's fast, super customizable, helps your website stand out, and helps you succeed.
For free. You can click here to use the Astra theme free on your WordPress website, or pay a bit extra for incredible branding and easy customizer settings with Astra Pro.
On my optimized WordPress hosting stack for my niche site, I use the free version of Astra theme with Elementor Pro so that I can build the theme. It works perfectly for my purposes. But I recommend Astra Pro for some super cool custom header and footer builder options and some tools that help your next WordPress site stand out. It's the only theme you need.
Was this Astra WordPress theme review post helpful to you? If so, let me know in the comments. Are there any questions you have? I'll do my best to answer them below.
Want to learn step-by-step how I built my Niche Site Empire up to a full-time income?
Yes! I Love to Learn
Learn How I Built My Niche Site Empire to a Full-time Income
How to Pick the Right Keywords at the START, and avoid the losers
How to Scale and Outsource 90% of the Work, Allowing Your Empire to GROW Without You
How to Build a Site That Gets REAL TRAFFIC FROM GOOGLE (every. single. day.)
Subscribe to the Niche Pursuits Newsletter delivered with value 3X per week