19 REAL Ways On How to Make Money Online Without Surveys
When you buy something through one of the links on our site, we may earn an affiliate commission.
If you're wondering how to make money online to earn extra income without taking surveys, you have come to the right place!
Although taking surveys can be a great way to make some extra cash in your spare time, survey sites are hardly going to make you rich. Don't worry, though; there are plenty of better ideas to make extra cash and we have many options and some great tips for you.
None of these ideas we're sharing here are get-rich-quick schemes. They all require you to put in some time and effort. The one thing they all have in common, though, is great earning potential. So if you're looking for a way to earn in your spare time, read on.
How To Get Paid Online Without Surveys
Earning money online is the dream for many people.
Whether you need a bit of extra cash on your travels or you want a home-based business you can fit around your family life. Creating an online business is the best way to live the life you want and have financial freedom.
From students to stay at home moms, lots of people are looking for an easy way to get paid extra cash doing jobs that work around their current commitments.
When you're looking for ways to make extra money online, you will undoubtedly come across better and worse ideas (and weirder ways to make money online).
There's no such thing as easy money, so if anything is trying to sell you something that sounds too good to be true, it probably is. We've all seen ads offering ways to "earn PayPal cash", but be careful of scams that promise free money.
All the ideas in this post are genuine ways to make a living online as side hustles. They all require hard work and passion in order to make decent money, but the good news is the rewards can be huge if you put in the work.
So if you don't want to answer questions on survey sites for less than minimum wage, check out our list of side hustles with more earning potential.
Dropshipping
Dropshipping is the perfect business model for anyone who wants to get into e-commerce without a significant upfront investment.
This business model allows you to get paid to sell products on your own online store without ever storing and handling the products yourself.
Here's how it works:
You find suppliers who are willing to drop-ship products and list their products for sale on your ecommerce store
A customer buys one of your products and completes the transaction on your website
You order the product from your wholesaler and have it shipped directly to your customer
Because you only pay your supplier for a product once your customer has paid you for it, dropshipping is a very low-risk business model.
It will also allow you to experiment with selling many different products without ever buying stock in bulk.
You can run a dropshipping business from literally anywhere in the world. Since you don't have to ship any products yourself, you are entirely location independent.
All you need is your laptop and a decent Wi-Fi connection.
Want to know more about starting a successful dropshipping business?
Instant Ecommerce is a course that will take you through the process step-by-step.
LEARN MORE ABOUT INSTANT ECOMMERCE
---
Teach English Online
Teaching English is a great way to earn extra money online.
You can choose hours that suit you, and do it as little or as much as you want depending on how much effort you can put into it or the extra income you need.
There are lots of different online tutoring companies out there you can sign up with to Teach English as a second language. They take a small cut of your pay, but there's the benefit that they will sort all the details and do all the hard work of marketing and finding the students.
You just need to be there to teach the lessons.
Great companies to sign up with to teach English online include:
Magic Ears
VIPKID
GoGoKid
EF Education First
Preply
The pay for teaching English online ranges from $15-$25 per hour, depending on your experience and position.
You also have the option of running your own business teaching English to earn even more money. You would need to do the legwork of marketing your business and finding students to teach, but profit margins would be much higher than with the established online services, so it's a great opportunity to make good money as an online teacher.
---
Amazon FBA
Amazon FBA is another excellent option for anyone looking earn cash and to get into ecommerce with a hands-off approach.
If you haven't heard of it before, FBA stands for 'Fulfilled By Amazon'.
It's a selling method on Amazon, except Amazon stores the inventory for you and handles the shipping and fulfillment process.
Here's how it works:
You find a product you want to sell
Ship your product in bulk directly to an Amazon FBA Warehouse
When a product sells, it will be picked, packed, and delivered to the customer by Amazon
You pay a small fee for storage and handling, and the rest is your profit
The only thing you need to do is find a profitable product idea.
There's a great tool called Jungle Scout which can help you find products that will sell and optimize your listings for maximum success.
Amazon FBA can be very profitable!
See how Spencer went from $0-$4,399 in sales in just 30 days with a brand new FBA business.
AMAZON FBA CASE STUDY
---
Affiliate marketing
Affiliate marketing is an online business model that allows you to make money by promoting other companies' products.
In return for promoting their products, you will receive a commission from each sale that comes via your referral link.
Here's how it works:
You find a company with products or services you want to promote
Once you have signed up to their affiliate program, you will have access to special affiliate links which track where each sale has come from
When one of your followers/readers click on your link and makes a purchase, you will receive a commission
You can promote your affiliate links on your blog, YouTube channel, Social Media, newsletters, courses, and even on Pinterest.
Creating a niche site is one of the best ways to make money with affiliate marketing.
A niche website is a website with a very focused topic that targets 'buying' keywords to attract the right people ready to buy. In order to be successful, niche websites should be designed to rank well in search engines for specific, targeted keywords in a certain topic.
Once you understand all the details of search engine optimization (how to drive traffic to your site using search engines), Affiliate Niche sites can make anything from a couple of hundred dollars a month to six or even seven figures a year in your free time! That's got to be way more appealing than online surveys!
---
Start a YouTube Channel
There are many platforms online where you can create and post videos, but the most popular is YouTube. Starting a YouTube channel is a great way to make money online with plenty of earning potential.
YouTube is becoming more and more popular, with over 74% of adults in the U.S. now watching videos on the platform!
The great thing about YouTube is that your video can still earn money months or even years after it is published – so you'll get paid for years to come.
YouTube is a great potential source of recurring passive income.
There are a few different ways to monetize your YouTube channel, but the main methods are:
Advertising (AdSense)
Affiliate marketing
Brand sponsorships
If you have a popular YouTube channel, you may also get sent lots of freebies from brands hoping you will talk about them on your channel! You could also get paid to write reviews for products related to your channel's content.
If you want to make money with ads on your YouTube channel, there are just a few requirements.
You must:
Have more than 1,000 subscribers
Live in a country or region where the YouTube Partner Programme is available
Have a linked AdSense account
Have more than 4,000 watch hours in the last year
As long as you meet these requirements, you can start making money with your YouTube channel. The more people are watching videos on your channel, the more you can make.
If you are new to YouTube, here's a great article on how to get subscribers on YouTube.
How do you make money on YouTube?
There are many ways to monetize a YouTube channel – one is through affiliate marketing!
YOUTUBE AFFILIATE MARKETING
---
Start a Blog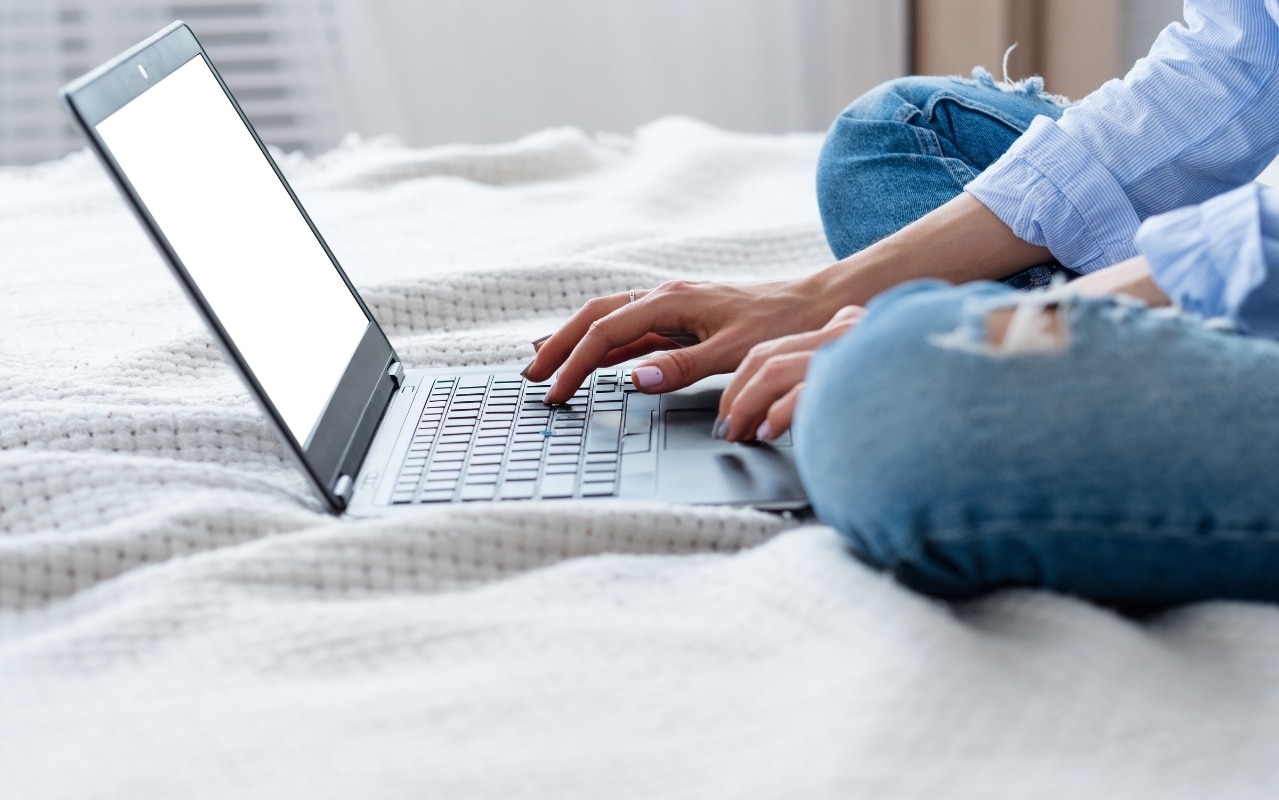 Starting a blog is one of the best ways to make money online.
Although running a blog requires putting in a fair bit of time and effort, the earning potential here is enormous.
Don't believe me? Just take a look at how much money these bloggers make!
You can start a blog about anything you want. Spend time focussing on something you love and make money from it. What could be better?
Blogs can make money in a variety of ways:
Affiliate marketing
Sponsored content
Display advertising
Online courses
Software products
Services
Memberships
It's easy to start a blog too.
You can have your blog up and running in just a couple of hours, even if you're a complete newbie!
One way to build your blog is using Bluehost with WordPress. This will give you complete flexibility in your blog's design and make it easier for you to make money from your blog using display ads.
---
Transcription
If you have been wondering how to make money online without surveys, then you might want to check out transcription.
Transcription services transcribe audio and video to text so that people can read rather than listen.
A great example of this is subtitles for videos, but it also may include transcribing interviews and other tasks.
You won't become a millionaire doing transcription, but the pay isn't bad either.
The average transcriptionist salary is around $15 per hour, with advanced transcriptionists earning $25/$30 per hour.
The great news is, you can get started straight away with this type of work and have money in your PayPal account within a week.
Some popular transcription companies you would work for include:
Rev.com
TranscribeMe
GMR Transcription
Go Transcript
Daily Transcription
There are many more companies out there, so you may want to sign up for more than one company to maximize your earning potential.
The speed you type at will increase your earning potential, too, so you will start to earn more and more with practice.
---
Proofreading and Editing
If you're good at picking up spelling mistakes and grammatical errors, then online proofreading and editing would be an excellent way for you to earn extra money.
It's flexible, well paid, and you can do it from anywhere in the world at any time of day, so it's perfect for fitting around other elements of your lifestyle.
According to Glassdoor, the average salary for a proofreader in the U.S. is $45,303/per year.
If you're new to proofreading and editing, you may want to consider taking a course to brush up on your skills.
There are loads of online courses which will teach you everything you need to know and give you a confidence boost as you get started.
When it comes to finding work as a freelance proofreader and editor, there are a few great platforms online, including:
Upwork
People Per Hour
Freelancer
Clickworker
Fiverr
Facebook groups
Get Editing Jobs
LinkedIn
You can do proofreading both full-time and part-time, depending on your needs.
There are always plenty of proofreading jobs available (and we have a whole list of proofreading jobs from home), so it's a great place to start if you're looking to earn a living online.
---
Sell Crafts on Etsy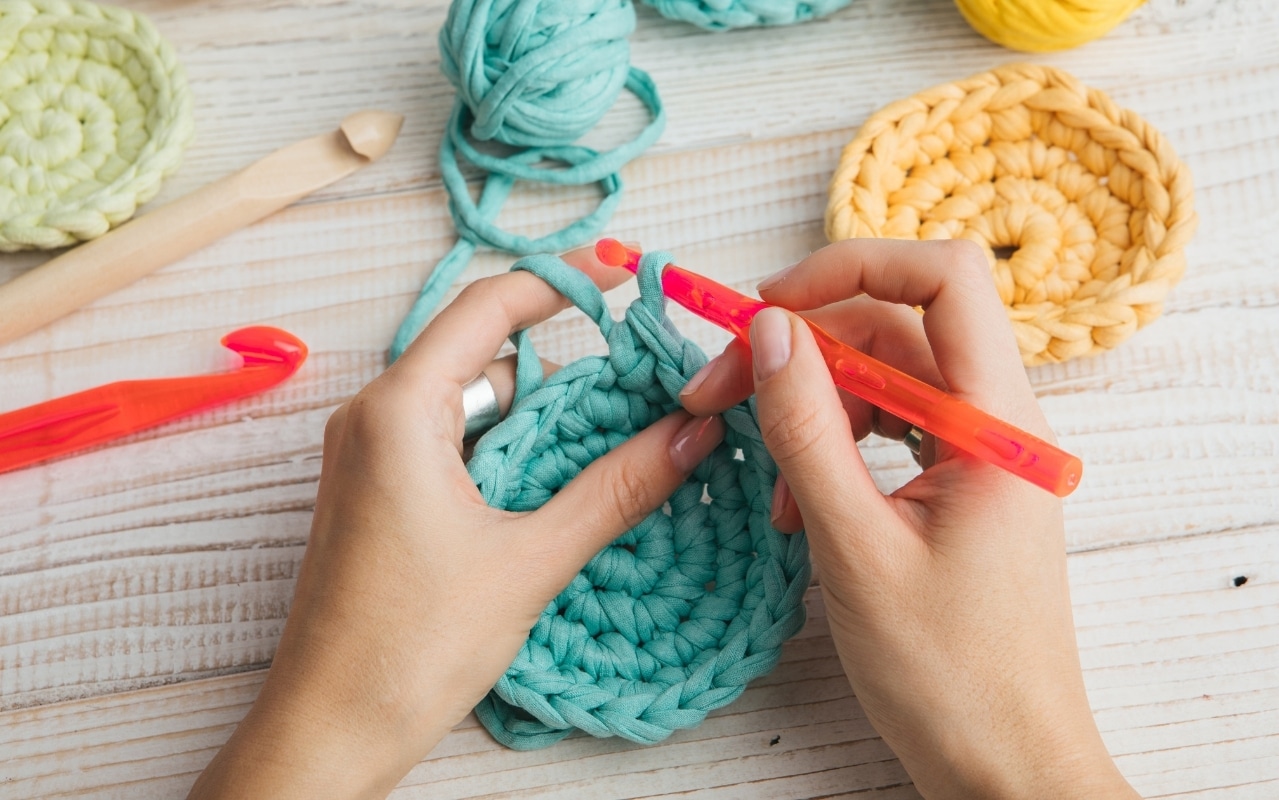 If you're crafty, then selling your creations on Etsy could be the perfect online job for you.
People buy and sell pretty much anything on Etsy. The main rule is that it should be vintage or handmade.
You can set up a seller account in Etsy and get started straight away. It's free to set up an account and then just $0.20 per listing.
If selling handmade items isn't for you, you could consider setting up a dropshipping store on Etsy.
This technically still counts as handmade if you have designed the items yourself. Etsy wants unique products that aren't available anywhere else!
You can sign up to a print-on-demand dropshipping company like Printful, and sell t-shirts, mugs, homeware, and lots of other items with your designs on them to earn cash.
The great thing about the dropshipping business model is that it costs hardly anything to get started. And with Etsy, you have access to a massive market of people who will want to buy your products.
---
Freelance Writing
Freelance writing is one of the best ways to start making money online without taking surveys.
It's changed many lives. It gives freedom to travel the world, work when you want, and do as much or as little as you can.
You don't need any qualifications to get started as a freelance writer. You will, however, need a passion for writing.
The demand for good freelance writers is growing.
There are hundreds of new jobs advertised every day on platforms like Textbroker and:
Upwork
ProBlogger Jobs
People Per Hour
Contenta
Flexjobs
WeWorkRemotely
When you are applying for freelance writing jobs, you will usually be asked for some samples of your work so the client can assess the quality of your writing before agreeing to work with you.
It's a good idea to have some writing samples related to the advertised position when you want to apply for an assignment.
For example, if you want to write for the automotive industry, your writing samples should be automotive-related.
Choosing a niche is important, as it can position you as an expert and make you more desirable to your future clients for writing jobs. This makes it easier for you to write, too.
As you learn more about your niche, it won't be long before the time you spend doing research will gradually decrease.
---
Write on Medium
Writing on Medium or even a Medium alternative can be a great alternative to freelance writing if you don't want to write for clients.
If you haven't heard of it before, Medium is an online publishing platform that charges members $5/month to access ad-free content on the platform.
Content creators can sign up for an account on Medium and publish content on their profiles.
Medium writers get paid according to the number of views on their articles. If your article goes viral, you will get a nice paycheck at the end of the month!
On the flip side, if no one reads your article, you don't get paid, so your writing's quality and subject are essential here.
Medium has its own publications within the platform you can apply to write for, so once you have written an article, you can submit it to publication.
If the publication accepts your article, it will be seen by a much larger audience and be more likely to make you money!
How can you start making money on Medium?
Check out our beginners guide to making money on Medium, which will teach you everything you need to know.
MAKE MONEY ON MEDIUM
---
Website Testing
If you want to know how to make money online without surveys (even if you have no experience), you should test websites and apps.
Testing websites and mobile apps is a 100% legitimate way to earn money online!
Literally, anyone can start making extra income straight away by evaluating websites. You can test websites to see how easy they are to use and navigate.
You can typically expect to make $8-$15 for around 20 minutes of work, so testing websites is a great option for anyone who wants to make extra cash in their spare time.
As a website tester, you will be testing out brand new websites to see how real people interact and use the website. A program will record your mouse movements, clicks, and keystrokes so they can see how you interact with the website.
You will often be recorded via your webcam and microphone, so your reaction and any spoken feedback can be considered.
This helps companies enhance their user experience and ensure their website is easy for anyone to use.
You can find website testing gigs on the following sites:
usertesting.com
userfeel.com
userlytics.com
whatusersdo.com
You don't need any experience with websites, as website user testing aims to test how regular people (not website developers) use websites.
---
Become a Virtual Assistant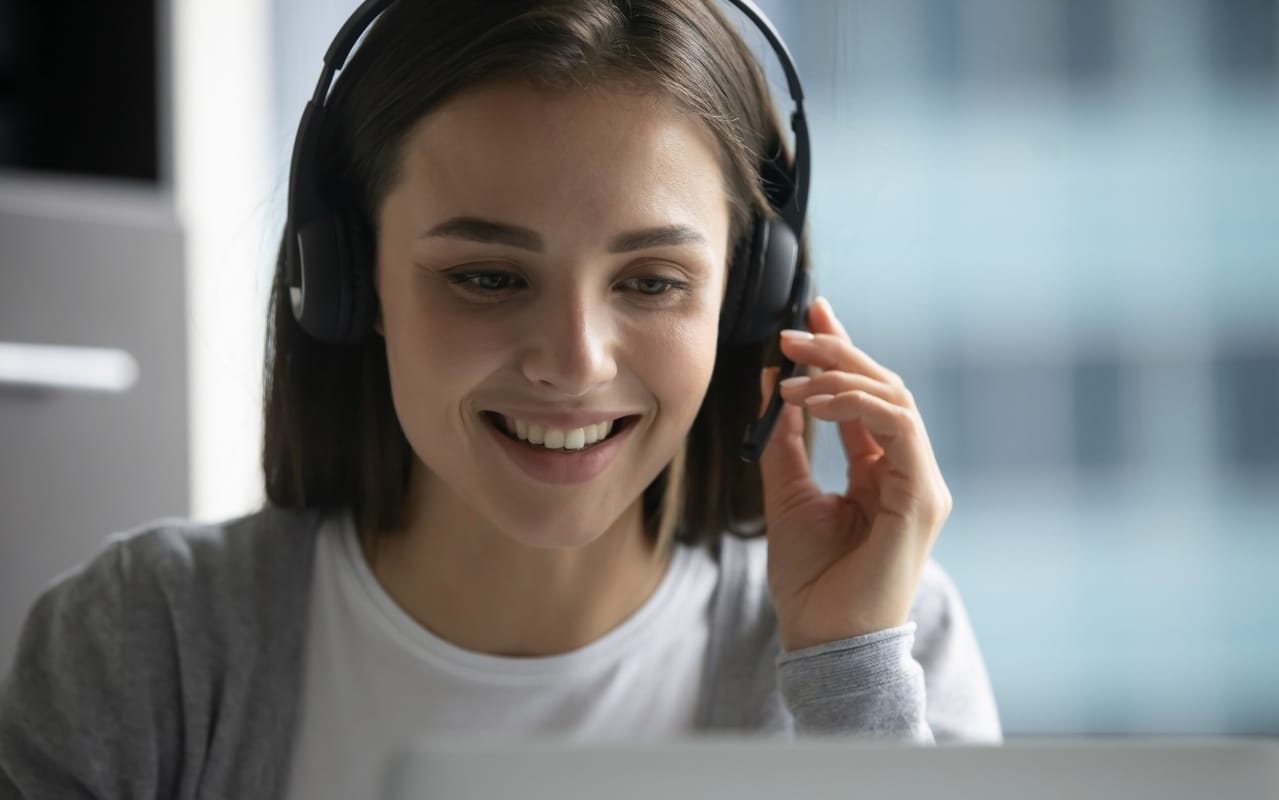 Starting a virtual assistant business is a great way to make real money online.
You can run your business from anywhere in the world, and you can complete your tasks in your own time since you are your own boss!
Virtual assistants are just like a PA or office assistant. The main difference is that they work remotely.
This suits most small businesses and entrepreneurs well as the business owner can pay for the hours they need for someone to complete short tasks, rather than having the worry of hiring a full-time employee. So it's an easy way for companies to save money.
A virtual assistant can complete small tasks for their clients, such as data entry, scheduling appointments or replying to emails.
Some popular services you could offer as a virtual assistant include:
Inbox management
Diary management
Data entry
Email marketing
Editing and proofreading
Writing blog posts
Writing letters
Social media management
Monitoring online content
Personal shopping
Booking travel and accommodation
If you have experience in any of these areas, then you could make money as a virtual assistant!
You will need a website to advertise your services and LinkedIn and social media pages to help you find clients.
You can create a professional-looking website in a matter of hours using Bluehost and WordPress.
---
Become a Social Media Manager
As the popularity of social media grows, the demand for social media managers is rising, too.
Almost all companies have a social media presence now, but they don't all have time to run their accounts properly or use it to their advantage to grow their business.
If you love using social media, becoming a social media manager could be a great way to earn money online.
You can find social media management gigs on:
Upwork
Fiverr
People Per Hour
Freelancer
LinkedIn
Clients will want to see examples of what you can do.
If you've never managed anyone else's social media accounts, you should make sure your accounts are a shining example of what you can do.
If you want a confidence boost, you can always take an online course to polish your skills before offering your services to real clients.
---
Graphic Design
Have you got an eye for design?
If you're creative and artistic, then offering graphic design services is a great way to make money online.
Freelance graphic designers can make money by creating logos, cards, menus, templates, and much more.
You can find graphic design gigs on freelance websites such as:
Upwork
Fiverr
People Per Hour
Freelancer
LinkedIn
You can also sell your services on your website or online marketplaces such as Etsy.
A great way to make passive income as a graphic designer is to design and sell graphics, fonts, and templates on websites like Creative Market.
The beauty of sites like Creative Market is you can create a design once and sell it an infinite number of times!
---
Start a Podcast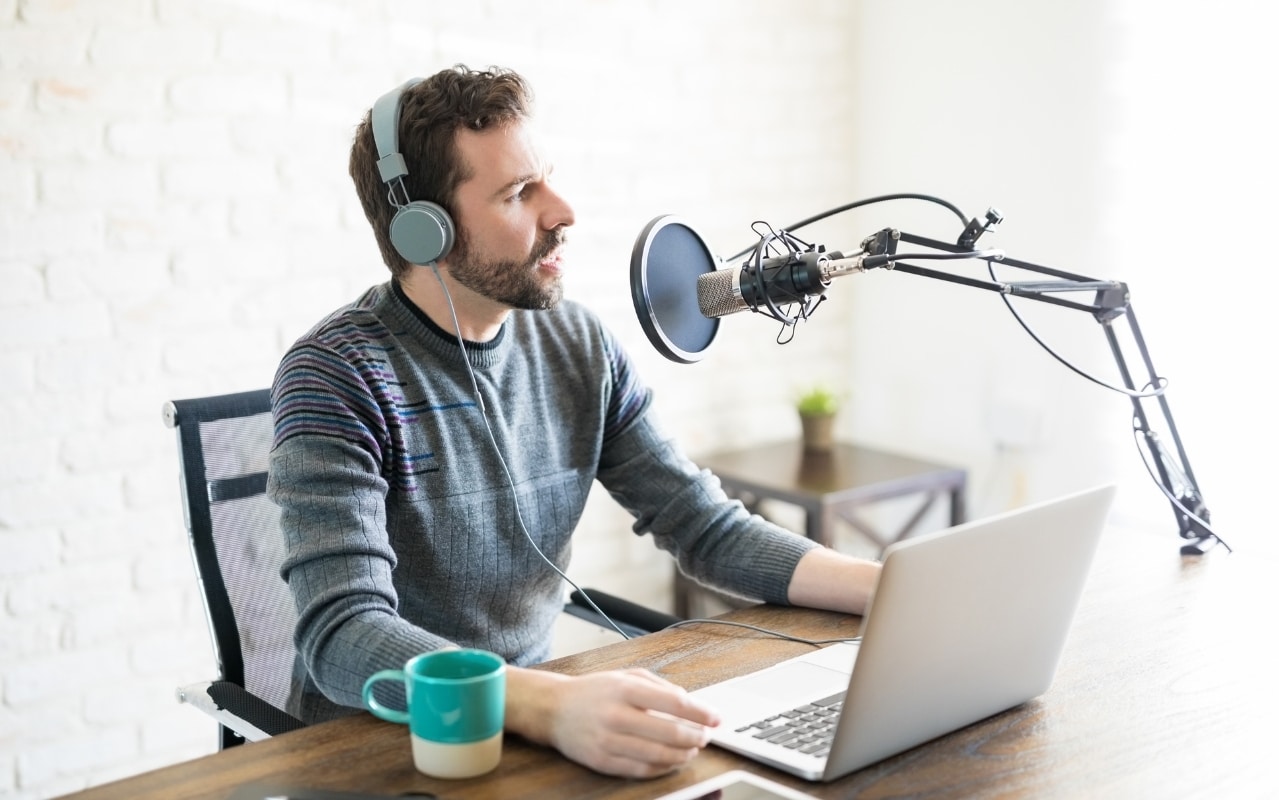 Starting a podcast is a great way to make money from the comfort of your own home.
Podcasts are becoming more and more popular, so if you have ever considered starting one, now is the time!
You can get started straight away using free podcasting software like Buzzsprout. All you need is a microphone and a computer, and you're good to go.
There are loads of subjects to choose from when creating a podcast, but make sure you select a topic you enjoy. This will ensure you don't run out of things to talk about!
If you want an idea of what's popular, look at Apple podcast's top podcast categories. Comedy, news and politics, and society and culture are clear favorites.
That's not to say that you shouldn't choose a minor genre for your podcast, though! Smaller genres can benefit from a more loyal and engaged audience.
---
Become a Pinterest Manager
Pinterest is the new Google when it comes to searching for images, and it's a massive driver of traffic for companies, businesses and bloggers.
Pinterest is both a search engine AND a social media platform. The benefit of this is that your pins can go viral even if you're brand new to Pinterest.
It's much harder to get onto the first page of Google if you're a new blogger.
More and more busy business owners are looking to outsource tasks like Pinterest and social media. This is where you come in!
It's easy to learn, too, even if you have never had a Pinterest account of your own.
You can learn everything you need to know to become a successful Pinterest manager by taking a Pinterest marketing course.
Pinterest managers can earn between $250-$550 per client each month. If you get a few good clients on your books, that can turn into a pretty great yearly salary.
You can find clients to offer your Pinterest management services to on:
Upwork
People Per Hour
Facebook groups
You can also start a blog, targeting Pinterest-related keywords so that clients can find you by searching on Google.
---
Selling on eBay
If you want to know how to make money online without surveys, this is one of the easiest ways.
You don't need anything to get started other than an eBay seller account.
Buying and selling on eBay is an enjoyable way to make money.
The great thing is you can do it in any spare time you have, even if it's just a couple of hours a week.
It's also one of the best ways to make quick cash, and you can have money sitting in your PayPal account within a week, sometimes even sooner!
You can sell almost anything on eBay, so start to earn paypal cash with items in your own home that you no longer want or use.
Next, you can move on to buying items to flip for a profit. Some of the best places to find things to flip are:
Thrift stores
Yard sales
Facebook marketplace
Craigslist
Flea markets
Friends and family
Auctions
Estate sales
Want to know more about selling on eBay to earn free PayPal cash? Check out our article on the best things to sell on eBay.
---
Write and Publish an Ebook
If you think becoming an author is an unattainable goal, think again.
Thanks to Amazon Publishing and the Amazon Kindle store, you can become a best-selling author in a matter of months.
Seriously, all you need is an idea!
You can write about almost anything you want, but it's worth checking if your niche has a large audience first. After all, you want to know there are people out there who will buy your book.
---
Get Paid Online No Surveys!
Now that we've shown you several ways how to make money online that doesn't involve surveys, it's time to pick an idea and get started.
None of these ideas are get-rich-quick schemes, but they all have the potential to make you some decent money if you're willing to put in the effort.
This is especially true for dropshipping and affiliate marketing businesses where the scalability and income potential are enormous and you can make the most money.
Final thoughts – How much cash you can make will depend on how much effort you can make, but it's perfectly possible to improve your income with these methods by utilising your free time at weekends or even on your lunch break. You may have less time to hang with friends or watch TV, but in the end it'll be worth it when you've got more money and all the great things it brings.
So ignore those dodgy ads offering free paypal cash and start earning money online without surveys today!
Want to learn step-by-step how I built my Niche Site Empire up to a full-time income?
Yes! I Love to Learn
Learn How I Built My Niche Site Empire to a Full-time Income
How to Pick the Right Keywords at the START, and avoid the losers
How to Scale and Outsource 90% of the Work, Allowing Your Empire to GROW Without You
How to Build a Site That Gets REAL TRAFFIC FROM GOOGLE (every. single. day.)
Subscribe to the Niche Pursuits Newsletter delivered with value 3X per week