11 Great Places to Find Website Testing Jobs To Earn Extra Income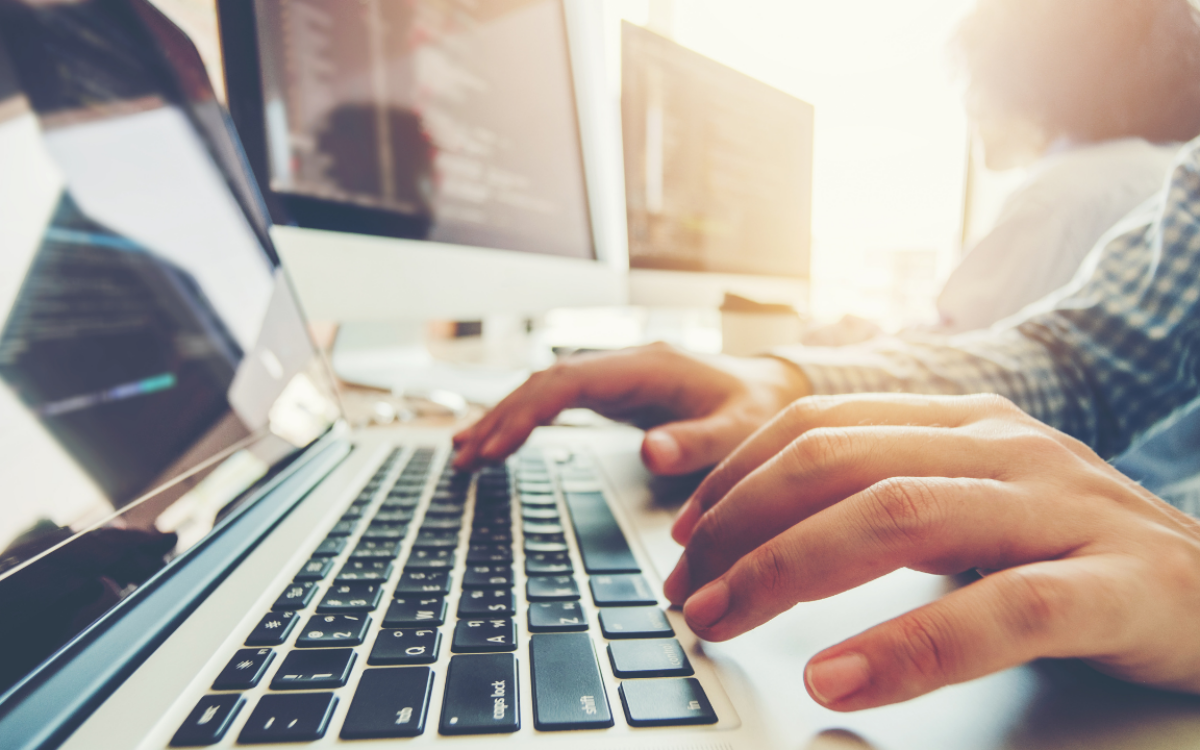 When you buy something through one of the links on our site, we may earn an affiliate commission.
Did you know that you can make money just by testing websites? In a short amount of time and with some effort, you can consistently earn money. Website testing jobs are fun, flexible, fairly easy, and can pay well. You'll just need to be able to think critically, have a good eye for detail, and be able to follow directions.
Not sure where to get started? Here are 11 high-quality website testing platforms that pay you to test websites during your free time.
11 Great Website Testing Jobs That Pay Well
Check out this curated list of options for you to (usually) quickly sign up as a website tester and get started!
User Interviews
With up to $16.5 million raised, User Interviews is a popular website testing platform that invests in its site, clients, and testers. You can choose to apply to a study or wait for User Interviews to recommend one.
There are various types of studies for website testers to select from, including 1-on-1 interviews, focus groups, multi-day studies, and unmoderated "free" tasks. The paid research studies provide complete information, from how much you will earn to how long the study will last. It also provides the device requirements so website testers can know if they qualify for the study.
User Interviews offer different types of payment incentives that are specified before you apply for the test. These range from cash and gift cards to a Reward Link gift card. The latter allows you to choose from a dozen of options of gift cards and apply your earning balance to your chosen set.
---
Test IO
Test IO is a website crowd-testing platform designed to assist programmers in developing websites and apps. You can sign up for their website testing jobs and gain immediate access to in-depth training courses. These courses will help you to understand what the client requires, how to test a website, and submit bug reports upon finding them.
After signing up for the website, Test IO sends invitations to website testers to start their first test. Paying attention to detail, finding unique bugs, and submitting detailed bug reports will help to increase your rank and land more test offers so you can get paid to test websites.
Website testers can earn up to $50 for high-priority bug reports and reproduction. Testers can also earn money by referring Test IO to their friends and family. The more your referrals earn by submitting accurate bug reports, the higher your chances are of receiving compensation.
Test IO pays its users monthly. All your earnings are added to your account and displayed to you on the 11th of every month. You can accept payment by pressing the 'Request' button. Test IO offers several payment options to transfer your earnings to your bank account including PayPal, Payoneer, and SEPA Bank Transfer.
---
PingPong
PingPong is a user-testing website that began in 2017 with the mission to simplify the research process for its clients. With more than 175,000 testers and 200+ satisfied clients, PingPong is creating meaningful digital experiences worldwide. This is one of the best website testing jobs for beginners to get paid to test websites because of its sleek and straightforward design.
You can join the PingPong team to be a part of future innovation and earn extra money by signing up as a tester. Testers just need a PC or laptop with a webcam, as this is PingPong's preferred testing method, and a good internet connection to join the PingPong team. After completing your profile, you will receive an invitation to a research project. Some projects may require additional screening questions to qualify.
Once the company accepts your application, you can book and attend the session most convenient to you. PingPong testers earn money by taking part in video interviews where they discuss the efficiency of a website.
You can expect to paid to test websites around $10 to $100 per hour with some special projects rewarding up to $200 per session. Payments are sent out 2-3 days after your interview. You'll receive them directly in your bank account via Paypal or Transferwise.
---
Ferpection
Used by over 250,000 testers worldwide, Ferpection works to improve user experience by testing websites and mobile apps.
Brands need your opinion to improve their products. You can make your voice count by providing feedback to corporate clients and earning rewards in return. Signing up for this website is easy, and it doesn't take long to fill out a profile. Ferpection uses your profile data to match you with targeted projects. This is one of the best website testing jobs for earning rewards and gift certificates in addition to cash.
You can receive $10 to $20 per study depending on the difficulty or length of the task. These funds are deposited to your Paypal account or you can claim them in the form of amazon gift cards.
---
Testing Time
Testing Time is a platform where you can test mobile applications, websites, and physical products. Website testers can register with a simple sign-up process, answer questions to complete their profile, and receive invitations to get paid to test websites. Once you are selected for the study, you can book the session in your free time.
The compensation offered depends on the intensity and type of study with 1 to 1 interviews paying the highest. So these earnings accumulate in your Testing Time Wallet and are transferred to your bank or Paypal account once a payout request is submitted.
---
Enroll
With more than 651,000 tests taken, Enroll provides testers with plenty of opportunities to earn extra cash in their free time. This is a great platform if you're looking for a bit more consistency in testing availability.
Once you sign up for the site to test websites, you can answer poll questions to increase your visibility to the Enroll community. These yes/no questions offer no compensation but help brands narrow their search for testers.
Enroll will alert you with an email notification when a test becomes available. Each test is 30-75 seconds long and adds a $0.10 bounty to your account. So you can choose to transfer your monthly earnings to your Paypal account when required.
---
Userlytics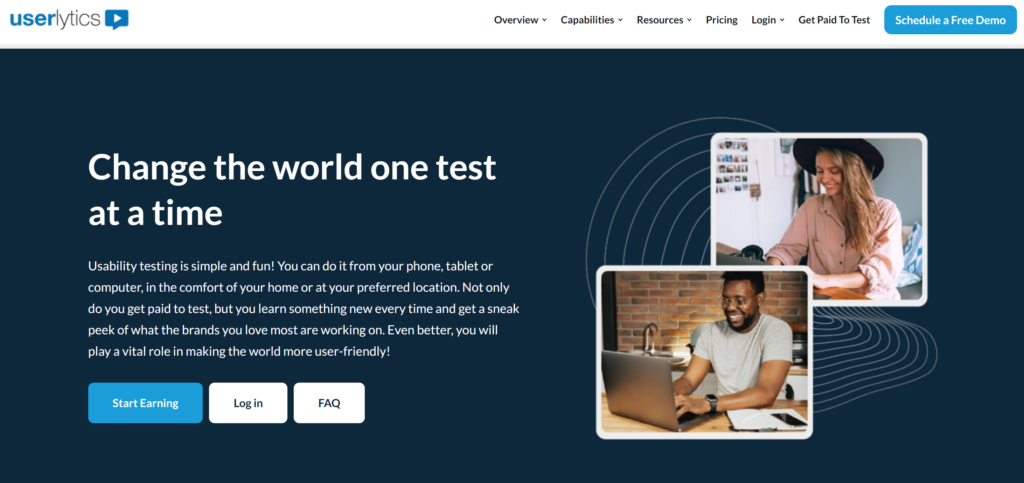 With more than 1.6 million participants worldwide, Userlytics uses qualitative and quantitative methods to test websites and design user-friendly user experiences.
After signing up and completing your profile you become an active tester. Userlytics matches your data to offer test invitations with rewards of $5-$90 per test. The payments are transferred to your PayPal account once the test results are approved by the team.
---
User Testing
User testing is the world's leading human insight platform where you get paid to test prototypes, mobile, and web applications. To join as a website tester, you need to have a device with a microphone to attend your interviews and an active Paypal account to receive your earnings when you get paid to test websites.
After signing up for User Testing, you should complete all steps on your applicant checklist and take a practice test. This will guide you with how the website works and help to match you to the right tests.
Contributors generally take around 2-3 tests a week depending on how suitable their profile is to the client's needs. Payments come out once the test is finished and the company reviews and approves your work.
---
IntelliZoom
IntelliZoom is a UX-focused insights company that gathers demographics from a wide variety of participants. It conducts research and analysis with the help of 120 million participants worldwide.
You can join the website by answering three basic profile questions and taking part in multi-method testing, including surveys and click tests.
Each test rewards you with $2-$10 depending on the intensity of the task. The payments for website tester jobs are transferred to your registered PayPal account 21 days after the test results are approved.
---
Userfeel
Userfeel is a website testing platform that supports multilingual remote usability testing. It starts with completing an unpaid qualification test to verify how well you use your microphone while sharing your thoughts. Userfeel assigns a rating based on this qualification test which can subsequently help in landing more offers to test websites that match your profile data.
You get paid $3-$30 per study depending on how long the test lasts. After your test result is approved the amount is added to your Userfeel Wallet and can be transferred to your Paypal account whenever you're ready for your payout.
---
Trymata
Launched in 2015, Trymata helps companies to create digital products that provide an engaging user experience. Businesses, small or large scale, work with Trymata to find users who can provide honest and detailed experiential opinions on products.
You can sign up as a tester and help brands design user-friendly innovations. The Trymata platform encourages users to share their screens and record real-time experiences while visiting the site. You also need to have good communication skills to write a test response that is more free-form than some tests found on other platforms.
Trymata pays a minimum of $10 via PayPal for every usability test. Usability testing involves giving unfiltered feedback for a website or app.
---
How Much Will I Earn With Website Testing Jobs?
On average, you can expect to earn between $2 to $60 per website testing job. This is a big range, and it's possible to earn more than this to test websites. Many factors determine how much you can earn, such as the type of project you are working on and the company you are working for. The more complex the job is, the higher your payout can be.
Sometimes working as a website tester requires special analytical skills to earn higher payouts. For example, if you have experience working with a particular technology or you can provide insights from a UX perspective, then you may be able to earn more than the average website tester.
Websites like Test IO, Pingpong, and User Interviews value this and pay above-average rates to their testers. So go with these platforms if you want to start off with higher earnings.
You can increase your chances of getting more test invitations by registering as a tester on different websites. The requirements for website tester jobs are similar across all platforms; you need a stable internet connection and a device with a webcam and microphone. Joining multiple websites is free and can increase your chances of qualifying for several projects, resulting in higher monthly earnings.
You can also apply for a full-time job as a tester. It's possible to find these job postings on Linkedin, Glassdoor, and other employment-oriented websites. The requirements for these jobs differ for every employer; some employ candidates with zero experience levels, while others prefer an educational background in IT.
A Day in the Life of a Website Tester
Website testers have interesting jobs that can look different with every assignment. They can work as QA testers or laymen to test apps and websites that can have a significant impact on the digital world. Here's a look at what a typical day as a website tester looks like:
You wake up in the morning and check your mobile for any new test opportunities before getting started with work.
There's an invitation to a test offer that matches your profile. The offer is perfectly suited to your field of interest, and hence you choose to apply for the study.
It takes you to a quick screening test to confirm whether you fit the selection criteria. You answer these screener questions while you reach work.
During work, you receive an email. You have been selected for the study and can book a session at your convenience. You choose to attend the test later that evening when you're free.
That night, you switch on your device (computer, phone, or tablet) and connect to the pre-installed software via the website. You read and follow the instructions on the hosted page.
You share your honest opinion about the website's user interface, features, and functionality. You also record your comments after every task assigned to you. At the end of the session, you are done with the testing process and submit your recordings and feedback.
Your job here is done! You can look to accept other test invitations or apply to tests on different platforms.
Within a week after completing your test cycle, you will receive the good news! Your test results are approved, and the reward is transferred to your PayPal account.
While every assignment will have different workflows, it's really this simple to fit website testing into your daily life.
The Bottom Line: Website Testing Jobs
Website testing is an interesting job that doesn't have too many specialized requirements and is easy to get started and create new income streams with.
Testing gigs pay well, and you can use your analytical skills to earn higher payouts on complex projects. You can also gain experience in the fields of user experience, usability, and software testing, which are beneficial for both remote testers and full-time professionals.
So if you're looking for a way to increase your earnings, website testing gigs may be a great option for you.
Here are some more side hustle options you could consider:
Want to learn step-by-step how I built my Niche Site Empire up to a full-time income?
Yes! I Love to Learn
Learn How I Built My Niche Site Empire to a Full-time Income
How to Pick the Right Keywords at the START, and avoid the losers
How to Scale and Outsource 90% of the Work, Allowing Your Empire to GROW Without You
How to Build a Site That Gets REAL TRAFFIC FROM GOOGLE (every. single. day.)
Subscribe to the Niche Pursuits Newsletter delivered with value 3X per week