25 Places to Find Great Proofreading Jobs You Can Do From Home
When you buy something through one of the links on our site, we may earn an affiliate commission.
When considering your dream work-from-home job, a lot of people don't think about proofreading jobs from home. Proofreading is a high-income skill that can bring you rewarding work with benefits like a competitive salary, remote work, a flexible schedule, and other perks.
It's perfect for beginners who are looking for entry-level work and who might not have experience or a degree.
In this article, you're going to learn about the 25 best proofreading jobs from home.
You'll discover:
What the benefits of being a work-from-home proofreader are
What a work from home proofreader does
How to become a proofreader
Required skills and qualifications
Tools proofreaders need
Pros and cons of proofreading
How much money proofreaders earn
Let's get started.
25 Proofreading Jobs from Home
We've put together this list of 25 proofreading jobs from home. They come from a variety of different websites including proofreading sites, job boards, job search banks, apps, and more.
It's worth checking out all of these sources to see which jobs are the best fit for you.
It's important to note that your search for proofreading jobs online may turn up editing jobs as well. Since editing jobs are similar to proofreading jobs, this isn't unusual.
Check it out!
1.Upwork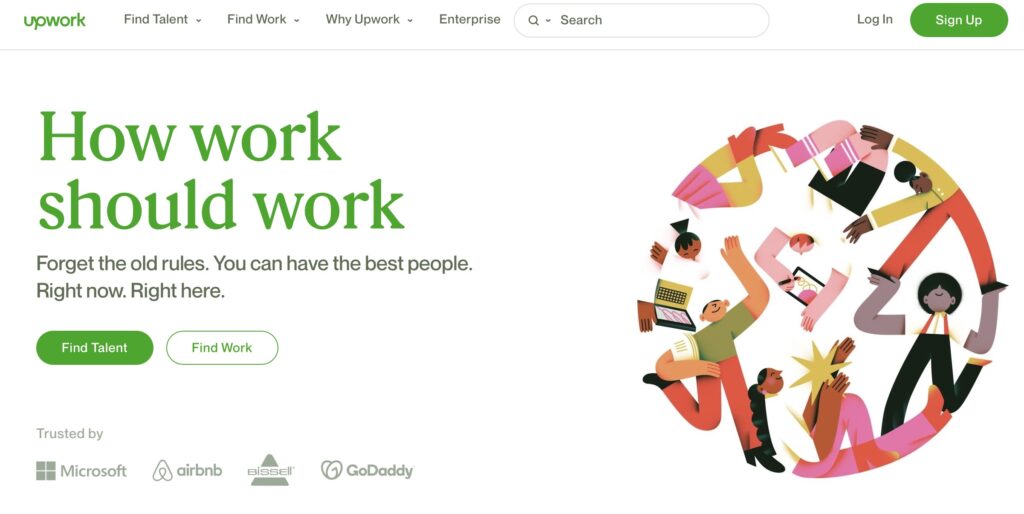 Upwork is a freelancer platform that brings together freelancers and clients to work on projects. Clients will post their projects on Upwork and freelancers can bid on the projects for work. The client will pick the freelancer(s) they want to work with and work can begin.
Upwork is a platform that you can use to find a freelance proofreading job.
They act as a middleman bringing together the two parties and working as an escrow agent when payment is issued to the freelancer.
This is a great place to find online proofreading jobs. Just search Upwork for proofreading jobs and apply to jobs of interest.
---
2. Fiverr
Fiverr is a gig marketplace that brings together buyers and sellers to work on projects together. This is setup in the reverse of how Upwork works. Gig sellers post their gigs on the marketplace and buyers can purchase the gigs they want.
You would be a gig seller, offering proofreading services to the public, as a freelance proofreader.
Proofreaders can use Fiverr to post their proofreading gigs. When a buyer purchases one of your gigs, you'll fulfill the order and get paid. You can use Fiverr to communicate with the buyer, send requirements, and receive payment.
---
3. Indeed
Indeed is one of the top job search websites online. To find proofreading work, search for jobs on Indeed and apply to jobs you're interested in.
Indeed is not a remote-only job search site so make sure you use keywords like "remote" or "work from home" to find jobs that allow remote proofreading.
---
4. Steady
Steady is a mobile phone app you can use to find jobs online. You can search the app to find remote proofreading work. They also offer additional features like:
Income tracking
Income boosters that reward you for signing up with offers
Emergency cash grants
---
5. FlexJobs
FlexJobs is a remote job search engine. They feature work-from-home job postings on their site. This is a paid job search site but they offer flexible memberships for as little as 7 days, for around $10.
---
6. Freelancer
Freelancer is a freelance marketplace website set up similarly to Upwork. You'll join the platform as a freelancer and bid on available proofreading jobs posted by clients. If your bid is accepted, you'll start the work and get paid.
---
7. LinkedIn
LinkedIn is a career-based social network where you do things like:
Find jobs
Network with your peers
Build a professional profile
Contribute, follow, and support other users
LinkedIn is a great place to do online networking. You can make some real connections that can help you gain proofreading work. You can also use the Jobs section of the site to search and apply for online proofreading jobs.
---
8. Craigslist
Craigslist is a classified ads website. They post a variety of classified ad listings including jobs. Head to the writing/editing section of the Jobs category to search for potential proofreading jobs.
---
9. EditFast
EditFast is a website where people go to get help with editing, proofreading, writing, and indexing. You can join EditFast, and then after activating your webpage, you'll be able to get alerts for proofreading jobs.
---
10. Proofreading Pal
Proofreading Pal offers a proofreading service to its clients. You can work for the company as a proofreader, providing proofreading services to their clients.
They're looking for proofreaders who:
Are professional
Are deadline-driven
Can work independently well
Have a computer with Microsoft Word 2007 or higher, Adobe Standard or Foxit Standard or higher, and Windows XP, Vista, Windows 7 or higher
---
11. We Work Remotely
We Work Remotely is a free remote work job search website. You can browse job categories like customer support, design, full-time, and more.
There's no writing or proofreading job category so I recommend you use the search field to search remote proofreading jobs listed on the site. You just use the search field to type in keywords like "proofreading" to find proofreading work.
---
12. Remote
Remote is a free remote job search site, similar to We Work Remotely. They feature remote jobs only, in categories like:
Healthcare
Design
Sales
Data Entry
Editing
You can use the search bar to find proofreading jobs currently listed on the site.
---
13. Working Nomads
Working Nomads is a free remote job search site for digital jobs. They feature jobs in a variety of industries like marketing, development, customer success, writing, and more. You can read about the job available including job description and how to apply.
---
14. RemoteOK
RemoteOK call themselves the #1 remote job board. This free resource lets you search for remote jobs by keyword, salary, and benefits. Search proofreading jobs, click the job listings of interest, and follow the instructions to apply.
---
15. Solid Gigs
Solid Gigs works a little differently than the other websites and apps in this list.
It's a lead generation service. So, they provide job seekers a service, hand-selecting and sending curated job leads by email. This saves time from you scouring the internet for proofreading jobs.
You will set your preferences and get a job leads list sent to your email that you can review and apply to those jobs you're interested in. This is a paid service, available on a monthly or annual fee.
---
16. Guru
Guru is an online platform where freelancers can find jobs. You would join the platform as a freelancer and search for freelance proofreading jobs. You'll find projects, submit your bid, and then, if selected, work the proofreading job.
---
17. Virtual Vocations
Virtual Vocations is a job search website for remote jobs. They offer a hybrid payment model where you can gain limited access to the site for free or unlimited access for a fee.
This remote job site is a good option for finding proofreading jobs from home.
After joining Virtual Vocations, you can search for proofreading jobs on the platform and then apply to the jobs you're interested in.
---
18. Glassdoor
Glassdoor is a free career resource that offers job seekers a wealth of information about jobs, employers, salary insights, and more. Navigate to the Jobs section of the site and search for proofreading jobs. You can sift through the results and apply to the jobs you're interested in.
---
19. Snagajob
Snagajob is a job search website for hourly jobs. Search the site for free to find remote proofreading jobs you can work from home.
---
20. Instagram
Instagram is a visual-based social media network. You can join the social network for free, build your profile ,and start posting images and videos. Many people use Instagram for leisure and entertainment, but it's an untapped source for jobs as well.
Instagram is a great app to use for networking:
Build a professional profile.
Highlight your work as a proofreader.
Post proofreading content.
Connect with other proofreaders and share helpful tips and advice.
Create content and support other Instagram posts.
You can build an online reputation for yourself as a professional proofreader doing these things. You might be surprised how quickly clients come to you on Instagram to book you for freelance proofreading work.
---
21. Twitter
Twitter is a social network built around posting short texts called tweets. While you can post video and images on Twitter, the focus is definitely on tweets.
You can get booked for proofreading work using Twitter doing the same activities mentioned above for Instagram:
Create a professional social media profile.
Interact with others.
Show support by liking and retweeting tweets.
Post tweets.
Use the platform consistently.
A Twitter user shared in this tweet about how she's been on Twitter for less than a year and has already amassed over 17,000 followers! Being consistent can pay off.
---
22. Facebook groups
Facebook groups are an incredible source for finding online work. If you're on Facebook already, use the search bar to find groups to join where proofreaders would hang out. This could be groups of:
Other proofreaders
Authors and publishers that may need to hire proofreaders
Professionals in the publishing space that may need proofreading help
Request to join the group. Then once you're in, network!
---
23. Ziprecruiter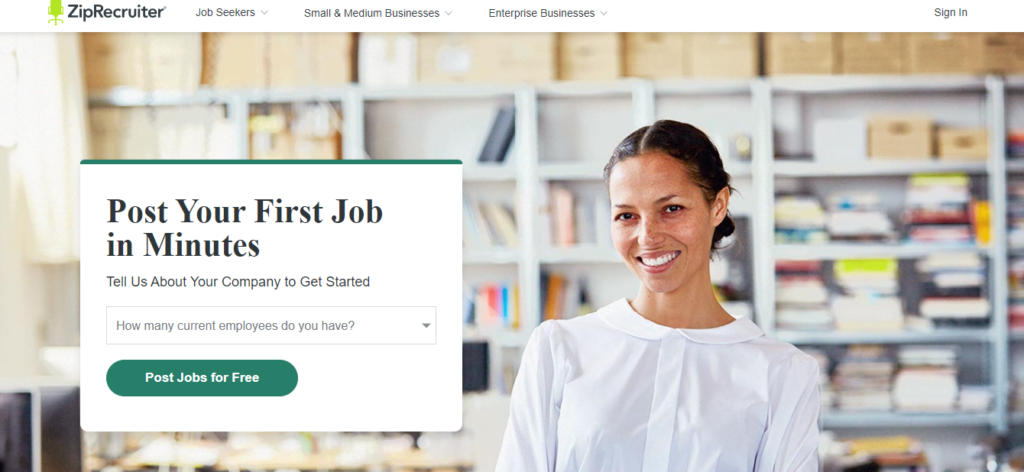 ZipRecruiter is a job search website you can use to find proofreading jobs online. Check out their job postings, salary information, reviews, and more.
---
24. Angellist
AngelList is a job bank for startup jobs. You can join the website for free, build your professional profile as a proofreader, and start searching for jobs.
You'll be able to get detailed information about the startups hiring like:
What stage of fundraising they're at (i.e. seed stage, round A, etc.)
If jobs offer equity options
The size of the organization
Salary details
---
25. Google Jobs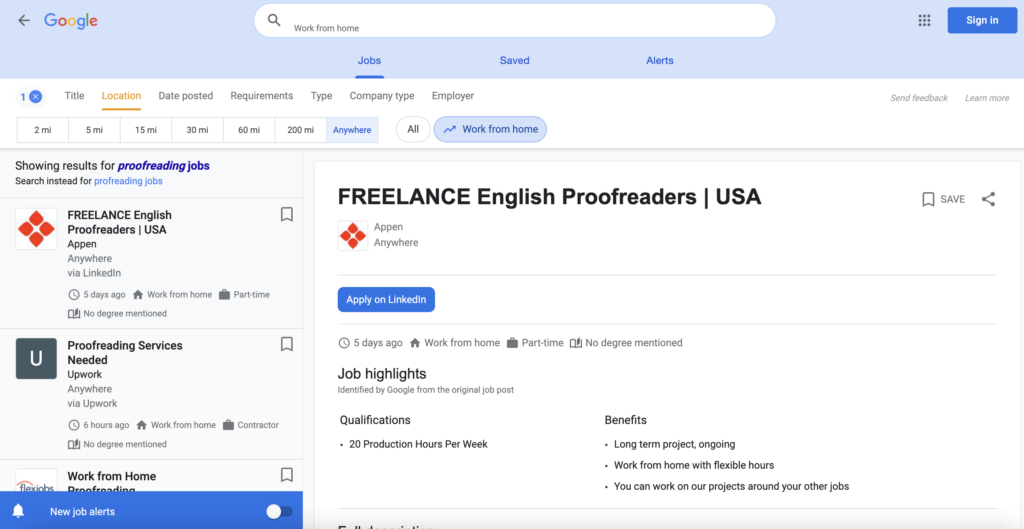 Google Jobs is Google's job search tool you can use to find jobs online. Use their search filters to see remote-only jobs and filter the search results by employer, degree requirements, and more.
It's easy to use and free. Once you find jobs you're interested in, follow the instructions in the job listing to submit your application.
---
What are the benefits of working from home as a proofreader?
The benefits of proofreading are:
The ability to work from home: As long as you have access to a computer and an internet connection, this is a flexible job that you can work remotely.
Unlimited income potential: Working for multiple clients is possible, giving you the opportunity to earn an unlimited amount as a proofreader from home.
Flexible schedule: The jobs you work will be deadline-driven so many employers give you the flexibility to work the hours you wish, provided you meet the deadline.
Work-life balance: Because of the opportunity to work from home and flexible schedule with no income ceiling, proofreading ranks high for work-life balance.
What does a work from home proofreader do?
A work-from-home proofreader has an important role in the publishing process. They check documents for errors in spelling, punctuation, and grammar. They are often the last step in the process before work is published.
For example, when a major blog like Social Media Examiner or Scary Mommy publish a blog post, they might go through a multi-step publishing process:
Write an outline.
Prepare a rough draft.
Write the draft.
Edit.
Proofread.
Publish.
Proofreaders have a critical eye and they can spot errors that editors missed. This happens prior to publishing so any small errors that weren't caught prior to proofreading can be addressed and corrected before the work gets published.
How can you become a proofreader from home?
Becoming a proofreader is a job within reach for a variety of people. While you don't need experience or a degree to work in proofreading, it does require work to get started.
Getting trained as a professional proofreader is recommended so you gain a greater understanding of the industry and get practice learning the art of proofreading before starting to work for employers.
Where can you learn proofreading for free?
You can learn proofreading for free through sources like YouTube or free courses on Udemy. Learning to proofread for free sounds like a good way to save money, but it can have drawbacks.
You learn about proofreading a little bit here and there, hoping to piece it all together to work as a professional proofreader.
Doing it this way can be challenging. You can learn out of order and miss critical steps in the process. It can be confusing, and the research to find these free resources is time-intensive.
Instead, consider investing in paid proofreading training. You'll get a structured curriculum and get all the information upfront without having to hunt for it on the internet.
Which proofreading courses are best?
There are many places you can learn proofreading online. I recommend you invest in a paid course, where you can get all the information you need about proofreading, in one place.
The two courses you should check out are:
What is Proofread Anywhere?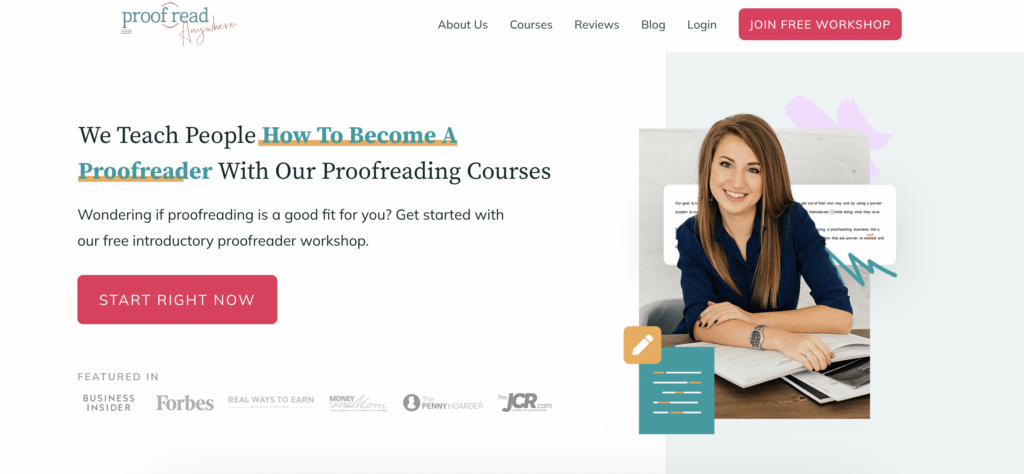 One of the best courses online to learn proofreading is the training by Proofread Anywhere.
The creator, Caitlin Pyle worked as a professional proofreader. Working part-time she made around $43,000 per year as a proofreader. After building her proofreading business, she put together a top-rated course to show others how to work as a proofreader, too.
You can start by taking this free workshop which teaches you about the proofreading business. You'll learn:
Signs that proofreading is right for you
Why proofreading is a great work-from-home job
How to attract proofreading prospects
From here, after taking the free workshop and once you know proofreading is a career you want to pursue, you can enroll in the paid training.
Learn more about Proofread Anywhere.
What is Knowadays?
Another excellent option for learning proofreading is the Knowadays.
Knowadays teaches a variety of online courses in the digital publishing space on topics like proofreading, editing, and copywriting.
The proofreading course is one of their most popular courses. It teaches you how to become a proofreader. You'll learn about:
How to start proofreading as a beginner
How to get guaranteed proofreading work with their partner, Proofed
What style guides are and how to work with them
How to develop professional proofreading skills
Spotting common mistakes
The course is laid out in 15 different modules with access to one-on-one support. It's beginner-friendly and it's open to students worldwide.
What skills do you need to find proofreading jobs?
Proofreaders are skilled professionals with a good eye for spotting grammar and spelling errors. You should have a strong command of the English language.
Proofreaders are:
Excellent communicators
Patient
Detail-oriented with a critical eye
Organized
Good multitaskers
You'll need to be able to set priorities for yourself, meet deadlines, communicate with your employers and clients, and balance your workload so you can perform your job effectively and efficiently.
What tools do you need for remote proofreading jobs?
Proofreaders can start by using tools like a computer with an internet connection along with basic tools like word processing software such as Microsoft Word or Google Docs.
Some optional tools that can help you do your work more efficiently include grammar/spelling software like:
These software tools can help you improve sentence structure and readability, shorten sentences, make parts of the text sound clearer, and more.
Pros and Cons of Working as a Remote Proofreader
Here are some of the pros and cons of working in an online proofreading job from home.
Work from home
Flexible schedule
Unlimited income potential
Good work-life balance
Introvert-friendly
Good for independent workers that enjoy working in solitude
Low startup costs
Unstable income
Deadline-driven
Independent contractors are responsible for their own taxes
Additional education may be required for some jobs
Working alone can be lonely
Copy editing vs Proofreading
Copy editing and proofreading work are similar, but they are different jobs. Here's the difference between copy editing and proofreading.
Copy editing:
Adds/removes/changes a document's structure to make it better
Follows a style guide to ensure the document matches
Makes heavy corrections to style, tone, readability, grammar, spelling and punctuation within a document
Happens early in the publishing process
Proofreading:
Reviews a document for small errors in spelling, grammar, and punctuation
Is a final review of the document for light changes, prior to publishing
Happens late in the publishing process
How much do proofreaders make?
According to Salary, the median salary for a proofreader is around $55,100/year, with top salaries hovering close to $80,000/year, based on this ZipRecruiter salary report.
How much do proofreaders make an hour?
Proofreading can be done part-time or full-time. On an hourly scale, you can expect around $19 to $29 per hour, depending on the work.
Common questions about proofreading
1. Can you be a proofreader without a degree?
Yes, you can! Proofreading doesn't require a degree for most jobs. With training under your belt, you can start working professionally part-time or full-time as a proofreader.
2. How much money can you make proofreading?
The median salary is around $55,000/year. Part-time, you can charge an hourly rate between $19 to $29 per hour depending on your niche and skill level.
3. Can proofreading be done part-time?
Yes, proofreading can be done part-time. This is a flexible job you can do on the side or full-time as a career - your choice.
Are Proofreading Jobs from Home a Good Side Hustle?
Yes, proofreading jobs from home are a good side hustle to start.
Proofreading is a legitimate career and a good option for people who want a flexible, work-from-home job to make money online.
While this is a beginner-friendly job that can be a good fit for entry-level workers, it can take some work to upgrade your skills so you can start taking on professional proofreading work.
As you can see from our roundup, there are plenty of places to find proofreading jobs from home.
Once you've decided proofreading is a career you want to pursue, the next step is get training and experience under your belt and we recommend Proofread Anywhere for that.
Now, it's time to get started.
What are you most looking forward to in your proofreading career?
Want to learn step-by-step how I built my Niche Site Empire up to a full-time income?
Yes! I Love to Learn
Learn How I Built My Niche Site Empire to a Full-time Income
How to Pick the Right Keywords at the START, and avoid the losers
How to Scale and Outsource 90% of the Work, Allowing Your Empire to GROW Without You
How to Build a Site That Gets REAL TRAFFIC FROM GOOGLE (every. single. day.)
Subscribe to the Niche Pursuits Newsletter delivered with value 3X per week