7 Great Medium Alternatives to Help You Make More Money Blogging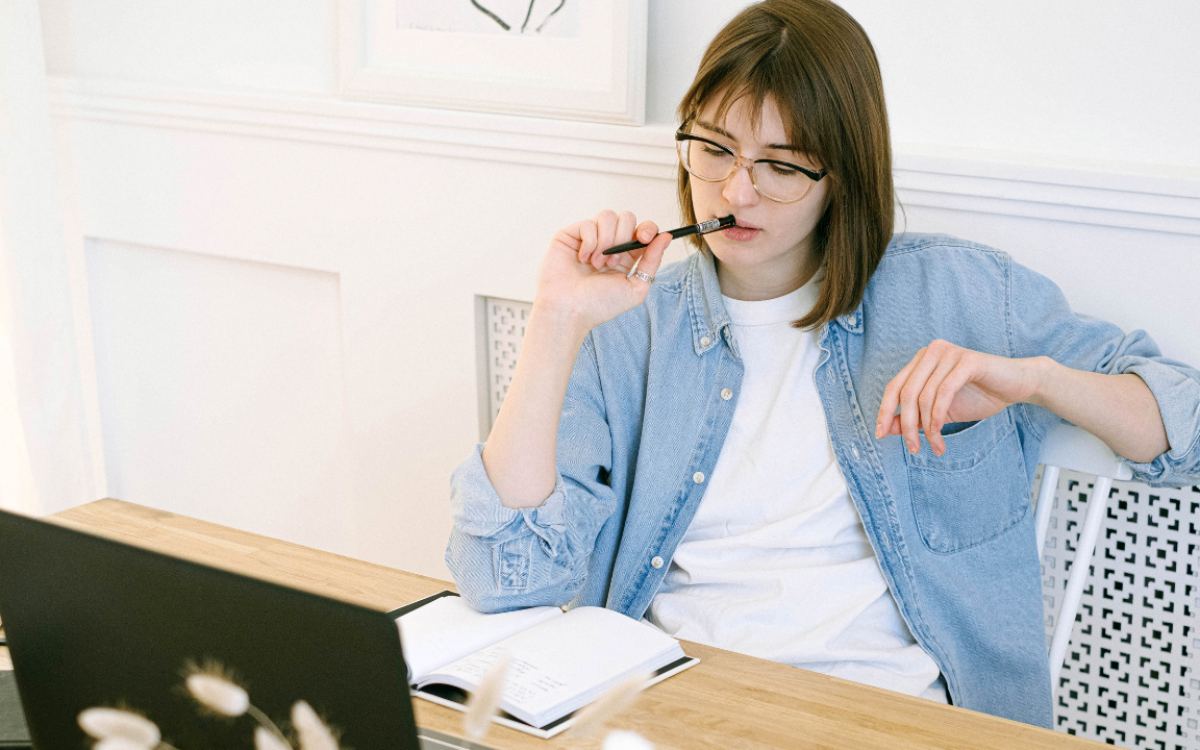 When you buy something through one of the links on our site, we may earn an affiliate commission.
Are you looking for the best Medium alternatives to start posting your content and earning money? To be a successful content creator, you have to constantly be up to date with the best platforms to build your audience and earn money online.
Initially, Evan Williams founded Medium with the goal of creating a long-form version of Twitter. Medium was meant to be a publishing platform for content creators who wanted to share work that was more than 140 characters. When they announced their partner program, writers seemed to think they were going to get rich quickly, simply by publishing content.
Unfortunately, only about 6.4% of active Medium writers make more than $100 a month. Like with any blogging platform, it takes a lot of work and consistency to make your Medium pay off. Plus, as the platform becomes more and more competitive, it can be harder to build your audience and win referrals.
So, what's the best of the Medium alternatives if you're looking to monetize your writing online? This list includes some of the best platforms out there to help you get the most for your writing. Some of these have similar payment models to Medium (where you create the content then the platform markets it and pays you). Others, like WordPress, will require more setup and marketing work on your part but have (arguably) better earning potential.
7 Medium alternatives to Monetize your Content
When searching for best Medium alternatives, you should have a set of goals in mind. What is the aim of your writing? Is your priority to:
Build an audience?
Make money?
Share an important message?
Knowing what you want to do will help you decide which platform can best meet your needs.
For example, Substack is a great choice if your primary goal is to build a loyal readership. On the other hand, Newsbreak could be the best platform if you are looking to share a socio-political blog post or something to do with important issues in your community.
Ultimately, when it comes to making money, you will have the most flexibility if you choose a platform like Ghost or WordPress. But, unlike Medium, these options take some serious work. In order to see significant returns from blogging, you have to be willing to put in a lot of time and effort on things like keyword research and marketing yourself on social channels.
Obviously, you can do all of the above with any Medium alternative, but some will be more suitable than others.
1. Hubpages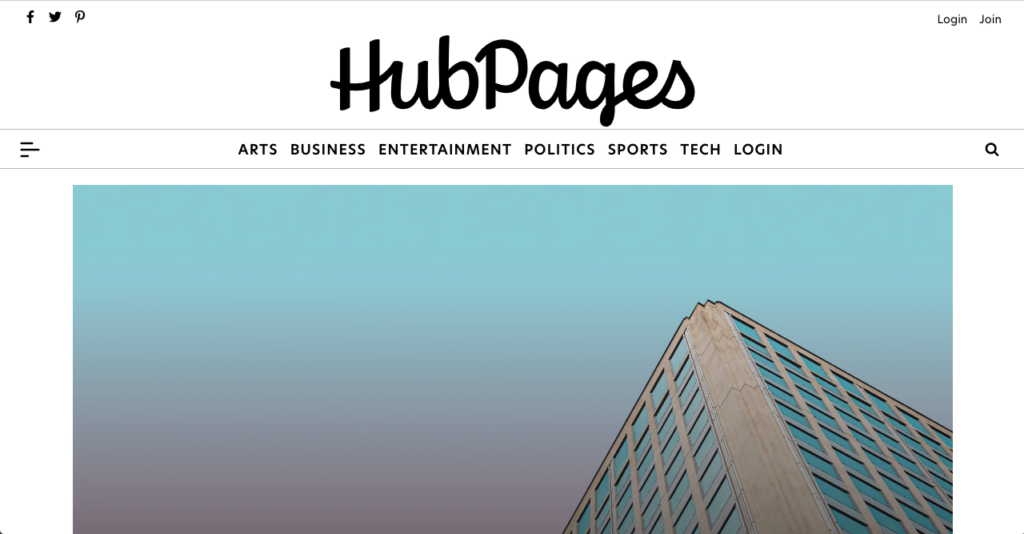 One of the most direct comparisons when it comes to a Medium alternative is HubPages. The publishing platform has a built-in monetization program which means you don't really have to do anything besides create content and publish articles in order to start earning.
That said, don't expect to be making six-figures from your HubPages articles. On average, writers take two years to start seeing regular payouts from their content, and even then, most will only see $50-$100/month.
Writers can submit content about a variety of different topics, from sports and politics to beauty and relationships. Once you've written an article, you can apply to enroll in the HubPages monetization program. You will be automatically enrolled in both the Ad and Amazon programs, but creators tend to earn more from one or the other.
Through the ad program, you can bring in money based on how many views your page gets, so if you have loyal readers you can count on bringing in money that way. Comparatively, the Amazon program is a bit like built-in affiliate marketing. You put affiliate links in your writing and earn based on how many people click and make a purchase through your link.
2. Vocal Media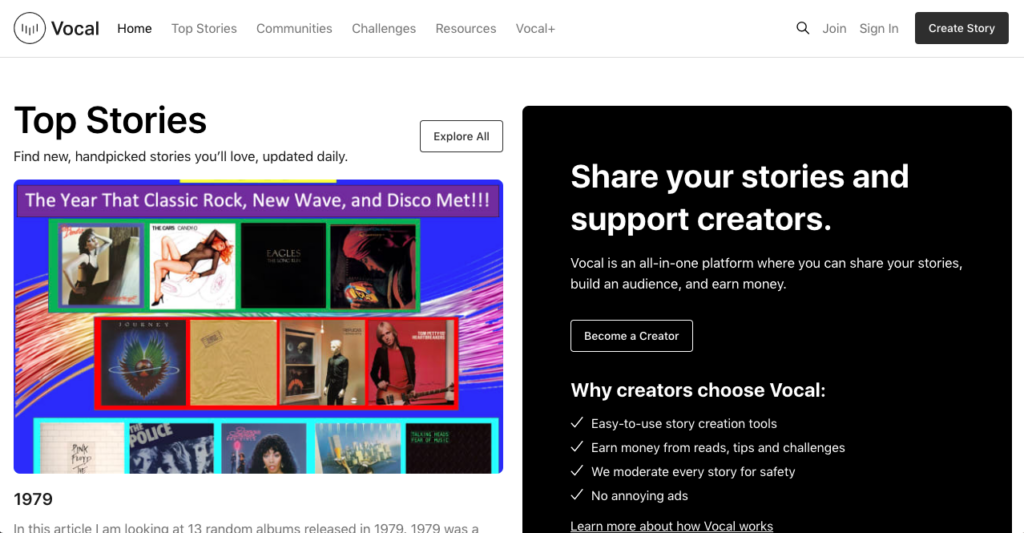 Vocal Media is another on our list of best Medium alternatives with built-in monetization in their business model. This makes it a great option for creators looking to easily monetize their content.
One of the great things about Vocal Media is that the blogging platform has several different communities where your writing can be published. It's great if you're a blogger that likes to write and publish articles about a variety of different topics. You can even submit fiction pieces like short stories or poetry.
Additionally, readers are attracted to the publishing platform because there are no annoying ads. Overall, it's a very similar user experience to Medium.
Creators can earn money in a number of different ways:
Based on the number of "reads" their writing gets: Creators get paid $3.80/1,000 readers (so if 1,000 separate people view your article, you make the money—any less than that and you make nothing). Vocal+ creators make $6/1000 readers.
Tips from fans: Readers can pay you directly if they want to show appreciation for your writing. Payments are deposited directly into your Stripe account.
Challenges: There are a number of different challenges you can enter your writing into on the platform, some with grand prizes of $5-$10,000.
3. Steemit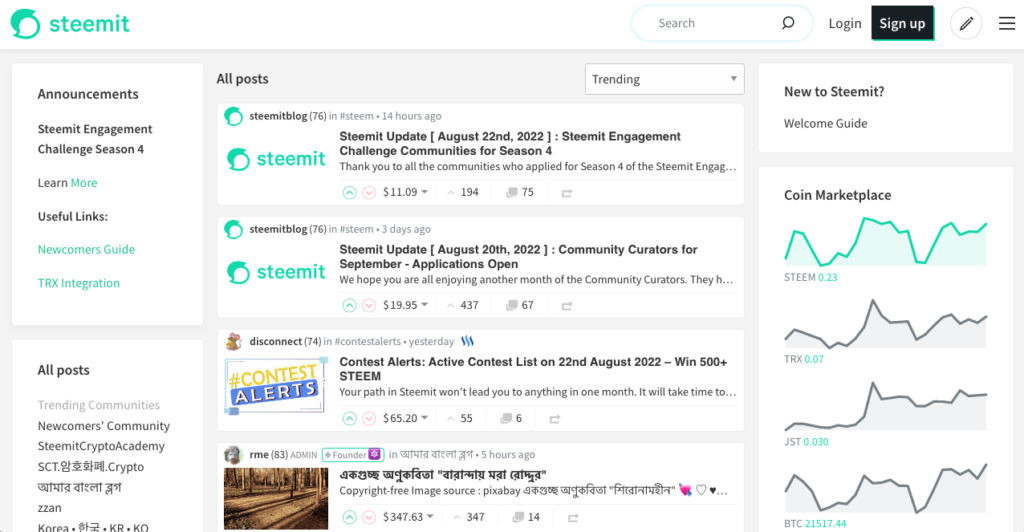 Similar to Reddit in a lot of ways, Steemit is one of the best alternatives to Medium for creators in the cryptocurrency niche in particular. This is because Steemit was the first social media and blogging platform to be built on Blockchain.
With that in mind, writing and posting content on Steemit will earn you STEEM—the cryptocurrency powering the platform. This means the actual amount you can bring in will vary depending on the value of STEEM.
Nonetheless, one of the features that attract content creators to Steemit is the decentralized model. While other Medium alternatives are subject to censorship and approval before publication, Steemit is a bit of a free for all.
At it's heart, it's a social network. Users can share articles that other users can then comment on or "upvote."
You can also earn STEEM without necessarily writing. You earn by:
Creating content. If you are the author of an article, 75% of the post's earnings go to you.
Commenting on someone's post.
Upvoting a post or comment.
Having your post or comment upvoted.
To be fair, the actual monetization aspect of the Steemit business model can get pretty confusing when you try to break it down to a new user, but once you start doing it, you catch on pretty quickly.
4. Newsbreak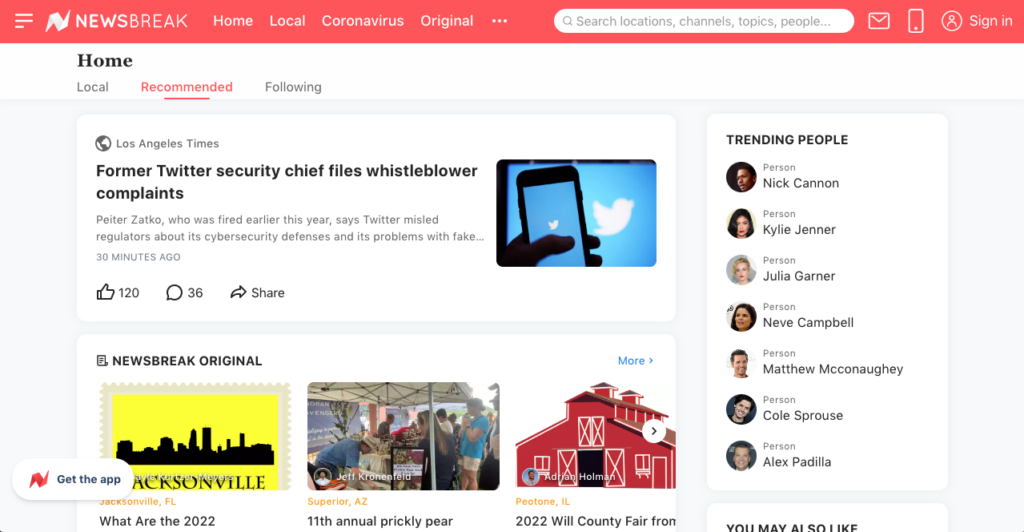 A great alternative to the Medium app for those looking to read news from independent journalists is Newsbreak. Since 2019, it has consistently ranked as one of the top news apps on mobile app stores.
The app aims to empower local communities by providing a publishing platform for local news. Whether you are a community blogger, local journalist, or video contributor, you can create and publish meaningful content which Newsbreak distributes to local readers.
It's a great blogging platform if your writing is primarily focused on local events, food, or other lifestyle related articles. Newsbreak simply acts as the publisher, and you retain full control over your content creation.
In order to start earning money with this alternative, you have to meet a couple of basic eligibility requirements. These include but may not be limited to:
Having minimum 100 registered followers
At least 10 published articles
Once you apply to be part of the content creator program, the monetization team will review your application and let you know if you are successful. Note, that this is for writing only. Video creators will need to follow a different process for publication and monetization.
5. Substack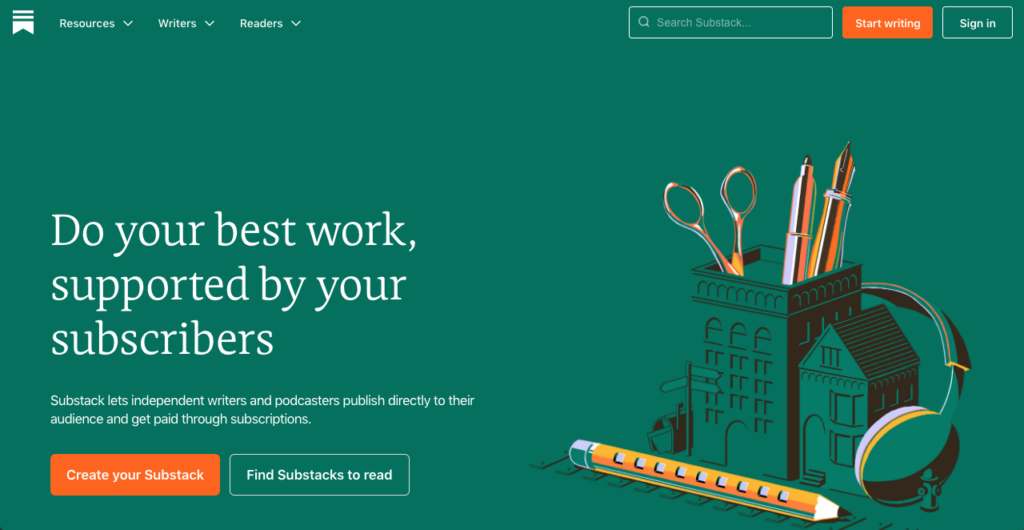 When Substack first started to gain serious traction, there was definitely the question: is Substack the new blogging? Substack is less of a traditional blogging platform and more of a CMS to help you create a monetized email newsletter (and don't miss our list of Substack alternatives as well). Essentially, this Medium alternative allows writers to build an email list, create a newsletter, and direct readers to their website with subscriber-only content.
The good news is, Substack is free to get started and open to anyone. You don't need to be a professional writer to start your newsletter. Once you decide to monetize, you pay 10% of your revenue to Substack. It's also worth being aware that all Substack payments are processed through Stripe which will take an additional 2.9% + $0.30 per transaction.
Ultimately, as a content creator, it never hurts to be involved with multiple platforms to reach a wider audience. In that respect, Substack isn't only a great alternative to Medium but can also be quite complementary to your blogging efforts. You can absolutely put up blog posts on Medium and also use Substack to push out a newsletter.
This way you gain a higher chance of diversifying your income and increasing overall revenue from your writing.
6. Ghost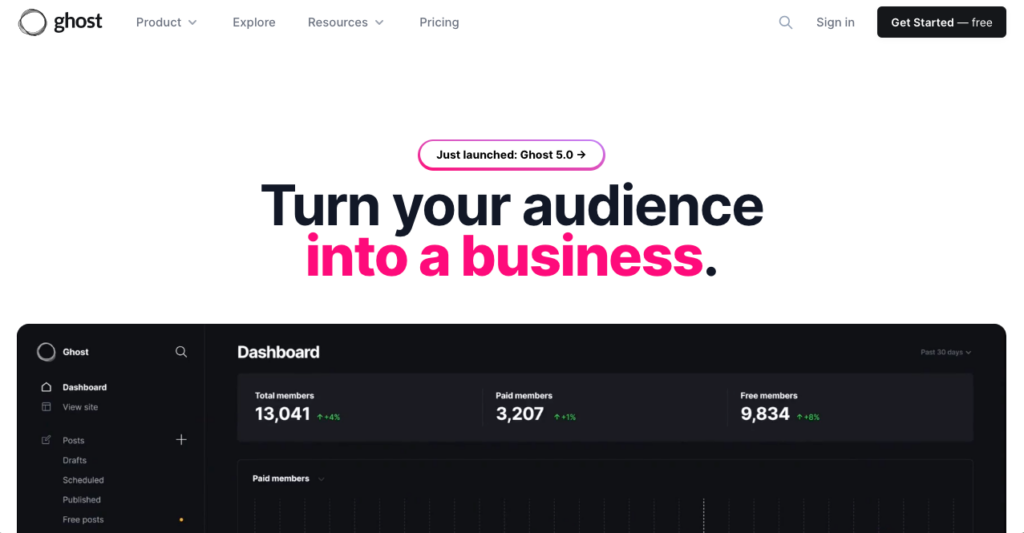 It's worth noting that Ghost is one of our Medium alternatives that does not offer the same built-in monetization opportunities as other platforms like HubPages or Steemit.
Ghost is an open source blogging platform that writers can use to publish and share their content. What is built-in to this CMS is advanced SEO tools and a feature that allows you to send newsletters and offer paid subscriptions to readers.
If you're a blogger with little technical knowledge, Ghost is great because it offers in-depth onboarding help and integrated drag-and-drop builders to design your website. In addition, the aforementioned tools that help you write, optimize, and publish your content make using Ghost really easy regardless of your skill level.
Since Ghost is open source, you can download the software for free and self-host your blog. Alternatively, you can pay to host it on Ghost's own servers.
From there, you can use tools like Google AdSense to start generating ad revenue or choose to include affiliate links in your content and make money that way.
7. WordPress
There are lots of reasons to start a self-hosted blog over utilizing a publishing platform to push your content out, and one of the best open source options out there is WordPress.org. You can use WordPress.com but there will be limitations when it comes to monetization and obvious SEO implications.
If you self-host using WordPress you will choose a custom domain. This in itself will have an effect on how you drive traffic to your site and the way that Google will rank you on search engine results pages.
In addition, using software like WordPress opens you up to a whole new range of monetization opportunities.
With WordPress as a content management system, you retain complete control over your whole site. This means you have access to useful analytics (use Google Analytics to track site traffic, traffic sources, conversion rates, etc.) to improve your content strategy. It also means you can implement targeted advertising to increase your potential ad revenue.
Plus, it's easy to build an affiliate marketing website using WordPress. I mean, just check out these WordPress affiliate plug-ins.
Finally, if you opt for something like WordPress and ultimately build your own website and dedicate your time to building traffic to your site, you also have the option to expand your monetization opportunities. You can go from relying on Google AdSense for a few bucks a month to building an online store attached to your blog selling whatever you want.
So, Which Medium Alternative is Right for You?
With anything online, it's really about finding the platform that works best for you. Consider what your strengths are and go from there.
For example, if you're a fantastic writer but you really don't like to market yourself or you don't want the hassle of having to set up your own website and design it, then a pre-monetized platform like HubPages might work well for you.
On the flip side, if you love marketing and driving traffic to your site, you can probably build your income higher on a self-hosted blog site like WordPress.
You should also consider your goals and start up costs. How much money are you ready to invest to get started? If the answer is nothing, then look for a direct Medium alternative like Voice Media that allows you to start creating and monetizing without having to invest anything.
It's also worth keeping in mind that if your goal is to earn a full-time income from writing online, then you have nothing to lose by publishing across multiple platforms. You can write on Medium and also have your own WordPress site. You can use one to direct traffic to the other and vice versa.
Now all that's left is to come up with some blog topic ideas that your audience will love and get writing!
Want to learn step-by-step how I built my Niche Site Empire up to a full-time income?
Yes! I Love to Learn
Learn How I Built My Niche Site Empire to a Full-time Income
How to Pick the Right Keywords at the START, and avoid the losers
How to Scale and Outsource 90% of the Work, Allowing Your Empire to GROW Without You
How to Build a Site That Gets REAL TRAFFIC FROM GOOGLE (every. single. day.)
Subscribe to the Niche Pursuits Newsletter delivered with value 3X per week