13 Best Ways to Make Money Online for Beginners: Your Ultimate Guide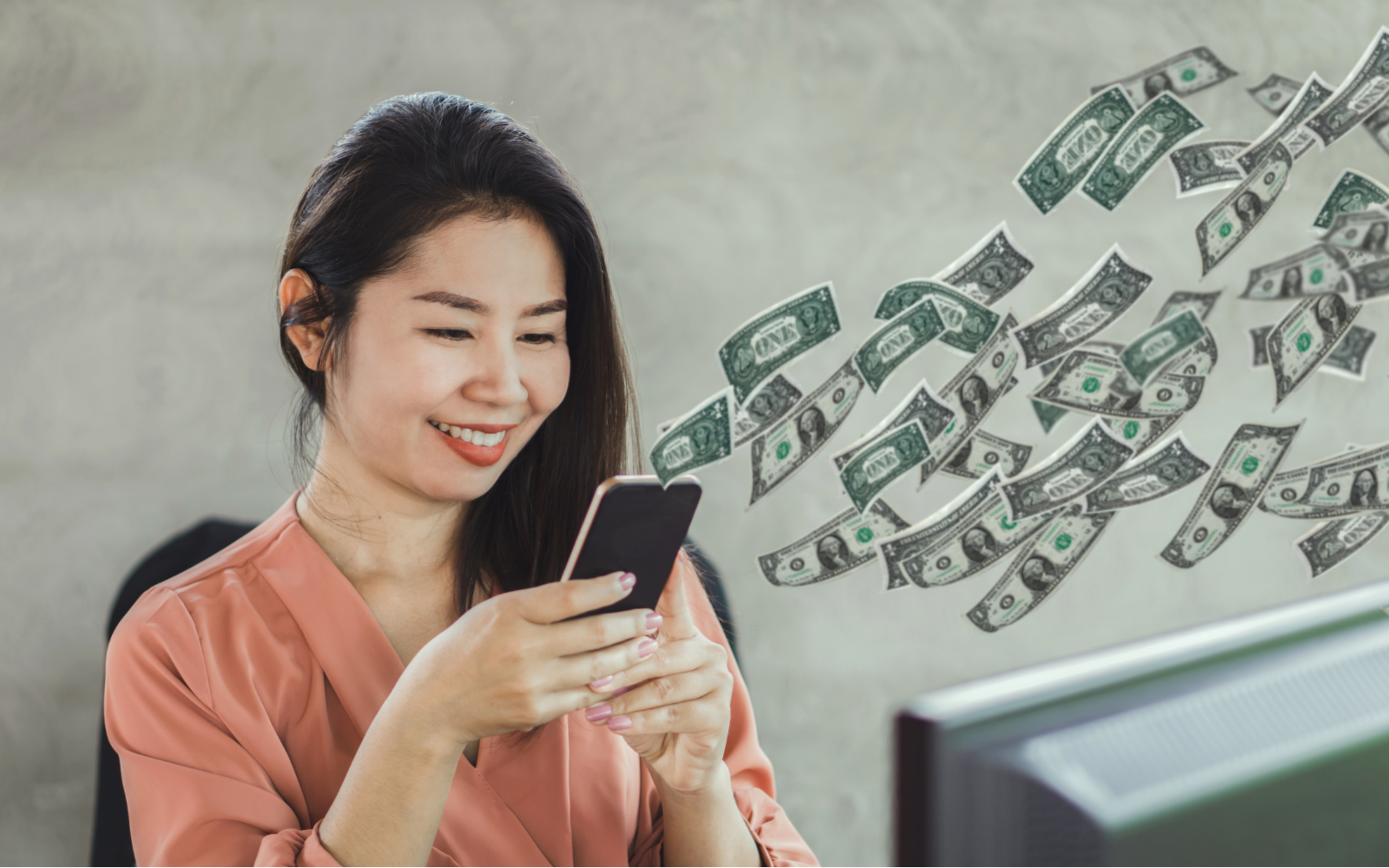 Are you interested in learning the best ways to make money online for beginners? Today, making money online from an online job is easier than ever, honestly.
People are looking to make money online for many reasons.
Whatever your reason, there are plenty of ways to make money online for beginners.
We're covering 13 of the best beginner-friendly ways how to make money online in this ultimate guide.
Let's get into it!
13 Best Ways How to Make Money Online for Beginners
Are you looking to make some extra cash on the side? You're not alone! A recent survey found that 45% of working Americans have a side hustle, and some of them are online.
Check out our top ideas for making money and find one perfect for you. There's definitely something for everyone in this roundup of money-making ideas. Let's go!
1. Start a Blog
A blog is a website. Bloggers are people who write for these websites.
Starting a blog is more than just sharing your day or venting about what's happening in your life.
It's a money-making vessel where you can:
Connect with your target audience online by sharing relevant news and information
Sell products and services
Build your personal brand
Develop your online reputation as an expert in the niche you blog about
This is one of my favorite ways to make money online for beginners!
This collection of over two dozen blogger income reports reveals how bloggers are making $500 to $90,000+ per month from their blogs!
Making money blogging from Google Adsense, sponsored partnerships, and other ways is possible. But, earning a full-time income as a blogger is not guaranteed, and your results may be different.
This step-by-step guide goes into detail, sharing exactly how to start your blog from scratch and write your first blog post.
Requirements:
Starting a blog requires a computer with internet access and a modest budget of up to $30 to $100 to launch your blog.
2. Affiliate Marketing
Once you have your website, it's time to monetize it with affiliate marketing! Affiliate marketing is about sharing and promoting products to the public. You earn a commission when your referral results in an action (like a sale).
According to ZipRecruiter, the average salary of an affiliate marketer is around $178,000/year.
Shane Dutka makes millions from affiliate marketing sites and lead generation
L.E. McArthur earns $60K/month from affiliate marketing from her niche site portfolio
AJ Saunders makes over $6,000/month from affiliate marketing
This is a way to make money online for beginners that can be done on the side in your free time for some extra cash.
If you're new to this, I recommend you look into Matt Diggity's online course, Affiliate Lab. It teaches you how to create monetized, high-ranking affiliate websites with a step-by-step video blueprint and templates.
Requirements:
For affiliate marketing, all you need is a computer with internet access.
3. Freelancing
Freelancing is about monetizing your skills to perform service-based work for others.
For example, if you're a computer programmer for a living, you could do freelance computer programming on the side to make some extra money online.
There are tons of freelance jobs you can do, based on your knowledge and skills.
Here are some examples:
Writing
Graphic design
Animation
Digital marketing
Freelancing is an easy way to make money online. It's also probably one of the fastest ways for beginners to make money online.
Start by evaluating your current skillset. Think about what you do well, what you do in your day job, specialized tasks, or specific work you've been trained to do or have experience in.
Next, look at how you can translate those skills to freelance work. Then, start searching for freelance jobs.
You can earn a very lucrative full-time or side income as a freelancer. Freelance writer Alli Hill makes six figures as a freelance writer and coach!
To find freelance jobs, you can visit various websites like Fiverr, Upwork, or job-related sites like Textbroker or Problogger Jobs to find freelance writing work, for example.
Requirements:
To work as a freelancer, you'll likely need a computer, depending on the freelance work you do.
4. Virtual Assistant
A virtual assistant (or VA) is an online assistant that helps others with their daily tasks. You could help a busy mom run a household, or a small business owner do daily tasks like answering emails and scheduling meetings.
Many virtual assistants are helping clients with work tasks like:
Travel planning
Answering emails
Task management
Calendar management
VAs can make good money.
Virtual assistant Riya Jain makes $8,000/month!
Virtual assisting is perfect for people who are naturally helpful, organized, and detail-oriented. This is one of the easiest ways to make money online for beginners.
Here are 35 of the best virtual assistant jobs for beginners to get you started.
Requirements:
You'll need a computer with internet access and a quiet space to work.
5. Start a YouTube Channel
Starting your own YouTube channel is an opportunity to create content around a topic you enjoy. You can spread your knowledge and educate an audience online while making money doing it!
How much money do YouTubers make?
This source shares YouTube income ranging from $82 to $83,000 per month!
YouTubing is a great way to make money online for beginners. This is for someone who has some free time to create, edit, and publish video content on a regular basis.
Requirements:
All you need is a computer, a smartphone (or video camera or digital camera for recording), and a YouTube account.
6. Social Media Manager
A social media manager is a social media marketing specialist working with companies to manage their social media presence:
Create and publish social media posts
Respond to fan/follower messages
Organize a social media content calendar
You can work specializing in one social network or be more of a generalist where you manage all social networks, your choice.
Requirements:
You'll need a computer, and you may employ social media tools to help you create and manage content at scale.
7. Start a Podcast
Podcasting allows you to create and share content over audio. It's like running your own independent radio show.
From marketing podcasts to copywriting podcasts, there's definitely something for everyone out there. And podcasters can make a substantial income, as well.
The national average salary for a podcaster is $73,300/year, according to ZipRecruiter.
Podcasting is good for people who are inquisitive, analytical, and a creative at heart.
Requirements:
Podcasters generally need a computer and podcasting software tools like podcast hosting software, audio equipment like a microphone, etc.
8. Content Creator
Content creators are creatives that produce and publish content online. It can be written content, audio-based or video content, social media content, etc.
Content creators leverage their expertise to share their knowledge with an audience across the web.
Here are some examples:
A personal finance TikToker creating short-form finance videos for beginners
True crime podcaster sharing true crime stories through a weekly podcast
A nutrition and healthy diet YouTuber making long-form YouTube videos about making healthy recipes.
Content creation can be a full-time or part-time way to make money online for beginners. It's a great option for people that are looking for a flexible side hustle to make some extra money.
Requirements:
Content creators need a computer, tablet, or smartphone to create digital content.
9. UGC
UGC stands for user-generated content. As a UGC creator on UGC platforms, you'll make money creating content for companies. This is similar to being a content creator or influencer, but you won't be paid based on the number of followers or engagement that your personal brand has.
Instead, you'll earn a flat rate for the content you create for companies, like short-form videos or product demonstration videos.
For example, a cosmetics company may pay you $200 per TikTok post for a set of 20 posts for the month, earning you $4,000.
It's a great option for people who like creating content but may not have a large social presence.
Requirements:
Expect to need a computer, tablet, or smartphone for communication with brands and as a tool to create content.
10. Sell eBooks
Ebook sellers make money writing and selling ebooks to an audience. You can write an ebook using various free or paid tools like Google Docs, Microsoft Word, or Canva. Publishing your book can happen on Amazon KDP, Gumroad, Sendowl, Etsy, or other websites or marketplaces.
Once your ebook is published, you'll want to promote it through one or more marketing channels, to create awareness and drive sales.
Read this detailed 4-step guide for writing an ebook and making money.
Requirements:
All you need is a computer and ebook-writing software, but you can also have it formatted inexpensively on Fiverr if you don't have the software.
11. Transcriptionist
Transcriptionists convert audio to written text in a transcript. You get paid to type what you hear. Transcription work is an online job that can easily be done on the side (and we have a list of work from home transcription jobs worth checking out).
It's task-based work.
Your client provides audio files that need transcribing, and you complete the work by a deadline.
It's one of the best low-stress high-paying jobs you can do from anywhere
You may work with teachers, attorneys, podcasters, content creators, journalists, and other people. You can take on one transcription project or many, your choice.
Requirements:
Start with a computer, headphones, and a quiet space. Over time, you may want to invest in transcription equipment and tools like a foot pedal, editing software, etc.
12. e-Commerce
Start an e-commerce store selling goods online. You can sell physical or digital goods and host your store on a platform like Shopify. You can make money online with e-commerce with a budget under $200!
Start with an idea to figure out what you want to sell, from digital templates to apparel.
Next, you do market research to confirm there's a demand for what you'll be selling. Evaluate the competition and move on to sourcing. Stock the goods (if needed) or find dropshipping suppliers, set up your online store, do marketing, and launch your store!
Requirements:
You'll need a computer, an online store platform, and a source for your goods. This can be a print-on-demand company like Printify. It can also be a dropshipping supplier like Spocket.
13. Amazon FBA
Amazon FBA (Fulfilled by Amazon) is a program offered by Amazon that provides fulfillment services to Amazon sellers. If you're in Amazon FBA, when an Amazon customer orders your product, instead of you picking, packing, and shipping the order, Amazon does it for you!
You'll send your inventory to an Amazon warehouse, and they'll handle the fulfillment process when you're selling products.
Amazon FBA is one of the few businesses you can build with very little money.
Read about how Marketplace Superheroes can help you avoid the pitfalls of Amazon FBA.
Requirements:
You'll need a computer, an Amazon FBA account, and products you've sourced that you can ship to an Amazon warehouse.
How Can I Make $100 a Day Online?
Making $100 a day online is possible, but it may not happen right away.
You'll need to work hard, be patient, and understand that it can take time to work your way up to making $100 a day.
You can get to $100/day with:
2 social media management clients at $1,500/month retainer, each
1 full-time writing client paying $3,000/month
6 Podcast sponsors paying $500/month each for ad placements
There are many options available.
How Can I Make Money Online With No Experience?
Making money online with no experience is not without its challenges, but it can happen. This roundup of 13 ways to make money online for beginners is proof!
With your effort, persistence, and a willingness to learn, anything is possible.
Look at your skills, strengths, weaknesses, and interests. Explore money-making ideas that interest you and consider developing your skills before you dive in.
Bottom Line on Making Money Online for Beginners
As you can see, making money online for beginners is possible. You just read our ultimate guide, including over a dozen different beginner-friendly ways you can generate income over the internet. The next step is to choose the online job you want to pursue and take action by starting!
Ready to get started on your journey to making money online for beginners? Join the Affiliate Lab today to gain the skills you need to succeed in many of these roles and earn money from the comfort of your home!
Which money-making idea will you pursue?
Want to learn step-by-step how I built my Niche Site Empire up to a full-time income?
Yes! I Love to Learn
Learn How I Built My Niche Site Empire to a Full-time Income
How to Pick the Right Keywords at the START, and avoid the losers
How to Scale and Outsource 90% of the Work, Allowing Your Empire to GROW Without You
How to Build a Site That Gets REAL TRAFFIC FROM GOOGLE (every. single. day.)
Subscribe to the Niche Pursuits Newsletter delivered with value 3X per week